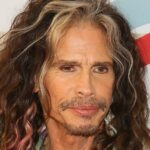 The Untold Truth Of Steven Tyler
echo get_the_meta(); ?>
Steven Tyler is a rock legend, perhaps best known for his role as the vocalist of rock band Aerosmith and for unforgettable songs like "I Don't Want to Miss a Thing," "Walk This Way," and "Dream On." According to Biography, the musician focused on playing drums and singing in general before Aerosmith was formed. Despite being such a popular figure in the world of music, a lot of stories about Tyler aren't very well-known, like the fact that he's had to battle several health problems or that he didn't get to bond with one of his daughters until later than expected.
At an appearance at Berklee College of Music in 2003, Tyler stressed upon the importance of being humble. "Humility is really important because it keeps you fresh and new," he explained. "I think it's just an overblown ego that forgets humility…I like to call myself a realist because I don't put the veneer over [myself]." He also said that he's transparent about how much he adores his fans simply because they love the fact that he took risks to get where he is, implying that this means a lot to him.
It must be said that there are interesting anecdotes from Tyler's life that are worth digging into. Here are stories from one of the biggest names in contemporary rock — a sneak peek into the life and times of Steven Tyler.
Steven Tyler's father was a musician too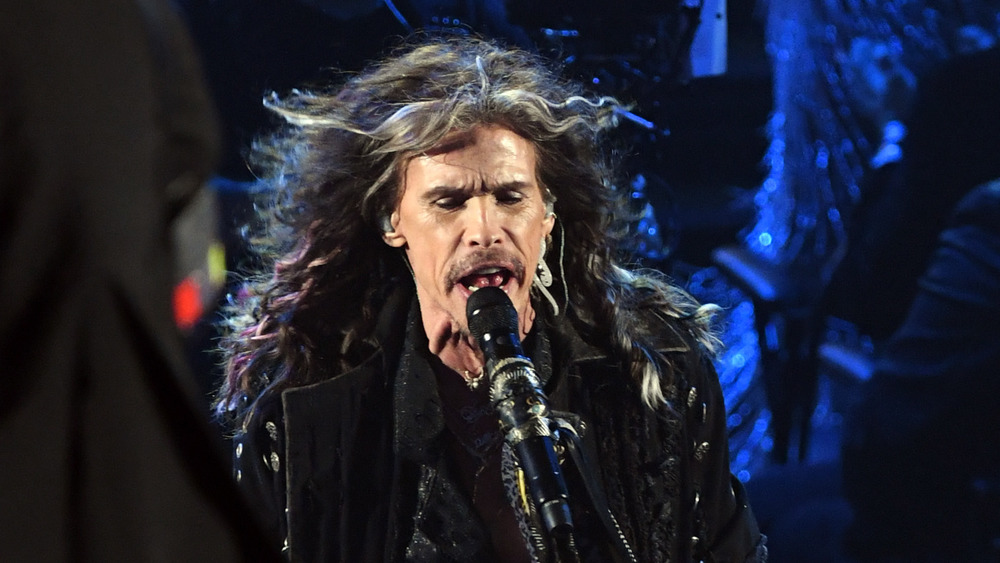 Kevin Winter/Getty Images
Steven Tyler was born on March 26, 1948, in New York. According to Biography, his dad was a music teacher. As illustrated in the book, Does the Noise In My Head Bother You?: A Rock and Roll Memoir, by Steven Tyler and David Dalton, Tyler was quite familiar with the sounds of music as a child and was intrigued enough to explore music as he got exposed to more and more albums. 
His father had a massive piano in the house, and he would play for three hours every single day, inspiring the young Tyler. Tyler later wrote, "And that's where I grew up, under the piano, listening and living in between the notes of Chopin, Bach, Beethoven, Debussy." He further explained that his father was an alumni at the prestigious Juilliard School and later even played at Carnegie Hall. 
As a curious child, Tyler asked his dad what it took to make it to Carnegie Hall as a performer. His dad's advice was simple and straightforward, "Practice, my son, practice." Tyler wrote that the piano was of great significance to his father who attached great meaning to it. "Every key on that piano had its own personal and emotional resonance for him. He didn't play by rote," he explained. As far as Tyler was concerned, the piano was a way for him to come up with a world of his own as he watched his father play music day in and day out.
Steven Tyler met his bandmates at a show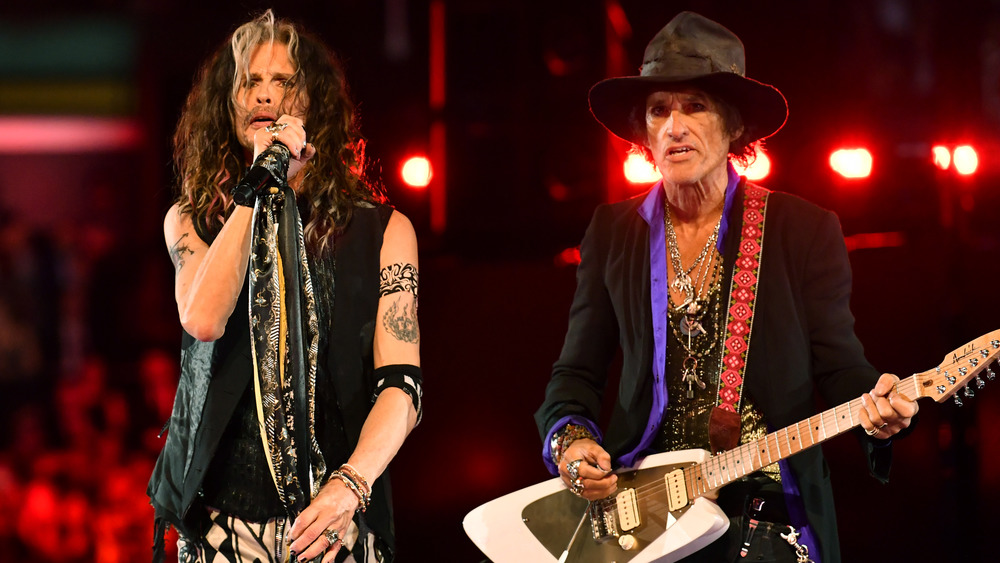 Emma Mcintyre/Getty Images
Steven Tyler came across his bandmates, Joe Perry and Tom Hamilton, in 1969 when the duo were performing at a show in Sunapee, N.H. Tyler immediately hit if off with Perry, and the duo wet on to form a band the year after they met, while gaining the attention noticed of musicians in Boston (via the Hollywood Reporter). What made them really stand out was a show at Max's Kansas City that basically gave them their first record deal and paved the way forward for their path ahead as a band.
It is important to note that the relationship that Tyler shared with Perry has been a really important one in their lives and is something that has been dissected numerous times on account of its complexity and depth. Tyler wrote in his memoir, "My whole life I'd been searching for my mutant twin — I wanted a brother… Joe was that missing link." He added that despite the fact that they're so different from each other, they have been pretty much inseparable for several decades and have somehow managed to stick with each other through thick and thin.
Steven Tyler seriously struggled with drugs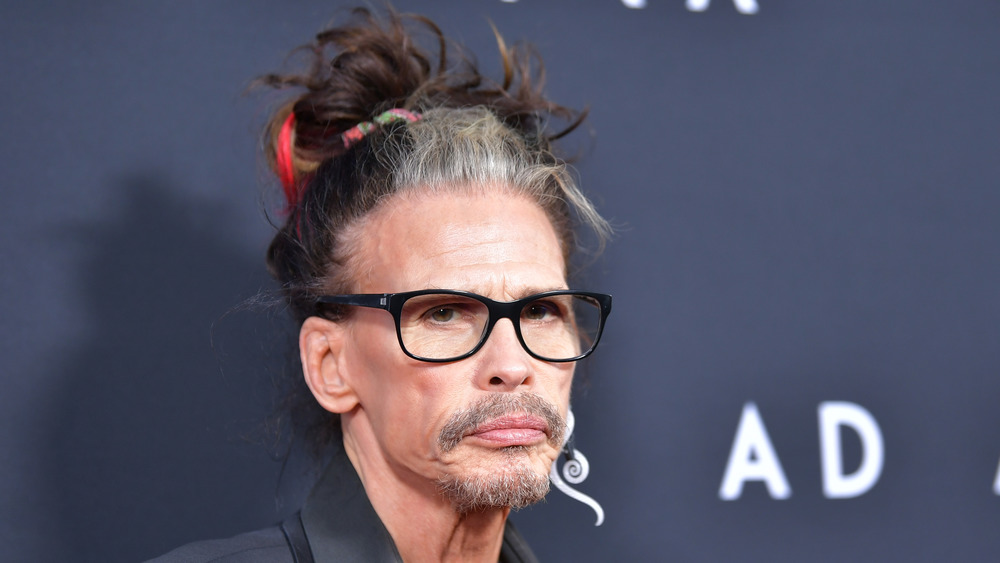 Amy Sussman/Getty Images
Steven Tyler's struggle with drugs has been well-documented over the years. According to his own account in Does The Noise In My Head Bother You?, he had been getting high since he was 16 years old and was addicted to the high brought on by narcotics. Tyler wrote that his mom often wondered why he felt the need to turn to drugs when he already got such a thrill from his success. 
He wrote about it, explaining that it's hard to let go once you get hooked. "When you grow up doin' drugs, chances are you're gonna spend the rest of your life doing drugs. They were never to put out the pain." From his perspective, it made sense to be high even while performing onstage because he was comfortable while singing anyway and was good at it. Plus, around the time Tyler and his mates were about to work on their second album, they had far too many responsibilities, and for them, drugs made it easier to get through their duties without feeling overwhelmed.
In fact, things got so bad for Tyler that his bandmates made a collective decision to make him go to rehab (via Loudwire). Tyler later said, "There was a moment in '88 where management and the band pulled an intervention on me. They thought, 'Get the lead singer sober, and all our problems would be over.'" While initially upset, he was eventually grateful for their help.
Steven Tyler and his mates have had it rough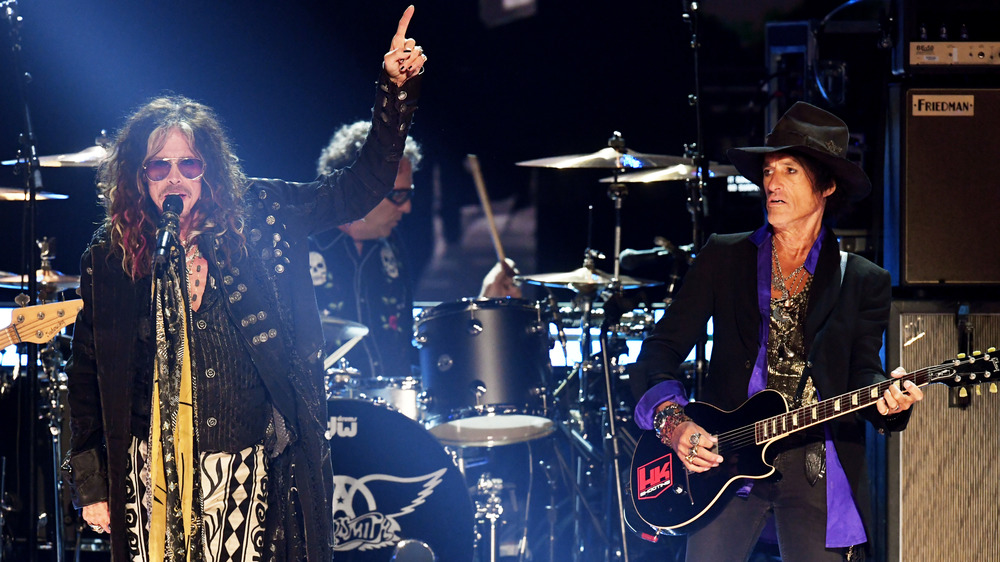 Kevin Winter/Getty Images
Despite achieving major success, Aerosmith as a band went through some major lows. According to a piece by Ultimate Classic Rock, the musicians went through a period of decline in the 1980s, despite being wildly successful in the 70s with hits like "Sweet Emotion" and "Back in the Saddle." There were several reasons for the band experiencing a slowdown, including drug abuse and fighting within the group. In fact, guitarist Joe Perry left Aerosmith in 1979 and started focusing on his solo music journey with the Joe Perry Project. 
At this point, Aerosmith found themselves fighting hard to stay relevant, only landing gigs at smaller venues and struggling with the inconsistency of their shows. On January 20, 1980, Steven Tyler pretended to pass out at a show because he was too drunk to keep up with it. Fortunately, despite these setbacks, Aerosmith managed to bounce back a few years later.
Steven Tyler was involved in accidents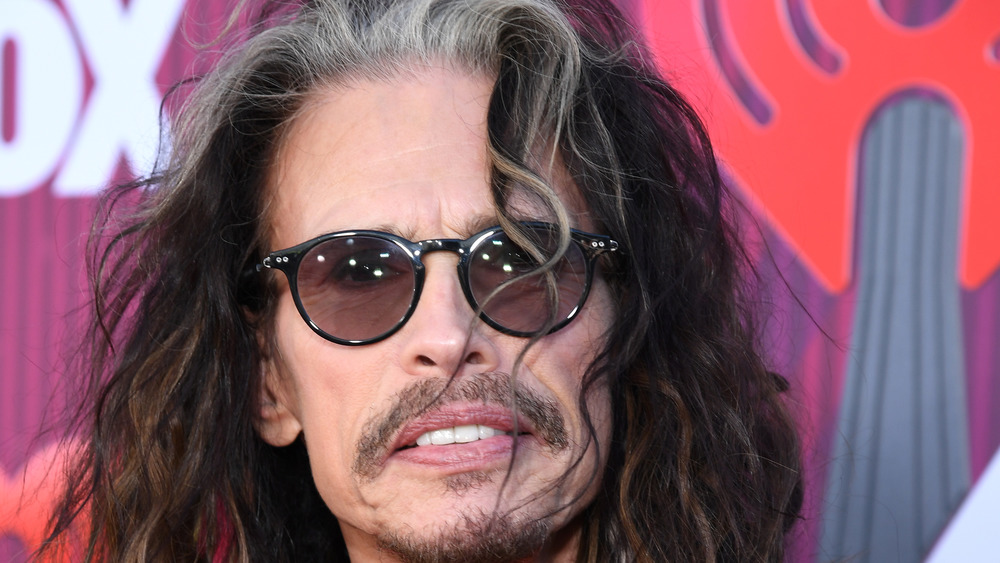 Kevin Mazur/Getty Images
In 2011, Steven Tyler ended up falling in a hotel bathroom in Paraguay, which led to speculations that Tyler was back to fighting his drug addiction, according to a piece by CNN. Tyler, who was 63 at the time, said that he actually had food poisoning and ended up battling a bout of nausea in the shower. "I started to get sick, and I just fell on my face," he said. "I just passed out." His tour manager acted quickly and got in touch with the American Embassy to get Tyler access to prompt medical aid.
Tyler ended up undergoing a bit of plastic surgery and also got stitches. Speaking about how folks assumed that he was back on drugs, he said, "I get that people think that. It still bothers me a little, but it's something that I have to deal with for the rest of my life."
And two years before that incident, in 2009, Tyler got seriously hurt when he fell off a stage while he was performing. His accident was serious enough for him to require several stitches as he nursed a broken shoulder (via The Hollywood Reporter). 
Steven Tyler has had major health issues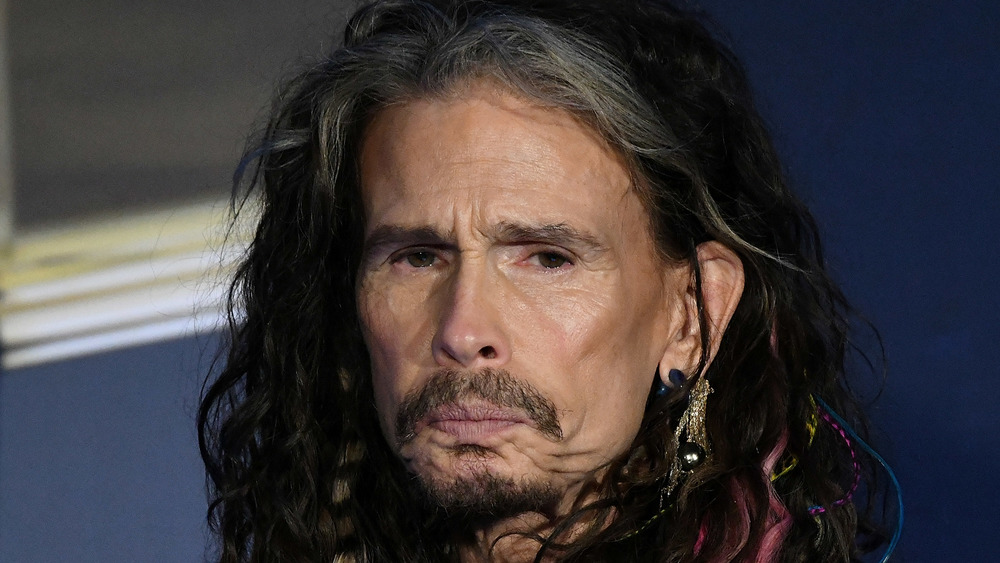 Michael Kovac/Getty Images
Steven Tyler's health issues have been fairly serious. For example, in 2006, the singer had to receive throat surgery that could have potentially brought his career to a halt (via Biography). Luckily, the operation went smoothly, and the singer was able to bounce back. 
The musician also publicly spoke about his struggle with hepatitis C that same year. "I've been pretty quiet about this. The band took a break about three years ago and I've had hepatitis C for a long time, asymptomatic," he said (via Today). He added that he had to undergo chemotherapy sessions for around 11 months, and that his illness took a massive toll on him and his marriage.
And in 2008, Tyler was hospitalized at a rehabilitation clinic in California in a bid to help his feet heal. Tyler wrote at length about the torture he went through while trying to cope with pain after surgery in Does the Noise In My Head Bother You? "I couldn't get enough narcotics to dull the pain in my feet," he wrote. "I had whole jars full of Xanax." 
Even years after Tyler underwent surgery, he continued facing problems. A 2012 article by NBC News suggested that Tyler had suffered a foot deformity on account of his power-packed performances over the years in shoes that were ill-fitting. In fact, his situation was so bad that he continued experiencing pain years after receiving surgery.
Steven Tylers' relationships have been turbulent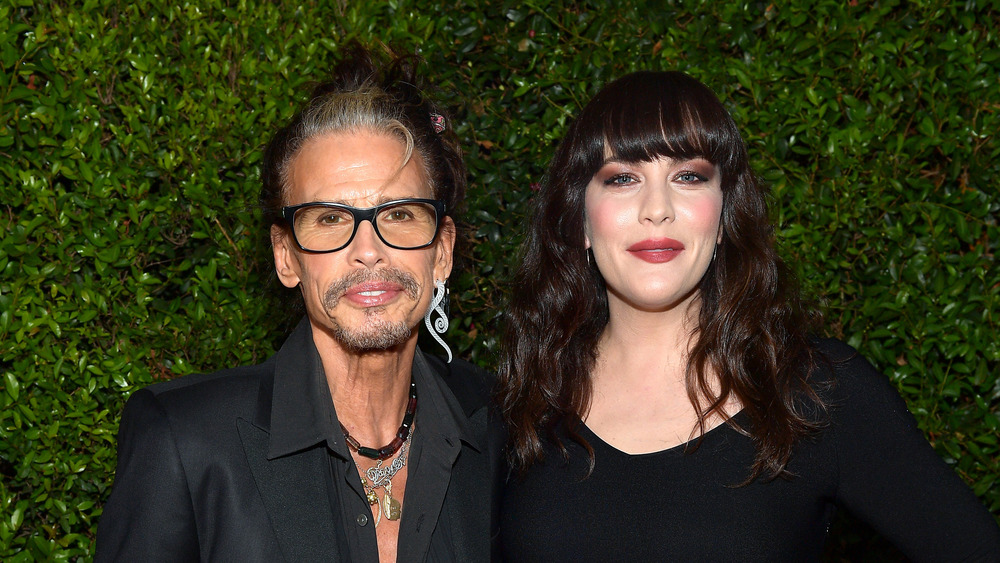 Matt Winkelmeyer/Getty Images
Steven Tyler's relationships haven't been straightforward in the least. As outlined by Biography, Tyler has four kids. Actress Liv Tyler was born from his relationship with model Bebe Buell. He also had two failed marriages, one with model Cyrinda Foxe and then with Teresa Barrick. In 2011, Tyler was engaged to model Erin Brady, but the pair spilt in 2013. These days, Tyler is said to be dating Aimee Preston, who has served as a personal assistant in the past to notable figures like the Beckhams and singer Christina Aguilera (via Yahoo!).
Additionally, Tyler's daughter, Liv, didn't know who her father was until she was 8 years old. "It's quite an emotional story, honestly, the whole thing," Liv once said in an interview (via Hello! Magazine). "My mother was very young when she had me and there was a little bit of confusion about where I came from but I was very loved and very well taken care of by all my family, which was wonderful," she added. 
As per Liv, she simply figured it out on her own when she realized how much she looked like her father and his daughter, Mia, from another relationship. Steven stayed in touch with Liv through the years, and Liv notes that her father isn't a typical grandfather but is great at doing things like amusing his grandkids by making animal noises.
Steven Tyler doesn't like Trump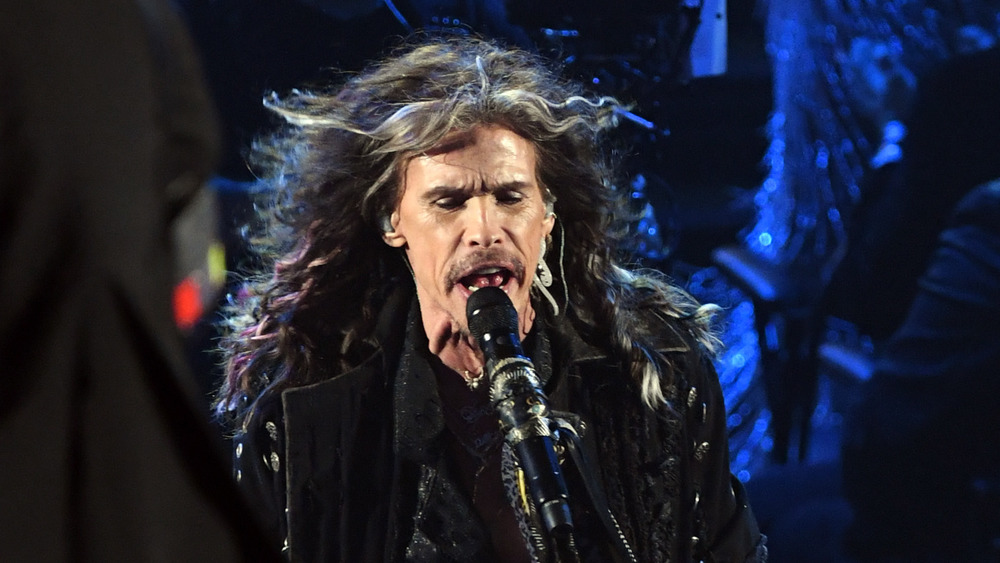 Kevin Winter/Getty Images
Steven Tyler is not a fan of Donald Trump, and he hasn't exactly been quiet about it. In 2018, he was pretty miffed when he discovered that Trump used Aerosmith's song "Livin' on the Edge" for his campaign. In fact, according to CNN, the musician was angry enough to send a cease and desist letter. He later said in a statement,"I do not let anyone use my songs without my permission. My music is for causes not political campaigns or rallies. Protecting copyright and songwriters is what I've been fighting for even before this current administration took office."
He further noted that Trump had previously used his band's music on other occasions, which led to the incorrect impression that Aerosmith endorsed Trump in some way. The feud wasn't exactly new. Back in 2015, Trump responded on Twitter to Tyler protesting when the former used his music by saying, "Even though I have the legal right to use Steven Tyler's song, he asked me not to. Have better one to take its place!"  on Twitter. 
Steven Tyler is fascinated by India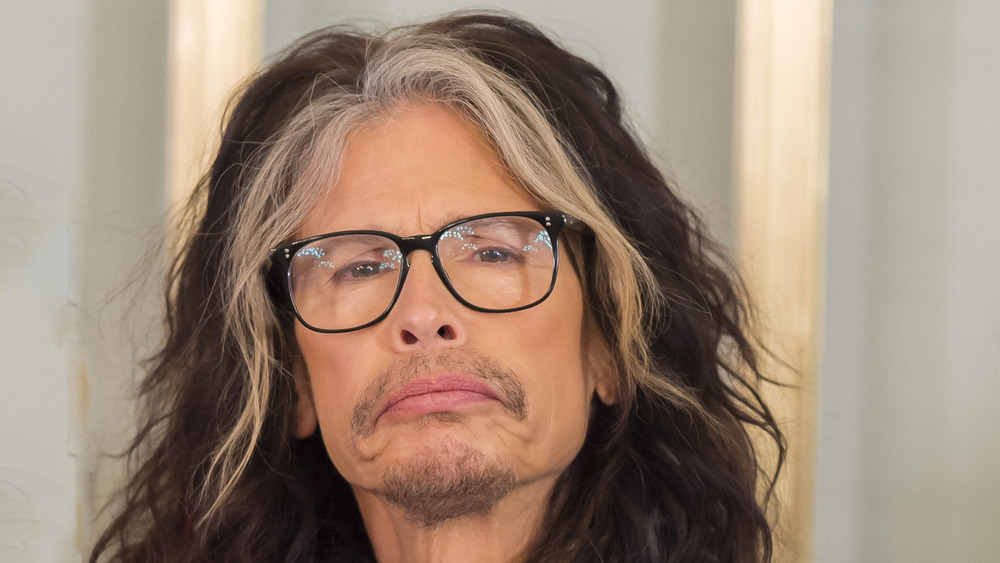 Nigel Waldron/Getty Images
Steven Tyler waxed poetic about India in Does The Noise In My Head Bother You? and mentioned how fascinated he has always been by the country. In fact, he named one of his kids Taj after one of the most iconic monuments in the country, the Taj Mahal. He wrote about how it was a huge deal for Aerosmith to play in India in 2007. He also wrote the song, "Taste of India," as a tribute to the country. 
Tyler wrote, "I love Indian food, Indian incense, Indian printed fabrics — onstage at Bangalore I wrapped myself up in yards of batik print shawls (leather pants and a black ganji top, for the fashionistas)." He added that playing in India was a bit of an eye opener as the band witnessed festival promoters who didn't hesitate to charge concert goers extra money for water, alcohol, and food at the venue. 
Steven Tyler loves skincare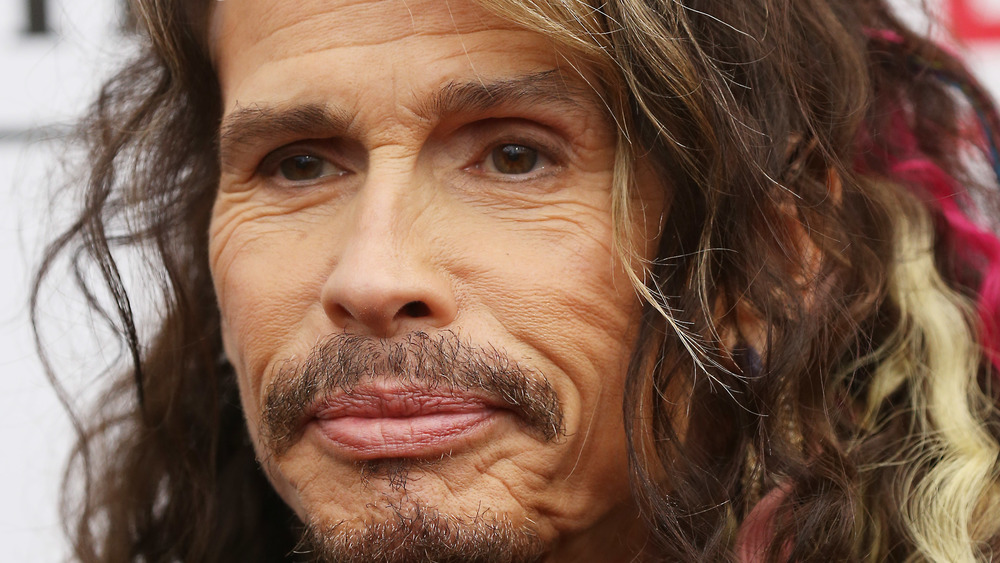 Michael Tran/Getty Images
It may be hard to predict this but it's true — legendary musician Steven Tyler enjoys skincare to the fullest. As reported by The Cut, Liv Tyler revealed that her father is quite a fan of skin care. And his routine isn't even simple. It's as good as an elaborate K-beauty setup. Liv revealed that she's learned about skincare from her grandmother, as well as her father. "She also taught me about exfoliating, and I also noticed that from my dad. My dad is so into skin care; when I go visit him, I usually spend half the time in the bathroom with him, just going over products," she said. "He's got his whole bathroom filled."
Tyler is in his 70s, and Liv said that he has amazing skin because he makes a conscious effort to look after it, something that's obvious from his selfies. But still, who would've guessed that the musician is such a skincare enthusiast?
Steven Tyler knows he has a confusing public image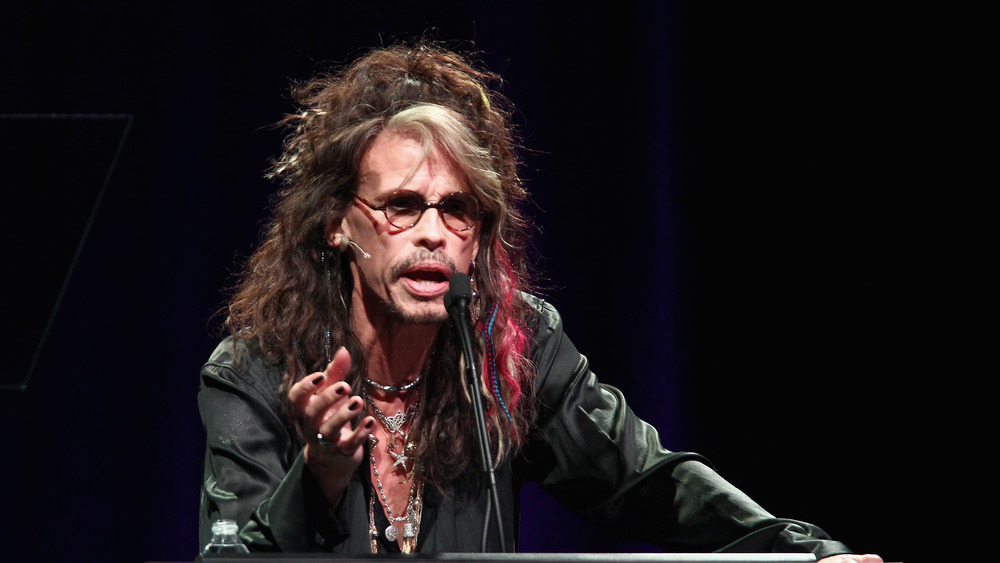 Tommaso Boddi/Getty Images
Steven Tyler is aware that he has a controversial public image. "It's hard to tell who I am by the trail left by my musical career," he wrote in Does the Noise In My Head Bother You? "I am the Demon of Screamin', the dude that looks like a lady, the rag doll that married Lucy in the Sky. But I'm also something more than the rock n' roll junky wh**** who got his foot inside the door."  
As far as being a controversial figure is concerned, Tyler is no stranger to scandals. According to Deadline, Tyler was embroiled in a controversy in 2012 after he served as a judge on American Idol and got called out by singer Nicki Minaj for coming across as racist. Basically, it all started when Tyler spoke about Minaj and other judges on the show and got called out by Minaj, who took offense at his comments. "I am the last thing on this planet as far as being a racist," Tyler later said. He also apologized to Minaj.
Steven Tyler has also pursued a solo career but hasn't been as successful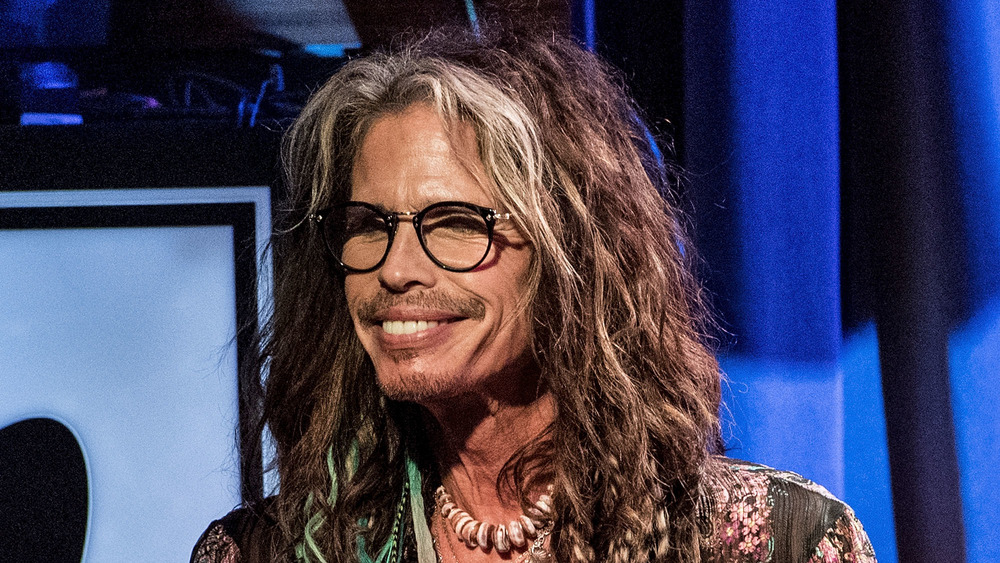 Timothy Norris/Getty Images
Steven Tyler tried to pursue his solo career but didn't quite succeed when compared to his work with Aerosmith. According to a piece by Rolling Stone, Tyler unveiled his first solo album, called We're All Somebody From Somewhere, in 2016. His album featured 15 songs and had heavy influences from his country roots. "I believe y'all are gonna listen to this stuff and you're gonna agree with me that it fell from a star," he said back then.
He added that he tried to keep the album as genuine as he could. He backed his album with a 19-city tour called Steven Tyler…Out on a Limb. "I just have this crazy passion and love of life, and I'm always speaking out of turn and out of this and out of that," he said. "[People will say], 'You're out of your mind.' Well, good. I'd rather be out of my mind than that place you're in, I would say to these people."