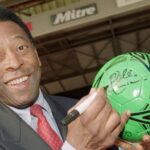 The Youngest Professional Athletes To Win A Championship
echo get_the_meta(); ?>
Professional athletes are expected to perform at the highest possible level because, well, it's in their job description. Still, everyone has to start somewhere. No one expects the rookie taking his or her first, nervous steps at the topmost level of the game to dominate the playing field right away. Even the biggest talents need a moment to find their feet.
That's how it usually goes, anyway. The following athletes all skipped the whole "orientation period" part of their career, and started raking in championships pretty much immediately. Some of them were just too good to not start winning right away. Others played for fearsome teams that helped them achieve great things on their very first try. No matter how they ended up holding their trophy, they all have one thing in common: they've gone down in history as the youngest people to win the top spot in their respective sports.
Jamal Lewis was amazing in his record-breaking Super Bowl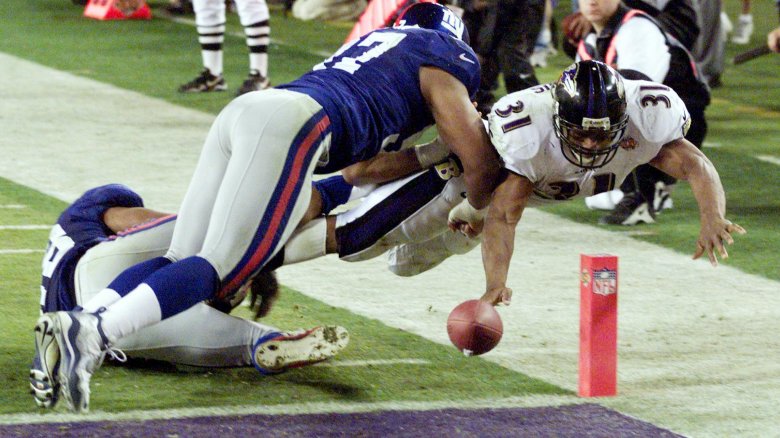 Getty Images
Playing in the Super Bowl must be pretty daunting for even the most experienced player who already has more Super Bowl rings than they can comfortably wear. Imagine what it must have been like for running back Jamal Lewis, whose Baltimore Ravens made it to the Super Bowl in 2001. As The New York Times describes, the Ravens had made the Super Bowl XXXV as a wild card team. They were facing the mighty New York Giants, who were yet to be defeated in a Super Bowl. Oh, and as his Guinness World Record shows, Lewis hit the gridiron as the youngest person to ever play in the Big Game: 21 years, 155 days. 
Men have crumbled under much less pressure, but Lewis handled his responsibilities like a champion. Thanks to their sturdy defense, the Ravens felt secure in their chances, to the point where they brazenly predicted victory before the game even started. On the field, they put their money where their mouth was, and dismantled the Giants 34-7. Lewis certainly contributed to the victory — he ran 102 yards in the game, which made him only the second runner that season to rush for over 100 yards against the Giants. He also managed to score a touchdown during the fourth quarter, which nailed a neat six points in the Giants' coffin.
Angela Lee won her first MMA title at 19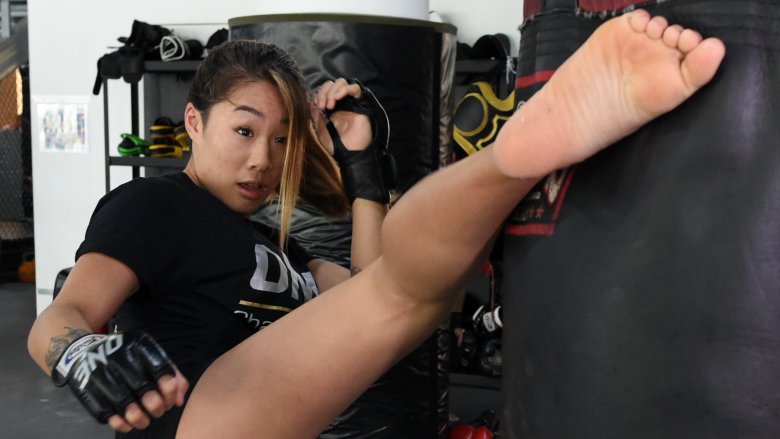 Getty Images
Women's atomweight division might not be the first port of call on a quest to find one of the brightest stars in the world of mixed martial arts. Yet, that's where Angela Lee resides… and dominates. According to Forbes, Lee is one of the most influential MMA fighters in the world. She was just 19 when she won the One Championship atomweight title, which made her the youngest world title champion in any major fight promotion. At 22, Lee continues to hold on to her title, with a perfect 9-0 fight record. She's her promotion's biggest star, and such a popular name that despite her youth and lack of experience, she's been nominated for Best Female Fighter of the Year at the World MMA Awards every year since 2016. 
Fists and feet are far from the only weapons in Lee's arsenal. A big part of her popularity is the way she has turned her own charisma and social media prowess into a personal brand. While this is not unusual among popular MMA stars, Lee eschews the threatening image favored by colleagues such as Ronda Rousey and Conor McGregor. Instead, she goes for a family friendly approach that has served her extremely well. Even personal disasters, such as a potentially lethal 2017 car accident where she had fallen asleep at the wheel, have turned into intriguing chapters of her success story. 
Pelé wasn't even 18 when he won his first World Cup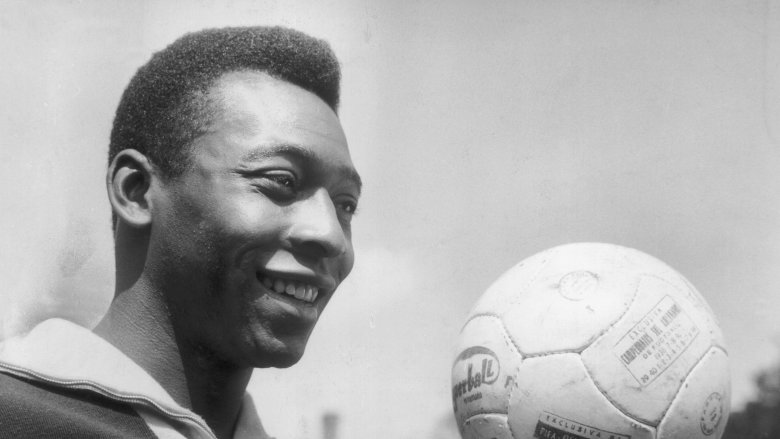 Getty Images
When it comes to pure, goal-scoring prowess, his Guinness World Record proves that Pelé remains the yardstick all the other soccer giants are measured with. The Brazilian phenomenon born as Edson Arantes do Nascimento is a true global superstar of soccer. Over his 21-year career, he found the net a ridiculous 1,279 times, plus two more times in special appearances.
Pelé also holds a certain other Guinness World Record. In the 1958 World Cup tournament in Sweden, he became the youngest player to win the most prestigious championship of the sport, the FIFA World Cup. Despite being only 17 years and 249 days old at the time, Pelé turned in a typically bombastic performance. As ESPN tells us, the Brazilian national team faced Sweden in the final, and the underage star personally made short work of the hosts by scoring two goals in Brazil's 5-2 victory.
It looks like Pelé hasn't forgotten the feeling, either. After 19-year-old Kylian Mbappe became the youngest player since the Brazilian legend to score in a World Cup final when France beat Croatia in 2018, the delighted Pelé tweeted his congratulations and welcomed Mbappe in the "club" of teenage players who have scored in the final. Current membership of said club: two people.
Bill Rexford won the NASCAR Cup Series Championship at 23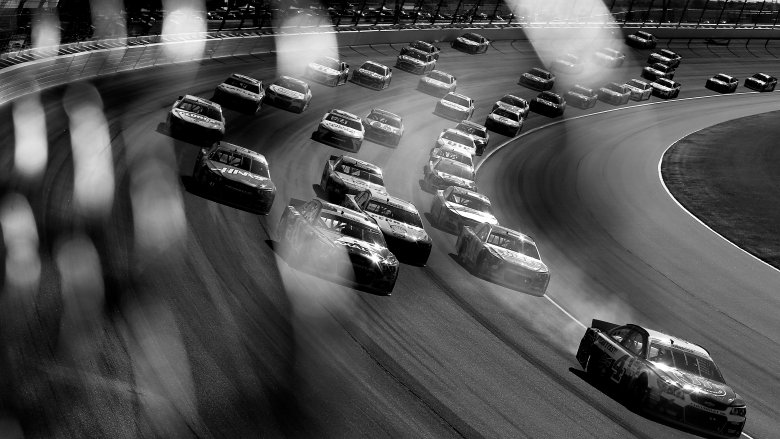 Getty Images
Winning the Monster Energy NASCAR Cup Series Championship is difficult for a young driver, to the point where NASCAR has dedicated an article to the handful of drivers who have managed to do it before they turn 30. Easily the youngest of them is Bill Rexford, who won the championship way back in 1950, at 23 years, 7 months, 15 days old. It was a close one — Rexford and his closest competition, Fireball Roberts, both suffered from engine issues. Ultimately, Rexford only secured the win when the 200-lap race was called for darkness at Lap 175, giving him a 26th-place finish that was enough to win the championship. 
Still, individual wins can come for even younger NASCAR drivers. Monster Energy Series driver Joey Logano was just 19 years, 1 month and 4 days old in 2009, when he scored a win in New Hampshire. The absolute youngest winner in a NASCAR-sanctioned series is Cole Custer, who was just 16 years, 7 months and 28 days old when he won a Truck Series race at New Hampshire Motor Speedway in Loudon. 
These achievements are especially impressive in a series that has historically featured much older drivers. In 2000, Motorsport.com reported that the average age of a NASCAR driver was roughly 39 years. While Building Speed Blog's statistical analysis indicates that the current average age is roughly a decade younger, winners this young still stand out like a sore thumb.
Darko Milicic is the youngest NBA champion, whether anyone likes it or not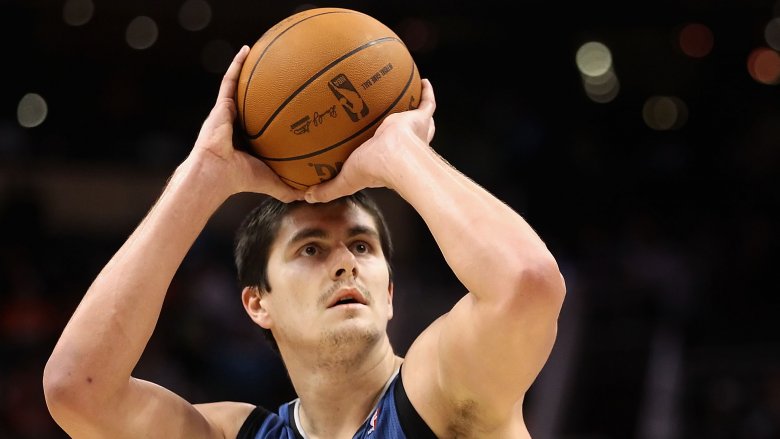 Getty Images
Most stories of young champions are inspiring tales about success that fans of the sport remember fondly. Ask a basketball fan about the NBA's Darko Milicic, however, and their comments might not be quite as adoring. As the Herald Sun describes, Milicic himself is well aware of his reputation as a less than successful player, and actually agrees with it wholeheartedly. In 2003, the Serbian phenomenon was such a hot commodity that the Detroit Pistons drafted him as the number two overall pick — just behind a certain LeBron James. Unfortunately, the praise and attention made Milicic think of himself as a godsend, and the talented seven-foot-tall center focused his energies on all the wrong things. He got into fights, acted arrogantly, and even got drunk before practice sessions.
Milicic's first steps in the NBA were a success, though no thanks to his confrontational attitude. The Pistons were a top team, and in 2004, they beat the L.A. Lakers in the finals for the Larry O'Brien trophy. Milicic played in three of the games, and was 18 years, 356 days old in his Game Three appearance. This was as good as the basketball life ever got for him. Milicic went on to average an unassuming 1.6 points per game during his three seasons with the Pistons, and after six more years as an unhappy journeyman, he left the game to become a farmer in his home country.
Wilfred Benitez, boxing champion at only 17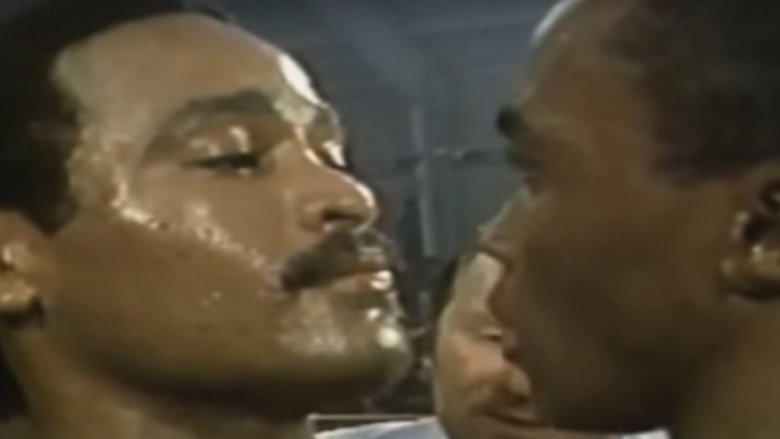 When Boxing.com wrote a story about Wilfred Benitez, the very first sentence called him "one of the finest natural boxers in history". During his heyday between 1976 and 1982, Benitez took on some of the best boxers in the business, and made them look like buffoons with his natural ability and lighting-fast punches. Boxing News calls Benitez an artist who started his boxing career at only 15 years old. As UPI describes, it took him just two years to reach the top. On March 6, 1976, the 17-year-old Benitez won the World Boxing Association junior welterweight title from Antonio Cervantes. 
One of the few boxers who were able to handle Benitez during his glory years was the legendary Sugar Ray Leonard, who challenged him for a championship in 1979. Benitez always hated training, and relied on his natural ability and tactical brilliance instead. His trainer at the time says that the Leonard fight was no exception, and Benitez seemed to believe that "being Wilfred Benitez" was more than enough preparation. Despite this, he gave Leonard a difficult time for 15 rounds before finally losing via knockout.
Over time, Benitez grew slower, and caught more and more punches. He was only 38 when he collapsed on the floor of his mother's house and fell into a coma. Although he woke up again, the man who was once famous for his movement and quick thinking is now confined to a wheelchair, his memory failing because of pugilistic dementia.
Martina Hingis won all of her tennis Grand Slams before she turned 19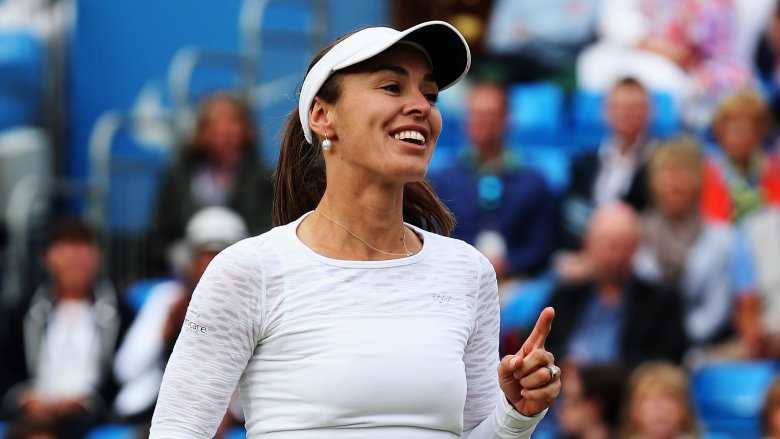 Getty Images
Martina Hingis was born to play tennis. She was named after the legendary Martina Navratilova, and her mother was former pro player Melanie Molitor. Still, few knew what was coming when Hingis started competing. The Tennis Hall of Fame describes her extraordinary arrival: Hingis burst in the scene in the late 1990s, when women's tennis was bursting at the seams with superstars like Monica Seles and Steffi Graf. Despite this, she quickly rose through the ranks. In 1996, she became the youngest major titlist in the history of the sport, at just 15 years and 9 months. At 16 years and 3 months, she won her first Grand Slam at the Australian Open, and went on to win four more before she turned 19. 
Another young winner worth mentioning is Lottie Dod, whose Tennis Hall of Fame entry tells that she won the Wimbledon a total of five times. Her first victory came in 1887, when she was just 15 years, 285 days old. According to The Telegraph, Dod was a versatile sports superstar — In addition to tennis, she was a golf champion, a member of the national field hockey team, and an Olympic silver medalist in archery. However, there's a catch. Due to her young age, Dod was allowed to compete in a peculiar outfit that resembled a school uniform, which granted her far more mobility than the layered outfits and full-length dresses her opponents competed in.
Larry Hillman was the youngest to win Stanley Cup, Sidney Crosby the youngest to take the Art Ross Trophy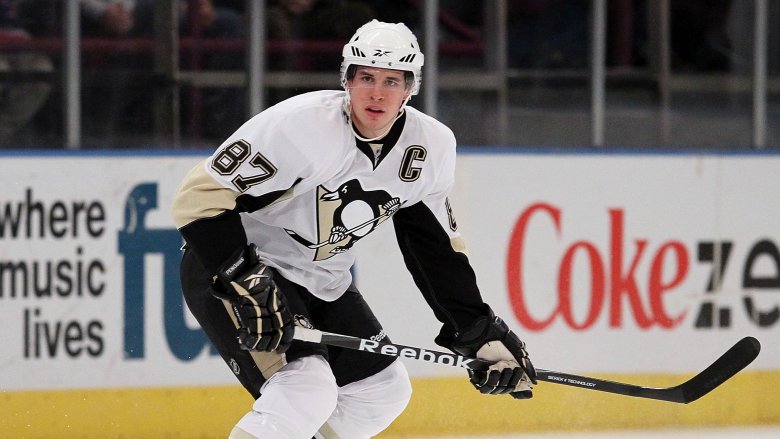 Getty Images
Getting his name on the Stanley Cup is an NHL player's dream, but only a select few ever manage to reach that highest of honors. According to The Hockey Writers, there are over 2,300 names on the cup, and the youngest of them all is Larry Hillman. Hillman, a Boston Bruins defenseman, was just 18 years, 2 months, and 9 days old when his team won the Stanley Cup in 1955. Still, though his name is carved in the cup, his career statistics show that he was probably not the player who carried that particular team on his back. In fact, fast forward to 1960, and he was in the developmental AHL league. He did make the AHL All-Star team and win the Eddie Shore award, which is given to the AHL defenseman of the season, so even that wasn't all bad for him.   
Another significant prize that a young NHL player can compete for is the Art Ross Trophy, an individual award that is given to the league's scoring champion. According to Bleacher Report, the youngest player to ever receive this prestigious award is Sidney Crosby, who won it by scoring an impressive 120 points for the Pittsburgh Penguins in 2007. Crosby was 19 years and eight months old, which made him the youngest scoring champion in the history of all major North American professional sports.   
Sebastian Vettel won a Formula One championship at 24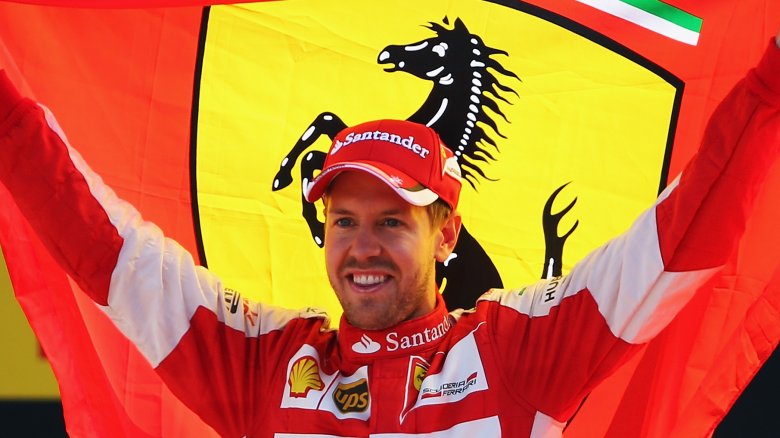 Getty Images
In 2010, Sebastian Vettel of the Red Bull team became the youngest Formula One Champion in history. According to his Guinness World Record, he was 23 years and 134 days old, and the way he won his title was a thriller that warranted such a historical victory. The final race of the season was the Abu Dhabi Grand Prix in the United Arab Emirates. Four drivers were still contending for the title, and the championship was still up in the air. The smart money was not necessarily on Vettel — he was 15 points behind Fernando Alonso in the standings, so his only hope was to win the race, and even that wouldn't have saved him if Alonso finished fourth or higher. 
Vettel started in pole position and managed to largely stay in the lead, but his race was not without drama. In the final laps, he experienced radio problems, so he had no idea to know how Alonso was doing. In the end, he emerged from his car as the winner… and found out that Alonso had finished in seventh place.  
According to Vettel's F1 Hall of Fame page, this was only the beginning of his domination with the Red Bull team. They went on to win four consecutive Formula One World Championships, from 2010 to 2013. Vettel was still only 26 when he won the fourth one.
Barbara Jones is the youngest track and field Olympic winner in history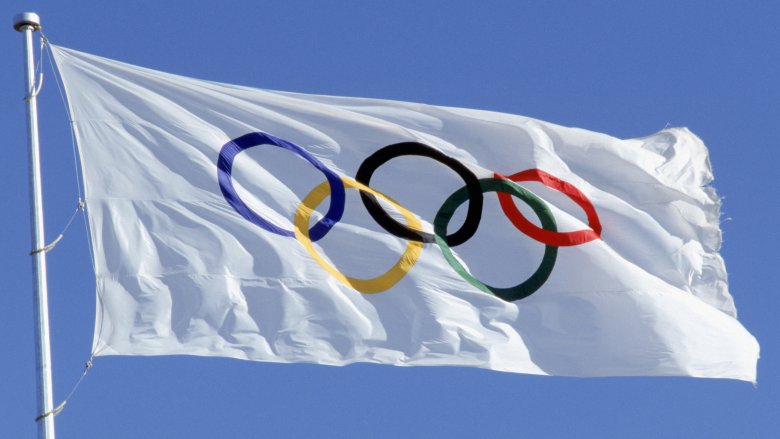 Getty Images
Track and field athletics offer a multitude of running, jumping and throwing events for athletes of all ages. Surprisingly, though, the title of the youngest track and field Olympic gold medalist has been at the hands of the same person since the Helsinki Summer Olympics in 1952. As Steven Lynch of ESPN reports, this athlete is Barbara Jones, who competed as part of the victorious American sprint relay team. 
When The Atlanta Journal-Constitution interviewed Jones, who was only 15 years and 123 days old when she won her gold medal, she revealed that the victorious relay race almost didn't happen for her. When Jones was 14, she was close to quitting her athletic career because her friends were sick of her winning all the time, and they threatened that they wouldn't hang out with her anymore. Alarmed, Jones tried to make up excuses and fake injuries to get out of training, but her coach realized the situation and made some calls. Soon, Jones received a visitor: Jesse Owens, the track and field legend who had dominated the 1936 Berlin Olympics. After a kind talk about facing adversity, Owens gave Jones a medallion, and said that it would always remind her that she had to dare to be different if she wanted to inspire others. 
A year later, Jones was an Olympic gold medalist. 
"Young" Tom Morris won the British Open before he turned 18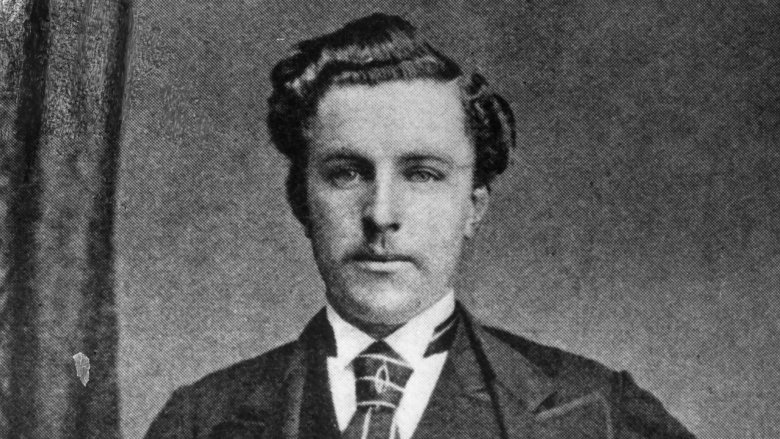 Getty Images
In 1868, "Young" Tom Morris became the only golfer to win a major golf championship before he turned 18. Golf News Net reports that he was 17 years, 5 months and 8 days old. According to ThoughtCo, this was the first of his three consecutive British Opens. The second one made him the only male golfer to win a major golf championship before he turned 19, and the third one made him one of the two men who have won before they turned 20. Strangely, his incredibly appropriate nickname didn't come from these heroics. During his lifetime, people just called him "Tommy." However, his father was also a golfer and they shared a name, so history books couldn't resist giving them new, posthumous nicknames. Today, we know them as "Young" Tom Morris and "Old" Tom Morris.
If we disregard Morris as a player from a different era where it was easier for a talented player to dominate, the youngest male player to win a major championship in modern golf is Tiger Woods, who won the 1997 Masters at just 21 years, 3 months, and 14 days old. However, when we take female players into account, the list is very different. Lydia Ko won the 2015 Evian Championship when she was 18 years, 4 months, and 20 days old. In fact, there are eight female golfers who won their first championship younger than Tiger Woods was when he won his.
Kyoko Iwasaki swam Olympic gold when she was just 14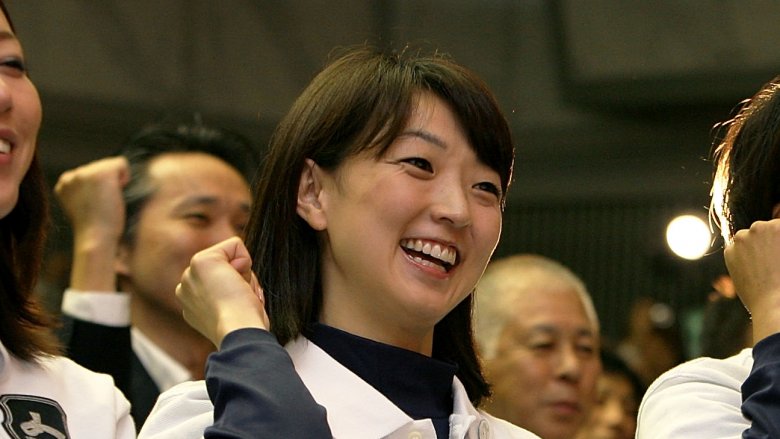 Getty Images
Swimming seems like a sport that allows older athletes to prosper. After all, Michael Phelps was still winning gold medals in his thirties at the 2016 Olympics in Rio de Janeiro. Then again, there's Kyoko Iwasaki, who proved that there's strength in youth when she competed in the 1992 Barcelona Summer Olympics. The Japanese swimmer was only 14 years and 6 days old when she won the 200m breaststroke Olympic gold medal. To this day, she remains the youngest swimmer to ever win an Olympic title.
Iwasaki's winning race was something of a thriller. The 5'2″, 99-pound athlete was not only younger, but noticeably smaller than her competition. She started the finals slowly, and after the first 50 meters, she was only in sixth place. However, little by little, the petite teenager started gaining the others. By the time there was just one length to go, she was side by side with the leaders. She passed the Chinese Lin Li with her last few strokes, taking the gold with mere inches to spare. Her winning time: 2:26.65.