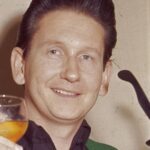 Tragic Details That'll Change The Way You Look At These '60s Rock Legends
echo get_the_meta(); ?>
The '60s were a tumultuous time socially and politically, and one method of escapism was listening to and playing music. Some of history's most iconic and legendary singers and bands got their start in the '60s. Unfortunately, a good chunk of these famous men and women struggled with personal problems and health issues that left irrevocable stains on their lives.
Drugs were prolific during this time period, and some of these stars became so entrenched in drinking alcohol and using narcotics that their habits eventually killed them. Others were plagued by mental illness that prevented them from performing or even functioning in society. Some of these musicians were forced to cope with the death of their loved ones and struggled to move on afterwards. One famous drummer accidentally killed one of his friends, and another was the victim of a murder plot.
These tragic details will change the way you look at these '60s rock legends.
Brian Wilson of the Beach Boys battles a serious mental illness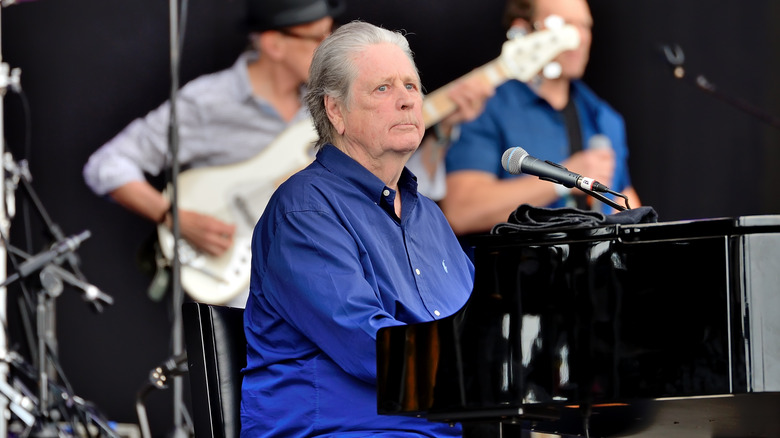 Christian Bertrand/Shutterstock
Brian Wilson of the Beach Boys was plagued by excessive substance use and mental health issues that would take years to control. In 1964, the singer/songwriter had a nervous breakdown, according to Gaslight Records. Wilson used drugs, including cocaine, marijuana and LSD, to battle his depression. 
In 1965, he started experiencing auditory hallucinations, and displaying paranoia and antisocial tendencies. Doctors eventually diagnosed him with schizoaffective disorder. He told Ability magazine that the voices in his head were derogatory and discouraging: "I have to be strong enough to say to them, 'Hey, would you quit stalking me? … Don't talk to me — leave me alone!'"
Medication has helped Wilson through his recovery, as has his second wife, Melinda, according to Biography. She helped him find the right doctors and created a loving family environment for the musician. Still, it's not always easy for Wilson to keep it together, and some days are better than others. He revealed in 2019: "There were times when it was unbearable but with doctors and medications I have been able to live a wonderful, healthy, and productive life with support from my family, friends, and fans who have helped me through this journey."
If you or someone you know is struggling with mental health, please contact theCrisis Text Lineby texting HOME to 741741, call theNational Alliance on Mental Illnesshelpline at 1-800-950-NAMI (6264), or visit theNational Institute of Mental Health website.
The Hells Angels plotted to kill Mick Jagger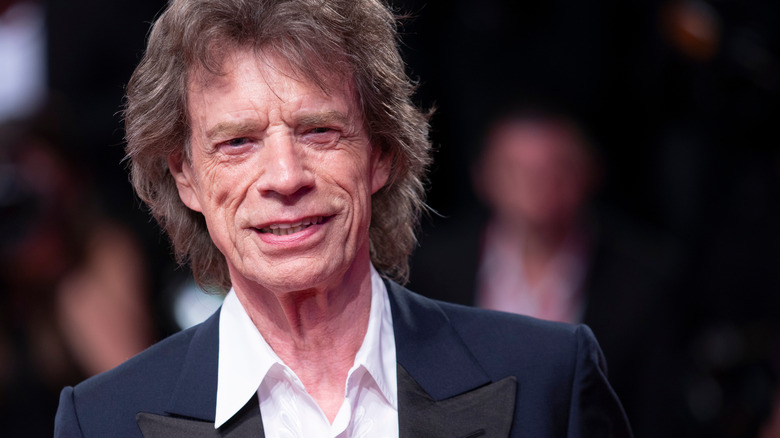 Denis Makarenko/Shutterstock
On December 6, 1969, the Rolling Stones performed at the Altamont Speedway in California. The festival was a challenge from the start, according to Ultimate Classic Rock. Fans were out of control, and security was provided by the Hells Angels bike club. Several fights occurred before the Rolling Stones performed, and at one point security knocked out Marty Balin of Jefferson Airplane. Then the Grateful Dead refused to play, even though the band's manager was the one who had urged organizers to use the Hells Angels for the gig.
When Mick Jagger walked from the Stones' helicopter to the stage, a concertgoer punched him. He unsuccessfully tried to calm the audience, and the bikers allegedly did not like his flashy dance moves. These factors and others created a dismal mood, and by their third song, "Sympathy for the Devil," the Stones still had trouble engaging with the crowd. Then concertgoer Meredith Hunter took out a gun after trying and failing to get on stage. One of the Hells Angels stabbed him, and Hunter was then beaten to death. This occurred unbeknownst to the band.
Afterwards, Jagger distanced himself from the bikers, saying he would never partner with them again. The Hells Angels were infuriated because they thought Jagger sold them out. They decided to kill him in revenge, but their plans were foiled. Interestingly, Jagger was unaware of the murder plot as the FBI wasn't forthcoming about the information until many years later.
Keith Richards nearly killed himself after his 2-month-old son died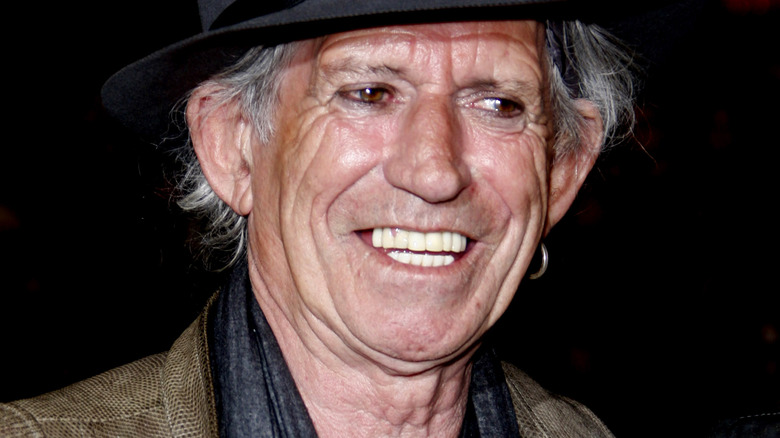 Tinseltown/Shutterstock
In 1976, Keith Richards of the Rolling Stones had one of the worst years of his life. That's when his 2-month-old son Tara Jo Jo Gunne died in Geneva, Switzerland. According to Ultimate Guitar, the musician's son died of sudden infant death syndrome (SIDS). Richards told the BBC that he was shocked when he heard the news. The guitarist was only able to make it through the pain because the band was performing in Paris, France, that same night. He revealed: "I thought, 'I'm going to go mad unless I do this show tonight.'"
Some may think it odd that he decided to perform, but for Richards it was self-preservation and a way to block out the emotions: "It was a rough, rough thing. And I had a feeling, 'I must go on stage now and I'll worry and grieve and think about all this after the show.'" He added that if he didn't perform, there was a good chance that he would have attempted suicide.
Richards and model Anita Pallenberg had three children together, and Tara was the youngest. The couple stayed together for 12 years but never tied the knot, and they split up in 1979.
If you or anyone you know is having suicidal thoughts, please call the National Suicide Prevention Lifeline​ at​ 1-800-273-TALK (8255)​.
Pink Floyd's Syd Barrett heavily ingested LSD and likely had schizophrenia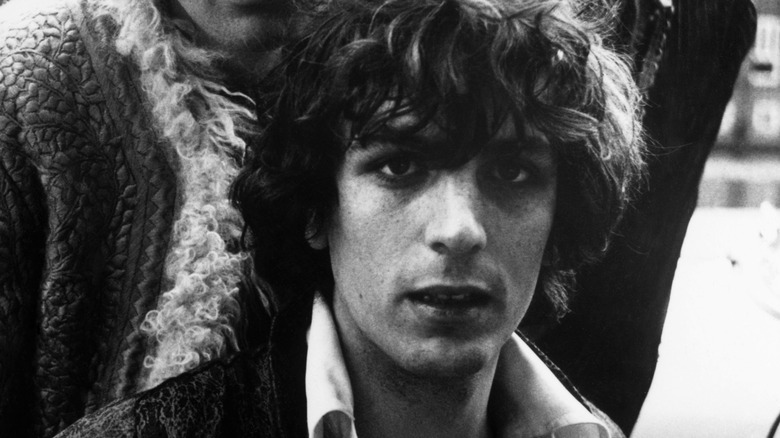 Keystone Features/Getty Images
Guitarist and frontman Syd Barrett was one of the founding members of Pink Floyd, and he was a driving creative force in the band. However, he started experimenting with LSD in 1965 and eventually had a difficult time staying in tune with reality. When David Gilmour saw him at a recording studio in 1967, he was shocked by how much the guitarist had changed since their previous meeting: "Syd didn't seem to recognize me and just stared back," he said, according to Biography. Barrett's behavior caused the band to cancel gigs before it eventually replaced him with Gilmour in 1968.
Some believe Barrett had schizophrenia, which may have been caused by heavy drug use as well as stress from his work, according to Schizophrenia.com. Fellow band member Roger Waters, friends, and others noted that Barrett had "odd thoughts." Waters told VH1's Legends in 2002: "There is no doubt those [street drugs] are very bad for schizophrenics … and there is no doubt that Syd was a schizophrenic."
Barrett exhibited strange behavior, delusions, visions, and more. He also had diabetes when he got older, which commonly occurs in people with schizophrenia. Diabetes can occur because of a sedentary lifestyle but also from certain antipsychotic medications. After leaving Pink Floyd, Barrett withdrew from the public eye and died in 2006 at the age of 60. 
The Who drummer Keith Moon accidentally killed his friend/driver/bodyguard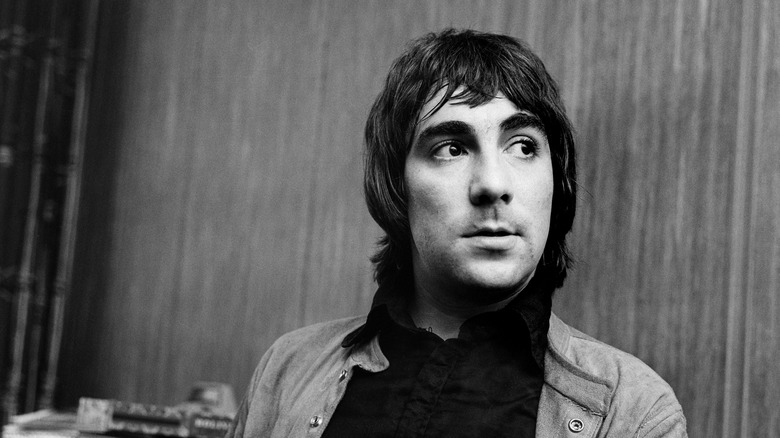 George Wilkes Archive/Getty Images
Keith Moon was the drummer of The Who until his death in 1978 due to an accidental drug overdose. But it's an incident eight years earlier that left an indelible mark on the musician's life. On January 4, 1970, Moon, his wife, and some friends went to a pub in Hatfield, England, that was frequented by working-class citizens who didn't appreciate Moon's lavish tastes, including his Bentley and drink of choice, brandy instead of beer. When the pub closed, the crowd showed its displeasure by trying to prevent Moon and his party from leaving in their vehicle, according to Ultimate Classic Rock.
Pubgoers started rocking Moon's Bentley and causing chaos. This prompted his driver, friend, and bodyguard Neil Boland to get out of the vehicle and confront the crowd, which included skinheads. Moon then tried to drive himself and his friends away from the pub. In the process, Boland got stuck under the Bentley and was dragged down the street, which caused his death. Police charged Moon with Boland's death, drunk driving, driving without a license, and driving without insurance. 
An investigation later revealed it was an accident. Still, Boland's death affected Moon for the rest of his life. Boland's daughter thought Moon's wife was actually the driver; however, one of the passengers who witnessed the incident insisted that Moon was behind the wheel that night.
Ray and Dave Davies of the Kinks had a tumultuous feud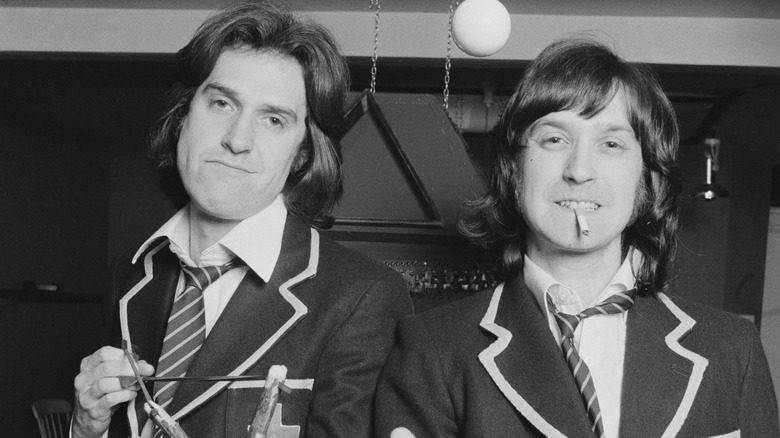 Michael Putland/Getty Images
Ray and Dave Davies were founding members of The Kinks, and their volatile relationship caused numerous problems over the years. The pair have been feuding on and off since they were children. Dave told the Daily Mail several years ago: "You've heard of vampires. Well, Ray sucks me dry of ideas, emotions, and creativity. He's a control freak." He has likened their relationship to that of a married couple that no longer gets along. "You know when one partner gives and gives and the other takes, and finally you realize you can't do it anymore?" he added.
The siblings fought with each other as well as other members of the band. The Kinks were even banned for playing in the United States for four years due to their shenanigans, according to Ultimate Classic Rock. Being banned during the British Invasion was certainly a career misstep. Then Ray had a nervous breakdown in 1966 because the band was constantly on the go. He later attempted suicide after his wife left him. 
While the brothers admire each other's musical prowess, they have also struggled to keep it together. In 2013, the pair fought over the guitar sound on their popular tune "You Really Got Me." Ray then claimed he could perform without his brother. While they clearly love one another, they also can't stand being near each other. "I love him. He loves me, but when we're in the same room, it doesn't work," Dave told the Daily Mail.
The biggest album of Janis Joplin's career dropped after she died of a drug overdose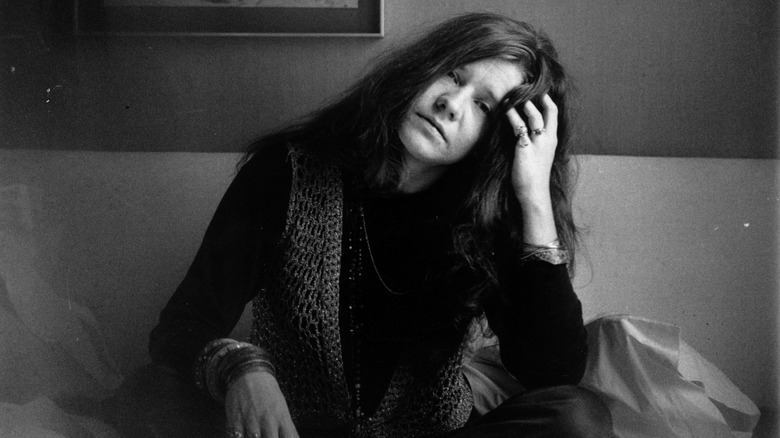 Evening Standard/Getty Images
Janis Joplin was a force to be reckoned with in the 1960s. She was known for tunes such as "Try (Just a Little Bit Harder)," "Maybe," and "Piece of My Heart" and performed at Woodstock in 1969. Unfortunately, just a year later she would be dead due to drug and alcohol addiction, according to Yahoo. Joplin liked drinking and taking drugs such as methamphetamine and heroin. She had periods when she was sober, but the allure of getting high was too hard for her to resist. On October 4, 1970, she missed a recording session in Los Angeles, and her manager decided to see if she was still at her hotel. He found her dead on the floor of her room.
Joplin died of a heroin overdose that was likely exacerbated by alcoholism. Many believe the heroin she used was stronger than usual because other people that used the same drug dealer also overdosed in the same time period. Joplin was just 27 years old, and her death occurred just weeks after Jim Hendrix died. He too was 27. In 1971, Joplin's posthumous album "Pearl" was released, and it included the last song she recorded, "Mercedes-Benz." It also featured "Me and Bobby McGee." It was the top-selling album of her career, and she wasn't even alive to celebrate its success.
Roy Orbison's wife Claudette died in a motorcycle crash and two sons perished in a fire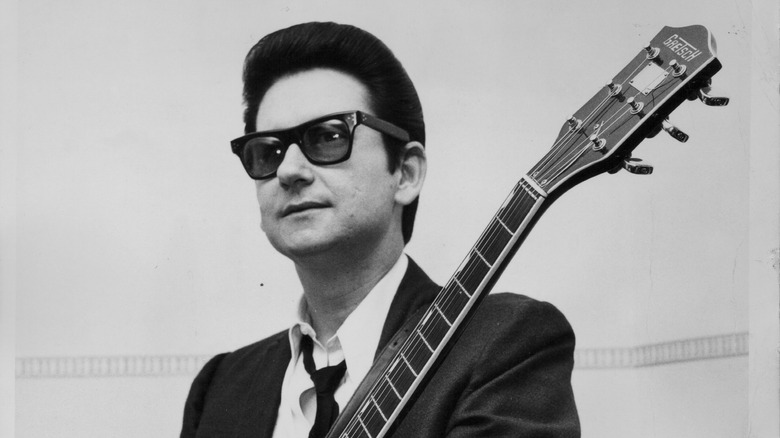 John Hercock/Getty Images
Singer Roy Orbison had nine top 10 hits between 1960 and 1965, according to Biography. He wasn't your typical rock star with his thick eyeglasses and songs focusing on heartache. Part of that heartache undoubtedly came from his on-off wife Claudette Frady Orbison. The Orbisons wed in 1957, but Claudette had an affair in 1963 while Roy was on tour in Britain, according to Avengers in Time. The following year, the couple got divorced because of Claudette's marital transgression; however, the pair reunited and wed for a second time in 1965. 
Claudette was around motorcycles as a child, and Roy reportedly became interested in them through Elvis Presley. In 1966, only a year after they remarried, Claudette died in a motorcycle crash in Old Hickory, Tennessee. Roy was riding in front of Claudette on a different motorcycle when the accident occurred. She was just 26 years old when she died, according to Newspapers.com, and he was just 25 years old. Two months later, Roy's song "'Too Soon to Know" hit number three on the British charts and included lyrics such as: "It's too soon to know/ If I can forget her/ My heart's been broken/ In too many pieces." 
A truck driver was charged with involuntary manslaughter and claimed he did not see the bike when he pulled onto the highway. 
Even worse, Roy's two oldest sons with Claudette died in a house fire in 1968, adding to his loss.
Frank Zappa was sick since childhood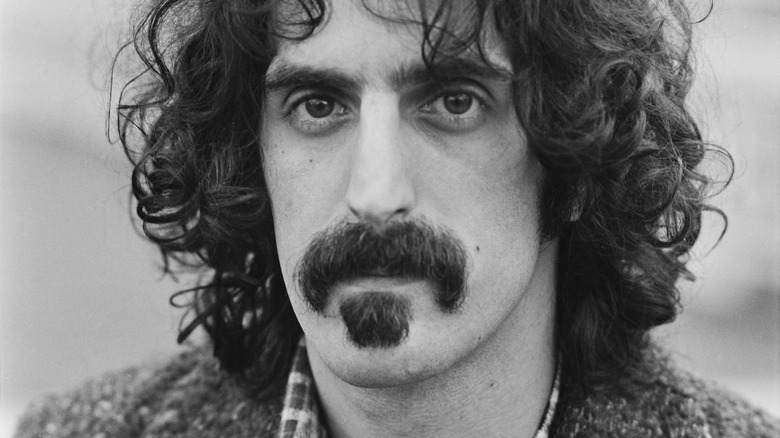 Jack Kay/Getty Images
Unconventional and inventive rocker Frank Zappa wasn't confined by genres when it came to his music. He died relatively young but managed to carry out a successful 30-year career. Born in 1940, Zappa's father was a Sicilian immigrant, chemist, and mathematician who worked as a contractor for the defense industry, according to Biography. Growing up, Zappa was exposed to mustard gas and other chemicals, which could have been linked to his poor health over the years. This includes radium pellets, which a doctor used to treat a young Zappa's sinusitis. He also dealt with asthma and other ear, nose and throat maladies, according to Louder. 
After coping with urinary problems for several years, the musician was diagnosed with prostate cancer at the age of 50 in 1990, according to Ultimate Classic Rock. Unfortunately, the cancer had been in his body for several years, and doctors discovered the problem in its late stages, so there was no operable solution. He spent the last couple years of his life working on the orchestral album "The Yellow Shark." In his final interview, he said he had good days and bad days but smoked cigarettes the entire time, claiming, "To me, a cigarette is food. Tobacco is my favorite vegetable." He died at age 52 in Los Angeles.
Known drug user David Crosby received a liver transplant, and people questioned its ethics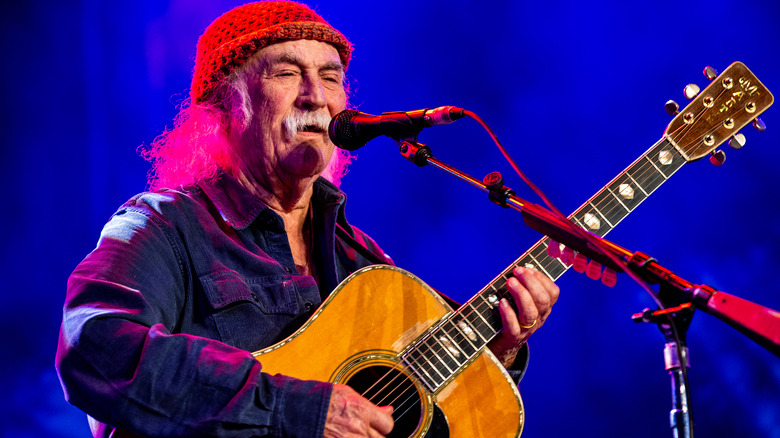 Ben Houdijk/Shutterstock
Singer and songwriter David Crosby is known for being a part of the iconic rock bands The Byrds and Crosby, Stills & Nash. He also drank a lot of alcohol and took a lot of drugs in his younger years. Crosby served time in a Texas prison in the early '80s for a weapons charge and heroin and cocaine possession, according to Cal Coast News. Three years later in California, he was charged with a DUI, hit and run, possession of a concealed weapon, and possession of drug paraphernalia.
The silver lining was that serving time behind bars helped Crosby battle his drug addiction. He revealed in 2019: "I had tried going into treatment and it didn't work. I went into prison, and it worked. It was a s - - tty way to do it," according to Fox News. Unfortunately, at one point Crosby was diagnosed with Hepatitis C, which can be contracted by sharing needles. In 1994, fellow musician Phil Collins paid for a liver transplant for Crosby. There was controversy over the action because some believe Crosby may have received special treatment due to his fame even though he had a history of drug and alcohol addiction.
If you or anyone you know is struggling with addiction issues, help is available. Visit theSubstance Abuse and Mental Health Services Administration websiteor contact SAMHSA's National Helpline at 1-800-662-HELP (4357).
Ike Turner had a cocaine addiction for over 30 years and died of an overdose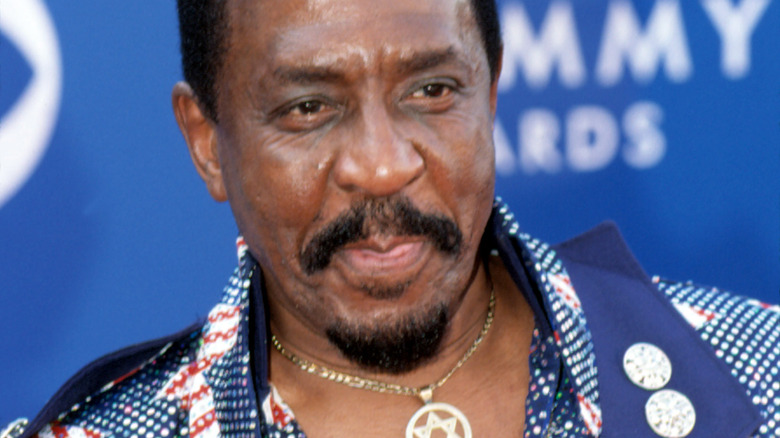 Everett Collection/Shutterstock
Ike Turner's musical legacy is marred by his personal problems, most notably his volatile and abusive relationship with his wife Tina Turner, who claimed Ike beat her up on numerous occasions. He told the Daily Beast in 2017: "Yeah, I hit her, but I didn't hit her more than the average guy beats his wife. The truth is, our life was no different from the guy next door's. It's been exaggerated." But he also added that "maybe" he did abuse her.
After the couple divorced in 1976, cocaine became a huge problem in his life, so much so that he eventually died from an overdose. At one point, Turner said he spent $100,000 on the drug during just two months in 1989. In 1990, he was sentenced to prison for cocaine-related charges, according to Riverfront Times. Turner passed away in 2008 after a 30-year battle with cocaine, according to Reuters. Cardiovascular disease and emphysema were contributing factors in his death.
If you or someone you know is dealing with domestic abuse, you can call the National Domestic Violence Hotline at 1−800−799−7233. You can also find more information, resources, and support attheir website.
An overweight, diabetic Jerry Garcia died at age 53 in a rehab facility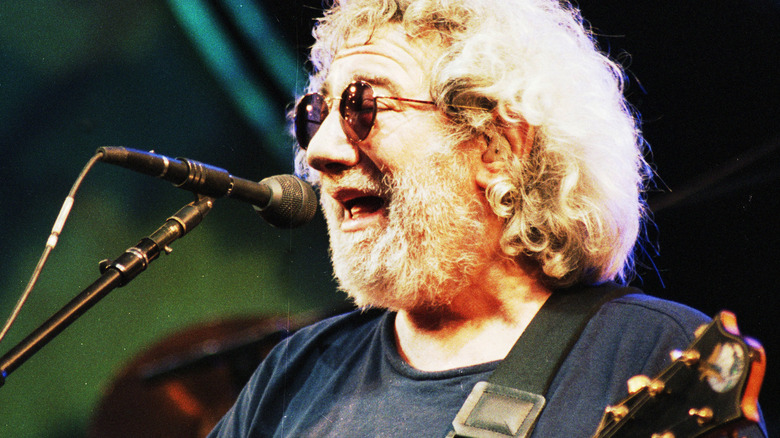 Northfoto/Shutterstock
Grateful Dead frontman Jerry Garcia died in a California drug treatment center in 1995 at the age of 53. Arguably the most prominent jam band of the 1960s, the Grateful Dead combined blues, rock, country, and other genres of music, and fans were unsurprisingly distraught by his passing at such a relatively young age. However, years of excessive drug use eventually took their toll on the musician's health. In addition to being addicted to cocaine and heroin, Garcia also had diabetes, according to the San Diego Union Tribune. Three years prior to his death, he collapsed after a performance in Chula Vista, California.
According to a spokesman, Garcia checked himself into rehab because he recognized that he had a problem with his health. Former bandmate and drummer Mickey Hart told Rolling Stone that Garcia was sick from all the abuse his body had endured over the years, and his heart simply gave out.