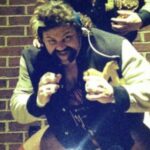 What Rick Steiner Has Been Doing Since Leaving Wrestling
echo get_the_meta(); ?>
As a wrestler, Rick Steiner proved his worth both in the amateur world of traditional grappling and the professional one of speedos, insults, rivalries, and childhood idols who really should never be allowed around children. The man known in the WWE, WCW, and other pro leagues as "The Dog-Faced Gremlin" was also a record-setting All American wrestler during his time at the University of Michigan. After sharpening his teeth in the ring as a solo competitor, Rick recruited his brother Scott in 1989, and the two formed one of the most formidable tag teams the sport has ever seen. According to Wrestling-Titles, the brothers took their first world tag team title in the National Wrestling Alliance world their debut year. The Steiner Brothers spent some time in the WWE in the early 1990s, then a short stint with the ECW before returning to the WCW in 1996, then they parted ways after Scott turned on Rick during a match against The Outsiders at SuperBrawl VIII.
After another tag team partner, Buff Bagwell, betrayed him in 1998, Rick teamed up with Bagwell's mom, Judy, to get even. In what the WWE remembers as one of the most absurd championship bouts ever, Judy slapped her traitorous son across the face to win the title with Steiner.
Although Steiner still makes sporadic appearances in the square circle, you'll never guess what he spends most of his time doing after leaving full-time wrestling.
Looking for a new house in Atlanta? Call Rick Steiner
Rick Steiner, a champion on the local school board