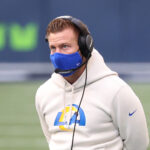 What You Didn't Know About Sean McVay's Famous Grandfather
echo get_the_meta(); ?>
Los Angeles Rams coach Sean McVay may not have achieved his goal of being the youngest head coach to win a Super Bowl ring in 2019, but he didn't let that get him down this year. After a wild-card win in the first round of the 2021 NFL Playoffs over the NFC division champ Seattle Seahawks, he and the Rams are looking forward and hoping to once again make it to the big game for a shot at the championship.
But there was more than a bit of luck and hard work involved in the league's youngest head coach's stellar success. According to SB Nation, football runs in McVay's veins. His grandfather, John McVay, also had a successful career in the NFL, and while he surely did pass some of his pigskin wisdom down to his grandson, Sean himself admits that it definitely helped to already have a generational foot in the pro football door. "This wouldn't have occurred without his influence on the league," Sean said. "It's such a small network, and I'm not naive [enough] to think I would get these opportunities if it wasn't for the legacy that my grandfather was able to establish."
Now, we're not saying that Sean McVay isn't a good coach, or that he doesn't deserve his killer $2.7-million Southern California home and Ukrainian supermodel girlfriend, but let's take a look into the career of the man who helped him get there.
Sean McVay's grandfather worked for the Giants and the 49ers
Sean McVay's grandfather was part of one of the worst plays in NFL history