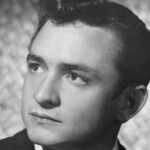 Where Johnny Cash Is Actually Buried
echo get_the_meta(); ?>
Johnny Cash, who died in 2003, is one of the most legendary singers in the history of country music (via Britannica). Do you know, though, where Johnny Cash is actually buried? In addition to timeless classics like "I Walk the Line" and "Ring of Fire," Cash is almost as well-known for his often tumultuous and long-lasting relationship with June Carter Cash, of the Carter Family, who were themselves early innovators in the country music genre.
June and Johnny met in 1956 (via Biography) and were married 12 years later, and the music the couple would go on to make both together and separately is considered some of the best in the genre of country music. Their relationship was further immortalized in the 2005 film "Walk the Line" starring Joaquin Phoenix and Reese Witherspoon (via Roger Ebert). The movie was released just two years after June died following complications from heart surgery.
Johnny was devastated by the loss of his wife and he expressed his grief in the music video for "Hurt," his cover of the Nine Inch Nails classic. Johnny, himself, would not be much longer for the world.
He walks the line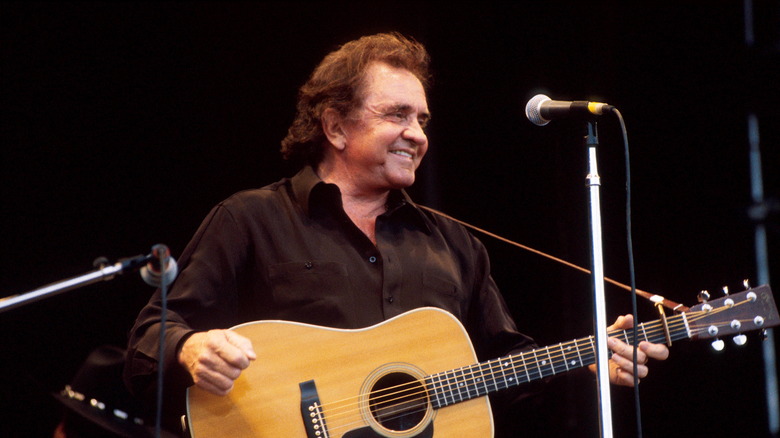 Michael Putland/Getty Images
Befitting a love story like June and Johnny, Cash died from complications related to diabetes, only four months after his wife passed away (via Biography). His last public performance was in July of that year when Cash said — and you may want to grab a hankie at this point — "The spirit of June Carter overshadows me tonight with the love she had for me and the love I have for her."
Where else would a husband that devoted want to be buried than in a plot right next to his beloved bride? As it turns out, Johnny Cash is buried is right next to June at a cemetery near their home in Hendersonville, Tennessee (via Time). Where the musicians are laid to rest is marked by a simple tombstone, suitable for two songwriters known for documenting the struggles of the common person in their music.
What's written on the tombstone is nothing more than June and Johnny's first and last names as well as "I Walk the Line" and "Wildflower," one of June's most well-known songs. All this proves that — and just like the song "I Walk the Line" goes — Johnny Cash finds it very, very easy to be true, even in the afterlife.