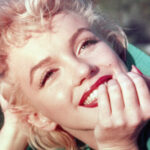 Where These Classic Movie Stars Are Buried
echo get_the_meta(); ?>
Director David W. Griffith released "The Birth of a Nation" in 1915, effectively putting America on the map as an innovator in filmmaking, and as such, giving birth to Hollywood's Golden Age. According to Arcadia Publishing, the U.S. kept pushing forward after this milestone, and by 1920, Tinseltown grew into an even bigger monster as sound was introduced to the silver screen, followed by "the introduction of the studio system," with companies such as Warner Bros., MGM, and Universal.
Interestingly enough, the Golden Age of Hollywood coincided with the Great Depression (via IPL), and considering nearly 15 million Americans were unemployed, they still made time to go to the movies once a week. Providing a sense of escapism from their everyday lives, Tinseltown "brought joy to many."
As the University of Arkansas explains, along with the popularity of films, film stars also reached a new level of global fame — and actors themselves were huge box office draws the studios used to sell as many tickets as possible. The following classic movie stars were some of the biggest in Hollywood, their legacies forever immortalized on the silver screen. When the cameras finally stopped rolling for good, these are the locations where they were finally laid to rest.
Shirley Temple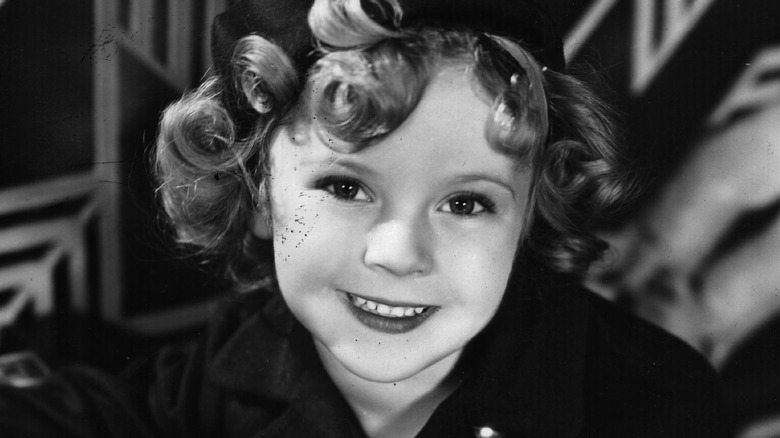 General Photographic Agency/Getty Images
Quite possibly the most iconic child star to ever grace Hollywood's silver screen, Shirley Temple is legendary. Throughout her film career, which spanned from the mid-30s all the way to the late 40s, Temple completed a remarkable almost-60 flicks, her dimple-faced smile and 56 pin curls in her hair winning over America with every role (via "Child Star").
Temple can be credited for breaking some barriers on screen, too: her staircase tap-dancing performance with Black actor Bill "Bojangles" Robinson in 1935's "The Little Colonel" was revolutionary at the time (via NPR), as the duo was "the first interracial couple to dance onscreen" together. She also broke barriers off-camera, retiring from acting at the age of 22 and not falling into a spiral that sometimes plagues former child stars. Instead, Temple turned to politics, per Biography, working "in the State Department for more than two decades," where she "championed issues like refugee rights, the challenges for the aging population and environmental concerns."
Shirley Temple died on February 10, 2014, at the age of 85, from complications of "​​pneumonia and chronic obstructive pulmonary disease" (via Biography). According to Find a Grave, the "Bright Eyes" star was buried in the Alta Mesa Memorial Park in Palo Alto, California, in the Adobe Creek Mausoleum, Building #3, Redwood Grove Section, Tier 2.
Frank Sinatra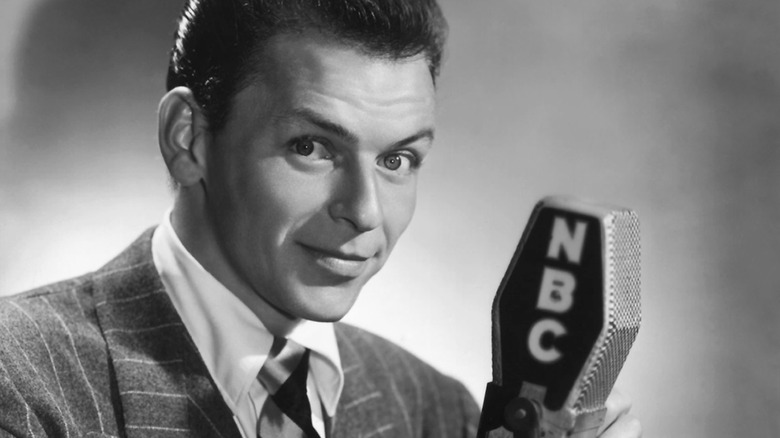 Donaldson Collection/Getty Images
It's hard to find someone who won't recognize the melodic crooning of Ol' Blue Eyes himself: Frank Sinatra. The New Jersey-born singer was also loved by the silver screen, having acted in some Hollywood classics such as "High Society" alongside fellow legend Bing Crosby. According to Jazziz, Sinatra's rise to the top as an A-list celeb began in the early 40s, when he "became an overnight sensation, breaking out as a solo artist" and subsequently winning the hearts of millions of screaming fans. Simply put, Frank Sinatra walked so Elvis Presley could run.
Ol' Blue Eyes' subsequent success as an actor was just as fruitful as it was behind a microphone — if not more. Interestingly enough, according to Britannica, when Sinatra's career began to falter in the early 50s, acting was his saving grace and ultimately garnered him a comeback. He received an Academy Award for Best Supporting Actor for his role in 1953's "From Here to Eternity," and two years later, he was nominated for the Best Actor in a Leading Role category for his turn in "The Man with the Golden Arm" (via IMDb).
On May 14, 1998, Frank Sinatra died at the age of 82. According to Time, "he was buried in a cemetery" close to Palm Springs, California, "with a bottle of Jack Daniels and a pack of Camel cigarettes — two regular companions — tucked into his suit."
Marilyn Monroe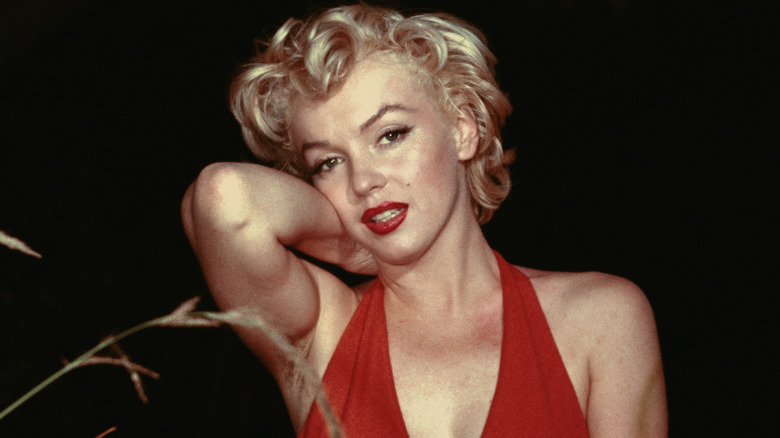 Baron/Getty Images
Marilyn Monroe needs no introduction. The woman born Norma Jeane Mortenson is one of the world's most legendary sex symbols, with her movies "[grossing] more than $200 million" (via Biography). Discovered by a photographer, Monroe's career began as a model in the 40s, before dying her hair her signature blonde, changing her name to her now-iconic moniker, and signing her first movie contract in 1946.
By the end of the 50s, Monroe was a box office hit, having starred in classics such as 1953's "Gentlemen Prefer Blondes" and 1959's "Some Like It Hot." However, just because stars shine bright in Tinseltown, doesn't mean they can't burn out just as fast. According to Biography, just as the 60s rolled around, Monroe was struggling personally "following unsuccessful relationships," and her box office draw was floundering. In 1962, Marilyn Monroe died of a drug overdose at just 36.
According to Atlas Obscura, Monroe is buried in Los Angeles, California, in the Westwood Village Memorial Cemetery. Her ex-husband, Joe DiMaggio, organized the funeral, and three times a week for 20 years after her untimely death, the baseball legend "had red roses delivered to her simple grave." In 1992, ​​the late Hugh Hefner, who had Monroe as Playboy's first Playmate, bought a tomb next to the actor "so that he could spend eternity" beside her.
Humphrey Bogart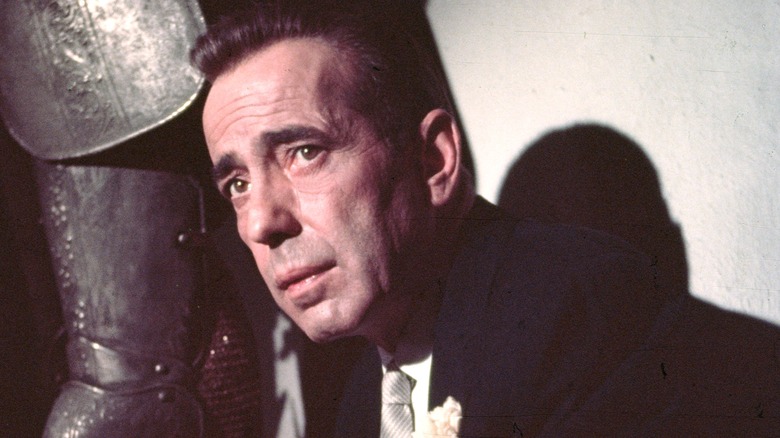 Baron/Getty Images
It's hard to think of Humphrey Bogart without uttering his iconic "Casablanca" line from 1942, "Here's looking at you, kid." The actor, who started off as a Broadway star in the 20s, became one of Hollywood's leading men in the 1940s, with hits such as "The Maltese Falcon" and "To Have and Have Not." As Bogie himself once claimed (via Biography), "There was a period in American history when you couldn't pick up a goddamned magazine without seeing my kisser in it."
Along with this A-list career, Bogart's personal life only aided his star power. According to "Humphrey Bogart, the Making of a Legend" (via The Telegraph), the actor had trysts with fellow icons such as Jean Harlow, Bette Davis, Marlene Dietrich, and Ingrid Bergman. According to Biography, while Bogart was married four times throughout his life, his final marriage to his "To Have and Have Not" co-star, Lauren Bacall, lasted until his death.
Diagnosed with esophageal cancer in 1956, Humphrey Bogart died the following year, on January 14, 1957. As a nod from "To Have and Have Not," where Bacall's character tells Bogart, "You know how to whistle, don't you, Steve? You just put your lips together and blow," Bogie's wife placed a gold whistle with the inscription, "If you want anything, just whistle," with his cremated remains in an urn (via Smithsonian Magazine). According to the Glendale News-Press, the actor's final resting place is in a "secret garden" in California's Forest Lawn Memorial Park's Gardens of Memory.
Elizabeth Taylor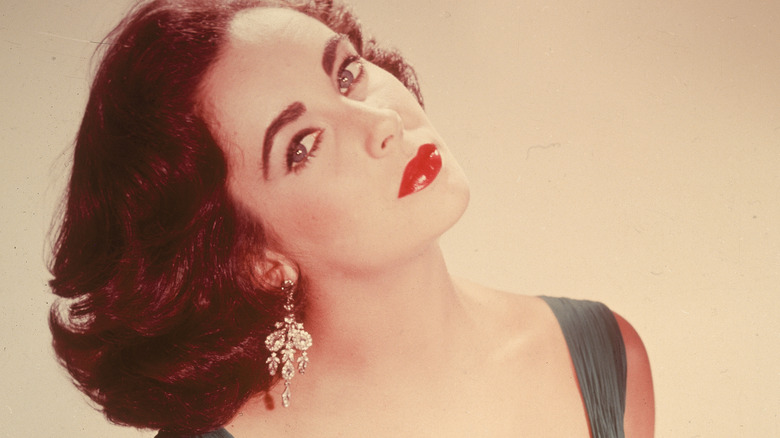 Hulton Archive/Getty Images
One of the most enduring stars of the Golden Age of Hollywood, Elizabeth Taylor had a whopping 79 credits to her name until her death in 2011. "I was nine when I made my first films in Hollywood," she recalled to Rolling Stone in 1987. Unfortunately, she believed she was "utilized by the studio," adding that she never considered it as her "family." Unlike some of her peers, like Marilyn Monroe, who changed her hair color after signing with a studio, Taylor remained true to who she was, refusing to pluck her "thick bushy eyebrows" or dye her jet-black hair.
1963's "Cleopatra" is, by far, Liz Taylor's most memorable role. As Vanity Fair explains, "It took $44 million (about $300 million today), two directors, two separate casts, and two and a half years of on-and-off filming in England, Italy, Egypt, and Spain to bring" the flick to life. It's on that set that she met Richard Burton, too, whom she married for a decade, divorced, then married again only to split less than a year later (via Biography). And just as popular as she was on camera, Taylor and Burton's relationship also made headlines as they both "partied hard and drank heavily."
When Taylor died on March 23, 2011, of congestive heart failure, she was buried at the Forest Lawn Memorial Park in Glendale, California (via BBC). As her son, Michael, told ABC News, "Her legacy will never fade."
Audrey Hepburn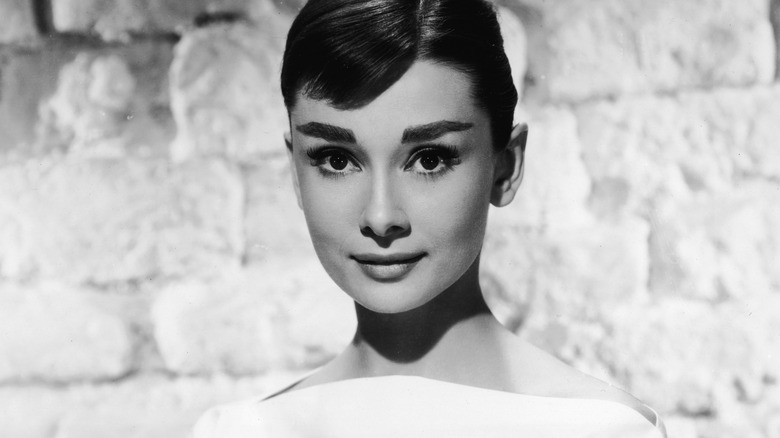 Hulton Archive/Getty Images
Elegant and doe-eyed Audrey Hepburn will forever be remembered as Holly Golightly, the flighty lead in Hollywood's 1961 movie adaptation of Truman Capote's novella, "Breakfast at Tiffany's." What's more, her delicate looks and soft-spoken demeanor were refreshing in Hollywood at the time, with Humphrey Bogart once even declaring (via People), "You take the [Marilyn] Monroes and the Terry Moores, and you know just what you're going to get every time. With Audrey it's kind of unpredictable."
Born in Brussels and growing up in Nazi-occupied Holland, Hepburn left for England in her teens and eventually made it all the way to Broadway, snagging the titular role in "Gigi," per People. By 1953, she starred in "Roman Holiday" alongside Gregory Peck, taking home her first Oscar for Best Actress in a Leading Role. "Hollywood is betting that the public will love Audrey for the very qualities that raise her above most popular stars," one article by Life magazine in 1953 wrote. Sure enough, that's exactly what happened.
By the 70s, Hepburn stopped acting as regularly, turning her sights to humanitarian efforts. Per Forbes, in 1989, she was "named a UNICEF Goodwill Ambassador" and continued to support the cause until her death in 1993. According to Atlas Obscura, Hepburn is buried in Tolochenaz, Switzerland, the small village she lived in since 1963. So small is the cemetery, in fact, that it's only the final resting place for "a few dozens of graves."
Judy Garland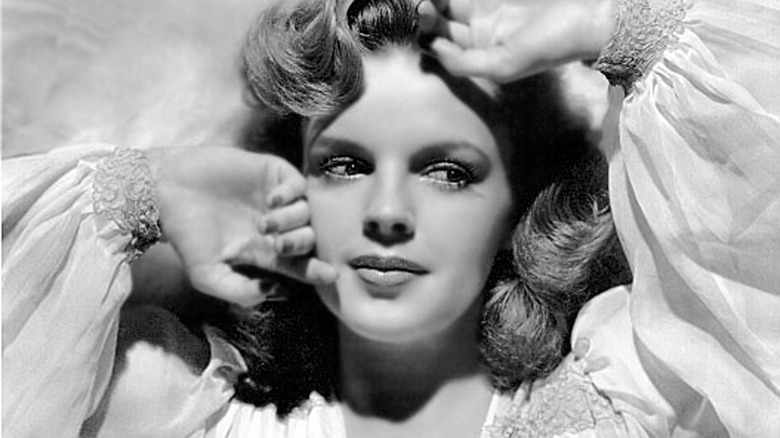 Apic/Getty Images
It's no secret that behind the camera, Judy Garland lived a truly tragic life. The American Film Institute places her eighth out of 25 of Hollywood's greatest American female screen legends, and while she was celebrated on screen for iconic roles such as that of Dorothy in 1939's "The Wizard of Oz," her personal life seemed to forever be in shambles.
According to Biography, from the get-go, Garland had a difficult upbringing. Her mother, a success-oriented stage mom, was dubbed as the "real Wicked Witch of the West" by the star herself later on, and before Garland even turned 10, she was feeding her pills — both to sleep and to keep her energy levels high. By 1935, Garland signed with MGM, and a new set of drugs were introduced: "amphetamine-based diet pills."
As memorable as her roles were on the silver screen, such as starring in 1954's "A Star Is Born" and 1944's "Meet Me in St. Louis," Garland struggled with substance abuse problems until her untimely death at the age of 47 in 1969, from an "accidental overdose" (via Biography). According to Fox News, Garland did not die wealthy and owed a staggering $4 million to the IRS. She was initially buried at the ​​Ferncliff Cemetery in New York, but in 2017, AP reported that her family had her moved "home to Hollywood" in the Judy Garland Pavilion — a mausoleum at the Hollywood Forever Cemetery in Los Angeles.
Lauren Bacall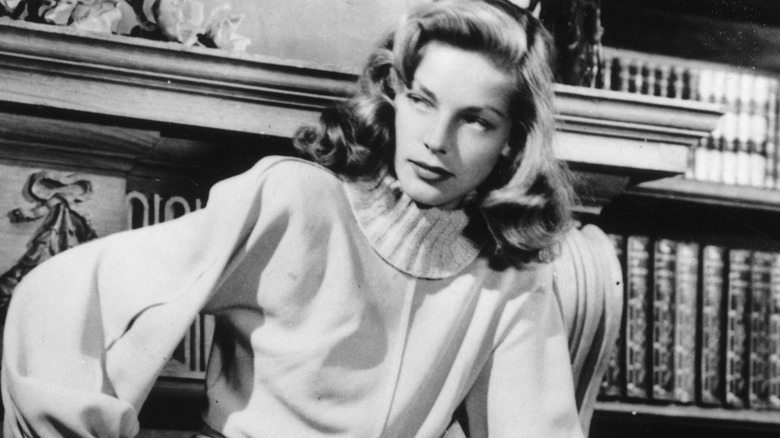 Keystone/Getty Images
Known for her sultry good looks and throaty voice, Lauren Bacall was a quintessential glamor girl of Hollywood's Golden Age. As it turns out, like many of her industry peers of this era, the qualities that made her so iconic were also carefully manufactured. Per Biography, Bacall's birth name was Betty Joan Perske, and her career took off in the early '40s when she found success as a model, ultimately posing for Harper's Bazaar in 1943. It's then that she was spotted by Nancy Hawks, the wife of Howard Hawks, a well-known film director. From there, Howard took Bacall under his wing, changed her stage name "to deemphasize her Jewish heritage," and even made her voice huskier to appeal to audiences.
"Her simplest remark sounded like a jungle mating call," gushed one critic of Bacall's mesmerizing allure (via The New York Times). Sure enough, the star's powerful presence shot to the top of the A-list almost immediately: she found success with her first big-screen role, 1944's "To Have and Have Not," opposite Humphrey Bogart. It wasn't just professional triumph that Bacall snagged with that role, however. She also won over the heart of Bogie himself, who was a married man. As Biography reveals, "within months," he divorced his wife, and the pair wed on May 21, 1945.
Bacall died on August 12, 2014, at the age of 89. Per Find a Grave, she was buried in the inaccessible Garden of Memory at the Forest Lawn Memorial Park in Glendale, California.
Clark Gable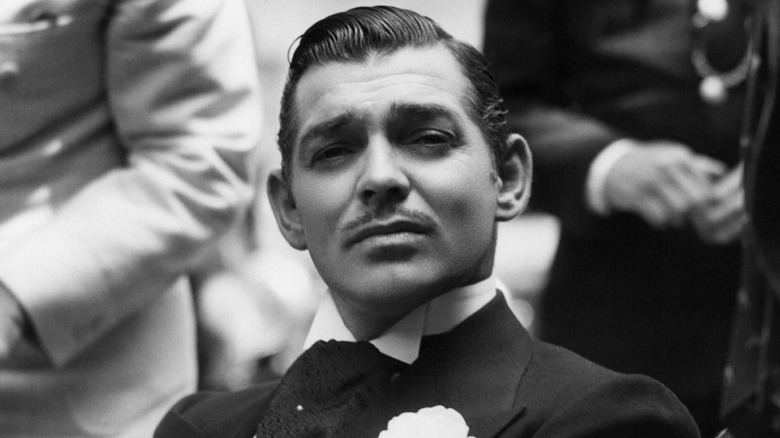 Hulton Archive/Getty Images
Clark Gable will forever be remembered as the mustachioed heartthrob uttering the classic yet cruel finishing line, "Frankly, my dear, I don't give a damn," from 1939's "Gone With the Wind." As The Guardian points out, although Gable wasn't conventionally attractive ("he had big ears, bad breath" and wasn't particularly kind to women), he was still dubbed the "King of Hollywood" thanks to a 1938 national poll.
Starring alongside some of Tinseltown's most alluring leads such as Jean Harlow, Joan Crawford, and Greta Garbo throughout his reign as "King," Gable's rise to the A-list was an interesting one that came by way of his first wife. According to the Los Angeles Times, the actor's better half, Josephine Dillon, ran an "acting clinic" where she would coach "stage actors for the movies." It was through Dillon that Gable truly perfected his acting chops, and after acting in 1931's The Painted Desert, MGM offered him a contract (via Biography). The rest, as they say, was history, and by the end of the year, Gable had established himself "as a leading man."
Clark Gable died on November 16, 1960, at the age of 59, after suffering from two heart attacks, the Los Angeles Times reported. Like many of his classic movie star peers, he was buried at the Forest Lawn Memorial Park in Glendale, California. (via Find a Grave).
Marlene Dietrich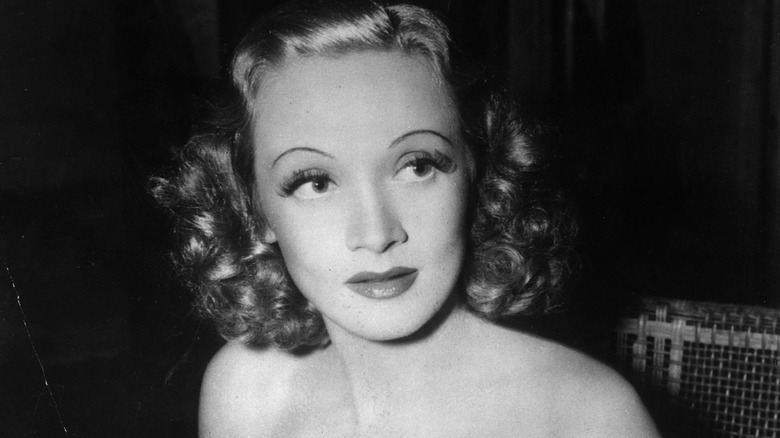 General Photographic Agency/Getty Images
While Marlene Dietrich's image was carefully crafted like many of her industry peers, she was nothing like Hollywood had seen before. Born in Berlin, Germany, the future "Touch of Evil" star knew she was interested in acting as early as her teens (via Biography). By the late '20s, Dietrich was a part of "film history," appearing in "Germany's first talking picture 'Der Blaue Engel'" in 1930. Since the flick was filmed by Josef von Sternberg, a Hollywood director, it was also shot again in English using the same cast, and thus set Dietrich on the map in America, too.
Dietrich is remembered as one of Tinseltown's greatest stars due to her voice, very "unusual" style of the times, and above all, her allure. As author Amy Lawrence explains for The Criterion Collection's "Dietrich & von Sternberg in Hollywood," Dietrich was labeled as a "bad girl," an unconventional "antithesis of an American girl" that added "spice" to her roles. The legend even served as inspiration for one of rock music's greatest performers, David Bowie, whose 1971 cover art for "Hunky Dory" was "was influenced by a Marlene Dietrich photo book" that Bowie brought as a reference point for his photoshoot (via NME).
The "Morocco" actor died in Paris on May 6, 1992. According to Lonely Planet, she was buried in Städtischer Friedhof III, a small cemetery in Berlin with a modest plot. Interestingly enough, in 2004, experimental yet innovative fashion photographer Helmut Newton "was buried four plots away" from Marlene Dietrich.
James Dean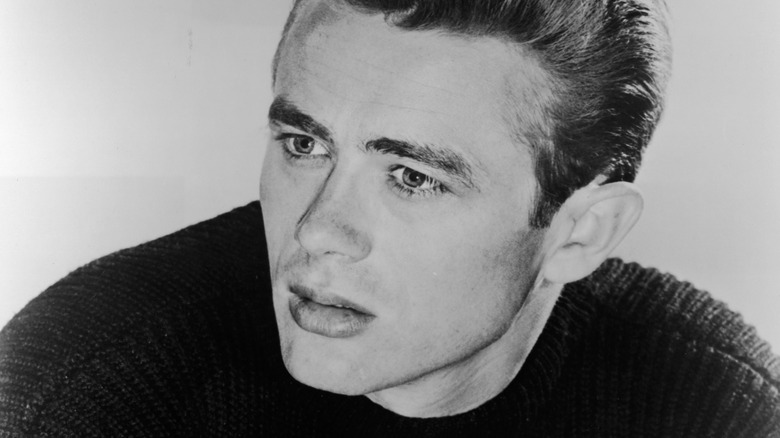 Hulton Archive/Getty Images
These days, alongside fellow classic movie stars such as Marilyn Monroe and Audrey Hepburn, James Dean's face can be found plastered on T-shirts, mugs, posters, and any other memorabilia from Hollywood's Golden Age. Unlike Hepburn and Monroe, however, Dean only filmed three feature films before his untimely death at 24.
Dean was born in 1931 in Marion, Indiana, yet spent his teenage years bouncing between California and his hometown. According to Biography, by the time his university years rolled around, he was back to The Golden State yet again, where he majored in theater at the University of California at Los Angeles (but dropped out before earning a degree). By 1951, he was off to New York. "I have made great strides in my craft. After months of auditioning, I am very proud to announce that I am a member of the Actors Studio," Dean gushed to his family in 1952 (via JamesDean.com). "It is the best thing that can happen to an actor." Sure enough, things only snowballed from there, and after appearing on Broadway's "The Immoralist" in 1954, he snagged a screen test at Warner Brothers for "East of Eden" — a role that catapulted him into Hollywood.
While James Dean will forever be remembered for his leading role in "Rebel Without a Cause," sadly, he never got a chance to see it completed. Per Biography, on September 30, 1955, the actor got into a fatal car crash with his Porsche 550 Spyder (via Biography). Per Find a Grave, he's buried in Farmount's Memorial Park in Grant County, Indiana.
Grace Kelly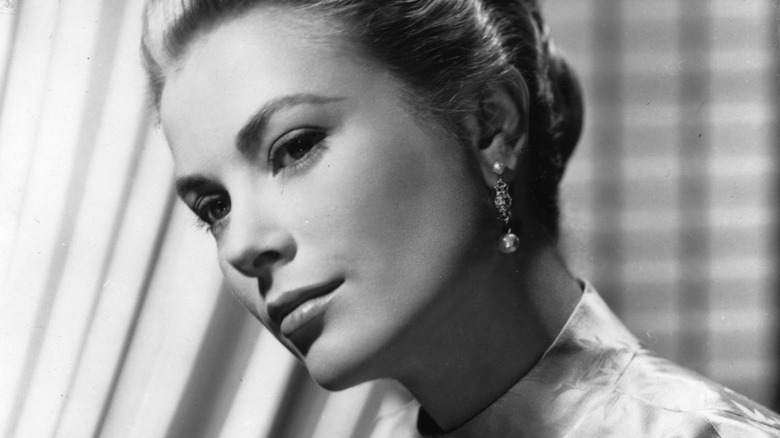 Keystone/Getty Images
In terms of Hollywood royalty, Grace Kelly may actually top that list because she quite literally left the bright lights of Tinseltown to become a full-fledged princess. According to Biography, the "High Society" actor expressed an interest in acting early on in her life, taking part in school plays, and using her good looks to model in her spare time. In fact, it's her uncle, George Kelly, a "Pulitzer Prize-winning playwright" who egged Grace on "to pursue a full-time acting career" and even coached her during her rise to the A-list.
As revealed by Vogue France, Grace Kelly was one of Alfred Hitchcock's many muses, starring in "Dial M for Murder," "Rear Window," and "To Catch a Thief." What's more, the Philadelphia-born star was also an Oscar winner, taking home an Academy Award for her role in 1954's "The Country Girl" opposite Bing Crosby. A mere two years later, Grace gave up her life in Hollywood after meeting Prince Rainier III of Monaco, whom she married in an elaborate ceremony on April 19, 1956 (via Biography).
Tragically, Grace Kelly's life was cut short on September 13, 1982, after she and her daughter, Princess Stephanie, were in a car crash "about two miles outside of La Turbie," France, (via Town & Country). While Stephanie survived, her mother, sadly, did not, dying the following day. Per UPI, the Monaco royal family buried the star "in a private ceremony" at the Cathedral of Monaco.
Orson Welles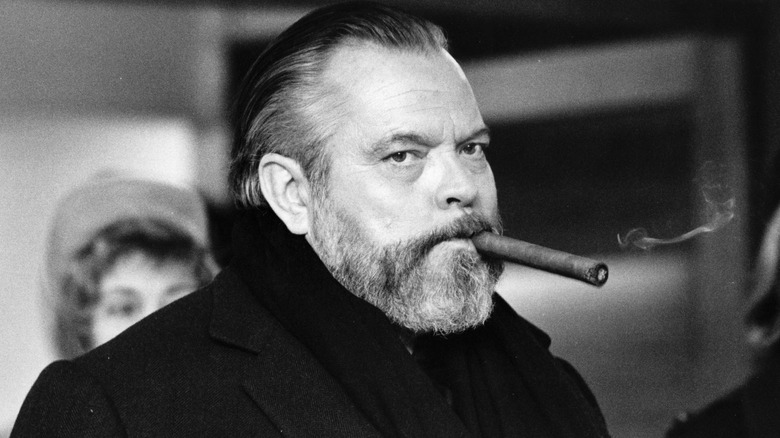 Central Press/Getty Images
In 1941, Orson Welles released "Citizen Kane." Today, it is considered by many cinephiles as "the greatest film ever made" (via The Hollywood Reporter). Welles' ascent to the A-list began at the age of 19 after the young actor "made his Broadway debut" with "Romeo and Juliet" (via Biography). From the stage he turned to radio, running a weekly theatre show on CBS, where, in 1938, Welles "aired his adaptation of H.G. Wells' novel 'The War of the Worlds.'"
With Hollywood studios suddenly zeroing in on the 24-year-old "genius," Welles signed a $225,000 contract with film company RKO in 1940, promising "total creative control" for him to direct, write, and produce two films — the first of which was "Citizen Kane." Per Biography, the movie was "revolutionary" and saw Welles snag an Oscar for "Best Writing." Most importantly, however, it became a blueprint for modern cinematography, using "deep-focus" camerawork to show everything in one frame in vivid detail. If that's not all, "Welles also anchored the film's look with low-angle shots and told its story with multiple points of view."
"I was a romantic … I wanted every experience, every kind of thing, and so I went to Hollywood," Welles told ET a week before his death. On October 10, 1985, the prolific star died from a heart attack in Los Angeles. Per AP, two years later, his daughter held a ceremony, burying Welles' ashes on a farm in Málaga, Spain — a request he made in his will.