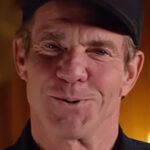 Why Dennis Quaid Went To The Pawn Stars For This Item
echo get_the_meta(); ?>
During the show's run, the crew on "Pawn Stars" has had some very famous guests drop in at the World Famous Gold & Silver Pawn Shop in Las Vegas. In Season 18's "Pawn Stars and Movie Stars," actor Dennis Quaid made an appearance on the show to check out some very special presidential memorabilia. At the beginning of the episode, Rick was presented with a movie poster showing Dennis Quaid sporting a cowboy hat with the title "Reagan" written in bold letters. "That's not Ronald Reagan. That's … Dennis Quaid?" asked Harrison with a perplexed look on his face. The seller confirmed it was indeed Dennis Quaid, who will star in an upcoming biopic in which he plays U.S. President Ronald Reagan.
Once Harrison was told about the film, he revealed a little bit of trivia on Reagan's cowboy hat, saying, "I think it was Gorbachev he gave a cowboy hat to, and Gorbachev wore the cowboy hat backwards all day long." While Harrison was busy making jokes, the seller had no time to waste, hoping he could get a good sale on the poster, which included Quaid's autograph. Rick continued to wax poetic on "The Great Communicator," by saying how he helped the economy and was a terrific actor when he was still making movies. The seller went on to explain how he attained the poster from a producer but didn't see him sign it. Harrison needed some verification, so he called someone who he knew would be able to verify the autograph: actor Dennis Quaid.
Dennis Quaid gets to see some fascinating Ronald Reagan memorabilia
After Quaid came down to the "Pawn Stars" shop, he was able to say that he personally signed the poster and gave it to the film's producer. Quaid would then reveal some tidbits on the new film and his closeness to the project. The actor mentioned how Reagan is his favorite president and how he was "kicked out of the hippies" by a friend after saying he voted for him. Harrison would then take the opportunity to offer Quaid some very rare Ronald Reagan memorabilia over dinner. The movie star would happily agree. And, in case you were wondering, the seller would get a reasonable offer of $200 from Harrison on the poster, to which he'd accept.
Before their dinner, Harrison would show Quaid some of Reagan's memorabilia, including a cloth pilot's cap as well as a pendant and personalized note he wrote to an old girlfriend. Harrison explained how just the note itself was worth probably $1,500 and was verified by "the No. 1 autograph guy in the United States." The pendant was the patron saint of actors, Saint Genesius of Rome, which he said would go for $3,000. Dennis Quaid offered $2,750 and dinner for the pendant and Harrison gladly made a deal.