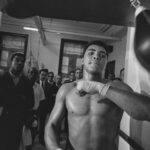 Why Muhammad Ali Was Often Despised When He Was Alive
echo get_the_meta(); ?>
When boxing legend Muhammad Ali passed away in 2016 at the age of 74, few could argue with the nickname that was seemingly omnipresent in his many lengthy obituaries: "The Greatest of All Time." But back in the early days of his illustrious career, Ali, then going by his birth name of Cassius Clay, attracted another, less desirable epithet: "The Louisville Lip," according to AZ Central. 
Yes, even before he was a boxing megastar, known around the world for his epic rivalries with fellow pugilistic luminaries such as Joe Frazier and George Foreman, the young Ali talked a big game. Though nowadays we are used to trash-talking sportspeople in the realms of boxing, mixed martial arts, and even the comparatively sanguine worlds of professional chess and poker, Ali's ringside rabble-rousing was highly unusual at a time when most boxers let their managers handle the publicity. In many ways, the braggadocio we witness today is arguably a part of Ali's legacy.
But sports fans and commentators in the 1960s were, on the whole, far from impressed by the young boxer's showboating, and the sporting world was divided when Ali publicly espoused his political beliefs, taking the American establishment to task on issues of race and the Vietnam War. 
As Terry Foster argues on CBS Detroit: "You must understand that for a Black man to take stands against the government and against the majority of society were acts of bravery for some and acts of treason for others."
Muhammad Ali asks: 'What's my name?'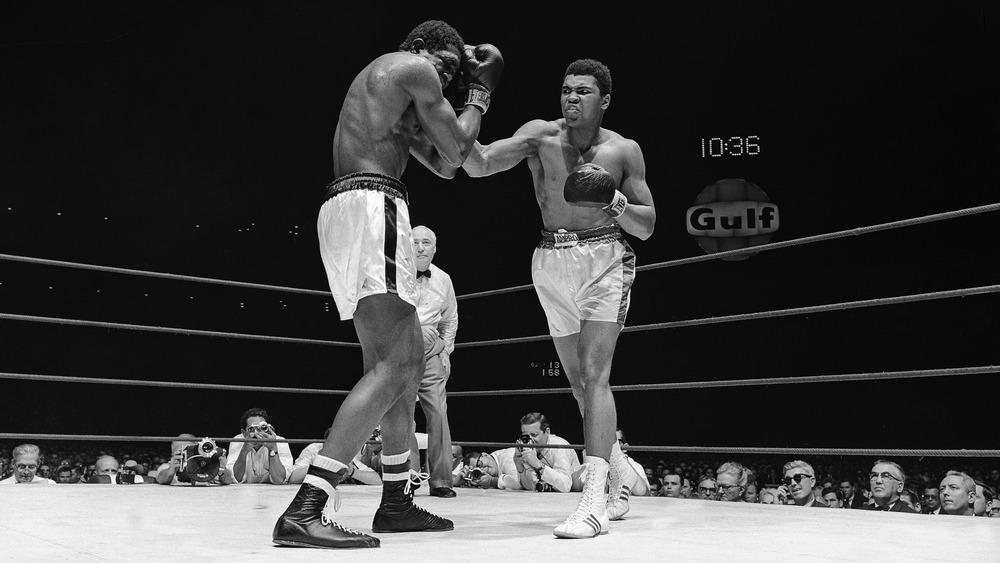 Herb Scharfman/sports Imagery/Getty Images
Muhammad Ali's social conscience shone through at an impressively early age, particularly considering the decades in which he was raised. At the age of just 22, while he was still getting his start in the world of professional boxing, the young Cassius Clay announced to the press that he was done with the name he had been given at birth. According to the Independent, Ali explained: "Cassius Clay is a slave name. I didn't choose it and I don't want it. I am Muhammad Ali, a free name — it means beloved of God, and I insist people use it when people speak to me."
Ali's renaming was also reflective of a transformation that had occurred two years earlier: his conversion to Islam. His religious awakening was accompanied by joining the Nation of Islam (NOI), which at the time was more commonly referred to as "Black Muslims." The organization was treated with suspicion by the mainstream media and the FBI, who considered the NOI a threat to national security, according to The Undefeated. Many sports commentators refused to acknowledge Ali's change of name, and still referred to him as "Cassius Clay" in the press.
The tension around Ali's new name also played out in the ring. In a 1967 fight with Ernie Terrell, Ali continually taunted his suffering foe with the question, "What's my name?" — Terrell had refused to call him Ali during a pre-fight press conference. 
Muhammad Ali opposed the Vietnam War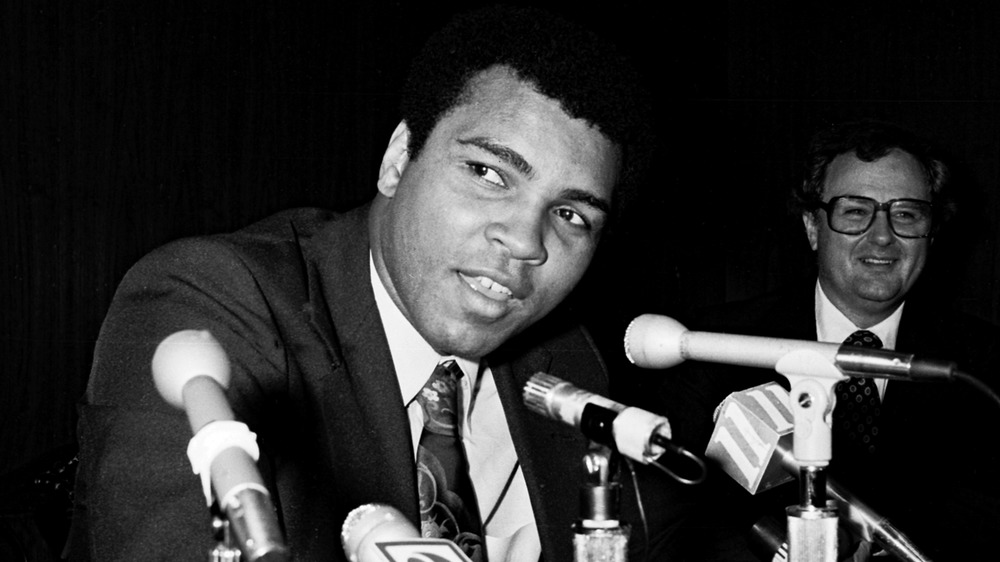 Rick Diamond/Getty Images
We may have a different take on the conflict today, but back in the 1960s, opposition to the United States Army's deployment in Vietnam was often considered highly controversial. For Ali, his anti-war stance would lead to four years of exile, during which he would be stripped of his boxing license and deprived of what would have otherwise been a peak period of his career. As USA Today put it: "Muhammad Ali lost everything in opposition to the Vietnam War."
On April 28, 1967 — after Ali had been crowned heavyweight champion of the world and already defended his title a full nine times — the boxer was obliged to attend a scheduled induction in which he was to be drafted into the U.S. Armed Forces to serve in the Vietnam War. According to History, however, Ali refused the draft, citing his religious beliefs and famously proclaiming, "I ain't got no quarrel with them Viet Cong."
Despite his claim of being a conscientious objector, Ali was convicted of draft evasion, a serious crime that carried the penalty of a $10,000 fine and five years in prison. Because of his opposition to the war, the champion who lived for adulation found himself deeply unpopular. While Ali undertook the arduous process of appealing his conviction, however, the tide of popular opinion gradually changed. In 1971, his conviction was overturned and Ali returned to boxing to regain his crown and once again become "The Greatest."