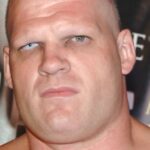 Current Pro Athletes Who Are Really Out Of Shape
echo get_the_meta(); ?>
We live in a very health-conscious society; how else do you explain the desire to eat kale on purpose? Most people want to look their best. You eat well, you live well, you feel well. Part of being healthy involves a certain level of physical fitness. You want to look like a movie star or, if you're really into being the best you, an athlete. They don't call athletic bodies athletic for no reason, right? But what the heck do we mean by that, anyway?
Just because someone's an athlete doesn't necessarily mean they're in superhuman shape. You ever watch your dad bowl? There are plenty of games and sports you can totally master while simultaneously eating tacos and drinking beer. Even the big games like baseball and basketball have their fair share of stars who are maybe not what you'd call "cut." In fact, there are a number of athletes out there right now who are looking a little more like armchair athletes than the sports stars you'd expect. And that's a good thing! Gives some hope to the rest of us that one day we'll get that NBA contract. In the spirit of athletes giving it their all while not necessarily putting their bodies through the ringer, check out some of the best athletes out there who are maybe not in the best shape.
Kelvin Benjamin doesn't fit in his uniform so well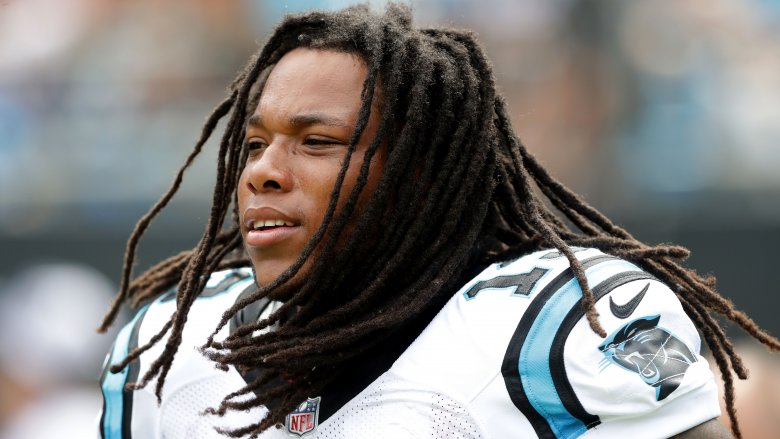 Getty Images
Wide receiver Kelvin Benjamin was drafted back in 2014 by the Carolina Panthers. His NFL stats list him at 6'5″ and 240 pounds, so the kid was a powerhouse. And in pro football, it's good to be built like a Mack truck. No one was considering him out of shape at that point, nor should they have. However, things do change if you give them a bit of time. Fast-forward to 2017 when some pictures and videos were released during a Panthers training activity. One video clip posted to Twitter shows Benjamin doing some running drills and maybe not hitting it as hard and fast as you'd expect from a wide receiver. But it was the photo that went along with it that sent Twitter into hysterics.
The pic shows Benjamin just walking, but man, is his uniform not fitting right. It looks like someone put it in the dryer for too long. Or, as most people joked, it looked like Benjamin had just severely outgrown the thing.
People absolutely raked the poor guy over the coals for his appearance, roasting him mercilessly with lines like "Kelvin Benjamin gonna eat his way into a 3-point stance." The fact that Benjamin had sustained an injury that saw him sitting out the whole 2015 season likely contributed to his less than peak form, but the internet has no sympathy.
Daniel McCullers is said to make the Earth move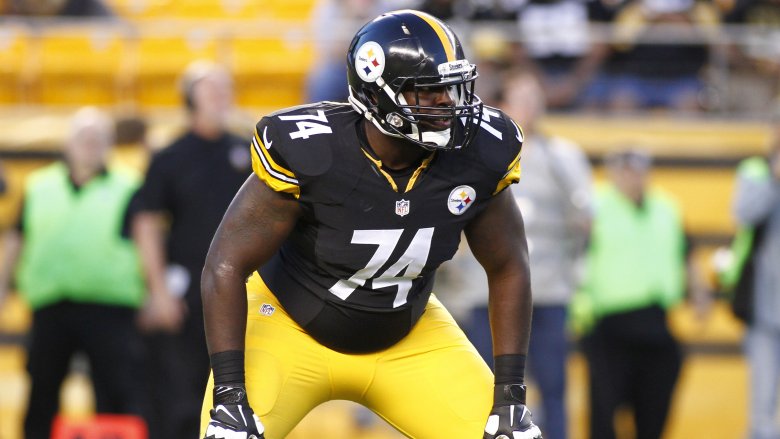 Getty Images
Daniel McCullers is an absolute giant of a man. At 6'7″ and 352 pounds you're not going to lose this guy in a crowd. If anything, you'd lose the crowd in him. Of course, being that size isn't a bad thing for McCullers, who plays nose tackle for the Pittsburgh Steelers. When it's your job to knock people down, it helps to be the biggest guy on the field. And McCullers is often that guy. When he was drafted by the Steelers in 2014 it was noted that McCullers was set to become the largest player in Steelers history. Also, NFL Network's Charles Davis said "the Earth moves when he walks." You don't often hear that about people.
During the 2017 offseason, Steelers Depot reported that McCullers was looking forward to shedding maybe 20 pounds before the start of the next season. That was then followed by this: "I feel like if I can be around 335-340 pounds, I can have the movement that I want. I feel like I can be a much better player if I get that quickness and explosion." That's a lot of muscle to be moving that much padding.
Zach Randolph will take the fight to the haters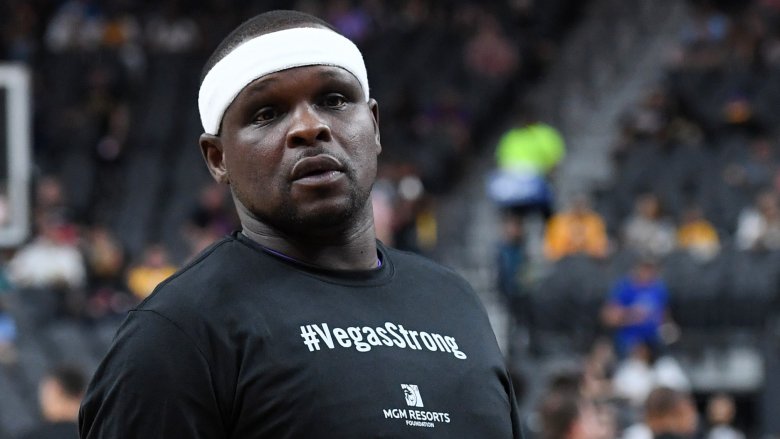 Getty Images
At 6'9″ tall and 250 pounds, Zach Randolph may not be the biggest dude in basketball, but he's definitely noticeable. And yes, people have noticed. It's hard to deny you have a reputation for being out of shape if you get called out for being fat on an episode of Jimmy Kimmel Live as part of Mean Tweets: NBA Edition. When Randolph appeared on the show, he got to read this gem of a burn: "Zach Randolph is not so much IN basketball shape. Rather he IS a basketball shape. Yes, I just called him fat #sports." Childish? Sure. But any burn still hurts a little.
The Kimmel show aired in 2015 but Randolph's fitness was still an issue two years later. By 2017 he was being profiled in the Sacramento Bee as an athlete with a few years under his belt. He was using Arnica ointment on sore joints and muscles while also lamenting his lack of physical conditioning. Even Randolph admitted he was out of shape, partly due to an offseason arrest for marijuana possession. He went on to note that he's "got the type of body that's top heavy." There you go.
Bartolo Colon saved his career with fat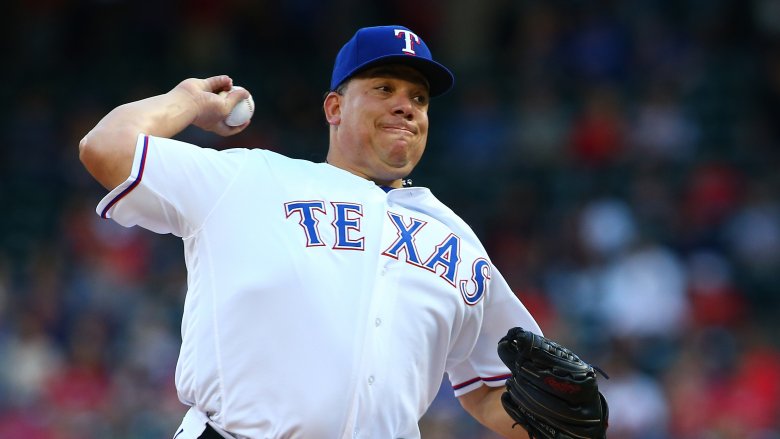 Getty Images
Few athletes ever get their chops busted as bad as Bartolo Colon when it comes to issues of fitness and weight. How bad did it get for Colon? ESPN literally made up an MLB All-Fat Team and put Colon on it. The nickname they came up with for him was "Big Fat Bartolo Colon" before going on to refer to him as a hefty hurler. It's not super creative but it really does get their point across.
Deadspin was about a thousand times more brutal than ESPN when they published an article titled "How Bartolo Colon's Fat Ass Resurrected His Career." Before you get too offended on his behalf, know that the title is a bit of a double entendre and the joke is that Colon had stem cells taken from hip fat injected into his arm. The result was an actual improvement in his game — his butt fat really did improve his career, in a weird way.
Colon himself has gone on record saying he's not concerned about his own weight, according to ESPN. It's good that he's comfortable with his size, and of course his record does tend to back him up as being a good player.
Raymond Felton has been compared to a bowling ball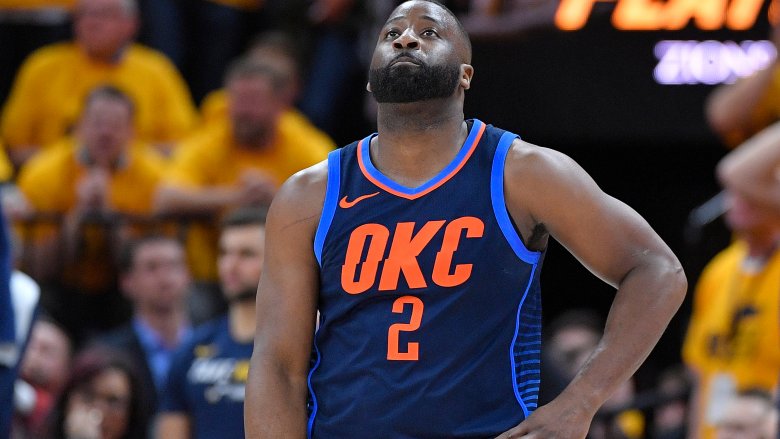 Getty Images
There's rarely a time in your life when you want anyone to compare you to a bowling ball. Maybe if you're a football player who's really good at rushing in and knocking stuff over, that's one thing. But for the most part if someone compares you to a thing that is heavy, dense, and round, you're not being complimented. Oklahoma City Thunder point guard Ray Felton was not being complimented when the Lakers' Kyle Kuzma tweeted, "Sheesh Ray Felton just looked like a 14lb bowling bowl running on that last transition lay up."
Felton, who clocks in at 205 pounds, has been the butt of fat jokes for years during the course of his basketball career. You can find stories from 2014 about him already being sick of all the jokes. Of course it didn't end then and there's another from 2016 in which NFL players crack wise about his weight on Twitter. That slight from Kyle Kuzma? That was from 2018. But as Bleacher Report points out, it all started back in 2011 when he played with the Trail Blazers. He was coming off an injury, wasn't in peak form, and had his worst season ever. He's never been able to claw back from it.
Guy Boros is nearly 300 pounds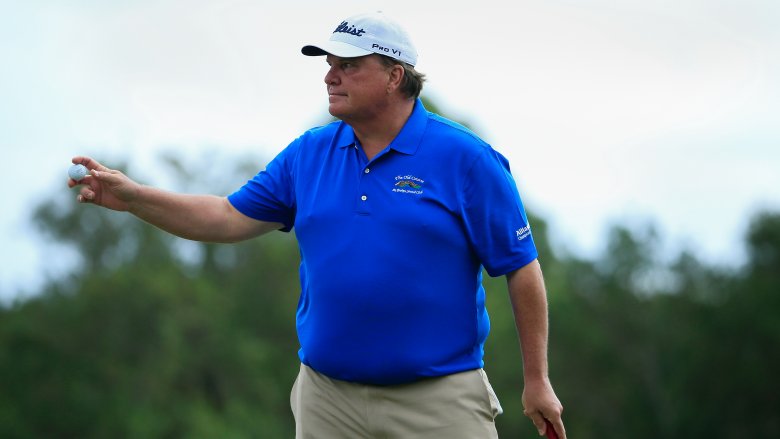 Getty Images
Guy Boros, son of Hall of Fame golfer Julius Boros, is a PGA Champion who's been golfing professionally for over 30 years. Any time you do something for over 30 years you can guarantee two things: You're going to be pretty awesome at it, and you're probably not going to look as good as you did when you started. Guy, who's 53 years old, clocks in at 275 pounds. That's pretty awesome if you're a young linebacker or maybe a WWE superstar. If you're a grey-haired older gentleman who uses a lightweight stick to hit tiny balls, then maybe you're a little out of shape.
Fortunately for Boros, golf isn't an entirely physical game requiring a lot of intensity. This suits Boros well because, as Golfweek very harshly pointed out way back in 2002, he's an athlete only in the "sumo sense." There's no real positive way to spin that insult, even if you have a very a healthy respect for the Japanese art of very large, diapered men forcing each other out of a circle. But even though he's not sporting a six-pack, at least Boros is good enough at what he does to actually do it for over 30 years. That's got to be worth something.
Phil Kessel is a hot dog-eating machine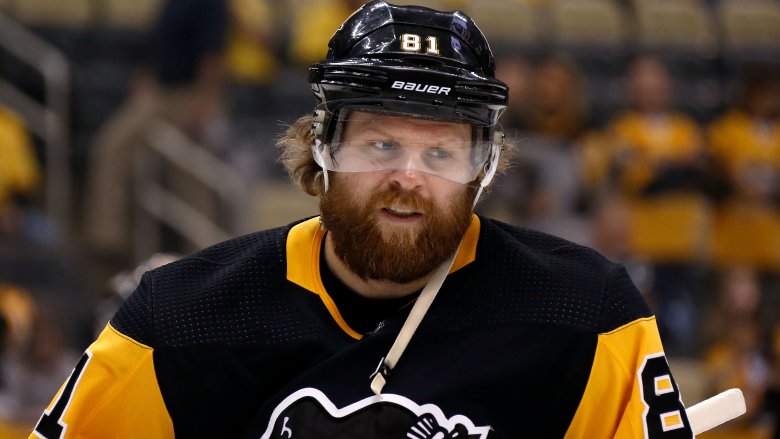 Getty Images
Phil Kessel was drafted into the NHL in 2006, and his career has since been dogged by accusations of laziness and unhealthy habits. Hot dogged by them, in fact, since Kessel was at the center of a long-running pseudo-joke about hot dogs. After a reporter made claims that Kessel frequently visited a hot dog cart outside his house, it became something of a talking point. It didn't help matters that Kessel himself has owned up in interviews to not having the greatest fitness routine and has also posed for photos with hot dogs, including one immortalized as a trading card.
During the 2014 training camp, Kessell took the time to talk to some reporters in Toronto and admitted he barely did any practice over the offseason at all. "Honestly, I skated maybe — I don't want to tell you this — but I skated 10 times maybe all summer," he said. Maybe not the best way to inspire confidence at the start of the season, Phil! Despite his lack of offseason ice time and his love of tube-shaped meats in buns, you have to give the man some respect. That photo of him eating hot dogs that was turned into a hockey card? He's eating them out of the Stanley Cup after his second championship.
C.C. Sabathia flies up and down the scale
Getty Images
Carsten Charles Sabathia Jr. was drafted into the MLB way back in 1998 as a pitcher. In the 2008 season he was signed to the Yankees with a record $161 million contract, according to Bleacher Report. So there's no need to doubt whether Sabathia is good at what he does. He won the Cy Young award and has pitched in six All-Star Games. During his career, however, the subject of Sabathia's weight has come up more than once.
In the 2005 and 2006 seasons, Sabathia's weight shot up to 290 pounds. In the 2007 season he passed 300 pounds and also had what was arguably one of the best seasons of his career, the one that netted him his Cy Young award. He's the only pitcher who's ever actually received the Cy Young while weighing over 300 pounds. As Elite Sports NY points out, every other winner has weighed under 250 pounds. By 2014, Sabathia had gone down to 275 pounds and ended up having his worst season ever. Just goes to show that what seems like peak physical condition may not always live up to the hype.
John Daly loves beer and cigarettes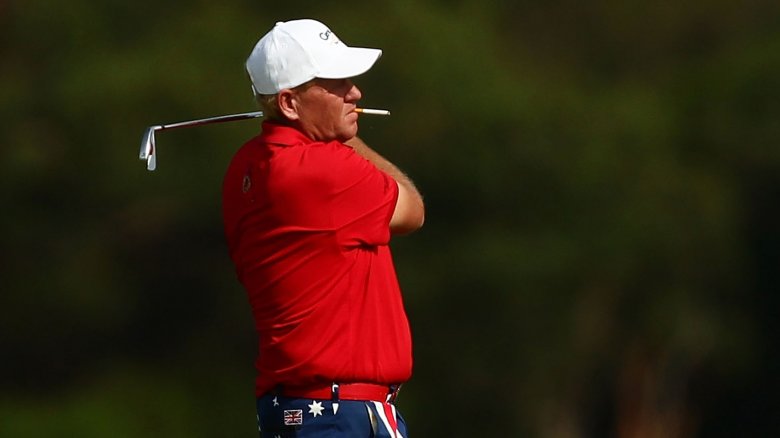 Getty Images
No one's ever accused golf of being a physically intense sport. It's one of the few games that lets you go get your ball in a motorized vehicle, after all. But even among golfers, there's a special place for John Daly, who absolutely does not care about physical fitness. He doesn't care now, and he likely never has and never will. This is exemplified beautifully in Daly's own words: "I don't think I've ever stepped into a gym –- they won't let me smoke there. I just thank God Miller Lite isn't as fattening as most beers. If I cut back on beer, though, I'd look anorexic."
A quick image search of Daly will net you dozens of photos of the golfer with a cigarette dangling from his mouth mid-game. There's also the odd photo of him with a beer and even one or two of him posing with some topless female fans because why not? He just doesn't care. And again, this is golf so it's not like it ruins his game or anything. This is a guy with five PGA Tour victories under his belt, with over $11 million in career earnings, so he must be doing something right.
WWE's Kane has gotten a little soft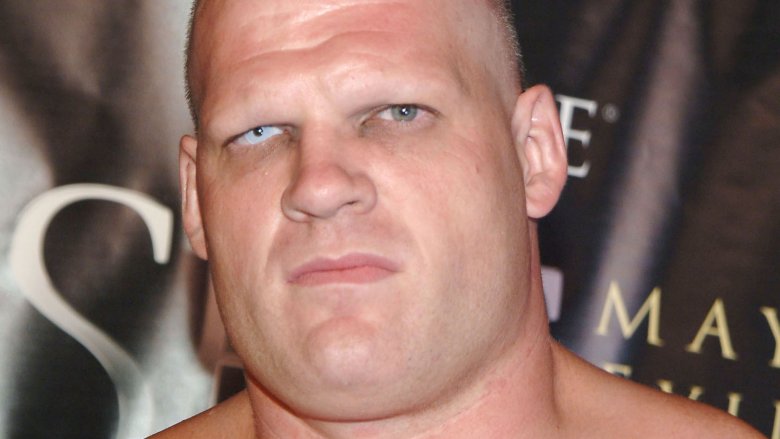 Getty Images
Glenn Jacobs has had an absolutely amazing professional career. Though he'd been wrestling for several years under different gimmicks, it was when he was presented to fans as Kane that he hit his stride. Kane was the brother of WWE superstar the Undertaker. Billed at 7′ tall and 323 pounds, Kane was a monster and Glenn Jacobs, the man behind the mask, filled that role brilliantly.
Twenty years in an industry will take its toll on anyone. You get older, no one can avoid that. Jacobs, even in his prime, was never one of those guys who looked like he was cut from marble. He was big and menacing, and as time went on he stayed big and menacing — he just happened to get a little squishy-looking.
Jacobs has taken time out of his wrestling schedule to make horror movies like See No Evil and also campaigned to be the mayor of the town where he lives. That is a testament to the fact he's still a pro athlete but he's definitely focusing on other parts of his life. And let's be honest, this is a 51-year-old man who owns an Allstate agency with his wife. Of course he's not what he was in the 1990s, and maybe he doesn't need to be.