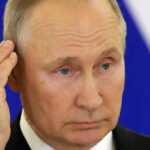 Here's How Intense Putin's Private Security Is
echo get_the_meta(); ?>
We can presume that all presidents have all-encompassing, extremely tight security details protecting them from harm or even assassination, but Russian Federation President Vladimir Putin's private security is particularly intense. Not only is Putin constantly challenging other world leaders, his most outspoken critics often suddenly die under "mysterious" circumstances, making him a likely target in need of constant protection of the highest level. 
Putin's security is housed within the Federal Protective Service, also known as the FSO. Per GlobalSecurity, the agency is one of the successors of the KGB, of which Putin was an agent. Its overall responsibilities include supervising top-level government communications, overseeing and maintaining command centers, and providing security for government officials. Per Russia Beyond, there is no public data available about the FSO's operations, and it's one of the most secretive agencies within the Russian Federation. 
Rumors about their tactics abound, including one about the FSO using a body double for Putin's riskiest publicity stunts, such as flying a fighter jet. The FSO also controls a myriad of assets and has the authority to perform operational and investigative activities, wiretap and read citizens' personal correspondence at will, detain people, enter and search homes, and confiscate cars. It also conducts secret sociological research which it compiles and delivers to the country's leaders in order to facilitate decision making. And in 2018, Putin extended the FSO's privileges to allow them to operate in cyberspace, as reported by the Warsaw Institute.
A series of agencies within agencies, each more secretive than the next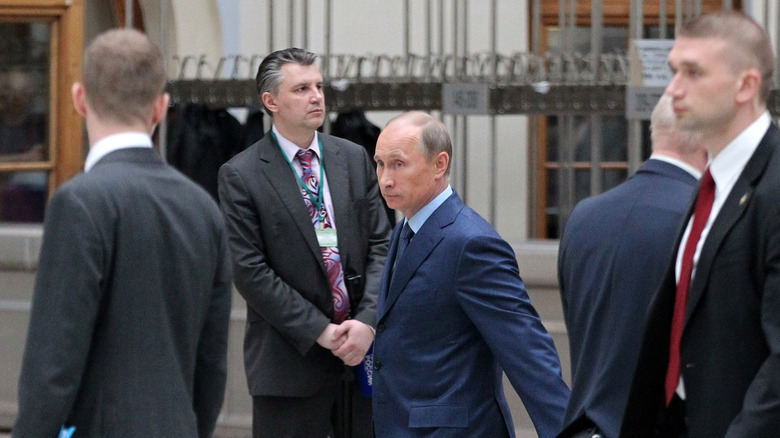 Sasha Mordovets/Getty Images
As synopsized by The Infographics Show, the FSO has assembled a massive amount of political power within the Russian Federation with no checks and balances, no transparency, and no oversight. It's estimated that the FSO includes a corps of 20,000 troops and thousands of plainclothes operatives. Operating within the FSO is a military subagency called the Kremlin Regiment — or Presidential Regiment — that is responsible for protecting Putin. Another subagency, the Presidential Security Service, or SBP, is comprised of the guards who physically surround Putin when he appears in public. 
It's thought by many that the SBP has remained loyal to Putin even when he wasn't the Russian president, keeping tabs on President Dmitry Medvedev during his term from 2008 to 2012 and reporting back to Putin. Putin denies the allegations, and there are no official numbers available on the number of SBP employees. In terms of size, it's believed there are between 2,000 and 9,000 workers. There's an even smaller agency housed within the SBP known as the Psychological Security Department, which is an intelligence agency that collects and analyzes potential risks to presidential safety. Of course, their tactics, findings, and outcomes are heavily guarded and unavailable to the public.
Per the Organized Crime and Corruption Reporting Project, Vladimir Putin has rewarded some of the most loyal members of the FSO with massive amounts of land in the area known as the Rublevka. This displaced over 1,100 Russian citizens who had worked for decades on Gorki-2, a massive state-run poultry farm in the Rublevka. Attempts by the dispossessed workers and their families to keep their land have been overall unsuccessful.