How Ghislaine Maxwell Evaded Prison For So Long
echo get_the_meta(); ?>
On July 2, 2020, British socialite Ghislaine Maxwell was arrested by the FBI in Bradford, New Hampshire. As reported by NPR, Maxwell was indicted on numerous charges related to child sex trafficking. More specifically, she is accused of recruiting underage girls for the late Jeffrey Epstein — who reportedly ran a sex-trafficking ring.
As reported by Film Daily, authorities believe Ghislaine Maxwell befriended underage girls, who were often underprivileged, and enticed them with shopping sprees and trips to the movies. In many cases, she convinced the girls to travel to Epstein's home by offering them jobs as massage therapists. Instead, the teens were reportedly forced to perform sex acts with Epstein's associates and friends.
Jeffrey Epstein and Ghislaine Maxwell allegedly began working together to lure teenage girls into the sex-trafficking ring in the early to mid-1990s. As reported by NZ Herald, some of the first accusations against Epstein and Maxwell were made as early as 1994. However, they both managed to evade criminal charges in relation to the accusations.
Film Daily reports Jeffrey Epstein was not arrested and charged with any crimes against underage girls until 2008. Per a plea agreement, he only served only 13 months. Eleven years later, he was arrested on federal charges related to sex-trafficking of minors. However, he committed suicide before he could stand trial.
Amid their investigation into Jeffrey Epstein, authorities identified Ghislaine Maxwell as a co-conspirator. However, Maxwell seemed to have vanished without a trace. 
Where was Ghislaine Maxwell?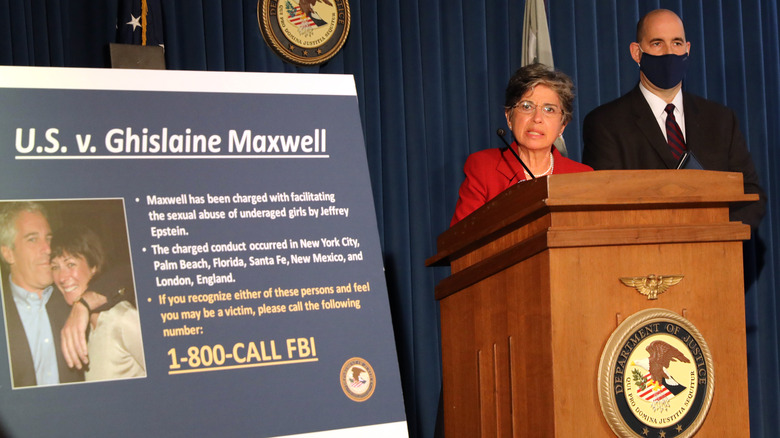 Spencer Platt/Getty Images
Ghislaine Maxwell's disappearance sparked rumors that she left the country, but nobody seemed to know where she actually was. As reported by NZ Herald, then-U.S.-Attorney-General William Barr was not deterred, and he vowed to identify and capture any of Jeffrey Epstein's co-conspirators.
In the years prior to 2016, Ghislaine Maxwell owned a New York townhouse, which NZ Herald described as "conspicuous" and "hard to miss." However, following the sale of the condo in 2016, Maxwell's whereabouts were unknown.
In 2017, a judge contacted Ghislaine Maxwell's attorneys for a valid address. Although the attorneys disclosed Maxwell was living in London, they insisted that she did not have a permanent address.
NZ Herald reports a photograph of a woman, who appeared to be Ghislaine Maxwell, suggested she was in Los Angeles, California. However, the photo was later proven to be fake. Another rumor suggested Maxwell was hiding out in Massachusetts at the mansion owned by Scott Borgerson, but the tech firm CEO vehemently denied the rumor.
Although many of the rumors suggested Ghislaine Maxwell left the country, as she hoped to avoid extradition, it was eventually revealed that she actually purchased a home and was living in Bradford, New Hampshire.
As reported by NZ Herald, authorities were aware of Ghislaine Maxwell's whereabouts in the months leading up to her arrest. However, they wanted to protect the integrity of their investigation. As soon as they secured an indictment, the FBI arrested Ghislaine Maxwell immediately, without further incident.