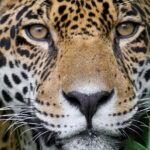 Most Dangerous Animals In The Americas
echo get_the_meta(); ?>
It's nice to think of the modern, 21st century world as a place where we have a lot of conveniences that make the place safer than it was, say, a few hundred years ago. Humankind has an existence padded with things like vaccines, an in-depth knowledge of the do's and don'ts of basic nutrition, and clean water… for now. It's easy to forget just how good people have it today — there's no more hunting mammoths for food, or drinking water downstream from a dysentery-ridden camp on the Oregon Trail.
That's not to say our world is completely safe, though, because as soon as humans think they sort of got things under control, that's when nature says, "Hold my beer."
Nature is an unthinkably powerful force, and it's one to be reckoned with. It's worth noting that humans aren't the only violent, dangerous creatures that roam the planet's surface, and simply put, when it comes to some of these animals of the Americas, soft and squishy humans just don't stand a chance.
Home to the most poisonous animal in the world
Are rattlesnakes as dangerous as we think?