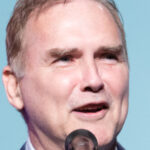 Norm Macdonald Facts Fans Might Not Know
echo get_the_meta(); ?>
Norm Macdonald was born in Quebec City, Quebec, Canada on October 17, 1959 — even though he told people for years that he was born in 1963. His parents, Ferne and Percy, were both schoolteachers at CFB Valcartier, a military installation north of Quebec City (via The Walrus). His older brother Neil was a foreign correspondent and is a columnist for the Canadian Broadcasting Corporation (via CBC). They also have a younger brother named Leslie, who really only appears in a delightful little story Neil tells about the boys meeting a new 6th-grade teacher at their parents' school, which foreshadows the humor Norm would carry into his life and career:
"There we stood, in our short pants and clip-on ties after Sunday church service, as Mr. Becker, his lower lip moving weirdly, greeted us, one by one: 'Hello, Neil. Hello, Leslie. Hello, Norman.' 'Hello, Mr. Becker,' replied Norm, his lower lip moving weirdly, a perfect Becker impression. My father's upper lip twitched, showing his gold tooth, which was always a bad sign, and I knew it would be bad for Norm later. But I was in awe. While both of us had already mastered the Becker impression, Norm actually went for the laugh in front of a hostile audience" (via CBC).
Macdonald dropped out of Gloucester High School and eventually developed the comedic chops that helped him become the comedian everyone knows him as today (via Tom Green Live).
The birth of Norm Macdonald's comedy career
Tim Mosenfelder/Getty Images
Norm Macdonald began his stand-up career in Ottawa largely at amateur nights at Yuk Yuks (via Uptown). Eventually, he traveled all around Canada performing at comedy clubs. As reported by Dead Frog, Macdonald believes that Canada's lack of a strong entertainment industry is a boon for stand-up comedians because it allows them to focus on their craft without the distractions of film and television. He eventually performed at the Just For Laughs Festival in Montreal in 1986, after which the Montreal Gazette announced him as "one of this country's hottest comics," per Parade. Then, in 1989, he appeared on "Star Search," which would ultimately lead to name recognition and jobs writing for "Roseanne" and "The Dennis Miller Show" in the early '90s, per IMDb.
In typical Norm fashion, he would not praise something or someone without knocking them down a few notches. According to Dead Frog, he would fall asleep watching episodes of "Roseanne" to prepare to write for the show. Yet his launch to stardom was just around the corner.
Marriage to Connie Vaillancourt and son, Dylan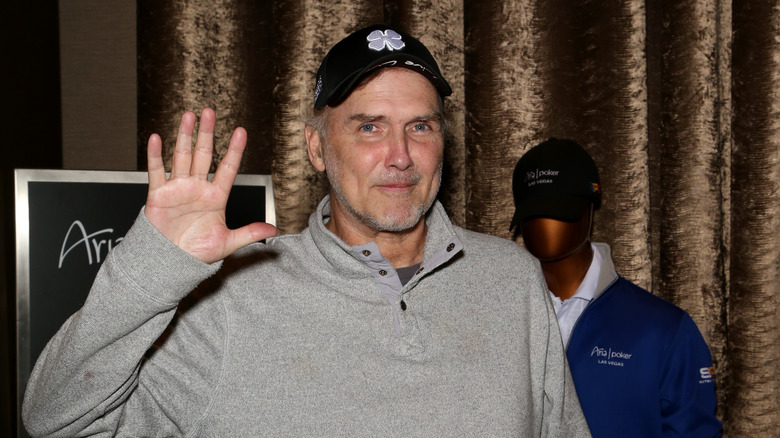 Gabe Ginsberg/Getty Images
Norm Macdonald married Connie Vaillancourt in 1988 and had his only child, Dylan, in 1993. The couple separated in 1999 when Dylan was six years old (via Heavy). While Vaillancourt has a limited online presence, we do know that she is a marriage and family therapist (LMFT) in California for Open Path Psychotherapy Collective. Geoff Edgers reported for The Washington Post: "He doesn't talk about his ex-wife, a marriage therapist in L.A., though if you press, he will groan like a child getting checked for strep throat and eventually say 'she's great' and a 'fine person.'"
Dylan, his son, was on an episode of Tom Green's online talk show with his father and had his own YouTube channel called The 3rd Triumvirate up until 2015, which is when the last video was posted. Many of the videos showcase an absurdity that easily matched the likes of his father. However, it is clear that Vaillancourt and Dylan generally lead private lives.
Norm Macdonald's stint on Saturday Night Live ('93-'98)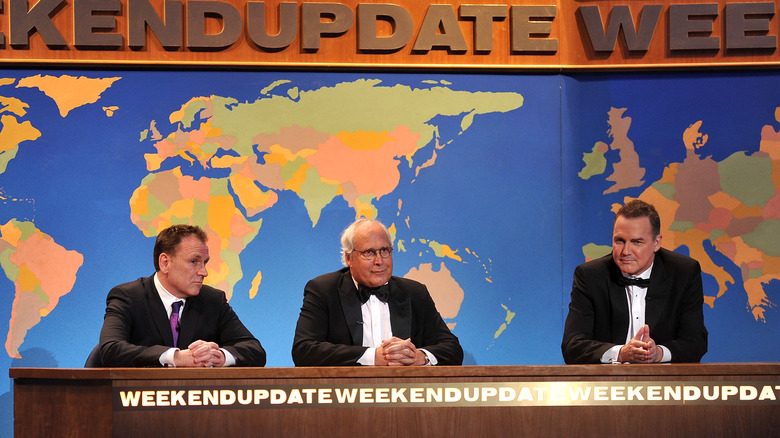 Theo Wargo/Getty Images
It was in 1993 that Norm Macdonald got his big break by getting an interview with Lorne Michaels, creator of "Saturday Night Live." Many remember Norm Macdonald as Burt Reynolds on "SNL's" "Celebrity Jeopardy" skits. And depending on whose story you believe, Macdonald might have come up with the idea "by stealing it, note for note, from an 'SCTV' classic, 'Half-Wits'" (via Vulture). 
Yet it was Macdonald's take on the prestigious "Weekend Update" anchor position that became the bread and butter of the comedian's time on "SNL." Perhaps most memorably, he constantly joked about OJ Simpson being guilty of murdering his wife even after Simpson was acquitted of all charges. Per Dan Brooks in The New York Times Magazine: "In retrospect, the Simpson trial was eerily suited to Macdonald's sense of humor, in that it centered on an assumption widely held but politely denied … Macdonald gave voice to the popular belief that Simpson was guilty, delivering joke after joke about how he was obviously a murderer." NBC executive Don Ohlmeyer first attributed Macdonald's firing to low ratings, per We Got This Covered. But the most popular reason is that Ohlmeyer "was a close friend of O.J. Simpson's" and "resented [Macdonald's] string of jokes about Simpson's murder trial." MacDonald continued to make Simpson jokes after his departure.
That time Norm Macdonald came back to SNL to host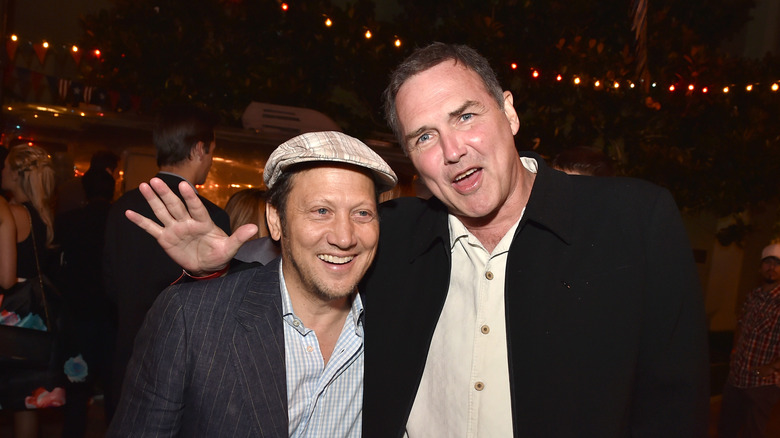 Kevin Winter/Getty Images
After being let go from "Saturday Night Live," Norm Macdonald would return to host an episode of the sketch comedy show on October 23, 1999. In his monologue, he alluded to his resentment for being fired and even questions the nature of his firing. He ponders the reason given to him for being fired — "not being funny" — and then a year and a half later being asked to host, knowing, in fact, that someone can't get funny in a year and a half. His punchline in the monologue is brilliant: "Then it occurred to me, I haven't gotten funnier, the show has gotten really bad! So, yeah, I'm funny compared to, you know, what you'll see later. Okay, so let's recap, the bad news is: I'm still not funny. The good news is: The show blows!"
The Observer published a piece about the supposed feud between Macdonald and former co-star Chris Kattan based on the shot Kattan's exotic dancer character, Mango, took at Macdonald on the very next week's episode. At one point, the piece stated that Kattan and Macdonald were to be in a skit, but it was canceled. "Sources inside 'SNL' said that's true, but didn't count out strained relations as a reason for it," the piece claims. However, Kattan tweeted in 2015 that it was all a satiric joke between them. Goes to show nothing can be truly taken at first sight when dealing with Macdonald.
Norm Macdonald was known for his voice and film cameos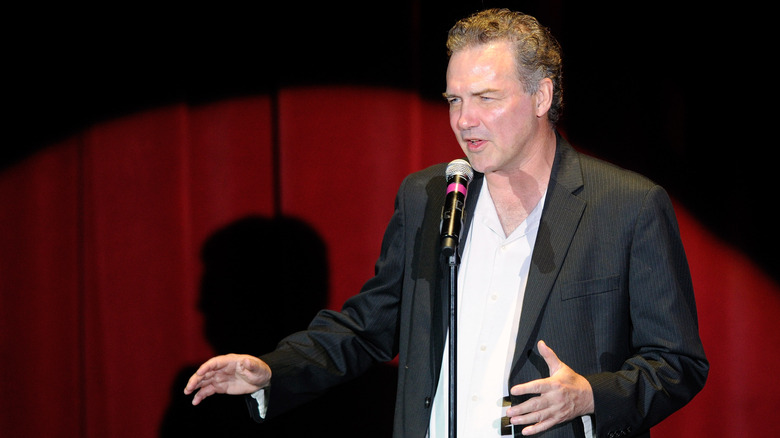 Ethan Miller/Getty Images
Norm Macdonald's post-"SNL" career was uneven at best. Still, when he or his voice showed up in a film or TV show, it was always recognizable. According to The Hollywood Reporter, he had various cameos in films like "The People vs. Larry Flynt" and Man on the Moon," and in less highbrow fare like "Deuce Bigalow: Male Gigolo." He also contributed voice work to shows like "Skylanders Academy," "The Orville," and "Mike Tyson Mysteries." Empire added a few more to the roster, including the Eddie Murphy "Doctor Dolittle" movies and "Klaus," to name a few.
USA Today described Norm Macdonald as having a trademark "gravelly voice." It was a voice that would become the first iteration of Family Guy's "Death" character until Adam Corolla replaced him in later episodes (via IGN). Nevertheless, Macdonald's version of death remained the arguable favorite version of the character.
Norm Macdonald's gambling addiction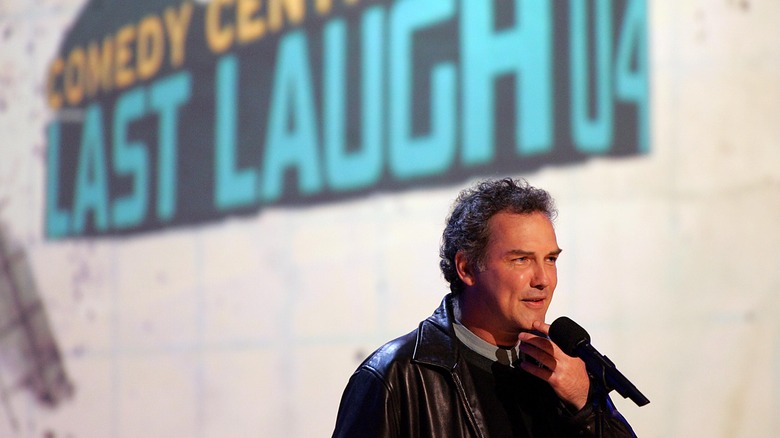 Kevin Winter/Getty Images
Norm Macdonald said he was never much of a drug or alcohol kind of guy. But gambling, he says to Larry King, "some have said it was the ruin of me, Larry" (via Larry King Now). In the same interview, Macdonald said he went broke twice from betting on sports. In Atlantic City, he got lucky one time at a craps table, making six figures off of one run, and says, "you can't go back … if you win that much money, you can't go back to $25 bets."
The most money he lost at one time was $400,000, according to The Big Lead. Later, when online gambling became popular, Macdonald said that he would play 20 hold'em games at once until online gambling went offline. "Since they went offline, it kind of saved my life … Because I was just grinding out and couldn't even sleep," he said, per Poker News. "The good thing about [playing online] was it was just fold, fold, fold, fold, fold – it was all ABC poker." However, Macdonald continued to play at high-end poker tournaments, including the World Series of Poker, where he ranked 20th place.
That time Norm Macdonald co-wrote Chris Farley's last film appearance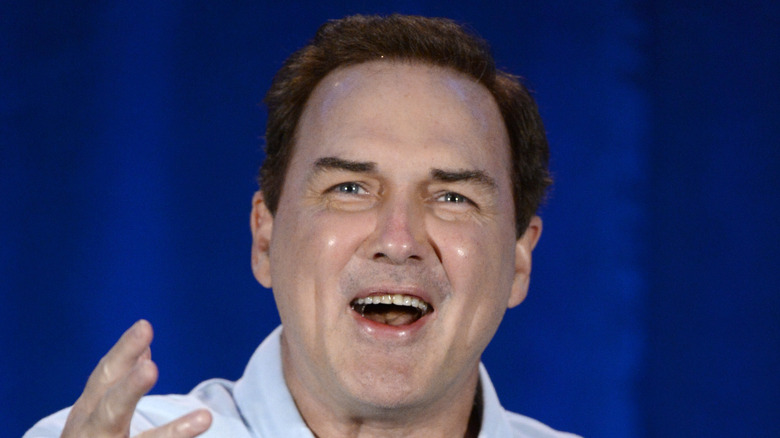 Kevork Djansezian/Getty Images
As noted by Yahoo! Entertainment, Chris Farley's last official movie credit is 1988's "Almost Heroes" with Matthew Perry. But his true final appearance is an unbilled cameo in "Dirty Work," which Norm Macdonald starred in and co-wrote based on Roald Dahl's short story, "Vengeance is Mine, Inc." The film co-stars Artie Lange, Chevy Chase, and Chris Farley.
Per USA Today, Farley died at age 33 on Dec. 18, 1997, of a drug overdose after a lifetime of substance abuse. Interestingly, Tom Arnold, who worked with Macdonald on "Roseanne," turned out to be Farley's sober sponsor. Yet Farley's addiction ended up overcoming him in the end. And as for his last role — a noseless friend of Macdonald and Lange — "Dirty Work" remains at 14% on Rotten Tomatoes. Still, some people, including Nathan Rabin of The A.V. Club, consider the film to be a cult classic, which seems like a form of poetic justice for Farley.
If you or anyone you know is struggling with addiction issues, help is available. Visit theSubstance Abuse and Mental Health Services Administration websiteor contact SAMHSA's National Helpline at 1-800-662-HELP (4357).
Norm Macdonald's TV Shows always got canceled…
Theo Wargo/Getty Images
Geoff Edgers wrote a piece for The Washington Post entitled, "Will somebody please give Norm Macdonald another TV show?" The piece centered around an evening with Norm Macdonald watching the Super Bowl, to figure out how one of the most remembered stars of "SNL" and one of the most loved guests of late-night doesn't have a show. Turns out this was a good question, and all the best questions don't necessarily have answers. 
Macdonald had several shows throughout his career that gained moderate to no success. In the wake of being fired from "SNL," Macdonald found himself signed on to an ABC sitcom called "The Norm Show", where he played an ex-hockey player banned from the league for gambling and tax evasion who volunteers as a social worker to avoid jail time (via IMDb). The show lasted for three seasons before getting canceled. In the world of primetime television, this was probably the most successful thing he did after "SNL." He tried his hand at another sitcom called "A Minute with Stan Hooper," but it only lasted seven episodes. 
Macdonald didn't have much luck with talk shows either. His most successful was called  "Norm Macdonald Live," which also lasted just three seasons. He tried out others, including "Norm Macdonald Has a Show" and "Sports Show," but none of them quite gained the momentum needed to stick around. Why was this? We will never know. 
…But late-night TV loved him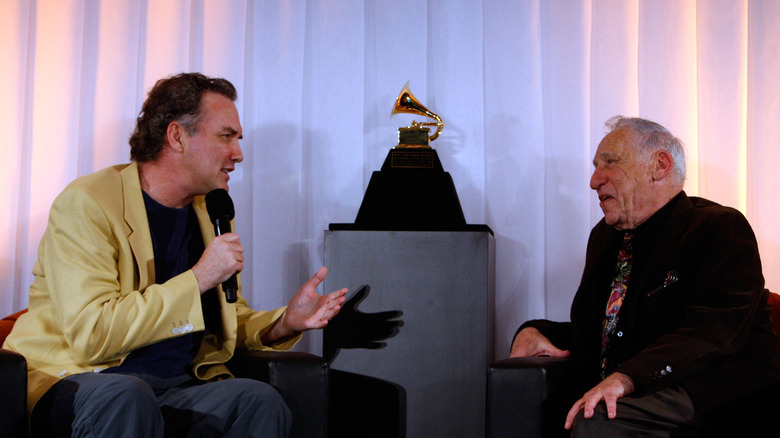 Frazer Harrison/Getty Images
As Geoff Edgers talked about in his Washington Post article, the all-time greats of late-night television adored Norm Macdonald. Take, for instance, David Letterman's thoughts on Macdonald, who did a tight five minutes on the final episode of Letterman's "The Late Show": "If we could have, we would have had Norm on every damn week … He is funny in a way that some people inhale and exhale … The combination of the delivery and his appearance and his intelligence. There may be people as funny as Norm, but I don't know anybody who is funnier."
Letterman was far from the only one. Conan O'Brien was perhaps the host that showcased him the most and always had the best conversations with him. Per Trish Bendix in The New York Times: "One of his most famous bits was telling meandering and convoluted tales that often ended in intentionally corny punch lines elevated by Macdonald's deadpan delivery." The look on Conan's face with each seemingly tangential tendril of the story only made the inevitable punchline hit that much harder. 
Even John Stewart of "The Daily Show" had to steel himself to not laugh at a joke that MacDonald made about Steve Irwin's death a mere ten days after the incident (via Vulture). It was clear that Norm Macdonald had a knack for messing with formulas, which is perhaps why none of his own shows worked. "He doesn't fit into any piece of the puzzle," O'Brien said.
When The Late Show with Jimmy Fallon canceled on Norm Macdonald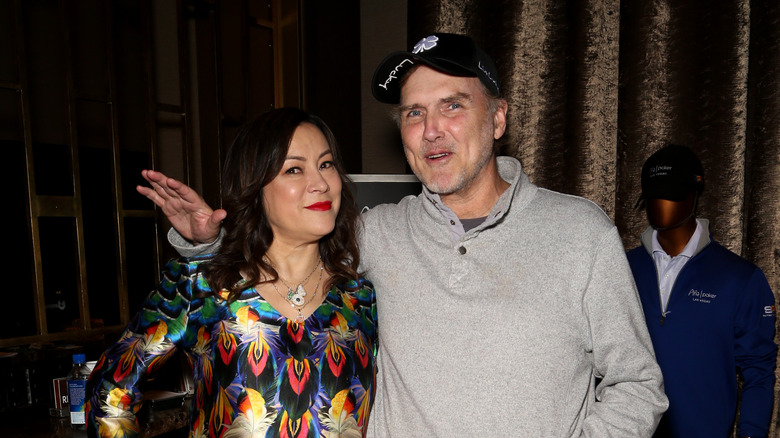 Gabe Ginsberg/Getty Images
While Jimmy Fallon, too, adored Norm Macdonald, he had to make the hard decision to cancel him as a guest back in 2018, TV Line reports. The decision came after Macdonald talked to The Hollywood Reporter and mentioned that he was glad that the #MeToo movement had slowed down in the wake of a claim made about Chris Hardwick. He went on: "It used to be, 'One hundred women can't be lying.' And then it became, 'One woman can't lie.' And that became, 'I believe all women.' And then you're like, 'What?' Like, that Chris Hardwick guy I really thought got the blunt end of the stick there."
Macdonald went on Howard Stern's show the next day and spoke about the ordeal. Initially, Fallon and Macdonald agreed to address this comment at the end of the interview, but producers on the show wanted him to start out the show with an apology. He refused, which put Fallon between a rock and hard place. Torn up about the whole ordeal, Fallon finally told Macdonald, "Come back whenever you want, but I think it will hurt the show tonight." Macdonald maintained that he was fully behind the #MeToo movement and didn't want to minimize what those women went through, but just saw the other side of the coin for people he considered his friends. 
Norm Macdonald made more statements that caused a backlash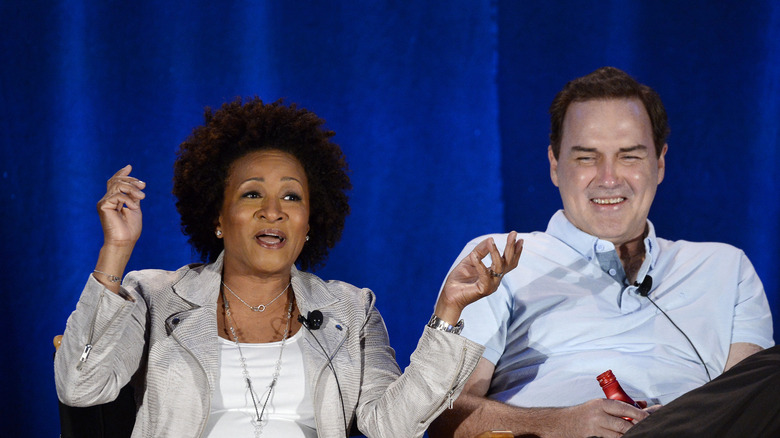 Kevork Djansezian/Getty Images
During the previously mentioned Howard Stern interview, USA Today reported that Norm Macdonald said "you'd have to have Down syndrome to not feel sorry" for those women who are speaking out in the #MeToo movement. And his week only went from bad to worse when he went on "The View" and was pushed on all of the things he had said in The Hollywood Reporter and Howard Stern interviews, per Entertainment Weekly. 
Notably, the hosts of "The View" asked Macdonald about the "Down Syndrome" comment, and he responded with this: "There used to be a word we would all say to mean stupid that we wouldn't say anymore… Stupidly I was about to say that word, and I stopped and [wondered] what the right word was to say, and I said a different word that was equally [offensive]. I realized at that moment I said something unforgivable … The remark I made about people with Down syndrome is terrible."
Whether one finds this to be a sincere enough justification is dependent on various factors. Regardless, Macdonald didn't look good throughout this week of his life. The same article elucidated this best when it ended by describing Macdonald as "all downtrodden like a busted schoolboy." 
Norm Macdonald fought a private battle with cancer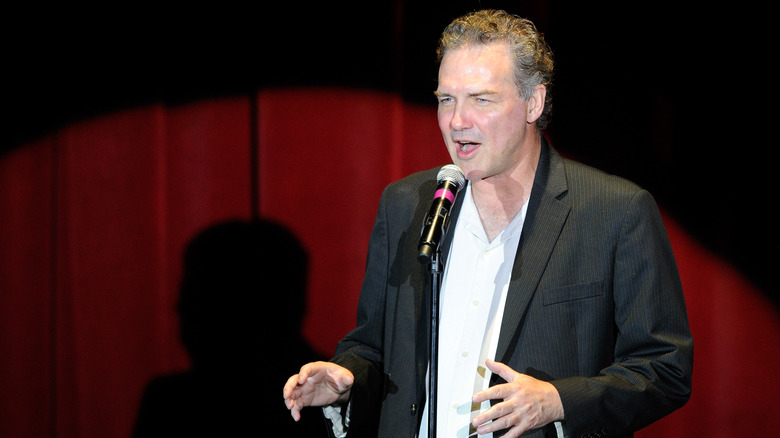 Ethan Miller/Getty Images
On September 14, 2021, it was reported that Norm Macdonald had died of cancer at the age of 61, Deadline reports. What wasn't known about his cancer was that he was battling it for nine years, privately, reminiscent of Chadwick Boseman's private battle and death to the disease last year. In the days since, it was revealed that Macdonald had acute leukemia, Toronto Star reports.
According to Cancer Treatment Centers of America: "Acute leukemia is rapidly progressing and results in the accumulation of immature, functionless blood cells in the bone marrow. With this type of leukemia, cells reproduce and build up in the marrow, decreasing the marrow's ability to produce enough healthy blood cells."
As a fitting remembrance of her uncle (and telling of the typical Macdonald personality), Andrea Macdonald remembered going to see "The NeverEnding Story" with Norm and getting scared and running out of the theater. What was his response? "He was there consoling me, but also kinda laughed with me … He liked to tease me in a friendly way," she said.
Coming full circle, the founder and CEO of Yuk Yuks recalled that Macdonald was pulled off the amateur list at Yuk Yuks in three weeks, which he seemed to think was a record. He said of Macdonald: "He was a friend too. We were pals. I lost a pal today."