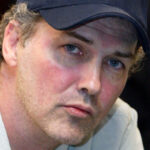 Norm Macdonald's Tragic Real-Life Story
echo get_the_meta(); ?>
Norm Macdonald's vast and loyal fanbase was deeply shocked when news broke that he had died September 14, 2021, at the age of 61. Their pain echoed in the countless dedications that came pouring forth on social media from Macdonald's friends and celebrity colleagues. As well as a glittering standup career, Macdonald was known for his work in both television and film, but he was perhaps most celebrated for his seminal appearances on late-night talk shows, where he regularly made foils of some of the biggest names in the business, most notably Conan O'Brien and David Letterman.
"I am absolutely devastated about Norm Macdonald," O'Brien wrote on Twitter. "Norm had the most unique comedic voice I have ever encountered and he was so relentlessly and uncompromisingly funny. I will never laugh that hard again. I'm so sad for all of us today." Letterman wrote: "In every important way, in the world of stand-up, Norm was the best. An opinion shared by me and all peers. Always up to something, never certain, until his matter-of-fact delivery leveled you" (also via Twitter).
While his deadpan delivery was key to Macdonald suspending predictability in his joke-telling, this was also the metier in which he publicly discussed and made light of his real-life problems, turning his professional frustrations and personal tragedies into comic gold. Here are the facts behind the jokes.
Norm Macdonald was unfairly fired from 'Saturday Night Live'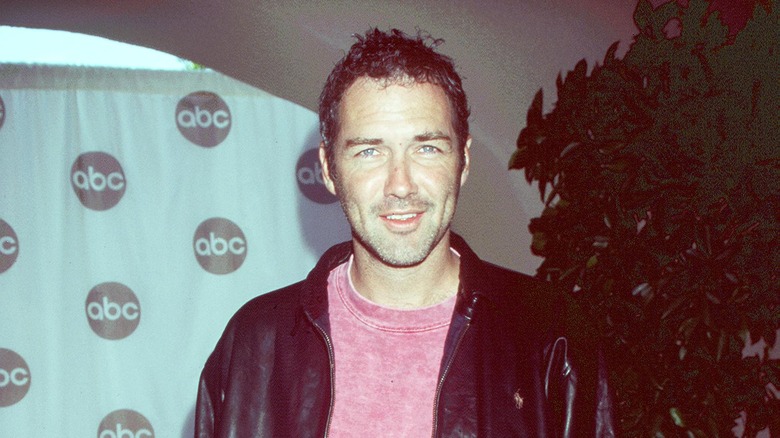 Brenda Chase/Getty Images
Macdonald's rise to prominence in the cut-throat world of comedy was swift, after gaining television exposure as a standup on the talent show "Star Search" (via The Wall Street Journal). With his creative ability shining through, Macdonald was bound for TV, and he soon landed a job in the writing room of the hit sitcom "Roseanne," hired by friend and fellow comedian Tom Arnold (via Twitter).
Before long, he found himself a regular cast member on America's biggest comedy show, "Saturday Night Live", where he remained from 1993 until his controversial firing in 1998, according to Deadline. Having first plied his trade as a sketch actor, Macdonald ascended to the coveted "Weekend Update" seat, where he would become famous for his caustic skewering of celebrities and satirical take on current affairs. But though his performances clicked with audiences, Macdonald eventually ran into trouble after his vicious send-ups of the ongoing O.J. Simpson trial offended network executive Don Ohlmeyer, who was reportedly a friend of Simpson. Macdonald was canned, and openly discussed Ohlmeyer's underhanded motives for the removal. Eventually, Macdonald would concede that his dismissal may have been about the style of his comedy, but maintained that his firing was unfair.
"Ohlmeyer would watch Leno kill every night for 15 minutes. Every joke, huge laughs, and then I'd do 10 minutes a week and sometimes not get laughs," Macdonald claimed (per Deadline).
Norm Macdonald's destructive gambling addiction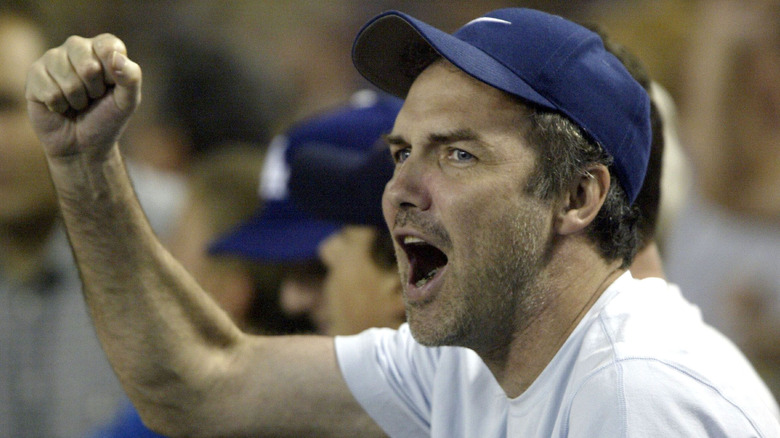 Lisa Blumenfeld/Getty Images
Around the time that Macdonald was achieving national fame, the comedian was also developing a serious gambling addiction that would threaten to unravel his personal life.
According to Celebrity Mirror, when filming wrapped on an episode of "Saturday Night Live" and when all of his celebrity colleagues were partying together, Macdonald made a habit of slipping off on his own and getting a ride to Atlantic City, where he would gamble away a large portion of his earnings from the show. His addiction grew worse when he moved into a new apartment with a casino on the ground floor of the building.
Though at the time Macdonald was estimated to be making a six-figure income from his work on "Saturday Night Live" alone, his gambling left him penniless on multiple occasions. "Some have said it's been the ruin of me, Larry," Norm Macdonald claimed during a 2016 interview on "Larry King Live," where he revealed he also bet compulsively on sports (via YouTube). "I did go broke twice." Macdonald claimed that his addiction was precipitated by a "huge run" in Atlantic City in which he won "a little over" $100,000.
"A friend of mine who's very smart said: 'I've been very lucky with gambling — I've never won,'" Macdonald quipped, and stated that he had recently quit gambling.
Norm Macdonald's rocky late career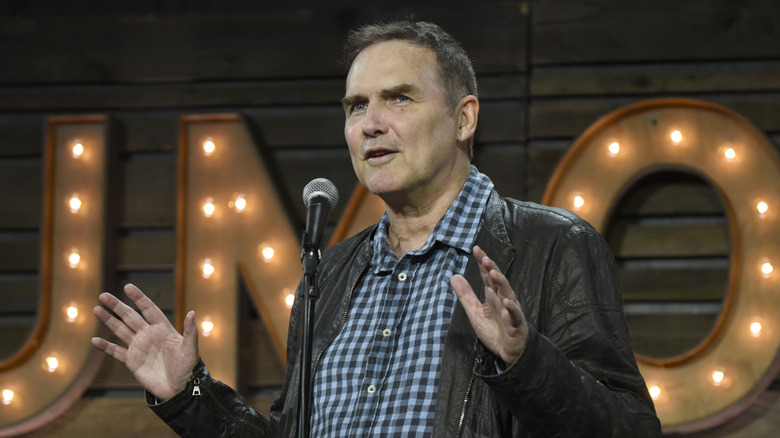 Tim Mosenfelder/Getty Images
Norm Macdonald's first project following his 1998 exit from "Saturday Night Live" was "Dirty Work," a revenge comedy co-starring his friend Artie Lange. It was a flop, with The New York Times labeling it a "brain-dead movie." He had some success in the years that followed with "The Norm Show," a sitcom that ran for three seasons before it was canceled in 2001. Another sitcom, "A Minute with Stan Hooper," was dropped after just half a season, while he lasted a season each as the host of "High Stakes Poker" and "Sports Show," the latter of which was compared favorably to his work on "Weekend Update" (per Slant Magazine).
But Macdonald did continue to enjoy cult popularity, most notably with "Norm Macdonald Live," a video podcast he hosted with his long-suffering 'sidekick' Adam Eget from 2013 to 2018, on which he typically interviewed friends and fellow "SNL" alumni such as Adam Sandler and Sarah Silverman, with conversation often veering into unexpected roasts and taboo subjects. The popularity of the podcast led to a Netflix version, "Norm Macdonald Has A Show," but in another blow to his late career the launch was overshadowed after Macdonald's comments about the #MeToo movement and his support of his then-under-fire friend Roseanne Barr stirred controversy, according to NBC News.
The show was not recommissioned. However, his 2017 standup special for the same platform was well received, and he continued to perform standup widely, both in live venues and on late-night chat shows.
Norm Macdonald kept his illness a secret to the end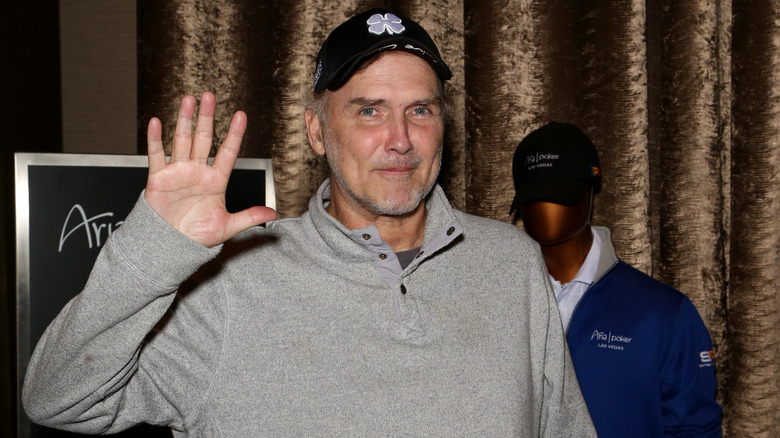 Gabe Ginsberg/Getty Images
The enormous influence of Norm Macdonald on the generation of comedians that came after him was easy to see in the hours after news of his death was made public. Seth Rogan, Josh Gad, and "Shaun of the Dead" director Edgar Wright all paid their respects to the late comic, per The Guardian. As Deadline notes, he was widely considered among his peers to be the "comedian's comedian."
That the news was so shocking was down to a concerted effort on Macdonald's part to hide from the public the fact that he had long been suffering from a chronic illness. In breaking news of his death to Deadline, Lori Jo Hoekstra, his longtime friend and producing partner, revealed that Macdonald had been living with cancer for almost a decade, claiming: "He never wanted the diagnosis to affect the way the audience or any of his loved ones saw him. Norm was a pure comic. He once wrote that 'a joke should catch someone by surprise, it should never pander.' He certainly never pandered. Norm will be missed terribly."
Though Macdonald never discussed his own cancer in public, many of those mourning the death of the beloved comedian saw fit to share one of his most memorable jokes on the subject that lambastes the concept that sufferers "battle" the disease: "I'm pretty sure if you die, the cancer dies at the same time. That's not a loss. That's a draw" (via Twitter).