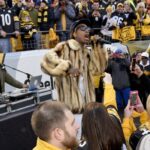 The Biggest, and Most Famous, Fans of Every NFL Team
echo get_the_meta(); ?>
Celebrities might not be just like you and me — rich, famous, have their own drivers or jets, sometimes — but there are plenty of ways they like to relax and chill out like the rest of us.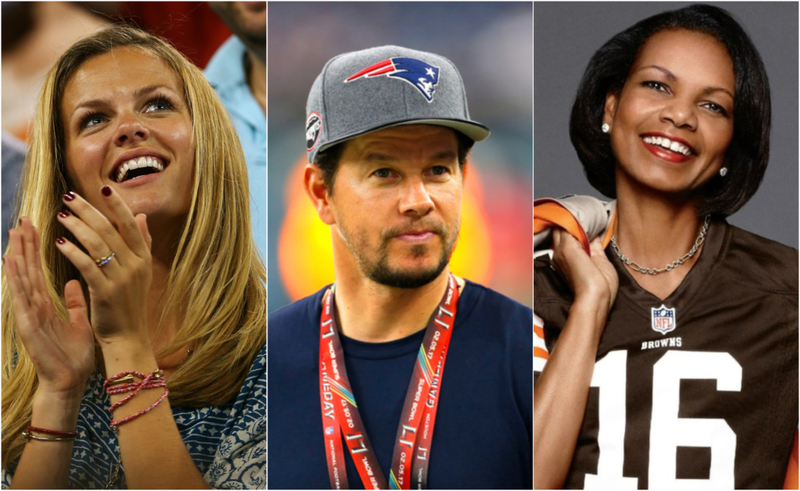 Musicians, actors, politicians, and other famous names all like to turn on the TV and watch their favorite colors. There are even plenty of athletes who like certain squads. Let's find out which stars love which teams. There is at least one here for every member of the NFL, even the Lions.
Buffalo Bills: Wolf Blitzer

While they have been shrugging off their poor history in the last few years, the Buffalo Bills still aren't one of the most popular teams in the NFL — not even close. However, famous CNN reporter Wolf Blitzer is a proud supporter. His parents escaped from the Holocaust and settled in Buffalo, Wolf was born right after, and he grew up going to Bills games with his father.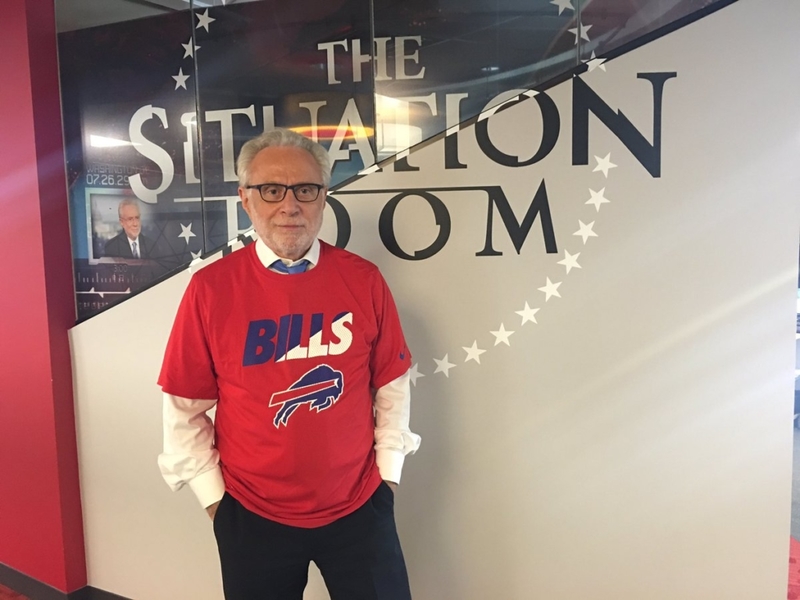 They were some of the most treasured moments of his childhood. Blitzer can name every Bills great and can even recall trying to watch the Bills vs. Giants Super Bowl while covering Desert Storm in 1991.
Miami Dolphins: Darius Rucker

He's the lead singer of Hootie and the Blowfish, and he has some odd fandoms, just like he has an odd band name. Rucker grew up in Charleston, South Carolina, making him a South Carolina Gamecocks fan, yet he also roots for the Cincinnati Reds and the Miami Dolphins.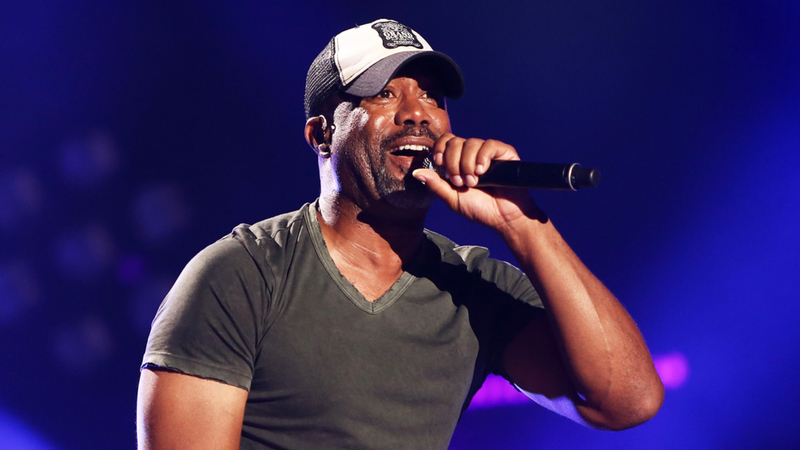 If you're a big Hootie fan, you'll recognize the lyrics "I'm such a baby because the Dolphins make me cry" from "Only Wanna Be With You." While we all like marine life, this is a direct reference to Rucker's fandom. Rucker has even named one of his daughters Daniella after Dolphins legend Dan Marino. Marino returns the favor and calls himself a fan of Rucker.
New York Jets: Adam Sandler

A native New Yorker, Sandler had a tough decision to make: Gang Green or Big Blue? He grew up in Brooklyn, which skewed Jets, and that's where he landed. Lots of his movies have elements from the Jets sprinkled about, such as when Satan is a Jets fan in "Little Nicky." He took things even farther in "Mr. Deeds" when his character straight-up bought the entire team.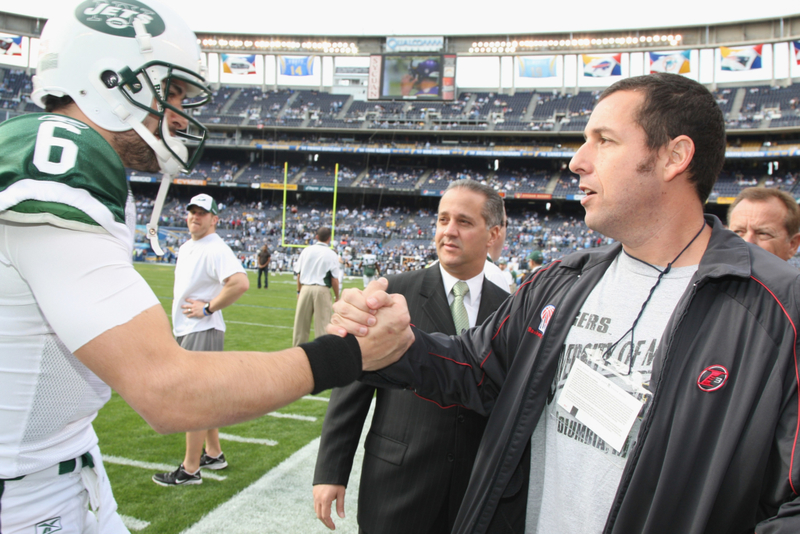 It isn't uncommon to catch a glimpse of this Hollywood face on the sidelines or to relax in a cushy box seat at games, though Sandler hasn't been much of a good luck charm for the team as of late.
Baltimore Ravens: Michael Phelps

The Baltimore native and twenty-three-time Olympic gold medalist Phelps has been a Ravens fan all his life. Even when Phelps was at the 2016 Olympics, he brought out his fandom when he spotted a reporter at a press conference who was wearing Steelers apparel.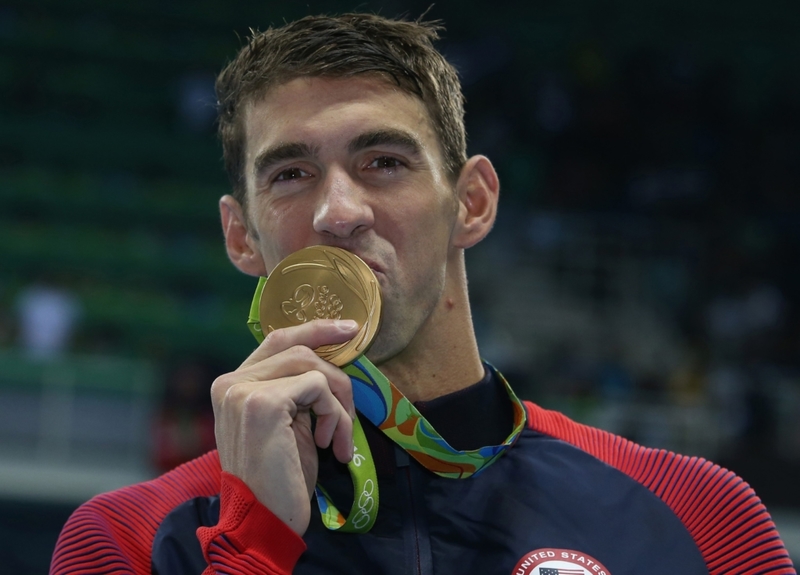 The Ravens-Steelers rivalry is a tense one, and Phelps commented that he always thinks the Ravens will beat Pittsburgh, turning the train of thought at the conference to a completely different sport. Phelps is good friends with Ravens legend Ray Lewis, and spoke to him at length before retiring from competitive swimming.
Pittsburgh Steelers: Wiz Khalifa

Though it might be a little hard to tell if you don't know his music, rapper Wiz Khalifa is a gargantuan Steelers fan. If you are familiar, you know that one of his big 2010 songs, "Black and Yellow," refers to the main colors of the Steelers. While the song doesn't mention the Steelers directly, it does refer to all of the Pittsburgh pro teams.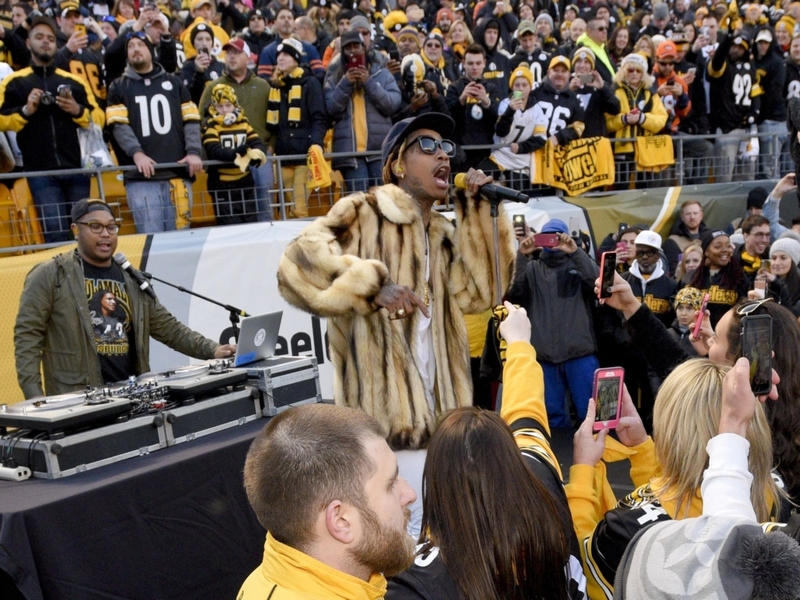 Khalifa, a Pittsburgh native, has even spent some time with famous ex-Steeler Le'Veon Bell. While he (Bell) was sitting out the 2018 season, Khalifa invited Bell into the studio with him to record.
Indianapolis Colts: David Letterman

As funny as he is, Letterman's Colts fandom is no laughing matter. While most fans can't do much more than enjoy the games, Letterman's status as a celebrity has allowed him to take part in team events.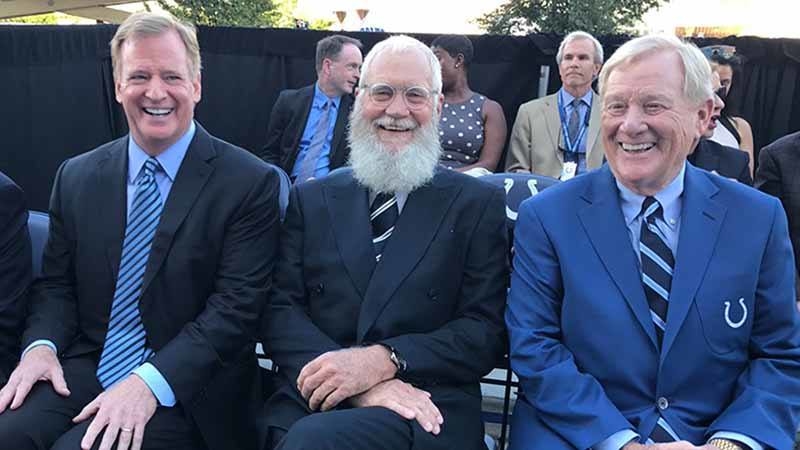 He gave a speech in 2017 when the Colts unveiled a statue of Peyton Manning. It was only a five-minute speech, but Letterman packed plenty of jokes into it at the expense of both Manning and the city of Indianapolis. Manning has also been a frequent guest on the Letterman show, thanks to David's fandom.
Jacksonville Jaguars: Bill Murray

Your mind might go to Jason Mendoza from 'The Good Place' when it comes to Jacksonville superfans, but a more surprising (and less fictional) name is that of Bill Murray. He's a big sports fan in general, joining fans of most Illinois teams.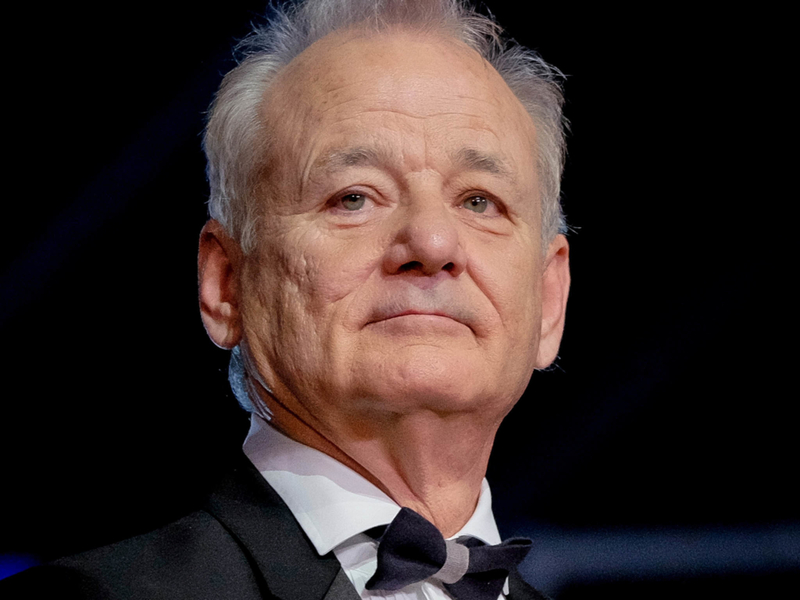 It's strange to hear he's a fan of the Jags, despite being an Illinois native, but he's been a follower since the early 2000s. He's been to training camp and even helped a former coach, Jack Del Rio, break down film. No one is really sure why Murray is a fan of this team, but Murray loves his sports, so he's sure to have a good reason.
Houston Texans: George W. Bush

Hard to get a bigger fan than a president, even a former one. Both George Junior and his later father, George H. W. Bush, called themselves fans of Texas's AFC team. The Bush family has long-standing allegiances to sports in the area and were once even owners of the Texas Rangers. They took a strong liking to the Texans.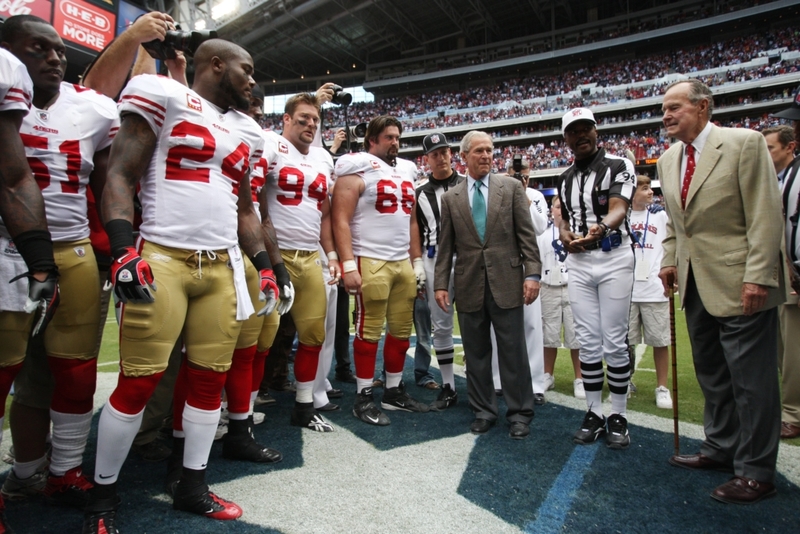 When Bush's senior's health began to decline, he was still a frequent sight at home games, sometimes coming out onto the field in a golf cart. When Bush senior passed, the team held a moment of silence in recognition of his support for the franchise.
Tennessee Titans: Faith Hill and Tim McGraw

Since the Titans play their home games in the country music Mecca of Tennessee, it's only natural that some famous singers and songwriters will become big fans. However, recording great Tim McGraw has been a fan of the franchise ever since it was known as the Houston Oilers, long before moving to Nashville.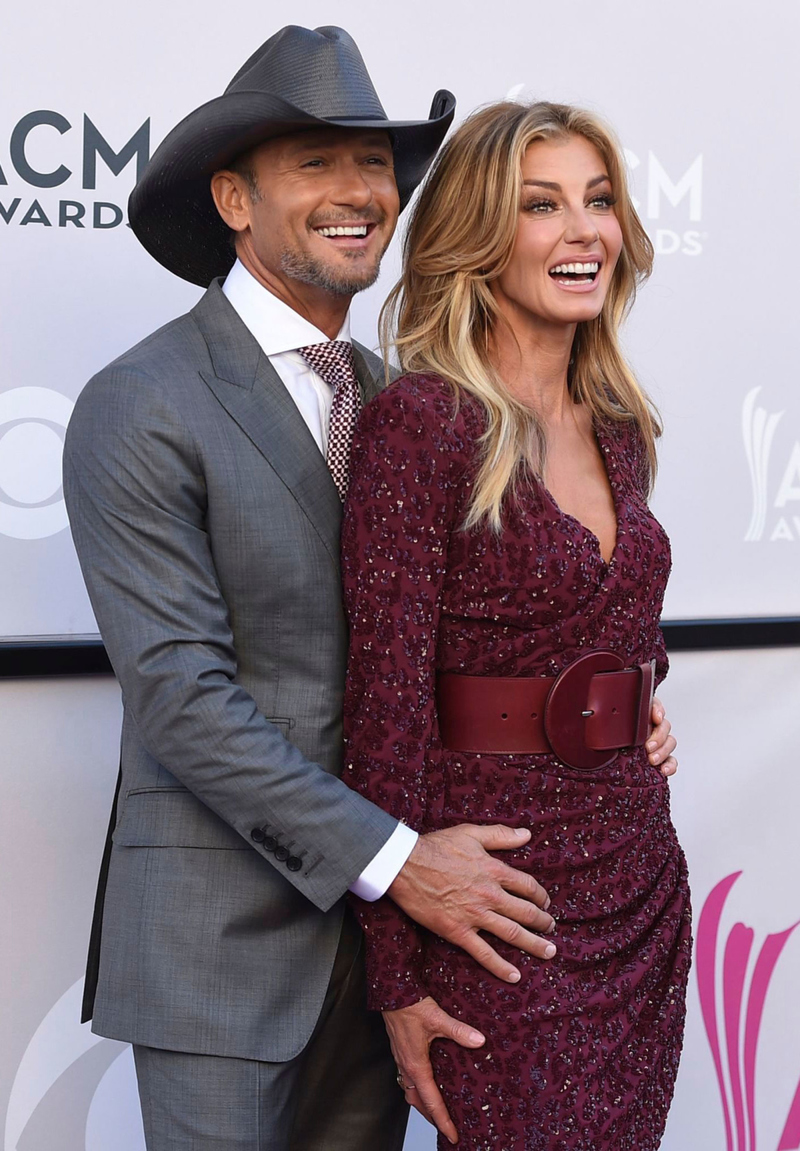 McGraw and his wife Faith Hill both grew up in the south, meaning their love of football is deep, and they've loved having a team in their hometown. Hill was even chosen to sing the national anthem in the Super Bowl in January of 2000.
Denver Broncos: Lindsey Vonn

Denver is known as the mile-high city, and thanks to the mountains and winter sports so popular in the area, one of the Broncos' biggest fans is champion downhill skier Lindsey Vonn. She's one of the world's most accomplished skiers — she's considered the second-best downhill skier EVER.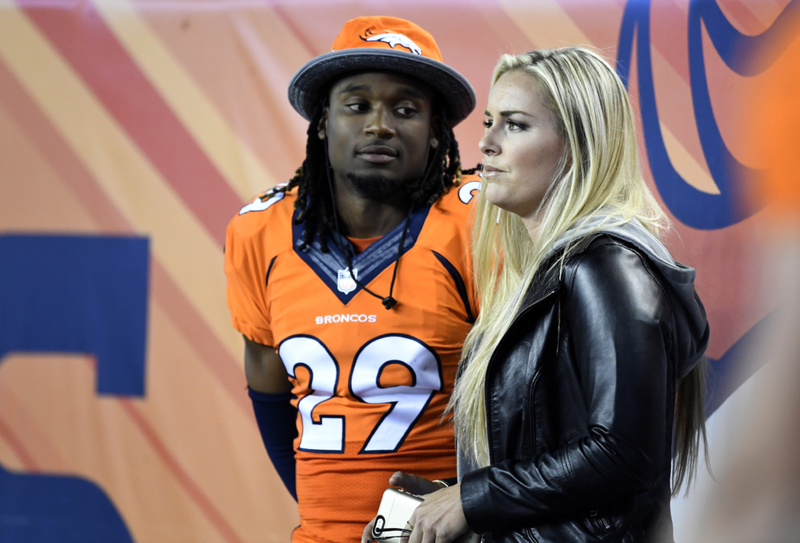 She's also no ordinary Broncos fan. She became a fan at age twelve and often speaks at length about how much she loves the team. She spends time on the sidelines, often meeting with players and staff. When she had to rehabilitate her knee in 2013 after an injury, she got to meet Von Miller, who was recovering from a similar injury.
Los Angeles Chargers: Nick Cannon

Nick Cannon is a unique fan on this list because he's had to put his fandom behind him. He was a diehard Chargers fan while they were in San Diego, but since their move to Los Angeles, he's spoken out about how much it hurt for the team to betray him like this.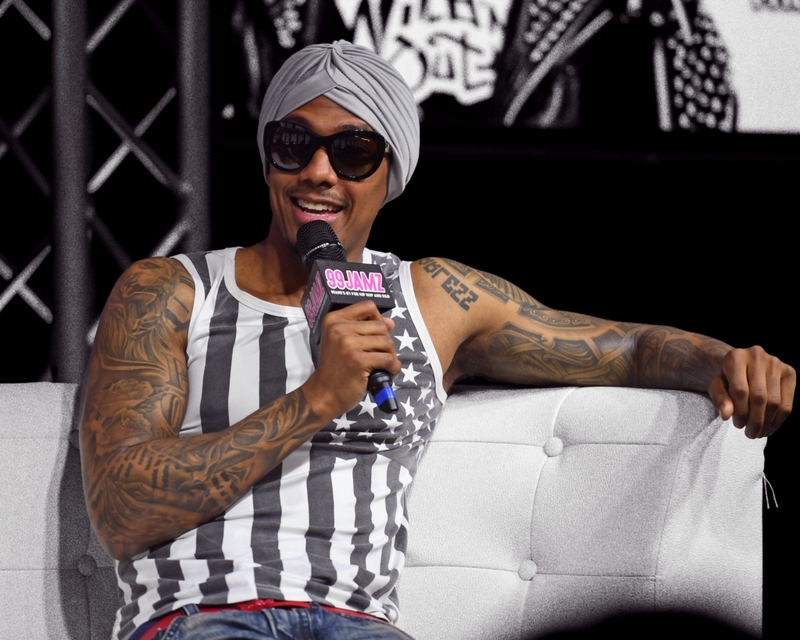 He's publicly declared he will no longer be supporting the Chargers and has announced his new team is the Carolina Panthers. Based on their attendance since they made a move, the Chargers have lost a lot of fans — it's going to happen any time a team uproots that way.
Kansas City Chiefs: Paul Rudd

The comedic actor has made a name for himself recently, but he also gained a lot of attention for his sports fandoms. He followed the Royals closely while on their way to the World Series in 2015, and he's done just as much cheering for the Chiefs.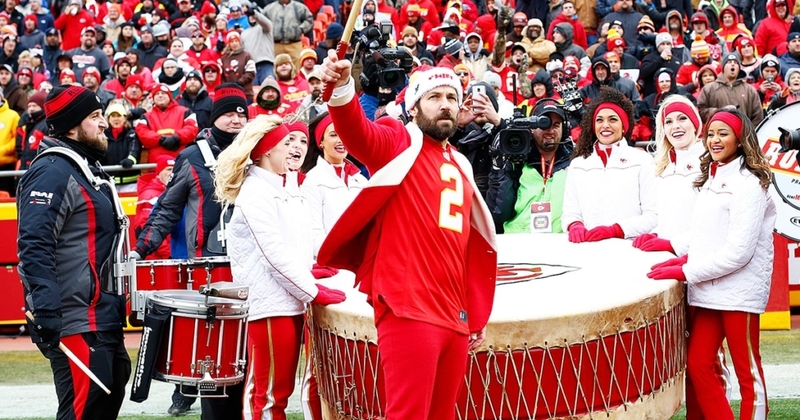 While Rudd was born in New Jersey, his family moved to Kansas when he was ten, and he attended the local university. He gained a strong appreciation for all of the sports teams in the area. He holds nothing back when displaying his love for his teams, and when the NFL show "Hard Knocks" focused on the Chiefs in 2017, he was able to be the narrator for the entire season.
Oakland Raiders: Ice Cube

Rapper and actor Ice Cube grew up in Los Angeles, which was one of the places the Raiders have called home. He was a teen when they arrived in 1982, and despite the team moving north to Oakland following the 1994 season, he's been a huge fan ever since.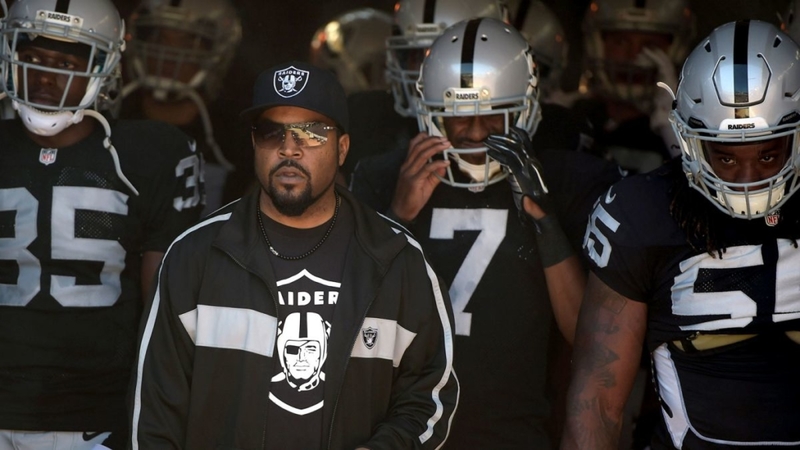 He calls himself the president of Raider Nation and helped the team produce the documentary "Straight Outta L.A." He supports the team moving to Las Vegas since it's closer to their SoCal roots. It doesn't matter where they play or what they call themselves; this cool customer will be lending his voice to the team.
Dallas Cowboys: LeBron James

Athletes supporting athletes, you love to see it. You'd expect this Ohio native to root for the Bengals or Browns, or even the Dolphins after all his time in Miami, but King James loves him some Cowboys. He's often seen wearing the blue star of the Dallas team and will sometimes spend time with Jerry Jones.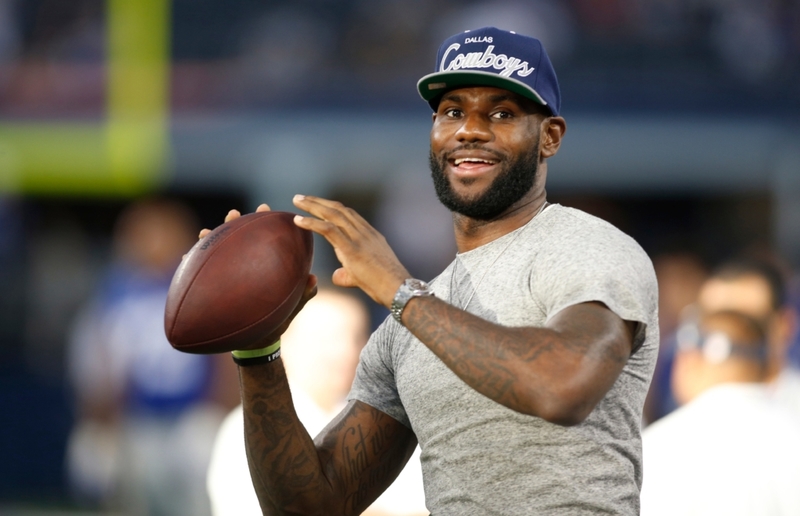 LeBron got some backlash when he visited the Rams locker room after they beat the Cowboys in the playoffs since he now lives in Los Angeles, but he still considers himself a big Cowboys fan, and that's good enough for us.
Philadelphia Eagles: Bradley Cooper

Cooper wasn't acting in "Silver Linings Playbook." Well, he was, but his Eagles fandom was all real. He grew up in Philadelphia and has been an Eagles fan his entire life. He isn't really the rowdy fan he portrayed in the movie — he usually sits with Eagles owner Jeffrey Lurie during the biggest games, such as when they won against the Patriots in Super Bowl LII.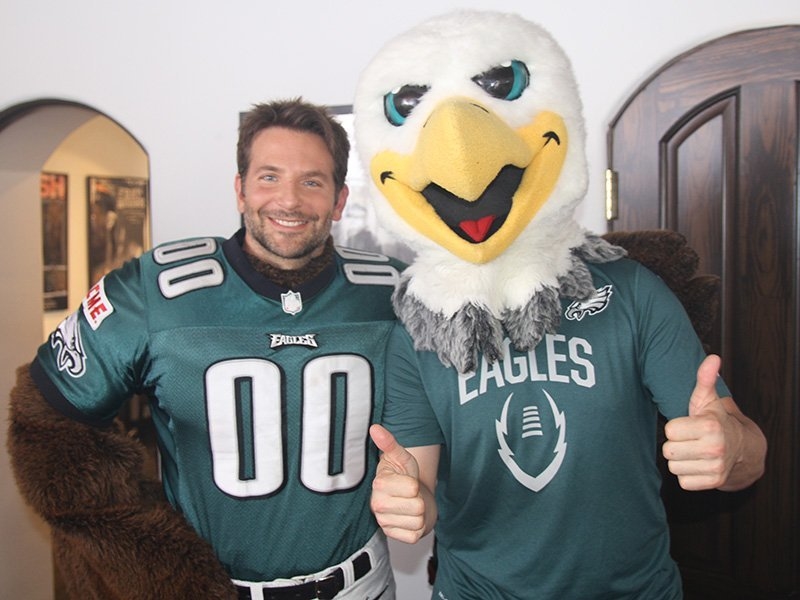 You might have seen him on TV. The Eagles have utilized Cooper's love of the team, asking him to do voiceover work for hype videos. You don't get to do that unless you're a big, big fan.
New England Patriots: Mark Wahlberg

Few celebrities are as tied to a specific city as Mark Wahlberg is to Boston. He's a huge Patriots fan — even though the team is from "New England," their stadium is in Boston. The Patriots have plenty of celebrity fans, being one of the biggest teams in the NFL, but few are more outspoken in their fandom than Marky Mark.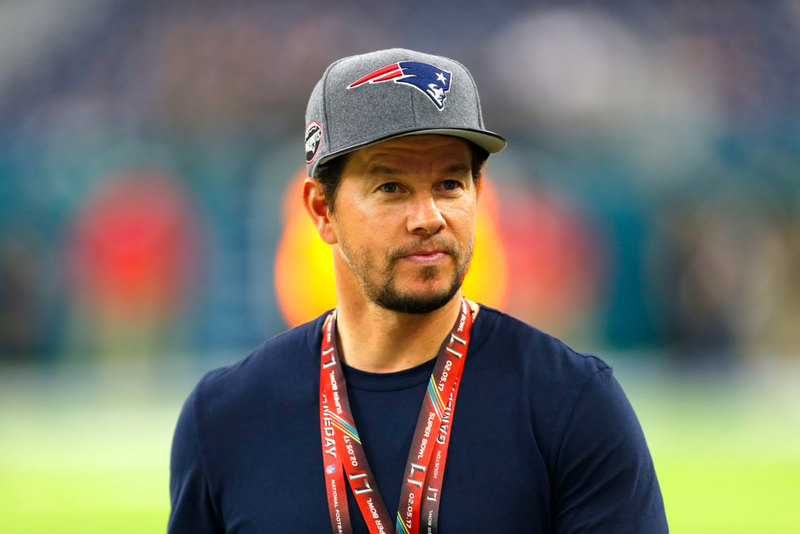 He's been a Pats fan all his life, having grown up in Boston. He put a big bet on the Pats to win Super Bowl LII, though the Eagles managed to win that certain game. Wahlberg has stated that he also placed a small bet on the Eagles just in case and was able to cover his losses. Smart.
Cincinnati Bengals: George Clooney

You wouldn't expect Clooney, a Hollywood A-lister if there ever is one, to wave the flag for a smaller team like the Bengals, but here we are. Clooney actually spent most of his childhood in either northern Kentucky or Ohio — no team in Kentucky, meaning it was Bengals all the way. Whenever he's in the area, he likes to take in a game or two.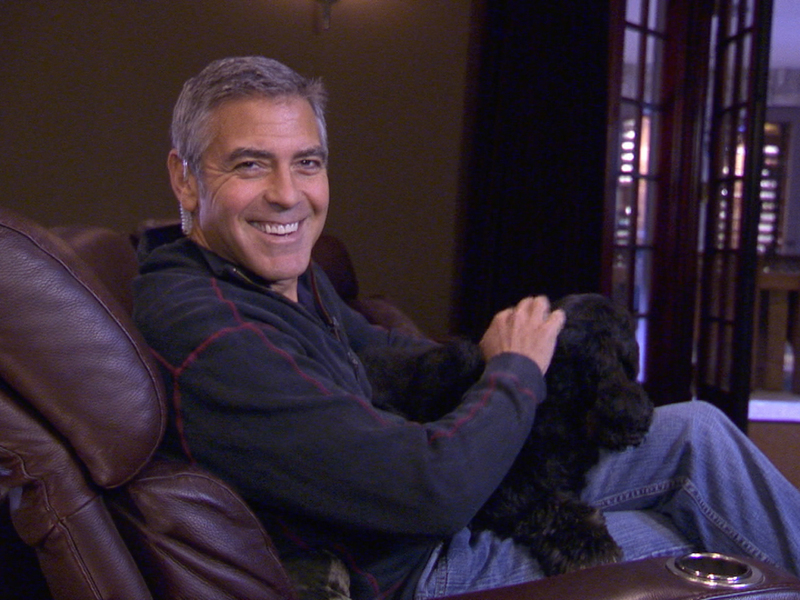 He's such a big fan that when he ran into longtime Baltimore Raven Ed Reed (the Ravens and Bengals are fierce rivals), Clooney told Reed, "You hurt me bad." Reed's response was simply: "They hurt themselves!"
Cleveland Browns: Condoleezza Rice

Yes, it's true; even the Browns have their share of celeb fans. This former Secretary of State has been a fan even through the darkest times of the franchise. Rice is actually a pretty big overall fan of football, having served on the College Football Playoff Committee.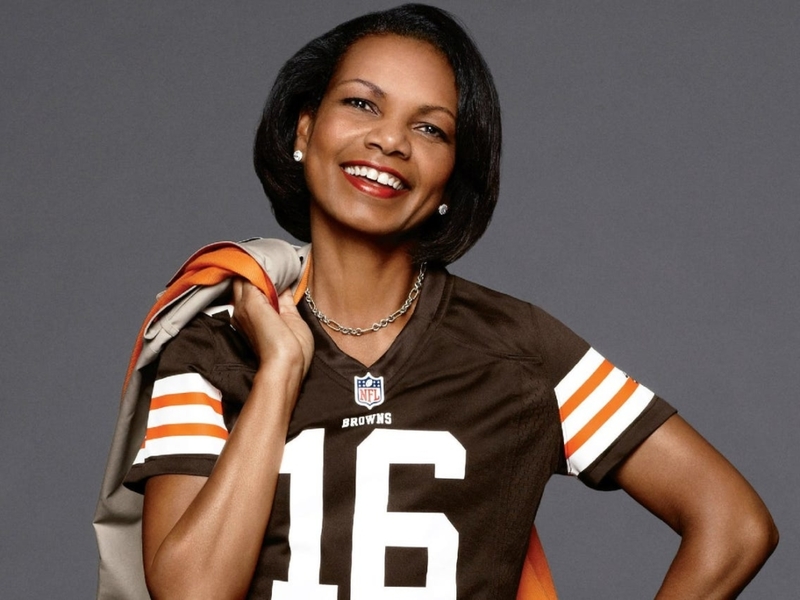 She's such a big fan of the Browns, in fact, that there were rumors she was being considered for a coaching job in their unforgettably bad 2017 season. The rumors turned out to be just that, though Rice says she did offer to call a play or two and never put the team in a prevent defense.
New York Giants: Daniel Radcliffe

Though he grew up in England, the actor behind Harry Potter loves him some American football. Radcliffe has publicly acknowledged that he is a Giants fan. The reasoning for this is he was starring as a character named J. Pierrepont Finch in the Broadway play "How to Succeed in Business Without Really Trying," and spent some time getting to know the sport, developing a liking.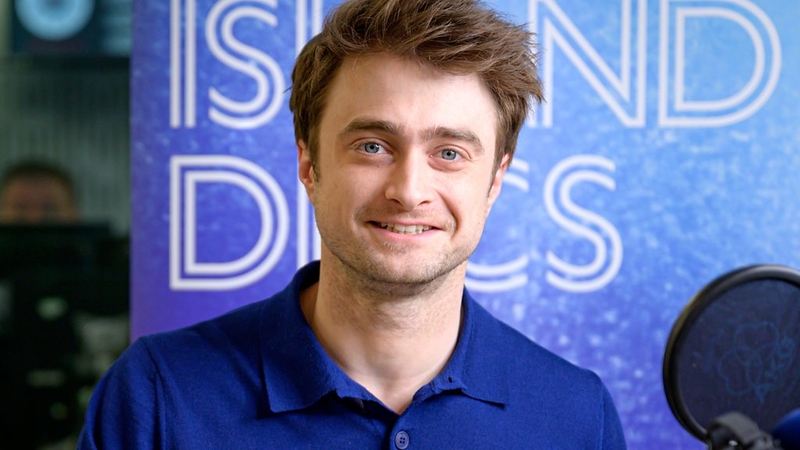 While he admits it's a bit strange for someone across the pond to enjoy the sport so much, he's quite well-informed about the details and isn't scared to admit he's crazy about the bluer of the two New York teams.
Washington Redskins: Kevin Durant

Durantula grew up in the nation's capital, and despite going to college in Texas and spending most of his career in Oklahoma City, he's still a big fan of the Team.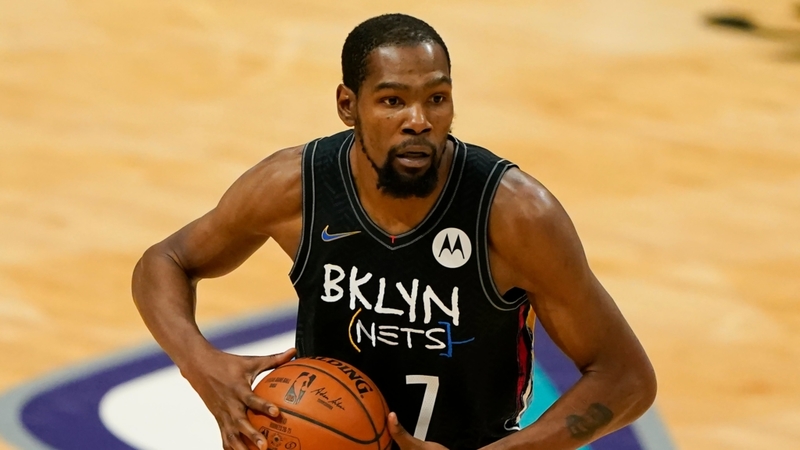 He's still a fan of his chosen squad even after the name change, though there was a little bit of trouble in paradise when it seemed like he was switching his allegiance to the Rams. (Why is it always the Rams?) Still, he put all fears to rest when he trolled Golden State teammate Steph Curry — a Panthers fan — after the team put the Panthers in their place. That's loyalty.
Chicago Bears: Barack Obama

While Obama's sports fandom is mainly focused on basketball, the former president of the United States still pulls for the Chicago Bears after spending most of his life (and beginning his political career) in the Windy City. He was originally a Steelers fan, but becoming a Senator from Illinois changed his allegiances fast.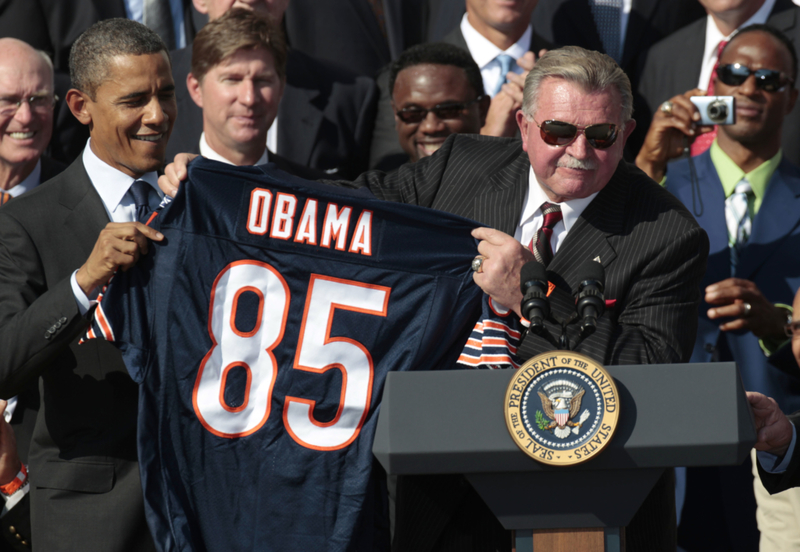 Every time he invited the Super Bowl winners to the White House, he found a way to mention his Bears fandom. While the Bears haven't been doing great recently, he did get to retroactively invite the 1985 Bears since their original visit was canceled after the Challenger space shuttle disaster.
Detroit Lions: Kid Rock

Kid Rock's real name is Robert James Ritchie, and he's both a proud Michigan native and a monumental fan of all the Michigan sports teams. Even after he moved away from Detroit, he has never let his fandom wither.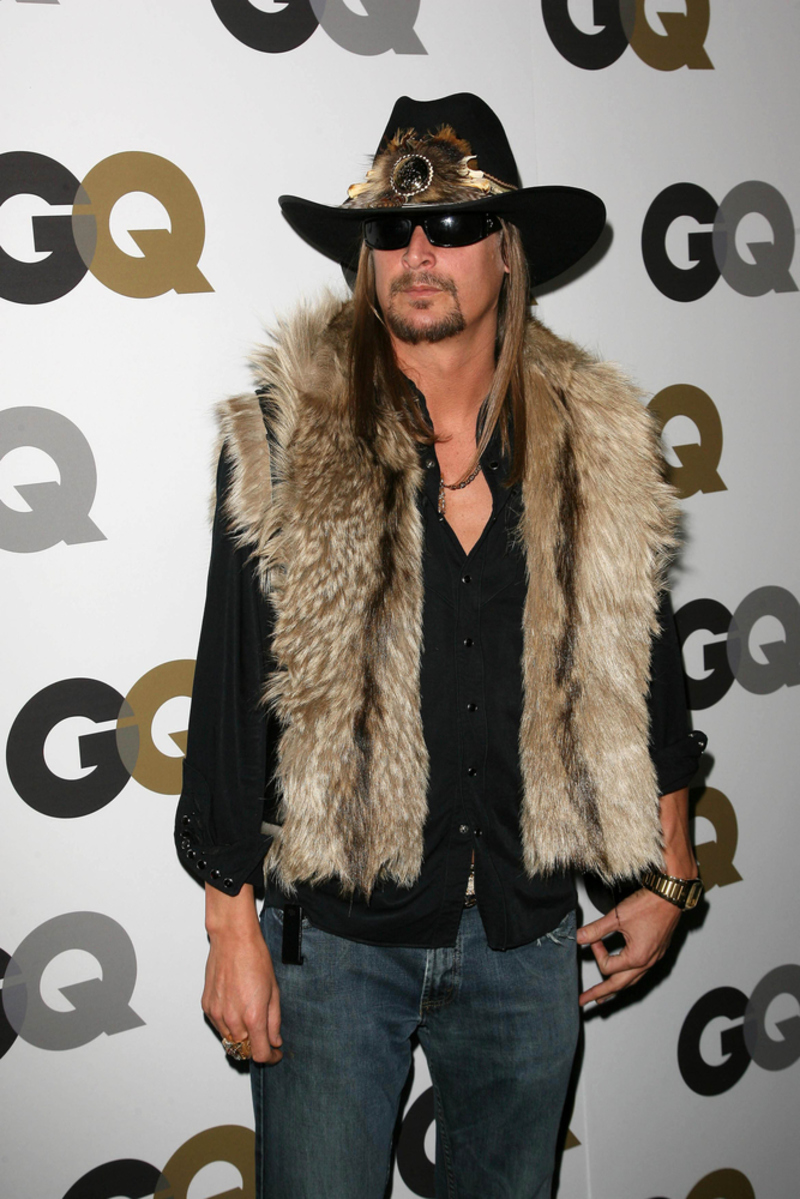 He often wears Lions gear and is a common sight on the sidelines at Lions games. He's been an honorary captain for the team, and Pepsi asked Kid Rock to record an anthem for the Lions in 2012, which gave the team a much-needed shot in the arm following their 2008 season, which was the first time a team had gone 0-16.
Green Bay Packers: Erin Andrews

While Andrews is a sideline reporter for the entire league, her allegiances lie with America's Team, the Green Bay Packers. She remains impartial as part of her day job, but she has both dressed up as Packers player Clay Matthews during Halloween — while working, even.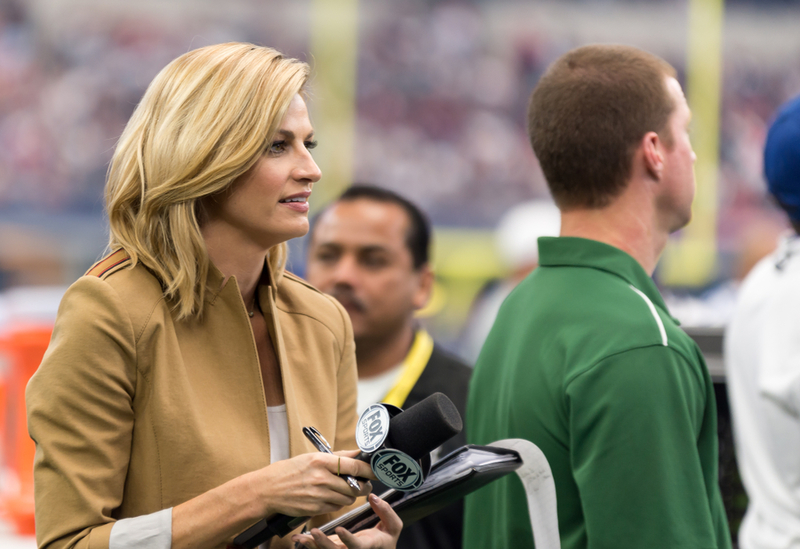 It's unsure why Andrews, who grew up in Florida, loves the team so much, but she isn't scared to show her fandom. There were rumors she was dating star QB Aaron Rodgers, but the rumors turned out to be false. If she did ever have a chance, it passed since Rodgers is in a relationship with actress Shailene Woodley. Plus, Aaron dating Erin is weird, and we're not going to pretend it isn't.
Minnesota Vikings: Josh Duhamel

He's a Minot, North Dakota native, but actor Josh Duhamel still roots for purple. North Dakota doesn't have its own team, so it's no big surprise. Duhamel has Norwegian in his blood and has even been inducted into the Scandinavian-American Hall of Fame, which is a real thing, apparently. Because of this, he might feel a connection to the Vikings.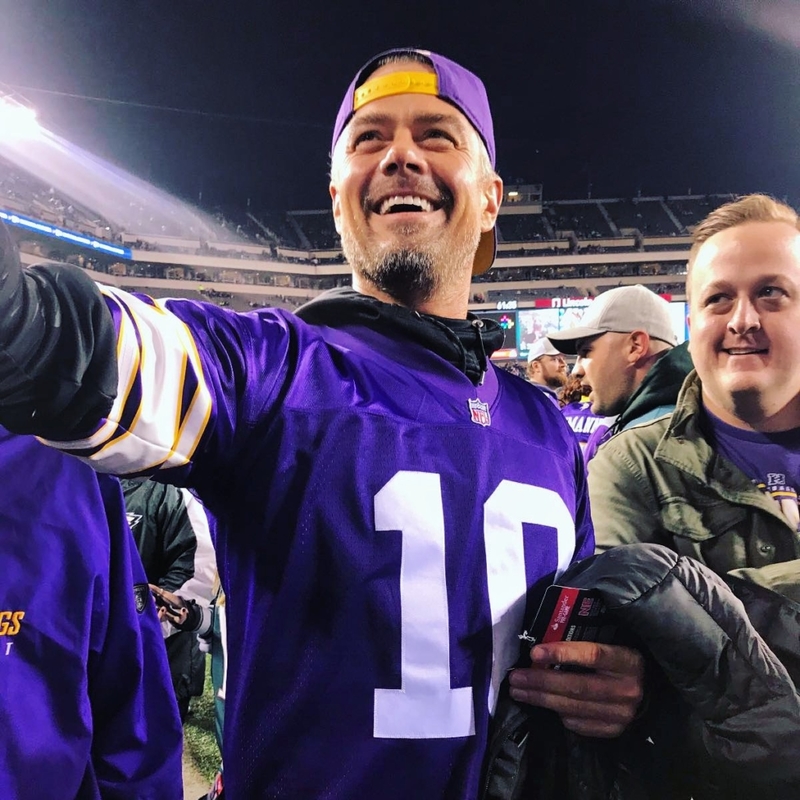 He's described being a Vikings fan as "disappointing" and "frustrating," but even when he moved to Hollywood, he realized how much he missed rooting for his home team, and his appreciation for the seeming eternal underdogs hasn't waned.
Tampa Bay Buccaneers: Dick Vitale

A basketball sportscaster and former college head coach, Dick Vitale can't stop loving sports. He lives in Tampa and is a season ticket holder for the Bucs. If you think he brings enthusiasm when he's talking about basketball, you should see him cheer for the pewter pirates.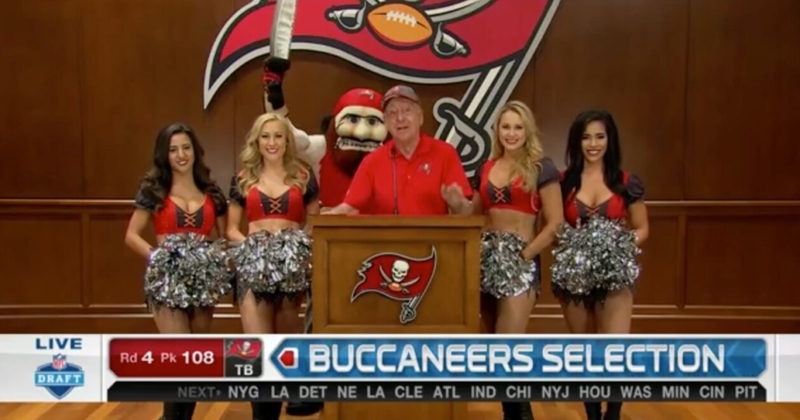 He's a huge homer, and his fandom was rewarded when Brady led the team to a Super Bowl win over the Chiefs. He does tend to go overboard, such as when he had the chance to announce one of Tampa Bay's draft picks in 2016 and tried to say that they had drafted…him.
Atlanta Falcons: Samuel L. Jackson

When people think of sports and Samuel L. Jackson, they think of the Raptors. However, thanks to his time in Morehouse College in Atlanta, he's a big fan of the Falcons, too. In fact, while he was in college, he worked at the concession stand during Falcon's games.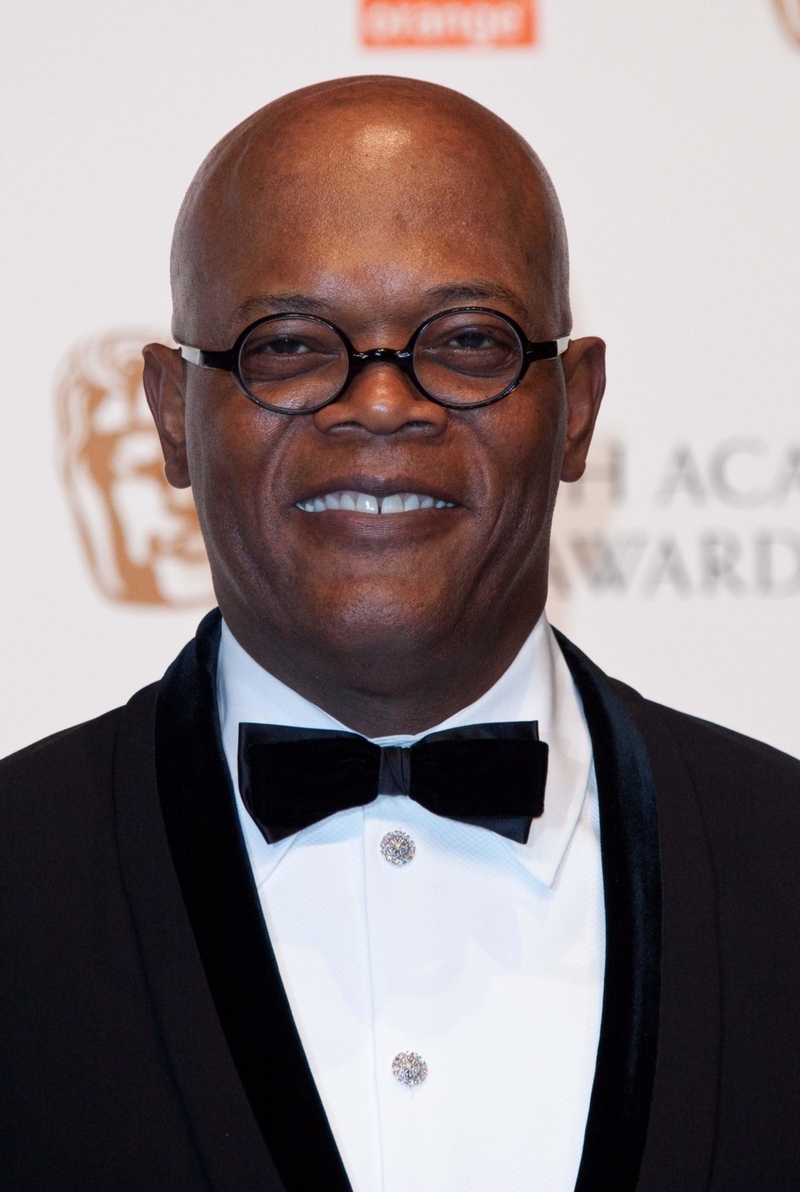 He's made it onto the sidelines a number of times and also loves to appear in team commercials. Jackson's knowledge of the game is so impressive that if for some reason, he decides to stop acting, he could probably get into coaching and do a pretty good job of it, too.
Carolina Panthers: Steph Curry

While you might think that the 49ers or the Raiders would get Curry's support, it's actually the other coast that has his fandom. He attended college at the small Davidson College in North Carolina — and both he and his wife grew up in Charlotte.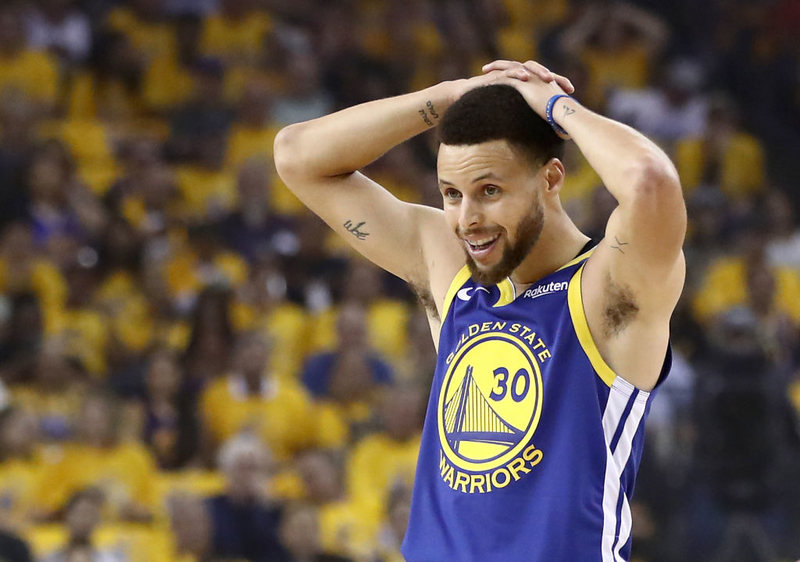 He's a Panthers fan for life. Take a look at his socials, and you'll see him rocking Panthers gear all the time or appearing on the sidelines. He has sneakers in Panthers colors and often wears a Panthers jersey when the Warriors practice. That's much more than just the token amount of dedication.
New Orleans Saints: Brad Pitt

He has six children and two ex-wives, but Brad Pitt still, somehow, has the time to cheer on his favorite team. He's a big fan of the Saints, and in particular, he's a huge supporter of now-retired quarterback Drew Brees.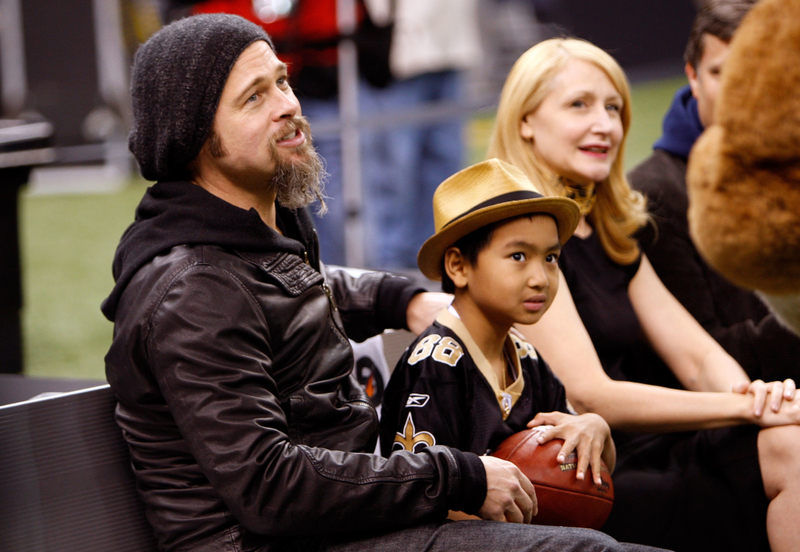 Pitt has called Brees one of the best quarterbacks in the league, something echoed by many, and constantly defends him against critics. The two even became friends after they once met on neighboring balconies in the French Quarter. While Brees is no longer going to be playing on the field, Pitt is still pulling for the Saints big time.
San Francisco 49ers: Marissa Miller

Though by no means the only famous 49ers fan, Marissa Miller is likely the most attractive. This model and actress grew up in Santa Cruz, quite close to San Fran, and attended plenty of 49ers games through the eighties as a joint hobby with her father.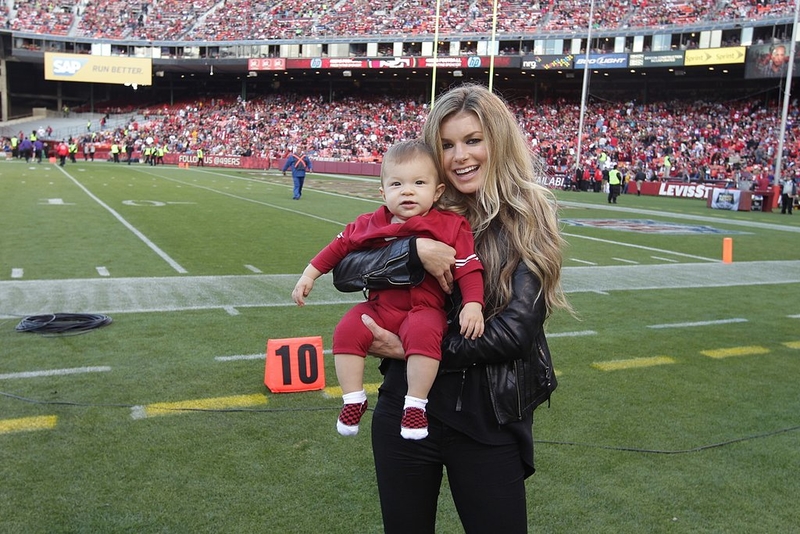 The 49ers were the team to beat the entire decade, which made it easy for Miller to enjoy watching them. Jack Reynolds, Michael Carter, Jerry Rice, Joe Montana, Ronnie Lott…the list of incredible players on the team at that time goes on. She called John Taylor's super bowl catch one of her favorite memories ever. "It was the first time I saw adults act like children."
Arizona Cardinals: Blake Shelton

Born in Oklahoma and finding stardom in Nashville, country music star Blake Shelton is a fan of the Arizona team. While he says the story of how he became a fan is pretty long, he sometimes sums it up by saying, "it happened."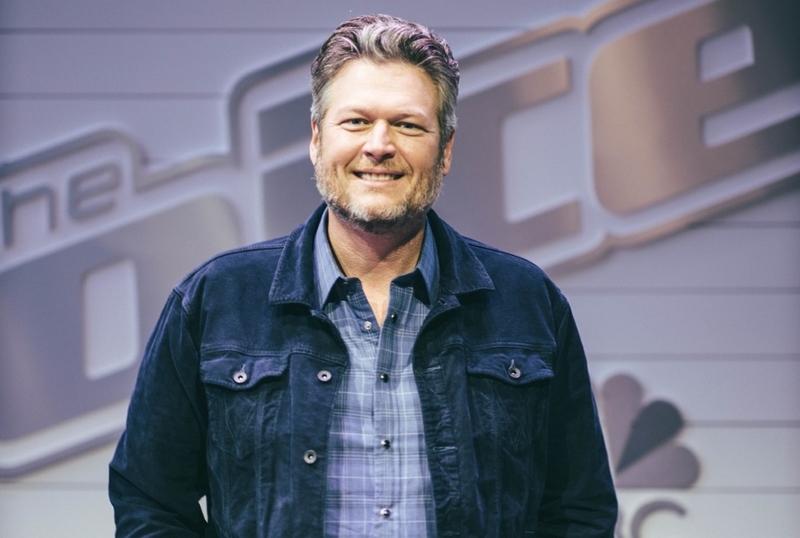 He's friends with Steve Keim, wide receiver and team owner. Shelton even did his part to get the team to draft current quarterback Kyler Murray by jokingly threatening to choke Keim with his guitar if they didn't take the QB with the number-one pick in the 2019 draft. Thankfully, they did, which meant the guitar is safe.
Los Angeles Rams: Kendrick Lamar

The Rams have moved around a bunch of times, and now that they're back in their original home, Los Angeles, they have plenty of famous fans. Few are as intense in their love of the team as Kendrick Lamar is.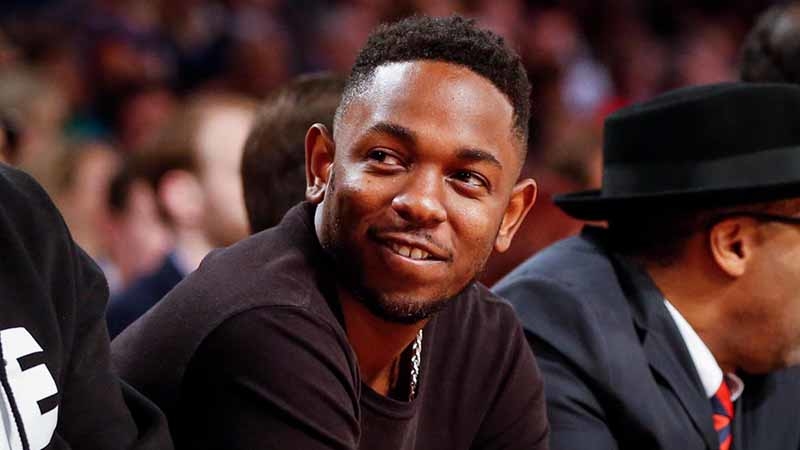 After the team moved to LA, Lamar was there on day one of training camp. Thanks to his big name, he got to run a route during the team's practice. Here's the big thing to know, however: when the Rams moved west, they were not a great team. Lamar wasn't just a fair-weather fan — he's the real deal.
Seattle Seahawks: Macklemore

There are plenty of big names who consider themselves the twelfth man when it comes to Seahawks home games. The unofficial honor of "Twelfth Man" belongs to Macklemore, a rapper famous for "Thrift Shop." He's a Seattle native, and he had the opportunity to create a promo video for the team.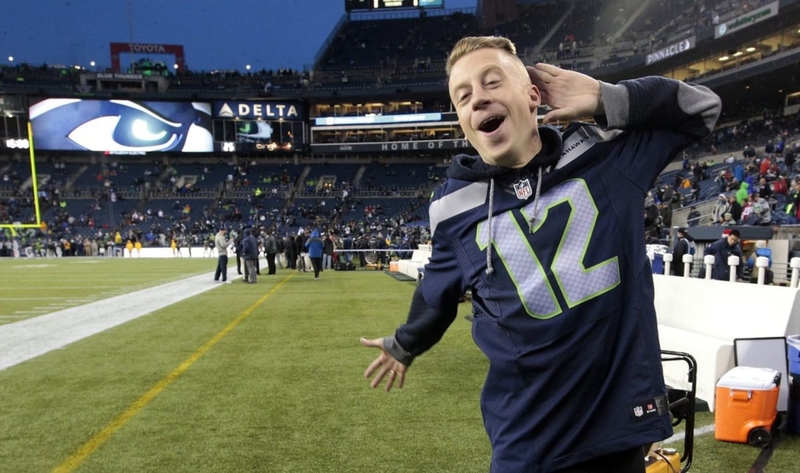 He has plenty of competition for the biggest Seahawks celebrity fan, such as Chris Pratt and Rainn Wilson, but he is a perfect choice; not only is he the most passionate, but both the team and the rapper have lost a lot of fame recently. Oh, zing.
Chicago Bears: Vince Vaughn

This famous fast talker and actor is a big fan of all things Chicago. While that does mean the good, like the architecture, museums, and deep-dish, it also means the Chicago Bears. He's frequently seen at games in private boxes and had the chance to become a small part of the team's history when he narrated the Bears' "30 for 30" film on ESPN.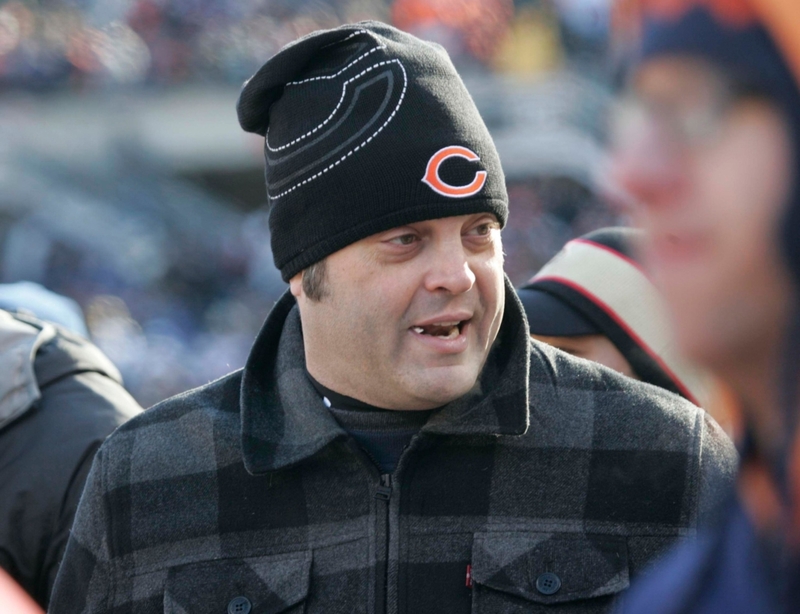 It makes a lot of sense. While Vince has been in some big works, he's just not a contender for best actor, just like how every once in a while the Bears do well enough to reach the playoffs but never do much else. He also loves the Cubs.
Los Angeles Rams: Ty Burrell

As the happy-go-lucky father on "Modern Family," Ty Burrell is pretty pleased with his job as an actor. However, he's said that if the Rams came calling and needed him to help the team, he would leave acting behind with a smile on his face.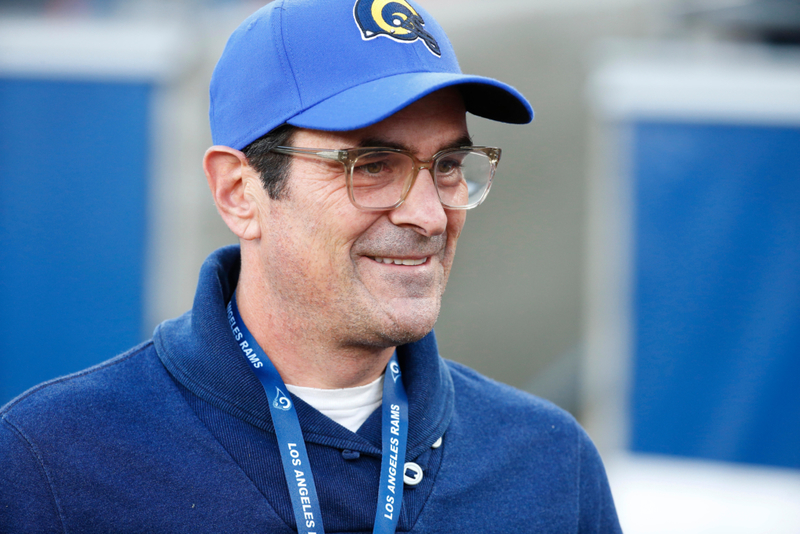 Burrell has attended practices, he's had the chance to suit up for the team in a full uniform (though, of course, he never made it to the field), and he was the Rams' representative at the 2014 NFL draft. Even after the team moved to Los Angeles, Burrell is right there — he probably likes it more since it's near Hollywood.
Philadelphia Eagles: The Roots

The Roots are the house band for "The Tonight Show With Jimmy Fallon," which means that even though they work and live in New York City, all of these guys are Philly natives and root for the birds.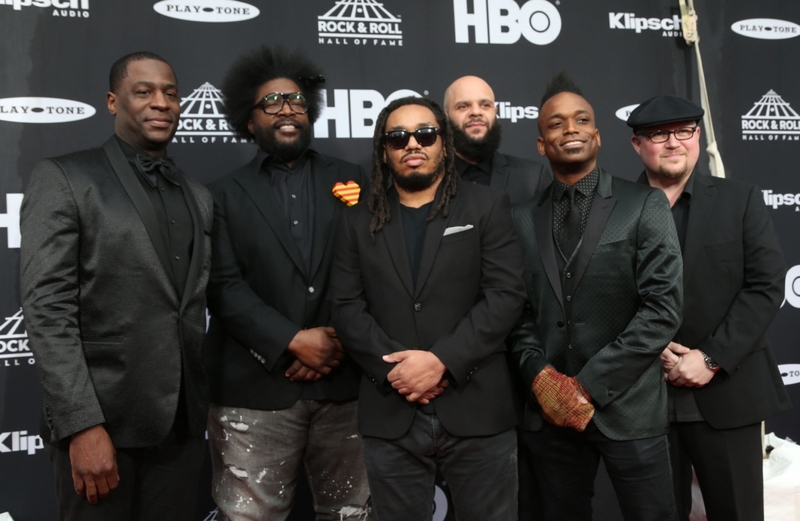 Not only do all the members often step out in Eagles gear — and in NYC, that can sometimes be a dangerous prospect — they also performed at the 2018 NFC championship that the Eagles hosted. There's a great video of them all celebrating when the Eagles won the Super Bowl at the end of the 2018 season.
Seattle Seahawks: Chris Pratt

Just when you think you know a guy, you find out he's a fan of the Seahawks, and it ruins everything. The actor behind schlubby Andy Dwyer and Marvel Cinematic Universe hero Star-Lord may have played a dyed-in-the-wool Indianapolis Colts fan, but in real life, he pulls for Seattle.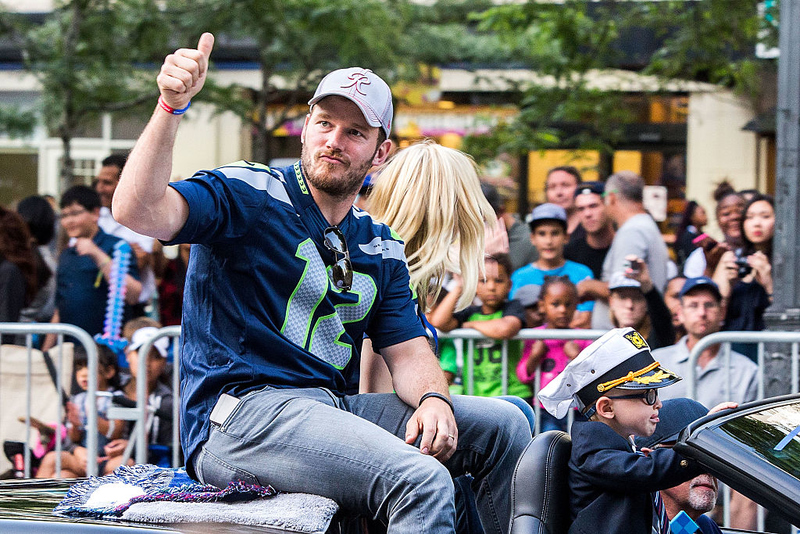 He not only enjoys their production on the field, but he also appreciates how the players, especially quarterback Russell Wilson, help out the community and support helpful organizations, such as how Wilson visits local hospitals to brighten kids' days after surgeries. There's no denying it — that's something to admire.
Buffalo Bills: Chad Michael Murray

The former "One Tree Hill" actor has stood by his team his entire life, even during their seventeen-year playoff drought, which ended just last year. The Bills haven't had much success lately, but that does mean anybody who remained a fan through the long dark era is sure to be a fan for life.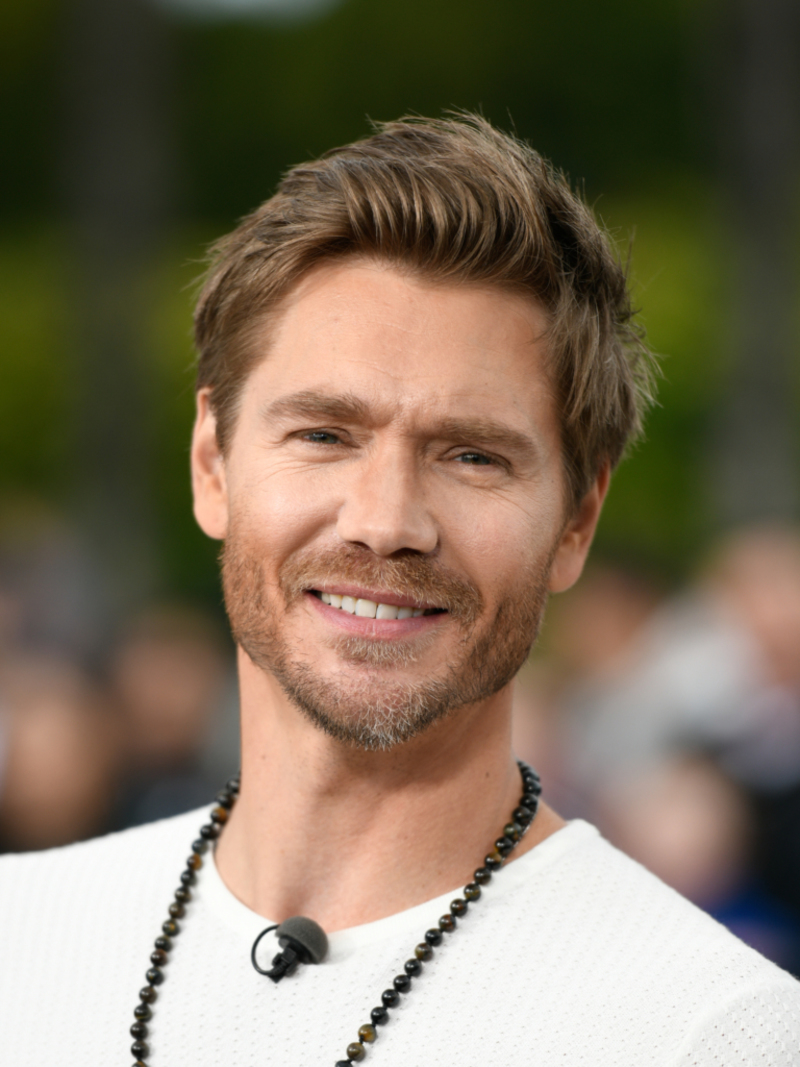 Murray often expresses his support for the team both at games, wearing their bright primary colors and amping them up on social media. There were plenty of bandwagoners cheering them on, but CMM was one of the originals.
Carolina Panthers: Brooklyn Decker

Since she grew up in a suburb of Charlotte, it's no surprise Decker is a big backer of the Panthers. This model and actress has even taken to Twitter to try and recreate flamboyant quarterback Cam Newton's memorable outfits for post-game pressers.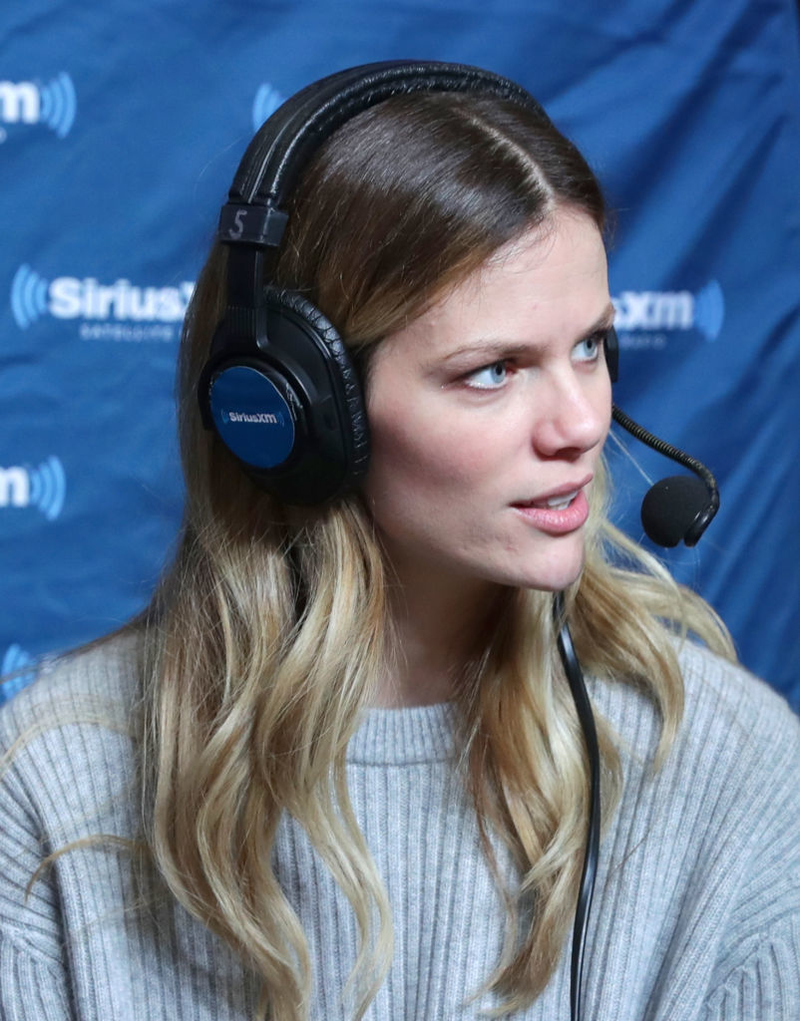 Decker also pulls for the North Carolina Tar Heels, keeping her cheering to her home state. To no one's surprise, this beauty is always ready to pull for her team and has also had the opportunity to model for some of the Panther's women's official apparel. No matter what she's doing, she's always cheering for Carolina, and she's always ready to pounce on someone who has bad things to say about them.
Cleveland Browns: Brad Paisley

The Browns have a strong fanbase, surprisingly. But anybody who has stuck with them through the tough times they've been having recently deserves the title of "Real Fan." Three-time Grammy-winning country music star Brad Paisley is part of that collection.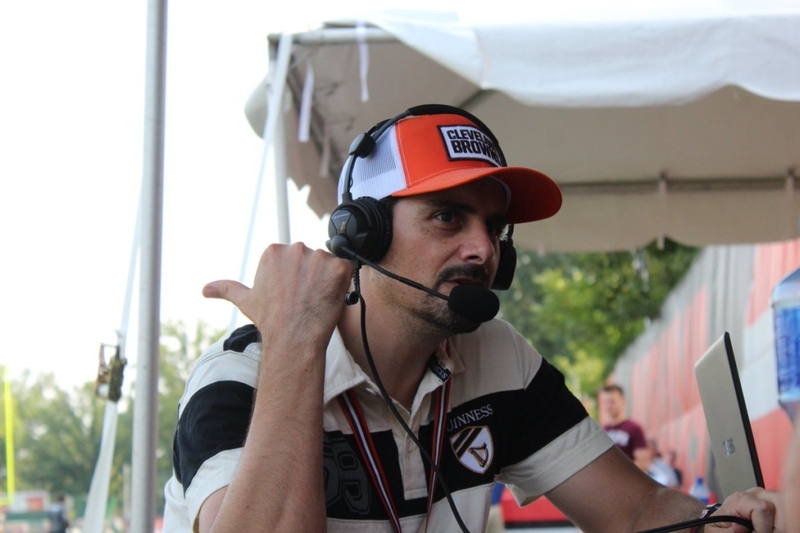 He grew up in West Virginia, but he was even a Browns fan back then, dressing up as famous Browns quarterback Brian Sipe more than once for Halloween. He attended the team's training camp in 2018, and no doubt he's thrilled that the team has pulled itself out of the gutter thanks to quarterback Baker Mayfield. Maybe Paisley will be dressing up again this Halloween.
Houston Texans: Simone Biles

Long before she won four gold medals in Rio during the 2016 Summer Olympics, she had the chance to announce two of the Texans' draft picks. After her success at the Olympics, she even became an honorary member of the team's cheerleading squad in 2017.
Winning a gold medal for the United States might not have been anything compared to being able to cheer for her favorite football team during a home game. Being born and growing up in Spring, Texas — a suburb of Houston — she's been pulling for the Texans her entire life — or at least once the team was founded, two years after she was born.
Indianapolis Colts: Rob Lowe

Just like his character on "Parks and Recreation," Rob Lowe is a big Indy fan. In fact, he's not only a fan; he's a friend of Colts owner Jim Irsay and even had the chance to break the news that former Colts QB Peyton Manning would be retiring…which turned out not to be true.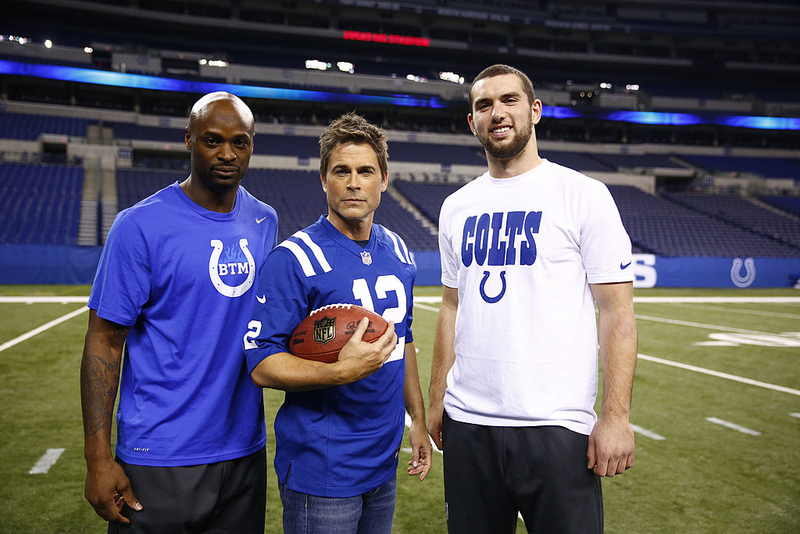 He's no fair-weather fan; he can be spotted at a lot of their home games, whether they're on their way to the Super Bowl or tanking for the number one pick. If you spot him around Hollywood, there's a good chance he'll have some blue on him.
Jacksonville Jaguars: Gene Hackman

Hackman hasn't been a fan of the Jags for his entire life, but he started adding his voice to the roars when his friend Jack Del Rio became the head coach for eight years, starting in 2003. The Oscar-winning actor still pulls for the Jags, though he stays pretty quiet about it. Overall, being of an older generation that doesn't have as much of a presence on social media.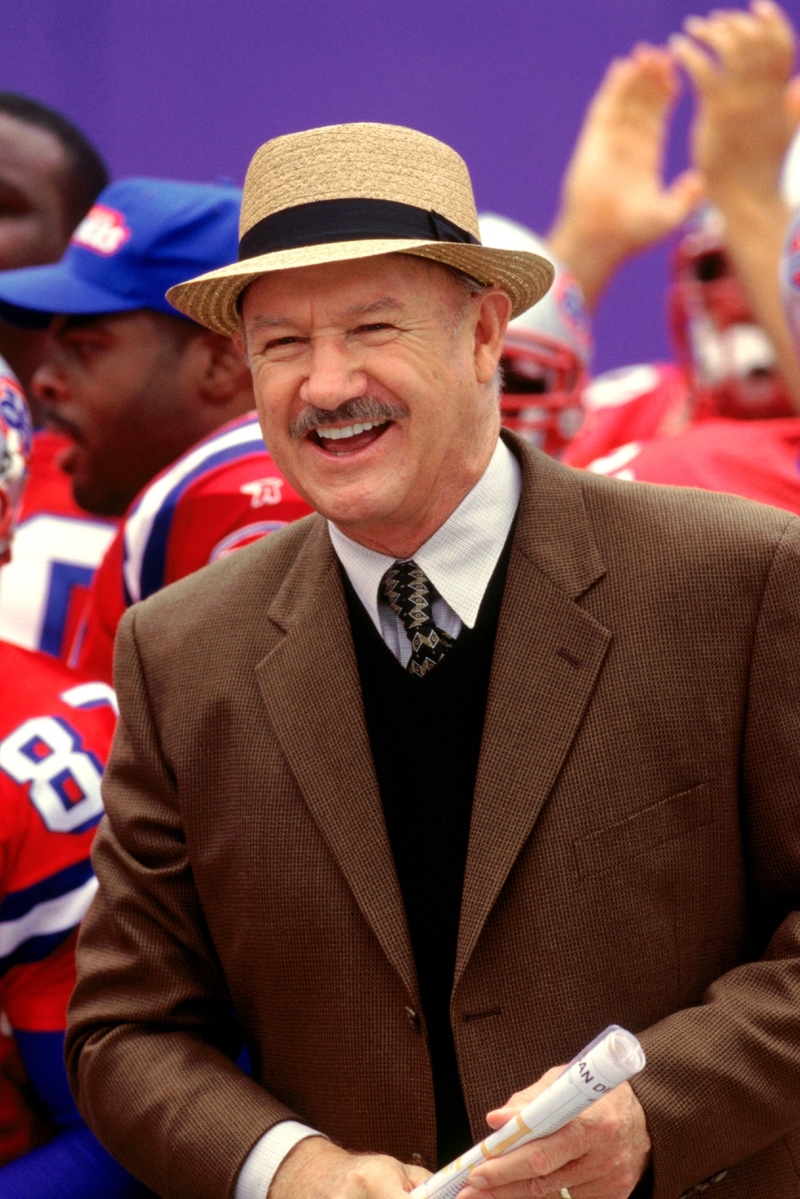 The Jaguars have been enjoying a growing fanbase in recent years, teasing at the edges of the playoffs and sneaking in every once in a while. We wonder, does Hackman ever show up to watch a game?
Denver Broncos: Trey Parker and Matt Stone

These two "South Park" creators are from Colorado, which not only tracks with their famous adult cartoon creation but also with their sports allegiances. They're known to mention both Broncos quarterback John Elway (a Super Bowl-winner and now president of the same team) and Jay Cutler (who was drafted by the Broncos before going on to throw lots of interceptions for the Bears.)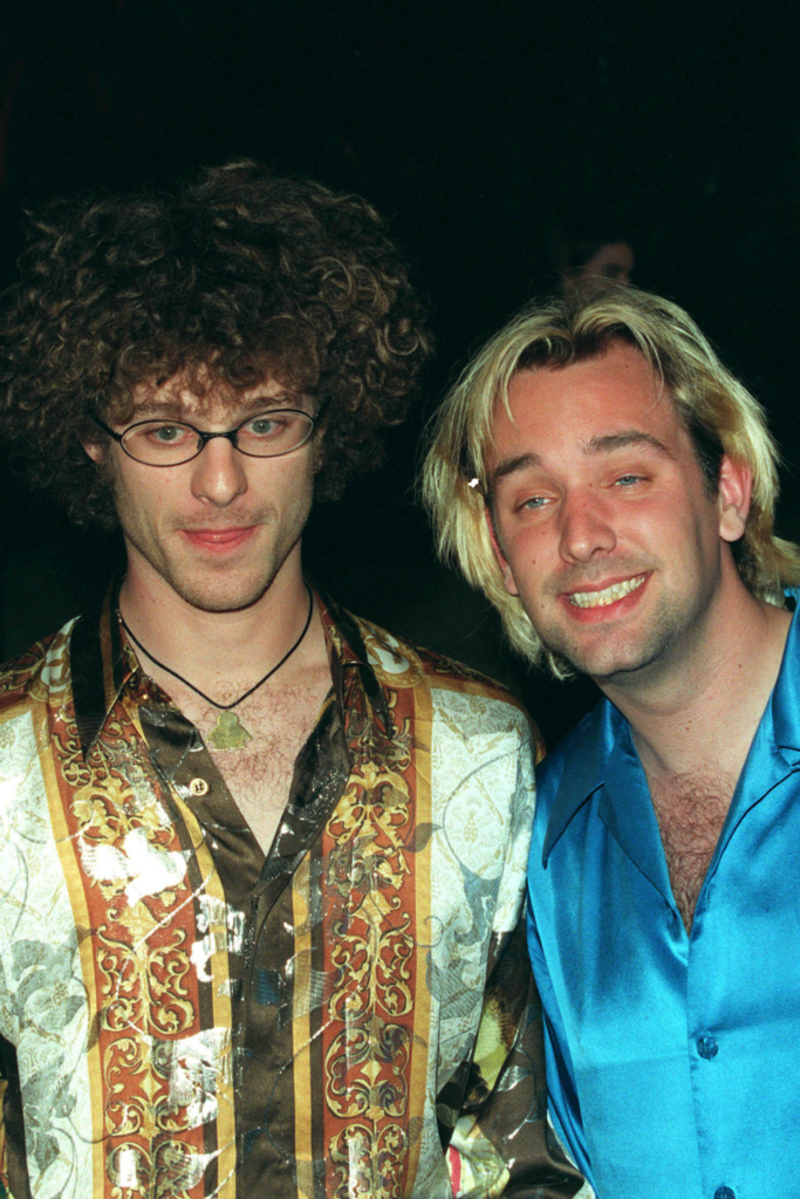 "South Park," while being wild at times, is still somewhat grounded in reality, so sports figures from the area often get mentioned. Plus, the characters all have a good dose of Broncos gear in their homes.
Washington Football Team: Matthew McConaughey

While this famous actor is Texas-born and raised, he actually pulls for one of the Cowboys' biggest rivals, the Football Team. The answer is simple: he was four years old, and he liked hamburgers. It tracks so far. Number fifty-five in Washington was, at the time, Chris Hanburger. At four years old, the choice was clear.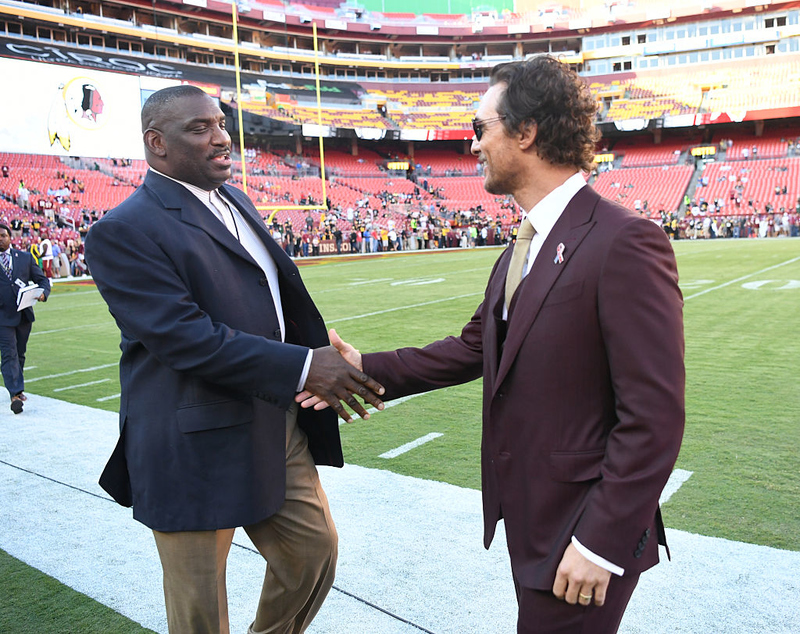 He recalls his parents allowing him to stay up late as a child so he could watch Washington play during prime-time and also remembers skipping church to listen to his preferred team on the radio of his parent's car. Despite rooting for a dangerous team in Texas, he is a stalwart in his fandom.
Pittsburgh Steelers: Snoop Dogg

Snoop is the kind of guy that knows what he likes. Even though he grew up in Long Beach, California, he's been a big fan of the Steelers ever since he was a kid in the seventies. Some have thrown the bandwagon fan accusation at him, but he knows his stuff.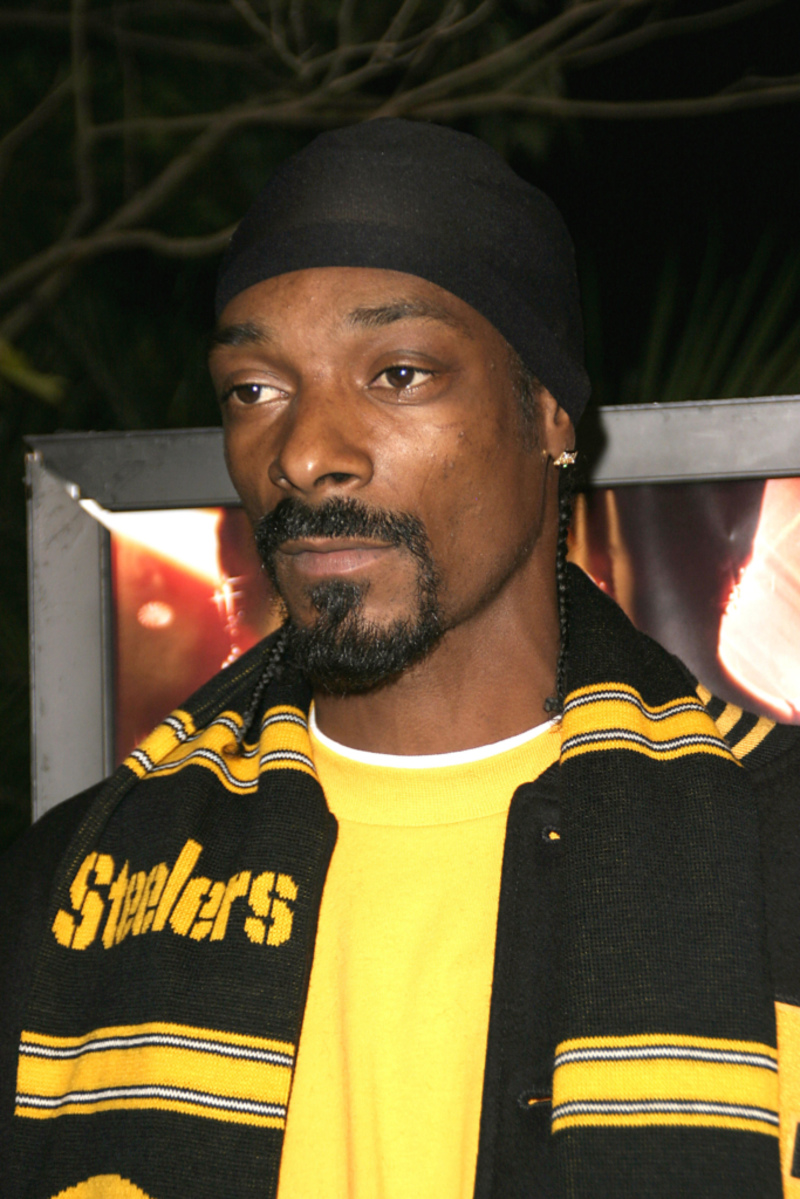 He isn't afraid to celebrate the team's successes and equally unabashed in his comments when something goes poorly — he's called out coaches and players in his Instagram videos. He says that it was the Mean Joe Green Coca-Cola commercial that turned him on to the franchise, and he greatly enjoyed watching the vaunted defense push opponents around on the field.
New York Jets: George R. R. Martin

"Song of Ice and Fire" author Martin is a big fan of football. His main team is the New York Jets, but he also roots for the Giants, from the same city (sort of, since the Jets actually play in New Jersey). He frequently writes about them on his blog. At least he's getting something written these days.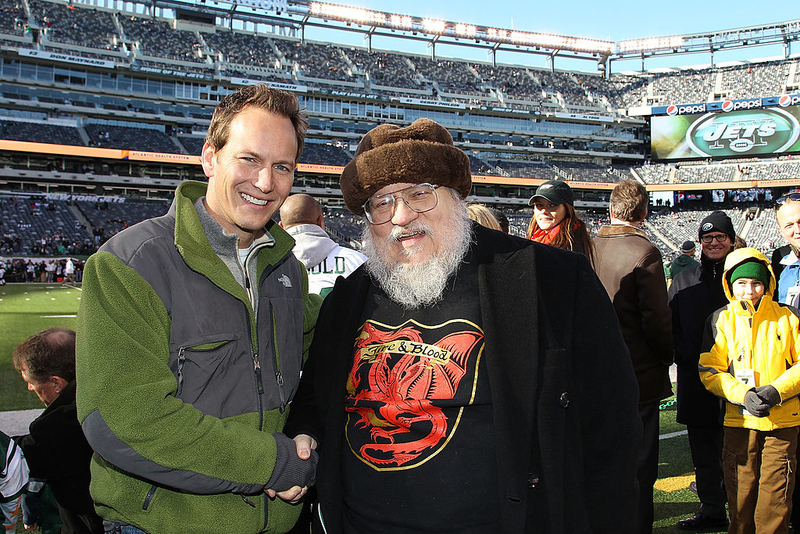 He also visited the Jets during their 2018 training camp. He's even worked some of his teams into his books, including when a knight with a blue star emblem (representing the Cowboys) is stomped flat by…a Giant. Good old-fashioned fan sniping.
Miami Dolphins: Jennifer Lopez

Lopez isn't just a fan of the team from Miami — when her then-husband Marc Anthony became a part-owner of the team in 2009, so did she. Anthony joked that the hardest part of becoming a part-owner was getting the approval of Lopez's father, an ardent Jets fan.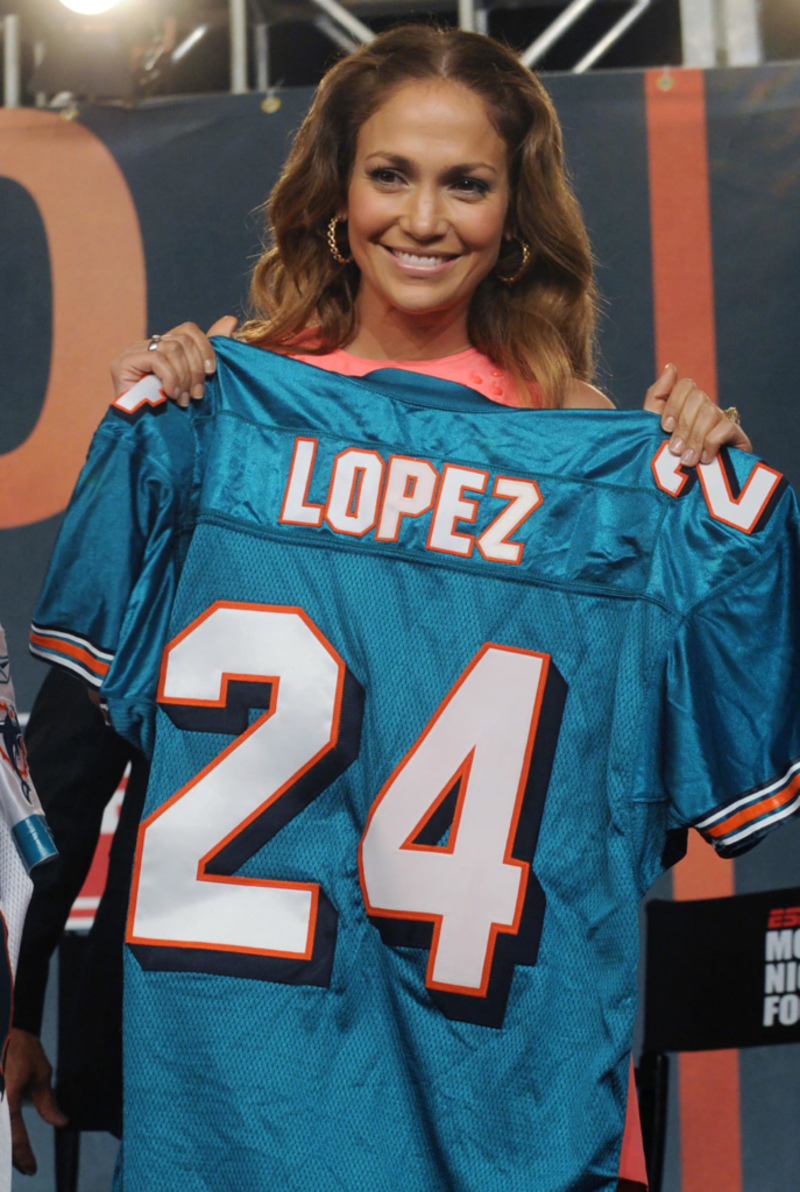 When the pair got divorced only a few years after the purchase of the team, in 2011, and Anthony kept the shares, Lopez still seems to have some sort of fandom for the Dolphins, though she seems busier keeping her career going strong, and managing whether or not she's married, engaged, dating, or single and loving it.
Los Angeles Chargers: Phil Mickelson

Since they've moved, a good amount of the star power that had tied themselves to the team fell away, whether it was because they were just hanging on to the bandwagon or because they were actually upset at the move. However, this PGA name remains a big fan despite the team packing up and relocating.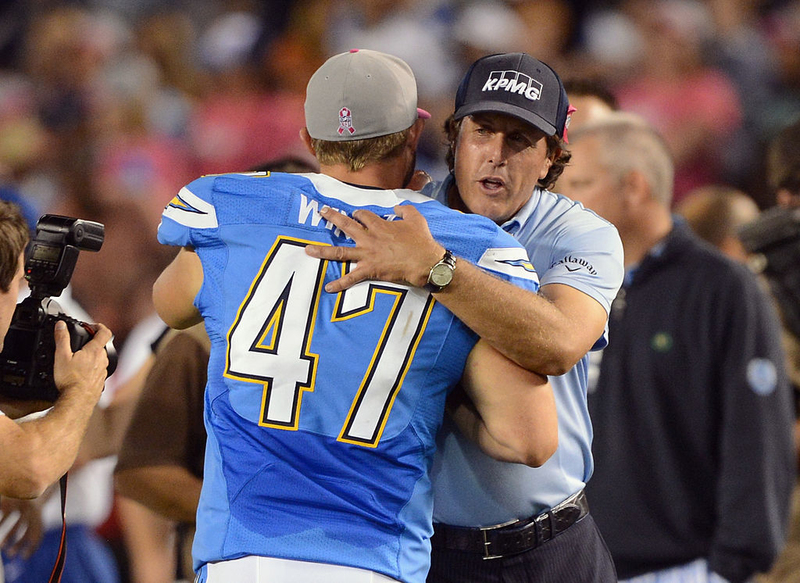 Mickelson, nicknamed Lefty, has won forty-four events on the PGA tour, including five major championships. He's a friend of Chargers owner Dean Spanos, and though he didn't endear himself to the San Diego fans, he still makes it down to the field during halftime every once in a while.
Green Bay Packers: Lil' Wayne

The Packers actually have quite a number of celeb fans, including Justin Timberlake and Harry Styles, but one of the biggest is rapper Lil' Wayne. Let's put it this way — have you put out a bangin' hype song about your favorite team? Even those who don't like hip-hop or rap that much can't help but groove to "Green and Yellow," which came out early in 2021.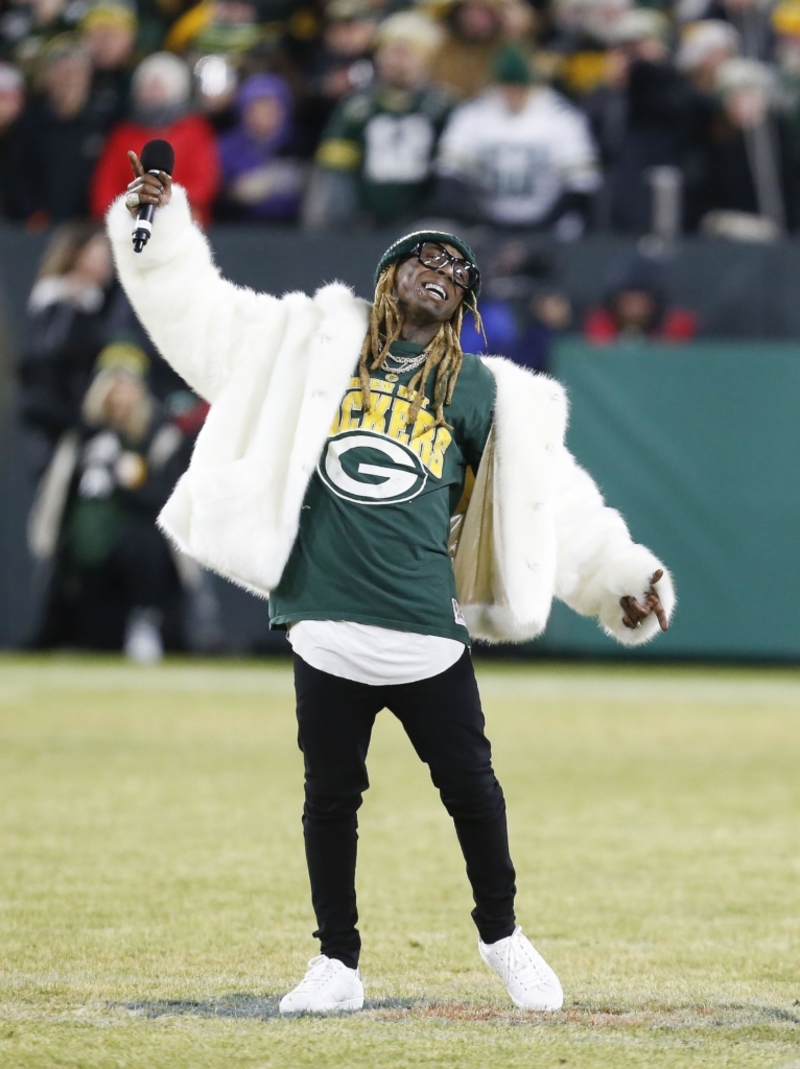 Weezy grew up in the New Orleans area, but when he watched the Packers beat the Pats in Super Bowl XXXI, he was a fan for life. When he was a kid, if he saw something with the Packers on it, he had to have it.