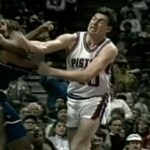 What The Detroit Pistons' Bad Boys Look Like Now
echo get_the_meta(); ?>
Pro basketball has gotten a lot tamer over time, which some people really dislike. DailyBeast contributor Marlow Stern called the modern-day NBA "softer than baby thighs." NBA Hall of Famer and renowned backboard-demolisher Shaquille O'Neal declared, "[Michael Jordan] playing against Detroit and the Bad Boys –- that was the real NBA." Fans of the rough-and-tumble games of the late 1980s and early '90s would likely agree. Back then fists flew the way three-pointers do in the small-ball era, and nobody hit harder than the Detroit Pistons' Bad Boys.
The Bad Boys' philosophy seemed to be "if you can't beat them, beat them up; and if you can beat them, beat them up anyway." The Pistons battered the Boston Celtics and smacked around the Chicago Bulls. Per FiveThirtyEight, the more unsportsmanlike they were, the more they won. At the height of their success they were the dirtiest players in the league. They won two NBA titles back-to-back, even beating the Showtime Lakers in the 1989 Finals. Yet contrary to what Celtics president Red Auerbach claimed, the Bad Boys weren't just "classless bullies." These brawlers could ball with the best of them. Detroit had multiple Hall of Famers and phenomenal role players who created timeless, sometimes bloody memories. Here's how time has treated the Bad Boys.
Isiah Thomas got sued for bad behavior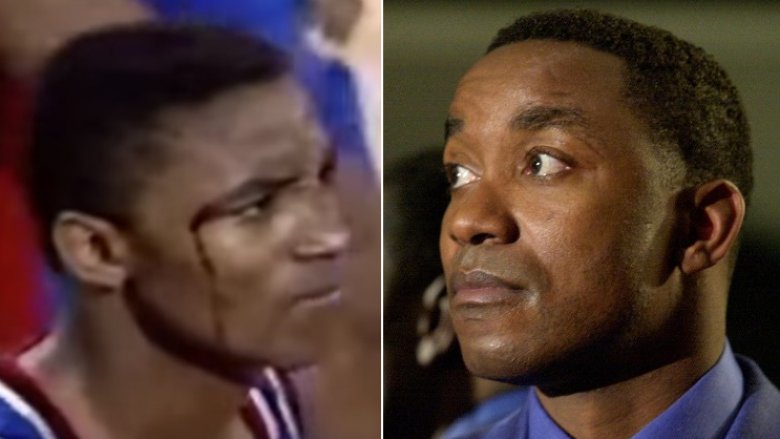 YouTube/Getty Images
The fierce and fearless leader of the Bad Boys, Isiah Thomas had a habit of choking, but not in the classic sports definition. In 1989 Thomas choked his assistant coach, who apparently allowed himself to be used as a neck-shaped stress ball so Thomas wouldn't attack Chicago Bull Bill Cartwright. The next year he allegedly choked and shoved a TV reporter against a car. Thomas also used his hands for other purposes, like punching Bill Cartwright, and some of those uses were otherworldly.
In Game 6 of the 1988 NBA Finals, Thomas scored 25 points in a single quarter with a sprained ankle, and in a legendary performance against the New York Knicks he scored 16 points in 94 seconds. Rivaled only by the likes of Magic Johnson, Thomas was a phenomenal point guard who finished his 13-year career as the Pistons' all-time leader in points, assists, and steals.
Not yet done with the NBA, the future Hall of Famer became part owner of the Toronto Raptors and would coach the Pacers, Pistons, and Knicks in addition to holding front office positions. Also not done being bad, Thomas was sued and found liable for verbally abusing and sexually harassing women during his time with the Knicks. Nonetheless, Knicks owner and lawsuit co-defendant James Dolan (who picked Harvey Weinstein to produce a Rockettes show) named Thomas as president of the Knicks' WNBA sister team the Liberty.
Bill Laimbeer won championships in the NBA and WNBA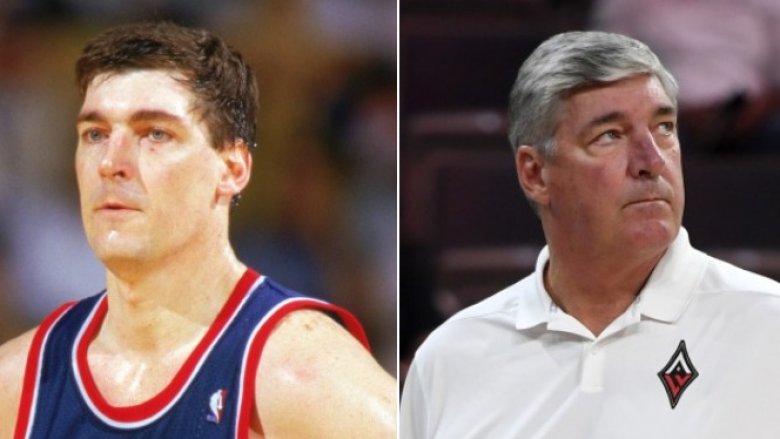 Getty Images
You know people really hate you when someone make-believe murders you and a crowd of onlookers approves. In 1987 Pistons center Bill Laimbeer experienced that hatred in Atlanta when a Hawks fan chain-sawed a Laimbeer dummy in half on the court with the blessing of the Hawks' front office. What did Laimbeer do to earn such vitriol? A better question is: What didn't he do?
Laimbeer was a cerebral bruiser, an enforcer who would ferociously elbow you in the face (he once busted Larry Bird open that way) but who would also goad you into getting ejected. A former Dallas coach recalled seeing Laimbeer "stick his jaw out and take a punch, fall down, get back up and point to the bench" when his opponent got tossed from the game. Unsurprisingly, he attracted quite a few fists.
The eminently punchable Laimbeer played in the NBA for 14 seasons, during which he often sported a black eye or broken nose. As talented as he was treacherous, he was a four-time All-Star and top-tier scorer and rebounder. After he stopped hitting NBA players Laimbeer hit the jackpot as a WNBA coach and president. He earned Coach of the Year honors and won three league championships with the Detroit (now Tulsa) Shock and set franchise records with the New York Liberty. He currently coaches the Las Vegas Aces.
Rick Mahorn's educational rollercoaster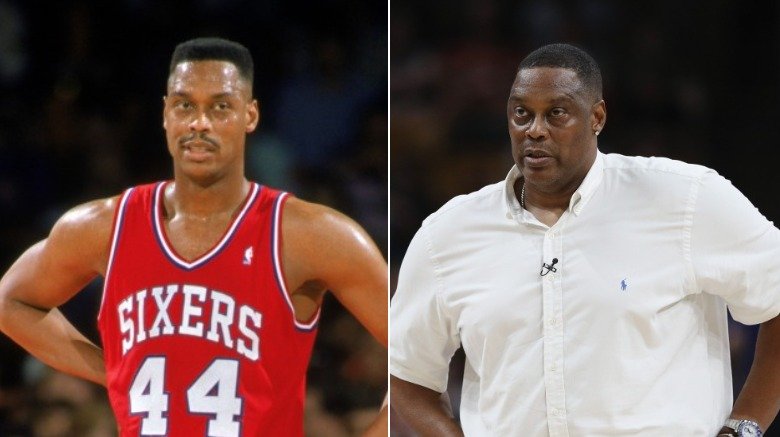 Getty Images
Rick Mahorn formed one half of Detroit's notorious "Bruise Brothers" with fellow enforcer Bill Laimbeer, but his individual contribution was arguably greater. As UPI put it, Mahorn gave the Bad Boys "their swagger." Celtics great Dennis Johnson said the swag-alicious Piston "made it so Bill (Laimbeer) could say he was a Bad Boy, too." A daunting on-court presence, Mahorn was a rebounding machine that didn't just attack backboards. In 1988 he started a brawl with the Bulls by throwing Michael Jordan onto the floor.
In 1989 the Minnesota Timberwolves claimed Mahorn in the NBA expansion draft but traded him to the 76ers when he refused to play. After moving to Philly, Mahorn didn't get much brotherly love from Bill Laimbeer, who shoved a basketball in Mahorn's face during competition and incurred the wrath of non-Detroit bad boy Charles Barkley.
Mahorn played for various teams during the 1990s, including Detroit again, before calling it quits. That didn't mean the end of his battles though. Despite coaching in the CBA and later taking the reins from Laimbeer as head coach of the WNBA's Detroit Shock, Mahorn lost a fight with financial debt and filed for bankruptcy in 2010. He kept fighting, though, and worked as radio broadcaster for the Pistons. In a touching tribute to his late mother, Mahorn went back to school and completed his undergraduate degree in 2015.
Adrian Dantley became a non-NBA guard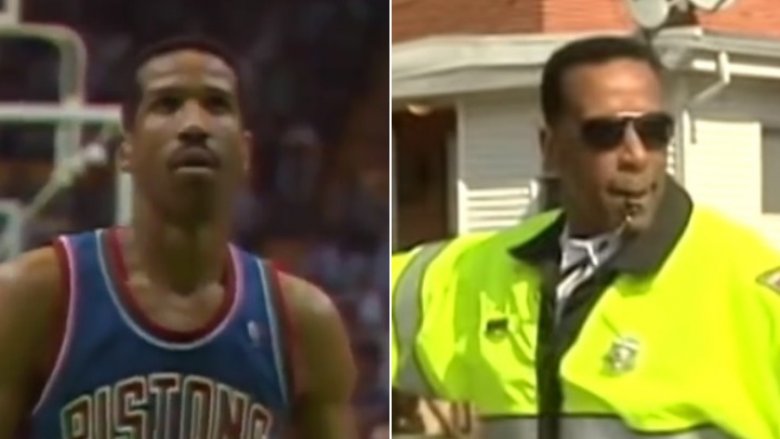 YouTube
Before joining the Bad Boys in 1986, Adrian Dantley established himself as a supremely lethal shooter. While playing for Utah, Dantley averaged over 30 points per game for four consecutive seasons. Also incredibly cunning, he would let opponents block his first shot and then roundly trounce them thereafter. Despite his high basketball IQ, Dantley tended to butt heads with coaches and players. (He also literally butted heads with Pistons teammate Vinnie Johnson, knocking both men unconscious during a game). Things got so sour in Utah that according to Deadspin, the Jazz's GM and head coach fined Dantley $3 and made him pay in dimes (30 pieces of "silver") "for an alleged betrayal, like Judas before the Last Supper" before trading him to Detroit.
Dantley played in Detroit for two years and helped carry the team to the 1988 NBA Finals. Unfortunately, the Bad Boys couldn't seal the deal, and Dantley was dealt to another team three months before Detroit won its first title. He blamed Isiah Thomas for the trade, later calling him "a con man." The heartbreak of missing out on a ring was followed by a broken fibula that put Dantley on the shelf for a year. He went ring-less his whole career. After playing in Italy and working as an assistant coach in Maryland, Dantley eventually became a school crossing guard because he wanted something to do and didn't want to pay for his own health insurance.
Vinnie Johnson aspired to be an automotive mogul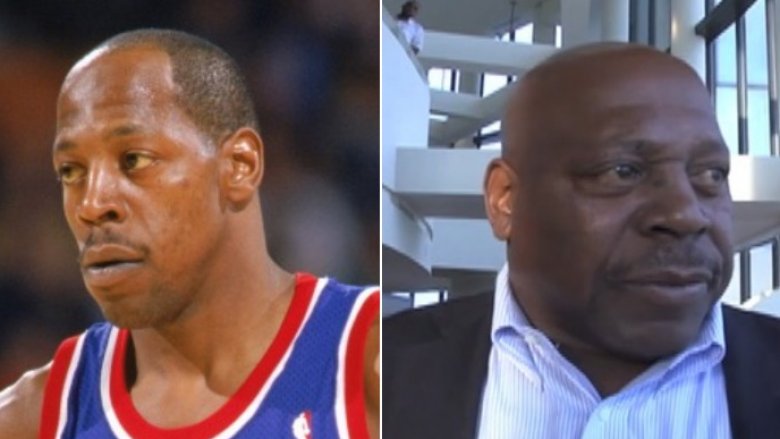 Getty Images/Vimeo
People called Vinnie Johnson the "Microwave" because … well, nicknames were inspired by household appliances during the 1980s and '90s. Boston's Danny Ainge dubbed Johnson the Microwave in part because the Chicago Bears had a dude called the "Fridge." Also because Johnson "heated up in a hurry" and scored 34 points (22 in the fourth quarter) against the Celtics despite coming off the bench.
"Handmixer" might have also worked as a nickname because Johnson beat the Portland Trail Blazers like eggs during the 1990 NBA Finals. With 0.7 seconds remaining in Game 5 and the score tied at 90, he buried an off-balance shot to secure Detroit's second championship. In the 1990-91 season the Microwave didn't look so hot to the Pistons, and they parted ways. Johnson took his cooking skills to San Antonio and played 60 games as a Spur.
In 1995 Johnson started Piston Automotive, an auto parts supplier that has grown from 200 employees to over 8,000 and made billions in revenue over the years. After acquiring a competitor for $175 million in 2017, Johnson has set his sights on making Piston Automotive a global supplier.
Joe Dumars got Detroit's motor running again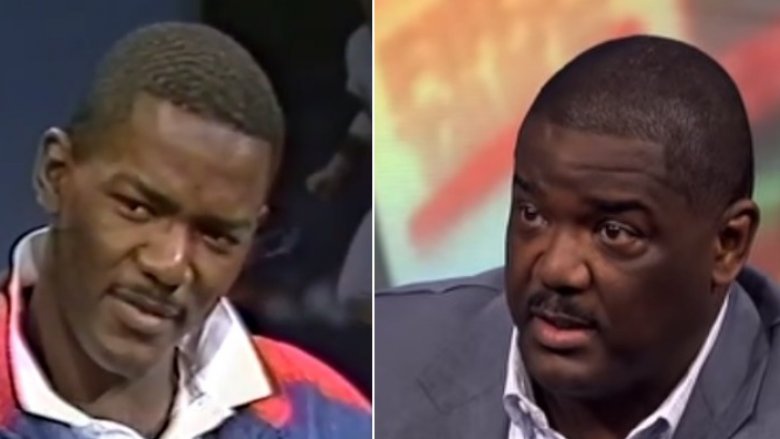 YouTube
Competing against Michael Jordan was a lot like facing an actual bull that flies, so Detroit devised the Jordan Rules. Every Piston had a special part to play, per Sports Illustrated, but nobody played a bigger part than Joe Dumars. Dumars came closer than anyone else in the league to neutralizing Jordan, something His Airness even acknowledged. "Joe is strong, physical, sound," Jordan explained. "He doesn't do anything spectacular, but he gets it done."
Dumars provided a stabilizing presence when Detroit struggled, according to NBA.com. An all-around solid player who sunk big shots in crucial moments, he shined brightest on the NBA's biggest stage. When the Bad Boys swept the Lakers in the 1989 Finals, he was named MVP. The next year he overcame the death of his father to help the Pistons claim another championship. And he did it all without elbowing or choking people. Dumars was such a good Bad Boy that the league's sportsmanship award was eventually renamed the Joe Dumars Trophy.
Dumars wasn't done with trophies after retiring. He became Detroit's vice president of player personnel and was later promoted to president of operations. Thanks to a series of smart trades and hiring decisions, the Pistons won their third NBA title in 2004 by defeating a stacked Lakers team. The Pistons opted for new leadership after the 2013-14 season, and Dumars later joined a sports agency.
James Edwards didn't reach career nirvana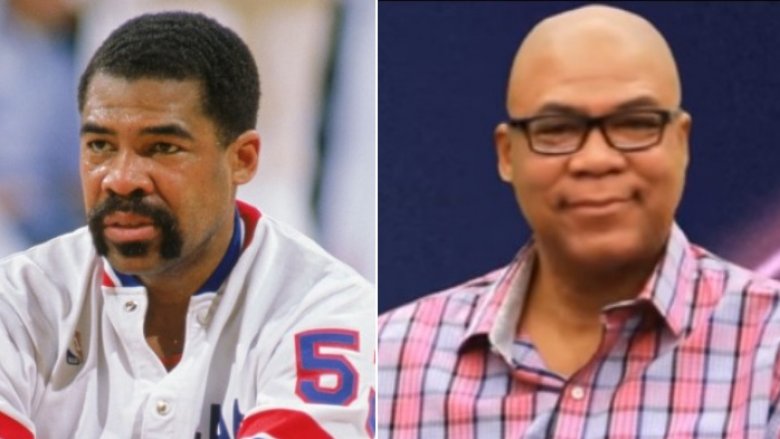 Getty Images/YouTube
NBA.com described the acquisition of James Edwards as "the most overlooked move in the construction of the Bad Boys." Obtained in exchange for a No. 2 draft pick and an obscure big man, Edwards was a bench player with a starter's stamina, nimble feet, and an "unblockable" jump shot. Dubbed "Buddha" by his teammates because of his trademark Fu Manchu and relaxed personality, he wasn't quite as bad as the other boys in Detroit. However, in 1990 he slapped Chicago Bull Ed Nealy during the Eastern Conference Finals.
At 34, borderline geriatric for an NBA player, Edwards filled the void when Rick Mahorn got drafted to the Timberwolves. Apparently, he had plenty left in the tank because he scored the third most points on the team and didn't hang up his basketball shoes until age 40. He ended his career as a member of the Pistons' bitter rivals, the Chicago Bulls. Weirdly, it was also a Bad Boys reunion since former Pistons Dennis Rodman and John Salley had also joined the Bulls. All three would win another championship together as part of Chicago's fabled 1995-96 roster.
For Edwards a nice coaching job would have been the cherry atop his retirement sundae, but alas he settled down in Seattle, which no longer has the SuperSonics. In a 2008 interview he said he did "a little bit of" work with a sports agency and some PR work.
John Salley decided to grow a marijuana business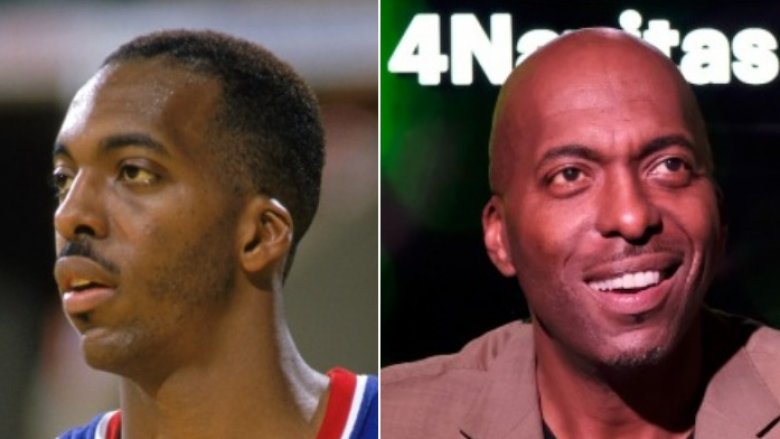 Getty Images
John Salley didn't earn the nickname "Spider" by being itsy-bitsy because he's 6-foot-11. In all likelihood he went by Spider because like actual spiders, Salley liquefied the insides of his opponents — metaphorically speaking, of course. He did typical big man things like blocking shots but stood out for his ability to hit confidence-withering shots against opponents just before the shot clock ran out. Salley was such a valuable asset that he wound up on three different championship teams: the Bad Boys in 1989 and in '90, the 1995-96 Chicago Bulls, and the 1999-2000 Lakers.
Off the court Salley used his humor and charisma to break into show biz. Fittingly, he made his movie debut in Bad Boys. His performance in the Whoopi Goldberg film Eddie was so compelling that Gene Siskel described Salley's acting as "effortless" (in a good way). Additionally he's hosted reunion shows for VH1's Basketball Wives and owns a production company.
A huge proponent of healthy living, Salley is a vegan chef and health and wellness advocate who espouses something called the Betta Life Path, which promises to "activate your heart's joy and participate in the conscious co-creation of our future." If that sounds like pothead jargon, well, Salley is a big proponent of medicinal marijuana and started a company called Deuces, which sells cannabis-based pain-relievers.
Dennis Rodman's life after Detroit became one long fever dream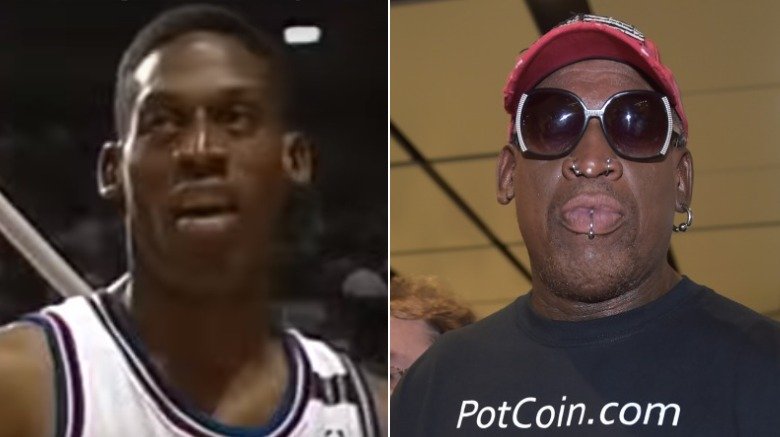 YouTube/Getty Images
A prolific rebounder with more heart than height, defensive virtuoso Dennis Rodman went after basketballs like they owed him money. Rodman wasn't just talented; he revolutionized the forward position, proving you didn't have to be a 7-footer to play like one. In fact, the 6-foot-8 Rodman out-hustled taller men night in and night out. He "terrorized teams," per Sports Illustrated, and even when opponents double-teamed him he still might grab 34 rebounds in a game.
Nicknamed the "Worm," Rodman had a slim frame and frenetic, almost wriggly defensive style that made him a useful weapon against Michael Jordan. Somewhat mislabeled as a "back-up Jordan-stopper" by Sports Illustrated (Jordan was unstoppa-Bull), Rodman was Detroit's reliable second option behind Joe Dumars for defending against arguably the greatest NBA player who ever lived. Not too shabby.
Rodman left Detroit with two championship rings and roughly 20 bajillion rebounds. He later went to Chicago and grabbed three more titles. A fan of the spotlight, he became a bestselling author, dyed his hair every color in the crayon box, and starred in hilariously bad movies like Double Team, and that's only the tip of his post-Pistons iceberg. Rodman was also married to Carmen Electra for a few months, had a pro-wrestling feud with Karl Malone, a real-life feud with the law, an ill-fated romance with Madonna, an ill-conceived bromance with North Korea's dictator, and got involved with the cryptocurrency PotCoin. What hasn't he done?
Chuck Daly inspired a league-wide makeover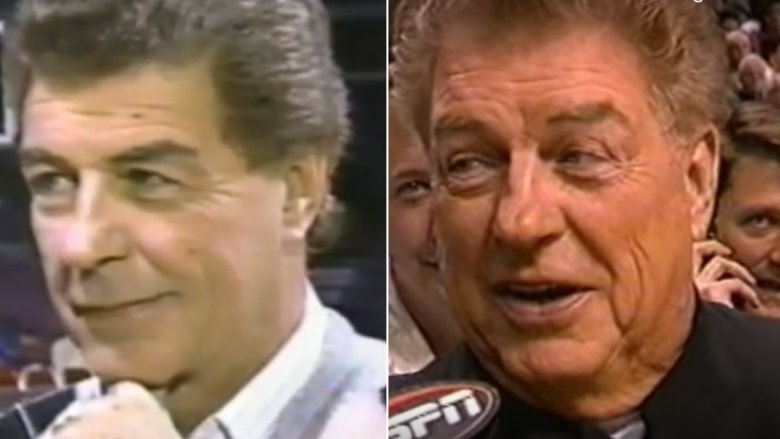 YouTube
The greats in any sport have a special "It" factor, and Chuck Daly absolutely had it. As MLive described, Daly had a fantastic knack for getting players with large egos or extremely dissimilar personalities to gel as a team. In Detroit he also showed his adaptability as a coach. In his debut season, back when Detroit relied on ridiculous scoring ability instead of bruising defense, Daly coached the team to a 186-184 victory over the Denver Nuggets in triple overtime, the highest-scoring contest in NBA history.
Daly's impressive basketball brain came with an impressive wardrobe that inspired coaches throughout the league to up their suit game. The combination of skill and gravitas he brought to the NBA made him an excellent choice to coach the 1992 Olympic Dream Team. Larry Bird, who was part of that once-in-a-lifetime squad, called it "an honor to play for him." Dream teammate Charles Barkley found it baffling that "a great man, a nice guy, coached the Bad Boys." Iconic coach Phil Jackson also had praise for Daly. Sadly, he died of pancreatic cancer in 2009. When he was laid to rest, hundreds of mourners showed up to pay respects. Weirdly, for as exceptional as Chuck Daly was, he never won a Coach of Year Award. Instead the NBA created a lifetime achievement award for coaching in his honor.
Trader Jack was irreplaceable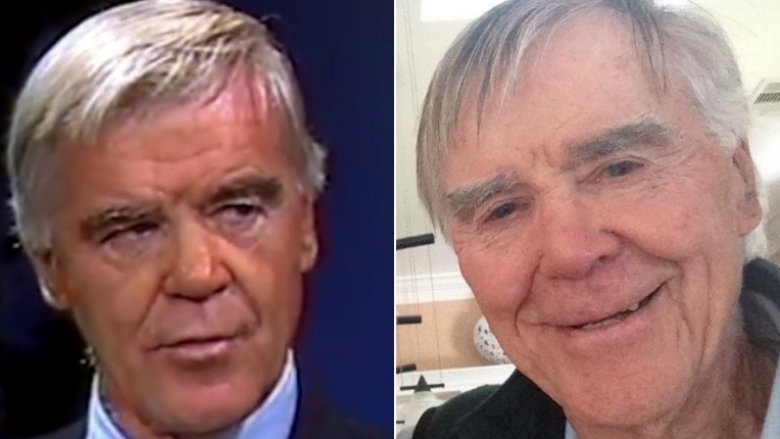 YouTube/Wikimedia Commons
The biggest badass of the Bad Boys era didn't actually play on the team. General manager Jack McCloskey, affectionately known as "Trader Jack," proved his toughness before the Bad Boys were Bad Zygotes. The son of an Irish coal-miner who started working at age 12, McCloskey learned basketball by playing among the potholes and standing water of a dirt road with a metal hoop. A World War II veteran, McCloskey commanded roughly two dozen men in the Battle of Okinawa as a 19-year-old, per Savannah Now, because the previous captain was killed.
After coaching several college and NBA teams, McCloskey rebuilt the previously floundering Pistons in his own image, creating a team of (literal) fighters. Known for bold trades, he once reportedly offered to give away all the Pistons in exchange for Magic Johnson. In the end he created his own magic through a series of successful gambles that brought future super coach Chuck Daly and unexpected legends like Dennis Rodman.
Thanks to Trader Jack's brilliant risk-taking, the Bad Boys made it to the playoffs nine years in a row and appeared in three consecutive NBA finals. Sadly, that priceless mind was lost to Alzheimer's. McCloskey passed away in 2017 at age 91.