The Youngest And Oldest Olympians To Ever Compete
echo get_the_meta(); ?>
If you watched the delayed 2020 Tokyo Olympics – once they were finally underway after an unprecedented one-year pause to protect athletes and spectators during the height of the COVID-19 pandemic — you might have noticed the crazy gap in age between some of the competitors. It's intimidating to see children athletically warring against adults in the world's grandest international competition, and it's even more of a slap to some people's egos when they watch the kids take home the coveted medals of Olympic achievement while they're stuck at home, covered in Cheeto dust while lounging on imprinted leather recliners.
Some sports tend to be dominated by younger athletes, and some, like equestrian events, allow for a broader range of athletes from all age groups. Regardless, the idea that people old enough to be grandparents or young children can be some of the finest athletes in the world is always shocking — in a good way, of course. Especially when you see the level of skill it took for them to get there. And you'd probably be even more surprised to find out exactly how young or old some of these world-class competitors were when they competed in the Olympic Games. Check it out.
Barely making the list
When it comes to the youngest competitors to ever compete in the Olympic Games, the ages are surprisingly low. The athletes are truly children; starting at the "older" end of the youngest, the first two athletes are "tweens": Noёl Vandernotte, age 12, and Inge Sörensen, also age 12.
Both Vandernotte and Sörensen competed in the much famed and reviled 1936 Berlin Olympic Games, hosted by Adolph Hitler and the Nazi regime. Sörensen, a swimmer from Denmark, not only competed in the 200-meter breaststroke but actually took home the bronze, according to the Olympics website. The swimmer would go on to compete in and win several major European swimming events before she reached adulthood.
Vandernotte, a member of the 1936 French rowing team, performed even more impressively at the Berlin games. He competed in two different rowing events, as his Olympic profile explains, and won bronze in each of them. As The Telegraph tells it, the young Olympian was so small, he had to sit with a sandbag tucked between his legs to meet the International Olympic Committee's weight regulations for his events. All of this through heavy rain and crosswinds. What a serious champ.
The 12-year-olds continue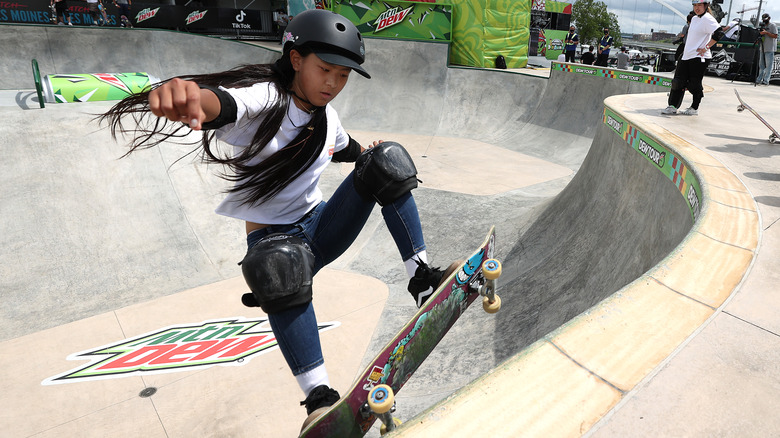 Sean M. Haffey/Getty Images
The youth seen in the 1936 Games may look like they belonged to an era where children worked alongside their parents in the mines to make ends meet, but athletics have been enjoyed by all ages as long as the human-animal has been around. And a few "youngin's" qualified for the 2020 Tokyo Olympics too.
As Yahoo Entertainment points out, two 12-year-old athletes qualified for the newly added skateboarding events in Tokyo. Sky Brown, who ranked third in the park qualifying event out of the 80 skaters accepted into the Olympics this year, will be tearing up the course for Team Great Britain. Had the games not been postponed, Brown would've likely been Britain's youngest Olympian to ever compete in the Games, but as it is, she'll have to settle for second place. Team Japan skater, Kokona Hiraki, on the other hand, will hold the title as the youngest Olympian to ever come out of Japan. Hiraki fell slightly short of Brown in the rankings, coming in sixth, but both of these skaters have a really good chance of grinding home with medals around their necks.
There was a third 12-year-old athlete at the Tokyo Games as well. Hend Zaza, a young table tennis player representing Syria, was actually the youngest competitor at the competition and, according to BBC, the youngest Olympian since 1968.
A trio of Italian gymnasts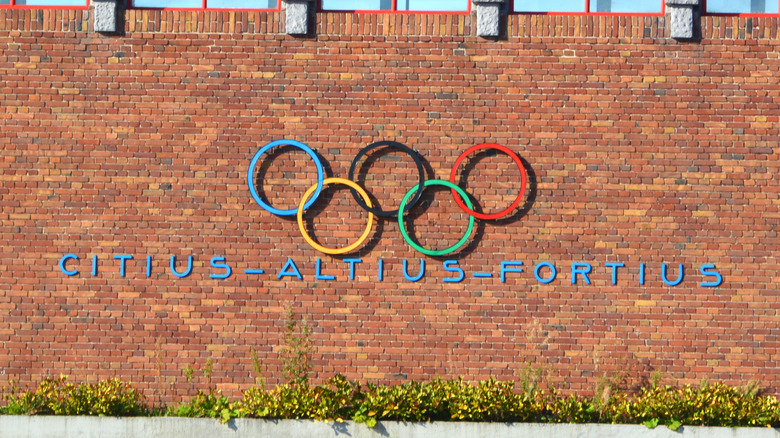 Shutterstock
Some of these child Olympians prove a point that's sure to be very enticing to young minds: If you buckle down and train hard, you can skip some school to compete in the Olympics. In the case of the 1928 Games in Amsterdam, a trio of young Italian gymnasts discovered this lifehack firsthand.
Led in youth by Luigina Giavotti, whom Yahoo Sport explains is the youngest female Summer Olympian in history, this group of Italian tweens was known as "Piccole Pavesi" ("Pavia's youngsters" in English), named after their hometown of Pavia, according to Paralympicus. Giavotti was 11 years old when she competed in the artistic gymnastic event while both Ines Vercesi and Carla Marangoni were a year her senior. The age of these competitors might not come as too much of a shock since gymnastics have always been filled with young bodies trained from the first day they were able to take a step, but these girls were some of the most talented gymnasts of their time.
In their Olympic event, the Piccole Pavesi team won second place and returned back to Italy with a silver medal. Their home country was so impressed, according to Olympedia, they were personally received by Benito Mussolini himself. Not sure if that's an honor or not, but they were still pretty good.
Britain's youngest Olympian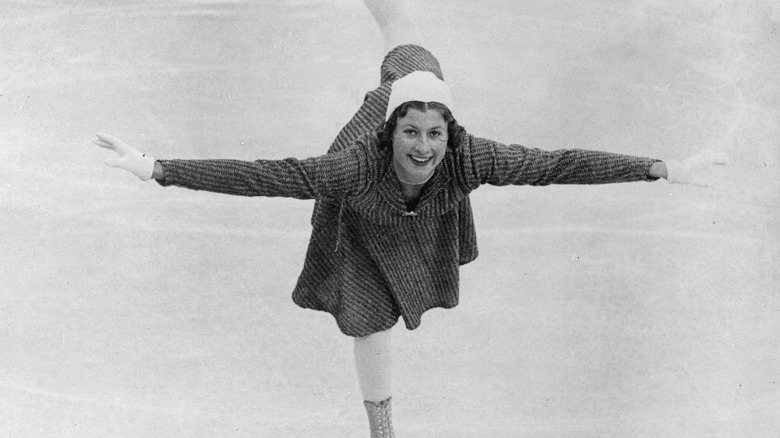 Central Press/Getty Images
Sky Brown might be the youngest athlete from Britain to compete in the Summer Olympic Games, but the title for youngest Brit to compete in any Olympics goes to Cecilia Colledge who represented the Union Jack during the 1932 Lake Placid Winter Games.
Colledge was a delight on a pair of skates, but it's pretty unclear from her profile on the Olympic website whether or not figure skating was an aspiration of her own or simply pressed upon her by her mother. Either way, her mother was down to have the young girl trained up and ready to compete. She was pulled from school to train on the ice in Norway before coming back to England to work with former Olympic skater Hans Gerschwiler's uncle.
Apparently, devoting her life to training instead of school paid off, not that all children should necessarily drop their education for a life of sports. It wasn't long before the young skater was entering and winning world championships. She was only 11 years old when she first skated in the Olympics, ranking 8th, but she came back to win a silver in 1936 before enjoying a life of skating and coaching. Minus the time in which she dipped out to drive ambulances during the Second World War of course.
The youngest known competitor
The youngest confirmed Olympian to ever compete in the modern Games can be traced clear back to the first of them in 1896. It seems almost as if Greece wanted to make a statement that even their youngest were skilled enough to take on the best athletes the planet had to offer in an event that's rooted in their national heritage. That's the way it looked anyway when Dimitrios Loundras walked out to hop on the parallel bars at what Inside the Games says was only 10 years of age.
So, Loundras was technically a member of the Greek team that took the bronze in their event, which sounds pretty cool, but this is where things get a little "iffy" as far as medal-holder status is concerned. See, during the 1896 Games, there were only three teams that took part in the parallel bar event. That means, as Bustle points out, though Loundras and his peers took third in the competition, they were also dead last. Still, competing in the Olympics at 10 years old is a serious accomplishment.
Outside of the fact that his record as youngest confirmed Olympian would be extremely difficult to beat, Loundras was also the last surviving Olympian from the original Games. Not to mention he'd go on to become an admiral in the Hellenic Navy during both World Wars. What an accomplished guy.
The youngest Olympian is truly a mystery
Becoming an Olympian when you've barely reached double digits is a magnificent achievement, not to mention a wild way to enter your teens, but what about single digits? As it turns out, there very well may have been an Olympian who wasn't even close to knocking on the door of puberty.
According to NBC, there's a possibility a child as young as seven competed during the 1900 Paris Games. It sounds insane, but it gets a little crazier from here. The Dutch pairs rowing crew was gearing up to run their heat, but they felt their coxswain was a bit chubby. A coxswain is a person who doesn't row but instead steers the boat, so the team doesn't go off course. They're pretty important in competitive rowing, but they also add weight, which slows the boat down. Looking for a slighter cox, the Dutch pair substituted their regular teammate for a random kid from the crowd, who was apparently ready to make history. That all sounds pretty nuts, right? Well, that's not even the most ridiculous part. The team, which included Roelof Klein and François Brandt, won the gold medal. 
There's only one problem: The kid forgot to give anyone his identity. Or, if he did, nobody had the forethought to maybe write it down or something. Unfortunately, without a recorded name and age (estimates range from seven to 14 years old), the kid can't really hold the title for youngest Olympian.
A long-time equestrian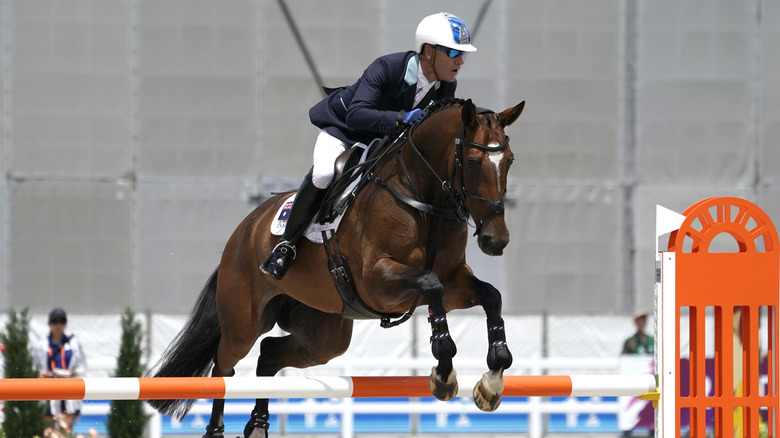 Toru Hanai/Getty Images
Now, on to the oldest Olympians in the history of the Games. You'll notice fairly quickly that these senior competitors tend to stick to the less physically athletic games, but even then, they're able to keep up with all the young whippersnappers in their given events. So, that's pretty cool. Let's start first with long-time equestrian Andrew Hoy.
Hoy is part of the 2020 Tokyo Olympics where he competes in the equestrian eventing, which is really three events commonly referred to as the "equestrian triathlon." You know, at the ripe old age of 62, according to the Team Australia website. It's definitely the toughest of the events because it combines all three of the equestrian disciplines present at the Games, but this isn't Hoy's first rodeo. The equestrian first earned his Olympian title when he competed in the 1984 Los Angeles Games, and he's been competing on the Olympic level ever since. In fact, he's one of only 13 people to fight for gold in eight consecutive Olympics. Out of those eight appearances, Hoy's website says he's taken three gold medals and one silver. 
An archer with experience
Archery is a surprisingly athletic sport. It might not seem like much because you only do a little bit of moving while loosing arrows at targets, but there's plenty of strength, dexterity, and precision that not very many people can match on the Olympic level. But 64-year-old Eliza Pollock didn't seem to have a problem with it when she competed in 1904 at the St. Louis Olympics.
When you think about it, archery seems like one of the more difficult sports for older people to compete in. Your hands get shaky as you age and your eyesight tends to slip, but according to Monroe County Now, Pollock had plenty of aim left in her to whip a few young bloods and walk away with two bronze medals and one gold for being on the winning team. She's still the oldest woman to win a gold medal in an Olympic event, and we're now over 100 years past the date in which she did so.
Now, not everyone praises Pollock's win. This was the first Olympics women could compete in archery and only the second one that included the sport at all. It was, after all, only Olympics number three. Keeping that in mind, there were only six other women archers for Pollock to compete against and most of them were from the same team. Even so, Pollock being an Olympic-level archer at 64 years old served as an inspiration to many.
The second oldest woman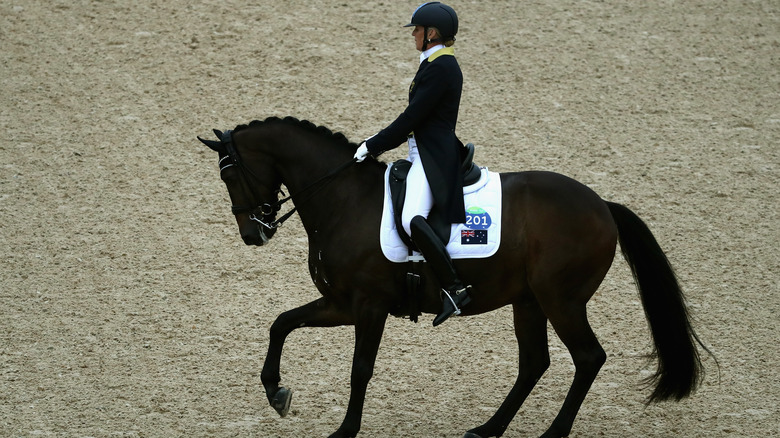 Sean M. Haffey/Getty Images
Being the oldest woman to compete in the Olympic Games is a little cooler than being the second oldest, but just like nobody would doubt your skills for winning a silver medal at the event, no one is likely to doubt Mary Hanna's determination for only being the second oldest female competitor. And Hanna's list of accomplishments would be long enough to wow Olympic and equestrian fans alike, even if she wasn't competing in the 2020 Tokyo Olympics at 66 years old.
According to Fox Sports, Hanna is the oldest Australian female athlete to compete in the Games. In actuality, as NBC points out, she'll be the oldest Australian in the Games regardless of gender. She'll be competing in the dressage event, which, as the United States Dressage Federation explains, is a performance that highlights the obedience and training needed for the horse to put on a fun little show while it goes through a series of increasingly difficult movements. Her Olympic profile shows Mary Hanna has yet to win any medals in Olympic competition, but the fact that she keeps qualifying and competing every four years is a solid achievement, especially at her age, and she has a real chance of overtaking the #1 oldest female spot someday if she keeps it up.
The oldest woman in the games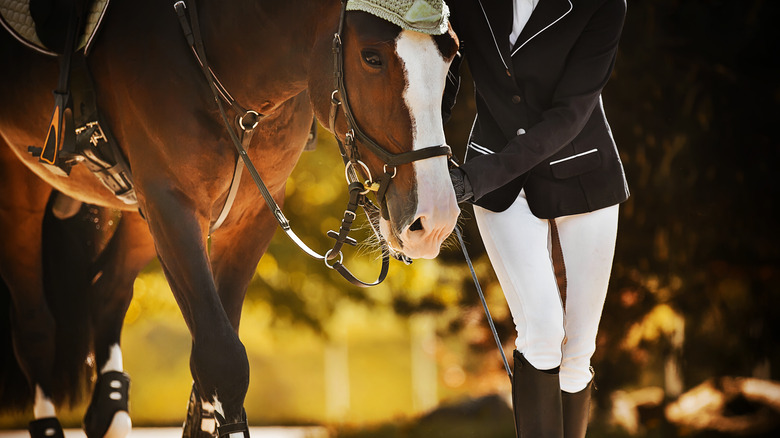 Shutterstock
Now that we've discussed the second oldest woman at the Olympic Games, it's time to talk about the first. Holding the honor of being the athlete supreme of the more senior female competitors is another equestrian by the name of Lorna Johnstone. Johnstone has held this record since she competed in the dressage event during the 1972 Munich Games.
Growing up in Britain, according to the official Olympic website, Johnstone was a member of a rich family, and having a horse that you teach to dance around, expertly of course, just seems like a fairly "well-off" person thing to do. Not to mention the equestrian rider got into horses in the first place because her family was quite fond of fox hunting. Johnstone was good at it, the dressage part at least. She'd won 13 national competitions and had been considered for two other Olympics before the IOC finally dropped that whole sexist act and allowed women to compete in the event.
Johnstone finally got to take part in her first Olympic dressage event during the 1968 Olympics in Mexico City, and her second and final one during the Munich games. She'd turned 70 years old just three days before the Munich event, and though she never won an Olympic medal, she's still the oldest woman to ever compete. And that has to count for something.
He almost made it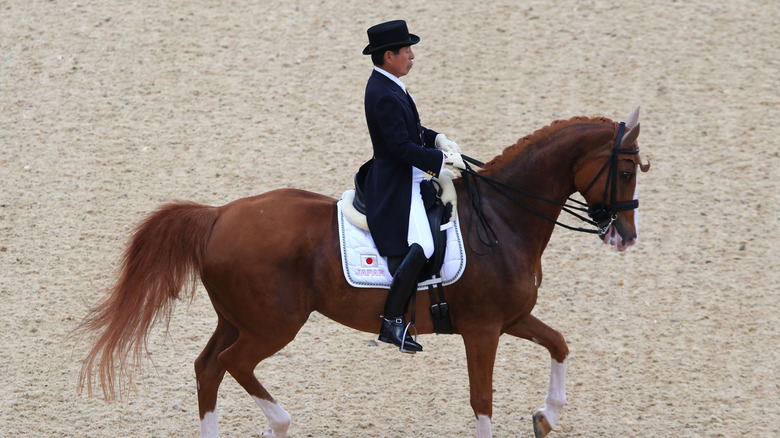 Alex Livesey/Getty Images
Hiroshi Hoketsu almost made the rank of oldest male and oldest competitor overall to take part in the Olympic Games, but alas, he's stuck in second place. Like several of the others on this list, Hoketsu has only competed in dressage events in his older years, but he had more tricks up his sleeve when he was younger.
The Team Japan equestrian rider first stepped foot in Olympic competition back in 1964 during the last Tokyo Games, as is shown in his Olympic profile. His sport then was show jumping, and he ranked 40th individually and 12th with his team. Hoketsu then disappeared from the games for over 40 years, rejoining the Olympics as a dressage rider in 2008. He rode all of that time, but he was busy with other life stuff. That is until his wife urged him to get back on that competitive horse, post-retirement. His third Olympic appearance seems to be his last. In 2012, Hoketsu competed in London at 72 years old, according to Horse Network, and he was hoping to have at least one more good run.
The Japanese rider actually put in a bid to compete on behalf of his home country during the 2020 Games, but because his horse had come down with an illness, he didn't meet the qualification requirements. If he had competed, he would have been the oldest for sure at 78 years of age.
Age is just a number
"Age is just a number," people say, and hardly anyone ever believes it, but to the Swedish-born Oscar Swahn, age really was nothing more than a number. The Olympian was already in his 60s when he joined the games for the first time, according to Guinness World Records. It was the summer of 1908 in London, England. His sport? The running deer shoot. This was an old sport, long since discontinued, that Top End Sports said involved shooting at a quickly moving deer target from over 100 yards away. It was clear from the beginning that old age hadn't taken away Swahn's precision.
In that first Games, as seen on his Olympic profile, Swahn landed the gold medal in the single-shot event and bronze in the double shot, as well as a gold in the team single shot. He was 60. At 64, in the 1912 Games, he took another gold and another bronze. When Swahn returned in 1920, he was already 72 years and 280 days old. There, he won a silver, and thanks to it, he holds multiple records. He's the oldest person to win a silver medal, the oldest to win a gold medal, and the oldest Olympian to have ever competed in the Games.
With the rise in life expectancy and quality of life during the later years of life, it's unlikely that Swahn's record will live on forever. But who knows, it could stand the test of time.