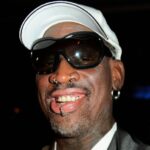 Dennis Rodman's Tragic Real-Life Story
echo get_the_meta(); ?>
When you're strange, no one remembers your name. When you're Dennis Rodman, no one forgets you're strange. A star who has constantly eclipsed his own brightness, Rodman was an outstanding NBA player who stood out for his tattoos, multihued hair, and harrowing behavior. He dated Madonna, "married" himself, and married and divorced several others. He has broken laws, broken his man rod three times, and made friends with a brutal dictator. And don't forget his televised meltdowns.
People called Rodman "a rebel without a pause." But when you pause to think about it, he seems more like a troubled soul on a mission to find acceptance. Since childhood Rodman has felt like the odd man out, which might explain why he acted out in adulthood. He may have been one the greatest to play the game of basketball, but Rodman has repeatedly defeated himself in the game of life.
The tree flies far from the apple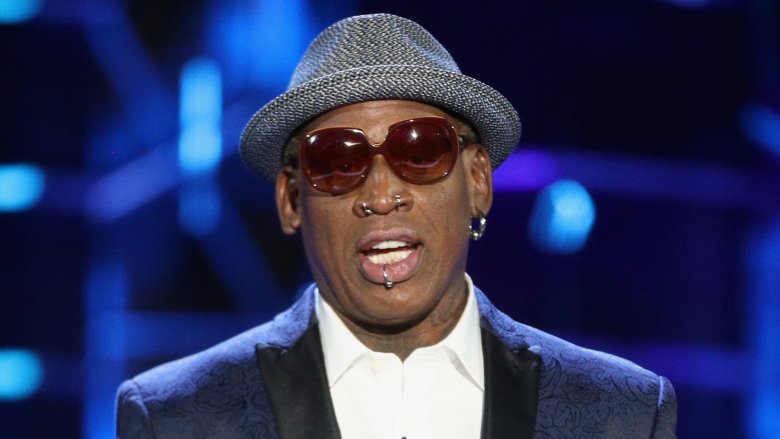 Getty Images
Let's start with Dennis' dad. Much like his name implies, Philander Rodman Jr. went after the ladies. When he spoke with the Associated Press in 2012, Philander, then 71, claimed to have fathered 29 kids with 16 women. He wasn't a father to all of them, though. When he saw his son Dennis Rodman that year, it was the first time in 42 years. By then Rodman was 51 years old and had children of his own.
A former Air Force staff sergeant, Philander went overseas when Rodman was 3. Rodman later told Sports Illustrated, "He just disappeared one day." Philander saw it differently, explaining to the Washington Post that he "couldn't take [Rodman] to Vietnam." But that doesn't explain why he didn't return. Philander moved to the Philippines, remarried, re-divorced, and sowed more oats.
Philander must have realized he had condemned his son to bitterness — his own father abandoned him when he was 6. Philander despised his dad for years but quickly sympathized when he ditched his own wife Shirley, who would raise Dennis and his two sisters unassisted. Shirley sought to shield her son by letting him think Philander was "a great man who simply chose to abandon him." But Rodman grew up feeling "shut out" by his father and outshined by his siblings.
Home is where the street is
Getty Images
Rodman's family went to Dallas after Philander went AWOL. Money was tight, and Shirley Rodman mainly divided her time between two jobs and church and "rarely" gave hugs. So Rodman embraced the streets.
The future didn't look bright for Rodman. He lacked height and athleticism in high school. Per Sports Illustrated he got benched playing basketball and punted off the football team, which devastated him. Rodman found work as an airport janitor after graduation. There he saw the wrong opportunity: a chance to clean out a watch display case. He stole roughly 50 watches, which he mostly distributed among friends. Rodman was arrested and almost faced criminal prosecution, but his buddies gave back the watches in the nick of time.
Although Rodman didn't do hard time, he had hard times. At age 19 he was homeless for six months after his mom kicked him out. Luckily, his basketball ability kicked in when he hit a huge growth spurt. He later received a scholarship to shoot hoops at a junior college, but when schoolwork got tough, he quit going.
Rodman goes country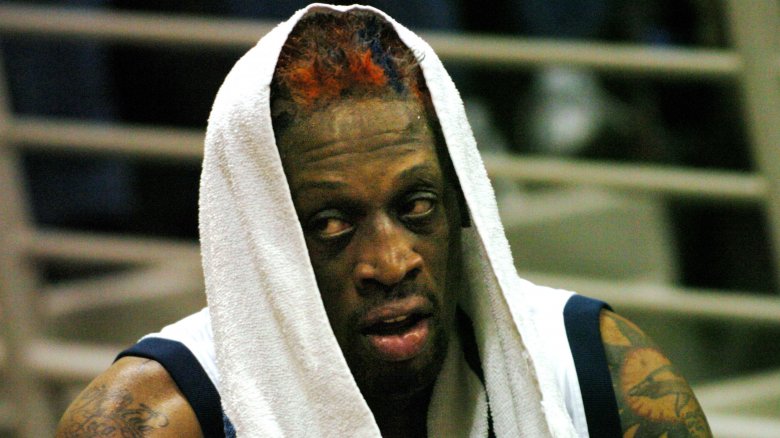 Getty Images
After squandering a scholarship, Rodman returned to the streets. Luckily, a basketball coach at Southeastern Oklahoma offered him a second shot. Rodman was determined to turn his life around. Thankfully, help was around the corner. At a basketball camp he bonded with 13-year-old Bryne Rich. Like Rodman, Rich had a painful past. He had fatally shot his best friend in a traumatic accident and hoped hoops would help him heal. Rodman, a goofy 22-year-old man, was a great medicine. Soon Rich's family invited him to live at their farm, and Rodman drove tractors, milked cows, and avoided violence.
Rich knew Rodman as "Worm," alluding to his lanky frame and propensity to wriggle while playing pinball. Others reviled Rodman for his race. Living with the white Rich family, he stuck out like coal on a snowman. Matriarch Pat Rich acknowledged that whites in their area treated blacks like "outcasts." One of the Riches' in-laws called it a "disgrace" to help him, and even Pat, who grew to see Rodman as family, called him the N-word once.
The hole of fame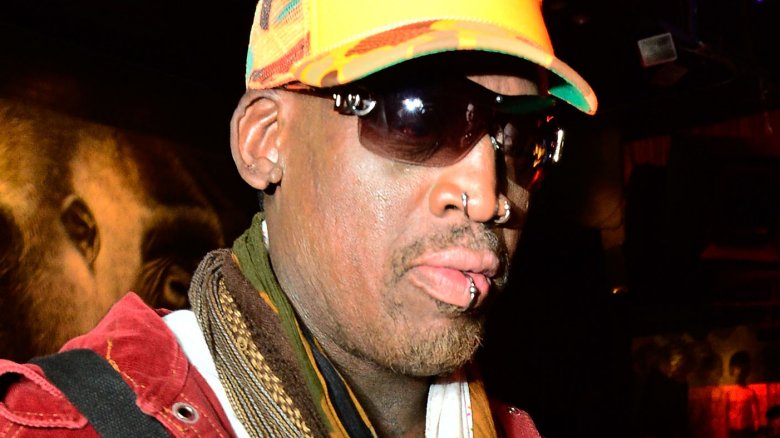 Getty Images
In 1993 Rodman briefly abandoned hope. As he recounted in Bad As I Wanna Be, he had two NBA championships, had earned multiple accolades for defensive excellence, and was "a made-for-TV special in the living flesh" — but Rodman wanted it all to end.
On an April night he sat in his truck with a gun in his lap. Luxury had lost its luster. Now a father, Rodman seldom saw his daughter. He blamed his absence on an ex-wife. (His father, Philander, had also accused Rodman's mother of making it too hard to commit to her, just a few more similarities between the two.)
Sadly, basketball didn't help. Though Rodman would go on to win three more NBA championships, his professional forecast wasn't sunny back then. His days of dominance as a Detroit Piston were fading. He also felt suffocated by fame. He "wanted to be normal" and "stay true to" himself. Rodman opted not to pull the trigger, instead saying he mentally shot an image of himself he didn't want to be. Then he fell asleep.
If you or anyone you know is having suicidal thoughts, please call the National Suicide Prevention Lifeline at 1-800-273-TALK (8255).
Spare the Rodman, spoil the child planning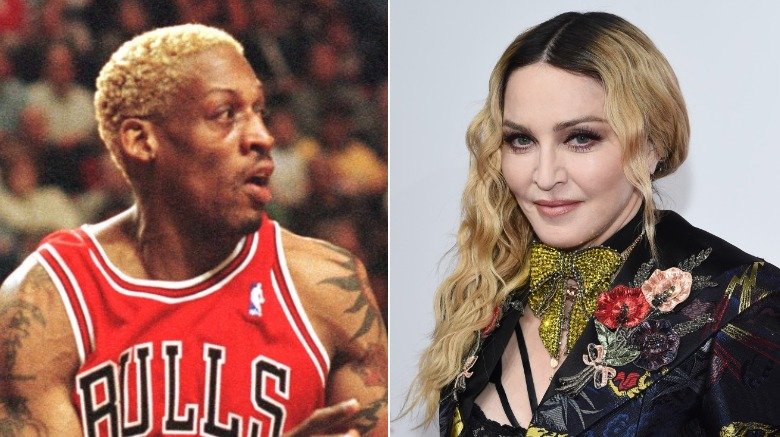 Getty Images
While Rodman wanted to be normal in 1993, in 1994 he dated Madonna, which normal people don't do. However, when describing their relationship, he often focused on the carnal side of things. In 1995 Rodman boasted to Jet Magazine: "She wanted to get married. She wanted to have my baby." Madonna made him "feel like King Tut," he said.
Dennis Tut felt entitled to call Madonna "Tita," according to his 1996 autobiography. He also critiqued her lovemaking, depicting it as good but not great. That was okay, though, because they were a "perfect match" until Rodman allegedly dumped her to prevent "being perceived as piggybacking off her fame."
Madonna denied his assertions in a biography, but she refused to kiss and tell. Others said there wasn't much to tell. One of Rodman's other exes, for example, claimed the NBA star admitted Madonna stopped touching him after the very first time and claimed she considered him an inconsiderate, selfish mate.
Ball and change
Getty Images
Rodman and Madonna might have been a match made in Rodman's mind, but his real-life marriages seemed like awful ideas. His first wife, Anicka "Annie" Bakes sued him several years before they married. Per the Associated Press, in 1989 Annie accused Rodman of failing to pay child support. When they got married in 1992, they lasted just 82 days together. Annie eventually wrote a tell-all called Worse Than He Says He Is. She characterized Rodman as a domestic abuser who made her miscarry by shoving her down the stairs.
After his turn with Madonna, Rodman and Carmen Electra wed in 1998, but the sparks fizzled quickly and they divorced in five months. Electra told ABC she got involved with Rodman after losing her mother to a brain tumor. Their relationship was a passionate distraction from grief that combined heavenly emotional highs with hellish lows. The Independent reported that in 1999 both Electra and Rodman were arrested for assaulting each other in public.
Abuse allegations also arose during Rodman's engagement to third wife Michelle Moyer. Reuters reported that in 2003 police charged him with hitting Moyer. The New York Times noted that when they married four months later, they resided in separate houses, despite having two kids together. During their divorce proceedings, Moyer asserted that Rodman "had a history of domestic abuse."
Vodka shot-blocker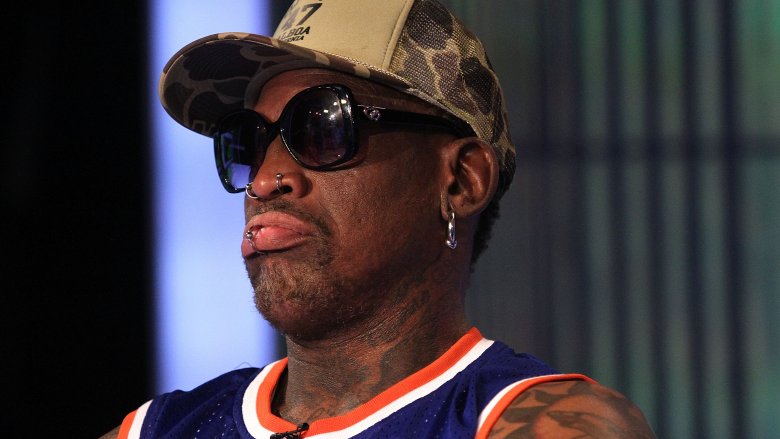 Getty Images
According to Dennis' mom, he couldn't stand booze until his father popped up out of the blue. Convenient timing — Dennis had just joined forces with Michael Jordan and helped the Chicago Bulls finish the best season in NBA history. Seemingly intent on stealing his son's thunder, Philander bragged to journalists, "They think Dennis is bad. … They ain't seen nothin.' I'm the bad one."
Whether or not Philander inspired Rodman's drinking, 1996 marked the start of an endless bender. Rodman purchased what the LA Times called his "Newport Party Pad" and launched an eight-year onslaught of raucous shindigs that prompted 80 police visits. The Washington Post pointed out that once Rodman stopped playing pro basketball, he started drinking uncontrollably.
In 2000, the same year he retired, a court ordered him to enter an alcohol program due to a DUI. In 2013 he started selling Bad Boy Vodka, calling it "a perfect representation" of what he's "all about." In 2018 Rodman re-entered rehab after another DUI. Though he previously acknowledged seeing his adult daughter "a total of five days of her life," he told Page Six he wanted to get sober in order to "see [his] kids grow up."
Defendant player of the year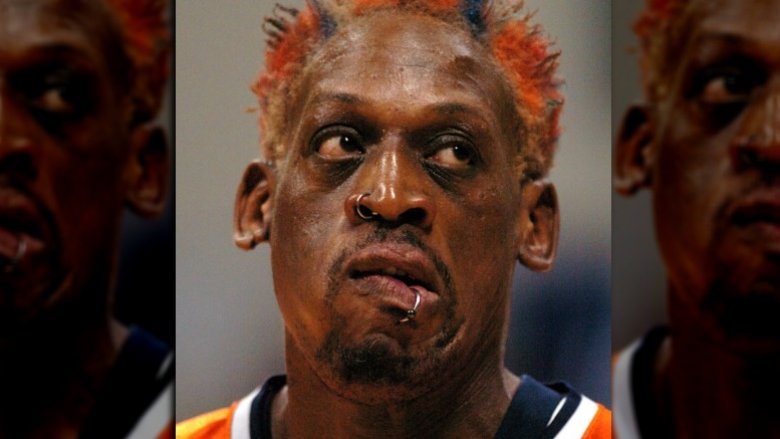 Getty Images
Old-school NBA fans may remember Rodman as a Detroit Pistons "Bad Boy." Bleacher Report described him as "an absolute menace to opposing teams and completely tenacious in his pursuit of the basketball." Across his career, that doggedness often resembled rabies. While pursuing a loose ball, he once dove into the stands and injured a woman, who lost "several teeth." Rodman once head-butted a ref mid-game. He also infamously kicked a cameraman in his manhood, scoring a million-dollar fine.
Over the years Rodman has frequented many non-basketball courts. In 1998 a cocktail waitress sued Rodman for groping her while shoving money down her blouse. He settled out of court and was sued seven other times for misconduct at casinos. Per ESPN, Rodman also reached an out-of-court settlement with a former Playboy model who sued him for sexual assault.
In 2008 the New York Daily News reported that police apprehended Rodman for assaulting girlfriend Gina Peterson and "dissuading a witness." He pleaded no-contest to misdemeanor spousal battery, which Rodman's manager attributed to heartbreak and heavy drinking. Rodman was still in the middle of a lengthy on-and-off divorce from Michelle Moyer and couldn't see his kids — not that he should have when he was constantly violent and drunk.
Rodman's rebound-less generosity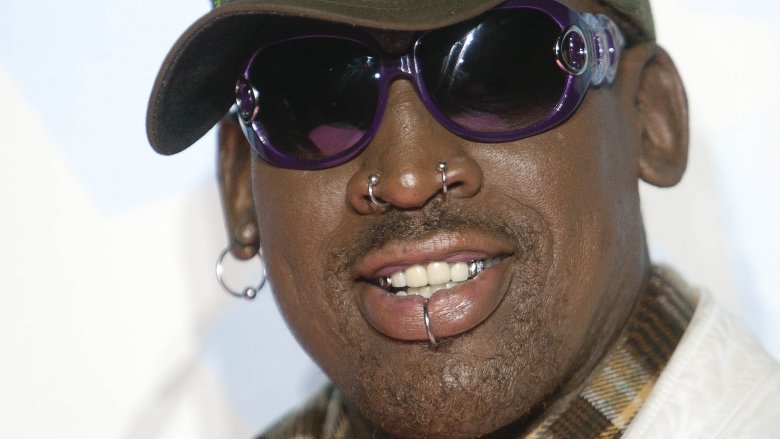 Getty Images
In 2003 the New York Times described Rodman's life story as "more Disney than E!" But given his often beastly behavior, it's easy to overlook his inner beauty. It doesn't excuse his suspensions, arrests, and abuse, but the NBA's baddest Bad Boy has done a fair amount of good.
Perhaps because of past hardships, Rodman has a soft spot for the homeless. ESPN contributor Dan Feldman observed that while playing in Detroit, Rodman "used to pick up homeless people on his way to games, give them tickets, then take them shopping and give them money afterward." Sports Illustrated related that he used to drive through rough neighborhoods doling out cash like a mobile ATM. He also took homeless people into his home so he could bathe and feed them.
At times he has attempted to atone for bad behavior. Per the Chicago Tribune, when Rodman kicked that innocent cameraman, he received an 11-day suspension. As a mea culpa, he voluntarily donated $576,829.22 to 11 charities, in addition to paying a million-dollar fine. Doing the right thing doesn't suddenly overwrite wrongdoing, but it suggests he didn't always want to be bad. According to former teammate John Salley, Rodman's occasional generosity reflects his childlike desire to change the world.
Like fatherless, like son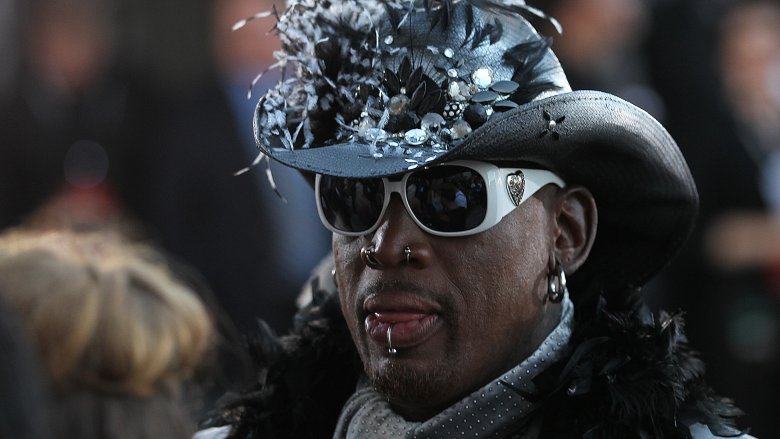 Getty Images
A lot can change in three years. In a three-year span Rodman went from watch-thieving janitor to NBA-bound college athlete. In the three years he lived with Bryne Rich, they grew to see each other as brothers, and Bryne's parents learned to see past Rodman's skin color. But the first three years of Rodman's life may have shown that the more things change, the more they stay the same.
When Rodman's father left, it left a void in his life that the Riches partly filled. But he gradually distanced himself from the family that loved him. In 2011 Pat Rich told Tulsa World she felt like she "lost two sons," her biological son Michael (who had just died) and Dennis Rodman, who was about to be inducted into the NBA Hall of Fame. Rodman had purportedly promised to attend Michael's funeral but later reneged.
Rodman voiced confusion through his manager, who explained the ex-athlete was "contractually obligated" to appear on the Tonight Show on the day of Michael's funeral. But the soon-to-be-Hall-of-Famer didn't even send flowers and had stopped visiting them a decade earlier. Maybe fame constrained him. Or perhaps he was repeating a pattern passed down from his grandfather and his father, abandoning those who loved him.
Basket-bawl diplomacy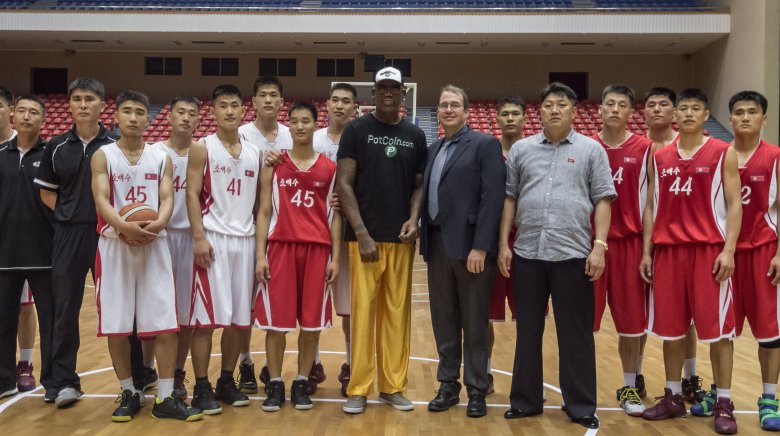 Getty Images
As the saying goes, the road to hell is paved with good intentions. In Rodman's case, hell is North Korea. A country suffocating in the grip of dictatorship, North Korea has a hideous history of human rights abuses, including terrible prisons and forced marriages. Rodman, however, has tried to see the bright side of a pitch-black situation. When asked if he knew about the gulags and government oppression, Rodman responded, "Yeah, but I haven't seen it."
Instead, he sees Kim Jong-un. Most people consider Kim a callous killer, perhaps because he does things like executes people with anti-aircraft guns. But Rodman described the chubby-cheeked despot as "more like a big kid" who "loves to have a good time." Kim also loves basketball, which has Rodman convinced that the path to peace with North Korea lies in "basketball diplomacy." The Chicago Tribune attributed that perception to a juvenile view of politics and positive change. But what if Rodman sees himself in Kim Jong-un?
It seems significant that Rodman, an explosive mixture of insidious whims and childish innocence, detected childishness in Kim. Regardless, it speaks volumes about Rodman. Rodman's tears, meanwhile, speak oceans. While extolling Kim to CNN in 2018, he weepily recalled receiving death threats for defending North Korea. Maybe when he tries to show how misunderstood and secretly good Kim is, he's secretly talking about himself.