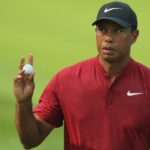 Scandals That Rocked The Golf World
echo get_the_meta(); ?>
Golf isn't known for being a scandalous sport. Even though we're talking about famous, unbelievably rich people, they generally tend to live quieter lives than those who play other things. And fans are certainly known to be much calmer and less hooligan-like than people who watch other sports. But there are always exceptions. And against this more sedate background, those who go off the rails stand out even more.
Sometimes these scandals are directly related to what happens on the course and bring the game into disrepute. But more often it's what players do in their free time that makes headlines. Drugs, gambling, affairs, and violence are seemingly inevitable parts of being famous and rich for some people. For select players, being unable to keep it in their pants seems to be as intricate a part of being a golfer as knowing how to swing a club. Here are scandals that rocked golf.
Phil Mickelson was naughty with stocks
Getty Images
According to Golf Digest, Phil Mickelson is famous for his lucky escapes on the golf course. But that was nothing compared to what he managed to get out of in 2017. Despite being involved in a three-way insider trading scandal in which the two other people ended up in court facing long jail terms, he managed to walk away from it all unscathed.
It all started because of his friendship with Billy Walters. Walters was a famous Las Vegas gambler who moved on to be a kind of unofficial bookie, and other gamblers, like Mickelson, often owed him money. Another guy who placed bets with him and was therefore often in his debt was Tom Davis, a board member at Dean Foods. His position meant he was privy to information he legally had to keep quiet.
The government says as a way to pay Walters back, Davis came up with a little insider trading scheme. Strangely, around the same time, Walters' friend Mickelson suddenly started investing in Dean Foods as well and made almost $1 million. It appears Walters was passing on the insider information to the golfer, making him part of the illegal scheme. But because there was someone between him and the source of the information, Mickelson wasn't brought to trial. This despite the fact he said he would plead the fifth so as not to incriminate himself if he was called to testify against Walters. Having money must be nice.
Tiger Woods didn't keep it in his pants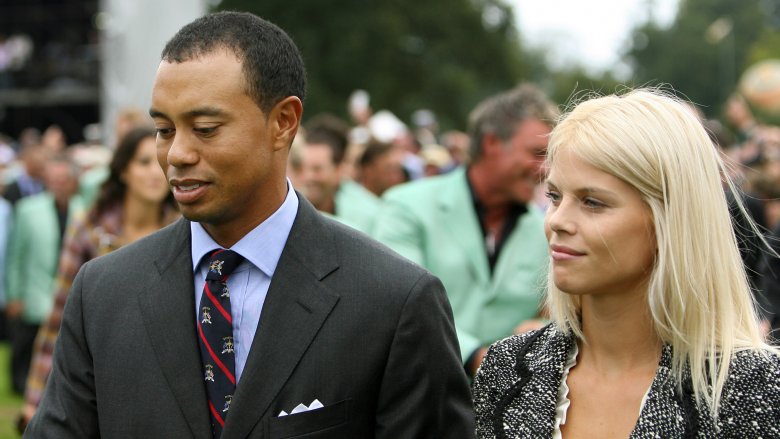 Getty Images
At 2:30 a.m. on November 27, 2009, a disoriented Tiger Woods crashed his fancy car into a fire hydrant outside his house. The official line, according to the Orlando Sentinel, was that Woods, who has trouble sleeping, was on his way to work out and was not fleeing the family home after wife Elin had just found out he'd been cheating on her. The public was also supposed to believe that Elin had smashed the window of the Escalade with a golf club to free him after the crash, and not in anger. Weird then, if that was her intention, that she broke in the back window.
After the crash, Woods' life fell apart. Women ran to the media to share their stories of having affairs with the most famous golfer in the world. They just kept coming. Vanity Fair says they included waitresses, nightclub hostesses, escorts, a lingerie model, and adult film stars. The seemingly perfect father of two was living quite the double life.
ABC News reports that sponsors abandoned Woods and "his standing with fans fell quickly." To do damage control, he gave a 13-minute statement — his wife did not attend — to say he had screwed up. He described his behavior as "selfish," "entitled," and "irresponsible." He announced he was going into sex rehab.
While sponsors and fans eventually mostly forgave him, his wife divorced him, and his golf game still hasn't recovered.
Dustin Johnson lives like a rock star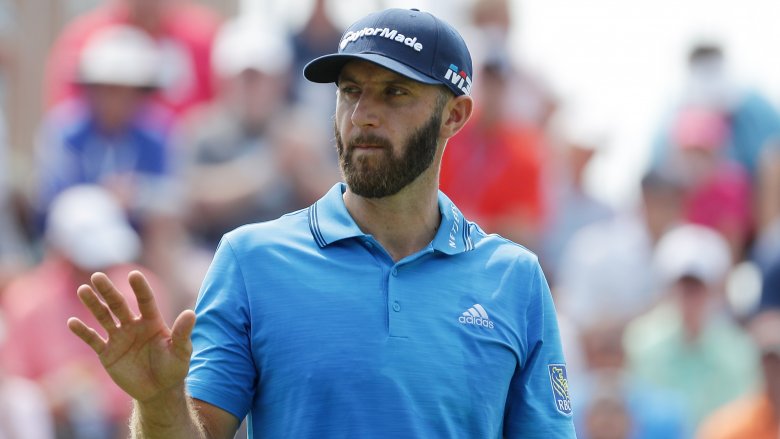 Getty Images
In 2018, Dustin Johnson was the top-ranked golfer in the world, but only a few years previously he was trying very hard to throw it all away. This is perhaps not surprising, since Johnson, while he may be very good at golf, is said to have "a bag of cement for a brain" and was once described as being "so dense [that] light bends around him," according to the Telegraph.
Maybe that's why he thought it would be a good idea to get high, despite knowing he would be tested for using illegal substances. Johnson failed three drug tests in five years, once for marijuana and twice for cocaine. This resulted in his basically being kicked off the tour for a while in 2014.
And while no one in golf will probably ever come close to being the cheating Lothario that Tiger Woods was, Johnson has allegedly given it a good go. Not in terms of the sheer number of women cheated with — that would be a Herculean task — but in the choice of women whose uglies he supposedly chose to bump. Woods at least went far afield to find his conquests, Johnson is said to keep it very close to home. The rumors are that he has slept with the wives of at least two of his fellow golfers, colleagues that he actually plays against. One of the marriages didn't survive. This despite having a perfectly lovely fiancé and mother of his two children, Paulina Gretzky, daughter of the hockey great Wayne.
Jane Blalock ruined her legacy for a better lie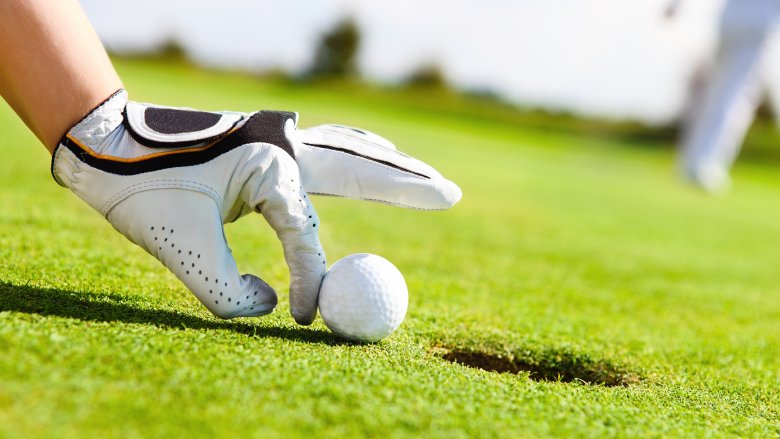 Shutterstock
Golf has an absurd amount of complex and technical rules. You need a bunch of people well-versed in the thick bylaws at every tournament, and they get called in to make decisions on the tiniest little things. It isn't hard to accidentally break the rules, but for professional golfers, intentionally cheating is the worst thing you can do. And women are just as capable of being unethical as men. None more so than Jane Blalock, an extremely talented player who instead of being remembered as a legend of the game is now synonymous with cheating.
According to a Sports Illustrated article from 1972, Blalock cheated basically from the beginning of her career. By 26 she was the leading money-earner on the women's tour but had already been disciplined for infractions on the course. The LPGA had called her in for more than one serious meeting, telling her she had been under suspicion for a year and that there were witnesses who'd seen her move her ball on numerous occasions. They finally suspended Blalock for one year and fined her $500, but she turned around and sued for $5 million.
Her reputation was ruined. Her colleagues on the tour wanted to "plow her under" and see her ruined. They snubbed Blalock and her family and pressured her friends to ignore her. When she returned to tournament play, one fellow player said, "I wouldn't have the nerve to show my face around here. I'd be in South America."
John Daly acts like he hates money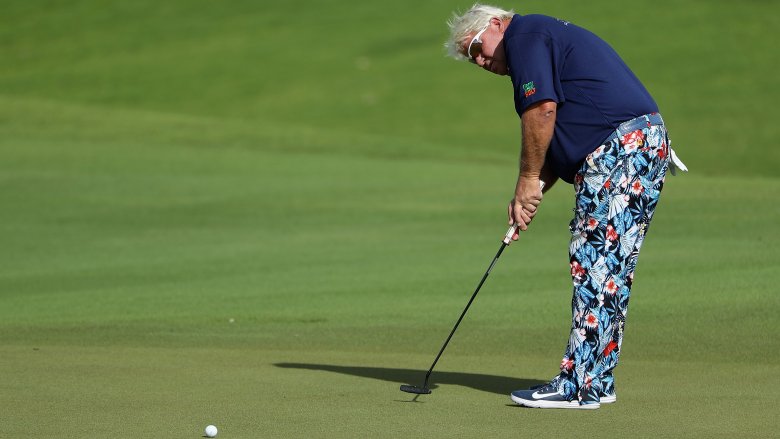 Getty Images
Happy Gilmore was not realistic to anyone who actually followed golf. There was no way Adam Sandler's fictional antics could shock fans who were already intimately familiar with John Daly. You couldn't miss Daly on the golf course: He was the big man in the ridiculously flamboyant outfit, playing very well. But off-duty he was known for his hard-living lifestyle, his excessive drinking, four divorces, and above all, gambling.
Daly was good enough to win obscene amounts of money playing, and he didn't mind losing it gambling. But the numbers are truly staggering. Before he sat down to write his 2006 autobiography, SB Nation says Daly thought he might have "only" lost about $20 million to $25 million. Then he went through his tax records and discovered it was more than double that, in the $55 million range. It was such a huge part of his life he dedicated a whole chapter of the book to the history of his addiction.
Perhaps the saddest story was when he won $750,000 at a tournament, then went straight to Las Vegas and lost $1.65 million in five hours. But USA Today reports that even when he won at the table he didn't always manage to hold on to it. He once had an argument with his fourth wife about his gambling, and he had actually won that night — $65,000. But because he was mad at her he made the totally logical decision to throw it off a bridge.
Lucas Glover was the victim of spousal abuse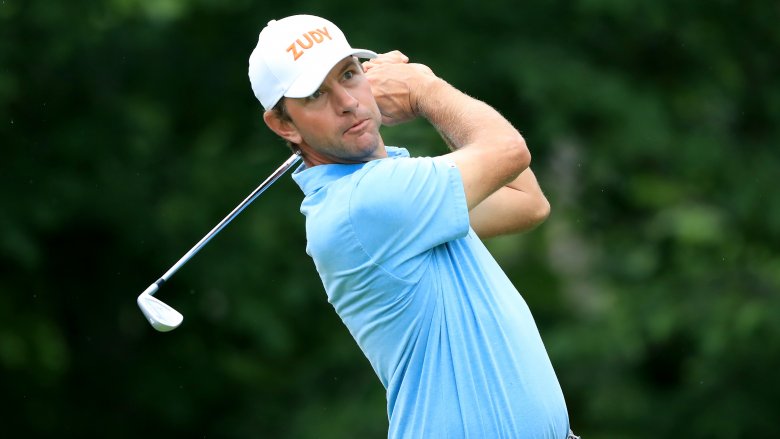 Getty Images
Golfers, like all professional athletes, are under a huge amount of pressure to perform. But even the best are going to have good days and bad. You would hope that their spouse would be there as a supportive shoulder to cry on if things fall apart, and that they won't descend to actual physical abuse just because the golfer didn't play well. Lucas Glover was not so lucky.
According to USA Today, in May 2018, Glover participated in the Player's Championship in Florida but fell apart and didn't make the cut. After he returned home his wife, Krista, started a fight with him over his performance, which, according to what Glover told police, was typical if he didn't play to her exacting standards. She cursed at him and called him a loser, all bad enough on its own, but she did it right in front of their children.
Glover's mother was there, too, and tried to intervene, which is when things got violent. Krista attacked them both. Police reports say mother and son had "multiple lacerations" on their arms and Krista even drew blood. When the cops got there, Glover initially said he wanted to press charges, but changed his mind when he saw his wife being put in a squad car and tried to claim he got the injuries from something else. In a statement, he called the abuse an "unfortunate situation" and that he hoped Krista would be "cleared." It's unclear what's happened since then.
Greg Norman took breaking up to the next level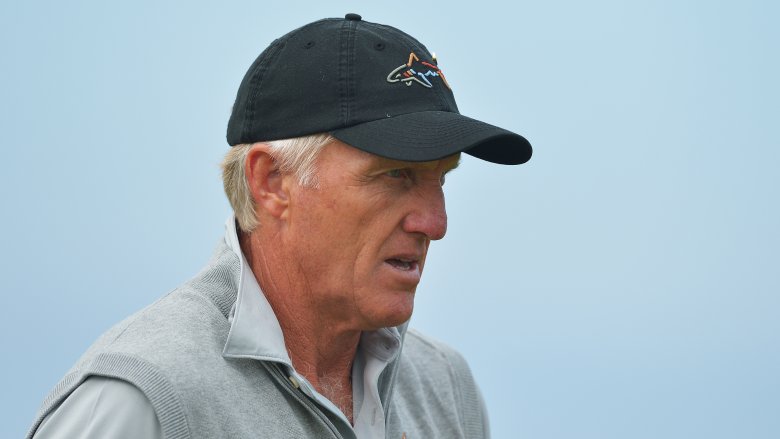 Getty Images
Divorces are never pretty, but it's possible to remain civil, even when you add fame and ridiculous amounts of money into the mix. Not so with Greg Norman, known to fans as the Great White Shark, who went through the messiest divorce golf had ever seen in 2006.
Norman's first wife, Laura Andrassy, sure didn't think he was very great when she found out he'd been cheating on her. And according to the Herald Sun, it wasn't just with any rando, but with the couple's very close friend, tennis star Chris Evert. The Normans were close enough with Evert and her husband that they went on a vacation together, which is when the affair started.
When Andrassy found out, she left Norman and fought for her share of the 11th-richest Australian's $500 million fortune. The Telegraph says his lawyers argued she didn't deserve much because she "didn't teach [Norman] to swing a golf club" and that he had basically been the one who raised their two children. But after a year, she was awarded $100 million. Still the drama didn't end. Andrassy claimed Norman was dragging his feet on paying her to make her would settle for less money, that he had changed the locks and cut off her credit cards. Norman countered by saying she was "exceedingly well-funded."
But breaking up two marriages and losing a huge chunk of his fortune must have seemed worth it when Norman married Evert -– only to divorce her 15 months later.
The 1999 U.S. Ryder Cup team (and fans) acted like animals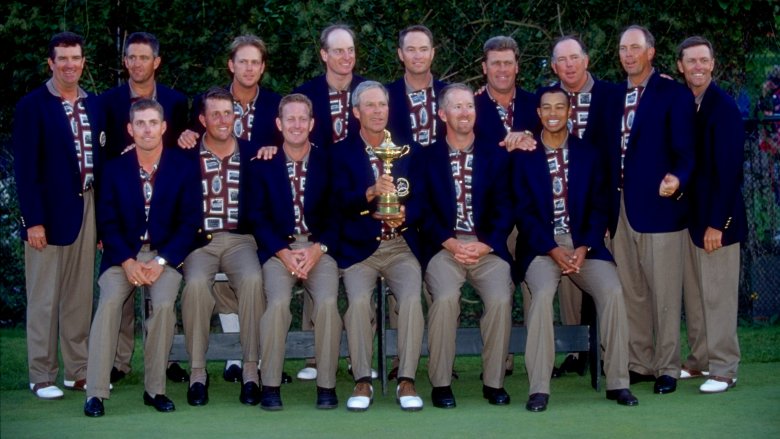 Getty Images
The Ryder Cup is one of the most prestigious tournaments in golf. Held every two years, it pits a team from the USA against a team of Europeans. It's a huge honor to be selected to play, which makes what happened at the 1999 Ryder Cup in Boston all the more shameful. Sam Torrance, the vice captain of the European team that year, called it "the most disgraceful and disgusting day in the history of professional golf," and the BBC called it "a date that will live in infamy."
According to The Guardian, it was all the fault of the U.S. team and their fans. The spectators "behaved like animals," and the American players acted like "madmen." The U.S. was losing badly going into the last day but then started a great comeback. The players got excited and began whipping the beer-guzzling fans up into a mob. Eventually, the normally staid fans were louder than a soccer match, and hurling abuse at European players. Then a fan spat on one of the European players' wives.
But the worst, in golf terms, was what happened near the end of the match. An American player sank a putt that pretty much guaranteed their team the win, but a European player still had to take his putt. Normally, any celebrating would wait until after everyone was finished, but the Americans went insane. It would be seven minutes before it was quiet enough for the European to putt. Shame!
Roberto De Vicenzo's distraction lost him the green jacket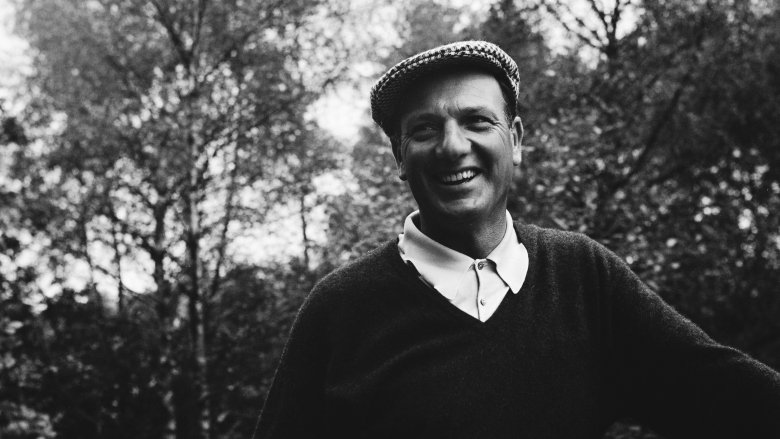 Getty Images
The official score in golf tournaments isn't kept the way it is in most sports. You play the whole course with another player, and it's that person's job to record what you get on each hole on your scorecard. But it's your job to make sure they don't write down any incorrect information. You sign off on your own card, making that score official. Still, mistakes can happen, and never worse than when one lost Roberto De Vicenzo the 1968 Masters.
According to Golf Digest, it was the last day of the tournament, and De Vicenzo was in the race to win the green jacket. He birdied the 17th hole, but then he bogeyed the 18th. He was distraught. He thought that final hole had lost him the Masters. His partner Tommy Aaron quickly wrote down the scores for the final two holes on De Vicenzo's card but wrote a par on 17 by accident. De Vicenzo was still thinking about that bogey and didn't check the card. Meanwhile, Aaron was checking his own "seven or eight times." De Vicenzo was suddenly called to the press room, signed the card quickly, and walked away. Aaron picked it up to turn in and saw his mistake. He immediately alerted the officials, but they decided it was too late — De Vicenzo would be credited with the extra stroke. He ended up one stroke behind the winner. Amazingly, he took the loss extremely well, blaming himself completely: "What a stupid I am."
Casey Martin's lawsuit made it to the Supreme Court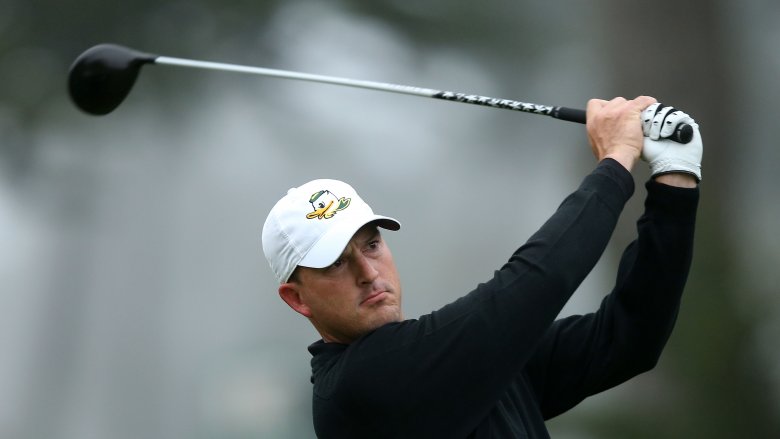 Getty Images
Golfers can be pretty sensitive about their sport being, well, a sport. Not every game is sporting, after all. Golf wasn't added to the Olympics until 2016, and the fact that it's known as little more than "a good walk spoiled" doesn't help matters. Some chess players probably have the same heart rate mid-match that golfers do. So golfers passionately tried to hold onto the one part of the game that was at all sporty: the bit where you walk around.
Sure, amateur golfers who play for weekend fun take carts all the time, but when it came to participating in professional tournaments, you had to do the legwork yourself — until 2001, anyway, according to Time. Casey Martin was very good at all the other aspects of golf, but because of circulatory disorder walking was very painful for him. He sued for a change to the PGA bylaws that would allow him to use a cart between holes. Golfers were divided on if he deserved the accommodation, with greats like Jack Nicklaus and Arnold Palmer saying the ability to walk the course was an essential part of golfing. The case made it all the way to the Supreme Court.
A 7-2 decision came down on Martin's side. The majority pointed out that walking is meant to fatigue the players, but since Martin was already naturally fatigued it was an even playing field and covered under the Americans with Disabilities Act.