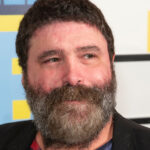 Details You Never Knew About Mick Foley
echo get_the_meta(); ?>
During his heyday, WWE Hall of Famer Mick Foley was not your average pro wrestler. While most top talents had chiseled physiques straight out of "Muscle & Fitness," he had a dad bod well before dad bods became a thing. His unorthodox in-ring style also stood out — as Cactus Jack, he was among the leading proponents of hardcore wrestling. And while there were doubts whether he would be a good fit for the WWE, he was an instant success as the boiler room-dwelling weirdo Mankind. We also shouldn't forget his third alter-ego, Dude Love, who was everything the hardcore badass Cactus Jack and the deranged Mankind weren't — a goofy hippie who awkwardly danced to the ring while accompanied by his Bee Gees pastiche of an entrance theme.
Thanks in no small part to those weapon-heavy hardcore matches, death-defying stunts, and entertaining gimmicks, Foley remains beloved by wrestling fans to this day. Many of his in-ring exploits, including the time he lost most of his ear during a 1994 WCW match and the moment when The Undertaker threw him off the titular steel cage during their 1998 Hell in a Cell match, are common knowledge to many of his devotees. The same can be said about the fact he was a high school wrestling teammate of future Hollywood actor Kevin James, as documented by Cultaholic. Today, however, we shall be looking at certain facts about Foley's personal life and career that don't get as much attention as they should.
Foley used various names as a late '80s WWE jobber
For every up-and-coming wrestler, getting exposure in a major promotion like WWE is an achievement in and of itself. However, there's a difference between being a contracted WWE Superstar and being one of those "local talents" who lose to the big names in mere minutes. Like many others who came before and after him, Mick Foley was part of that latter category as a relative newcomer to the wrestling business.
On the September 13, 1986, episode of "Superstars," Foley, then only 21, made his first appearance on WWE television, but he wasn't booked as Mankind, Cactus Jack, Dude Love, or even his real name — instead, he went by his father's name, Jack Foley. As recalled by WrestleTalk, Foley and fellow jobber Les Thornton were dominated by the British Bulldogs, with the future WWE Champion suffering a dislocated jaw after getting hit with a stiff clothesline. 
That wasn't the only time the young Mick Foley showed up on WWE television as a nondescript jobber. He lost to the kayfabe Ugandan giant Kamala on the January 26, 1987, episode of "Wrestling Challenge" (via YouTube), but that time, he was identified on-screen as "Nick" Foley. Stranger yet was how the ring announcer referred to him as "Nick Faley," though if you come to think of it, no one's expected to remember your name when your job description involves lying flat on your back and counting the arena lights.
Vince McMahon originally didn't want Foley in the WWE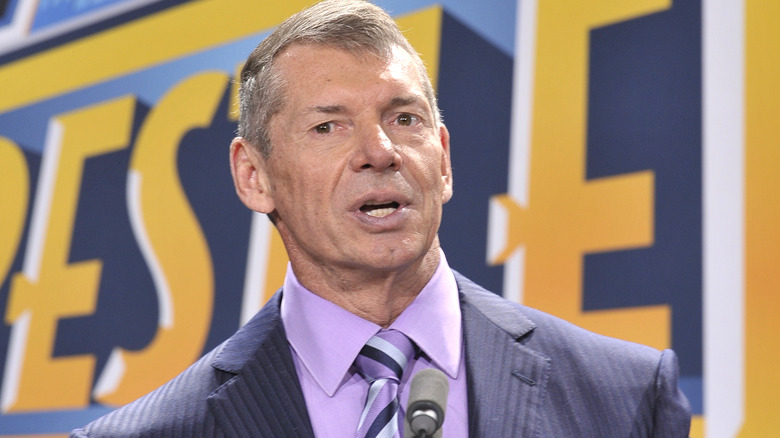 Michael N. Todaro/Getty Images
Any longtime wrestling fan will tell you that WWE chairman Vince McMahon has a type — he's a fan of musclebound, larger-than-life characters like Hulk Hogan, The Ultimate Warrior, Brock Lesnar, and John Cena. And while Mick Foley is definitely not a small man, he also isn't — and never was — the type to be confused with a Greek god. That might have been one of the reasons why McMahon was apparently reluctant to sign him to a full-time contract in the mid-'90s.
"I have it on good faith that Mr. McMahon wasn't a fan of mine, at all, and I think the direct quote was, 'Cactus Jack will never step foot inside a WWE ring.' So as Mick Foley, I stepped inside as Mankind, and even then, it was just a concession to Jim Ross," Foley revealed on the "Inside the Ropes" podcast, as quoted by 411 Mania. He added that it was Ross, the future Hall of Fame announcer, who kept bringing up his name to McMahon until the WWE boss was finally convinced in late 1995 that he was worth signing. There was also one big catch — McMahon wanted Foley to "[cover] up his face."
Wearing a mask was one thing, but as WhatCulture reported, McMahon also had his own ideas for Foley's new ring name. Thankfully, common sense prevailed, and Foley made his official WWE debut in 1996 as Mankind — and not as "Mason the Mutilator."
He nearly quit the WWE over the Montreal Screwjob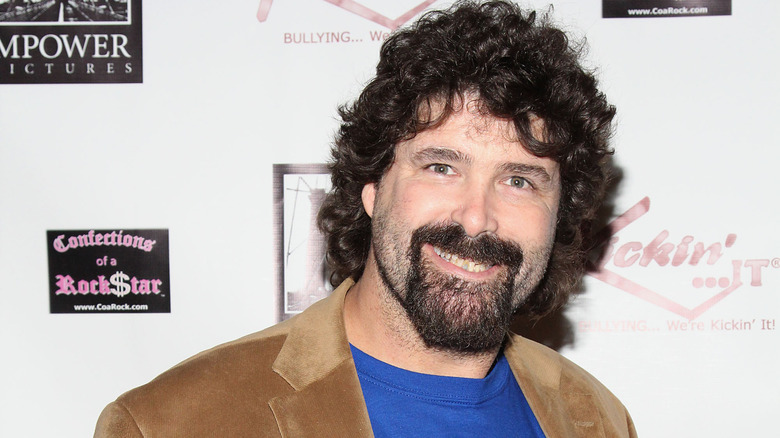 Rob Kim/Getty Images
The Montreal Screwjob was the culmination of a long-running, real-life feud between top WWE stars Bret Hart and Shawn Michaels. Vince McMahon and other WWE officials arguably had their hearts in the right place, but the underhanded way in which they ensured Hart wouldn't leave the company as WWE Champion after the 1997 Survivor Series didn't sit well with many wrestlers, including Mick Foley. But while these wrestlers mostly didn't make good on their threat to boycott the "Monday Night Raw" after the event, Foley was a man of his word and pushed forward with his silent protest.
Speaking to ESPN in 2016, Foley admitted that he was considering walking away from WWE altogether because he was so upset over the Montreal Screwjob; he said that if only he had access to a car at that time, he would have immediately driven back home to the U.S. But since he was forced to stay in his hotel room in Montreal, he had time to think things over and get some much-needed advice from his loved ones. "My wife pointed out that there was something in my contract that said I would be breaching my contract and couldn't work anywhere in the world for the next five years if I just sat home," Foley revealed. "I came back and I was embraced, and it was never held against me — as a matter of fact, I think Mr. McMahon respected it."
Foley had an unusual real-life feud with this wrestling legend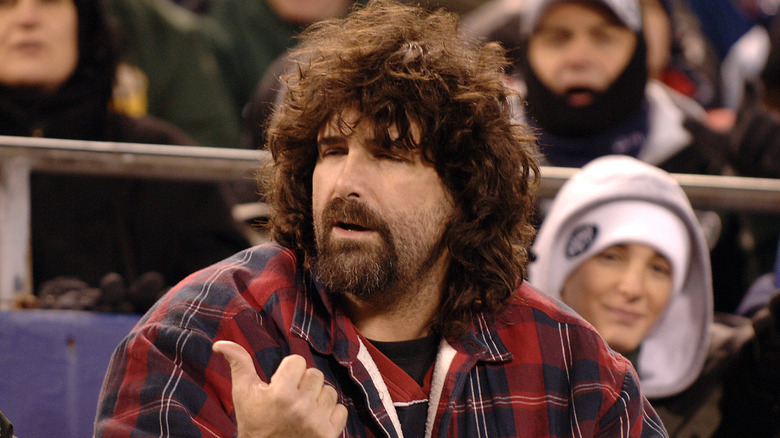 Al Pereira/Getty Images
As far as legitimate, non-scripted feuds between wrestlers are concerned, the one between Mick Foley and Ric Flair may be among the strangest of them all. That's because the two future Hall of Famers' real-life rivalry didn't start on-screen or as a result of an off-camera altercation; instead, it started on the pages of their respective memoirs.
As explained by Pro Wrestling Stories, Foley drew proverbial first blood in his 1999 autobiography, "Have a Nice Day," where he mentioned that Flair "was every bit as bad on the booking side of things as he was great on the wrestling side of it" back when he was serving as World Championship Wrestling's head booker in the early '90s. Flair claimed that he wasn't aware of those comments, but when he released his memoir, "To Be the Man," in 2004, it was clear that the Nature Boy was not a fan of Foley's penchant for hardcore wrestling, as he referred to him as a "glorified stuntman" while repeatedly disparaging the dangerous moves he performed in the ring.
Eventually, things came to a head between the two future Hall of Famers, who nearly duked it out backstage during a December 2004 "Monday Night Raw" taping and used their real-life animosity to inform their on-air rivalry ahead of the Vengeance pay-per-view in 2006. They did, however, bury the hatchet shortly thereafter, and remain in good terms with each other to this day.
His older children joined him in the wrestling business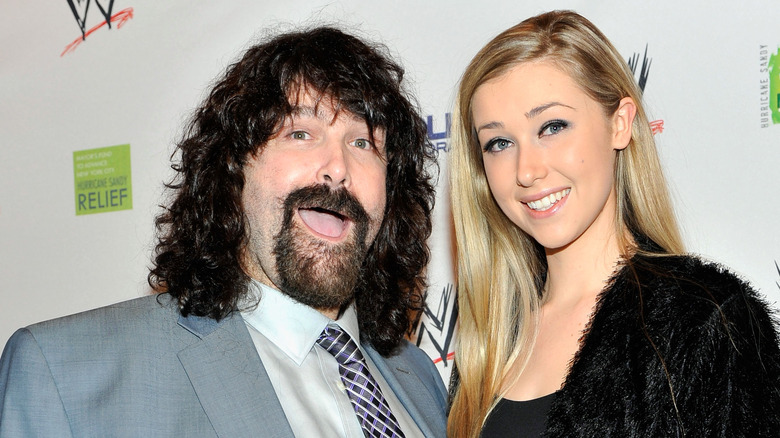 Michael N. Todaro/Getty Images
The wrestling industry has no shortage of next-generation talents who entered the world of sports entertainment to forge their own legacy. One needs to look no further than the current WWE roster, which features the likes of Randy Orton, Charlotte Flair, and Bray Wyatt (the son of Mike "IRS" Rotunda), or rival company AEW, where brothers Cody and Dustin Rhodes (formerly Goldust in WWE) are among the promotion's most recognizable stars. As for Mick Foley, his two oldest children did follow in his footsteps by entering the wrestling business, though neither of them are currently involved in any in-ring work.
According to Ringside News, Dewey Foley was hired by WWE in 2015 as part of its creative team and would later appear onscreen with The New Day as "Mr. Bootyworth," as seen in this YouTube clip — that's him in the black outfit, holding the pancake mix. He has, however, risen through the ranks since joining WWE, and as of last year, he was among the "key creative forces" behind the company's cruiserweight-centric program "205 Live."
Unfortunately, Mick's only daughter, Noelle Foley (pictured above with her dad), hasn't had the same kind of good fortune in the business. She started training for an in-ring career in 2016 but eventually put her plans on hold due to injuries. As reported by Wrestling Inc., Noelle recently revealed that she was diagnosed earlier this year with hyperacusis — a rare hearing disorder distinguished by a low tolerance to everyday sounds — and that the condition might have originated from a concussion she sustained in 2019.