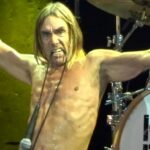 Strange Stories Behind Popular Bands
echo get_the_meta(); ?>
When we become fans of a band, we aren't always content with enjoying their work on its own merits. Many of us want to curl up with the artists' thoughts and experiences as we would with a good book. We want to explore the chapters, paragraphs, and footnotes that underlie their existence as we know it. Perhaps most of all, we want to steep ourselves in the weird and wild moments they've witnessed and instigated on their journey to stardom and beyond.
Part of our fascination is rooted not in the band itself, but in the intriguing — if treacherous — nature of fame. Being a celebrity isn't simply being well-known; it means living in a world where success and excess often go hand in hand and laws almost seem optional. Combine that with the mental risk-taking of being creative for a living and the madcap randomness of life in general, and you get some ridiculous and outlandish incidents.
All in all it's just another pig on the farm
Pink Floyd famously tore down a brick wall, but they were brilliant builders. Per the Rock and Roll Hall of Fame, they were the "architects of two major music movements — psychedelic space-rock and blues-based progressive rock." The band's otherworldly albums explored the dark side of the Moon and the dark side of mankind. And their 1977 album Animals showed humanity in a scathing light. Described by Guitar World as a "bitter masterpiece," Animals was a musical skewering of British society that used pigs, dogs, and sheep to represent detested political figures, insidious businessmen, and the ill-fated complacency of the masses. In addition to being an iconic work, it led to an epic sequence in which a floating pig sowed havoc across London's skies.
Bassist and singer-songwriter Roger Waters — the album's main architect — had the idea to the photograph an inflatable pig hovering between the smokestacks of London's Battersea Power Station for the album cover. When it came time to photograph the animal — a 40-foot long behemoth dubbed Algie — all pork broke loose. As album cover creator Aubrey Powell recalled, the chain tethering Algie snapped, and the pig floated about 20,000 feet into the air. Airport flights were grounded, the Royal Air Force searched for Algie, and a pilot who reported seeing a flying pig was purportedly forced to take a breathalyzer test. Fittingly, the pig flew to a farm, where its brief brush with freedom ended.
The voodoo child got kidnapped after Woodstock
Jimi Hendrix set the world and his guitar on fire as frontman of the Jimi Hendrix Experience. But the avant-garde guitarist gave his greatest live performance while part of Gypsy Sun and Rainbows. Formed shortly after the Experience split in 1969, Gypsy Sun and Rainbows appeared at Woodstock. There Hendrix played a breathtaking rendition of The Star Spangled Banner that some have called "the defining moment of the 1960s," per The Essential Jimi Hendrix. The following month Hendrix was abducted for roughly two days, and inexplicably, nobody told the police.
According to Rolling Stone, people close to Hendrix claimed the Mafia nabbed him over a recording deal dispute. However, Mafia point man and infamous cocaine trafficker Jon Roberts — who was accused of assisting in the kidnapping — insisted that he helped rescue Hendrix from two "wiseguy wannabes." Supposedly, these "morons" — as Roberts called them — lured and abducted Hendrix after spotting him at a Mafia-run club trying to score drugs. They demanded an unspecified ransom from Hendrix's manager but released the musician after being threatened by genuine gangsters.
Some who knew Hendrix said he suspected his manager, Michael Jeffery, staged the abduction as a threat or power play amid disagreements over Hendrix's career path. Buddy Miles, who performed in Hendrix's trio, Band of Gypsys, accused Jeffery of drugging Hendrix with LSD in a scheme to ruin the group and "bring about the return of the Experience lineup."
L.A. women's room
Enigmatic Doors frontman Jim Morrison would no doubt be remembered as a legend no matter how he died. But the suspicious circumstances surrounding his death added an extra layer of mystery to his mystique. Morrison's lifeless body was discovered in a bathtub on July 3, 1971, but his untimely demise went unconfirmed for nearly a week, and no autopsy was conducted. Afterward conspiracy theories swirled about Morrison faking his death, the CIA covering it up, and Morrison accidentally overdosing on drugs. But there's also an eerie component to the singer's death, specifically with regard to his last Doors album, L.A. Woman.
In a weird bit of foreshadowing, Morrison recorded the vocals for L.A. Woman in a bathroom. As Rolling Stone described, the Doors declined making the album in a high-end studio, opting instead to record it in their "cramped" and cluttered Santa Monica Boulevard "workshop," where they'd often rehearsed. Morrison tore the door off the bathroom and recorded his bits in there. The last lines the singer ever recorded for the Doors appeared in the song "Riders on the Storm." The song, whose lyrics were partly informed by Morrion's screenplay about real-life spree killer Billy Cook, entered the Billboard charts on the exact same day that Morrison died.
Man-beater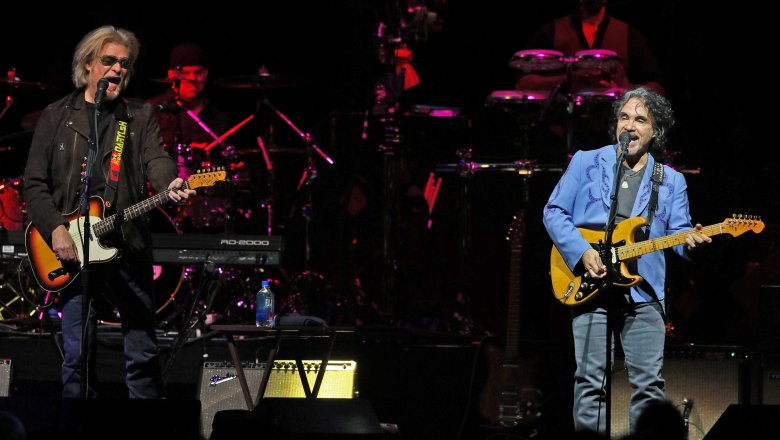 Adam Bettcher/Getty Images
Hall and Oates sound like part of a complete breakfast — so much so that Early Bird Foods & Co. actually named a breakfast cereal "Haulin' Oats," prompting the musicians to sue. But long before that tasty-sounding trademark battle, Daryl Hall and John Oates produced tons of scrumptious music. Since releasing their debut album — the also cereal-sounding Whole Oats — they've crafted numerous classics, including the head-boppingly sweet "You Make My Dreams" and their dire warning about romantic cannibals, "Maneater." Their soulful brand of pop rock was so popular that in 1984 the Recording Industry Association of America dubbed them "the most successful duo in rock history," per the Rock and Roll Hall of Fame.
When Hall and Oates first met in 1967, they couldn't concern themselves with cereal puns because they were busy getting away from knife-wielding high schoolers. As Hall recalled, he was "17 or 18 [and] had a doo-wop street-corner group called the Temptones." Oates belonged to an R&B band called the Masters. Both groups were slated to perform at a Philadelphia venue when "a fight broke out between rival high school fraternities — which really were just gangs with Greek letters," according to Hall. The frats attacked each other with chains and knives. Hall also heard gunshots. He and Oates headed for the exit and met in the process.
From counterfeit Cobain to bona fide psycho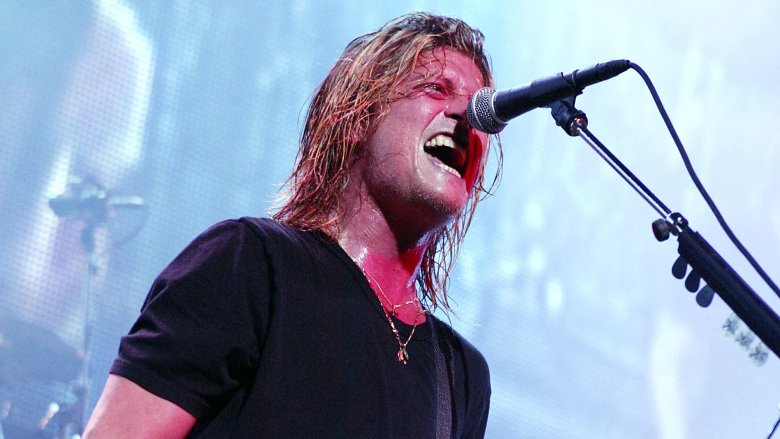 Kevin Winter/Getty Images
When it comes to post-grunge, it doesn't get much grunge-ier than Puddle of Mudd. Not only is the band named after wet dirt, but frontman Wes Scantlin has been compared to grunge icon Kurt Cobain. That's not as positive as it sounds. Critics bristled at Scantlin's Cobain-isms, like when Variety chided him for mimicking the Nirvana singer's "vocal style and mannerisms" on stage. Puddle of Mudd's hugely popular single "She Hates Me" has been described as "Nirvana-esque." And then there's "Psycho," which has a music video that features people wearing varsity jackets — well-known symbols of teen spirit — and lyrics that reference "a loaded gun."
As time went on, Scantlin became less reminiscent of Kurt Cobain and began to genuinely resemble the kind of psycho he sang about. One of the most glaring examples of his unhinged behavior was his buzz saw attack on a neighbor's patio. That neighbor was electro-pop musician Sasha Gradiva, who claimed (Scantlin's borderline chainsaw murderer behavior stemmed from a long-running feud. She alleged that he envied the view from her patio and lashed out in "creative" ways, including blocking her view with gigantic flags and a tent. Scantlin's outrageous behavior affected multiple neighbors in 2016 when he rigged his car to look like an improvised bomb. He wanted to scare away would-be thieves but ended up attracting the bomb squad, which forced nearby residents to evacuate.
Why brown M&Ms made Van Halen see red
Before Van Halen was hot for teacher they were the hottest teachers in music. Trained pianist and self-taught guitarist Eddie Van Halen reinvented the electric guitar, making the instrument mimic animal sounds and wailing away so fast you'd swear he was playing a stringed machine gun. Meanwhile, on-again, off-again vocalist David Lee Roth was the ultimate showman, engaging in "irony-drenched antics" that "were copied by singers who took everything literally," according to All Music. Their unmatched tandem of excellence and success could go to anyone's head. And that's precisely what it seemed like when Van Halen demanded that concert promoters provide bowls of M&Ms with "absolutely no brown ones."
But this wasn't a hollow request. Per Business Insider, Van Halen stipulated that promoters "would forfeit the entire show at full price" if the band found brown M&Ms backstage. To show they meant business, David Lee Roth even trashed dressing rooms. It sounds like the height of oddball tyranny and celebrity egotism, and you can almost hear Van Halen singing, "Jump!" before a promoter meekly asks, "How high?" But as Roth explained, the outlandish demand was a precautionary measure. Van Halen's shows incorporated sophisticated lighting and stage setups that could be dangerous or disastrous if not handled meticulously. Finding brown M&Ms was a telltale sign that promoters didn't read the technical specifications in the contract rider.
Songs in the Key of pee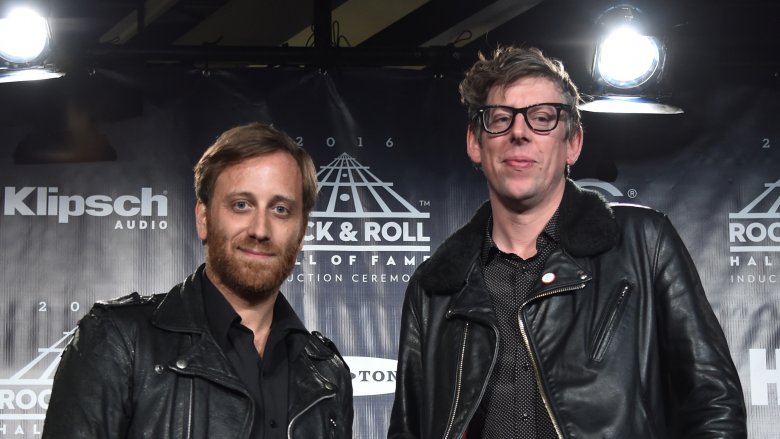 Mike Coppola/Getty Images
Blues rock duo the Black Keys have some very impressive feathers in their musical cap. This simple yet sensational pairing of guitarist and vocalist Dan Auerbach and drummer Patrick Carney has racked up 10 Grammy nominations and won four times as of this writing. Their 2019 hit "Lo/Hi" made Billboard history as the first song to top all four rock airplay charts at once. Along with success they've had some surreal experiences. One of those experiences occurred on the literal road to prosperity.
As the duo recounted to NPR, they used to travel to concerts in a pee-scented minivan because of Santa Claus. After a gig in Seattle, they were paid $500, which was valuable gas money for their ongoing tour. Carney guarded the money in the minivan and went to sleep while Auerbach went to a party. Carney was rudely awakened by his loaded bladder but didn't dare exit the minivan after peering through the window and seeing "like, 30 guys in Santa Claus outfits." Terrified, he relieved himself in a cup, and that cup relieved itself in the vehicle. A weird experience also inspired the Black Keys' name. The duo's dads knew a remarkable artist named Alfred McMoore. McMoore had schizophrenia and left up to 30 voicemails daily wherein he sometimes called people "a black key."
I now pronounce you sis or wife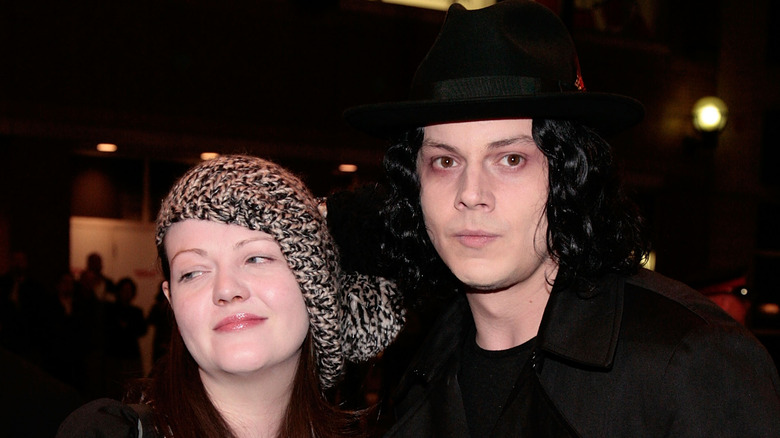 Malcolm Taylor/Getty Images
Nowadays people know Jack White as the solo blues rock musician who got into a war of words with the Black Keys and allegedly wanted to beat the Keys' drummer black and blue. But before becoming a one-man army White played "Seven Nation Army" alongside drummer Meg White, his other half in the White Stripes. Jack and Meg were a one-two punch of talent that gained Grammys and international acclaim. Formed in 1997, the White Stripes sported jet-black hair, wore matching attire, and were vampire-pale. According to Time, "by the time Rolling Stone declared them one of 2001's 'Next Big Things,'" Jack and Meg were presenting themselves to the press as brother and sister. And that's where the story falls down a rabbit hole.
While the White Stripes' music was the real deal, their backstory was anything but. Far from brother and sister, Jack and Meg became man and wife in 1996 and divorced in 2000. They were basically the opposite of Jaime and Cersei — lovers who insisted they were siblings instead of siblings who insisted they weren't lovers. But why in the sister-kissing hell did they do it? In 2005, Jack told Rolling Stone that people would "care more about the music than the relationship" when presented with a brother-sister act. With spouses, people might assume "they're trying to save their relationship by being in a band."
The evolution of devolution
A creative mind can find artistic inspiration in the darnedest places. Marcel Duchamp's revolutionary work of anti-art, "Fountain," was just a porcelain urinal rotated 90 degrees. And Frank Zappa found musicality in running a violin bow across a bicycle wheel and wrote instrumentally complex songs about dental floss and yellow snow. And the band Devo, known for whipping it good and wearing energy dome hats, formed in response to the Kent State shooting.
The shooting lasted just 13 seconds, according to History. Students at Kent State University in Ohio had been waging antiwar protests for days after President Nixon — who had largely won his White House bid with a dishonest promise to dial down U.S involvement in the Vietnam War — revealed that he unlawfully expanded the conflict into Cambodia. On May 4, 1970, Ohio National Guardsmen deployed to the Kent State campus opened fire, killing four students. Among them were Allison Krause and Jeffrey Miller, both of whom were friends of Devo cofounder Gerald Casale.
At the time Casale was an art student who had a rather bleak perception of society, per Vice. He had already jokingly coined the term "devolution" and its abbreviated form "devo" to describe what he considered America's backward path. However, the Kent State shooting created a sense of urgency. So Casale and four other people formed Devo, which adopted Dadaist absurdity "and other Interwar art movements to create bizarro, disconcerting," and subversive depictions of society.
Splash into me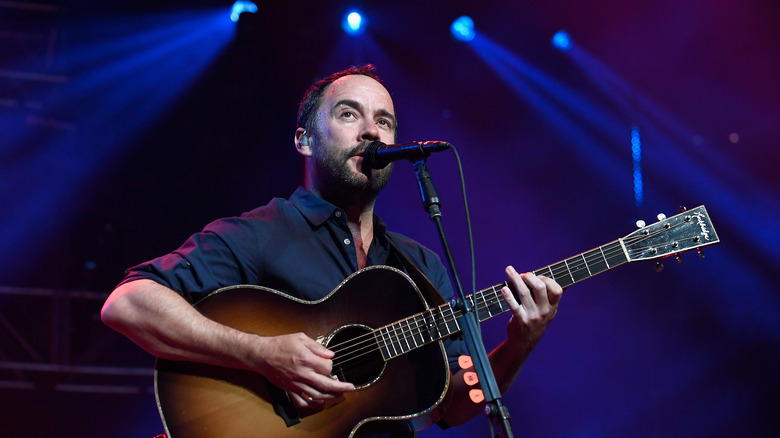 Frazer Harrison/Getty Images
The Dave Matthews Band has had their share of smash hits, including their Grammy Award-winning "So Much To Say" — not to be confused with "What Would You Say." Their smash hit "Crash Into Me" would actually make the perfect theme song for this tale, which involves a collision of sorts. It happened in 2004. That February, Dave Matthews won a Grammy for his solo hit "Gravedigger"; that summer his luck went up a fecal creek. Technically, it was a river: the Chicago River.
While flying to the Windy City for a tour stop, the band's eponymous frontman learned that a tour bus "dumped 800 pounds of human waste into the Chicago River" and onto a tour boat carrying more than 100 sightseers. Matthews said he laughed at the news, completely unaware that the bus belonged to his band. Court records revealed that the bus was en route to picking up a band member when the driver stopped at a bridge and unloaded the liquid icky. It landed on the deck of the boat, making it a literal poop deck and splashing horrified passengers. The Chicago Tribune reported that the illegal dumper was "a longtime driver for the band's fiddle player Boyd Tinsley." As a mea culpa, the band paid $100,000 to Chicago-based organizations and agreed to pay $200,000 to an environmental fund as part of an out-of-court settlement.
I wanna drug your dog
Led by the legendary Iggy Pop, the Stooges were pioneers of punk and patron saints of drug-fueled decadence during their original run in the 1960s and '70s. Iggy "stomped and writhed onstage like he'd just swallowed a live snake," per Pitchfork. His bare "chest got smeared with peanut butter" and punctured by glass shards. Even something as mundane as liking dogs became insane. He wore dog collars, and the Stooges had a 1969 single called "I Wanna Be Your Dog." Clearly not understanding that dogs shouldn't wanna be him, the drug-obsessed Iggy gave Valium to his girlfriend's dogs, Puppet and Furburger, in 1973. Thankfully, the canines recovered, but not before being rushed to a human hospital and turned away. Afterward Pop insisted that he loved dogs and "[knew] a lot about animals."
Evidently, his animal expertise didn't extend to rock stars disguised as wild apes. In 1973 Elton John pranked the Stooges by storming the stage in a gorilla costume. As usual, Pop was higher than a kite, so he couldn't tell if he was hallucinating or seeing a real gorilla. He later recalled, "I was like, 'Oh my God! What can I do?' I couldn't fight him. I could barely stand." Guitarist James Williamson, who was also unprepared for the hairy surprise, said John came "very close to getting a guitar smashed against him." Luckily, the singer revealed his identity.
Men at Work became men in court because of a quiz show
Formed in Melbourne in 1979, Men at Work were the "highest-paid unsigned band" in Australia before landing their first record deal in 1981, per All Music. In 1982 they made such huge waves in America that the New York Times wondered if they would usher in a period of Aussie dominance that echoed the Beatles' British Invasion. No, but Men at Work's former-British-penal-colony invasion netted them a Grammy, and their international chart-topper "Down Under" "became an unofficial Australian anthem" according to the Sydney Morning Herald.
In 2007 a joke question on the music quiz show Spicks and Specks turned the Men at Work megahit into a black eye. Contestants were asked what Australian children's song featured in "Down Under." "No one could figure it out, at first," NPR reported. Apparently "Down Under" contained substantial portions of the 1934 song "Kookaburra Sits in the Old Gum Tree." To be clear, the kookaburra song only has four bars, and "Down Under" contains two of them. Nonetheless, after the question aired, the company that owned the rights to the children's song sued for royalties and won. After the lawsuit things took a heartbreaking turn for Men at Work flutist Greg Ham. He had to sell his home and allegedly began drinking and taking heroin. Ham passed away in 2012.