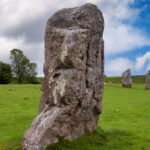 The History Of The Most Sacred Rocks In The World
echo get_the_meta(); ?>
It seems like no matter what problems humankind faces — whether it's the stresses of a 21st-century world or wondering how well your sharpened stick was going to do against all those teeth — there's something that unites us across the history of humanity: The desire to believe in something larger. And it turns out that humankind has been believing in things we can't always see for a long time.
According to the University of Oslo, humans were performing ceremonies of ritual worship 70,000 years ago. University research teams came to the shocking realization when they found evidence of ritualized belief in an area of Botswana's Kalahari Desert called the Tsodilo Hills, which was already well-known as the site of thousands of cave paintings. A little more exploring revealed there's something else there, too: a sacred cave, and a rock that bore a striking resemblance to a python.
The rock, which is 20 feet long and about 6.5 feet tall, has a unique pattern that looks like snakeskin in the daylight and seems to move in flickering firelight. The site was surrounded by over 13,000 artifacts, including a lot of spearheads that seem to have been left as offerings.
The idea of a rock at the heart of sacred ceremonies and worship isn't a strange one, and throughout history, humankind has assigned powerful thoughts, meaning, and prayer to a number of sacred stones. Big or small, their power to inspire is undeniable.
"Everyone thought Tamanowas Rock would be there forever."
The rocks joined in a sacred union