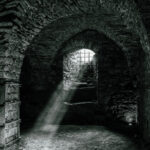 The History Of The Strappado Torture Method
echo get_the_meta(); ?>
Something that can be said about the Middle Ages is that the use of torture was especially popular. It was used to extract information, punish suspects, for personal satisfaction, and more (via Medieval Warfare). The word torture itself stems from the Latin word torquere, meaning to twist. This would make sense, as many medieval torture methods centered on the twisting of limbs and ligaments. Although the use of torture now is taboo and regarded as inhumane, in medieval times, it was deemed legitimate and necessary.
As this was a Christian-based society, any deviation from God was prohibited. That's where the strappado torture method comes in. Used to torture witches, heretics, and more during the Inquisition, the method is simple but just as brutal as any other device or mechanism (via Medieval Chronicles). All that was needed was a pulley, a rope, a beam, or some sort of hook (via Science Source). The result was a horrifying process which resulted in unimaginable pain.
Three variants of strappado torture existed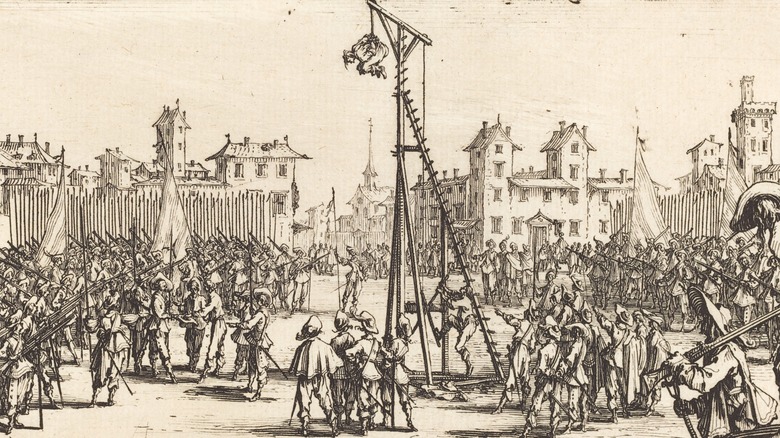 Heritage Images/Getty Images
At its simplest form, strappado torture consisted of the victims hands being tied behind their backs while they were suspended in the air using a pulley (via Medieval Chronicles). In the second variation, the method is nearly the same, except that a series of drops are added (via Medieval Warfare). This intensifies both the pain and the injuries. In the last variation, called squassation, weights are added to the victim's ankles. It caused pain in the arms and possibly damaged the legs and hips as well.
Regardless of the variant used, the results and intolerable pain are the same (via History Collection). The shoulders and arms would usually dislocate. With weights added, the legs could also dislocate. Although the method does not cause external injuries, it would damage nerves and ligaments. The torture would not last more than an hour, as the victim could die (via Science Source). If death was not the end goal, then irreparable damage, including paralysis or loss of sensation in the arms, could occur.
The strappado method is also known as reserve hanging. It is said to have been used on Niccolò Machiavelli and Girolamo Savonarola. According to the Auschwitz-Birkenau museum, it was also used in concentration camps to punish prisoners in World War II.