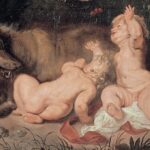 The Legend Of Romulus And Remus Explained
echo get_the_meta(); ?>
The Romans may have brought civilization to much of the ancient world, but they did so in a brutal way: by the sword. It then comes as no surprise that the legendary founders of the empire's capital city lived harsh lives filled with warfare and murder. Since Romulus and Remus also overcame insurmountable odds several times, this was more than enough for the Romans to have no doubt that the twins were truly favored by the gods and should be worshipped as heroes.
Over the centuries, the incredible feats of Romulus and Remus were embellished in order for them to reflect the glory of the expanding empire. To ensure that future Romans had pride in their city's origins, ancient writers not only made the brothers a foundation of Roman mythology, but also closely tied their story to the older Greek tales as well. The end product is a fascinating pair of demigods deeply associated with the Hellenized god of war, Mars, the far more archaic deity, Quirinus, and some Trojan royalty, with their divine heritage thrown into the mix as well.
Romulus, especially, would combine his practically superhero-esque birth with decades of experience as the first king of Rome, cementing him as both an historic and mythic figure to the Romans at the same time. Yet for disturbing reasons, Remus would not share the same spotlight as his twin for long and, unfortunately, only became a part of his brother's epic story.
Trojan hero Aeneas was the ancestor of Romulus and Remus
There was a prophecy Romulus and Remus would overthrow their great uncle