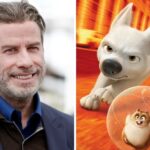 The Real Voices Behind the Mask: Who Voiced Our Childhood Heroes?
echo get_the_meta(); ?>
We have seen them act, and we have heard them sing. They are the biggest celebs in the industry. Alongside these mega  Hollywood celebs, there are animated characters, which deserve no less of the fame and glory their fellow humans do.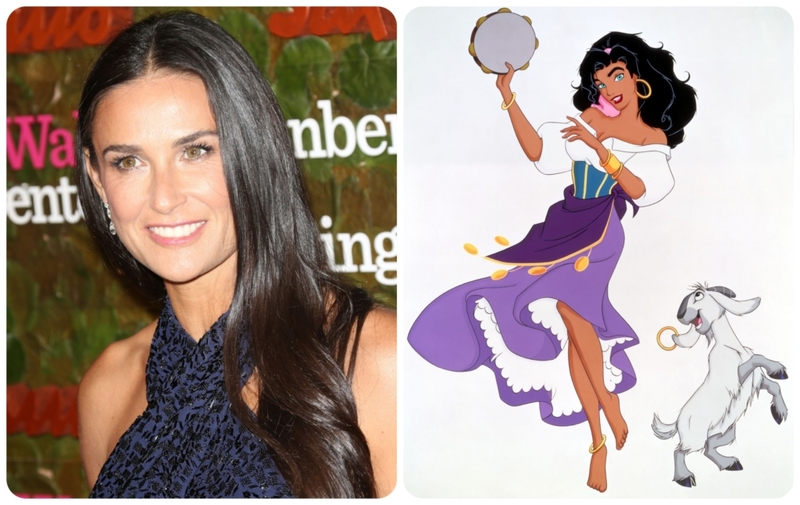 These cartoon figures all have a story to tell; however, one thing has never been clear to us. Who's voice hides behind which face. Curiosity killed not only the cat, so we have researched and came back with results: ladies and gentlemen, the real voices behind the masks.
Phil Hartman – Dennis the Menace
Mr. Phil Hartman was known and loved as the Saturday Night Live performer. The list of his appearances goes on and on and, amongst others, includes The Pee-Wee Herman Show, Third Rock From the Sun, and many cartoon voices. He tragically passed away in 1998 but left great-voiced memories to look back on.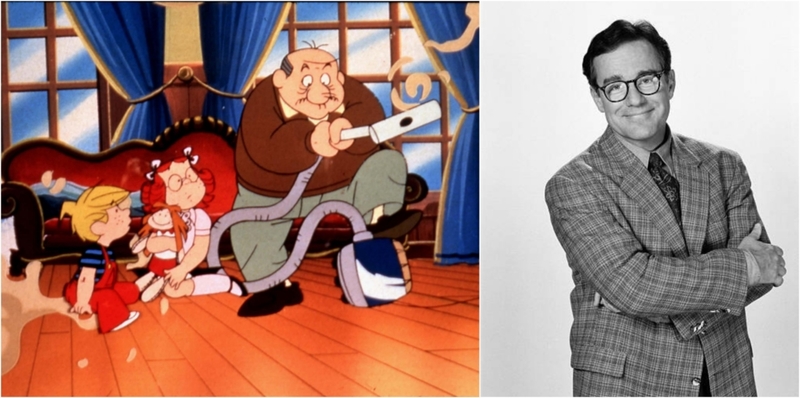 Who doesn't remember Dennis the Menace? The hit T.V. show was first broadcasted in 1951; however, most of us are familiar with the 1980's version. Phil Hartman voiced Mr. Wilson during the first episode, and then he ditched Denis for Saturday Night Live.
Angelina Jolie – Ku Fu Panda
When you think of Angelina Jolie, you think of a beautiful, intelligent, exquisite, and sexy actress. When Ku Fu Panda came along, Angelina shone under a different light. New colors of her character were shown and a strong, independent, and fearless woman was revealed. Tigress Jolie was born.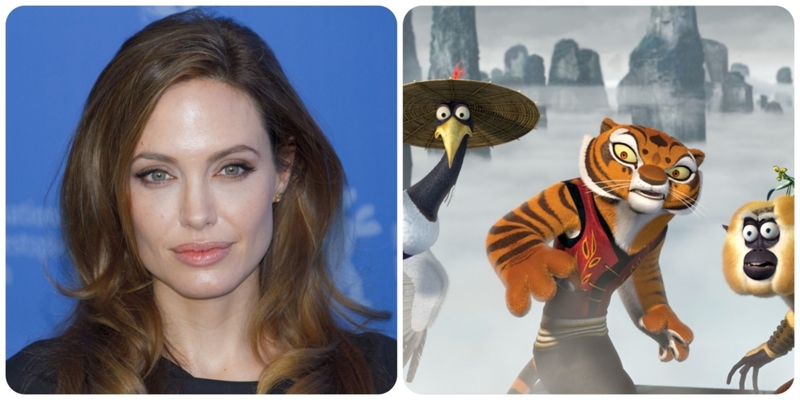 Ku Fu Panda was a huge success with a total of three movies. It was nominated for several awards and had a following T.V. series.
Laurie Metcalf – Toy Story
A mother's voice is a voice that has to reflect security. It has to be calming, yet firm, comforting, and caressing, and it doesn't matter if the mother is in reality, in your dreams, on a T.V. show, or as an animated character. Pixar already knew all this and chose Laurie Metcalf to voice Andy's mom for those reasons exactly.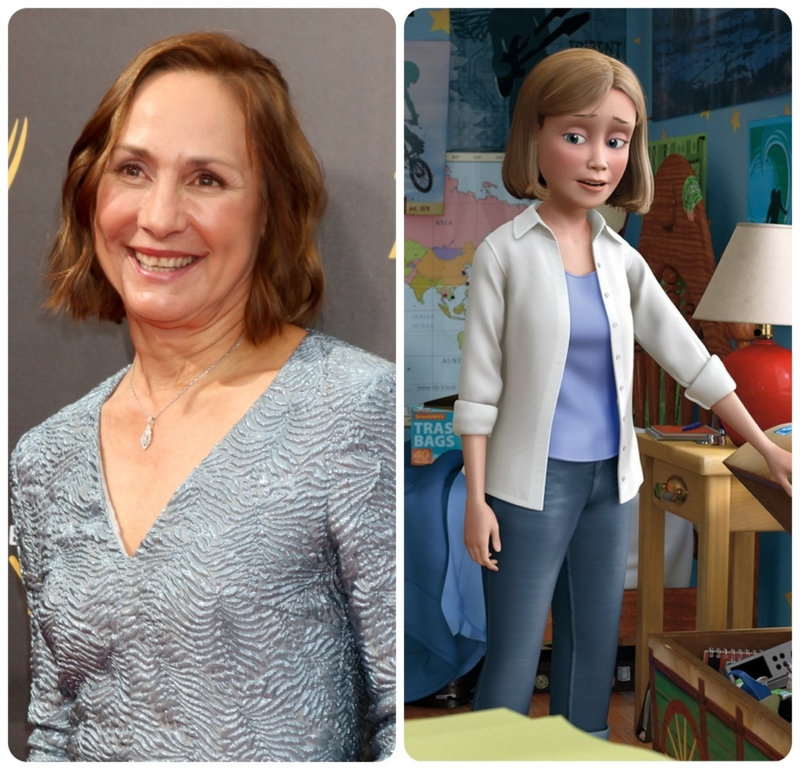 The contrast of the role Metcalf is most familiar with (Jackie on Roseanne) to the one she voices on Toy Story, is what makes this even more beautiful.
Bruce Willis – Rugrats Go Wild
Not quite sure what Bruce Willis was thinking to himself when he took the role of voicing Spike the dog in Rugrats Go Wild. After discovering this, his whole reputation collapsed like a pyramid of cards with no one to clean up the mess. I mean, come on. A dog? Bruce, you are Die Hard, you are Look Whos Talking, you are Pulp Fiction, you are 12 Monkeys, you are Armageddon. You are anything but a dog.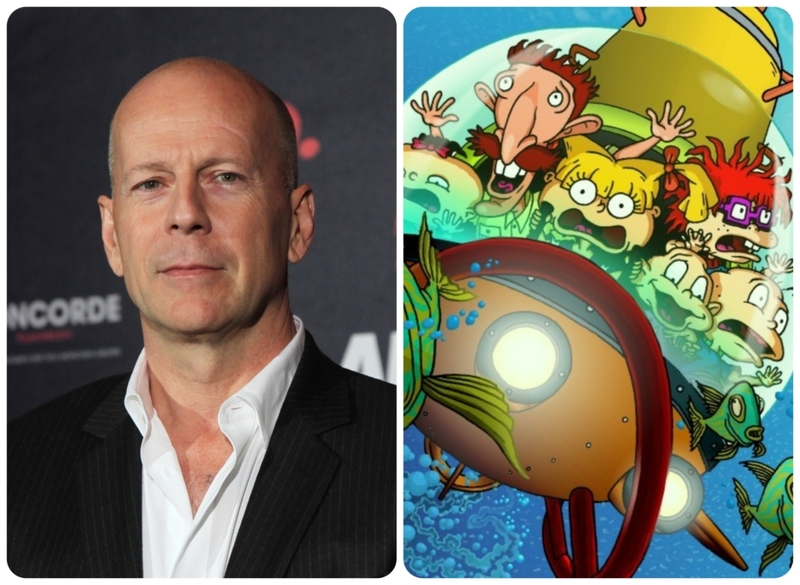 Anyhow, the movie wasn't as successful as they wanted it to be, and it brought to life many negative reports on the entire series of movies.
Mel Gibson – Pocahontas
To voice a cartoon or animated character, all you need is talent and a good voice. No one ever mentioned charms or good looks in the application form. When the voices behind the Pocahontas characters had to be decided, it felt that only someone who looks like a captain and resembles a captain can voice a captain. The production of the movie chose no other than captain Gibson to voice John Smith.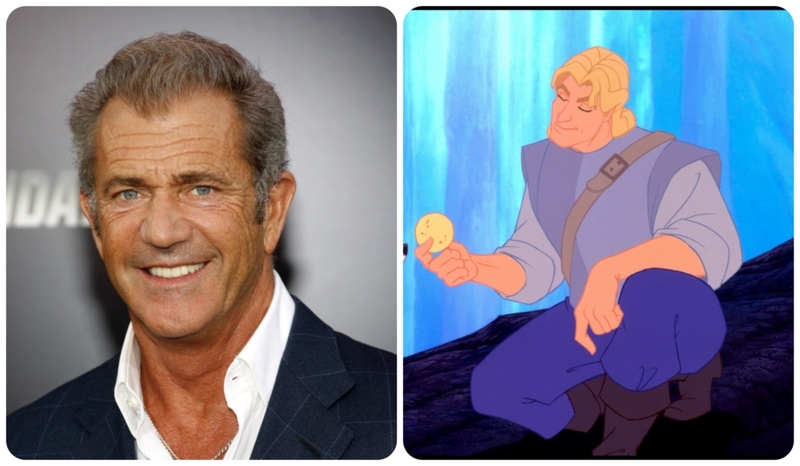 Gibson played captain Martin Riggs on Lethal Weapon, Captain Dale McKussic on Taquila Sunrise, Captain William Wallace on Brave Heart, and Captain Nick Marshal on What Woman Want. John Smith could not be voiced by any other.
Tom Hanks and Tim Allen – Toy Story
If Tom Hanks and Tim Allen had been told back in the 1950s and 1960s that one day in the near future, that both would voice animated characters based on toys they play with, not sure they would have bought it. Woody and Buzz are the cherries on top of Pixar's movies.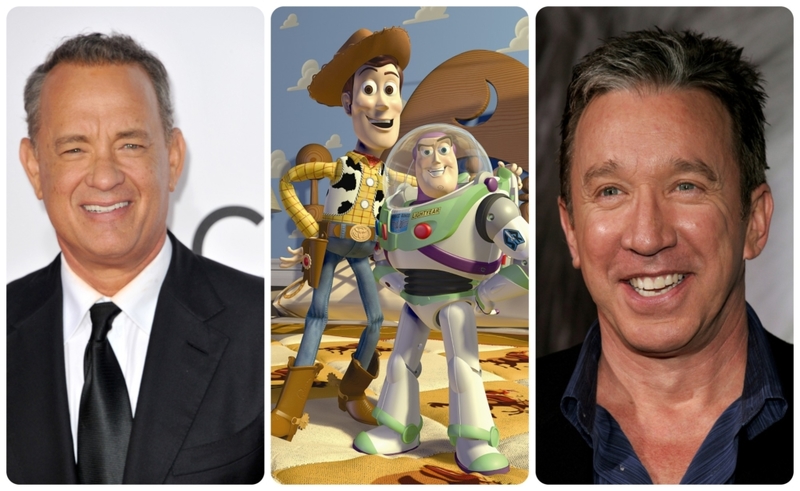 They are eternal stars. Hanks and Allen both bring a long line of movie hits and success, making Toy Story (Numbers one, two, three, and future ones) what it is today — one of the finest animated movies ever.
Mel Brooks – Mr. Peabody & Sherman
Mel Brooks is one of the few stars to have every award possible. Forget History of The World, put away Robin Hood; Men in Tights, there is so much to Brooks that we don't even know where to start. He holds a lavishing career of over seven decades and is known as one of the world's greatest comedians.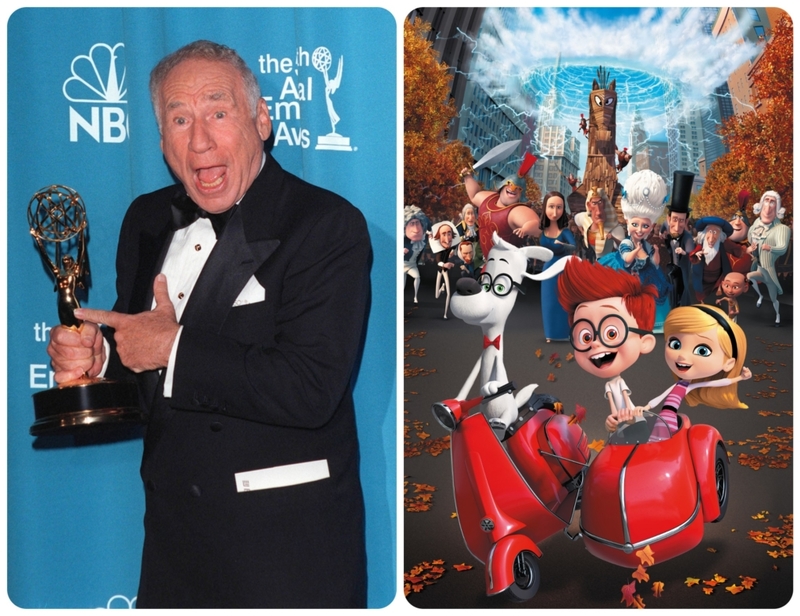 In 2014 Mel Brook's voiced Albert Einstein in Mr. Peabody & Sherman. A computer-animated movie.
Mandy Moore – Tangled
The Prince's Diaries may be the most familiar movie Mandy Moore is recognized for; however, she carries with her a long list of successful appearances, both on T.V. shows and on the big screen. Not too many people know that Mandy Moore is also the voice behind Rapunzel.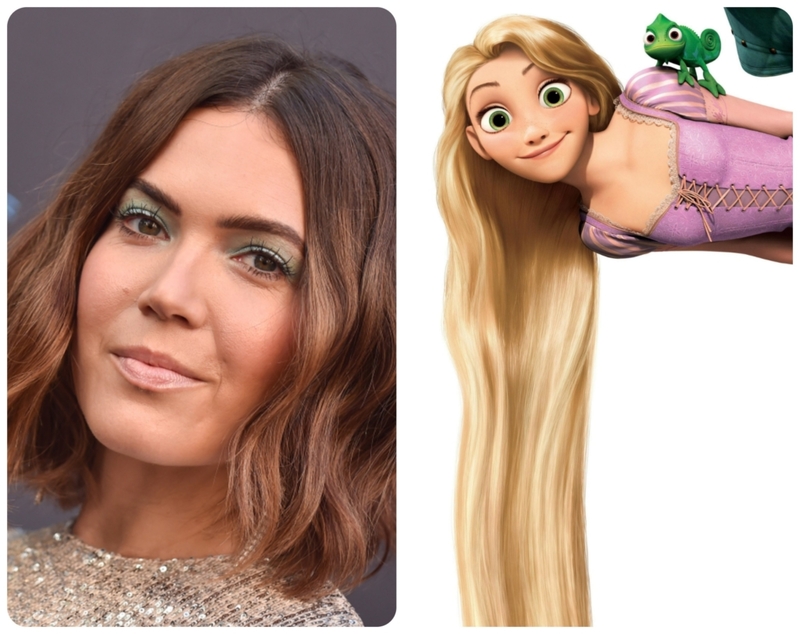 Taking a German fairy Tail and turning it into a blockbuster hit is something that only Disney can do. And they did. In 2010 Tangled, based on the 19th-century folk legend – Rapunzel. The rest is history.
Russell Brand – Despicable Me
Most people name the movie "Despicable Me" as simply "The Minions". "Despicable Me 2" and "Despicable Me 3" are also known as "Minion 2" and "Minion 3". That's how it is apparently with some animated movies. The sidekicks take over the title.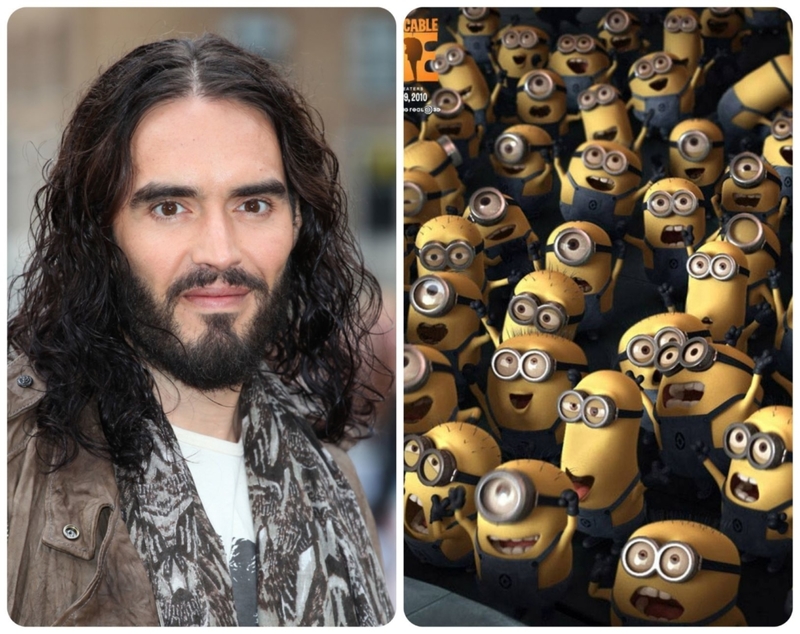 Russell Brand is a comedian, an actor, and an activist in many fields. He is also the voice behind Dr. Nefario in Despicable Me (one and two) and has won several awards over the years.
Renee Zellweger – Monsters vs. Aliens
If Katie from Monsters vs. Aliens had to write a daily diary and come up with new year resolutions Bridget Jones style, how would that look? Would it still cover weight loss? Always place dirty underwear in the laundry basket? Last but not least, find a cool Mr. Darcy to spend the rest of her life with?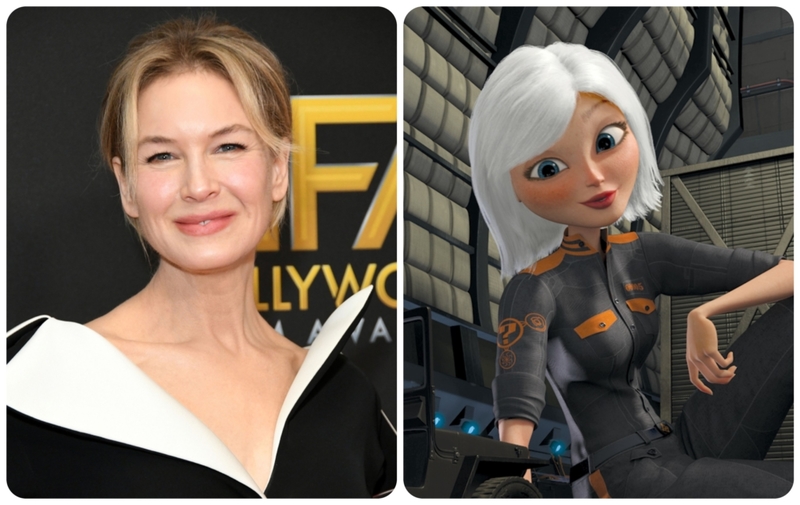 Well, we are not sure about the dirty underwear, but what we do know is that Renne Zellweger really put on a show with voicing Katie. However, in our eyes, Zellweger will always be Bridget Jones.
Brad Pit – Megamind
There are some people that you don't really bother to hear them. All you want to do is look at them. So as far as we are concerned, Brad Pit could have voiced a tree, and he would still be highly credited on our list. That's life. Some people have it all, and Brad Pitt is one of them.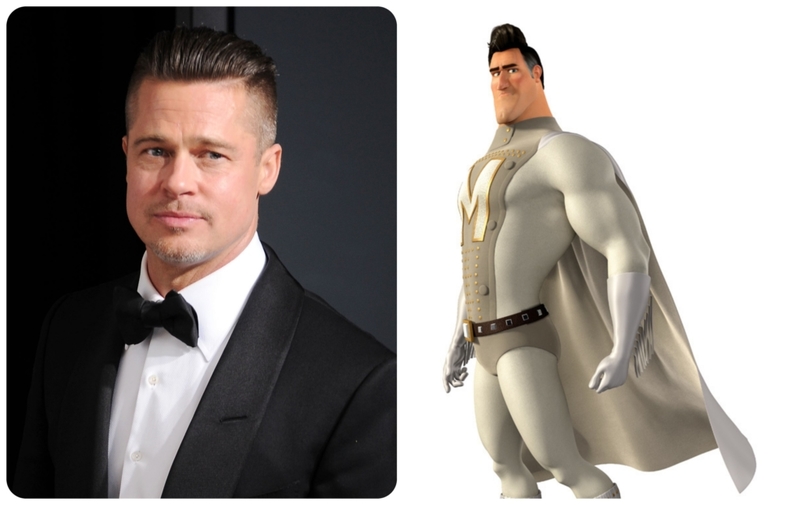 If you're really curious and want to know which drawn character hides behind Pitt's voice, then it was Metro Man in the animation movie Megamind. Can we leave it at that?
Scarlett Johansson – The Spongebob Squarepants Movie
Scarlet oh Scarlet. She is an absolute stunner. The movies she has played in have made billions of dollars worldwide, and she had definitely made her mark in the industry. Besides being a top-of-the-range actress, she knows her place behind the scenes as she gave a remarkable performance with voicing Princess Mindy in The Spongebob Squarepants Movie.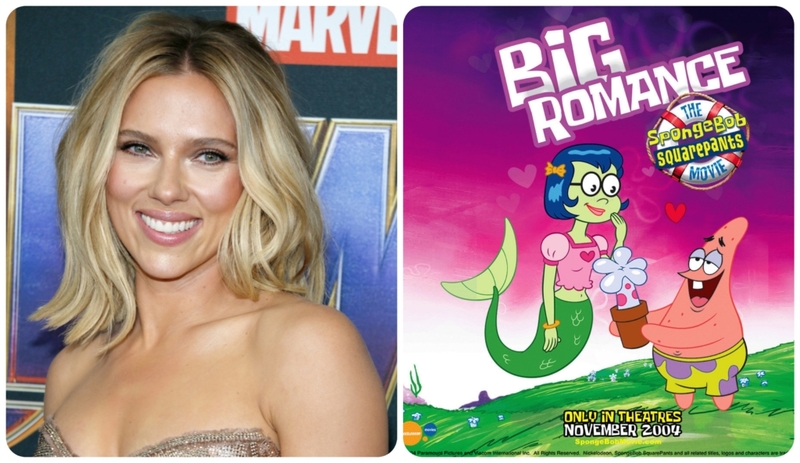 The Spongebob movies are a huge success in every kid's world. Scarlet, they could not have done it without you.
Jerry Houser – Flintstones Sequels
Jerry Houser is one of the greatest voice actors in the industry. He is best known for his role as Oscar in Summer of 42. However,  he has shown his voice talent in Disney's Aladdin, Transformers, The Smurfs, and more.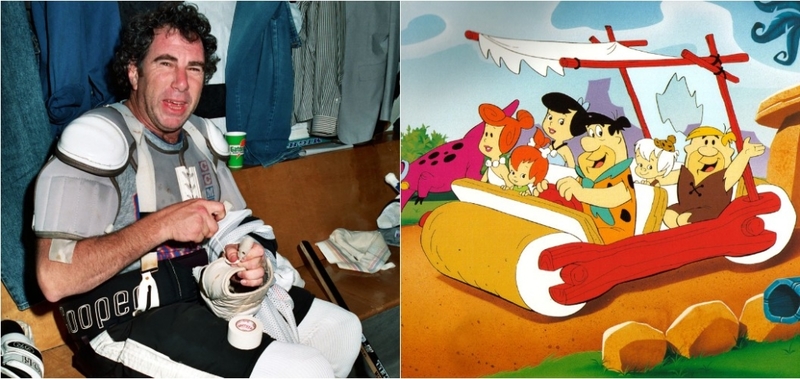 Jerry is the voice behind the Flinstones Sequels, giving us all the yabba dabba doo time, a real gay old time.
Mark Hamill – Batman: The Animated Series
If you're a good actor, you can play literally any role given to you. And if you're an extraordinarily good actor, you can voice a character that is completely the opposite of your natural typecast.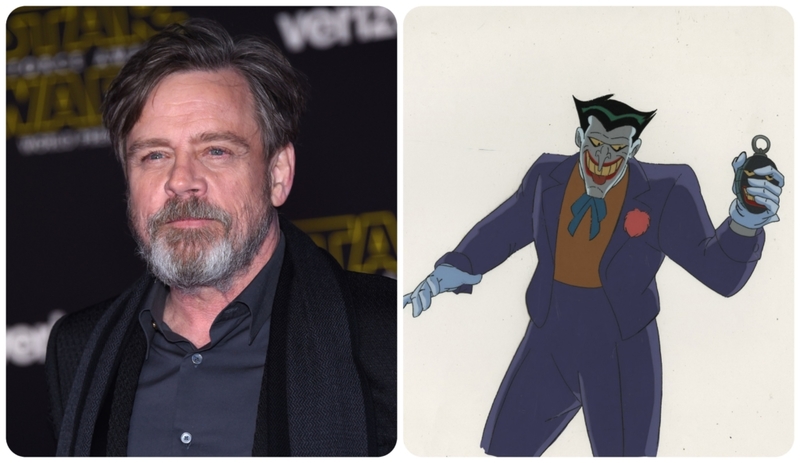 Mark Hamill is known for his role as Luke Skywalker in Star Wars. In Batman: The Animated Series, he surprises us with a fantastic voice performance of The Joker. So, if you have it, you have it, and if you don't, you never will. Mark Hamill certainly has it.
John Ritter – Clifford
"Come and Knock on my door; we've been waiting for you, three's company too." When you think of John Ritter, you think of Three's Company. Although Ritter appeared in many movies and many T.V. shows, there is no other show he was related to like this one.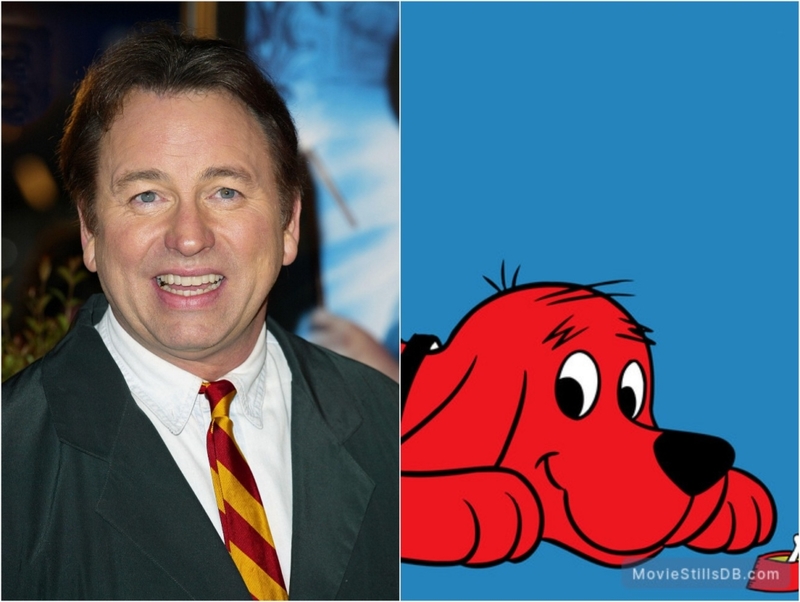 The big red dog Clifford is one of the characters Ritter voiced, and he did so on each and every episode. After Ritter passed away, the production of the show passed as well.
Dakota Fanning – Coraline
Released in 2009, the fantasy movie Coraline reveals a secret door with a secret tale behind it. It won several awards and became a huge hit globally. Coraline is a loveable blue-eyed girl, who finds it difficult to adapt to life's changes. She is voiced by no other than Dakota Fanning.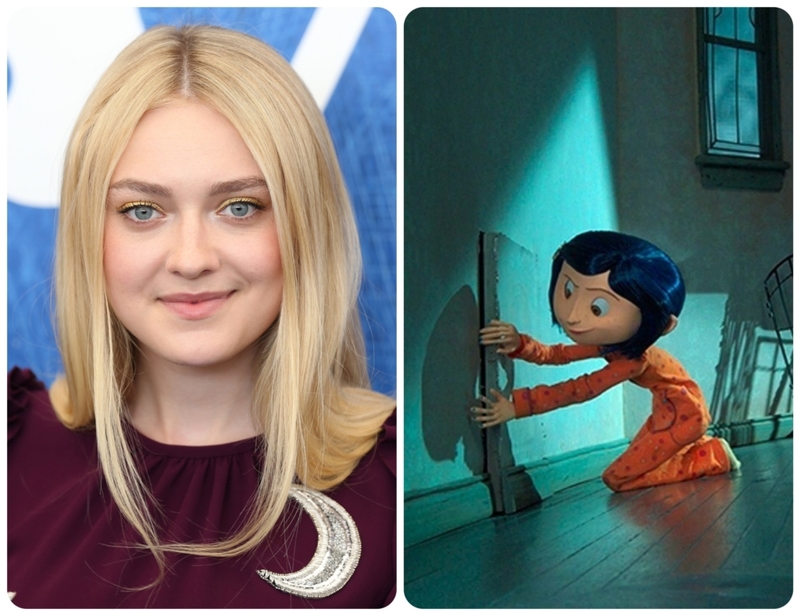 The beautiful blond stunner, Dakota Fanning was revealed to us in her astonishing role in the movie I Am Sam, and since then has not failed to amaze us time and time again.
Demi Moore – The Hunchback of Notre Dame
Demi Moore's appearance in the movie Ghost escalated the awareness of her immediately. From a second-best Hollywood actress to a super megastar, and this happened overnight. The Hunchback of Notre Dame was released shortly after the movie Ghost, so it was only natural to cast Demi for voicing Esmeralda.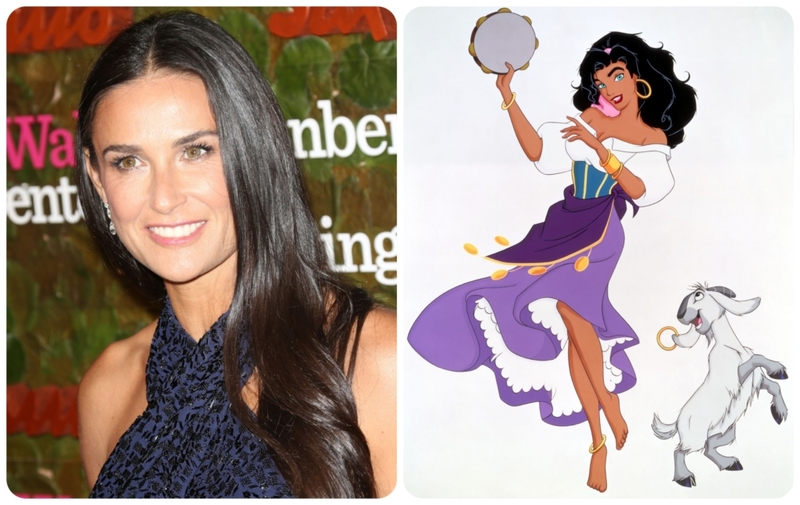 The Hunchback of Notre Dame was a huge success, and Demi Moore personally benefited from the movie's achievements, as she became one of the most wanted actresses of that time.
Will Smith – Shark Tale
Will Smith doesn't have to be on the screen to impress us. He can sing, dance, play, produce, write, voice, we don't care. Whatever he touches turns to gold. Men in Black, Independence Day, and The Fresh Prince are only the tip of the iceberg when it comes to Smith's successes.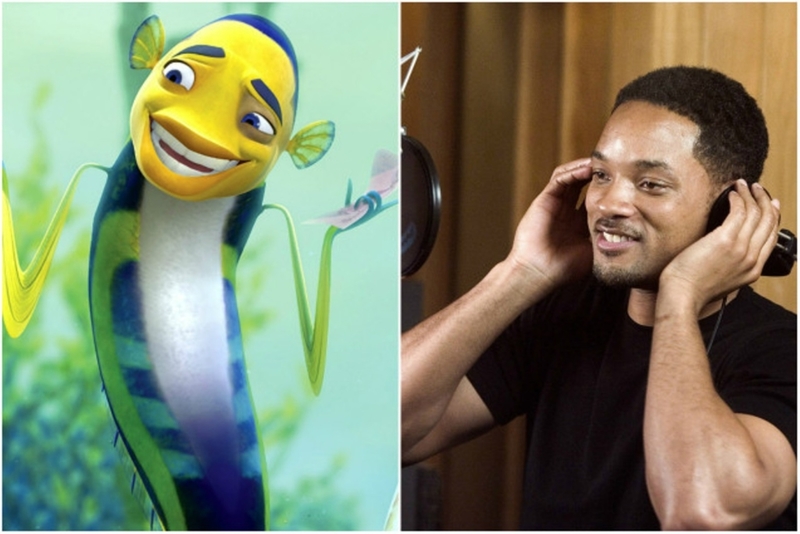 Oscar, the main character in the animated movie Shark Tale was lucky enough to be voiced by Will Smith as this movie was a great success which only enriched Smith's filmography.
Cameron Diaz – Shrek
There is no need to introduce the gorgeous Fiona. Better knows as the incredible Shrek's wife, Princess Fiona is a loveable and caring partner, mother, and lady. She is everything every woman around the world wants to be.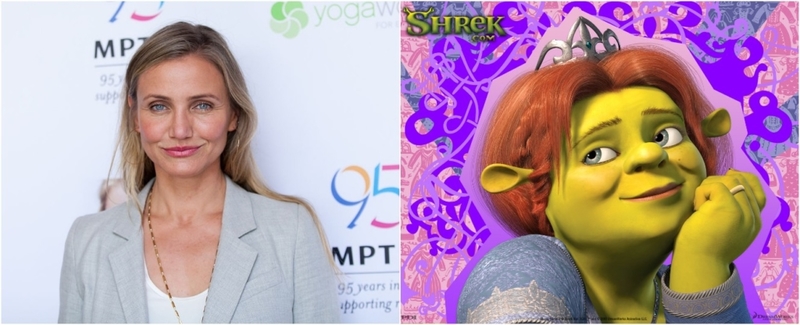 She wasn't blessed with a pleasant voice, so an anonymous beginning actress under the name of Cameron Diaz was recruited, completing Fiona and making her the best creature on earth.
Tina Fey – Ponyo
Ponyo is a Japanese version of The Little Mermaid. It was a huge success and the English version was soon to follow. Ponyo received many awards for its visual design and the fact that it appealed to both adults and children. Not very easy these days to create a movie aligned with all ages.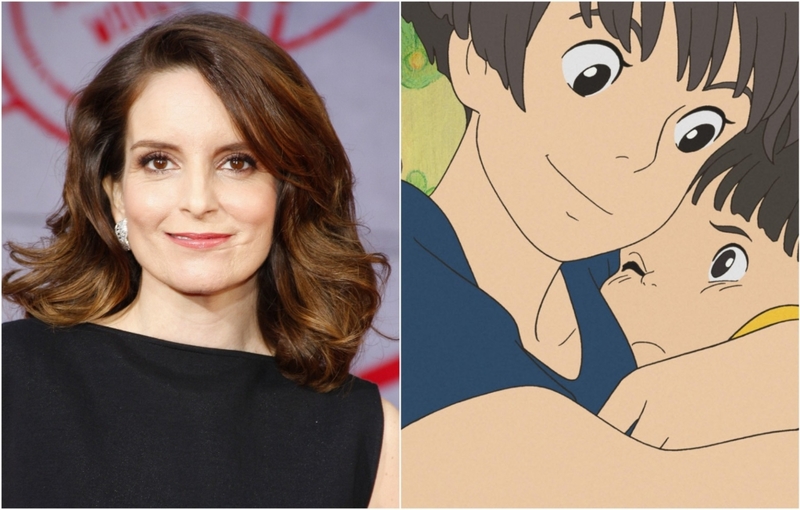 Tina Fey was the voice behind Lisa, the main character's (Sosuke) mother. She is the balancer amongst the characters and brings a calm and open-minded animated figure, to life.
Arsenio Hall – The Real Ghostbusters
Who're we gonna call? The real Ghostbusters. Based on the 1980s hit, Ghostbusters, the animated version was released in 1986 and featured the voice of Arsenio Hall, soon to become one of the most famous late-night people.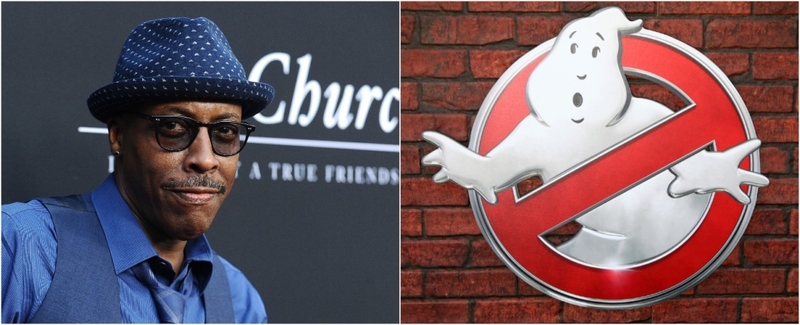 The character of Winston Zeddemore had to say goodby to Hall's voice, as The Arsenio Hall Show became so popular, there was not enough room for both.
Val Kilmer – The Prince of Egypt
The Price of Egypt tells the story of biblical Moses and the exodus of the Israelites from the hands of the Pharaoh. Playing a role, or better, voicing a role in this movie has its own honors and glam. Moses is not just another character, and the story is not just another fairytale.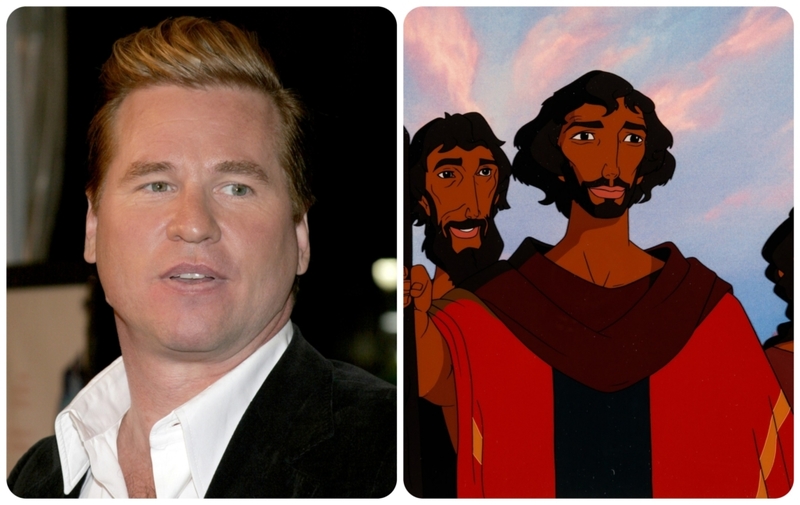 Val Kilmer (known to us all as the bad guy in Top Gun), was privileged to speak for the prophet, and what a good job he did. The movie at the time was the most successful non-Disney movie ever made, and it led to the creation of more bible-based movies.
Eddie Murphy – Shrek
When Shrek aired in 2001, it gave whoever watched it a little something. There was a bit of magic in there for all. A beautiful story with excellent computer animation. The story of the gigantic green creature captured our hearts and if you watched listened to the movie very carefully, the next lines won't surprise you.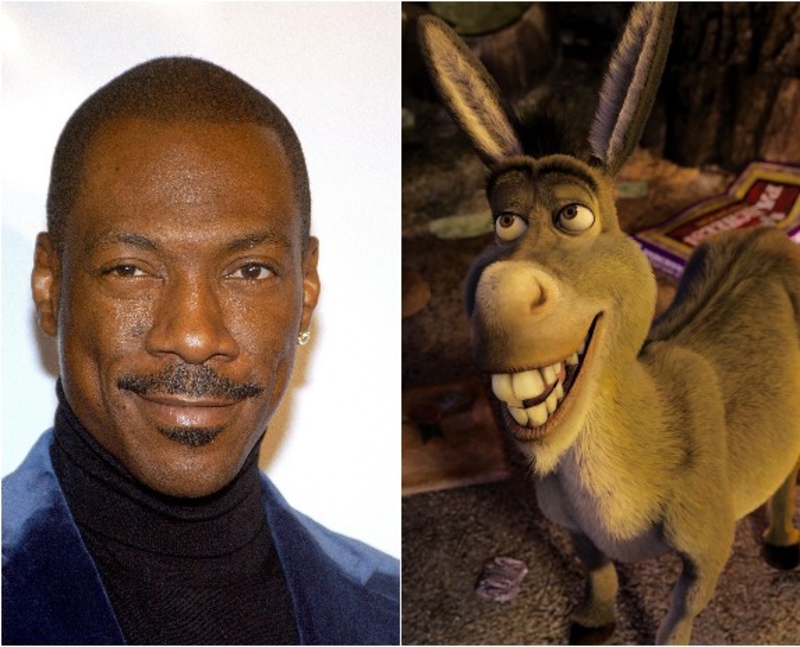 Besides Shrek and Princess Fiona, a few other characters decorated the screen, and Donkey is one to remember. The Donkey, named simply Donkey, was voiced by the almighty, one of the best comedians alive, Mr. Eddie Murphy. No additional words are needed.
Fergie – Peanuts
Born with the name of Stacy Ann Ferguson, Fergie was discovered as part of the Black Eyed Peas. Since then she has nourished a solo career, she writes songs for other artists, and believe it or not, Peas is not the only food she likes.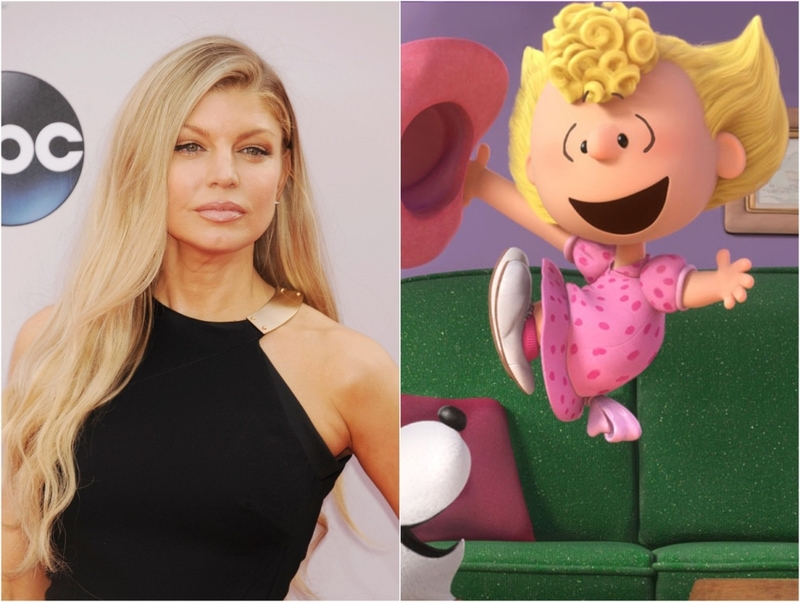 Peanuts told the tail of Charlie Brown and Snoopy, his handful dog, dealing with daily stuff. Sally Brown was Charlie's sister and the voice behind Sally, was no other than Fergie.
Tim Curry – Ferngully
Tim Curry is one of those actors, that at first, you are unsure you are familiar with him, however as soon as you see his face- you know him inside out. With his English manners and English charms, Tim Curry has decorated our screen on The Rocky Horror Picture Show, The Pirates of Penzance, and more.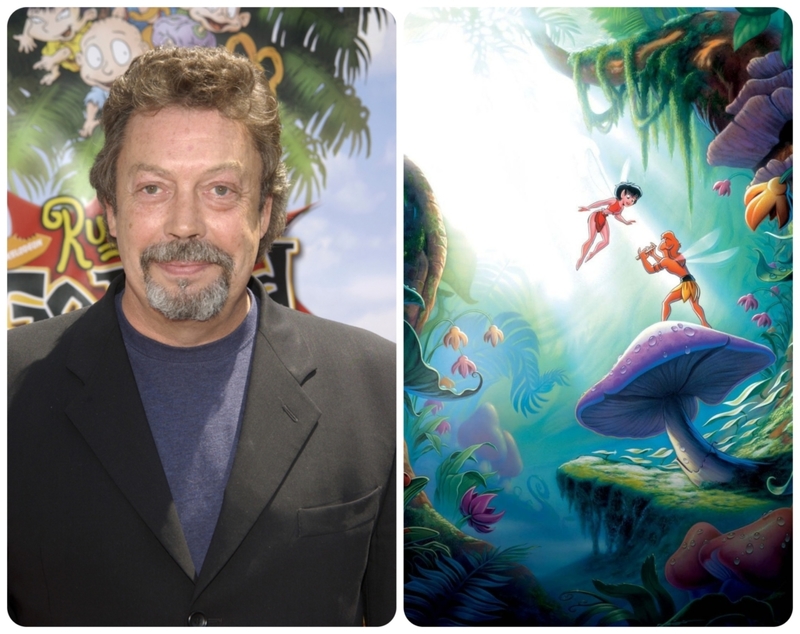 In the film Ferngully, Hexxus is voiced by Curry. The animated fantasy film features many gifted actors who donated their vocal talents to this creation.
Dave Coulier – Muppet Babies
This is going to come as no surprise to you. Better known as Uncle Joey on the Full House show, David Coulier is known for his unique mimicking abilities as he has proven this in many T.V. appearances. There is no need to describe how funny Coulier is.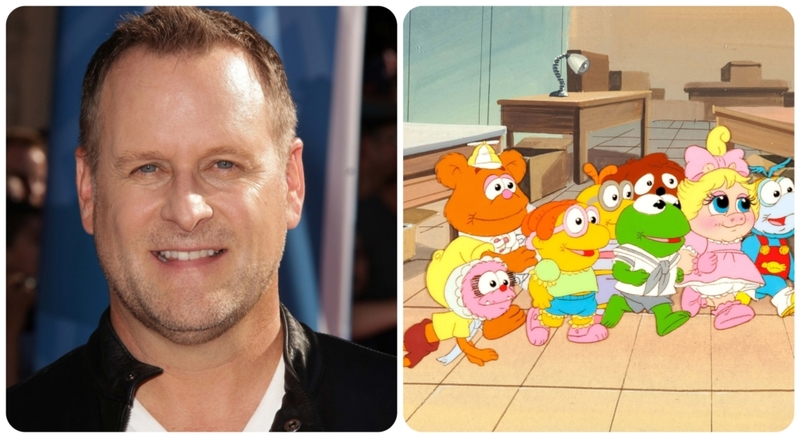 The Muppet Babies aired between the mid-1980s and the early 1990s featuring the voice of David Coulier behind the magnetic creature, Animal.
Hugh Jackman – Happy Feet
In 2006 the amazing movie happy feet was born. The world of the penguins was introduced and brought along the voices of many well-known asters such as Nicole Kidman, Robin Williams, and the one and only Hugh Jackman.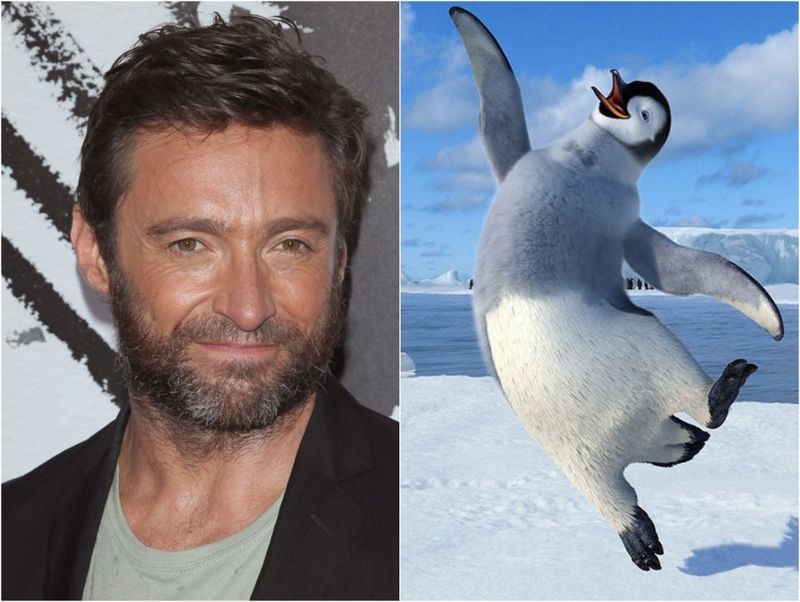 Jackman is a multi-talent native Australian, who voiced Memphis in the movie, privileging us all with Memphis's heartwarming version of Elvis's Heartbreak Hotel.
Meg Ryan – Anastasia
Way before Anna and Elsa, there was Anastasia. Every little girl's dream. Anastasia was a huge success and grasped many awards. The voice behind Anastasia is a well-known actress, not only for drama roles, as she is a first-class comedian as well.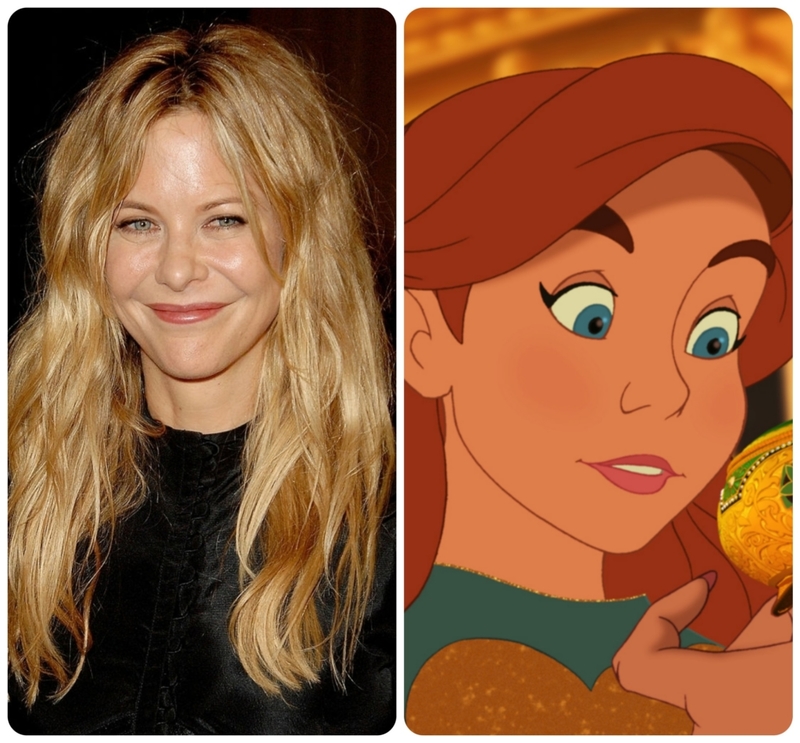 Ryan began her care in small roles in 1981, and it wasn't only her world that turned in 1982. She is one of the most successful actresses of the 20th century and is a top romantic comedy icon.
Christopher Daniel Barnes – The Little Mermaid
The Little Mermaid is probably one of the best Disney interpretations of a classic story. Ariel the beautiful mermaid falls in love with Eric the two-legged charmer and willingly gives up her amazing singing voice in exchange for the love of her prince. So, Ariel's voice was stolen by the gigantic Ursula, but what's the story behind the price's voice?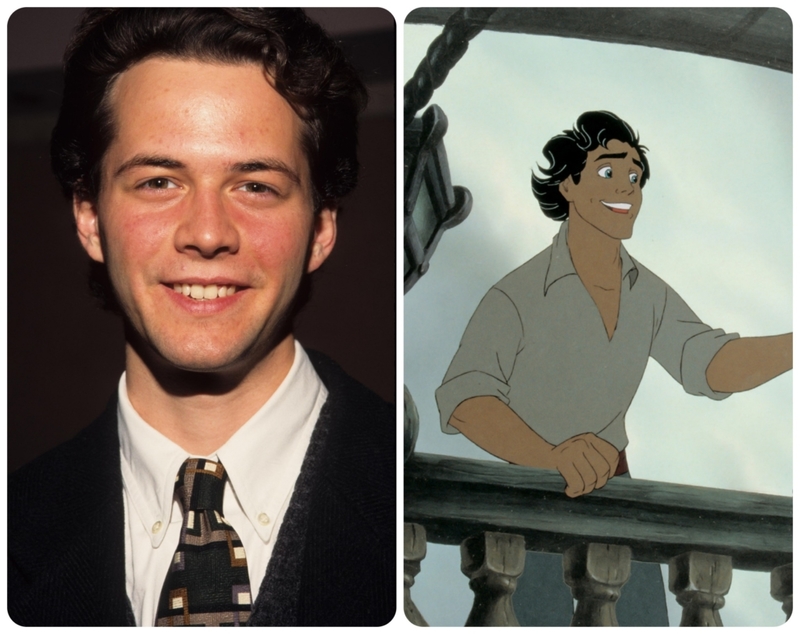 Christopher Daniel Barnes was only a teenager when he voiced Eric the prince. He has also voiced the 1994 spiderman, stared on The Brady Bunch Movie, and voiced numerous characters in many video games. Talented guy indeed.
Jonathan Taylor Thomas – The Lion King
If you haven't watched The Lion King, then you haven't watched a Disney Movie. Sir Elton John is not the only star behind the scenes of this movie, and there are plenty of other big names who brought this classic to life. The voice behind young Simba is of Jonathan Taylor Thomas.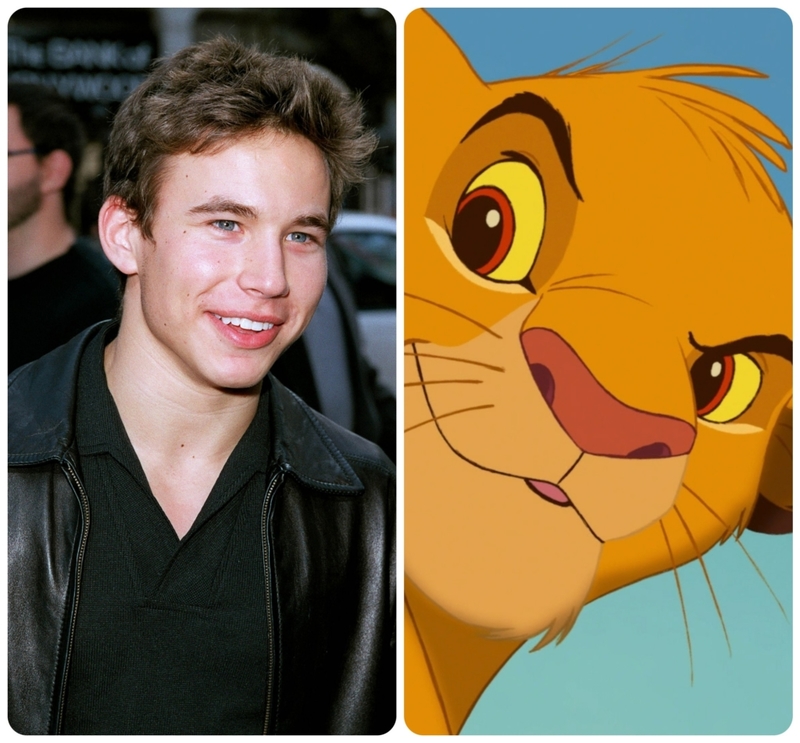 He is also the voice of Pinocchio in The Adventures of Pinocchio, he has played in Man of the House, voiced the Simpsons, and much more.
John Travolta – Bolt
Disney couldn't cast the voice behind Bolt any better. The characteristics the famous white dog is known for, are exactly what describes Mr. Travolta. Funny, Whitty, and a superstar. The white-haired German Shepherd was nominated for several awards and is one of the best animated movies made to this day.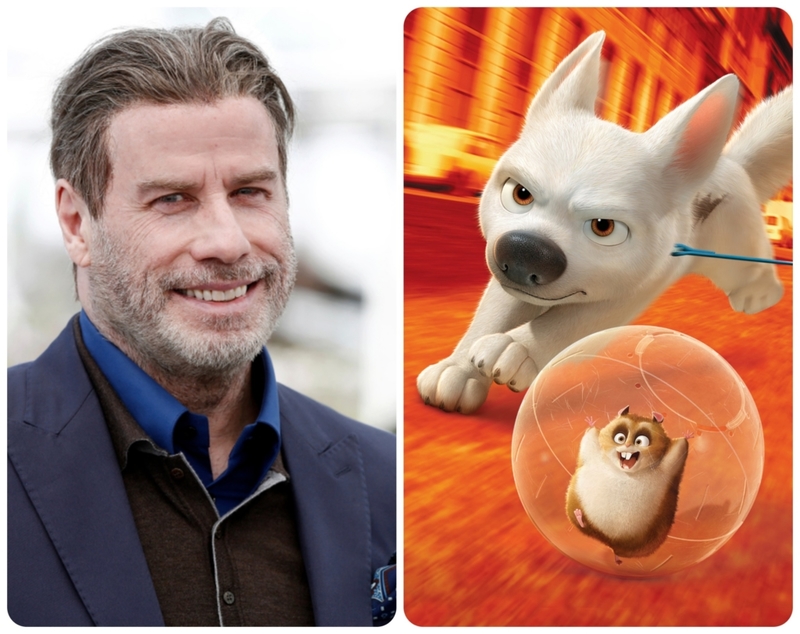 John Travolta is known for his roles on one side of the screen, however, he manages to star and shine behind the scenes, voicing Bolt the dog.
Oprah Winfrey – The Princess and the Frog
There is a lot Oprah Winfrey is known and loved for. Voicing animated characters is not quite on the list. The mother of all talk shows voiced the mother of the lead character in The Princess and the Frog, showing all that there is more to her than holding conversations.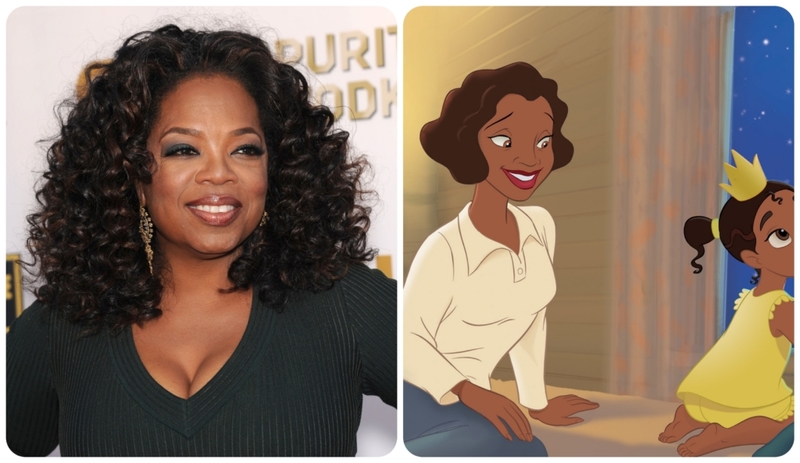 Not only is she a magnificent actress and human being, but she can also hold an animated role easily. Oprah, thank you for sharing with us your gifted talents.
Jay Leno – The Fairly OddParents
The Fairly OddParents is a T.V. series launched in the early 2000s and was broadcast until 2017. The show covers the life of a ten-year-old kid, alongside his step-parents, teachers friends, and more characters that helped turn this show into something great. Many celebrities granted their voices for the show such as Alec Baldwin, Scott Hamilton, and no other than Jay Leno.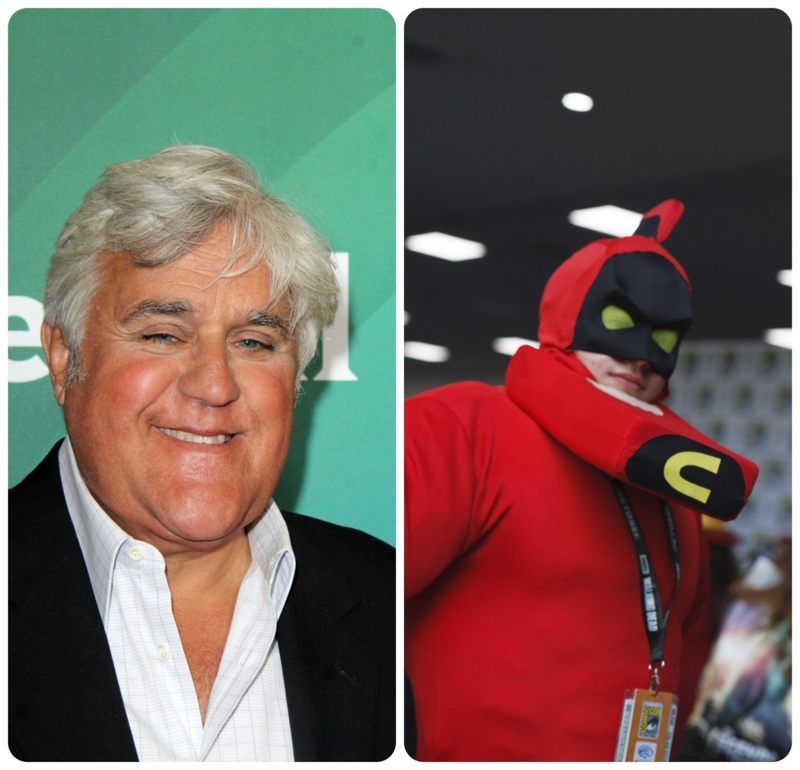 Mr. Leno was not chosen randomly. It was essential that Crimson Chin is voiced by someone with a suited one. A chin that is.
Robin Williams – Aladdin
In fiction films, nonfiction films, and animated films, the main characters are usually the best ones. The supporting roles enrich the storyline and help build the leading roles. In the movie Aladdin, the boundaries were overlapped and the supporting role of the Genie stole the show.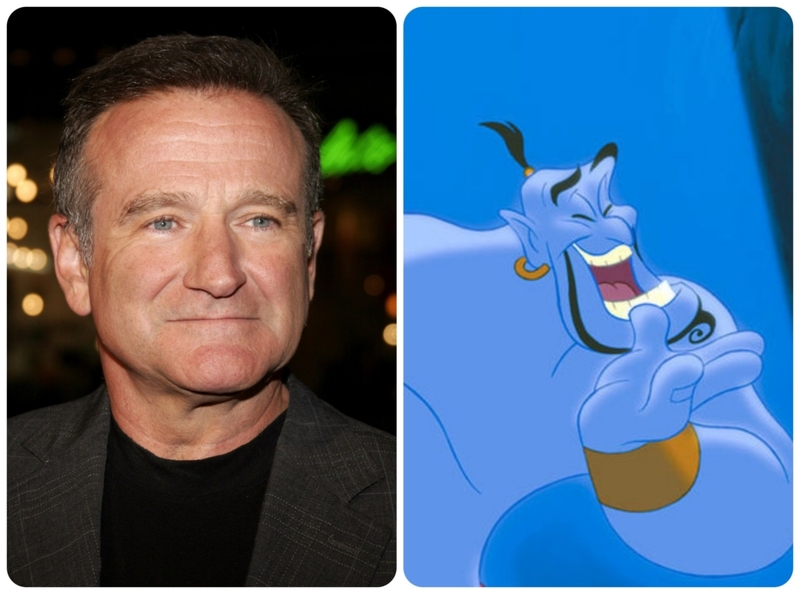 Robin Williams who voiced the Genie, turned his character into one no one could forget. With his comic attitude and ability to improvise so freely, Genie is one of Disney's best characters of all time.
Will Ferrell – Megamind
Will Ferrell goes back a few years. From Saturday Night Live to Land of The Lost, Ferrell has given us many hours of pure entertainment. He has also starred behind the scenes as the voice of Megamind in 2010.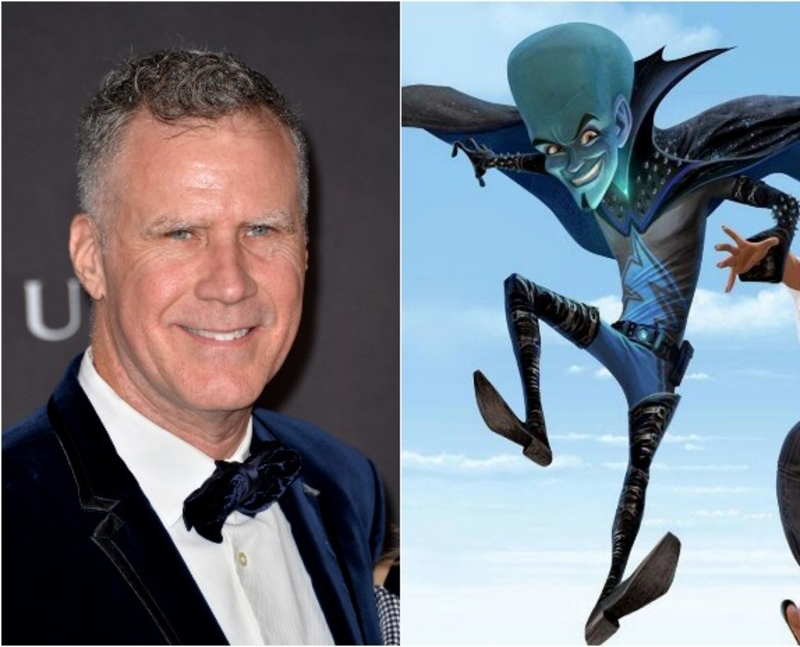 The computer-animated movie evolves around the super-intelligent out-of-space alien, who defeats  Metro Man, his nemesis. It became a box office success and is known as one up until this day.
Matthew Broderick – The Lion King
Ferris Buller's day off obviously ended eventually, as Matthew Broderick took the time to enrich his soul and nourish his talent with voicing techniques. Broderick voiced the grown-up Simba on The Lion Kind, one of Disney's greatest movies.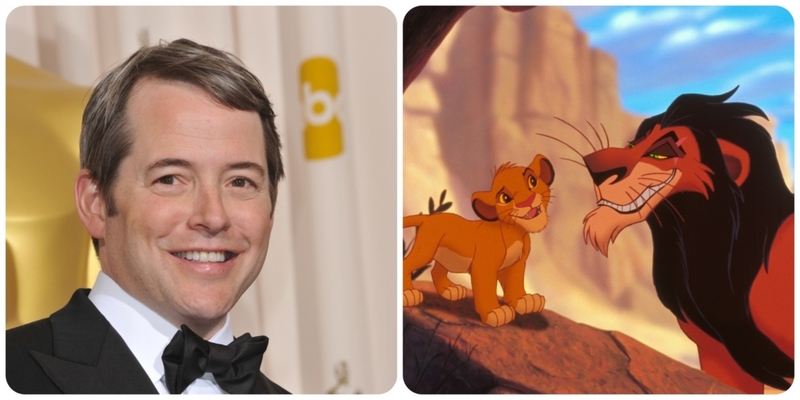 Luckily Simba has his friends and family to learn the secrets of life as if teaching was up to Mr. Ed Roony or Ferris himself, we are not sure how Simba would have succeeded.
Adam Sandler – Hotel Transylvania
The story of Dracula has been told for years and years, however, the Adam Sandler version was released only in 2012 and carried the name Hotel Translyvania. Hotel Transylvania shows us the other side of the vicious vampires and humorously transfers them into relaxed and calm creatures.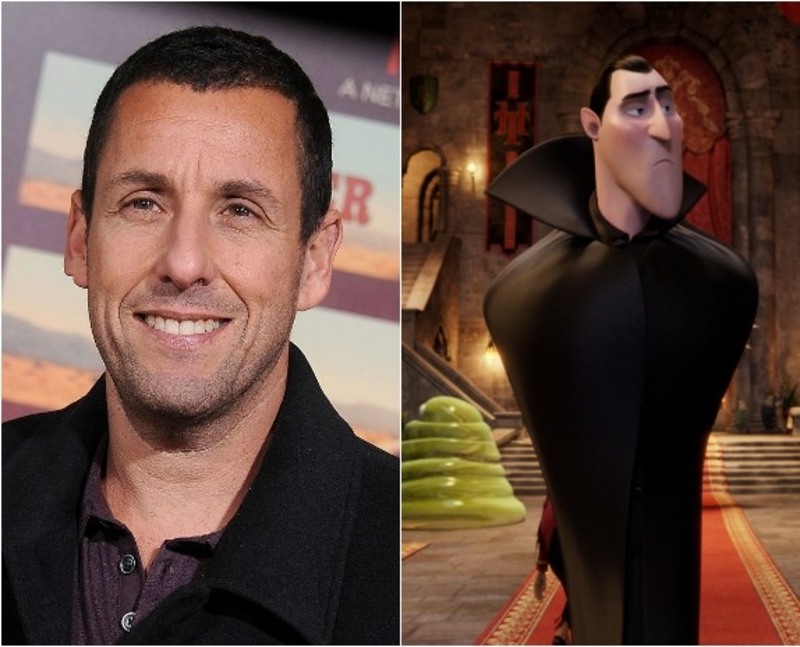 Adam Sandler voiced Drac, a more modern count Dracula, and turned his character into the funny guy, just like himself.
Ellen DeGeneres – Finding Nemo
It didn't take a genius to identify Ellen DeGeneres's voice behind blue fish, Dory, in the lovely tale of Finding Nemo. Stepping into a fish's shoe can be sometimes difficult (and uncomfortable), however, this came very naturally to DeGeneres.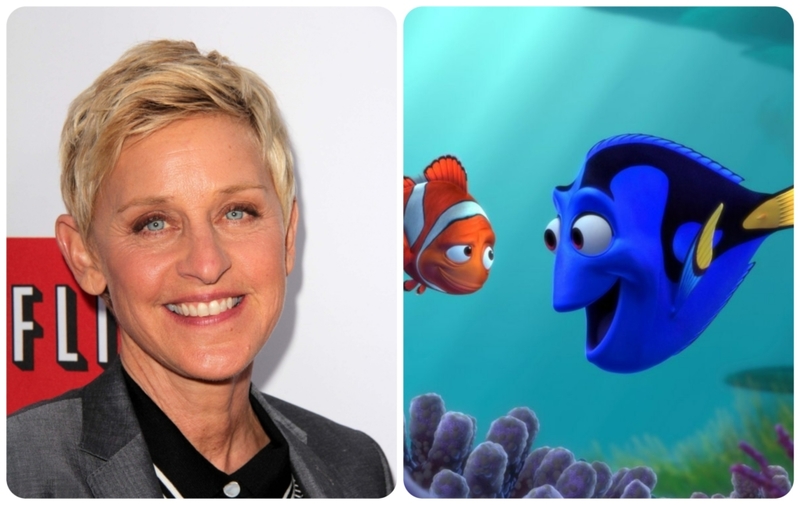 Dory is a funny characterized female fish, very optimistic and slightly ditzy. She has a heart of gold and will do absolutely anything to help a friend.
Michael Cera – The Berenstain Bears
The Berenstain Bears was a T.V. show based on the book series which carried the same name. Each episode ends with a lesson in life to learn or a moral that wishes to be passed on. Educational stuff on the little screen.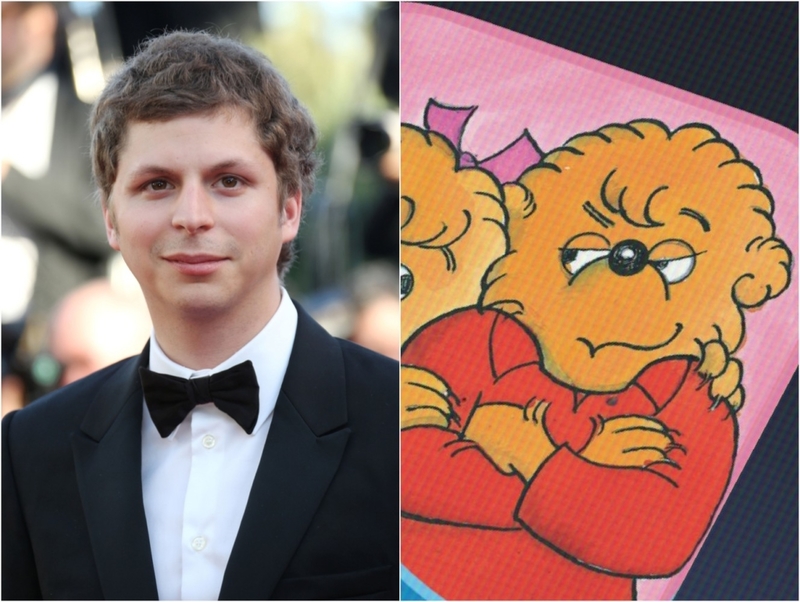 Not many know that Michael Cera was the voice behind the oldest brother bear. Cera grew up to be most recognized with Juno, The Shivering Truth, Twin Peaks, and many many more.
Billy Crystal – Monsters, Inc.
Billy Crystal, Billy Crystal. There are no words to describe the tallet he is. We have seen him on The Princess Bride and were indulged by every minute when he appeared on When Harry met Sally. That is a real classic. Not only does Crystal take the show on screen, but he has impressed us behind the scenes as well.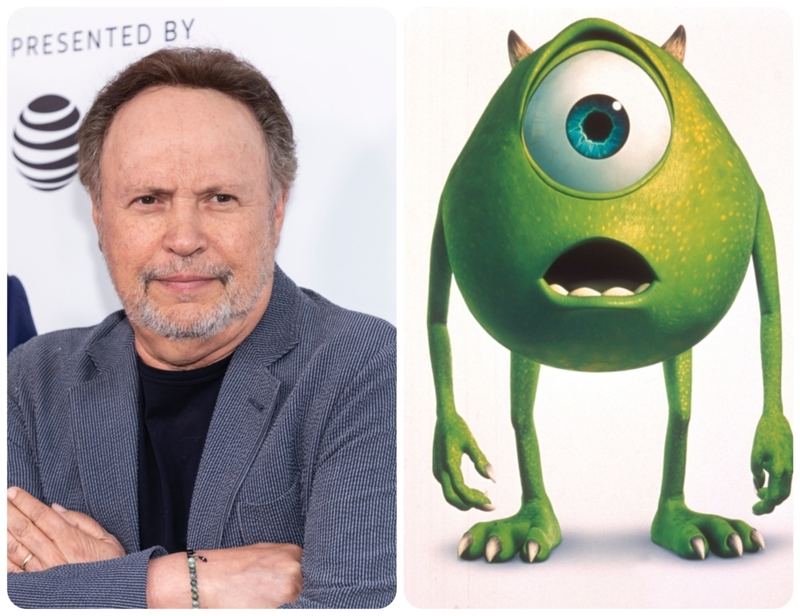 No better role could have been given to Billy than the role of Mike Wazowski, the one-eyed main character on Monsters Inc.
George Clooney – Fantastic Mr. Fox
Not only is Mr. Clooney one of the sexiest, charming, and charismatic men alive, he has an incredible radio voice so no wonder he was grabbed for some voicing positions.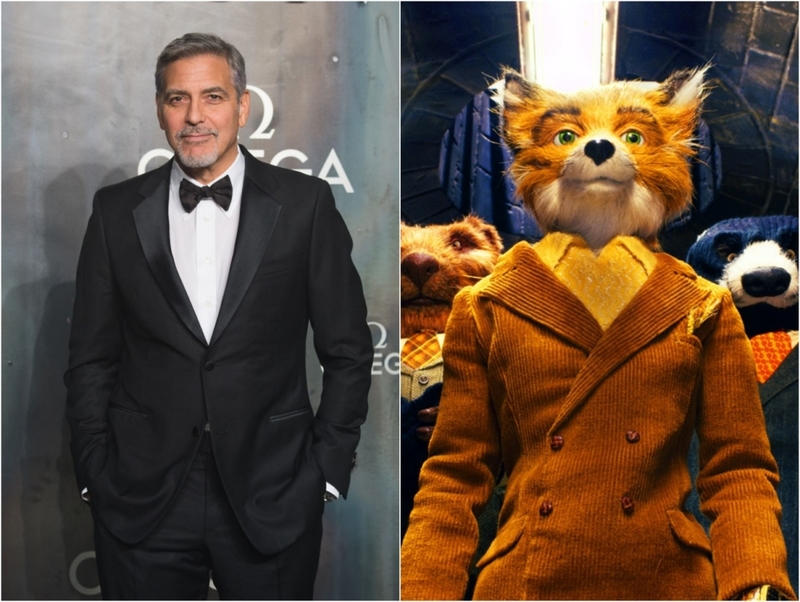 The Fantastic Mr. Fox was based on a 1970 novel, was launched in 2009, and featured a few big names in disguise of animated characters. We are not surprised that George went under the name of Mr. Fox.
Brittany Murphy – King of the Hill
King of the Hill ran from the late 1990s to 2010, being one the most-watched adult designated animated shows. The show told the story of the Hill family going through modern-day issues in a fictional city in Texas.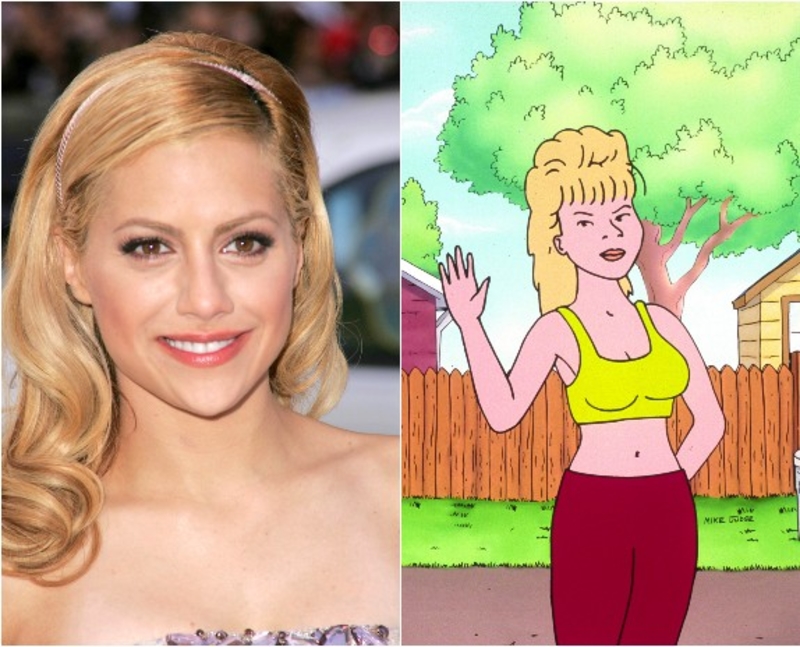 Brittney Murphy voiced Luanne Platter and even won an award for that role. She is known for her appearances on Clueless, Pheonix, Girl Interrupted, and many many more.
Morgan Freeman – The Lego Movie
Creating plastic bricks and models, and turning them into the world's greatest toy is one thing, but taking those models and turning them into a huge computer movie, is another. And that is exactly what Dan Lin and Roy Lee did in the 2014 Lego Movie.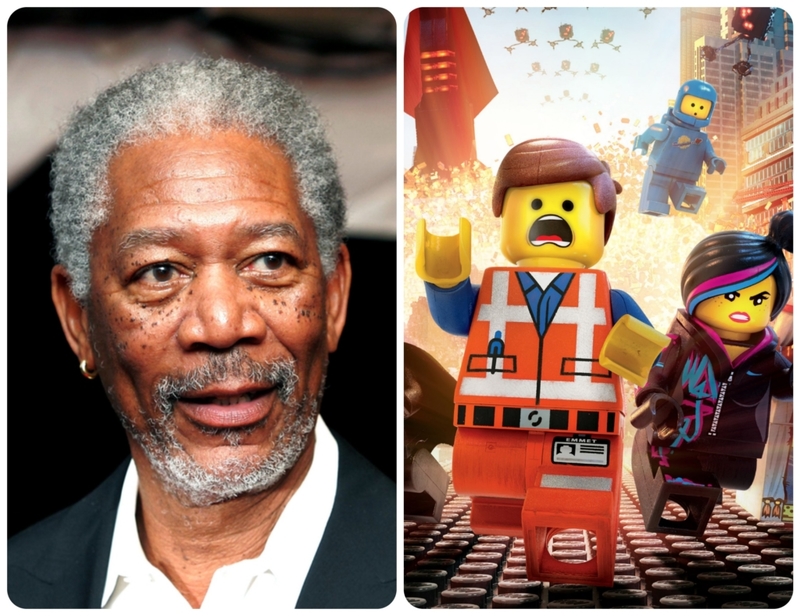 It won awards, made kids fall in love with the characters, and made Morgan Freeman put his famous voice to work. Freeman voiced Vitruvius and this was not the last we heard from him. He was heard on The Dark Night and The Dark Night Rises.
Mila Kunis – Family Guy
Came to life just before the new millennium kicked in, Family Guy is an animated sitcom, created for adults. The show has had nineteen seasons, and according to the producers, there is more to come.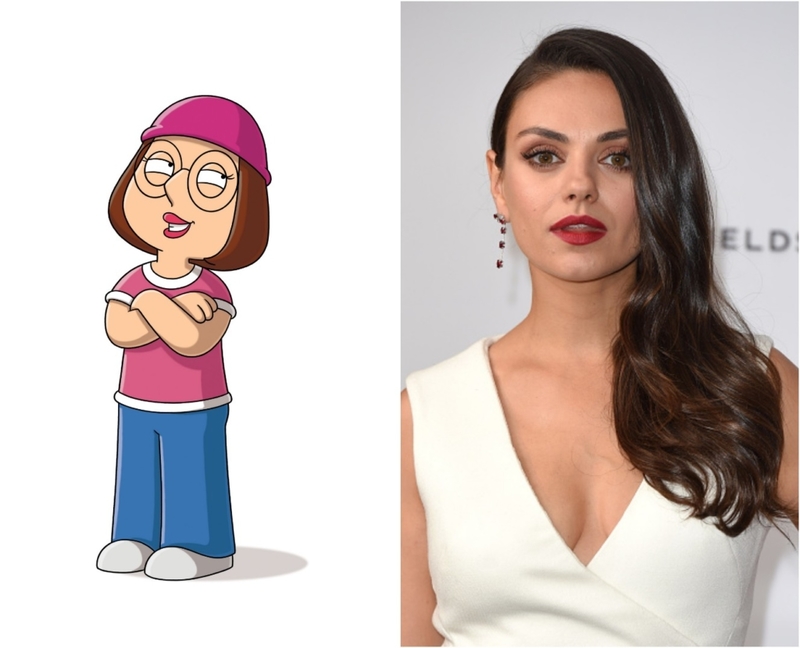 Mila Kunis is known to us all from her appearance on That 70's show and as the voice behind Meg, on Family Guy. Although Meg is a fictional character, she has so many ways of life we can all late to. We wonder if, in real life, Mila was at some stage the scapegoat of the family, like Meg is.
Michael J. Fox – Stuart Little
If you could have taken Michael J. Fox to the future, and shown him that he will voice a little mouse called Stuart, he wouldn't believe you. Not only that, he would probably shake those family ties of his, as apparently, Fox has never watched the movie.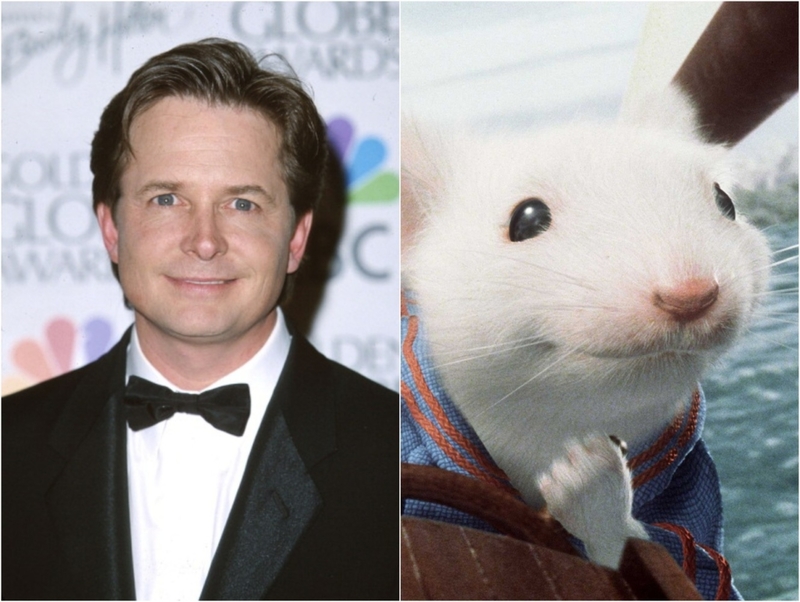 Stuart Litlle was a 1994 movie that combined live-action, animation, and computer-generated images all in one movie. Fox completes Stuart's character with his voice, making this movie one to remember.
Justin Timberlake – Trolls
The 2016 movie, produced by Drem Works, tells the story of the trolls that go on an adventure to save their village. It grasped several nominations and managed to preserve the Good Luck Troll doll's magic from years back. Besides being really good-looking, Justin Timberlake is an incredible entertainer.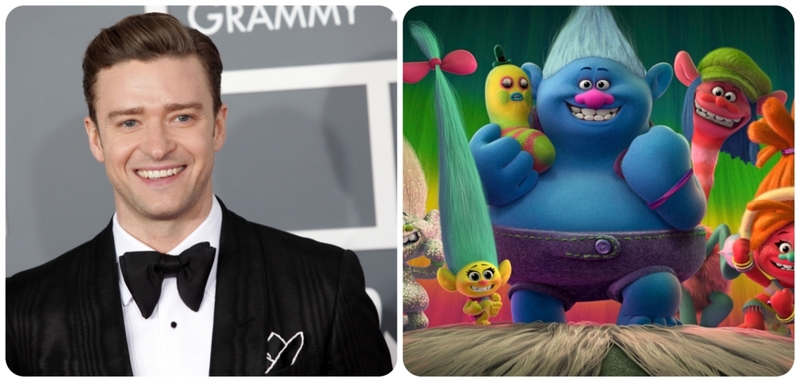 He is a producer, singer-songwriter, and heartbreaker. Maybe there are some women around the world who were not surprised when he was chosen to voice a character in the movie Trolls.
Jaleel White – Sonic the Hedgehog
Picture this. It's a Saturday morning, the kids are turning on Sonic, their favorite video game. Suddenly they hear a screech from behind the scenes. At first, they think it its a problem with the connection for the wires, then believe it is just a bug in the game. Eventually, they realise that no bug was involved.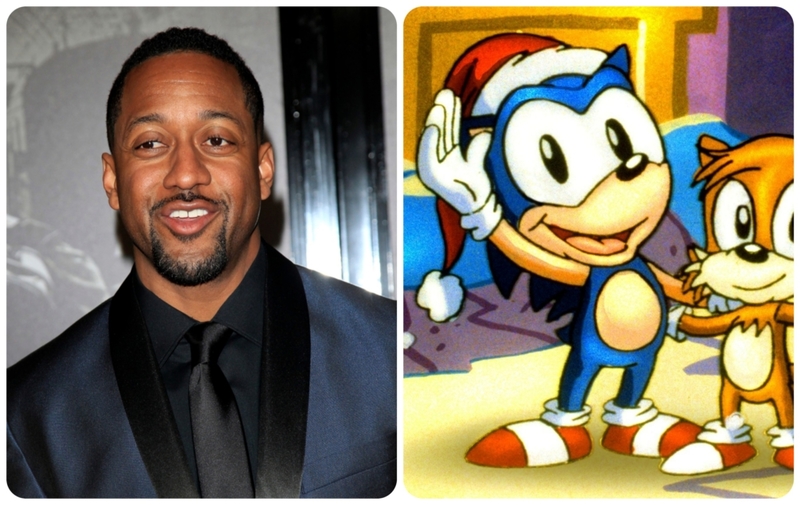 Jaleel White accidentally shifted onto Steve Urkel, leaving Sonic with a voice you could not ignore. That's the price for playing Steve remarkably for so long. You just never know when he might show up.
Samuel L. Jackson – The Incredibles
You don't have to turn to real-life scenes to taste what reality is all about. In The Incredibles, Fronzone's wife will do absolutely anything, so her better half sticks to his world and keeps their dinner date. This happens in real life all the time, doesn't it?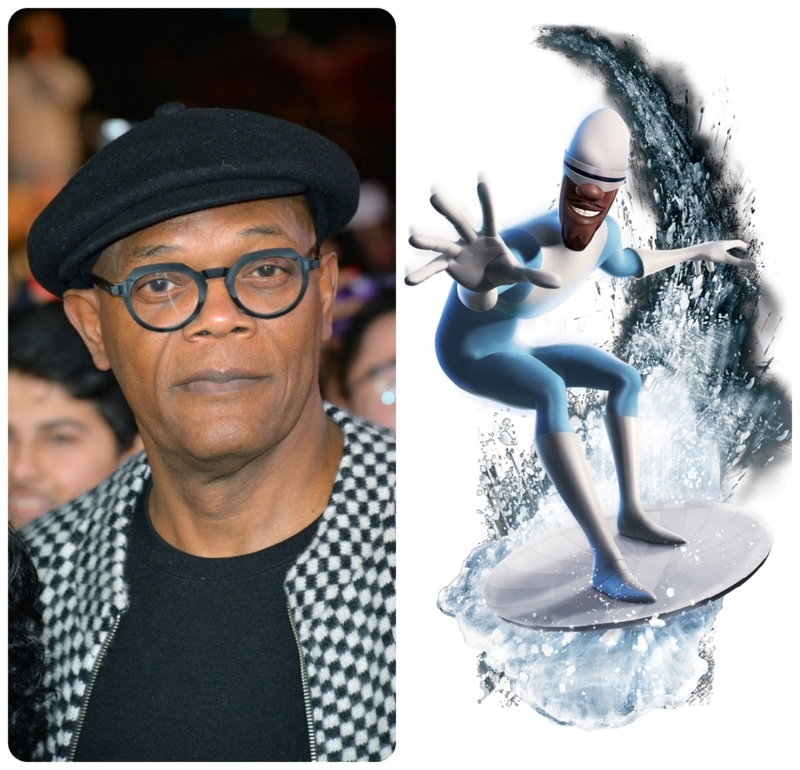 Samuel L. Jackson contributed his remarkable voice for the character of Fronzoe, allowing him to emphasize his macho characteristics and stretch them as far as he could. Luckily Mrs. Jackson wasn't around to show him exactly who wears the pants in the house.
Miley Cyrus – Bolt
When Miley Cyrus returned in 2008 into the arms of Disney, it was no strange place for her. She is remarkably known for being a kid star on the Hanna Montanna show which she left a trail of glitter behind her. Penny, a 13-year-old girl and Bolt's owner in the movie Bolt, is voiced by her.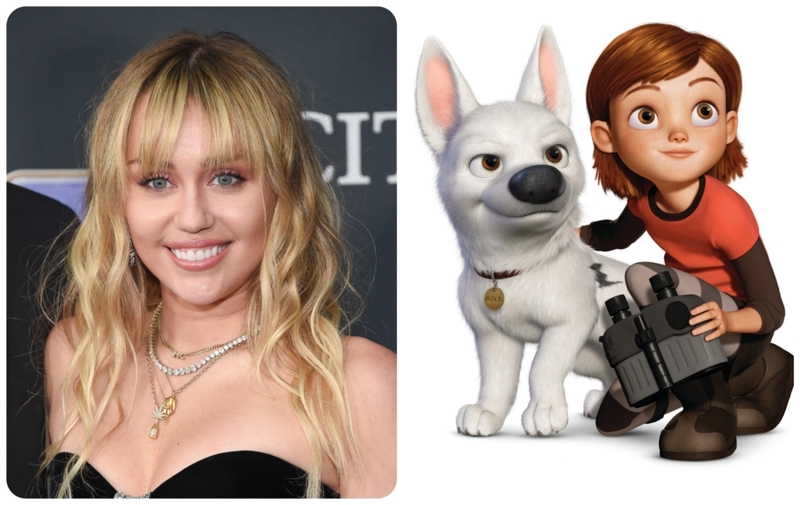 In the movie Bolt, Miley Syrus steps out of her comfort zone, and instead of shining on stage and on the big screen, her rays of light manage to crack through the scene and reflect how great this woman is no matter on what side of the curtain she is.