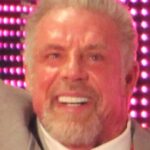 The Tragic Death Of The Ultimate Warrior
echo get_the_meta(); ?>
James Brian Hellwig spent the better part of a decade thrilling audiences as The Ultimate Warrior and similar names throughout his pro wrestling career. He was a fan favorite in his day, according to ESPN, becoming one of the industry's biggest stars in the era. In what may go down as one of the key pro wrestling matches in history, he defeated Hulk Hogan at Wrestlemania VI, according to WWE.com.
His departure from professional wrestling was haphazard and acrimonious, according to The Sportster. After he parted ways with the wrestling industry in the late 1990s, The Ultimate Warrior had a brief career as a conservative writer and public speaker.
In 2014, at the age of 54, Hellwig/Warrior died suddenly and unexpectedly. Even more tragically, his death came just days after he appeared to have made peace with the wrestling industry and had gotten the recognition he deserved.
This is the true story of the tragic death of The Ultimate Warrior.
The ultimate warrior died of a massive heart attack
James Hellwig died on April 8, 2014, in Scottsdale, Arizona. Specifically, according to TMZ, he and his wife were walking outside a hotel when he clutched his chest and collapsed. He was pronounced dead at a hospital a short time later. A later autopsy report would reveal that he died of atherosclerotic/arteriosclerotic cardiovascular disease. He was survived by his wife Dana, his two daughters, his mother, his two sisters, and his two brothers, according to WWE.com.
What made Warrior's death particularly tragic was that he'd spent over a decade being estranged from the very industry that had made him a household name, and yet he died just days after he made peace with it. Specifically, the night before he died, he was inducted into the WWE Hall of Fame, according to a companion TMZ report. A few days prior to that, he'd even made his first appearance on "Monday Night Raw" in several years.