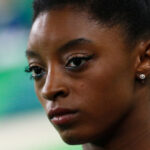 The Tragic Real-Life Story Of Simone Biles
echo get_the_meta(); ?>
"It's lonely at the top," said Timothy Ferriss, podcaster and author of "The 4-Hour Workweek." Champion gymnast Simone Biles is well aware of the sentiment. Despite achieving many firsts in the field (as per her website: first female African-American all-around world champion, first woman gymnast who won three consecutive World all-around titles, among other things), she has faced struggle and hardship throughout her life.
Biles' biological father, Kelvin Clemons, abandoned the family early on, said In Touch Weekly. Biles' mother struggled with alcohol and drugs, according to the Insider, who quoted the gymnast from the Facebook Watch docuseries "Simone vs. Herself" as saying, "Growing up, me and my siblings were so focused on food because we didn't have a lot." Neighbors became concerned about Biles and her three siblings, and they ended up in foster care by the time Biles was three. An aunt who lived in Ohio took her two older siblings — Ashley and Tevin — and Biles' grandfather, Ron, and his second wife, Nellie, adopted her and a younger sister, Adria, when she was six, bringing them to their home in Texas.
"In certain situations, you almost have a cage around your heart," Biles said in the series. "There's a part of you that you compartmentalize to almost keep yourself safe."
The sacrifice to become a champion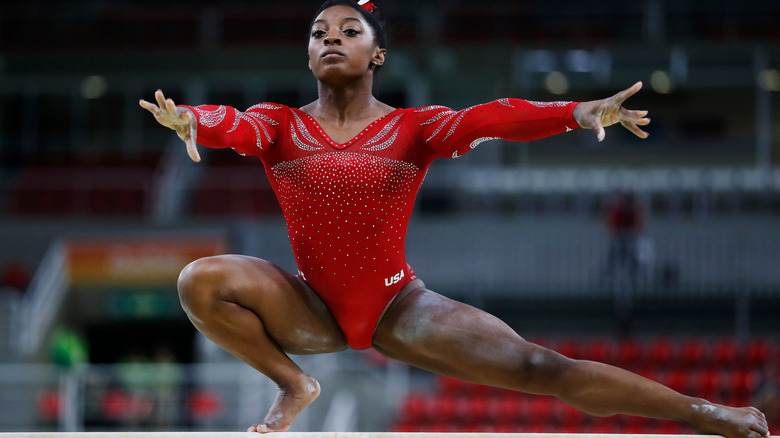 Shutterstock
After the adoption, Biles wouldn't see her mother for six years, according to the Daily Mail. "It was hard to give up my kids, but I had to do what I had to, I wasn't able to care for them," said Shanon Biles to the publication. "I was still using [drugs] and he (Biles' grandfather) didn't want me coming in and out of their lives when I wasn't right."
Biles started her fascination with gymnastics at six after her daycare did a field trip to Bannon's Gymnastix. She studied the sport there for 11 years with coach Aimee Boorman, according to Britannica. "The people at the gym sent a note home with Simone asking if I would consider signing her up for gymnastics or cheerleading," her adopted mother, Nellie, said to Bleacher Report. "Once Simone handed me the note, she said, 'Mom, can I please go?' She was a hyper girl then. She'd flip on the furniture and cartwheel everywhere."
Her family set goals yearly and Biles desired to see her face on a magazine cover. By ninth grade, she realized that to achieve that dream, she'd need to make a hard decision to leave school — and all the fun time with classmates, events like the prom — so she could homeschool and train more. "I was just so lonely all the time," Simone said to The Undefeated. "I missed, like, all my friends at school and stuff."
A winning streak begins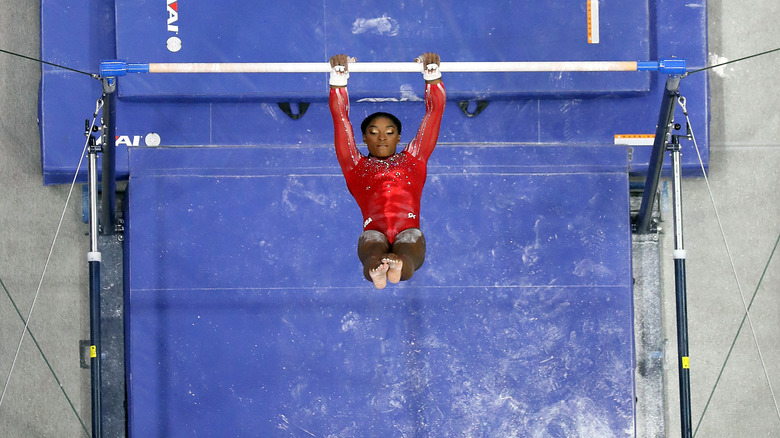 Jamie Squire/Getty Images
While Biles does speak to her mother — now a home health aide — every few months, repairing the relationship didn't always come easily. Her adopted mother, Nellie, invited Shanon Biles to see the gymnast compete in the 2013 Secret U.S. Classic. "Because her biological mother lived that close, I thought it was important for her to come and see Simone compete," she said to The Undefeated. But people queried Biles about her birth mom and she became distracted, even falling during the event. 
It was a temporary setback. Also in 2013, Biles would win her first U.S. and world all-around titles, according to Biography. She was on her way to becoming the biggest medal winner (more than two dozen Olympic and World Championship awards) in American gymnastics. This includes earning her third straight world all-around title in 2015. In 2016 she helped the U.S. Olympic women's gymnastics team — Laurie Hernandez, Aly Raisman, Gabby Douglas and Madison Kocian, also known as "The Final Five" — win in Rio. Biles nabbed gold in the individual all-around as well as the vault and floor exercises, and a bronze on the balance beam. 
Biles kept racking up awards: In 2019, she received her sixth, record-breaking U.S. all-around title and kept the achievements coming that fall with a 25th World Championship medal (via Biography).
A signature move and some terrible comments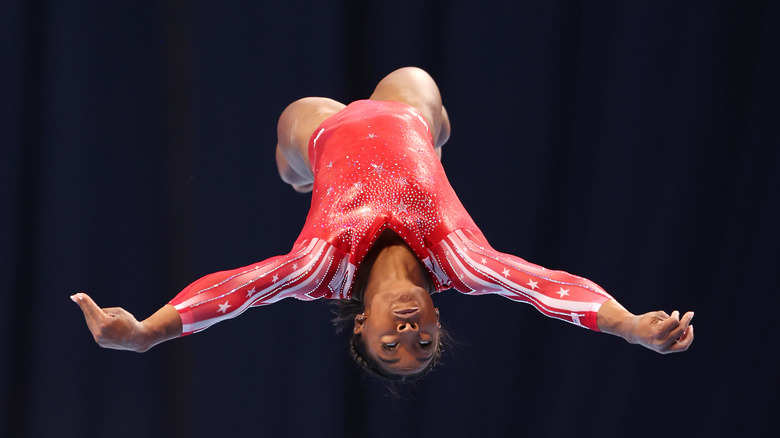 Jamie Squire/Getty Images
Biles developed a signature move that premiered at the 2013 World Championships in Antwerp, Belgium. "The Biles" appeared at the end of a tumbling run and included a fully extended double layout flip with a half twist. "Gymnastics is a process for me," Biles said to Bleacher Report, explaining her process. "I practice, practice, practice and then something will just click and then I have the move. It is not always fun, and it's not like I can go out to lunch with friends because I have to practice. But it's worth it once you feel that click. I hope my move will be around forever."
But not everything worked as well as her new move at the competition. Soon after Biles won a bronze medal for her performance on the balance beam, according to The Undefeated, some took issue with her victory. Italian gymnast Carlotta Ferlito complained to an Italian interviewer that he "told [teammate Vanessa Ferrari] that next time we should also paint our skin black so then we can win too." An Italian federation spokesperson clarifying the remarks went on to say, "the current trend in gymnastics … is going toward a technique that opens up new chances to athletes of color, well-known for power, while penalizing the elegance typical of Eastern Europeans." Both apologized and Biles chose to ignore the commentary.
A predator is captured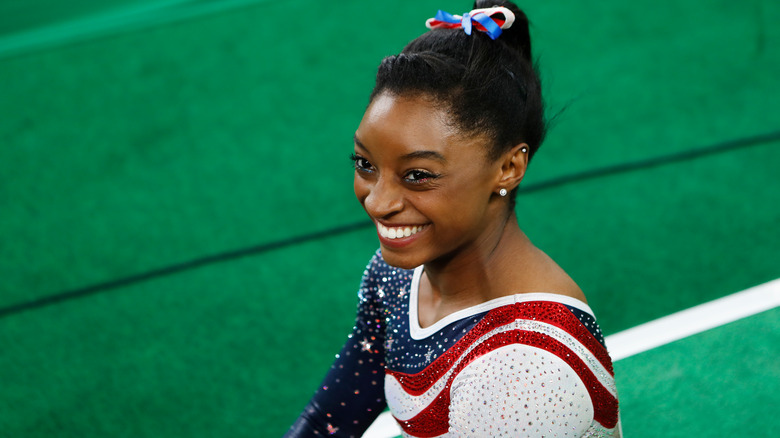 Shutterstock
"It did bother her," her mother, Nellie said to NBC. "I told her, 'Don't get roped into this' and, 'Don't let those comments ruin this moment for you. Just be proud of your performance and outcome.'" But there would be other challenges ahead. In January 2018, she admitted during a Twitter post that she was one of the survivors sexually abused by longtime USA Gymnastics team doctor Larry Nassar.
"For too long I have asked myself, 'Was I too naive? Was it my fault?' she said in the post. "I now know the answers to those questions. No. No, it was not my fault. No, I will not and should not carry the guilt that belongs to Larry Nassar, USAG [USA Gymnastics], and others." Nassar is currently in a federal Florida prison serving a 60-year sentence for child pornography, according to ESPN. 
The almost two-week hearing showed the impact he had, with more than 150 women giving victim impact statements. Through it all, Biles remained focused. As Vogue pointed out, she became the only Olympic gymnast who spoke out about  Nassar's abuse and still kept competing, her efforts aimed at the Tokyo Olympics in 2020. Then the COVID-19 pandemic shut the event down.
A family member in trouble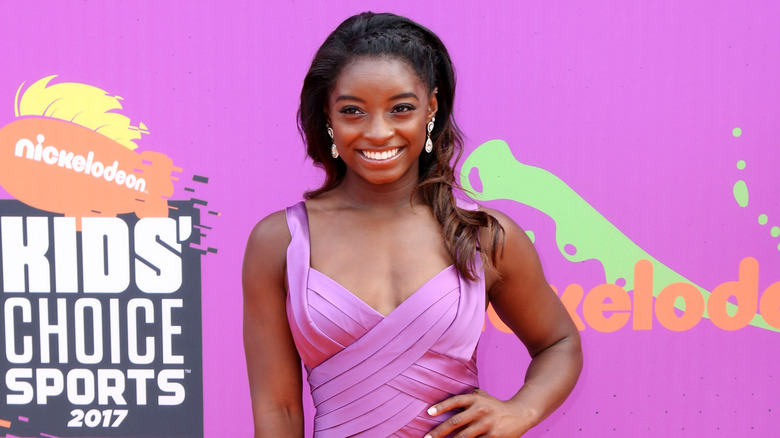 Shutterstock
Biles had planned on retiring after the 2020 Olympics, according to CNN.com. She was already 24, but the pandemic forced her to wait. So she just trained harder. She became the first woman to do the dangerous Yurchenko double pike vault in a May 2021 U.S. Classic competition, reported The New York Times. Even she expressed her surprise at the achievement, tweeting, "I'm sorry but I can't believe I completed a double pike on vault."  Besides perfecting new techniques, Biles also took time to give back during the COVID shutdown, and worked with Athletes for COVID-19 Relief. "In a crisis like this, I feel like everyone wants to jump up to their feet and help," she said to the "Today" show.
Another crisis ended for Biles as the world started coming out of the pandemic; her brother, Tevin Biles-Thomas, who faced charges of murder, voluntary manslaughter, felonious assault, and perjury, was acquitted because of a lack of evidence in June, according to People. Biles' brother was arrested in August 2019 for allegedly shooting three people at a house party in Cleveland, Ohio, on December 31, 2018, killing Delvante Johnson, 19; Toshaun Banks, 21; and Devaughn Gibson, 23. Biles offered condolences to the victim's families, but otherwise did not comment on the case.
Biles will compete in her second Olympics in Tokyo. The event runs from July 23 to August 8.