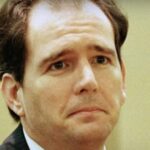 The Untold Truth Of Danny Rolling, The Gainesville Ripper
echo get_the_meta(); ?>
A native of Shreveport, Louisiana, Danny Rolling was the son of James and Claudia Rolling. James was a decorated Korean War veteran who worked as a police officer, while Claudia stayed home to care for the children and manage their household. However, as reported by Biography, Rolling's childhood was far from ideal. His father, James, was described as "controlling and violent." In addition to abusing his wife, James reportedly verbally and physically abused both of his sons. Danny, in particular, seemed to be strongly affected by the abuse. 
 After high school, Danny joined the Air Force, but was dishonorably discharged after he was arrested for drug possession. He went on to marry and had a daughter, but following his discharge from the military, Danny Rolling committed a number of increasingly serious crimes, including rape and armed robbery. Although he was incarcerated multiple times, he reverted to his old ways every time he was released.
Following his divorce from his wife in the late 1980s, Danny Rolling began committing murder. His first victims were 24-year-old Julie Grissom, her 55-year-old father Tom, and her 8-year-old nephew Sean. Two years later, he killed five college students. Danny Rolling, who was dubbed the Gainesville Ripper, ultimately pleaded guilty to five counts of first degree murder for the deaths of the college students, and was subsequently sentenced to death.  
Danny Rolling was already in jail when he was identified as the Gainesville Ripper
Rolling was not identified as the Gainesville Ripper until several years after he killed the five college students. As reported by Biography, authorities initially suspected another student, who lived near two of the victims and was displaying erratic and violent behavior in the weeks surrounding the murders. However, there was no evidence linking that student to the crimes.
By 1992, Rolling was in jail awaiting trial for the armed robbery of a Winn-Dixie grocery store. Biography reports he was facing multiple life sentences if convicted, as he had numerous prior convictions for armed robbery.
Although he was eventually named a suspect in the Gainesville Ripper killings, authorities had little evidence, and nothing directly tying him to the crimes. Biography reports they did, however, collect DNA from the scene of one of the Gainesville Ripper murders.
Using a tooth, which Rolling had extracted while incarcerated, authorities were finally able to match his DNA to the evidence found at the scene. Although he initially denied the charges, Rolling eventually confessed to killing a total of eight people between 1989 and 1990.
Danny Rolling claimed he had multiple personalities
Following his arrest, Rolling was interviewed by a number of mental health professionals, who all agreed he had some form of mental illness. As reported by Orlando Sentinel, the experts also agreed that the Gainesville Ripper was legally sane and was therefore fit to stand trial.
On numerous occasions, Rolling claimed he had multiple personalities. According to Rolling, one of those personalities, whom he referred to as "Gemini," was responsible for committing the Gainesville Ripper murders. During one interview, Rolling claimed he used psychic powers to gain access to two of his victims. The door to the victims' apartment was securely locked when he first attempted to enter. He reportedly claimed to have used the power of his mind to unlock the door and enter the apartment.
The mental health professionals who interviewed Rolling concluded he was mentally ill, and clearly "shifted from role to role." However, they did not find any evidence to support his assertion that he had multiple personalities. As he saw several different doctors, Rolling was diagnosed with a number of conditions, including borderline personality disorder and antisocial personality disorder. Orlando Sentinel reports the abuse Rolling suffered at the hands of his father may be the source of his personality disorders. However, his divorce appeared to be the catalyst for his crime spree, as the murders began shortly after he and his wife parted ways.
There was disturbing link between the Gainesville Ripper and Exorcist III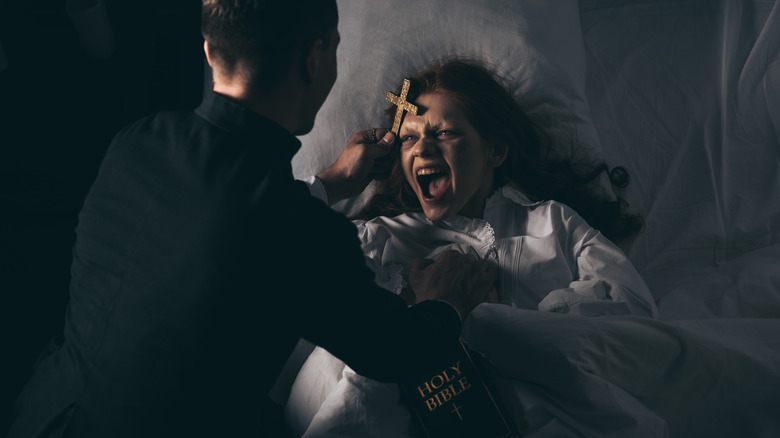 Shutterstock
Prosecutor Rod Smith believes Rolling came up with the multiple personality story after watching the film "Exorcist III." Orlando Sentinel reports the film is about "the spirit of an executed serial killer," called Gemini, who possessed other people and forced them to commit murder.
One of the psychologists who interviewed Rolling said the killer admitted watching "Exorcist III" in the weeks before killing his first victims. Dr. Robert Sadoff, who testified at Rolling's trial, said Rolling may have identified with the movie because Gemini is his astrological sign. During his testimony, Sadoff said, "Most of us would take that as coincidence, but not the magical thinking of Danny Rolling … He would see that as kind of a sign … somebody (is) communicating directly to me through the movie."
The movie's plot may have also inspired the grisly nature of one of the Gainesville Ripper's first murders. As reported by Orlando Sentinel, one of the victims in the movie was decapitated and her torso was sliced open. Rolling's third victim, Christa Hoyt, was also decapitated and her torso was sliced open, similarly to the victim in the movie.
Danny Rolling ate lobster and sang a gospel song before his execution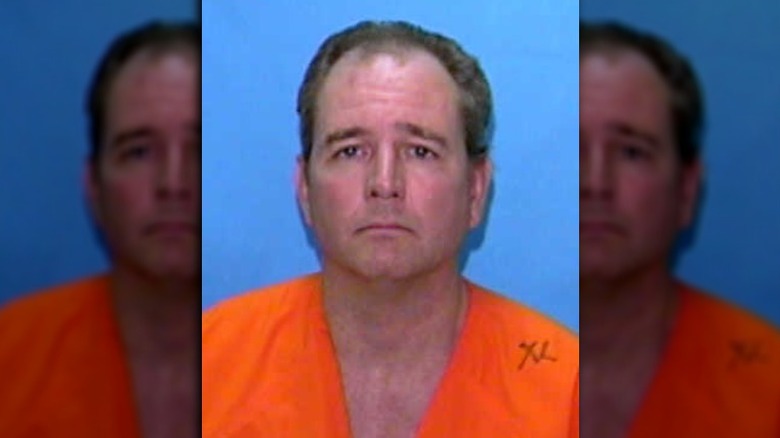 Danny Rolling was scheduled to die by lethal injection at the Florida State Prison on October 25, 2006.
As reported by The Florida Times-Union, Rolling was allowed a personal visit with his brother Kevin for two hours on the morning of his execution. Following the visit, he was served his last meal, which consisted of a baked potato, butterfly shrimp, a lobster tail, strawberry cheesecake, and sweet tea. After his last meal, Rolling spent several hours with his spiritual advisor Rev. Mike Hudspeth. By all accounts, Danny Rolling "remained calm" throughout the day of his execution.
The South Florida Sun Sentinel reported 47 people, including a number of his victims' relatives, were present to witness Rolling's execution. Although he was given an opportunity to make an oral statement, Rolling spent the last three minutes prior to his execution singing a gospel song. The lyrics, which Rolling apparently wrote himself, included, "He who flung the stars into the heavens above, Created the oceans the mountains the eagles and the doves, None greater than Thee O Lord, none greater than Thee … Angels bow before you and fold their wings, Lift your voice and praise the King of Kings … "
As reported by The Sun Sentinel, Rolling's injections were administered beginning at 6:03 p.m., and he was pronounced dead at 6:11 p.m.
The Gainesville Ripper inspired the movie 'Scream'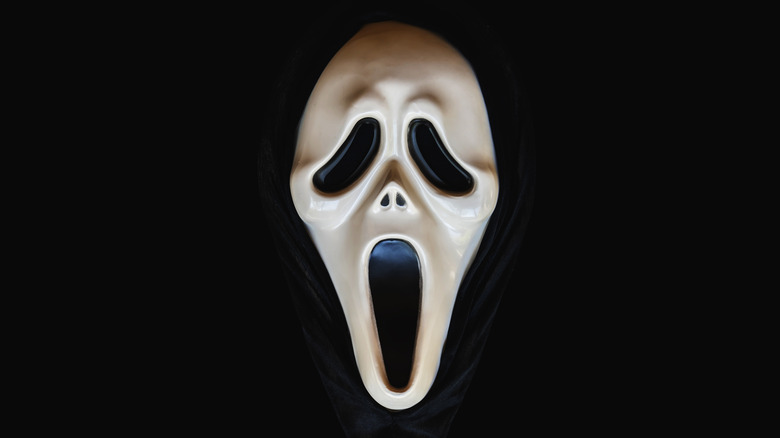 Shutterstock
In the 1990s, the Gainesville Ripper murders caught the attention of writer Kevin Williamson, and eventually inspired him to pen a screenplay about a killer who preyed on college students. As reported by Biography, the resulting film, "Scream," brought "new life into the [horror] genre." However, the killer in the movie had little in common with Danny Rolling, and the completed work had little resemblance to the actual murders.
In addition to "Scream," Danny Rolling's murder spree inspired the 2010 film "The Gainesville Ripper." As reported by IMDB, that film, written and directed by Josh Townsend, was a more factual account of the murders committed by Rolling. However, the story was clearly embellished.
Biography reports the Gainesville Ripper murders also inspired a number of books, including Danny Rolling's own account of his crimes, titled "The Making of a Serial Killer: The Real Story of the Gainesville Student Murders in the Killer's Own Words", which he co-wrote with journalist Sondra London.