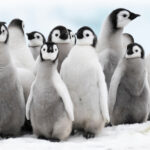 20 Birds That Can't Fly
echo get_the_meta(); ?>
Everyone can name a few flightless birds: ostriches, penguins, and kiwis are a few that usually spring to mind. Many people don't know, though, that being flightless isn't really an avian oddity. In fact there are a total of 57 species of flightless birds (not counting the domesticated ones), and although they live mostly in the southern half of the world they range widely, from Antarctica to Africa to South America.
Scientists used to think that flightless birds like the ostrich are descended from a common ancestor that was also flightless, but they now think that these birds actually lost the power of flight over time. As it turns out, the ability to fly is something that's easily lost, under the right circumstances. That's because flight is actually kind of costly, and not just for those of us who are appalled at how much you have to spend to fly a family of four to Europe.
It's worth noting that "flightless" is a little bit subjective. Some of these birds, like ostriches, can't fly at all. Others can flap their wings and catch a little bit of air, but only fly for short distances. But all of these birds are pretty fascinating. Here are 20 birds that can't (or can barely) fly.
Chickens had flight bred out of them
Ostriches are too big and funny shaped