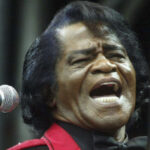 The Untold Truth Of James Brown
echo get_the_meta(); ?>
Known as the Godfather of Soul, The Hardest Working Man in Show Business, and Mr. Dynamite, among other names, James Brown was a soul and funk icon. He wowed audiences with his charismatic and exuberant performances that showed off his athletic prowess and seemingly undying energy, according to AllMusic. Brown was known for tunes such as "Sex Machine," "Papa's Got a Brand New Bag," "Get Up Offa That Thing," and "I Got You (I Feel Good)."
While Brown won several Grammys, lifetime achievement awards, and other accolades over the course of his career, he lived a turbulent life, which has been documented by his children, wives, and others who knew him well. He came from a broken home, got into trouble with the law on numerous occasions, and had a penchant for beating up the women who loved him the most. Yet he was able to pull himself out of poverty and become one of the most famous singers in the world. Read more about the untold truth of James Brown
James Brown was very poor growing up
Singer James Brown was born on May 3, 1933, in South Carolina. Decades before he became known as "The Godfather of Soul" and turned into a musical dynamo, he had to cope with a troubled childhood, reports Britannica. He was born in a one-room shack, and the midwives thought he was stillborn. His parents split up when he was around 4 years old, and he was raised by his Aunt Honey who ran a brothel in Augusta, Georgia, according to The New York Times. Life for the young boy in the segregated South was difficult. He had no money, and at one point was sent home from school for wearing "insufficient clothes." Some believe Brown later wore flashy costumes on stage as a result of his impoverished upbringing.
As a child, he earned money picking cotton and shining shoes. Brown got in trouble for stealing and fighting, but he also learned how to play instruments and sing gospel music. While attending church and tent revivals, he experienced the gospel scene in which the preachers would get very animated and emphatic during their sermons in order to evoke a reaction from the parishioners. During this period, Brown would sing a little for his classmates and participated in some local competitions. He was influenced by the jazz scene and rhythm and blues. He also enjoyed watching singers and dancers who performed in traveling shows and circuses, according to the Encyclopedia of World Biography.
He was sent to jail at 15
When he was just 15 years old, James Brown had his first major run in with the law. Police arrested Brown and a few of his companions for breaking into cars, according to Britannica. The teen received a sentence of eight to 16 years in jail, so he potentially could have been imprisoned until the age of 31. However, due to good behavior, he was released after just a three-year stint. He was paroled in Toccoa, Georgia, in 1952, according to JamesBrown.com. And the contacts he made in jail helped him eventually launch a successful career. 
Brown formed a gospel group called the Swanees with a friend named Johnny Terry from prison, according to the Encyclopedia of World Biography. Eventually, they transitioned to the doo-wop sound that was popular in the '50s and changed their name to the Famous Flames, eventually gaining the attention of Little Richard and his manager. They made a demo record and later traveled to Cincinnati, Ohio, to record "Please, Please, Please," which sold three million copies.
James Brown brutally beat up his wives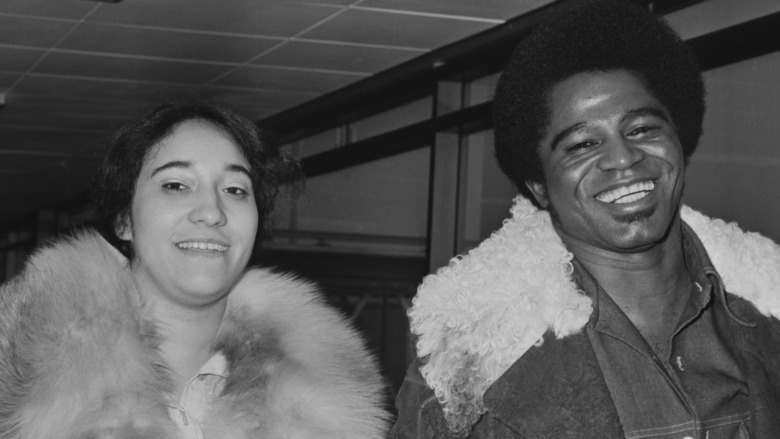 George Stroud/Getty Images
In her book, "Cold Sweat: My Father James Brown and Me," written by Yamma Brown and Robin Gaby Fisher, Brown's daughter detailed the abuse she experienced firsthand growing up. "The beatings always begin the same way, with the same terrible sounds," according to an excerpt in Vulture. "My parents are in their bedroom, behind closed doors. First comes the boom of my father's voice. 'Dee Dee! God***n it, Dee Dee!' Then I hear what sounds like thunder rolling through the house. That's Mom hitting the wall. I wait for her to scream, but she doesn't. She whimpers. She must have learned long ago that screaming incites him."
Yamma noted that her father didn't beat her or her siblings. Yet she was tortured by the way he used her mother "as a his punching bag." Yamma would get physically ill when her parents fought. She would vomit and shake. She recalled how her mother would close the bedroom door presumably "to spare Deanna and me from seeing her battered."
James Brown's abuse of women didn't stop with just one of his wives. He was arrested on criminal domestic violence charges in 2004 for allegedly pushing his wife, Tomi Rae Brown, during an argument in their South Carolina home, according to Women's eNews. James was also charged with spousal abuse at least three times during his 10-year marriage to Adrienne Brown. In one of those instances, he brutally beat Adrienne using a mop handle and fired a rifle at her car. All the charges were eventually dropped.
His children feared him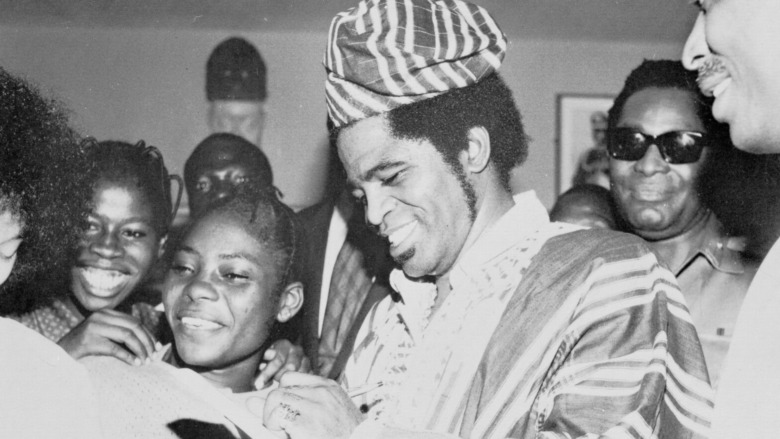 Michael Ochs Archives/Getty Images
While there were times that James Brown was sweet and loving to his children, he was also a tyrant. Yamma Brown recalled in her book "Cold Sweat: My Father James Brown and Me," that she was terrified of him. "Until I was grown, every time I heard him raise his voice, even when he was talking business on the phone, I shook with fear," according to an excerpt published in NPR. "I had heard that rage so many times as a child, and it usually meant he was high and pummeling Mom behind closed doors."
Still, Yamma couldn't help but love the man who beat the women in his life. "As much as I loved my father, and I sure loved him, I hated him during those times. And I didn't like my mother much either … If she couldn't stand up for herself, how would she protect me?" Unfortunately, the childhood trauma Yamma experienced carried through over the years. "I'd been programmed to accept abuse as part of life," she revealed.
He calmed Americans down following MLK's assassination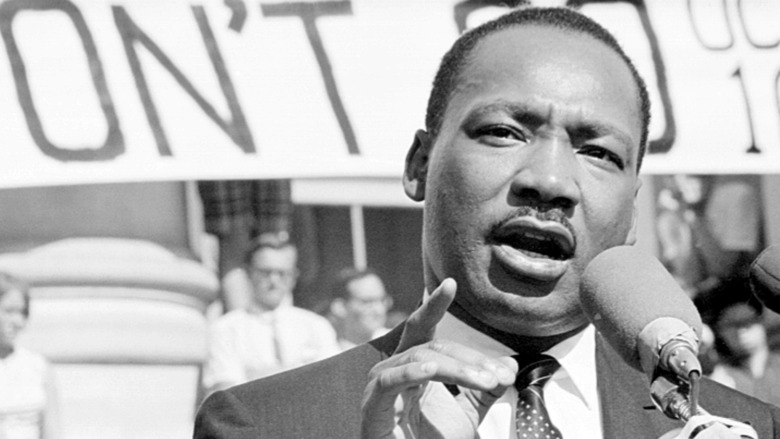 Michael Ochs Archives/Getty Images
James Brown was scheduled to perform at Boston Garden on April 5, 1968. The day prior, Martin Luther King Jr. was assassinated. Other cities had to cope with riots, and Boston officials worried that the same thing would happen in their city, which was already dealing with some violence and looting, according to the Boston Globe. Mayor Kevin White thought one way to keep people from acting out was to let Brown perform. He also talked the singer into televising the event on a local station so residents would choose to watch the concert rather than congregate outdoors. 
Towards the end of the show, Brown had to placate a number of overly excited fans as well as police who were prepared to forcibly pull the concertgoers off of the stage. Brown diffused tensions by interacting and dancing with the fans. He then admonished them for their actions. He told them, "I asked you to step down and you wouldn't and that's wrong. You're not being fair to yourselves and me neither … or your race. Now I asked the authorities to step back because I thought I could get some respect from my own people." They listened to his words, and he was able to finish his performance. While there was some unrest in Boston that night, it wasn't nearly on the level city officials predicted.
Disco killed his career, but he made a remarkable comeback
Steve Rapport/Getty Images
In the late '50s and '60s, James Brown worked hard for his living. He frequently performed five or six nights a week, according to Biography. Concertgoers loved his energetic shows and were mesmerized by his performances. On stage he would bust out the latest dances, such as "The Mashed Potato," and had a string of hits, including "I Got You (I Feel Good)," "Papa's Got a Brand New Bag," and "It's a Man's Man's Man's World." Seventies hits included "Sex Machine" and "Get Up Offa That Thing."
Unfortunately, even all that energy couldn't keep audiences engaged. In the late '70s, he struggled due to some financial problems and had a hard time staying relevant during the disco era. He turned things around after appearing alongside John Belushi and Dan Aykroyd in the 1980 now-classic film, "The Blues Brothers." His music also appeared in 1985's "Rocky IV," and he was one of the first singers to get inducted into the Rock and Roll Hall of Fame.
James Brown had problems with the IRS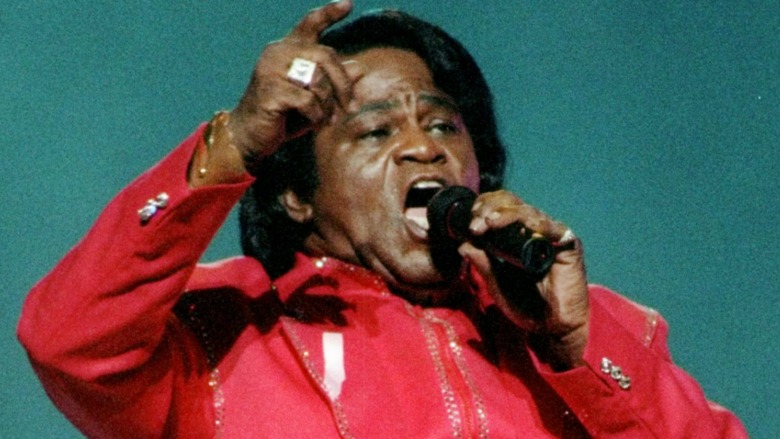 Al Bello/Getty Images
Money mismanagement isn't uncommon with successful stars (just ask actor Wesley Snipes, who lost a $23.5 million tax case in 2018, according to Forbes). Even though James Brown was one of the most famous singers in the world, he had a tough time staying on the straight and narrow. In 1975 the Internal Revenue Service (IRS) accused him of failing to pay $4.5 million in taxes from 1969 to 1970, according to the Encyclopedia of World Biography. Reportedly, one of his businesses in Baltimore was mismanaged, which caused the problem, reports Associated Press. Unfortunately, around the same time, Brown's band quit, his son Teddy was killed in a car crash, and his wife left him.
That wasn't the end of his troubles with the IRS. Fast forward to 1989 while he was serving another stint in prison, he had $40,000 in certified checks and $600 in cash in his possession. The government seized the money in order to pay back taxes. Prisoners were only allowed to have $50, considerably less than what Brown had. It was unclear why he had so much money in his cell.
He went to prison In 1988 for assault and battery and intent to kill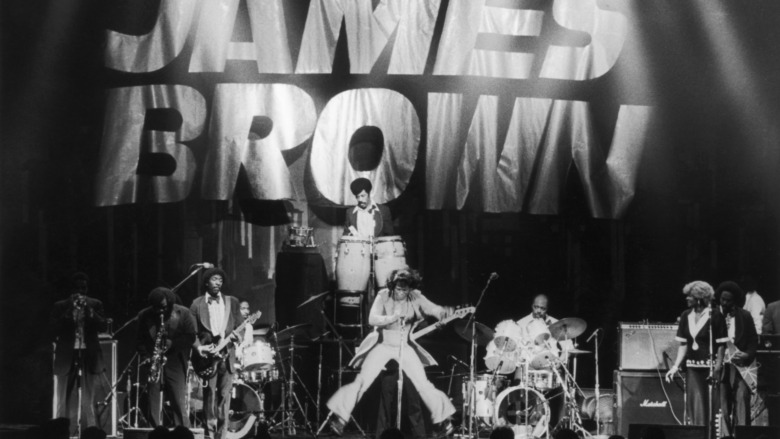 Leon Morris/Getty Images
On December 15, 1988, James Brown became an inmate at the State Park Correctional Institute in South Carolina, according to History. That summer the police had him on their radar for a few minor incidents, but on September 24, James Brown took his law-breaking ways to another level by going to an insurance seminar in Augusta, Georgia, brandishing a shotgun and a pistol, and ordering attendees to vacate. He then left the scene in his truck in order to evade police, who followed him into South Carolina and back into Georgia. Officers were finally able to shoot out three of the truck's tires, and Brown came to a stop six miles later. 
His then-wife Adrienne Brown claimed he was medicated and "not in his right mind." Earlier that year, James Brown had been charged with carrying a pistol and drug possession. Following this incident, he was charged with aggravated assault and failing to stop for a police officer. He served three years of a six-and-a-half-year sentence. He later celebrated his release by going on tour.
He was arrested for marijuana possession and unlawful use of a firearm
Hulton Archive/Getty Images
In January 1998, James Brown left rehab after being treated for painkiller addiction. Less than seven days later, police arrested him for marijuana possession and unlawful use of a firearm, according to MTV.  Brown started taking prescription painkillers after hurting his back during a performance in Florida, and his family admitted him to the hospital earlier that month. When deputies were serving him probate papers, they noticed some firearms, spent gun shells, and a "small amount of marijuana." After another car chase, Brown was sentenced to a 90-day drug rehabilitation program, according to The New York Times.
The state of South Carolina officially pardoned Brown in 2003, but he had a hard time staying out of trouble (and keeping his hands off the women he purportedly loved). Police arrested him again the following year for domestic violence against his fourth wife, Tomi Rae Hynie. Brown said of his wife and former backup dancer in a statement, "I would never hurt my wife. I love her very much."
His final years of life were filled with chronic health issues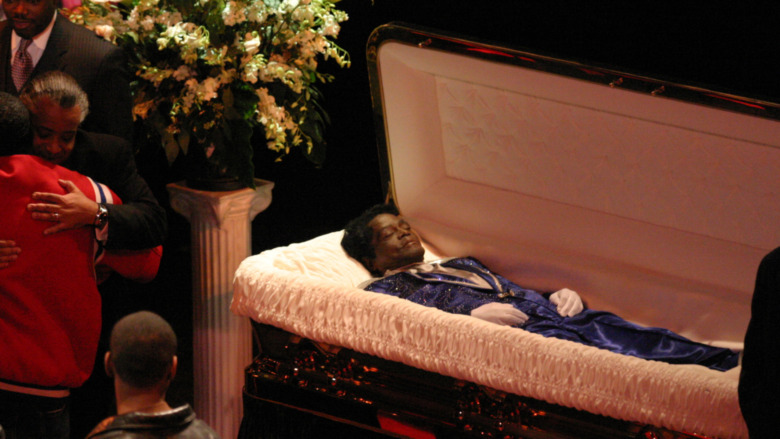 Bill Tompkins/Getty Images
Tomi Rae Hynie, who was married to James Brown for nine years before his death, opened up to the Daily Mail about her husband's failing health in his final years. She revealed that he had arthritis, and she had to massage his legs to relieve the pain. When he tried to do a split on stage, he wound up spending the next day in bed. He was also coping with diabetes, and she was in charge of his medication. "He hated growing old," she explained, "He wanted to always be the young virile man from his glory days but by the end he was using Viagra. There were times he could not even make love."
Hynie was just 25 when she met Brown. She recalled that he was a control freak, and those around him were scared of him. He insisted on being called "Mr. Brown" and demanded that Hynie be home by sundown "because he was so jealous and possessive." She added, "James was the king of his world and everyone had to bow down to him, including me. He once fined me $50 for running on stage late for a curtain call. We had been married two years."
Several associates believed he was murdered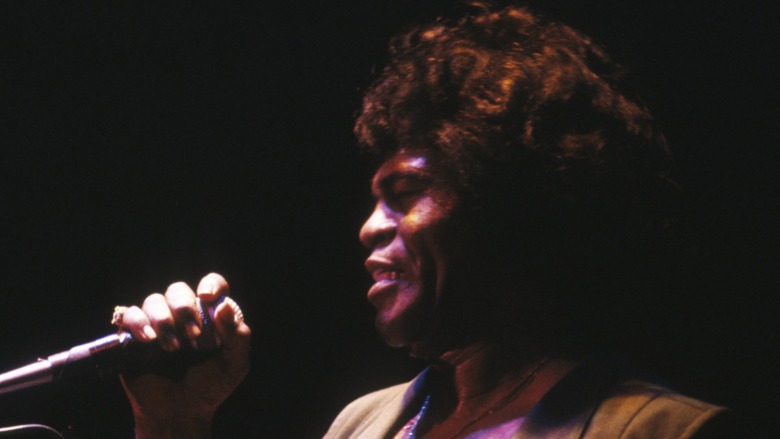 Tom Copi/Getty Images
James Brown died on December 25, 2006, at age 73 in an Atlanta hospital. The official cause of his death was a heart attack and fluid in the lungs. He was attended by his manager, Charles Bobbit. However, over a dozen people who knew Brown weren't convinced he died of natural causes, according to an in-depth investigation by CNN. Dr. Marvin Crawford, who signed his death certificate, did not believe he died of natural causes. Neither did his close friend Andre White nor son-in-law Darren Lumar, who believe he was murdered.
Others who were skeptical about his cause of death included his fourth wife, Tomi Rae Brown, friend Fannie Brown Burford, former backup singer Anne Weston, former personal physician Rita Udom, daughter LaRhonda Pettit, and hairdresser Candice Hurst. When asked about his death, Rev. Al Sharpton said in 2018, "I've always had and still have a lot of questions. … I wouldn't mind a further investigation at all." One theory is that James Brown was administered a fatal dose of drugs, which led to his death.
James Brown had a highly contested will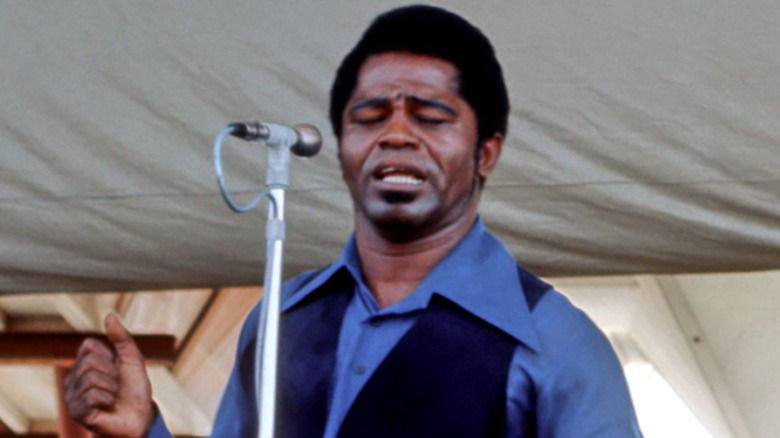 Michael Ochs Archives/Getty Images
If James Brown had been murdered, as some of his friends and family believe, it may have had to do with money. Interestingly, over a decade after his death, his estate still hadn't been settled, according to The New York Times. One of the biggest beneficiaries was supposed to be underprivileged children in Georgia and South Carolina. Following Brown's death, interested parties filed dozens of lawsuits related to his will, including one filed by nine children and grandchildren.
One point of contention involved his wife Tomi Rae Brown, whom his family accused of making "back-room" deals involving the copyrights of his music. Another lawsuit questioned whether Tomi Rae was even legally married to James. The lawsuits ran the gamut, from simply contesting the will to being recognized as a rightful son and heir. There were also complaints that James' drug use prevented him from making proper decisions about his estate.
Alan Leeds, who once served as James' tour manager explained, "I just feel sorry for everybody. Whatever good was going to come out of it that would benefit the community that James had originally intended — and whatever good would benefit his family, for that matter, was all jeopardized. There are no winners in this."