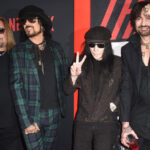 The Truth About Motley Crue's First Sober Album
echo get_the_meta(); ?>
After making their name as unapologetic bad boys with a love of sex, drugs, and rock 'n' roll, Mötley Crüe finally decided enough was enough shortly after their bassist and founder, Nikki Sixx, nearly died after overdosing on heroin. After Sixx entered rehab in January 1988, his bandmates followed his lead by cleaning up after the Crüe's management team, concerned about their self-destructive lifestyle, canceled a European tour (via Newsweek). What followed one year later would be the band's highest-charting album to date, and their first-ever completely sober release, "Dr. Feelgood."
Not only did "Dr. Feelgood" top the Billboard album charts; it also yielded four Top 40 singles, all of which remain very popular with Crüe fans more than three decades later. Unfortunately, the sobriety proved to be short-lived for most of the band, and "Dr. Feelgood" was arguably the last truly successful Crüe album before grunge took over and Vince Neil was (allegedly) given the pink slip — more on that later. But there are several other interesting facts about the record that are worth noting and looking back on.
The album was Vince Neil's last one before his infamous (yet temporary) exit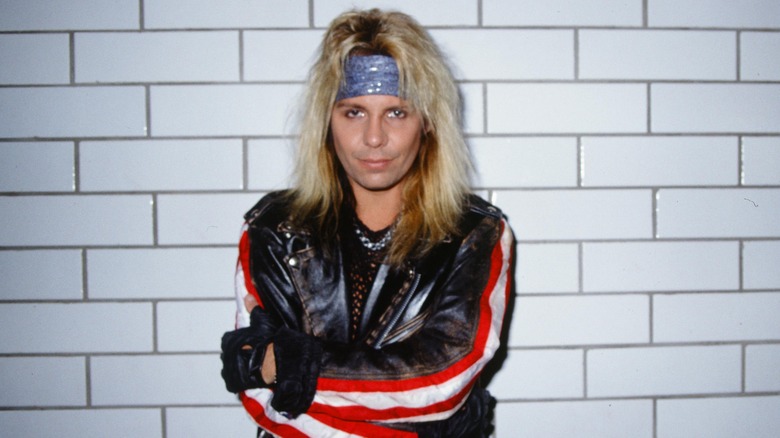 Koh Hasebe/shinko Music/Getty Images
Nobody knew it at the time, but "Dr. Feelgood" would mark the last time Vince Neil's voice was heard on a Mötley Crüe album until 1997. With "Dr. Feelgood" performing extremely well on the charts, it seemed as if the Crüe was due for several more years of dominance in the rock scene. Sure, you can say that Nirvana made sure that wasn't going to happen when "Nevermind" broke down the door for grunge, but there was another key event around that same time that contributed to the Crüe's sudden decline, and that was Neil's departure from the band in early 1992.
As detailed by Ultimate Classic Rock, Mötley Crüe's official statement suggested that they fired Neil because he was too preoccupied with his hobby of auto racing. However, in an interview later that year, the singer alleged that creative differences were the main reason behind his ouster — the band wanted a bluesier direction, but he felt this was a "stupid idea that will alienate the fans." Further complicating matters is Nikki Sixx's continued insistence that Neil left of his own volition (via Rolling Stone).
Regardless of what really happened, we do know that Neil was out of Mötley Crüe in 1992, that their attempts to go grunge didn't set the world on fire, and that Neil was back for 1997's "Generation Swine," which, if anything, was even more divisive than their self-titled 1994 album with John Corabi on lead vocals.
The Crüe 'borrowed' from other artists on 'Dr. Feelgood'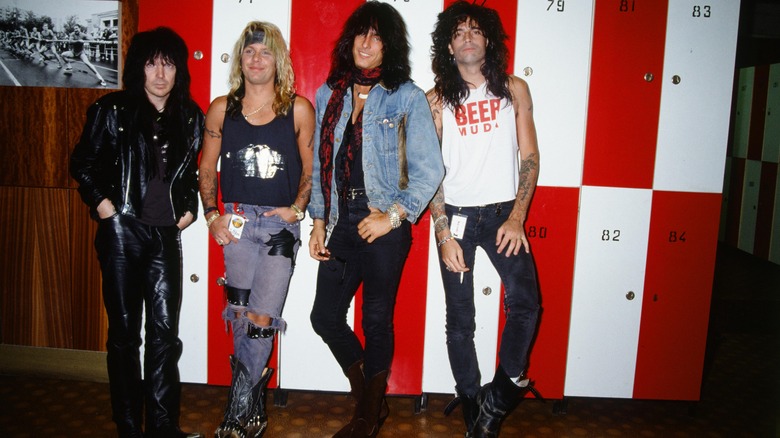 Koh Hasebe/shinko Music/Getty Images
Back in the late '80s, people simply didn't pay that much attention yet to alleged cases of plagiarism in popular music. As such, bands like Mötley Crüe were able to take elements from other groups and their songs without facing serious repercussions. "Dr. Feelgood" featured one particular track, "Slice of Your Pie," whose outro was very obviously inspired by the Beatles' "I Want You (She's So Heavy)," as noted by The Washington Post. Although not as blatant as Led Zeppelin in terms of how they supposedly plagiarized obscure songs and credited them as their own, it bears mentioning that "Slice of Your Pie" is solely credited to Mick Mars and Nikki Sixx (via AllMusic).
Aside from cribbing the slow and heavy parts of an eight-minute Beatles deep cut on "Dr. Feelgood," Mötley Crüe "borrowed" something else from a far more contemporary act, as the record's instrumental opener, "T.n.T (Terror 'n Tinseltown)," used the same vocal sample that Queensryche used on "Eyes of a Stranger," a track from their 1988 concept album "Operation: Mindcrime," as pointed out by Glory Daze Music. And while it may be a bit of a stretch, Washington Post reviewer Mark Jenkins observed that the title track of "Dr. Feelgood" sounded like a "blatant rip" of Aerosmith's "Walk This Way." (Steven Tyler probably didn't mind, given how he contributed backing vocals to a couple of tracks on the album!)
The album helped kickstart (no pun intended) Bob Rock's career as an ace producer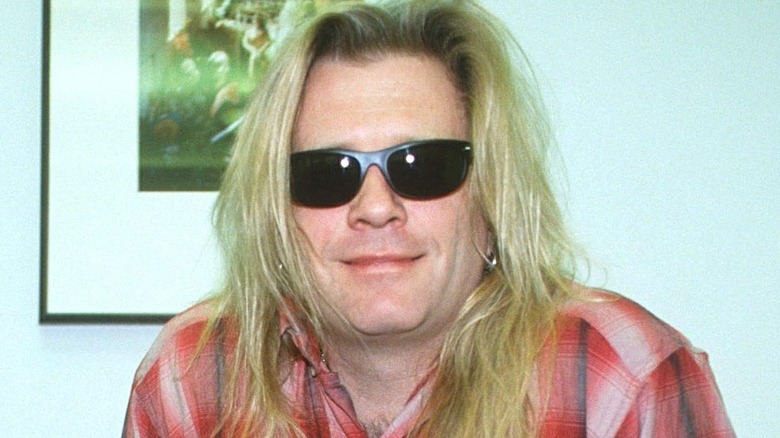 Brian Rasic/Getty Images
Prior to 1989, Bob Rock was better known as the guitarist of the Canadian new wave/power pop band the Payolas. The group had some minor stateside success in 1987 when they renamed themselves Rock and Hyde (after their two core members) and made the lower half of the Billboard Hot 100 with the song "Dirty Water" — no relation to the Standells' garage rock classic of the same name. 
At the time Mötley Crüe hired him to produce "Dr. Feelgood," Rock was already a rising star behind the mixing board, but it was thanks in large part to his work on the Crüe's first sober album that he became a go-to producer for some of heavy music's biggest names. In fact, Metallica was so impressed with Rock's production (via Loudwire) that they hired him to helm their self-titled 1991 release (aka the "Black Album"), which only ended up selling 30 million records worldwide since its release. 
Although the Crüe had finally sworn off drink and drugs during the making of "Dr. Feelgood," it wasn't easy for Rock to work with the group, which was still as combustible as ever. Fortunately, he had something up his sleeve to ensure things wouldn't get too crazy. "[With Mötley Crüe] you got four L.A. badasses who used to drink a bottle of wine and want to kill each other," Rock told Blender in 2005. "Of course there are issues. But I got them to [record their parts] separately, so their minds were on work. As long as they're apart, they're still a great band."