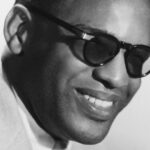 The Untold Truth Of Ray Charles
echo get_the_meta(); ?>
There's a trace of Ray Charles in every soul song. He pioneered the genre in the 1950s by blending elements of gospel music, rhythm and blues, and even country, as noted by Biography. Frank Sinatra once deemed Charles "the only true genius in our business" (via the Independent).
But Charles faced his share of early hurdles, from a physical disability to emotional trauma to the deep-rooted racism of the mid-20th century South. According to Industries for the Blind and Visually Impaired, none of this stopped him from learning to read, write, and arrange music and to play the clarinet, piano, organ, saxophone, and trumpet. With hits including "Georgia on My Mind," "Hit the Road Jack," and "Unchain My Heart," Charles not only created and changed various genres of music, but he also broke ground in the business end of the music industry. Charles died of liver disease in 2004 — but he was further immortalized that year through Jamie Foxx's performance in the biopic "Ray," and the following year by Foxx's feature in Kanye West's hit single "Gold Digger." Here's a look at the life and legacy of the Father of Soul.
Five-year-old Ray Charles witnessed his four-year-old brother's death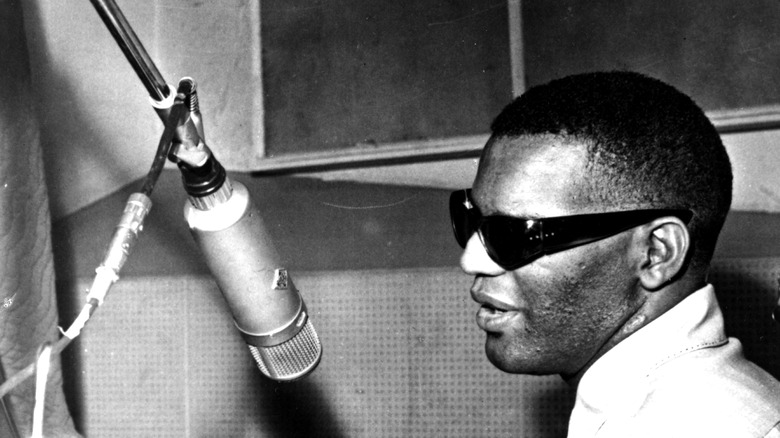 Michael Ochs Archives/Getty Images
Ray Charles' brother, George, was one year younger than him. As Ray's son, Ray Charles Robinson Jr., wrote in the 2010 biography "You Don't Know Me: Reflections of My Father, Ray Charles," Ray Sr. and George were "inseparable" and "loved to explore." Even as a three-year-old, George had a keen mathematical mind and ability to make handmade toys out of scrap materials.
But when Ray was five years old, and George was four, tragedy broke them apart. One day, Ray was keeping a watchful eye as his little brother splashed around in a large washing tub next to their cabin when suddenly, George began to struggle in the water. After a moment of panic, Ray ran to the tub and tried to pull George out by his ankles but wasn't strong enough to get him out. He screamed for his mother, who pulled George out of the tub, but it was too late: George had drowned. In her grief, their mother blamed Ray.
"Sobbing and praying for God to save George, she screamed at my father, 'This is your fault! You were supposed to be watching out for your little brother!'" Ray Jr. wrote. "The last thing my father remembers about that day is the sight of his mother, her face streaming with tears, carrying George's lifeless body into the cabin … He knew his brother was dead, and his mind went dark. In that inner darkness, his mother's voice echoed endlessly."
Ray Charles was fully blind by age seven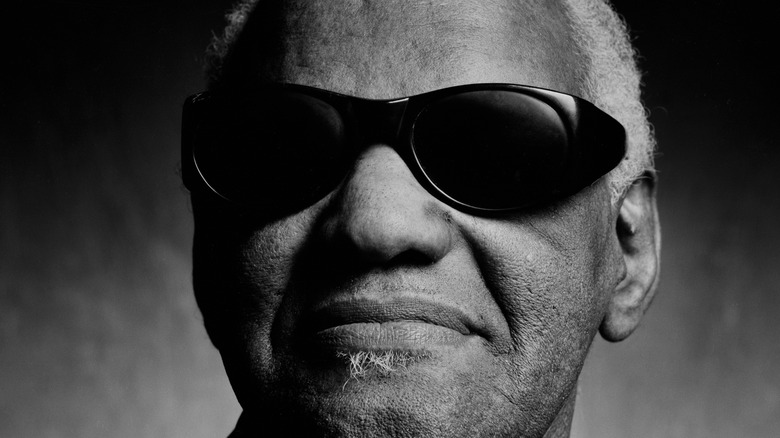 Luciano Viti/Getty Images
Shortly after witnessing his brother's death, Ray Charles began to lose his vision. According to the Orlando Sentinel, his eyes began leaking, and his mother took him to local doctors, who said Charles was going blind without giving any explanation as to why. The root cause has widely been reported to be glaucoma, per Industries for the Blind and Visually Impaired.
According to Live About, Charles was feeling intense pain in his right eye by age seven, which resulted in the eye having to be removed altogether, rendering him completely blind. Shortly thereafter, Charles was sent to the Florida School for the Deaf and Blind. Despite the fact that many of the students could not see one another, the school was segregated, and the African American students were situated in inferior facilities, according to Smithsonian Music.
While attending the school, Charles learned to read, write, and arrange music in Braille. He learned to play several instruments but refused to learn the guitar in an attempt to avoid the stereotypical image he had in his mind of the blind blues singer begging for change. "Seems like every blind blues singer I'd heard about was playing a guitar," he said (via Smithsonian Music). "Now it's important that you understand that there were three things I never wanted to own when I was a kid: a dog, a cane, and a guitar. In my brain, they each meant blindness and helplessness."
Ray Charles was very close with his mother, who died when he was 14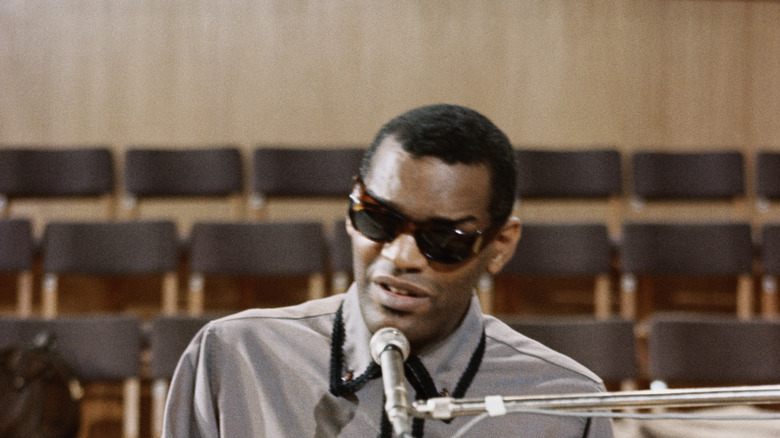 Tony Evans/timelapse Library Ltd./Getty Images
Heading off to boarding school at the age of seven was difficult for Ray Charles. It was the first time he was separated from his mother, Aretha, whom he was very close to. "I was homesick as soon as I climbed aboard," Charles once recalled of his train ride to school (via the Orlando Sentinel). According to the South Florida Sun Sentinel, Charles slept in his "sickly" mother's bed until he was 11 or 12 years old.
When Charles was 14 or 15, Aretha died of an apparent heart attack. "The death of my mother Aretha … had me reeling," Charles once said (via Slate). "For days I couldn't talk, think, sleep or eat. I was sure-enough going crazy … I knew my world had ended." It was the end of one world — his time at boarding school — but the beginning of another. After Aretha's death, Charles began actively pursuing a career in music.
Charles carried his mother's principles with him throughout his life. Growing up, Charles' neighbors pitied him when he did chores assigned by his mother. "He's blind, but he ain't stupid," she would say (via the Orlando Sentinel). "He's lost his sight, but he ain't lost his mind." "Do it right or don't do it at all. That comes from my mom," Charles said (via the Sun Sentinel). "If there's something I want to do, I'm one of those people that won't be satisfied until I get it done."
Ray Charles began his career as a hungry, struggling teenager in Florida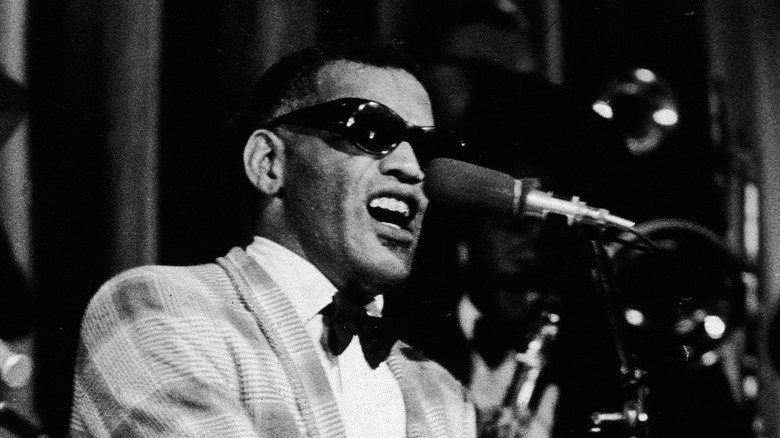 Hulton Archive/Getty Images
With Ray Charles' grief over his mother's death came a strong drive to pursue music professionally. He headed to live with friends of his family in Jacksonville, Florida, which was the nearest metropolis to his boarding school. According to the Orlando Sentinel, the 15-year-old headed to the city with some old clothes, a clarinet, and "less than two dollars in his pocket." He joined the musicians' union in Jacksonville and began to play shows despite being underage.
Soon, he was headed to Orlando with a bandleader to play a string of shows there, but after they arrived, the dates fell through, and Charles was stuck in the town. "It wasn't by choice," Charles said (via the Orlando Sentinel). "We got stranded, and the guy didn't have the money to get back to Jacksonville." Before long, he was renting a room for $3 a month, playing Black clubs for little pay, and "[pooling] his money with other musicians to buy beans." Sometimes, he was forced to go two whole days without food.
"Sometimes you'd work in these places and don't get paid," he recalled (via the Orlando Sentinel). "Don't feel just because you worked there you got your money … You didn't have no money anyway, so you might as well go and take the chance that you might get paid."
Quincy Jones said Malcolm X dealt heroin to him and Ray Charles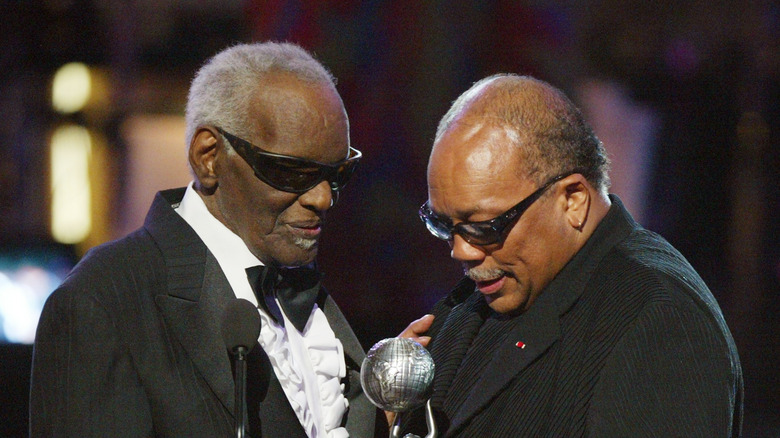 Kevin Winter/Getty Images
By the age of 18, Ray Charles had moved to Seattle, Washington. There, he met someone who would become a lifelong friend and sometime collaborator, Quincy Jones, who was just 15 years old at the time. According to Achievement, Charles and Jones formed a partnership and began playing together at small clubs and weddings.
In a 2018 interview for The Hollywood Reporter, Jones revealed that Charles introduced him to heroin when he was a teenager. He recalled how he and Charles would play at "bebop jam sessions" in the late 1940s. "When they finished playing they'd go over in the corner and they had it on their thumb," Jones said. "I just snuck in the line and got me a little hit." Jones also revealed that the pair bought drugs from the minister and civil rights leader Malcolm X, who went by the pseudonym "Detroit Red." But Jones quit taking heroin after five months, when he got a wake-up call in the form of a serious fall. "The mistakes are what help you grow and learn," he said. "That was a big one … Thank God we did it and got it over with."
In a 2010 interview for Reuters, Jones called Charles "an amazing human being," adding that his friend was "a true innovator who revolutionized music and the business of music … We spent a lot of time talking and dreaming about things that brothers had never done before."
Ray Charles paved the way for Black artists to have control over their careers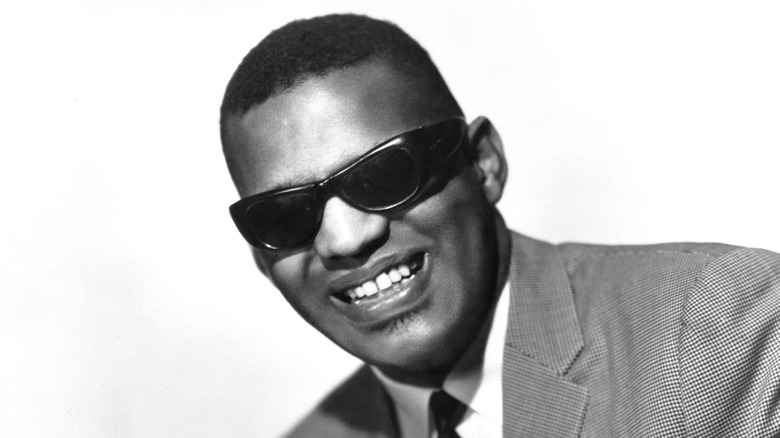 Michael Ochs Archives/Getty Images
In 1959, Ray Charles left Atlantic Records and joined ABC-Paramount Records after the latter label offered him "higher royalties and ownership of his master recordings," per The New York Times. The deal allowed him to launch own record label, Tangerine — named after his favorite fruit — and his music publishing companies, Tangerine Music and Racer Music, which gave him considerable control over his career and creative output, per Reuters. Smithsonian Music deemed the deal "a groundbreaking agreement that afforded Charles a creative and financial control that no other musician, Black or white, had ever achieved."
As the years went on, Charles wrote more than 200 songs, including multiple number-one and Grammy-winning hits, and hired a big band to support him onstage. On the side, he managed other artists and set up The Ray Charles Foundation to help individuals with hearing disabilities.
"He really was a genius," said soul singer Solomon Burke, who was at Atlantic Records at the same time as Charles (via Reuters). "He did things the way he wanted."
Ray Charles was addicted to heroin for nearly two decades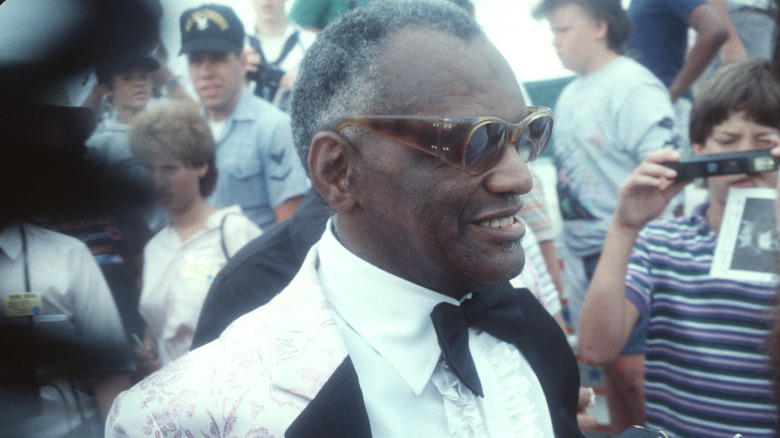 Michael Ochs Archives/Getty Images
Ray Charles began using heroin when he was 18 years old, and was addicted to the drug for the next 17 years, according to Irish Times. He was busted for possession for the first time on November 17, 1956, backstage after a show in Philadelphia. According to "Icons of Rock: An Encyclopedia of the Legends Who Changed Music Forever," Charles' manager bailed him out, and his lawyer ultimately managed to have all charges dropped, reportedly in exchange for $6,000. But the incident wasn't enough to get Charles to stop using. "There wasn't an instance where his addiction interfered with his work," music journalist and producer Jerry Wexler said. "When it came to Ray's professionalism, there could be no grounds for complaint. He worked his ass off."
Charles was arrested again in 1965 because he was "reportedly in possession of a planeload of heroin," per Rolling Stone. He reportedly spent three months in medical and psychiatric treatment in California and took a year off from touring. "He took that year off to kick it," record executive Ron Granger told the magazine. "It took a year."
During a 1970 interview for Playboy magazine, a journalist asked Charles whether he might be an inspiration for his fans to overcome addiction. "Bulls**t," Charles replied (via Rolling Stone). "Everybody's aware that cigarettes probably cause cancer, but how many people do you think would give them up just because Ray Charles stopped smoking?"
Ray Charles helped bring country music into the mainstream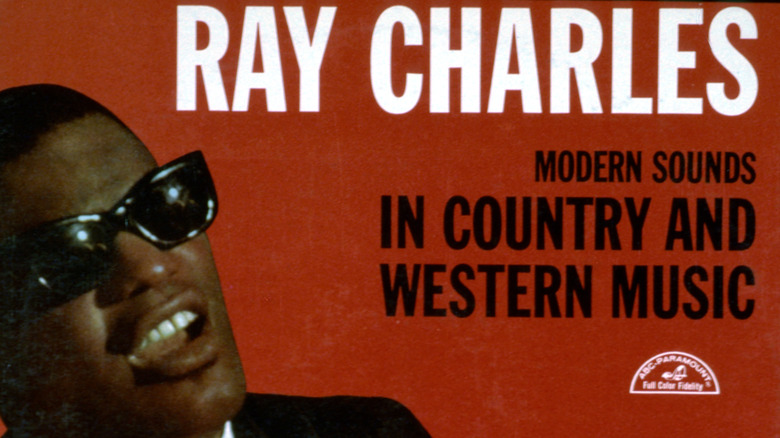 Michael Ochs Archives/Getty Images
Most people know Ray Charles as a pioneer of soul music, but only some know he played a major role in popularizing the country genre. Growing up in Georgia, Charles was sometimes allowed to stay up late to listen to the Grand Ole Opry on the radio on Saturday nights, according to the Opry website. "I just wanted to try my hand at hillbilly music," Charles wrote in his 1978 autobiography "Brother Ray: Ray Charles' Own Story." "After all, the Grand Ole Opry had been performing inside my head since I was a kid in the country."
When Charles decided to make a foray into country music, he was met with skepticism from record executives, who predicted a commercial flop. But Charles followed his heart and released "Modern Sounds in Country and Western Music," volumes one and two, in 1962. Both albums turned out to be a major, chart-topping success among longtime and new listeners, pushing against the idea of the genre being dominated by white — and even racist — artists and audiences.
By 1983, Charles was performing at the Grand Ole Opry himself, earning a standing ovation. "When Ray did 'I Can't Stop Loving You,' that was probably the time when country music was heard by more people than ever before," Charles' close friend, Willie Nelson, told the Tennessean. "He kicked country music forward 50 years. Before him, a lot of people had probably never heard of songs by Don Gibson or Hank Williams."
Ray Charles had a dozen children with 10 different women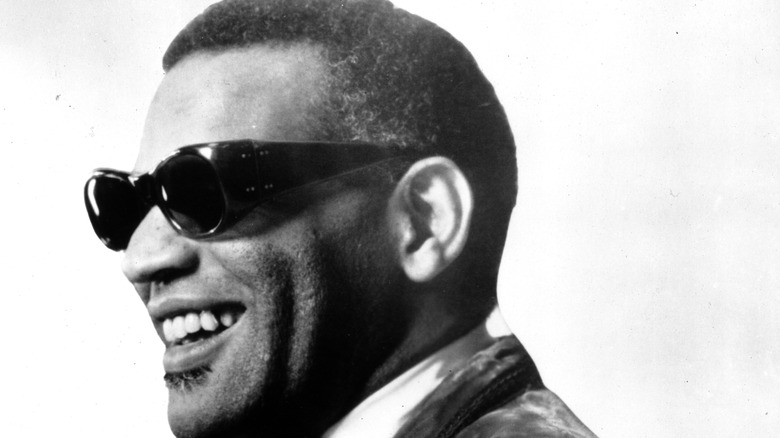 Michael Ochs Archives/Getty Images
"Cigarettes and smack (heroin) are the two truly addictive habits I've known," Ray Charles wrote in his 1978 autobiography "Brother Ray: Ray Charles' Own Story," adding in parentheses, "(You might add women.)" According to Jet magazine, Charles had sex for the first time when he was just 12 years old, to a woman eight years his senior, while leaning against a wall in a public bathroom in Tallahassee, Florida. His self-described "addiction" grew from there. "Being blind keeps me honest about sex," Charles wrote. "In fact, if I'm forced to choose between a beautiful woman and a homely one — sight unseen — I suppose I'd select the gal without the looks. That's because the gorgeous chicks sometimes take the attitude that they're doing you a favor by letting you make love to them."
One thing Charles was less crazy about? Using protection, according to Jet. As a result, he fathered 12 children with 10 different women, according to the Los Angeles Times.
Ray Charles came under fire for performing in South Africa during apartheid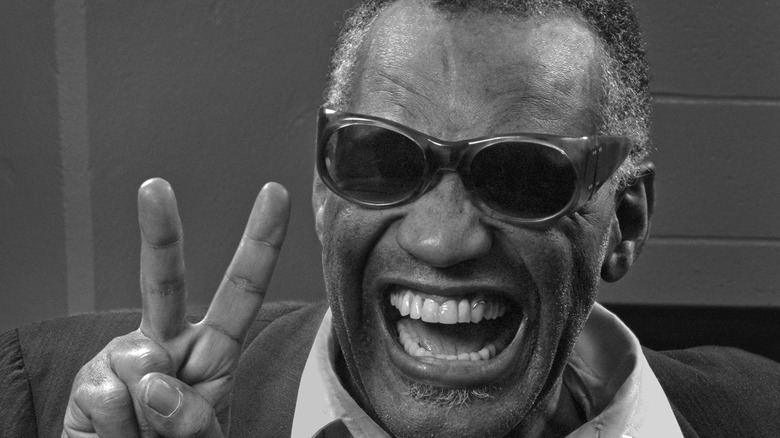 Mickey Adair/Getty Images
In 1981, Ray Charles performed in South Africa. This wouldn't have been controversial thing to do, had it not been in the midst of apartheid. According to Now Toronto, the United Nations had sanctioned a cultural boycott of the racially divided state, which Charles defied with his performances. The UN boycott was supported by the African National Congress and activist movements including the Black Consciousness Movement, which vocalized its opposition to Charles' appearances. When Charles defied the sanction and its supporting movements, he was met with protests in South Africa and throughout North America.
In response, the United Nations compiled a blacklist of entertainers who had defied the cultural boycott, which included the Beach Boys, Cher, and Frank Sinatra along with Charles. "Some of the collaborators had perhaps visited South Africa because of ignorance of the situation, or lure of exorbitant fees," read a statement from the UN Center Against Apartheid (via United Press International), "[while] others have shown deliberate insensitivity or hostility to the legitimate aspirations of the oppressed people of South Africa."
Many of the other entertainers on the list apologized, but Charles refused to do so and instead instructed his critics to "kindly kiss [his] far end."
Ray Charles loved playing chess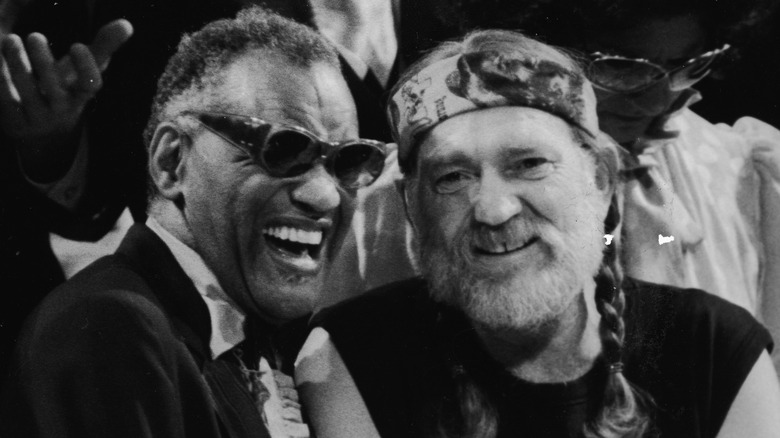 Hulton Archive/Getty Images
One of Ray Charles' doctors taught him how to play chess while treating the musician for heroin addiction in 1965. According to Chess.com, Charles would challenge fellow patients to chess games when he couldn't sleep. "We'd sit up late at night, and he beat the hell out of me, but I learned," Charles said. "See, you always learn when people beat you 'cause you pay attention and find out why."
Charles' chess board was designed for visually impaired players, featuring raised dark squares and lowered light squares, as well as sharper dark pieces and rounder white pieces, according to Chess Games. "I love to play chess," the musician told Chess Life columnist Larry Evans (via Chess.com). "I play with my hands."
The musician challenged fellow musicians and friends, and once referred to country musician and friend Willie Nelson as his "chess partner." "We start with the same pieces in the same places," he said. "You've got to outwit, outthink, and outmaneuver the other person." According to Chess Games, Charles' chess set was on display at the Rock and Roll Hall of Fame from 1986 to 2005.
Billy Joel is a Ray Charles superfan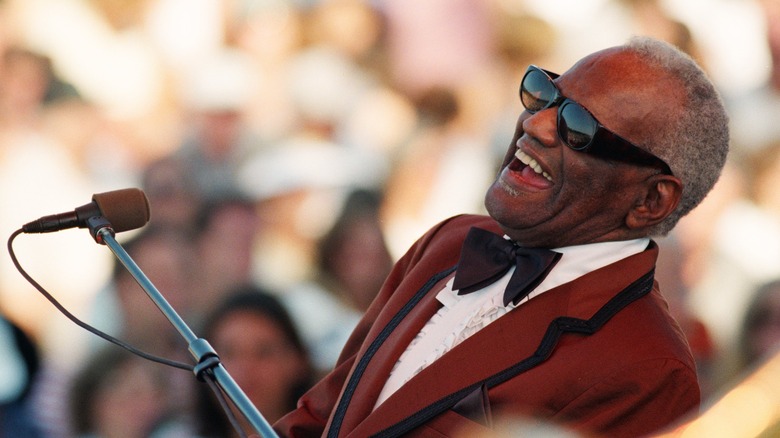 Walter Iooss Jr/Getty Images
"This may sound like sacrilege," Billy Joel once said (via the Tampa Bay Times), "but I think Ray Charles was more important than Elvis Presley." Joel would often impersonate Charles during his own live performances. "Ray Charles was my hero when I was growing up," he told The New York Times. "As good a pianist or as big a star as I could ever become, I could never be Ray Charles, who is a total natural and one of the greatest singers of all time."
In 1985, Joel even named his daughter, Alexa Ray, after the musician. After Charles heard about his namesake from Quincy Jones, he reached out to Joel to discuss a potential collaboration, which became the 1986 song "Baby Grand." "[Charles] sent word that he would love to record with me if I had the right song," Joel told the Times. "I was so excited that that very night I sat down and wrote 'Baby Grand,' and polished it up the next morning. It was one of those rare songs … that seem to come all at once — it seemed almost as though I had heard it before."
Joel and Charles had their first recording session in Los Angeles. "I started singing very tentatively," Joel recalled. "And Ray, assuming that's what I wanted, came in sounding like me — a white kid from Hicksville. When we started it again, I did my Ray Charles imitation, and Ray kicked in as Ray — the rest was smooth sailing."