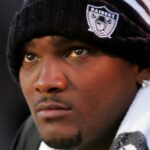 The Worst #1 Draft Picks In NFL History
echo get_the_meta(); ?>
Of all the titles one can acquire in the wide world of sports, "First Overall Pick in the NFL Draft" is one of the thorniest. Prestigious and ego-inflating as it might be, it also comes laden with tons of expectations and an almost unfathomable legacy to live up to. Even a partial list of #1 overall picks reads like half of your all-time Madden squad: John Elway, Irving Fryar, Bo Jackson, Mario Williams, Andrew Luck, and both freaking Mannings all went first overall, and that hardly scratches the surface. Some of the greatest players to ever set foot on an NFL field lived up to the expectations placed on them when they were selected first in the draft. But these are not those players.
These are the guys who literally and metaphorically fumbled those expectations, leaving NFL general managers and Mel Kiper alike wondering what they ever saw in them. For every Aikman, Bradshaw, or Newton, there's at least one of these guys — all of whom have earned their place among the dubious ranks of those considered to be big ol' busts, despite being picked #1.
His name was Long, his career was Short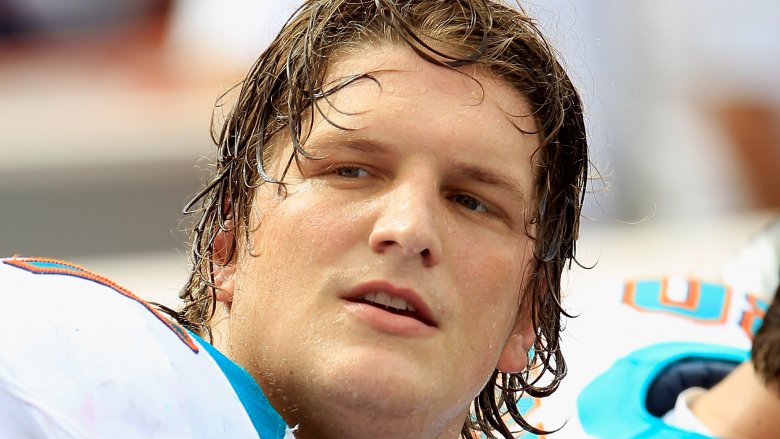 Getty Images
That offensive tackle Jake Long, drafted first overall by the Dolphins in 2008, is considered a bust is not exactly his fault. He's actually one of the more successful players on this list. In his first five seasons with Miami, he made the Pro Bowl four times and was considered among the top players at his position. But when you expend a first overall pick, you want a player who will anchor his position for years to come — and unfortunately, Long was not that guy. His Dolphins career ended when he was placed on injured reserve with a torn bicep in 2012. At the season's conclusion, he picked up a fat free agent contract with the St. Louis Rams, and he was on his way Bling City.
The road to Bling City, however, turned out to be fraught with season-ending injuries. His two campaigns for the Rams ended in torn ACLs in his right knee, causing St. Louis to give up on the Long experiment in 2014. Long headed to the Falcons, but he played only 11 snaps in 2015 due to concerns over the knee. Insisting he was finally healthy, he declined the Ravens' request to sign an injury waiver and signed with the Vikings in 2016. The result: a torn Achilles tendon and another missed season. Five months later, Long announced his decision to walk away from the game while he could still physically do so.
The bomber … bombs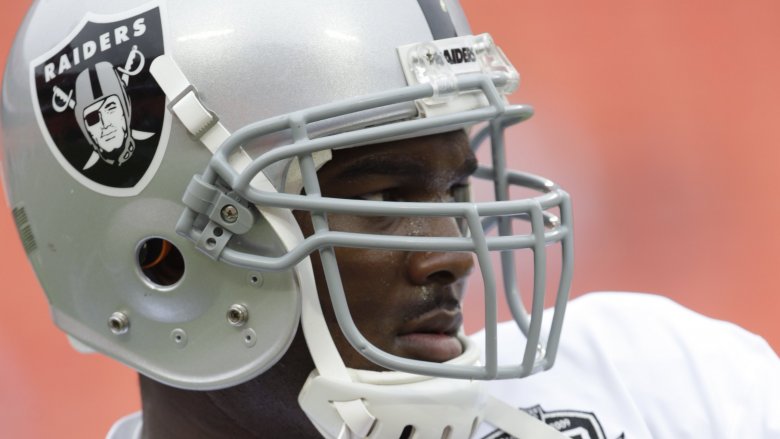 Getty Images
The Oakland Raiders' late owner, Al Davis, was famously so fond of the long game that it sometimes seemed he didn't care who else was on the roster, as long as he had a QB who could drop dimes all over the field. So, when LSU gunslinger JaMarcus Russell skipped his senior year to enter the 2007 draft, Davis pounced on him like an old, obstinate cat on a cannon-armed quarterback. There were early warning signs that this might not be wise; speaking with Sports Illustrated, then-Detroit GM Matt Millen said he strongly advised Davis against taking Russell after the QB basically spaced out in a pre-draft interview. Davis, who never listened to anybody's opinion once in his life, clearly didn't listen then either.
Like many of Davis' personnel decisions, using the #1 pick on Russell didn't so much blow up in his face as it did implode with a small, unimpressive whimper. After holding out for a ridiculous contract with $32 million in guaranteed money, Russell played in only four games as a rookie amid concerns about his development. In 2008, he started 15 games, and the Raiders went 5-11. The 2009 season opened with Russell weighing north of 300 pounds and riding the bench; it ended with him cut, and he has not played a down since. His record as a starter: 7-18. For those keeping score at home, this means Oakland paid him more than $4 million per win.
Carr only starts half the time, goes nowhere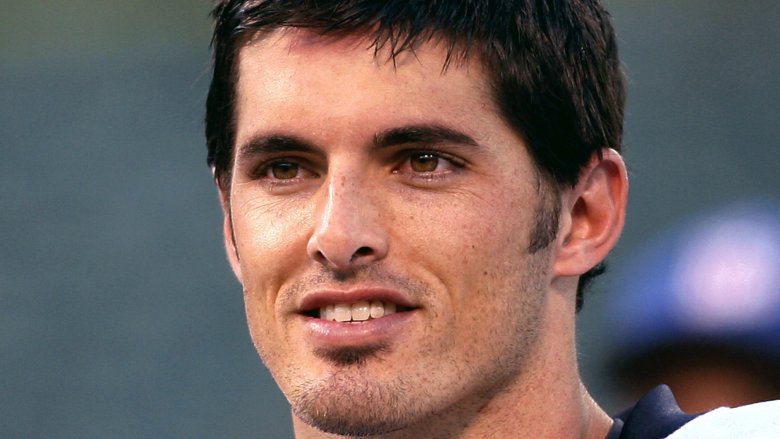 Getty Images
One can make the case that David Carr, a top-rated passer out of Fresno State, was in trouble from the day he was drafted. He was the inaugural pick for the inaugural season of Houston Texans football, and to the pigskin-starved town, he looked like just the kind of big, strong-armed passer who could help them win immediately. There was just one problem: Coach Dom Capers neglected to put any kind of offensive line in front of him. Now, this alone won't necessarily break a QB's career. Heck, Matthew Stafford did just fine without an O-line for years. But in his rookie season, Carr was sacked an NFL record 76 freaking times, and it didn't get much better after that.
In his five seasons with Houston, the Texans only once came within shouting distance of a winning record and were never close to the postseason, and Carr was sacked an unbelievable 249 times. Even the addition of new head coach and offensive mastermind Gary Kubiak in 2006 wasn't enough to jump-start Carr's game, so in 2007, he began bouncing around to any team that would have him as a backup: the Panthers, then the Giants, then the 49ers, then the Giants again (where he picked up a Super Bowl ring for riding the bench while Eli Manning and the boys dismantled the Patriots). He retired the following year having completed all of two passes for New York in his second stint, but at least he was given fewer opportunities to get sacked.
Couch wears out quickly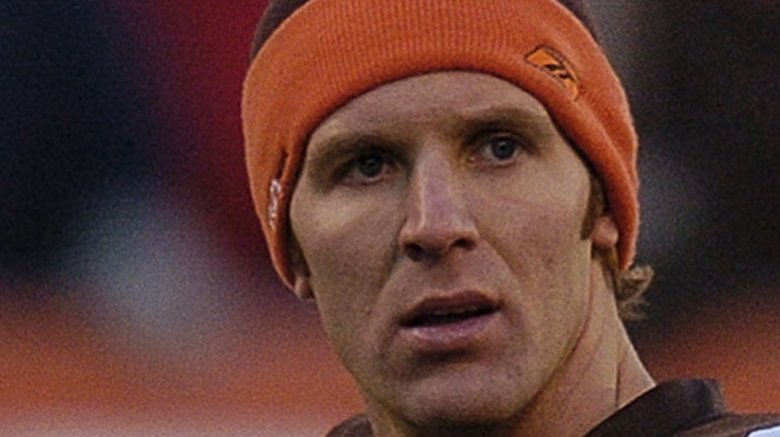 Getty Images
Stop us if you've heard this one: awarded a high draft pick after another brutal season of super-losing, the Cleveland Browns select a quarterback who will reinvigorate the franchise! Is it Brady Quinn? Brandon Weeden? Baker Mayfield? Well, the jury's still out on him. But no, we're discussing Tim Couch, the first overall pick in the 1999 draft and the first QB to wear a Browns jersey since their re-entry into the league that year. The Kentucky Wildcat tore it up in college, and skipped his senior year to enter the draft and become Cleveland's savior. If you're at all familiar with the Browns, you can guess how it worked out.
Despite at times playing valiantly, Couch simply couldn't find a way to light up the field like he had in college. Injuries, both to himself and his patchwork offensive line, kept him from finding any kind of rhythm throughout five frustrating seasons. Despite somehow leading Cleveland to one of their only playoff appearances anyone can remember in his fourth season, a nasty leg injury in his fifth prompted the Browns to sign Jeff Garcia, and their revolving door of QBs was in full swing. Couch retired after that season with a 22-37 record and a bad taste in his mouth, and today, he has some advice for Cleveland's staff: exercise a little patience with 2018 #1 pick Mayfield, the latest in the Browns' long line of Quarterbacks of the Future.
One Bungled pick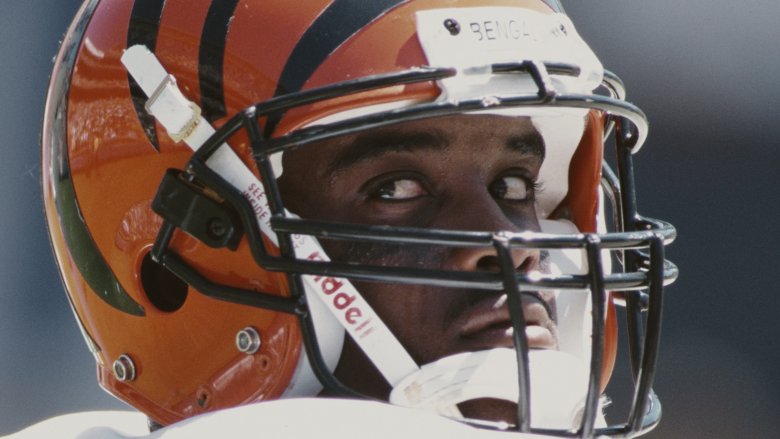 Getty Images
One of the only teams to rival Cleveland in draft futility, the Cincinnati Bengals spent their #1 overall pick in 1995 on a running back, which happens far less often than you might think. But this guy was special: In his final season at Penn State, Ki-Jana Carter had averaged a positively unfair 7.8 yards per rush and had helped secure his team's easy Rose Bowl victory over the Oregon Ducks by busting off an 83-yard touchdown on the Nittany Lions' first play from scrimmage. Foregoing his senior year, Carter entered the 1995 draft and was selected first overall by the Bengals, who traded up to land him. This, unfortunately, would pretty much be the lone highlight of his pro career.
The two most significant events of Carter's first season were signing the richest contract yet awarded to a rookie and blowing out his knee on his third preseason snap. After missing the entirety of that year, he split time with backs Garrison Hearst and Corey Dillon in '96 and '97, then opened the '98 season with a season-ending wrist fracture. Three games into the following season, Carter dislocated his right kneecap, and the Bengals finally decided to cut their losses. After a couple more seasons as a glorified backup with the Redskins and Saints, Carter called it a career, having started less than a quarter of the games he appeared in and amassing fewer yards in his entire pro career than in his final season at Penn State.
Proving determination isn't everything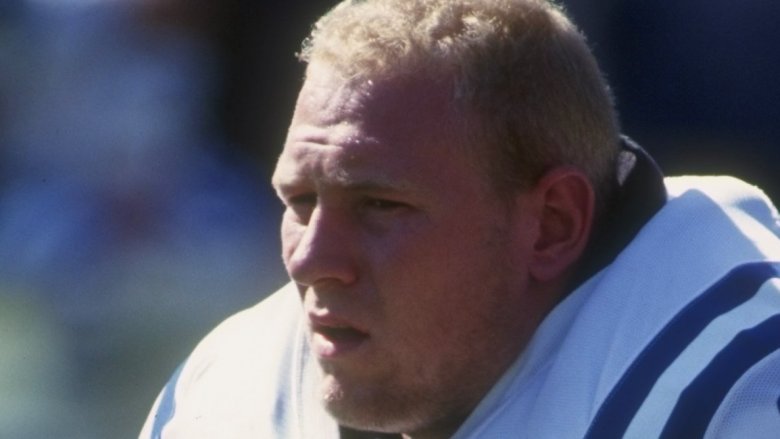 Getty Images
In a 1995 interview with Sports Illustrated, defensive end Steve Emtman — who had recently signed with the Dolphins after being let go by Indy, the team that drafted him in 1992 — had a little venting to do: "Guys make comments about me being a bust. … I hear it, and it bothers me. I think, I don't want to leave this game as a bust. I can't leave this game as a bust." Since he's featured on this list, you may be able to guess exactly how Emtman left the game.
Each of his three seasons with the Colts had ended with Emtman on the injured reserve list. His rookie season had come to a close with a shredded left knee, his second season had concluded with a shredded right knee, and his third with a ruptured disc in his neck. Somehow, he attempted to play through this injury for three games (thinking it a mere pinched nerve) before basically losing all feeling in his left arm. Emtman would later admit that through two subsequent seasons with Miami and one with Washington, he was just trying to stay on the field — and when he retired at 27 after six seasons he had started all of 10 games, recording eight sacks. He has only one regret about his truncated career: "Man, it would have been a lot smarter to get 100 percent healthy [after each injury]."
No pressure (on the quarterback)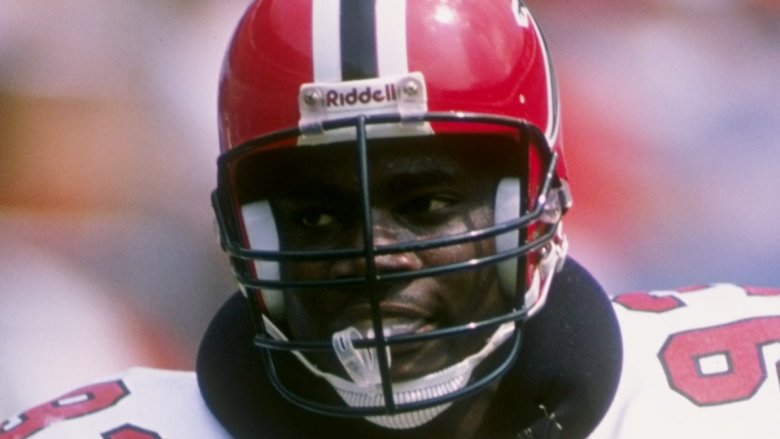 Getty Images
When Auburn linebacker Aundray Bruce was selected by the Falcons with the first pick in the 1988 draft, expectations were just a little bit high. Chuck Clausen, Atlanta's then-linebackers coach, expressed excitement over his new charge in a New York Times piece while simultaneously providing a bit of dark foreshadowing: "There's going to be a lot of things expected. All his errors will probably be reported daily. This guy could be great, but it will probably be tough to live up to all the expectations."
Whether it was the pressure of the label or the speed of the pro game, he never came close to the stellar play that defined his college career. He also managed to make himself as much of a pain off the field as he was a non-factor on it, weathering two paternity lawsuits, a third suit for defaulting on nearly a million dollars in mortgage payments, and an arrest for threatening a pizza guy with a BB gun — in his first two seasons. After four disappointing campaigns with the Falcons, he departed for the Raiders, where he spent seven underwhelming years. He never finished a season with more than six sacks. Perhaps not coincidentally, no NFL team has picked a linebacker #1 overall in the 30 years since his selection.
Looking bad, playing even worse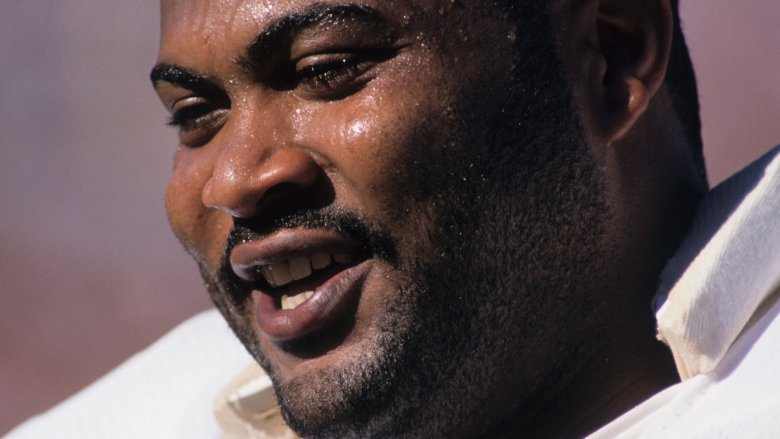 Getty Images
It's tough to fathom nowadays, but there was a time when the New England Patriots not only looked completely ridiculous but were also perennial NFL laughingstocks. Their only Super Bowl appearance prior to the revamping of their uniforms in 1993: Super Bowl XX, where the underpowered squad had the distinct misfortune of facing off against one of the greatest football teams ever fielded, the 1985 Bears. The Pats' haplessness meant a plethora of high-round draft picks during those years, and in 1982 — after going 2-14 the previous season — they used the first pick overall to select University of Texas defensive tackle Kenneth Sims, a hulking, blazing fast physical specimen whom the Pats hoped would regularly separate opposing QBs' heads from their bodies.
Sims proved to be … well, a somewhat decent player, which is not what you want from the #1 pick. He was plagued with injuries, starting all 16 games only once in his eight seasons with New England, and over his entire career he recorded a paltry 17 sacks. He's often considered to be one of the worst draft picks in Patriot history — but hey, he did play in one of the most famous Super Bowls ever. Sure, he was on the losing side of the most lopsided Super Bowl to date, and opposing QB Jim McMahon scored two rushing touchdowns while barely getting his jersey dirty, but … still.
Anguish of the Irish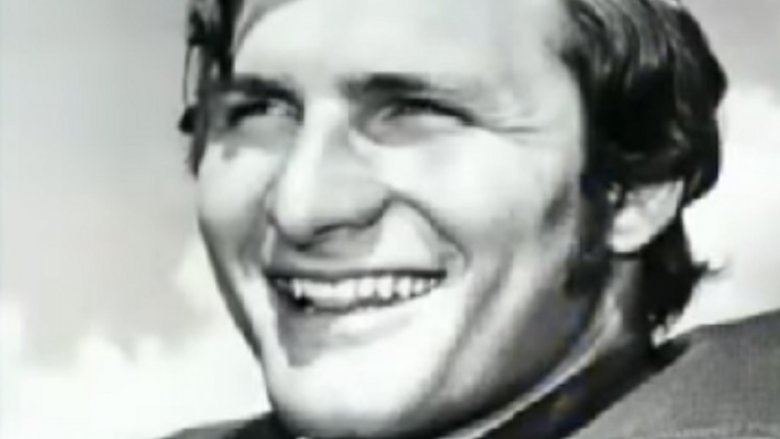 YouTube
Defensive end Walt Patulski had the kind of college career that makes his selection with the #1 overall pick seem like a no-brainer. A standout at Notre Dame for three years, the Irish went 26-5-1 during his tenure and appeared in two Cotton Bowls, while Patulski himself was awarded the 1971 Outland Trophy for the nation's most outstanding lineman. He was big, fast, and agile, and newly minted Buffalo Bills head coach Lou Saban figured he was the perfect fit for a defense that was a bit wanting. The Bills had gone 1-13 the previous season despite the presence of running back O.J. Simpson, and had been outscored by an insane 210 points — but if anybody could plug those running lanes and harass opposing QBs, it was Patulski.
Except, he just kind of didn't. The dynamic player who had been a Fighting Irish star just seemed to evaporate (Saban would later say he "just went through the motions"), and even though he led the team with five sacks in his rookie season, subsequent seasons would produce mostly declining returns as injuries and self-doubt plagued the former star. He retired after only five seasons, and unfortunately, his failure to become a star in the NFL haunted him for decades afterward. In a 1993 Los Angeles Times piece, he said, "I struggle with that failure even today. I always will. … People expect for you to be nothing less than a superstar."
Like picking nobody at all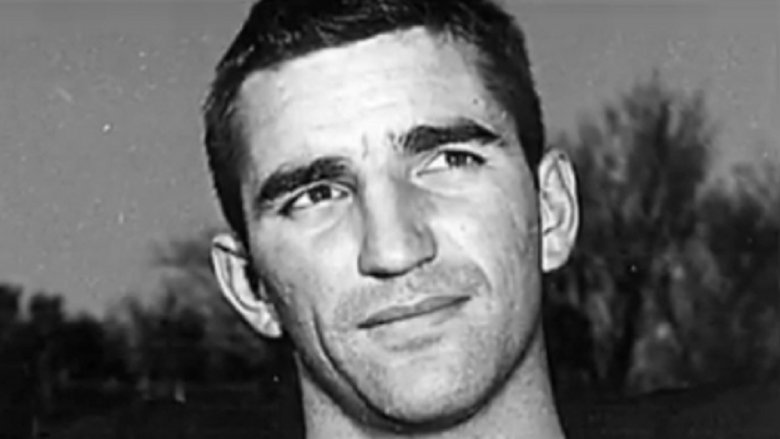 YouTube
When Coach Vince Lombardi took over the lowly Green Bay Packers in 1959, he figured the first thing he should do is get himself an awesome quarterback, even though he already had one by the name of Bart Starr on the roster. Disregarding the fact that his incumbent QB had the most blatantly awesome quarterback name there ever was or will be, he selected Iowa sharpshooter Randy Duncan with the first pick in that year's draft. Duncan had led the Hawkeyes to a pair of Rose Bowl victories, and Lombardi fully expected the championships to come rolling in with him at the helm — but we'll never know how that might have worked out because Duncan never played a down for the Packers.
As Duncan would later explain, "I was offered $12,000 a year by Green Bay, and a two-year contract. And I was offered $14,000 plus a $2,500 bonus to go to Canada, so I took the money!" He would spend two middling seasons with the CFL's BC Lions before attempting a return to American ball for one season with the AFL's Dallas Texans, for whom he didn't see a heck of a lot of playing time, starting only two games. When future Super Bowl Champion and Hall of Fame QB Len Dawson arrived, he went ahead and retired. It's one thing to spend the #1 overall pick on a player who doesn't live up to the hype, but quite another to flush it down the toilet.