What The '97 Broncos Look Like Now
echo get_the_meta(); ?>
Prior to the 1997 season, the Denver Broncos and quarterback John Elway were known primarily for having lost three Super Bowls in ten years, each by a wider margin than the last. They were a team that was never hurting for talent, but they couldn't keep the pieces together long enough to turn in anything resembling a decent performance in the big game. If you were a fan, you laughed at all the jokes just so you wouldn't cry: Why did John Elway's phone just keep ringing and ringing? Because he couldn't find the receiver. Why does Elway eat his cereal on a plate? Because if you gave it to him in a bowl, he'd lose it. Har, har, har.
But something weird happened — the '97 Broncos came out looking different. Literally. They'd switched from Day-Glo orange jerseys to a workmanlike navy blue, and traded in their old logo for a more streamlined, angry-looking horse. After compiling a 12-4 regular season record and making the playoffs as a wild card, they won all three of their playoff games (two on the road) to earn a meeting with Brett Favre and the Green Bay Packers, who had won the previous year's championship, in Super Bowl XXXII. Then, something even weirder happened: Thanks to Elway's determined play and a heroic performance from running back Terrell Davis, they freaking won, sending the entirety of Colorado over the moon. Here's what '97 Broncos squad is up to today.
TD a headache for defenders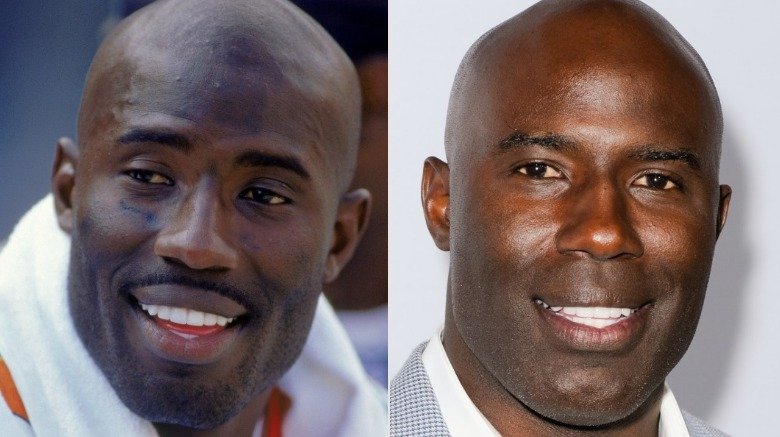 Getty Images
They didn't call Terrell Davis "TD" for nothing. Okay, so those are obviously his initials, but behind Denver's stalwart offensive line, Davis was also a threat to take it to the house every time he touched the ball. The Broncos had never had a running back quite like him — powerful, elusive and lightning-fast, he was the ground threat the team had been missing through all those Super Bowl losses, keeping opposing secondaries honest so Elway could pick them apart when Davis himself wasn't running over, around, and through them. In the big game, Davis earned MVP honors by rushing for 157 yards and three touchdowns — the most by a running back in a Super Bowl to date — while suffering from a freaking migraine, which doesn't even seem remotely possible.
Unfortunately, his career was shortened by a serious knee injury, and he only played seven seasons before calling it quits. But short though it was, his career was also pretty stellar (7,607 rushing yards and 60 touchdowns in only 78 games). In 2017 he waltzed right into the Hall of Fame, where he delivered an electrifying speech before delivering the famous "Mile High Salute" (which he originated). If you can afford him, he'll come and pump up your workforce as a motivational speaker. It's a post-NFL career chosen by a good number of former players, but if anyone is qualified, it's the guy who won a Super Bowl while his head was exploding.
Helicoptering into history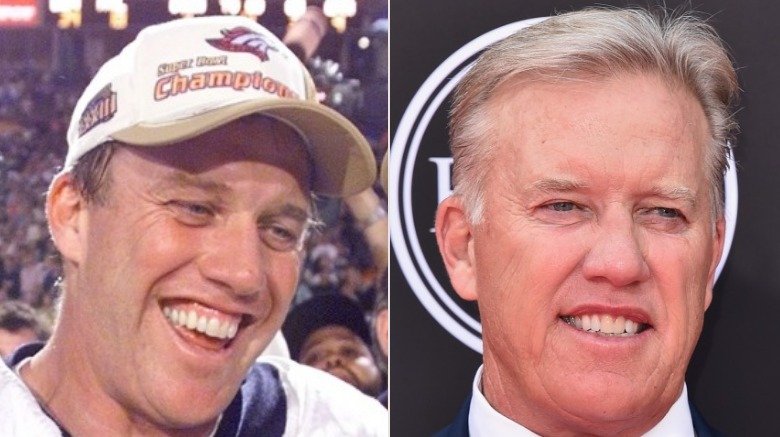 Getty Images
Before 1997, John Elway was a frequent subject of "most talented QB to never win the big one" discussions along with Fran Tarkenton and Dan Marino. But against the Packers in the Super Bowl, he solidified his legend with just one unbelievably gutsy play: tied at 17 in the third quarter and facing third and 6 from the Packers' 12-yard line, Elway dropped back to pass, only to find his receivers blanketed. So he took off running, gaining 8 yards before getting absolutely pasted by three Packers, causing him to spin almost completely around in midair before crashing to the turf. He then leaped up and sprinted back to the huddle looking like a man possessed, and it suddenly became clear that Elway really wasn't feeling another Super Bowl loss.
The "helicopter play" instantly became one of the most important in all of Broncos lore, and while Elway finally became the QB the Broncos needed — guiding them to a 15-1 record and another Super Bowl victory the following season — he has unfortunately failed to fill his own shoes. The Hall of Famer was hired as the Broncos' GM in 2011, and while he was responsible for acquiring Peyton Manning (who helped Denver collect another Lombardi Trophy), pretty much every other quarterback to play for the Broncos under Elway has been a bust. Terrell Davis has an opinion on why that is: "It's simple. There aren't a lot of John Elways out there."
Bringing the pain to a high school near you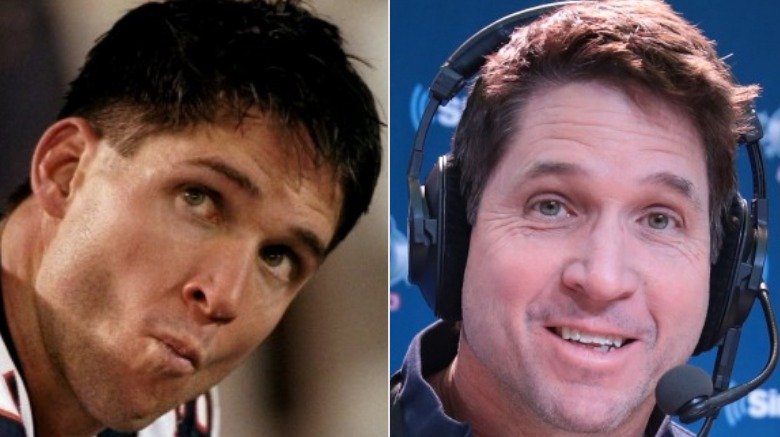 Getty Images
Wide receiver Ed McCaffrey looked more like a high school guidance counselor than a professional football player. Maybe that made opposing teams look past him a bit because the guy seemed to pretty much always be open. Having already gotten himself a ring while a member of the 1994 San Francisco 49ers, McCaffrey didn't seem to be intimidated by Denver's Bowl-losing legacy. During the '97 regular season, he gained only 590 yards … on 45 receptions, a 13.1-yard average. When teams began to take notice of him after the Broncos' back-to-back Super Bowl wins, McCaffrey responded by increasing his output every year, setting a team record for receptions (with 101) during the 2000 season.
These days, McCaffrey has indeed returned to high school — not as a guidance counselor, but as head coach at Valor Christian in Highlands Ranch, Colorado, which his sons attend. If it seems a bit unfair to have an all-time Broncos great coaching the squad of your private school, just take a look at the staff he's assembled: ex-Ravens and Broncos receiver Brandon Stokely, former Broncos tackle Tyler Polumbus, and ex-Broncos and Seahawks guard Ben Hamilton, a coaching staff which — McCaffrey included — boasts 16 Super Bowl rings between them. Prior to McCaffrey's hiring in 2018, Valor went 11-1 and took a narrow loss in the 5A quarterfinals; at this point, you might as well just hand them the next several years of championship trophies.
From undrafted to unmatched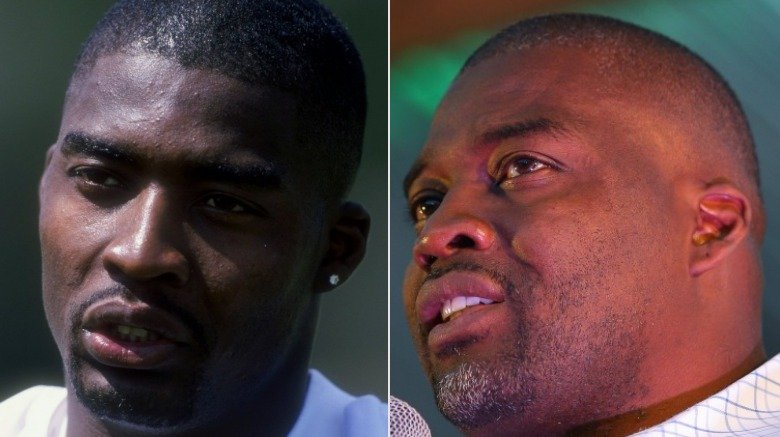 Getty Images
Wide receiver Rod Smith is used to being overlooked. After a collegiate career at tiny Missouri Southern, he failed to get picked in the 1995 draft and arrived at the Broncos facility as an undrafted free agent signee. Neither the tallest nor the fastest, Smith put together a couple decent seasons while working his way up Denver's depth chart, before posting his first 1,000-yard season and collecting a ring with the '97 Broncos. He rewarded the team that took a chance on him by playing his entire 12-year career with the Broncos, during which he amassed 11,389 yards and 68 touchdowns — earning his spot in the team's Ring of Fame and earning his place in the hearts of fans. He leads all undrafted players in league history in most receiving categories, and is the Broncos' all-time receiving leader. And look out, because he's getting a sequel.
Six-foot-two receiver Rod Smith Jr. is currently working his tail off at Colorado State University, a program he joined as a walk-on. Says Smith Sr. of his son: "He's got great hands, and I'm not saying that just because he's my son. … He knows he's got an uphill battle, but he's willing to put in the work. He's got to work to earn it on his own." Assuming the apple doesn't fall far from the proverbial tree, Smith Jr. should have no problem with this.
Doing the dirty work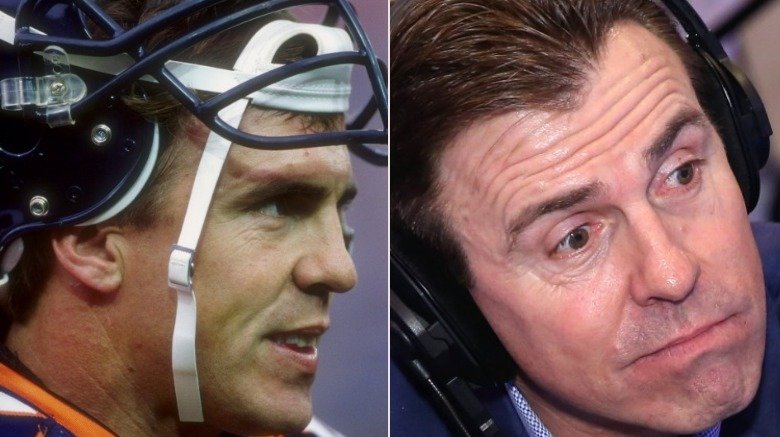 Getty Images
Linebacker Bill Romanowski was not exactly what you'd call a lovable player. Most of his peers would use a certain word to describe him — a word which rhymes with "grass pole" — due to his outspoken and volatile nature, and the fact that he was prone to picking fights with teammates (one such skirmish even cost a guy his career) and spitting in the faces of opposing players. He defected from the Philadelphia Eagles to help Denver to their first championship. When even the Eagles think you're a little too intense, you may have some personality problems, but "Romocop" got it done on the field, and today is philosophical about his legacy.
In 2011, the Denver Post named Romanowski the dirtiest player of all time ("It's fair," Romanowski said in response), with former teammate Shannon Sharpe opining that he should've taken the top four spots. When he's not sticking his foot in his mouth because of racially insensitive comments or getting in trouble for not paying taxes, he's writing with surprising eloquence about his well-earned reputation. In an op-ed for The Players' Tribune, Romanowski explained, "At the end of the day football is a dirty, nasty, violent sport. … The meaner you are, the more you are feared; the more you are feared, the more you get noticed. … Whatever you may think about me — good or bad — there was nobody on the planet that wanted it as bad as I did or who worked harder."
The nightmare buster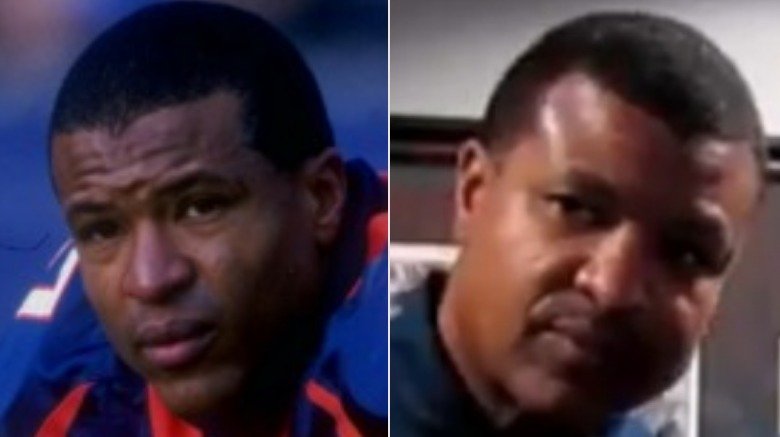 Getty Images/YouTube
A mainstay on the team since 1989, free safety Steve Atwater was in the twilight of his career when the Broncos finally picked up their back-to-back Super Bowl wins. He was no longer exactly lighting up the field, but he will forever be a Broncos legend for one specific play. On a Monday night in 1990, the Kansas City Chiefs came to town with their third-year running back Christian Okoye — an absolute monster who had earned the nickname "The Nigerian Nightmare." Officially listed at 6″1′ and 260 pounds (teammates insisted he was closer to 300), he had blazing speed to move his mass. Mid-game, as Okoye was barreling through a gaping hole in the defensive line, he was met by the 220-pound Atwater — who just leveled him like literally nobody had before. It was "The Hit Heard Around the World" (Elway called it the best he'd ever seen), and it instantly made Atwater one of the most feared defensive players in the league.
Today, Atwater is a fan ambassador and online media personality for the Broncos, interviewing players past and present and offering postgame analysis. The eight-time Pro Bowler has yet to make the Hall of Fame, a pretty egregious snub which he takes in stride. "I'm hoping I get in. … It's 100 percent in the hands of the Hall of Fame voters and writers," he said in an interview. If he wasn't such a nice guy, said voters would live in constant fear of getting smacked back to the Stone Age.
Sharpe skills, Sharpe tongue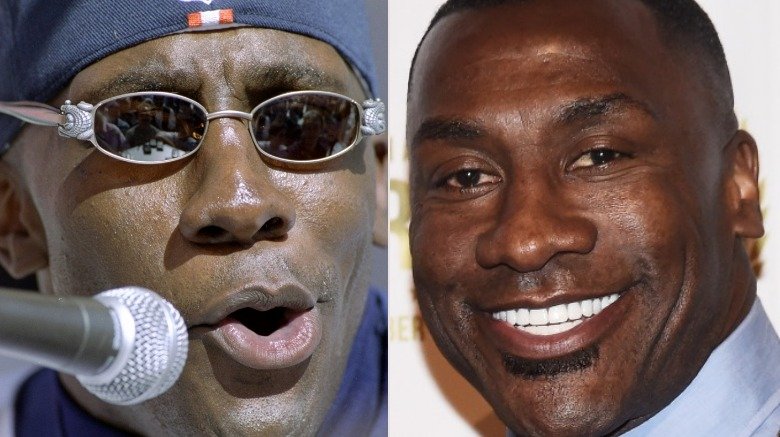 Getty Images
It seems as though every great team must have one resident loudmouth, and for the '97 Broncos, the role was ably filled by tight end Shannon Sharpe. Never short on opinions, Sharpe had the game to back up his talk. In the Super Bowl, he made a couple of difficult grabs in traffic late in the game to keep Bronco drives moving and the clock running. After participating in both of Denver's Super Bowl wins, he departed via free agency to the Baltimore Ravens — who promptly won Sharpe another championship behind one of the stingiest defenses to ever take the field. Until his marks were surpassed by Tony Gonzalez and Jason Witten, he led every tight end in NFL history in both receptions and receiving yards — and since his retirement, the Hall of Famer has put his knowledge of the game (and legendary mouth) to good use as an analyst.
Alongside James Brown, Dan Marino, Boomer Esiason and ex-Steelers coach Bill Cowher, Sharpe provided pregame analysis for CBS' The NFL Today for a decade. After being replaced (again) by Gonzalez in 2014, he found a new gig at Fox Sports One hosting Undisputed, on which he regularly engages in verbal sparring matches with famed Dallas sportswriter Skip Bayless. It's the perfect format for his talents; he gets to flex his football knowledge by way of daily shouting contests with Bayless, who is just as much of an opinionated loudmouth as Sharpe himself.
From trench wars to … frog wars?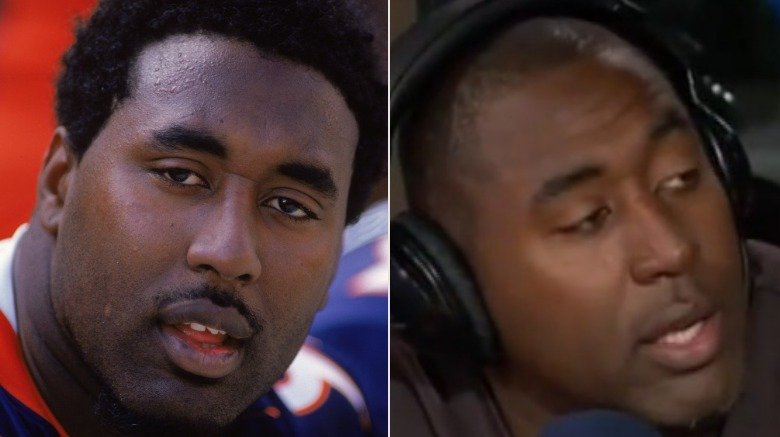 Getty Images/YouTube
Not many players get to open their career with back-to-back championships — but that's just what defensive end Trevor Pryce did, as he was drafted by the Broncos in '97. He played only sparingly his rookie year but then quickly began to establish himself as a bona fide sack machine, tallying 8.5 in '98 and a career-high 13 in '99. Pryce played his first nine seasons for the Broncos before finishing out his career with the Ravens and Jets. In 2009, despite no longer being a member of the team, Pryce was named to the Broncos' 50th anniversary all-star team. He was loved by fans and feared by offensive linemen — and no matter what it is you're expecting, his main project post-football is probably the exact opposite of that.
Shortly after his retirement, Pryce wrote a screenplay entitled Army of Frogs: Kulipari, the story of … an army of frogs defending their home from evil scorpions. When nobody bought the script, he went ahead and adapted it into a successful trilogy of young adult novels which, between them, have over 100,000 copies in print. Then, he pitched an animated adaptation to Netflix, which bought it and produced 13 episodes of kid-friendly frog-on-scorpion action. It remains to be seen what his next project will be, but Pryce could probably start a chain of giraffe-themed disco car washes and make it a success.
He can conquer anything … even daytime TV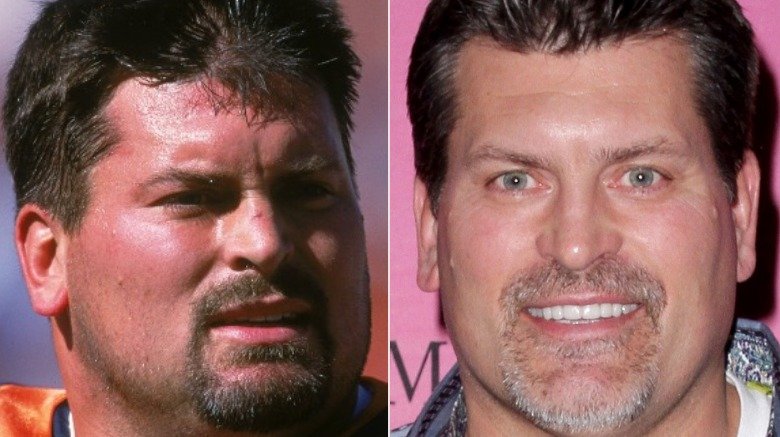 Getty Images
If there's anybody who knows about overcoming obstacles, it's former Broncos and Redskins guard Mark Schlereth. For starters, due to undiagnosed dyslexia, he didn't learn to read until he was in the seventh grade. In a Chicago Tribune interview, he said of the experience, it "helped mold me into a great athlete because I'd pick out those kids who made fun of me in class and then we'd go play dodgeball or football and I wanted to prove something to those kids. I wasn't mean or hostile. I've never been in trouble … but I wanted to prove to them that I did have self worth and that came from my ability as an athlete."
Later in life, his perseverance would be tested again. In 1993 while with Washington, he was diagnosed with the auto-immune disease Guillain-Barre syndrome, which causes numbness and weakness in the extremities. He beat back that condition in time to join the Broncos for the 1995 season, and spent the rest of his playing career in Denver. His post-retirement career has been spent as a respected analyst for ESPN, where he was a fixture for 16 years before recently joining ex-teammate Sharpe at FS1. He's also dabbled in acting; he had a small part in 2012's Red Dawn, played himself in several episodes of HBO's Ballers, and — this isn't made up — snagged a recurring role as Detective Roc Hoover (a name of his own creation) on the CBS soap opera Guiding Light.
Luck of the Irish?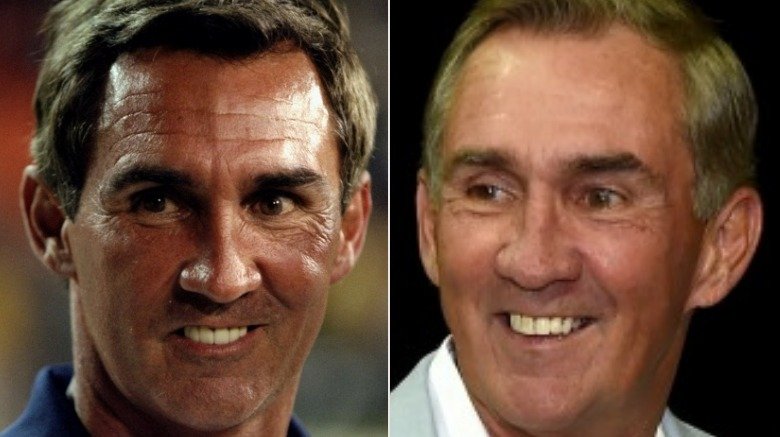 Getty Images
They called him "The Mastermind," and it's true that head coach Mike Shanahan deserved a portion of the credit for transforming the Broncos from perennial also-rans to Super Bowl champions. Taking over the team in 1995, he finally assembled all the pieces into a coherent whole, and it only took a couple seasons under his watch to bring home a trophy with the '97 Broncos. Post-1998, however, Shanahan quickly began to look less like a mastermind, and more like a guy who lucked his way into the right place at the right time.
He coached for 15 seasons with Denver and Washington after those back-to-back wins, and in all those years, his teams made it to the playoffs all of five times — losing one AFC Championship and four wild card games. In his final four seasons with Washington, he amassed a 24-40 record. His mishandling of quarterback Robert Griffin III likely stunted Griffin's career, and may have cost Shanahan his. He was fired in 2013 after a subpar sophomore campaign by Griffin and has been out of football ever since. But, offensive genes are strong. Shanahan's son Kyle (who served as his Dad's offensive coordinator in Washington) is now the head coach and offensive coordinator of the 49ers. The elder Shanahan has no official role with the team, but he has been spotted on the sidelines at their practices … lurking.