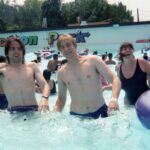 What The Park From Class Action Park Looks Like Today
echo get_the_meta(); ?>
Action Park was a beacon for exciting, thrill-seeking fun in the 80s and early 90s. Eugene Mulvihil, the owner of the Great American Recreation company, operated the Vernon Valley/Great Gorge ski area in Vernon, New Jersey, just an hour outside of New York City. In 1976, Mulvihill saw the opportunity to make money during the summer by attracting the Metropolitan area's more adventurous residents with exhilarating park rides, like the 2,700-foot-long Alpine Slide, and the completely enclosed Cannonball Loop water slide.
Action Park officially opened on May 26, 1978, and for the first few years it was a huge success. Waves of visitors flocked to what was then the state's first and largest modern waterpark, taking advantage of its thrilling rides and lax regulations. Action Park's first tragedy occurred on July 8, 1980, when 19-year-old George Larsson Jr. died after being thrown from the Alpine Slide. In 1982, another man suffered an electric shock while on the Kayak Experience that led to a fatal cardiac arrest, the first of two fatal heart attacks caused by Action Park rides. The Tidal Wave Pool alone was responsible for the drowning of three people from 1982 to 1987. All told, six people died and many more were injured at the park, per the New York Times. The injuries and fatalities, combined with the subsequent lawsuits and rising insurance premiums, eventually forced the closure of Action Park at the end of the 1996 season.
The Mountain Creek Waterpark Revival
Despite its dismal safety record, the park was reopened just two years later under the name "Mountain Creek Waterpark." The deadly Alpine Slide even briefly continued to operate in the new park, although now riders were required to wear helmets and safety pads. The slide was closed for good on September 6, 1998, luckily with no further injuries.
The park was revived a series of times, most notably in 2010, when it once again passed into the hands of its original owner, Eugene Mulvihill. The Mulvihill family even revived the Action Park name in April 2014, but reverted back to Mountain Creek just two years later, per the New York Post. Now owned and operated by Joe Hession, a former employee of the original Action Park, the newly renovated Mountain Creek Waterpark's safety record is superior to its predecessor, with no reported deaths on the site. Its attractions include tamer versions of the classics, like the The Hightide Wavepool and the 18-foot Bombs Away slide.
Today, Mountain Creek boasts that it has "re-imagined the Waterpark with a focus on guest safety…classic rides and family fun spent in a beautiful natural setting…Outdoor summer fun is waiting for you at the Mountain Creek Waterpark." Hopefully, the more safety-conscious park includes none of the deadly attractions that prompted Eugene Mulvihill's own son, Andy, to call Action Park: "America's most dangerous amusement park," via New Jersey Herald.