Whatever Happened To Kato Kaelin?
echo get_the_meta(); ?>
For the latter half of 1994 and for most of 1995, the nation (and the world) was consumed with one hot story — that of O.J. Simpson and whether he committed the brutal murders of his ex-wife Nicole Brown Simpson and her friend, Ron Goldman. On June 12, 1994, the two were found murdered at Nicole Simpson's condo in the upscale area of Brentwood, Los Angeles, per Orange County Register. Crime was rare in that neighborhood, let alone a double murder that left a bloody scene. Having just divorced a few years earlier, the main suspect and assumed killer in the crime was Nicole's ex-husband, former NFL player, and Hall of Famer, O.J. Simpson. The suspicion around Simpson eventually led to his arrest and would dominate the news cycle like nothing before.
What followed was the longest criminal trial in California history, which resulted in an acquittal that racially divided the nation (via History). During this "trial of the century" (via Britannica), Simpson hired the best of the best lawyers money could buy, earning his defense the nickname "The Dream Team" (Biography). More than a hundred witnesses testified for the defense and the prosecution combined, says Los Angeles Times. One of them would emerge as a star. His name was Kato Kaelin — a blond-haired friend of the Simpsons' and a witness for the prosecution.
A star emerges from the O.J. Simpson trial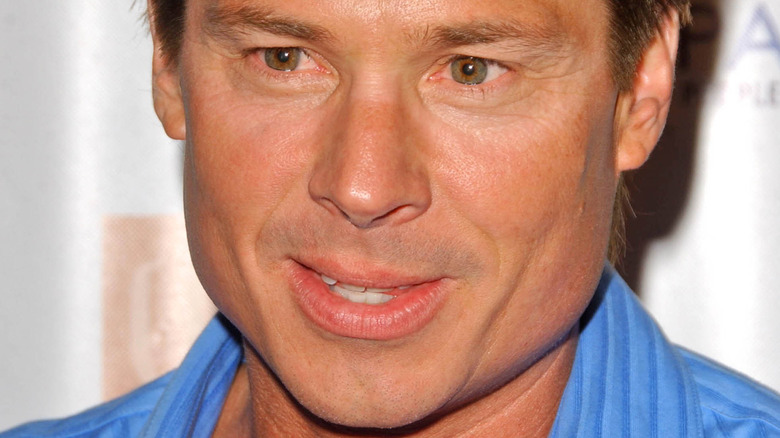 Shutterstock
The O.J. Simpson trial began on January 24, 1995, and wouldn't end until the jury came back with a verdict of not guilty on October 3, 1995. During the trial, Kaelin, who was living in a guest house on Simpson's property, would become an important witness who helped piece together the timeline of the June 12 murders. Even though the murders were committed at Nicole's condo at 875 South Bundy Drive, Simpson lived just seven minutes away at 360 North Rockingham Avenue. The distance between the residences became a key point in the case because it showed opportunity. Kaelin's testimony connected what investigators believed may have happened on Simpson's North Rockingham property before and after Nicole and Goldman were murdered.
Though Simpson provided an alibi, it was shaky at best, and one that his limousine driver would contradict during his testimony at trial, reported CNN. When Kaelin took the stand, unbeknownst to everyone, he'd become a highlight of the trial and a star.
Who is Kato Kaelin?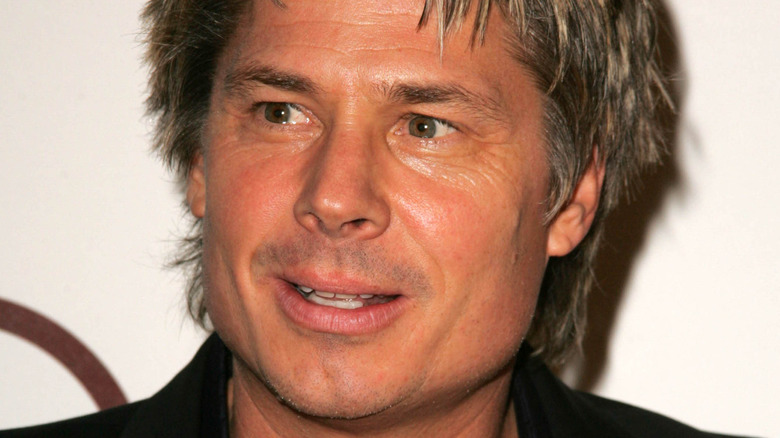 Shutterstock
Kaelin was born Brian Kaelin on March 9, 1959, in Milwaukee, Wisconsin. His acting career kicked off in the late '80s but his life changed when he met Nicole a few years before her death. In 1992, Kaelin met the recently divorced Nicole while vacationing in Aspen, Colorado (via Buffalo News). The two struck up a friendship and would end up becoming very good friends. Such good friends, that at some point Kaelin — an aspiring actor — moved to Los Angeles to live with Nicole. During his time at her Brentwood house on 325 South Gretna Green Way, he would look after the two kids she had with Simpson. Kaelin would also meet Simpson while living there, but optically Kaelin's presence at the house looked fishy. He was after all a single bachelor living with a divorcee and her children. When Simpson offered him the chance to live at a guest house on his North Rockingham property, free of charge, the up-and-coming actor took the opportunity. That is how he ended up being at the site of a key location in the murder case.
Simpson told investigators that he didn't sleep ahead of preparing for his flight to Chicago that his limo driver was scheduled to take him to, reported CNN. But his driver testified that he failed to reach Simpson on his intercom multiple times. When he was finally able to alert Simpson that he arrived at his house to take him to the airport, Simpson claimed that he had overslept. The stories differed which left some time unaccounted for. This is where Kaelin would become important.
Kaelin's famous testimony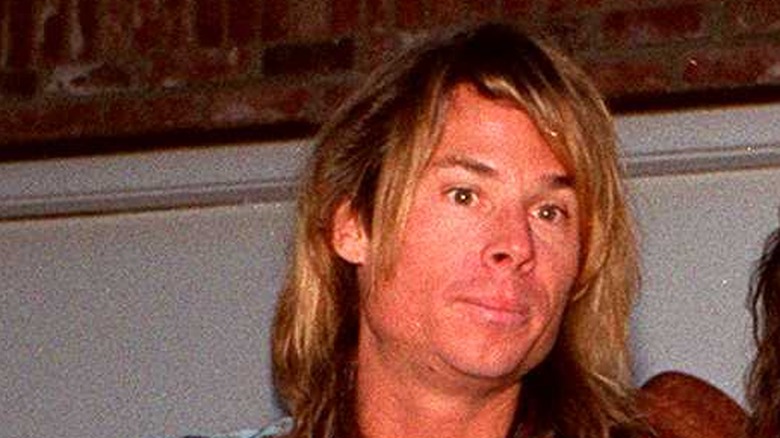 James Aylott/Getty Images
The night of the murders, Kaelin testified that he and Simpson went out to get some fast food. They returned to Simpson's house shortly after and about an hour later, Kaelin says he heard a series of loud bumps outside the guest house where he stayed (via CNN). Upon investigation, Kaelin said he surveilled the property and met up with Simpson's limo driver, who was waiting for his boss at the main gate to the house. Simpson later emerges from his home when the driver attempts to reach him via intercom again and finally takes him to the airport.
In the early-morning hours of June 13, the bodies of Brown Simpson and Goldman were discovered and investigators immediately headed to Simpson's property. There, they found his Ford Bronco with a visible bloodstain, and the infamous glove — a key piece of evidence the prosecution presented that would end up helping the defense instead. The decision to search Simpson's property was heavily criticized because authorities at the time had not yet obtained a proper search warrant, reports The New York Times. But the aftermath of their findings led to a highly publicized highway chase, Simpson's arrest, and subsequent trial, which brought a lot of attention to almost everyone involved.
During the trial, Kaelin testified for five days. And at one point it appeared to prosecutors that he was changing his testimony. This led to him being declared a hostile witness, per Chicago Tribune.
Fame finds Kaelin after his witness testimony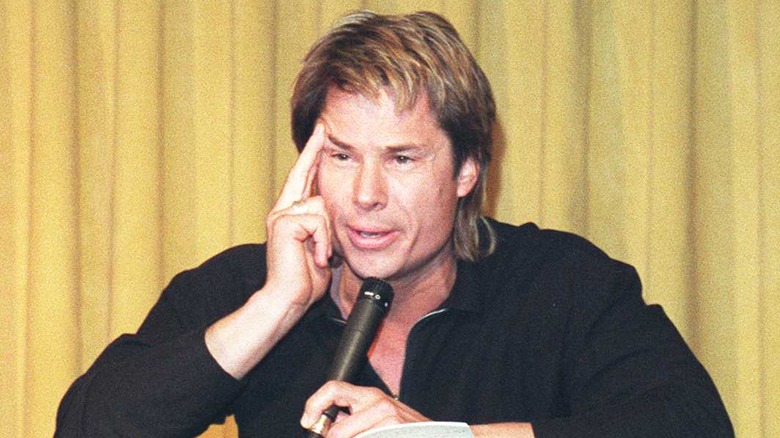 Stewart Cook/Getty Images
While Kaelin was grieving the loss of his friend, he too, would find fame because of the trial. He was an aspiring but struggling actor who had a few minor roles in several projects. But when the trial was all over he didn't just disappear from the spotlight. Never mind that people wanted to know about this close friend of Nicole's and Simpson, news stations wanted to interview him about the trial. Kaelin also hosted a radio show (Los Angeles Times), did an interview with Larry King (The Washington Post) and Barbara Walters (posted on YouTube), and capitalized on his newfound fame. By the mid-'90s Kaelin found himself in several more movie roles but nothing major. Despite years going by, he continued to find himself doing interviews about the O.J. Simpson case. He talked to Larry King again in 2014 (also on YouTube), and Walters (People Magazine), in which he revealed that he believed Simpson to be guilty — a thought he never shared during the trial and the height of his celebrity. Kaelin also did several interviews when the FX show, "The People Vs. O.J. Simpson: American Crime Story," premiered in 2016.
Where is Kato Kaelin today?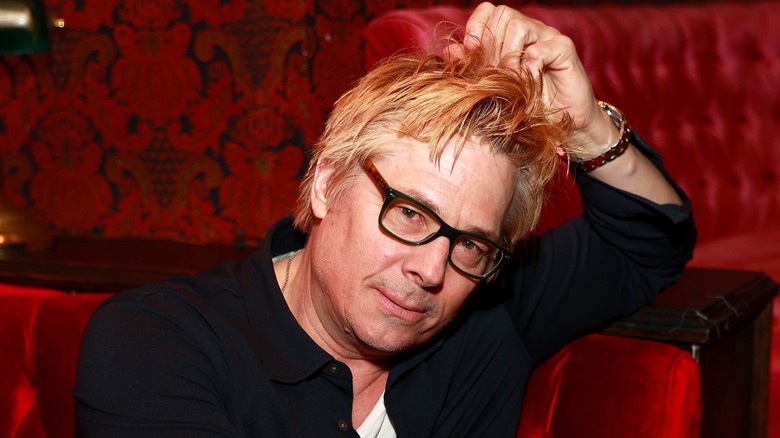 Matt Winkelmeyer/Getty Images
Kaelin criticized the dramatization of the show in his weekly episode reviews for The New York Daily News. He even had some things to say about the hair and costume of the actor who played him in the series, per the Daily News.
Truth be told, even though Kaelin is no A-lister and has never had a steady acting role on a television series, he is still acting today. His most recent role was in the 2018 TV movie, "The Last Sharknado: It's About Time." Dating back to 1987, he has about 45 acting credits, per his IMDb page. But his biggest success in Hollywood has come in the form of appearing as himself on talk and game shows, presenting gigs, and reality-TV shows. One of those shows was "Celebrity Big Brother 2," in which he filmed 10 episodes in 2019 (via IMDb). It's not clear what Kaelin's been up to, career-wise, these days, but as of 2021, he did take part in The Los Angeles Tribune's Quantum Leap Forum in February (via Facebook).