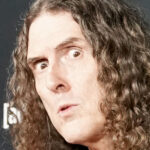 Why You Haven't Heard From Weird Al Yankovic In A While
echo get_the_meta(); ?>
In an alternate reality, one could crack open a music dictionary, look for the word "parody," and find an entry consisting of nothing more than a photograph of a mustachioed man with a mischievous smile and a massive afro. 
After decades of prolific parodying and lyrical lampooning, Weird Al Yankovic's name has become synonymous with spoof songs. It has even reached the point where one's work becoming the source material for a Weird Al song is a sign that an artist has "made it." As musician Greg Kihn once shared in an article on The Washington Post: "If you're not well-enough known to be parodied, well, you're just not well-enough known." And with over 150 parody and original songs under his belt, the typically Hawaiian-shirted musical icon has outlasted many of the acts and artists that became the inspiration for his humorous hymns.
Yankovic's enduring popularity has been less like a tidal wave and more like the ebb and flow of the sea. Then again, this isn't entirely surprising for a parody artist's career. For anyone who feels that it's been a while since Yankovic reared his curly head, here's a primer on the pop music parodist: how he got his start, some of the biggest milestones in his career, and what he's been up to lately.
This ain't baloney: My Bologna kicked off Al's Weird career
Years before becoming Weird Al, it was clear that Alfred Matthew Yankovic didn't quite fit the mold. In an interview with The Guardian, Yankovic described himself as a "straight-A nerdy kid" who took delight in comedians, TV shows, and magazines that showcased an absurd sense of humor. He also had an accordion that his parents bought for him from a traveling salesman (via The San Luis Obispo Tribune). At first, though, he didn't think he'd eventually make a living creating comedic content. Instead, Yankovic took up architecture at the California Polytechnic State University, a pursuit he lost interest in after three years.
According to The New York Times, "Weird Al" was initially a derogatory nickname his fellow dorm residents gave him. Yankovic had a hard time fitting in with his peers and was bullied at first. Fortunately, this led to him meeting and starting a lifelong friendship with his dormmate Joel Miller.
Yankovic also showed a knack for comedic songwriting, according to Dr. Demento, the DJ he idolized as a teen. Weird Al wrote a song about their family car that Dr. Demento immediately played on his show. However, it was "My Bologna," a parody of The Knack's 1979 hit "My Sharona" that he recorded inside a restroom, that kick-started his career. Aside from being the biggest hit song on Dr. Demento's show, it also led to Yankovic signing his first-ever music contract with Capitol Records (via The Tribune).
Smells like a career reboot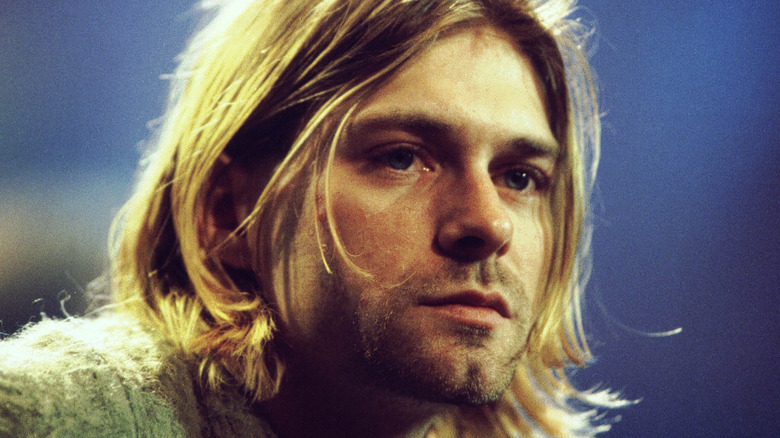 Frank Micelotta Archive/Getty Images
Weird Al Yankovic's subsequent hits, particularly 1984's "Eat It" (after Michael Jackson's "Beat It"), propelled his rise to stardom as a song parodist specializing in wholesome and food-related themes. This also paved the way for him to co-write and star in "UHF," a comedy film lampooning local cable-access TV, in 1989. Unfortunately, a combination of mixed critical reception and strong competition in the form of movies like "Batman" and "Ghostbusters II" turned it into a commercial failure (via The Saturday Evening Post).
This resulted in an early '90s career slump for Yankovic, as told in The New York Times. In an attempt to bounce back, Yankovic thought of writing a food-based parody of Michael Jackson's "Black or White." The pop superstar refused to grant Yankovic permission, and while this felt like a setback at first, it ironically became the catalyst for Yankovic's career revival.
At the time, the alternative rock scene was set to explode with the arrival of Nirvana — and Yankovic, a fan of the band, thought of parodying their hit song "Smells Like Teen Spirit." When he called frontman Kurt Cobain to ask permission, Cobain, who was familiar with Yankovic's work, asked what it would be about. When Yankovic told him he'd poke fun at their unintelligible lyrics, Cobain thought it would be funny and gave the go signal. Yankovic's "Smells Like Nirvana" ended up earning him a spot on the Top 40, Gold certification for his album, and even a Grammy nomination.
Weird Al's actually a regular nice guy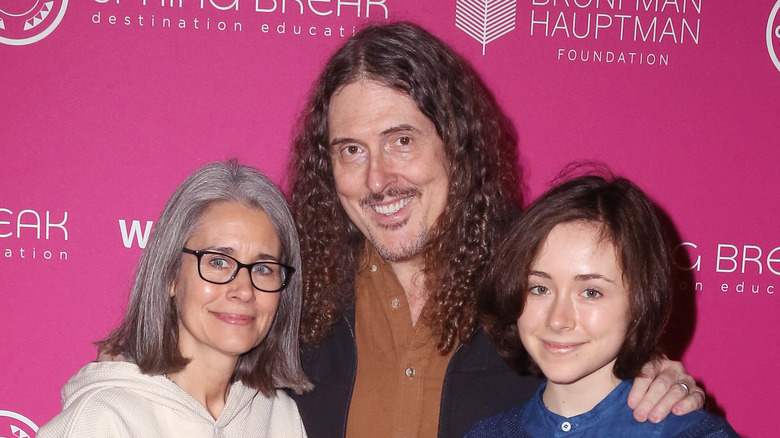 Rachel Murray/Getty Images
One notable thing about Weird Al Yankovic is that he secures permission from the artist before he goes ahead with writing or commercially releasing parodies of their songs. Despite the fact that parody songs fall under fair use, Yankovic prefers to have his parody inspirations "in on the joke" instead of giving them the impression that he's making fun of them. Unsurprisingly, Yankovic has established a reputation as being "one of the nicest men in the business," according to The Guardian.
Think the real Weird Al is as loud and rambunctious as his onscreen persona? Think again. In an article in The New York Times, Yankovic's wife Suzanne Krajewski, with whom he has a daughter named Nina, shared how they almost didn't meet. Krajewski, then a high-ranking film executive, mistakenly believed that Yankovic didn't have an "off" switch. As it turned out, the introverted Yankovic was (and still is) quiet, reserved, and incredibly courteous. Yankovic also has a knack for math, and no one has ever seen him lose his temper before.
As The Tribune revealed, he stays away from drugs and alcohol and never swears. Yankovic also told OnMilwaukee that since 1992, he had been sticking to a mostly vegetarian diet, with the occasional cheat meal here and there. In many ways, he's a regular, down-to-Earth fellow … for someone who dresses up like Isaac Newton to take on Bill Nye and Neil deGrasse Tyson lookalikes in a science rap battle, that is.
Weird Al or Not Al?
Whether it's his Queen-inspired "Another One Rides the Bus" or his summary of the first "Spider-Man" film set to the tune of "Piano Man," one thing that Weird Al Yankovic's parodies have in common is that they're witty and hilarious but never mean-spirited. As Yankovic shared with The Guardian, almost everyone he has ever asked for permission to parody a song from has said yes — they even consider it a badge of honor.
Unfortunately, the rising number of parody musicians in the last couple of decades, paired with the practice of downloading and sharing mp3s online, resulted in a unique headache for Yankovic. Nowadays, there are tons of parody songs online that are incorrectly attributed to him — and many of them contain profane language or vulgar messages that Yankovic believes can tarnish his reputation. There's even a "Not Al" page with a very long list of songs that he didn't actually write, for the benefit of his fans.
Pro tip: If the parody song mentions swear words, violence, or gratuitous sexual references, it's unlikely to be a Weird Al song.
A terrible loss and a tough decision
A major personal tragedy hit Al Yankovic on April 9, 2004, as he was touring for a newly released album. The San Diego Union-Tribune reported that his parents, Nick and Mary Yankovic, died due to carbon monoxide poisoning inside their home.
In an official statement for his fans, Yankovic wrote that it resulted from accidentally leaving the flue closed while using their fireplace. He also shared that he'd learned the news from his wife before any news agencies could pick up the story. Despite this, he decided to continue the tour but canceled all of his interview commitments and meet-and-greets with fans. He felt that since his music had brought so much joy to his fans, continuing to perform could help him get through this as well. He did, however, pay tribute to them during his performance on the night they died, as reported by USA Today.
In a 2014 interview with former broadcaster Dan Rather, Yankovic admitted that he had certainly expected that he'd outlive his parents but didn't think that they would pass away at the same time.
Princely demands and the Gaga Saga
Among the handful of artists who have refused Weird Al Yankovic's parody requests, the most infamous was perhaps the late Prince. On "The Howard Stern Show," Yankovic said that despite multiple attempts to ask permission, the artist always refused, without giving him any reason. Yankovic even recalled when Prince's office wrote to him, telling him not to make eye contact with the performer during an awards night where they'd be seated near each other.
Another noteworthy instance of an artist refusing to be parodied (or so everyone initially thought) was Lady Gaga. In a 2011 blog post, Yankovic shared the story of how he'd reached out to Gaga's camp with an idea for a "Born This Way" parody, the profits of which would be donated to the Human Rights Campaign. At first, Gaga's manager said that she didn't grant her permission; Yankovic decided to simply upload the song to YouTube, so that everyone could enjoy it for free.
However, in a follow-up post on the same day, Yankovic revealed that Gaga's manager had lied: He didn't even bother showing the parody lyrics to Gaga. In fact, she actually liked the song — and quickly gave Yankovic the thumbs-up to release a video for it — after assessing it herself.
No more albums: a Weird decision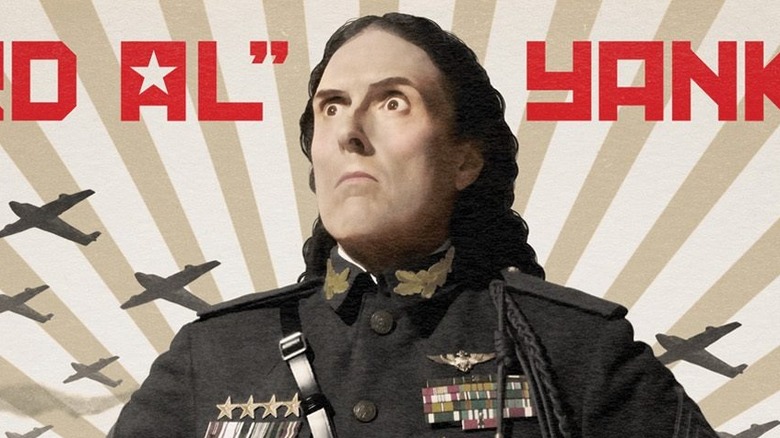 RCA
Part of the reason why Weird Al Yankovic may seem inactive is because he actually hasn't released a new album since 2014. In an interview with The Guardian, he talked about how he received no funding from his record label to make the videos for what would turn out to be his last album, "Mandatory Fun." Instead, Yankovic had to try a different approach: He partnered up with Yahoo, YouTube, Vevo, and other "internet portals," releasing one platform-exclusive song and video per day in exchange for funding.
"Mandatory Fun" turned out to be an unprecedented success. According to Rolling Stone, it was Yankovic's first LP to reach the No. 1 spot on the Billboard 200. Interestingly, it was also the first comedy album to enter the chart immediately at No. 1, selling 104,000 copies within just one week (via The Washington Times).
And since the album also marked the end of Yankovic's contract with his record label, he ultimately decided to forgo the album model and simply release his songs online immediately upon their completion. Speaking to The Washington Times, Yankovic also revealed his plans to stick to either a singles or EP format for his new releases.
Young, scrappy, and hungry: The Hamilton Polka makes history
A personal request from a good friend became the catalyst for Weird Al Yankovic's next smash hit.
In an interview with Rolling Stone, Yankovic and actor-playwright Lin-Manuel Miranda talked about how the latter pitched the idea to the former. A fan of Yankovic since he was a child, Miranda thought it would be awesome to compress the events of his broadway hit "Hamilton" into one of Yankovic's signature polka songs. Having seen and enjoyed it multiple times, Yankovic decided to go for it, churning out a compilation of the play's greatest moments in his distinctive musical style.
When Yankovic released the final product, titled "The Hamilton Polka," it sold 17,000 downloads and immediately grabbed the top spot on the Billboard Digital Comedy Track Sales chart, as Billboard reported. It also landed on the 23rd spot on the Digital Song Sales chart across genres, marking the first time a polka song ever entered the chart since its establishment.
A star got his star on the Walk of Fame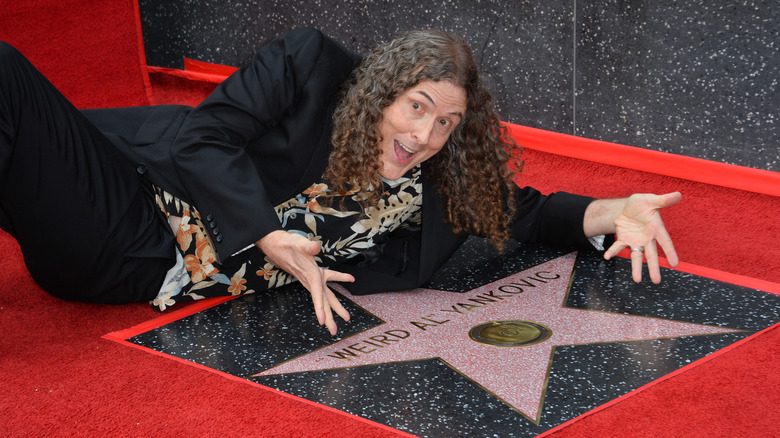 Shutterstock
In 2003, Weird Al's fans started campaigning for the pop music parodist to get his own star on the Hollywood Walk of Fame. They formed the Weird Al Star Fund, with the aim of collecting enough money to pay for the creation and maintenance of Yankovic's star. When they started, a star only cost $15,000; by the time Yankovic was inducted, the price had already risen to $40,000.
Yankovic made it to the list of inductees in 2018, receiving the honor for his accomplishments as a recording artist. According to the official website of the Hollywood Walk of Fame, Yankovic officially became the 2,643rd recipient of a Walk of Fame star. At his induction ceremony, Yankovic demonstrated his signature humor, referencing recent events. As Variety reported, he begged spectators not to destroy his star with a pickaxe, despite it being "all the rage these days." Earlier that year, former President Donald Trump's star had been vandalized by a man carrying a pickaxe in a guitar case (via TIME Magazine).
In classic Weird Al fashion, though, the comedian clarified that spitting and urinating were fair game.
Taking a break from touring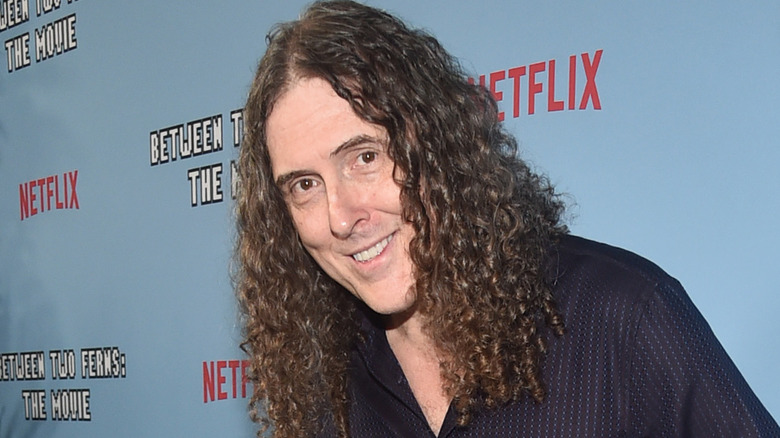 Alberto E. Rodriguez/Getty Images
From June to September of 2019, Yankovic and his band performed in different venues across North America, as part of his Strings Attached concert tour. Strings Attached was Yankovic's 16th tour since 1983.
According to Weird Al's official website, the musicians performed a total of 67 shows in 64 venues. Called their "biggest and most elaborate tour ever," it featured a live symphony orchestra coming from every location and made extensive use of the performer's countless costumes and props (via Rolling Stone). Additionally, Yankovic performed his older, more well-known parody songs during Strings Attached. In his previous tour, he stuck to playing his newer, less popular songs.
After having played over 1,000 live shows during his career (as reported by Florida Today), Yankovic decided that it was the right time for a touring hiatus. Up to now, he has not released any official announcements as to when he and his bandmates are planning to go on another tour.
All about Al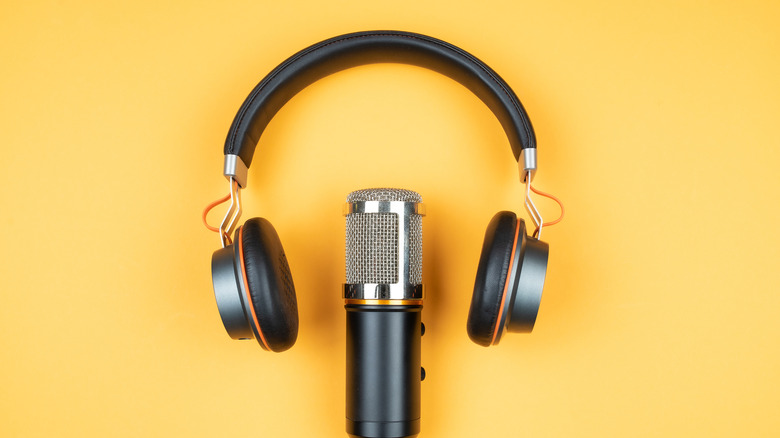 Shutterstock
Though the general public may not have heard much from Weird Al Yankovic in recent years, there's a good chance that they've heard plenty about him.
Weird Al's official website mentions how the pop music parodist has appeared on many podcast shows. More interesting, though, is the sheer number of podcasts dedicated entirely to discussing all things Weird Al. There's a weekly podcast called "Dave & Ethan's 2000″ Weird Al Podcast," which has released over 100 episodes' worth of interviews and discussions about Yankovic's life. There's also the "We're All Yankovics" podcast, which discusses every single Weird Al song, one episode at a time. "The 'Weird Al' Phabet," on the other hand, does the same thing, except in alphabetical order. Another podcast, "Beer'd Al Yankovic," is hosted by two millennial siblings who are passionate about two things: Weird Al songs and beer.
A year after Yankovic's Strings Attached tour, three books came out featuring him: Nathan Rabin's "The Weird Accordion to Al," Lily Hirsch's "Weird Al Seriously," and Jon "Bermuda" Schwartz's "Black & White & Weird All Over." Yankovic promoted all of them in an interview with Rolling Stone, in his signature dry wit: "I don't know how to describe it, but I just felt a real personal connection with all of them."
More Weirdness coming up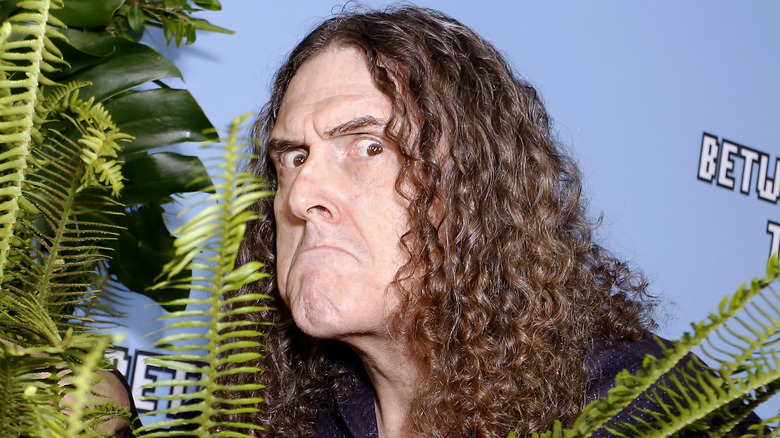 Rachel Murray/Getty Images
Due to Weird Al Yankovic's planned hiatus from touring, it may be a while before fans see him in the flesh again. That's not to say, however, that he hasn't been busy.
For starters, Yankovic narrated "Tiny Tim: King For a Day," a documentary about the famous American ukulele player that was released on April 23, 2021. According to Rolling Stone, Yankovic, who greatly admired the musician, read out his letters and passages from his diary for the documentary. Yankovic's website also confirmed that he will be in "The Sparks Brothers," a new music documentary from director Edgar Wright.
As for new parody songs, fans might have to wait a little longer. Talking to Billboard in 2019, Yankovic shared that his parody songwriting pace has become considerably slower. Then again, for someone with Weird Al Yankovic's staying power, that wouldn't be much of a problem. As Yankovic himself explained in a Forbes interview: "I just do what I do, and thankfully people haven't gotten completely sick of me yet."