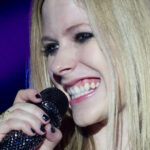 Bizarre Fan Theories About Celebrity Deaths
echo get_the_meta(); ?>
The bombshell deaths of famous celebrities often trigger a range of emotions. For hardcore fans of the celebrity in question, the loss of a heroic public figure can feel like losing a loved one, despite the fact we may never have met them in real life. In other cases, the announcement that a celebrity has died might affect someone who didn't even consider themselves a fan, but nevertheless the death moves them in an unexpected way. Some people, however, think it's silly to have such powerful feelings for people we don't even know, and never feel emotionally affected by celebrity deaths.
Public grief can express itself in the same way as private grief. But with the evidence of a person's death immediately unavailable to our eyes and ears as it would be in private life, the mourners of celebrity deaths may linger in a state of denial. The result? The propagation of bizarre theories concerning the deaths of celebrities which, most of the time, work to suggest that the person is still alive, regardless of what has been reported in the media. Here are some of the weirdest and most bizarre.
Michael Jackson ducked his debts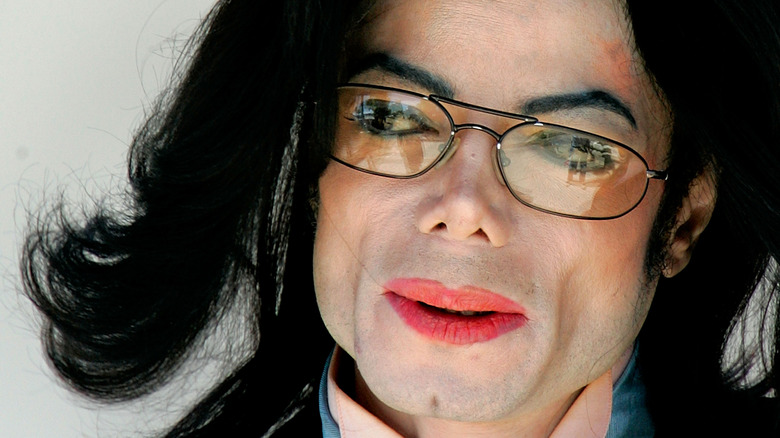 Carlo Allegri/Getty Images
Though Michael Jackson lived a troubled life in the public eye, the death of the King of Pop back in June 2009 was a major shock to his millions of fans. At the time of his death, music lovers were anticipating the singer's long overdue comeback, alongside a highly publicized 50-date residency at London's O2 Arena that was set to begin the following month. Jackson's tragic death stayed in the headlines for months as the details came to light. Jackson had died from an overdose of the anesthetic propofol, which was administered by his private physician Dr. Conrad Murray, according to The Guardian. Murray was later found guilty of involuntary manslaughter.
But official proceedings have barely slowed the whirlwind of speculation and conspiracy theories concerning the legendary singer's untimely death, according to the South China Morning Post. Some have suggested that Jackson was in fact murdered, including his own daughter, Paris, who in 2017 claimed that "a lot of people" would have wanted her father dead and that she was still seeking justice (via The Independent).
A more bizarre theory doing the rounds in the wake of the news claimed that Jackson had actually faked his own death — an idea that gained some prominence after a video was posted online that purported to show a Jackson-esque figure getting out of the back of a coroner's van alive and well (via YouTube). The Guardian claims that Jackson was $500m in debt at the time of his death, a fact that conspiracy theorists argue gave the singer cause to quit his life in the spotlight. Some fans even suggest that Jackson took up the identity of Dave Dave, a conceptual artist and friend of Jackson who was interviewed on Larry King Live on the day of Jackson's funeral (via YouTube).
Avril Lavigne was replaced nearly 20 years ago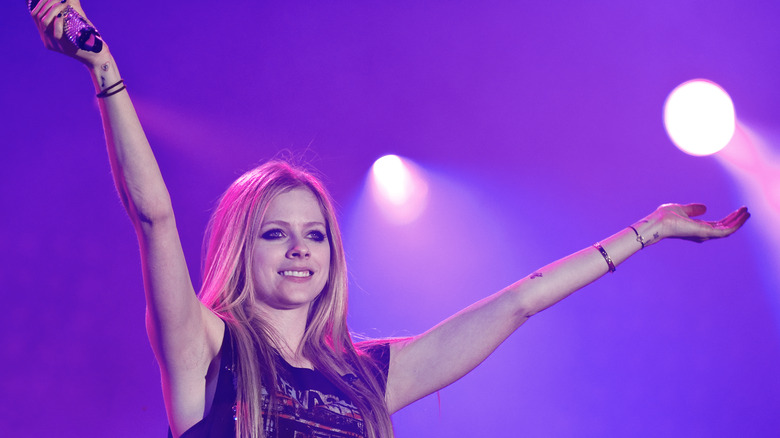 Frederic Legrand – COMEO/Shutterstock
For the vast majority of her fans, Avril Lavigne has been the evergreen voice of teen angst for the best part of two decades, a singer whose breakthrough hit, "Sk8r Boi," still sounds as fresh as when it was released way back in 2002.
But the world of Lavigne fandom also contains one unorthodox subset: the "Avril Rangers" (per Film Daily), a conspiracy-minded tribe who allege that the Lavigne we see on stage today isn't the real Avril … and hasn't been since all the way back in 2003. According to Vice, the Rangers believe that Lavigne was found dead at her home shortly after the release of her breakout debut album "Let It Go," and was subsequently replaced by an actress called Melissa Vandella, who was first employed by Lavigne's team as a lookalike whose job was to wrongfoot the paparazzi and stop their constant pursuit of the real Avril.
According to The Guardian, the bizarre theory first arose on a Brazilian blog titled "Avril Está Morta" ("Avril is dead"), while evidence of a purported cover-up includes analysis of the women's differing skin blemishes, clothing styles, and cryptic lyrical allusions to the real Lavigne's untimely demise. Vice reports that the creator of the blog has since disavowed his outlandish theory, though that hasn't stopped it resurfacing time and again on social media.
Elvis Presley was an FBI informant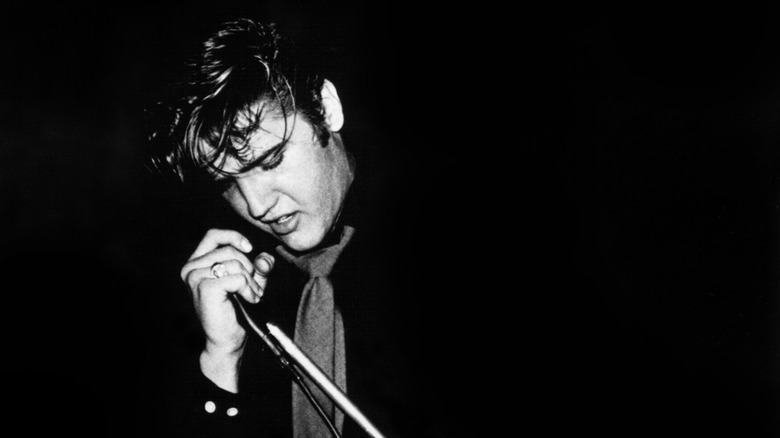 Michael Ochs Archives/Getty Images
The theory that Elvis Presley is still alive has been around so long that it has become something of a pop culture joke, with the 1994 Ray Stevens song "I saw Elvis in a UFO" playfully skewering some of the oddball theories that the King of Rock 'n' Roll's death subsequently produced.
Of the fans who refuse to believe that the King died in the bathroom of his Graceland home in August 1977, there are those that believe the singer and noted UFO enthusiast was finally abducted by aliens — who had apparently appeared to him throughout his life, and perhaps had even helped him throughout his career — while a marginally more plausible but nonetheless bizarre theory argues that the King was in fact working for the FBI, and that he had effectively entered a witness protection program before evidence that he was an agent was made public (via the Internet Public Library). However, Time reports that there is no mention of Presley's being involved in the FBI in the 760 files the agency released concerning the late singer.
Much of the speculation has been fueled by the unavailability of the results of Presley's autopsy, which his father, Vernon, had sealed to prevent their contents falling into the public domain. According to Newsweek, they are finally due to be published in 2027, on the 50th anniversary of Presley's death.
Two ex-presidents hired a horror writer to murder John Lennon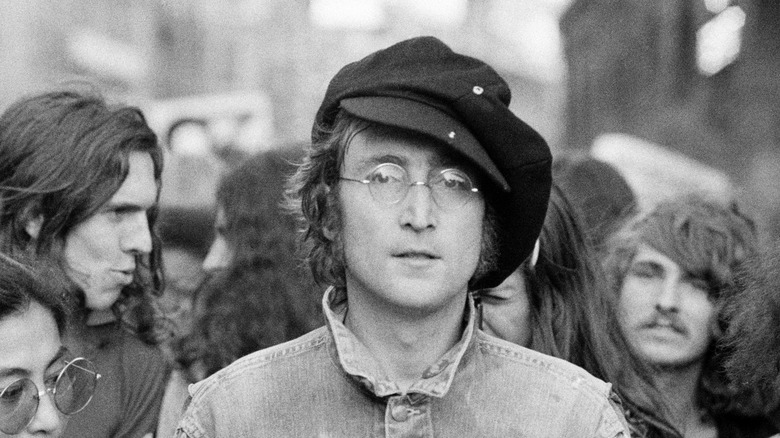 Rowland Scherman/Getty Images
In the age of the internet, it only takes one person with a website to propagate an outlandish theory and for it to enter into public consciousness, regardless of how obviously unhinged the idea might be.
Steve Lightfoot, the creator of the website Lennon Murder Truth, which first went online in the early 1990s, explains that he "gave up a dream of playing professional golf after my discovery of government codes in major news magazines that linked our government and a horror writer to John Lennon's murder," while the title of the 24-page pamphlet that is sold through the website, "Stephen King Shot John Lennon," tells you all you need to know about the supposed "discovery" in question. Lightfoot's thesis seems to be based pretty much exclusively on King's physical resemblance to Lennon's real killer: Mark Chapman, who has been incarcerated since pleading guilty to the murder in a 1981 hearing.
Lightfoot's bizarre theory also claims that King murdered Lennon at the behest of both Ronald Reagan and Richard Nixon, who had taken exception to Lennon's leftwing activism. As well as his rather impenetrable website and pamphlet, Lightfoot has for many years promoted his ideas by pasting his claims on the side of his van. Thankfully, very few people have taken the theory seriously.
Steve Jobs sightings keep conspiracy theories alive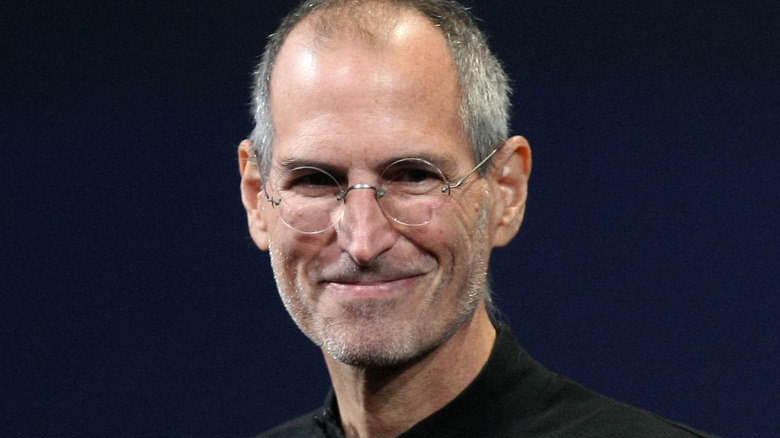 Justin Sullivan/Getty Images
Apple Inc. founder and CEO Steve Jobs became the closest thing tech had to a rock star following the dawn of a triple threat of products, the iPod, iPhone, and iPad, between 2001 and 2010. Sadly, Jobs died from neuroendocrine cancer on October 5, 2011, just 18 months after the iPad's initial release. By then, of course, the innovations he oversaw had already changed the landscape of home technology forever.
And just like that of a rock star, the death of Steve Jobs was so unbelievable for many of his fans — though he had been ill for several years, he always seemed in good health in public appearances — that it seems a sense of denialism about the loss of the former Apple CEO is still pervasive a decade later. In 2019 for example, the internet lost its collective mind when an image was posted that claimed to show Jobs alive and well and living in Cairo, Egypt (per Cnet). Al Bawaba notes that Jobs was of Syrian descent, and refers to a Reddit post claiming that Jobs had a love of the Middle East and likely decided to fake his death and move there to enjoy a quieter life.
Jobs has supposedly been spotted numerous times, including in Rio de Janeiro in 2016, according to The India Times.
Buddy Holly killed the music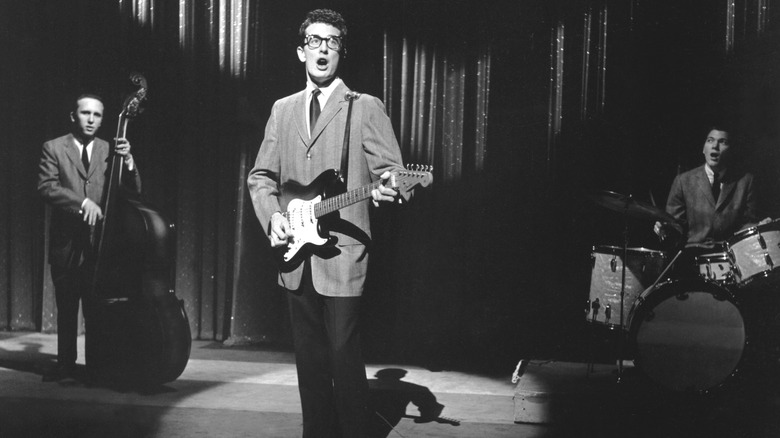 Michael Ochs Archives/Getty Images
On February 3, 1959, the world of rock 'n' roll suffered a triple tragedy, when rockers Buddy Holly, Ritchie Valens, and J. P. "The Big Bopper" Richardson all perished aboard a small plane they had chartered which crashed into a cornfield in Iowa in adverse weather conditions.
But per Knox News, a theory quickly emerged that the crash wasn't an accident — or, at least, wasn't an accident in the way it had been originally reported. Buddy Holly's gun, which he was known to carry for protection, was apparently found months after the plane crash at the crash site, and rumors spread that the gun had been fired. Conspiracy theorists raised the possibility that Holly may have murdered his fellow passengers and captain, or that an accidental gunshot had brought down the aircraft.
In 2007, the son of Richardson hired a noted pathologist to exhume and re-examine the body of his father, to put paid to rumors that foul play had occurred in relation to his father's death. The subsequent autopsy revealed that Richardson had died instantaneously as result of the crash, and found no traces of ammunition in his body (per Rockin' 50s).
Bill Hicks found fame again under a different name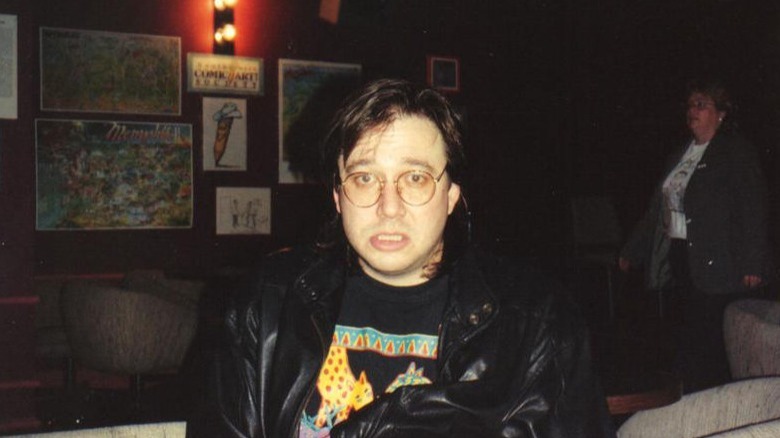 Born into a devout Baptist family in Valdosta, Georgia, Bill Hicks drew on the firebrand performances of the preachers he encountered in his youth to create his own brand of cutting edge, rage-fueled comedy, becoming known as one of the angriest young comics of his generation before his tragic early death in 1994, aged just 32 (per The Independent). But some conspiracy theorists have argued that the Bill Hicks story doesn't end there, and in fact the comedian has continued to ply his trade as a loudmouth social critic in a far less comedic (and, in must be said, coherent) form: that of far-right conspiracy theorist Alex Jones.
According to Texas Monthly, the incredible (in both senses of the word) theory first emerged in 2014, when a 33-minute-long video was posted to YouTube which claimed that Hicks had undergone the transformation after being recruited into the CIA to become "controlled opposition" against the mainstream media. Yes, in this version of events, the mainstream media controls the alternative media too.
Per the same source, critics of the unproven theory have argued not only that the two figures exist on wildly different sides of the political spectrum, but it is also true that being loud, white, male, and rotund isn't a particularly niche profile among American public figures.
David Bowie's farewell album confirms Kanye West as his successor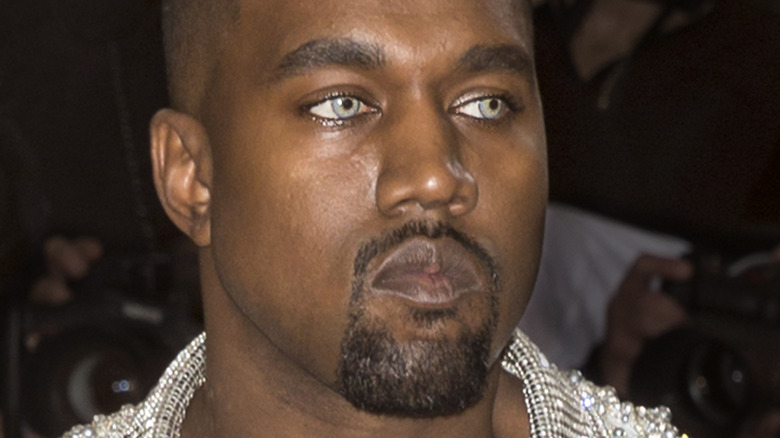 Ovidiu Hrubaru/Shutterstock
The exact meaning of the title of David Bowie's final album, "Blackstar," has been widely debated among fans, especially in light of his death and the timing of the album's release, which came out just three days before his death was made public on December 11, 2016. Many point to the album's oblique themes of death and transformation, arguing that the album is a perfectly crafted swansong that turned the musician's death into "a work of art" (via The Guardian).
But to some conspiracy theorists, "Blackstar" is the final piece of a puzzle the roots of which go back all the way back to 1972, and the release of Bowie's classic concept album, "The Rise and Fall of Ziggy Stardust and the Spiders From Mars." According to Rolling Stone, adherents to the theory claim that Bowie uses "Ziggy…" to foretell the coming of his musician successor: Kanye West. Two tidbits propel the theory: first, that the cover shows Bowie in his Ziggy garb, standing conspicuously under a sign that reads "K. West." This kernel is then expanded by the album's opening track, "Five Years," which true believers claim is a reference to West's birth, who was born roughly five years (!) after the album's release.
Not only (say the theorists) is Ye the "Starman," but he is also the titular "Black star" of Bowie's farewell LP, according to the same source. Bonkers, but fun, right?
…Though others believe that Bowie is still alive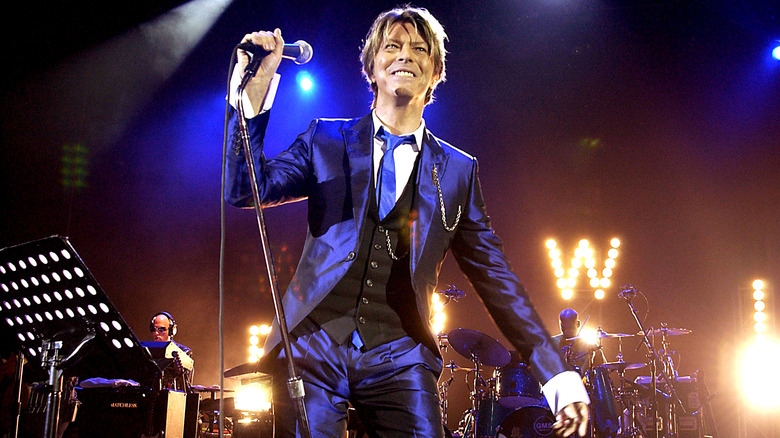 Dave Benett/Getty Images
Though of course, the death of a star as big as David Bowie had to attract its own bizarre conspiracy theories, including the classic one: that the Thin White Duke was still alive and kicking on planet Earth, despite all the evidence to the contrary.
Bowie had avoided the limelight for more than a decade the time of his death; although he had released two well-received albums and several singles since his 2013 comeback starting with the impossibly delicate surprise release "Where Are We Now?" which included a number of music videos, the star avoided all press, public appearances, and performances, according to Tip Berlin. But the impeccably choreographed release of both Bowie's comeback album "The Next Day" and that of "Blackstar" seemed to suggest that the musician who back in the 1960s had timed the release of his single "Space Oddity" to coincide with the Apollo moon landing was still a master of manipulating the media … and that his supposed death was just the Starman's latest trick, per the Thai Law Forum.
Conspiracists pointed to the similarities between Bowie and his former colleague and fellow Brit Jack Steven, a music mogul who was interviewed shortly after Bowie's death on the BBC (via YouTube). While there are certainly some physical resemblances, many commentators pointed to something that Steven said at the start of his interview, namely, that he "felt that part of [him] had died," which some have taken as evidence that Bowie and Steven are the same person, and his appearance on live TV was a coded farewell to his eagle-eyed fans who knew the truth.
Mary J. Blige believes Aaliyah was murdered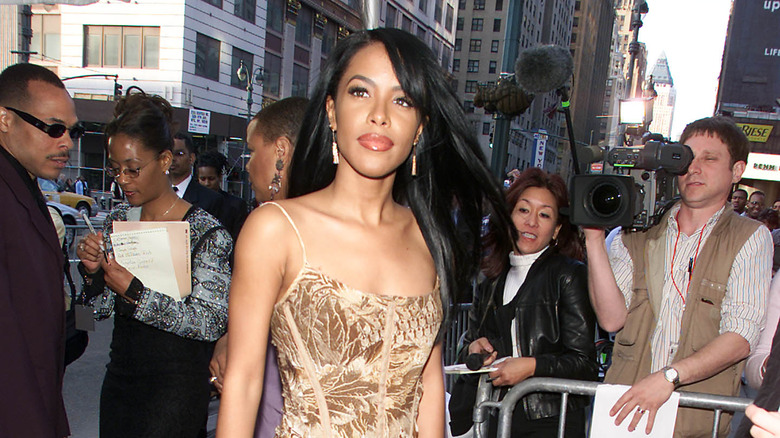 Evan Agostini/Getty Images
Aaliyah was a rising star in the world of R'n'B when she was tragically killed in a plane crash immediately after wrapping the filming for the music video to "Rock The Boat," which would become the first of a series of posthumous hits, according to USA Today. However, not everyone believes that Aaliyah's death was an accident, despite no evidence ever coming to light to the contrary.
And one highly prominent name in the "Aaliyah was murdered" camp is fellow R'n'B sensation Mary J. Blige, who in a 2005 interview with The Guardian pulled no punches in letting readers know that she was certain that there was more to the singer's unfortunate death than there at first seemed … and that Blige might be next.
"When I saw her die, that's when I discovered the fact that I'm next. I don't know how or when, but I'm next. I don't know what kind of freak accident they're going to put me in, or what kind of overdose of heroin they're going to sort out, but at the end of the day, I knew I was next," said Blige. Thankfully, Mary J. Blige is still going strong.
'Whackers' are responsible for the murders of dozens of Hollywood stars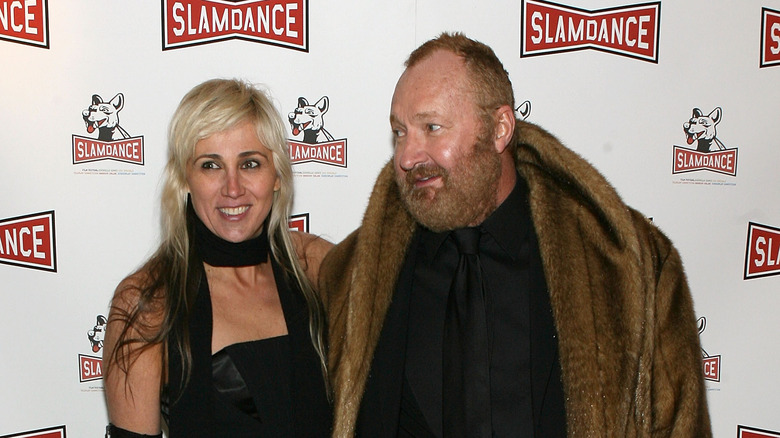 Frazer Harrison/Getty Images
In 2010, the actor Randy Quaid and his wife, Evi, moved to Canada amid a storm of controversy and a string of eccentric interviews in which the pair claimed they were on the run from a murderous, shadowy organization that they dubbed the "Hollywood Star Whackers," according to Vanity Fair. The pair had previously attempted to escape them by driving to Siberia, and by living variously in their car and in hotels (from which on one occasion they skipped out a $10,000 bill), in a frenzied attempt to evade the clutches of the "Whackers" they say were after them.
The Quaids have repeatedly claimed that the "Whackers" are responsible for some of the most high profile deaths in the entertainment industry, including those of Heath Ledger and David Carradine, and for ruining the careers of many others. By 2020, the couple were still adamant that their suspicions were correct, despite the fact that they were both alive and well and the only damage that had been done to their livelihoods had come about thanks to, well, their bizarre interviews.
"I can't believe that David would commit suicide. His wife recently has come out and said she doesn't believe that … that she believes he was murdered. Heath was an athlete. He played Australian football. He was robust. I've had eight friends of mine who have either died mysteriously or had scandals surrounding them in recent years," claimed Randy (via Entertainment Weekly).