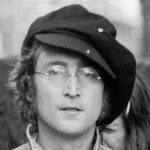 The Tragic Story Of The Murder Of John Lennon
echo get_the_meta(); ?>
Pop music has not had a more important act than The Beatles. The group's emergence onto the music scene marked a shift in both popular music and pop culture in the Western Hemisphere. In many ways, The Beatles created the counterculture of the 1960s, as their contemporaries and future generations looked to them as the marker for artistic independence, fashion and style, and psychedelia that would dominate the 1960s and beyond.
And the leader of the band was its founder and lead singer/songwriter, John Lennon. When Lennon founded the original iteration of the band as a schoolboy obsessed with American rock 'n' roll and skiffle, he could not imagine that within the next decade, he would be the de-facto head of a cultural revolution spanning multiple continents. Lennon was a mixture of Chuck Berry's rock 'n' roll fearlessness, the literary wit of Mark Twain, the revolutionary politics of Bobby Seale, and the artistic alchemy of Prospero.
So it made sense that, during and after The Beatles' existence, Lennon turned himself into both a prophet for baby boomers and a high-profile target for many powerful and influential people. Still, no one could have expected that in December of 1980, Lennon, a 40-year-old father and husband, would be the target of a murder. Not an assassination from a political enemy but the actions of a mentally disturbed former fan of his. This is the tragic story of the murder of John Lennon.
John Lennon returned to music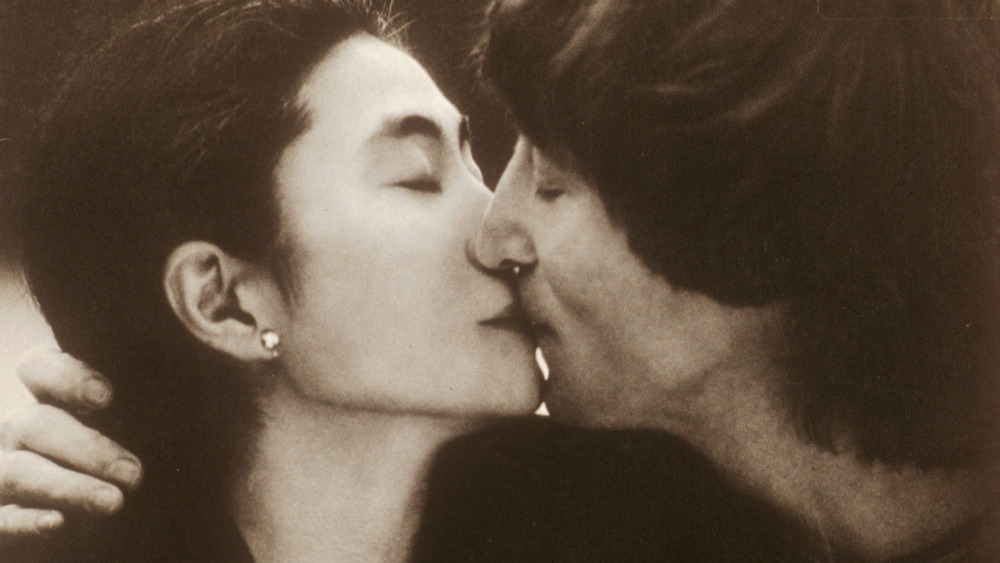 Michael Ochs Archives/Getty Images
After spending more than a decade with The Beatles and the first half of the 1970s as a successful solo artist, John Lennon took a step back from music after the birth of his second child, Sean. Eventually, Lennon returned to music with the album Double Fantasy, released in November 1980. According to USA Today, upon the release of the album, Double Fantasy was a commercial success, but critics panned the album. An NME critic said that Lennon should have, "kept his big happy trap shut."
The inspiration for the album came from a boat trip Lennon and his family took that summer of 1980. According to The Independent, Lennon and 4-year-old Sean took a boat from Newport, R.I., to Bermuda. While on holiday, Lennon's songwriting inspiration returned to him for the first time in five years, and he wrote 30 songs. While in Bermuda, he met artist Nancy Gosnell, who drew a portrait of Lennon and his son at the request of Lennon's friend Rolf Luthi. Lennon loved the painting, and according to Gosnell, spoke openly about his past, his relationship with Ono and the other Beatles, and asked for the name of her teacher in New York to assist his own artwork.
Ultimate Classic Rock says that while the initial critical reception for Double Fantasy was harsh, the negative reviews disappeared following his murder, and the album went on to win the Grammy for Album of the Year.
Rebuilding a relationship with his son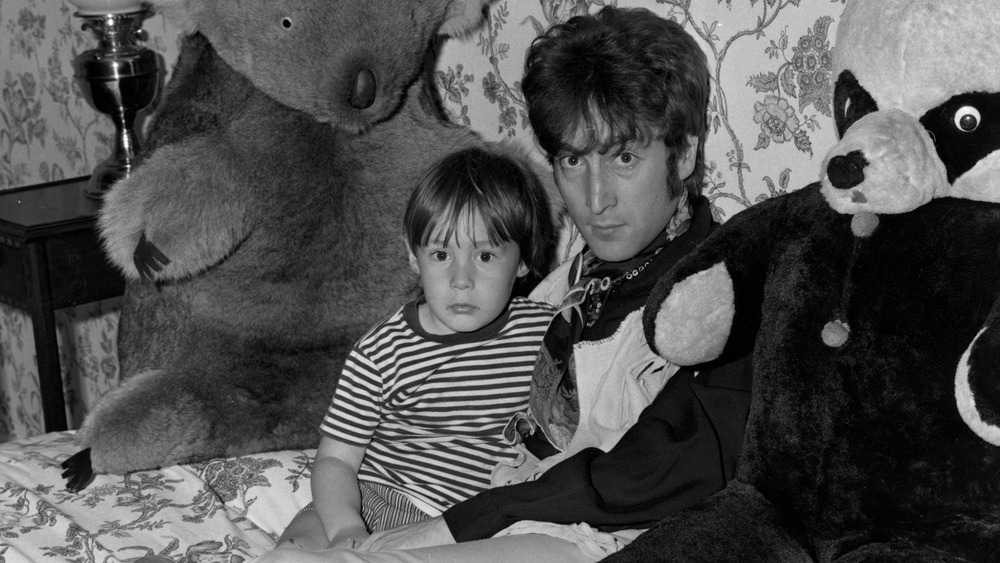 Keystone Features/Getty Images
While the birth of Sean Lennon in 1975 prompted the music icon to put down his guitar and become a father, in 1963, the birth of his first son, Julian Lennon, had the opposite reaction. According to the Beatles Bible, John Lennon was on the road during Julian's birth, and it took three days for the father to meet his son.
This episode encapsulated the early relationship between father and son. The Irish Times reports that at one point in Julian's young life, John said this to Julian, "Sean was the product of love, you were the product of a whiskey bottle." 
Julian understandable grew angry at his father during his life, going about a decade speaking only sporadically, and only at the insistence of his mother and John's first wife, Cynthia Powell, did he begin to open up more to his father. Paul McCartney said of his old friend, "he never really knew how to be a dad." It was McCartney, not his father, that taught young Julian how to first play guitar and wrote the song, "Hey Jude," to uplift his spirits during his parent's divorce. 
According to Far Out, Julian was living in North Wales when his father was murdered across the Atlantic. In a Q&A session, Julian recalled waking up to his chimney collapsed into his bedroom and coming downstairs to closed windows, paparazzi, and his stepfather telling him to wait for his mother to return from London to tell him the news.
Final interview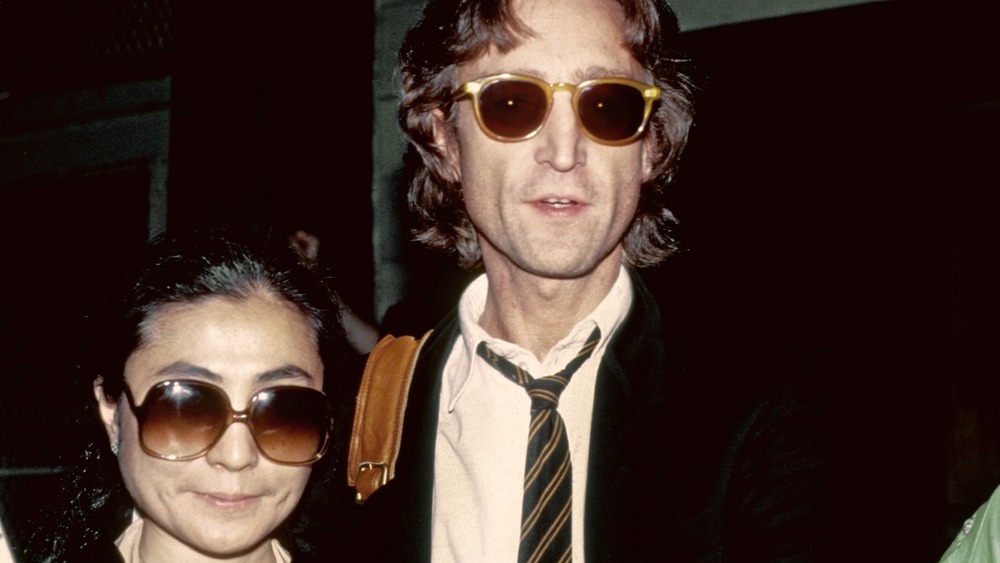 Michael Ochs Archives/Getty Images
The release of a new John Lennon/Yoko Ono album prompted newspapers, magazines, and radio stations to try to get the couple's thoughts on their work and life. On the same day that would be his last on Earth, Lennon spoke to radio personality, Dave Sholin, to discuss the album, his life, and career.
According to Open Culture, Lennon and Ono discussed their recently released album, their family and professional lives, and the current state of society. During the 1960s and 70s, Lennon was an influential cultural and political figure. After departing from The Beatles, Lennon became more involved in United States politics, openly supporting members of the anti-war movement, Black Panther Party, and writing songs that became protest anthems for the counterculture. His influence grew to the point that President Richard Nixon and FBI Director J. Edgar Hoover sought his deportation over the course of the early and mid-1970s, according to Ultimate Classic Rock.
Lennon had this to say about the difference between the 60s and 70s and the hope for the 1980s. "The thing the sixties did was show us the possibility and the responsibility that we all had. It wasn't the answer. It just gave us a glimpse of the possibility, and the seventies everybody gone 'Nya, nya, nya, nya.' And possibly in the eighties, everybody'll say, 'Well, ok, let's project the positive side of life again.'"
Despite the hope he wished that would come in 1980s, Lennon would be dead before the end of the day.
Who is Mark David Chapman?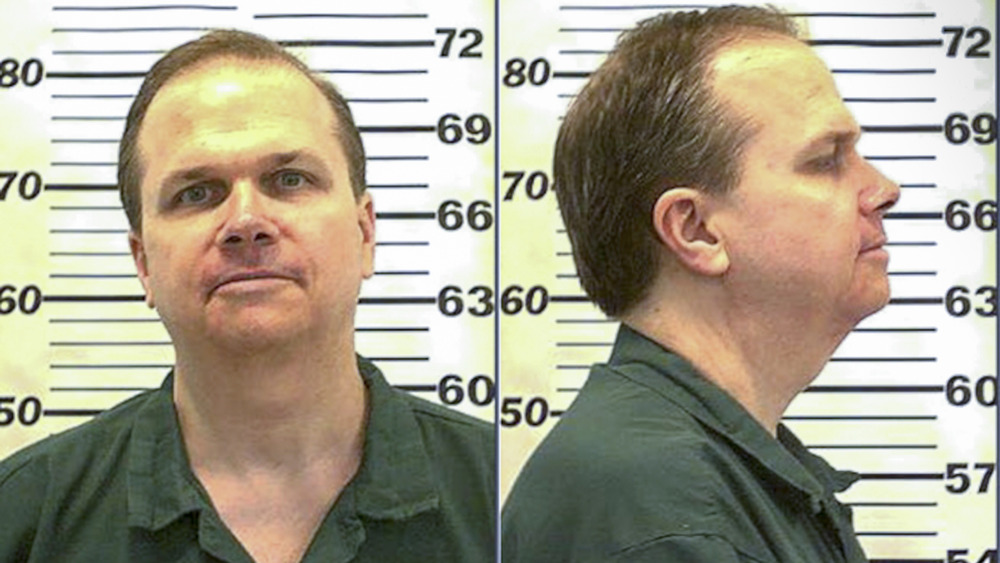 Kypros/Getty Images
Forever remembered as the man who killed John Lennon, Mark David Chapman's disturbing mental state can only, in part, tell the story of how and why he killed Lennon. According to Biography, Chapman was born on May 10, 1955, in Fort Worth, Texas. His father was a U.S. Air Force sergeant, and his mother was a nurse.
At the age of 16, Chapman became a born-again Christian. However, this did not improve his mental health, and in 1977, after moving to Hawaii, he attempted suicide. Two years later, Chapman was working as a security guard and married a travel agent named Gloria Abe. Still, Chapman's mental state was an issue. Following Lennon's murder, Chapman was diagnosed with depression, suicidal tendencies, and schizophrenia, as told by Chicago Now.
Lennon was not Chapman's first target. According to the New York Post, Chapman had considered assassinating presidents Jimmy Carter and Ronald Reagan. Lennon was chosen by Chapman as he felt the artist's wealth and success had made him a fraud. His justification came in part through J.D. Salinger's novel, The Catcher in the Rye, and the connection he felt he had with its main character, Holden Caulfield.
In 2020, while up for parole, Chapman said this looking back on Lennon's murder. "At the time my thinking was he has all of this money, lives in this beautiful apartment and he is into music representing a more cautious lifestyle … It made me angry and jealous."
December 8, 1980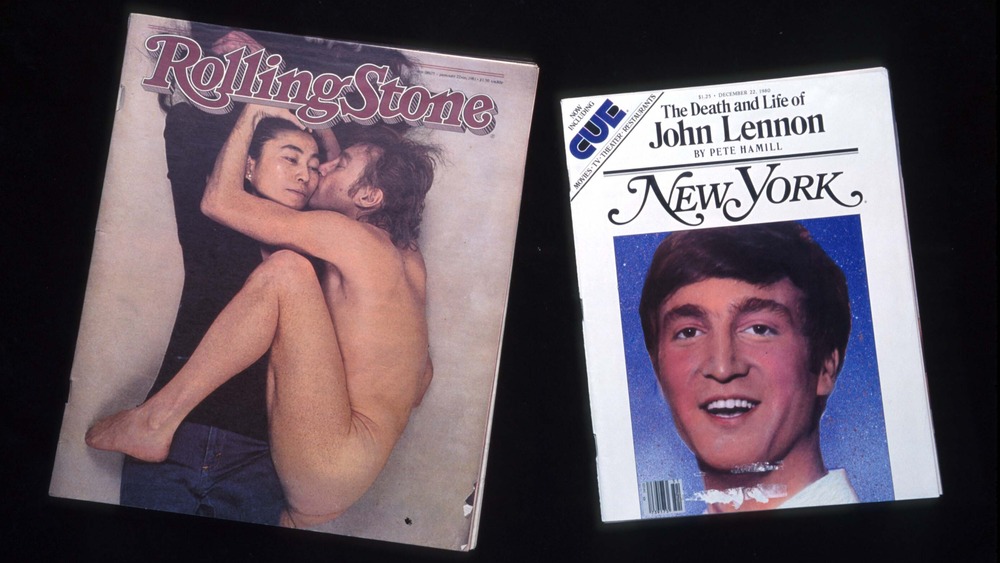 Evan Agostini/Getty Images
Biography details Dec. 8, 1980, over a 12-hour period. John Lennon's final day began at 11 a.m. when Rolling Stone magazine photographer, Annie Leibovitz, arrived for a photo-shoot with John and Yoko. The session produced the iconic picture of a naked Lennon holding and kissing his fully clothed wife on the cheek.
After the shoot, the couple participated in the interview with Dave Sholin around 12:40 p.m. Less than an hour prior, Mark David Chapman arrived outside of Lennon's home, the Dakota Apartments, and spoke with a friend of Lennon, freelance photographer Paul Goresh. Speaking to "Behind the Music," Goresh remembered Chapman being "a jerk" and holding a copy of Double Fantasy. Around 4:30 p.m., Lennon and Ono left to work on a new single, "Walking on Thin Ice," and ran into Chapman and Goresh. Lennon signed Chapman's copy of the album, and Goresh snapped a photo of the two individuals.
Finishing up their song hours later, Geffen Records founder David Geffen told the couple that Double Fantasy had sold gold. The pair left the studio in high spirits around 10:30 p.m. and arrived at the Dakota a little before 11 p.m. Ono got out of the car first, and Lennon followed right behind her, noticing Chapman but not paying any mind to him. Chapman pulled out a .38 handgun and fired five shots, hitting Lennon four times in his back and chest. Earlier in the evening, Goresh remembered Chapman telling him, "you might not see him again," as Goresh was leaving the Dakota.
The race to save John Lennon and arrest of Mark David Chapman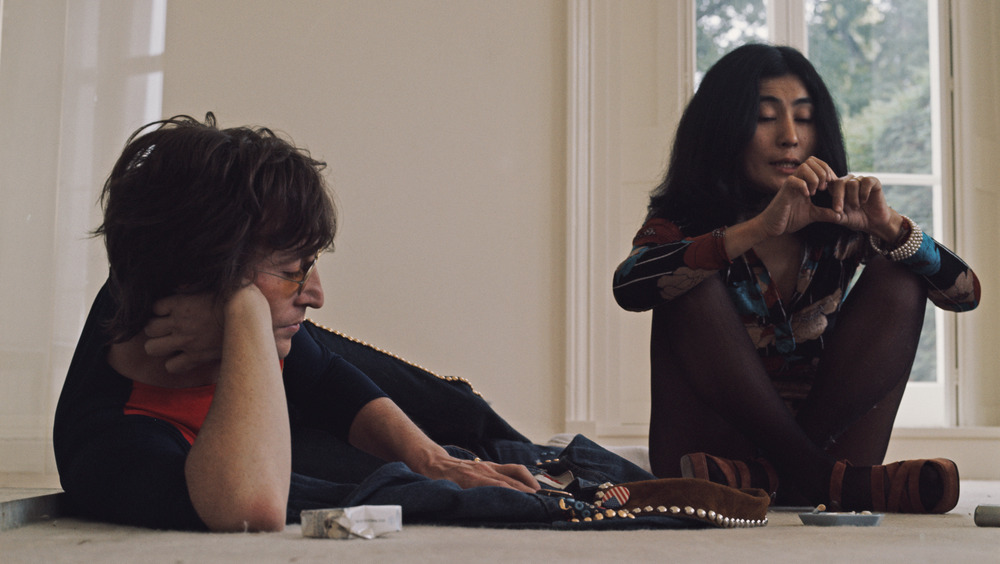 Michael Putland/Getty Images
Officers arrived at the Dakota Apartments only minutes after the shooting, according to Cheat Sheet. Once they arrived, the doorman quickly pointed out Mark David Chapman, who was simply standing and waiting for the officers to arrive. According to the The Washington Post, the doorman confronted Chapman after the shooting, yelling, "do you know what you just did?!" He simply responded, "I just shot John Lennon." Chapman was quickly arrested by officers Peter Cullen and Steve Spiro.
According to "Behind the Music," Lennon struggled up five steps before collapsing, covered in his own blood, and was unrecognizable to arriving officers. Officers Herb Frauenberger and Tony Palma were the first to see Lennon, and when Frauenberger turned his head to check his pulse, he noticed who it was. The officers put Lennon into the car of another arriving officer, James Moran, who took him to Roosevelt Hospital while Frauenberger followed with Yoko in his car.
At the Roosevelt, Dr. Stephan Lynn headed the emergency surgery that desperately attempted to save Lennon's life. According to Lynn, Lennon arrived with "no blood pressure, no pulse, no signs of life, and three gunshot wounds in the left upper chest," and "if Mr. Lennon was shot in the midst of a cardiac operating room with a cardiac operating room team standing by all ready to fix his wounds, I don't think they would have been able to save him." Lennon, 40-years-old, was pronounced dead at 11:07 p.m.
Monday night football announcement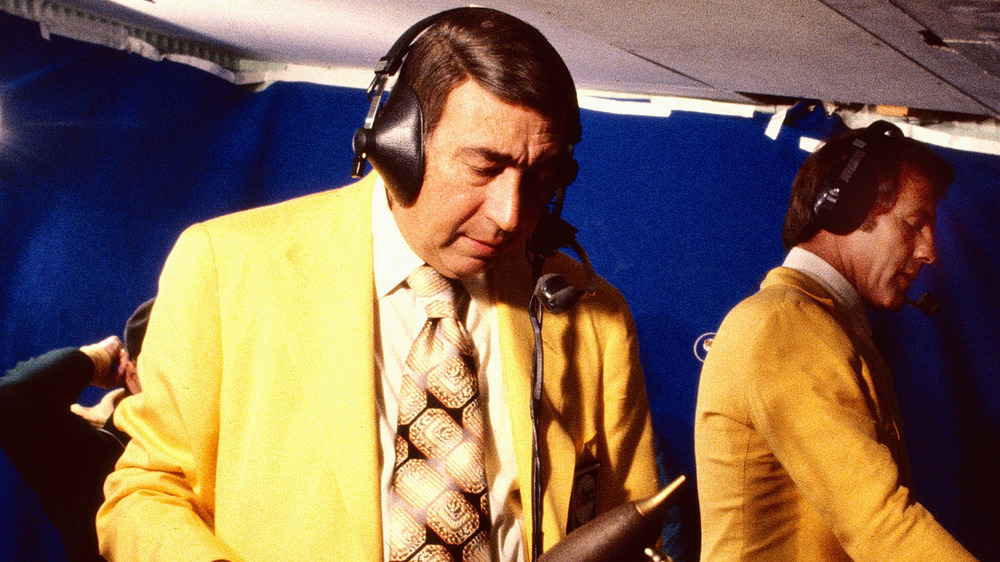 Ross Lewis/Getty Images
In the age of social media and 24-hour news coverage, any information of John Lennon's murder would not come out until the following morning. However, because of an individual who so happened to be at the right place at the right time, Lennon's murder was announced on a national broadcast football game to millions around the country.
On Dec. 9, 1974, six years and a day earlier, Lennon had been a celebrity guest on Monday Night Football and was interviewed by broadcaster Howard Cosell. On Dec. 8, 1980, Cosell was broadcasting the game between the New England Patriots and Miami Dolphins on ABC. That night, Alan Weiss, a local WABC news producer, was involved in a motorcycle accident and was getting treatment at the Roosevelt (via clip from ESPN). He overheard the officers mentioned Lennon. He immediately got up and told his assignment editor what he heard. After confirming the news with his doctor, the information moved up the chain of commands to the broadcast team.
During a commercial break, Cosell and his co-broadcaster Frank Gifford discussed what to do. Cosell, who was friends with Lennon, questioned whether or not to say anything, but Gifford believed it was important to get the information out to the unknowing public. With three seconds left in the game, tied 13-13, Cosell announced to the audience that Lennon had been shot and killed. Miami would win the game in overtime, but the result was far from people's minds that night or the next morning.
The reactions of his bandmates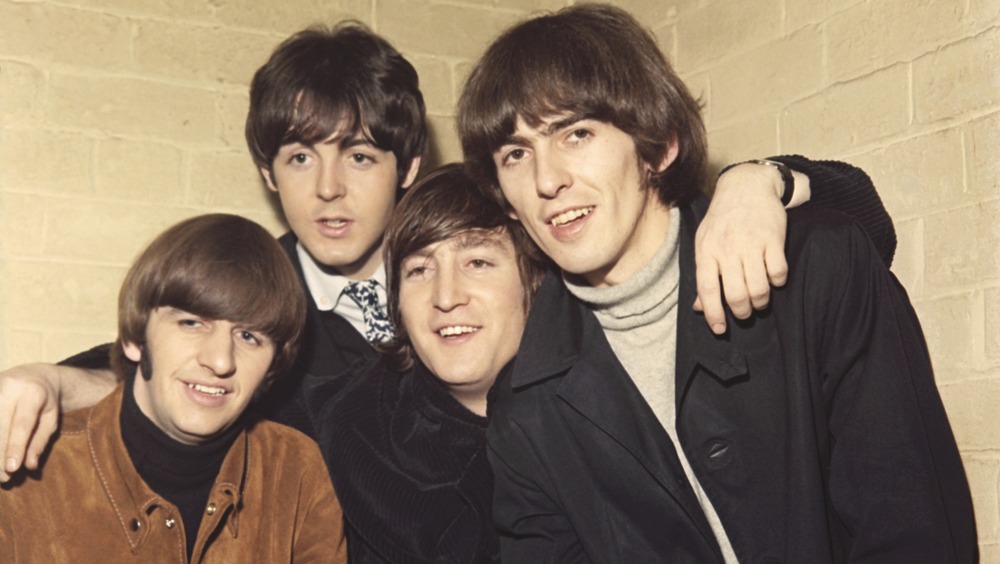 Michael Ochs Archives/Getty Images
The Beatles reached unprecedented levels of global popularity and are still seen as the greatest musical act of all-time. After a publicized break-up in 1970, there were lingering questions about the band members' relationships. The three surviving members all had different reactions to the death of their friend and leader.
Ringo Starr spoke to Barbara Walters in 1981 about John Lennon's murder. Starr saw Lennon less than a month before his death and learned about it from his stepdaughter, saying, "John's been shot." Originally believing the shot only injured him, Starr was shocked to learn that the attack killed him. Speaking to Rolling Stone magazine in 2019, Starr said upon arriving in New York, he played games with Sean Lennon at the request of Yoko Ono.
Paul McCartney, despite being the closest to Lennon growing up, was initially criticized for his response, as told by Smooth Radio. McCartney ended a paparazzi interview by saying, "Drag, isn't it?" prompting many to feel the words were callous. McCartney said that he had trouble dealing with the reality of his friend's murder and told NME that he still cries about it four decades later.
In a 1990 interview, George Harrison recalled the last time he saw his old bandmate. He came over to Lennon's home for dinner in 1978, and the pair listened to Indian music. However, Cheat Sheet reports, in August 1980, Harrison released an autobiography that barely mentioned Lennon, which hurt him. The pair never reconciled before Lennon's murder.
Reactions of other musicians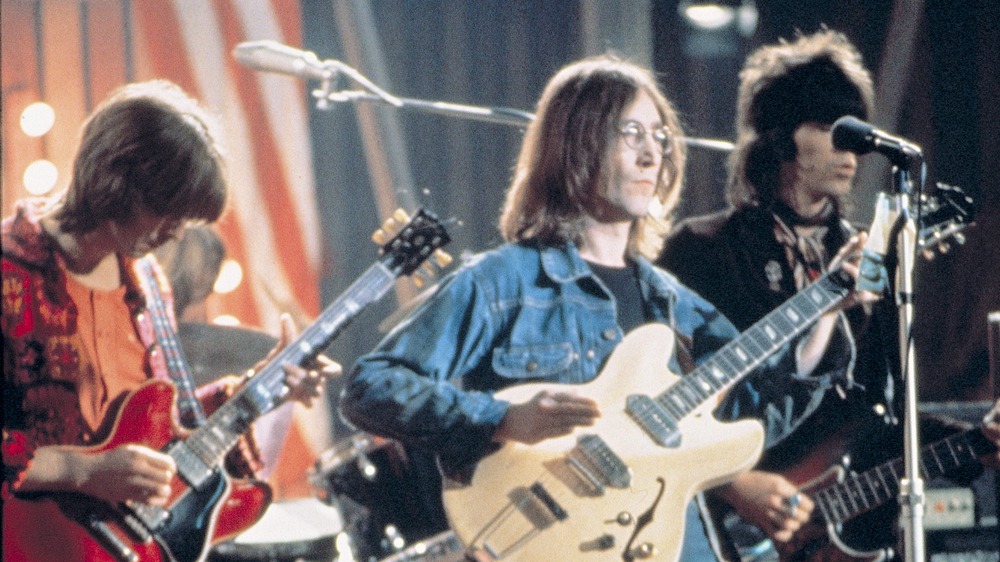 Mark And Colleen Hayward/Getty Images
John Lennon's influence on the music industry cannot be overstated. Many contemporaries and young musicians looked to The Beatles as a sort of standard-bearer. I Love Classic Rock details many reactions to Lennon's death from other musicians.
Stevie Wonder was performing at Oakland Coliseum when he heard the news of Lennon's murder. Coming out for an encore performance, he told the crowd the tragic event that happened on the East Coast. On December 9, Bruce Springsteen addressed the audience at Philadelphia's Spectrum Center, discussing Lennon's influence on his life. "It's a hard night to come out and play tonight when so much has been lost. The first record that I ever learned 'Twist and Shout.' If it wasn't for John Lennon, we'd all be someplace very different tonight."
Sting of The Police walked offstage of his Miami show, saying that, "I had the reaction that everybody had — disbelief, shock, horror," according to Ultimate Classic Rock. Fellow British musician Keith Richards was in New York at the time and, like Starr, at first believed that Lennon's wounds were not serious. After his death, he said he got drunk.
Tom Petty and producer Jimmy Iovine, who knew Lennon, at first did not believe the news. Eventually, realizing the reality of the situation, Petty left the studio and recalled seeing people crying in the streets driving home. Beatles producer George Martin said of the murder, "we have to curb the pornography of violence which pollutes our world."
Official end of a Beatles reunion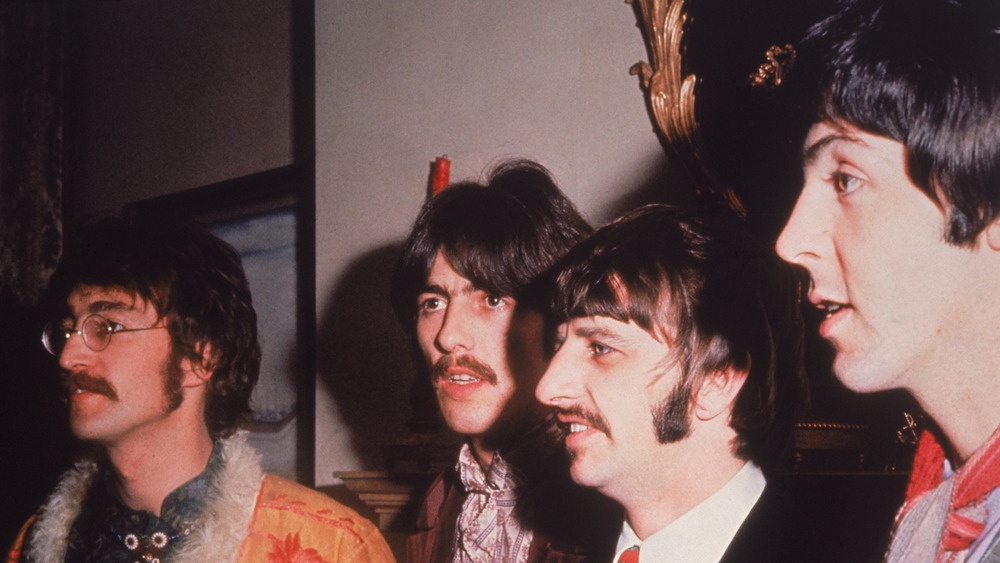 Hulton Archive/Getty Images
John Lennon's murder ended any chances of the Fab Four getting back together for any future shows or albums. That being said, the 1970s saw plenty of opportunities for reunions, as members still worked together on each other's music. According to Ultimate Classic Rock, the most famous quasi-reunion almost occurred on Saturday Night Live.
In 1976, the show's producer Lorne Michaels looked directly into the camera and made an offer of $3,000 for The Beatles to reunite on their show and perform three songs. Little did Michaels and the SNL cast know that less than two miles away, Lennon and Paul McCartney were watching the show at Lennon's Dakota apartment and talked briefly about heading down to the studio to perform as a joke. However, the pair agreed they were tired and did not want to work on a relaxing night off.
The former members of The Beatles would, throughout the 1970s, work on each other's albums but never reunite together as a foursome. The band's initial reaction to the break-up, at least for Lennon and McCartney, was to attack each other on songs. According to Rolling Stone, McCartney's song, "Too Many People," took shots at Lennon, who responded with the song, "How Do You Sleep?" featuring George Harrison on guitar. It was not until The Beatles' Anthology in 1995 that the three members reunited to make new music, using unreleased material Lennon wrote during the 1970s and given to the members by Yoko Ono.
Mark David Chapman after December 8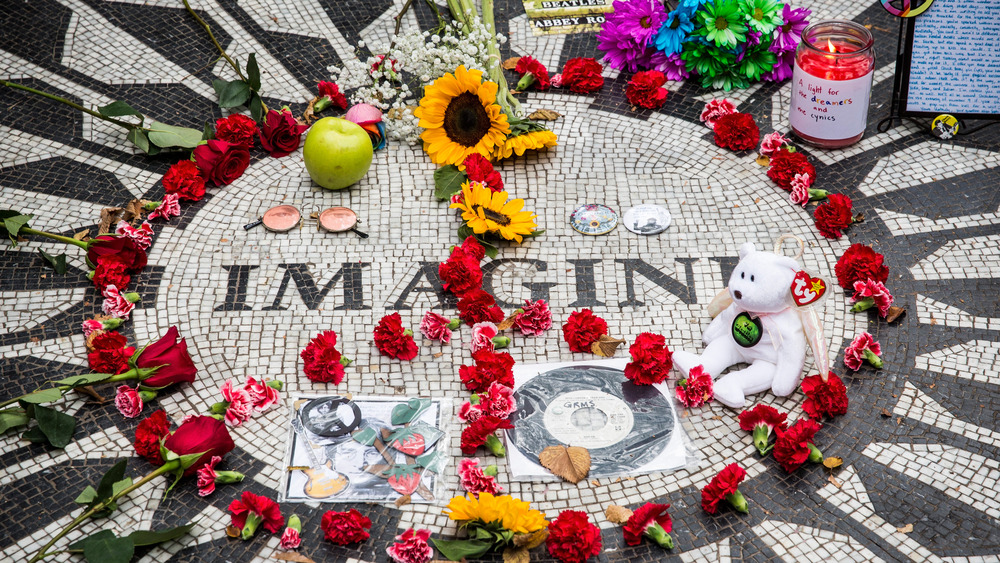 Andrew Burton/Getty Images
According to Britannica, Mark David Chapman began reading The Catcher in the Rye after shooting John Lennon and awaiting his arrest. Charged with murder in the second degree, Chapman underwent psychiatric testing, where he was diagnosed as a schizophrenic by a doctor. The diagnosis, coupled with his obsession with J.D. Salinger's novel, his previous attempt to kill himself, and not fleeing the scene led many to believe he would use an insanity defense.
Chapman once again surprised the world by pleading guilty, saying it was what God would want from him. He was sentenced to 20 years to life in prison. He has been eligible for parole since 2000 but has been denied every time, to Yoko Ono's appreciation. In a 2015 interview with People, Ono revealed that she does not really think about Chapman. "It's very, very difficult for me to think about Chapman, especially because he doesn't seem to think that was a bad thing to do… he could do it again, to somebody else. It could be me, it could be Sean, it could be anybody, so there is that concern."
Chapman and his wife, Gloria, had written to Ono for forgiveness, but she has always opposed his parole. Since 2021, Chapman has been denied parole 11 times, Cheat Sheet reports.
Following Lennon's murder, two Beatles fans took their own lives citing his death, according to Time.
If you or anyone you know is having suicidal thoughts, please call the National Suicide Prevention Lifeline​ at​ 1-800-273-TALK (8255)​.