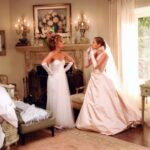 50 of the Most Iconic Movie Wedding Gowns
echo get_the_meta(); ?>
It's difficult to deny that wedding dresses are beautiful, so we couldn't help but make a list. The unforgettable wedding dresses from some of our favorite movies have inspired many brides to walk down the aisle looking like a princess…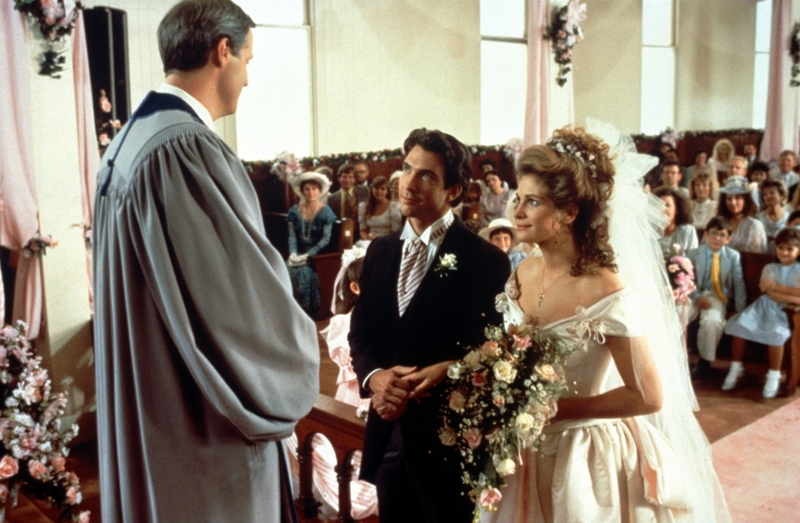 While many of these dresses only exist to serve the performances around them, others are the highlight. But even as some wedding gowns make us gasp, cry, or sit in absolute silence, they are rarely as iconic as those on our list.
Frankenstein, 1931

Mae Clarke's romantic long-sleeve gown was covered with delicate lace. Clarke's dress was truly stunning and timeless, and she looked so elegant and innocent when posing next to Frankenstein.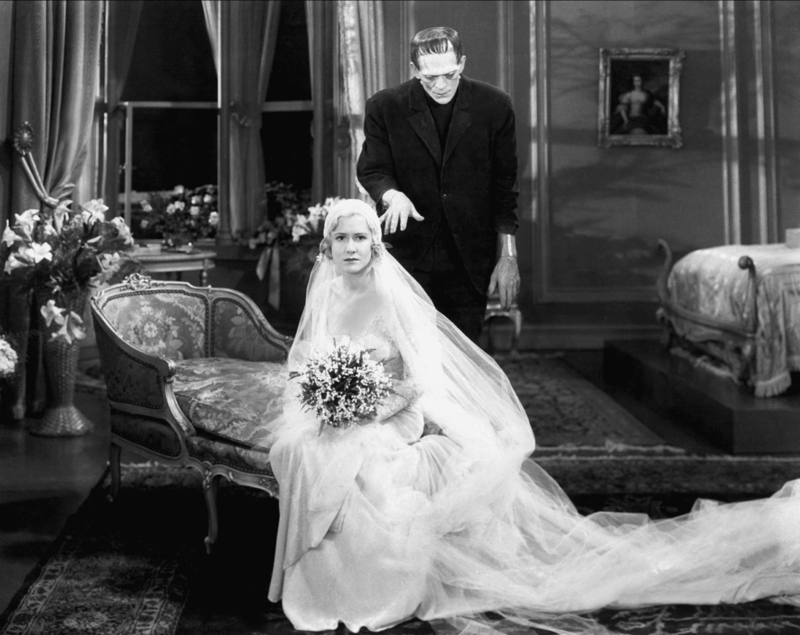 The ensemble was complete with a tulle veil and headpiece for Elizabeth Lavenza's wedding to Henry, the monster's creator.
The Philadelphia Story, 1940

Katharine Hepburn's bridal look was all at once classy and feminine with her chiffon-ruffled wedding gown. The way the skirt portion of her dress flowed as she walked only added to the elegance.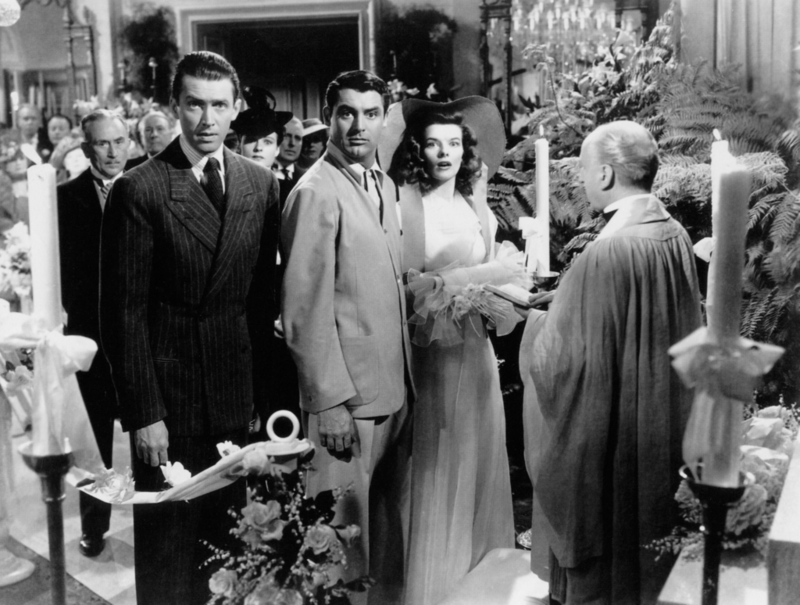 Hepburn also wore a wide-brimmed hat, which really fit the bold and elegant character of Tracy Lord in the classic film.
Father of the Bride, 1950

Elizabeth Taylor was always captivatingly beautiful, but she was absolutely stunning in this satin and lace dress for Kay Banks's wedding.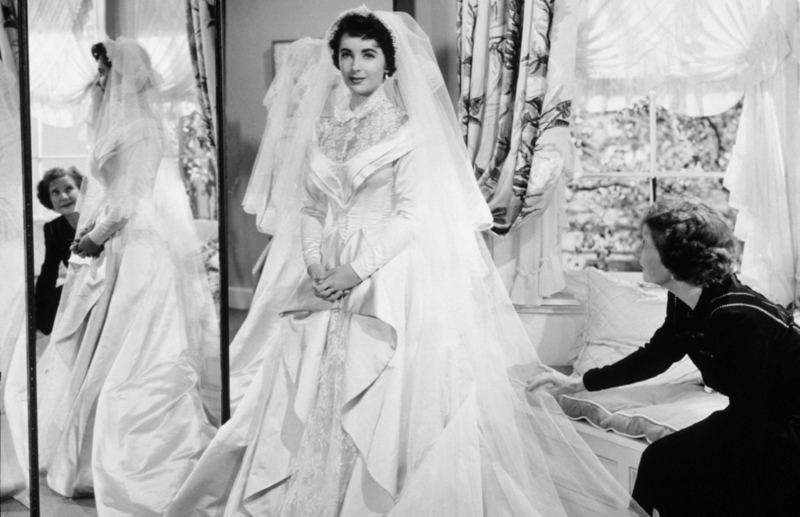 Taylor's first wedding to Conrad Hilton also coordinated with the release of the "Father of the Bride" film. She even wore Helen Rose designs for both the film and her real-life wedding.
How to Marry a Millionaire, 1953

Schatze Page (Lauren Bacall) wore an ultra-elegant lace, boat-neck gown with a sheer white sun hat for her marriage to millionaire J.D. Hanley.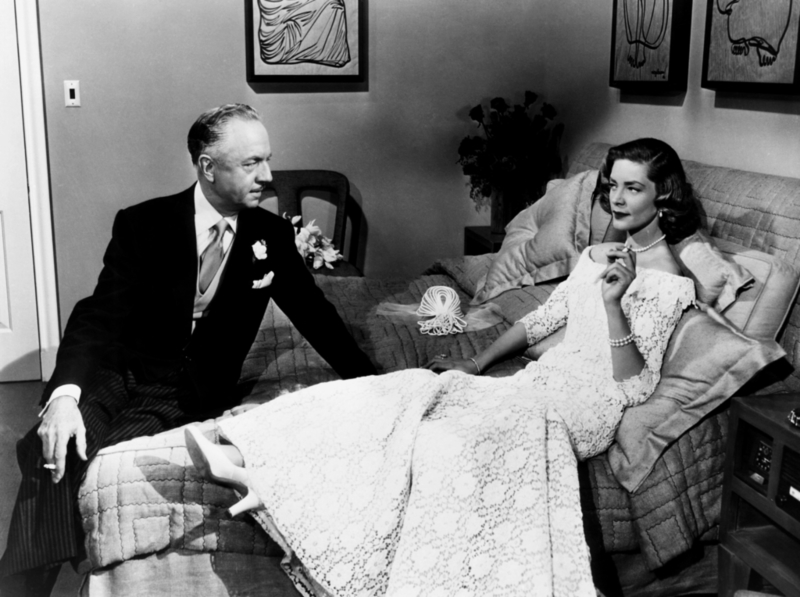 The dress was chic and iconic for both Bacall and the charming film about women on a mission to, well, marry a millionaire.
Funny Face, 1957

Jo Stockton's dress was charming yet simple, but it only amplified Audrey Hepburn's abundant natural beauty.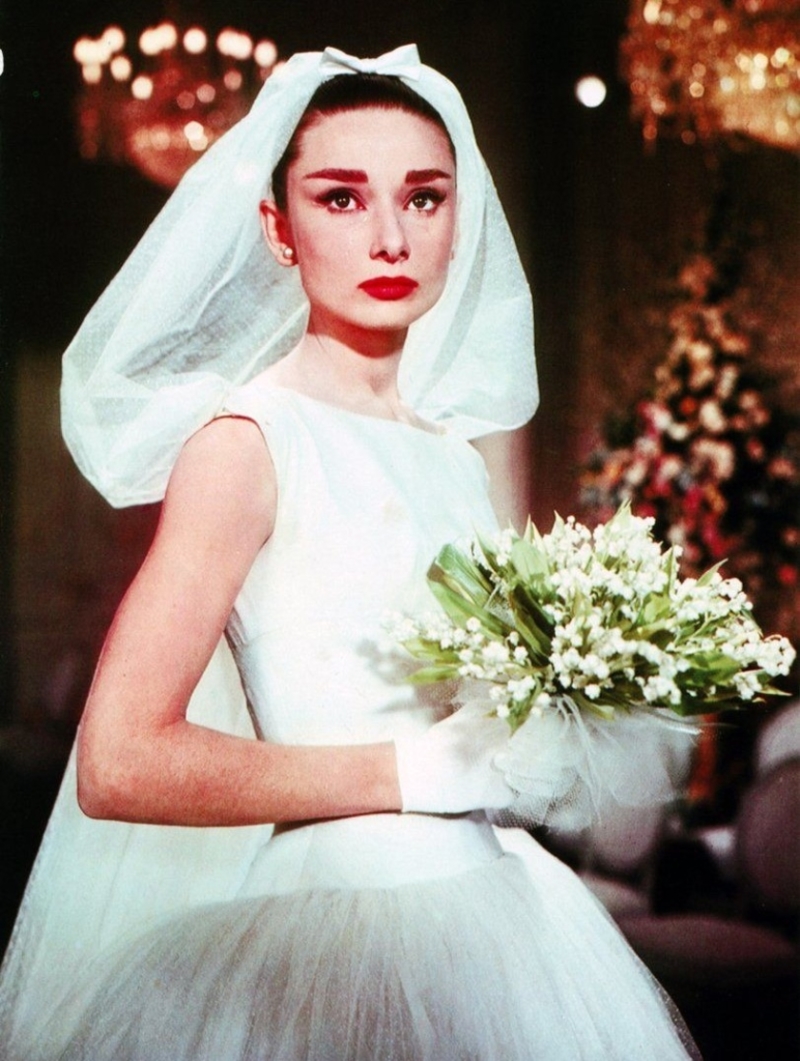 The short, tulle dress was designed by Hubert de Givenchy for the film and, though she looks sad now, Jo Stockton would have a blissful ending.
The Sound of Music, 1965

For a good portion of "The Sound of Music," Maria (Julie Andrews) is seen in very plain clothes.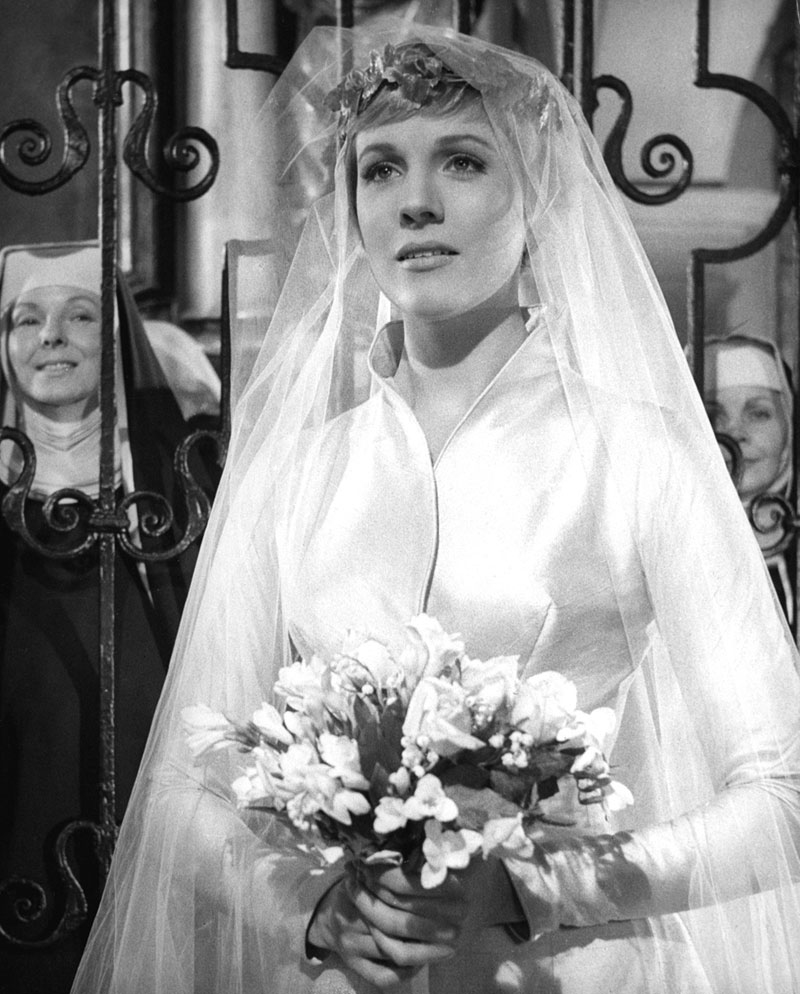 But she really drew attention in her elegant structured satin gown, elaborate headpiece, and simple veil when she finally marries Captain Von Trapp.
The Graduate, 1967

Though the film may not be centered around finding true, lasting love, Elaine Robinson's (Katharine Ross) pretty, the bohemian wedding gown was striking and fitting for the iconic 60s flick.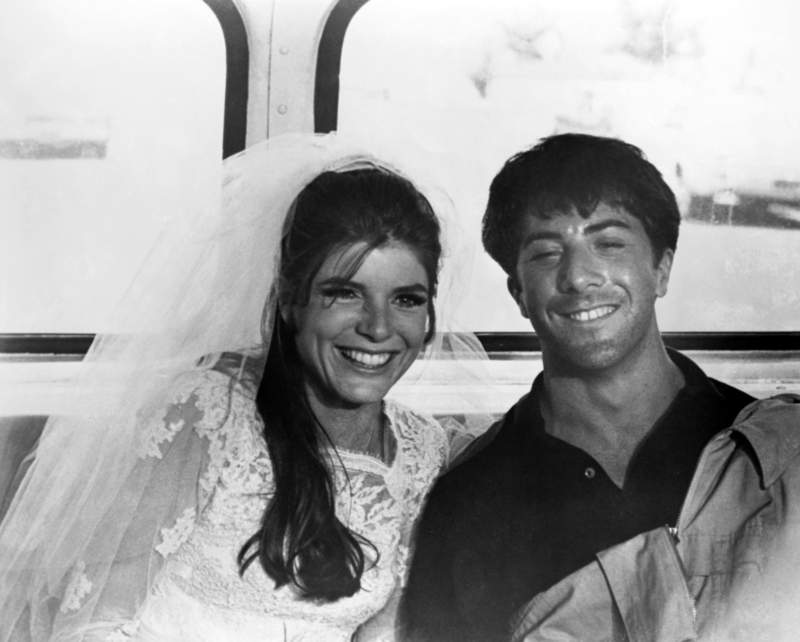 Her elegant peasant-inspired wedding gown looked as good in the back of a getaway vehicle as it did going down the aisle.
Funny Girl, 1968

Though we did not see the actual wedding dress that Fanny Brice wore when she married Nick Arnstein.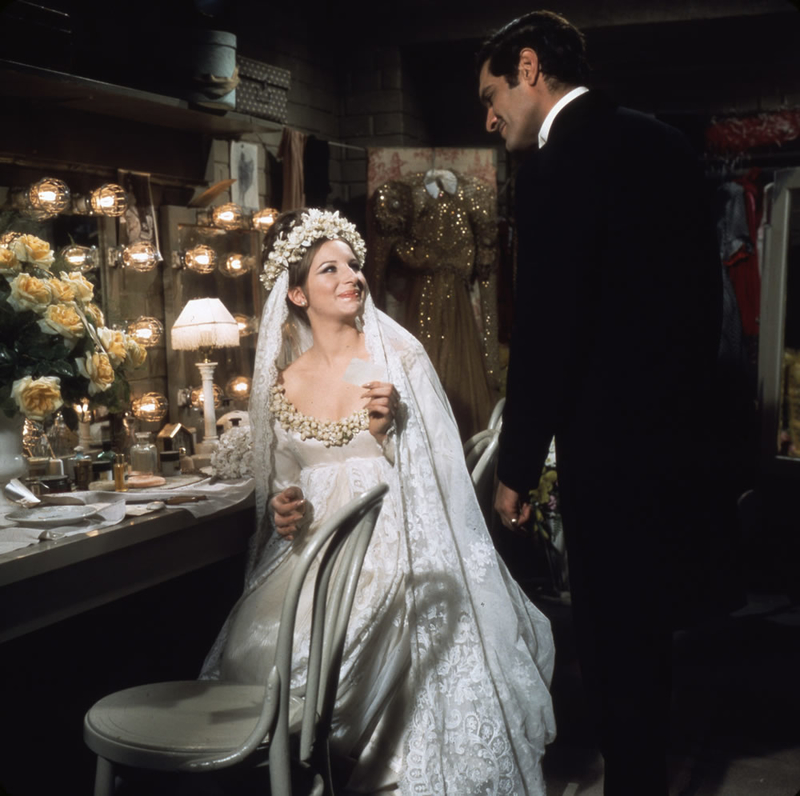 Barbra Streisand was wearing an eye-catching, empire wedding gown for her performance with the Ziegfeld Follies when the two characters fell for each other. It was another dress that was beautiful for the time.
Yours, Mine and Ours, 1968

The second wedding of Helen North (played by Lucille Ball) begged for something other than a white dress.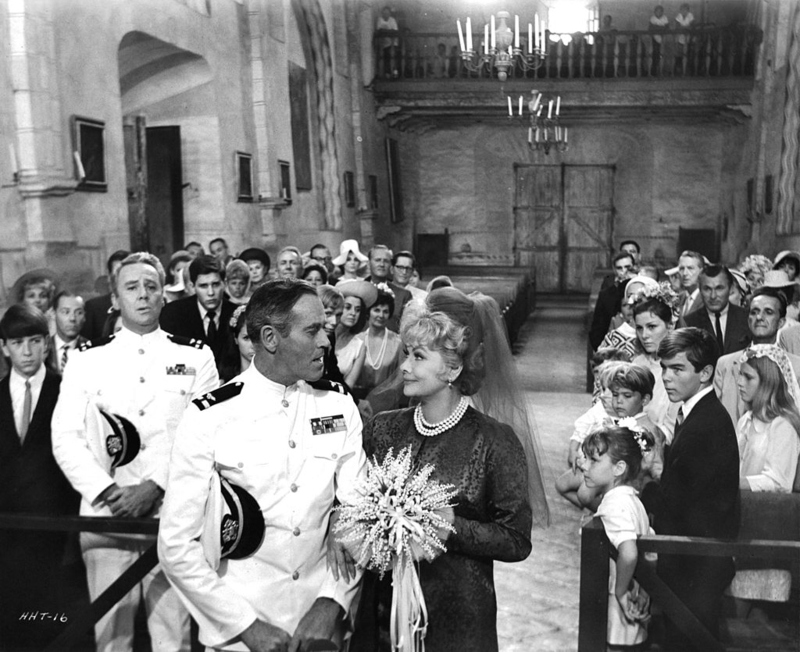 Helen's blue brocade dress and lace veil created a regal ensemble for the bride that was still feminine and beautiful. It was also part of a special moment for the couple before all the chaos began with their 18 children.
The Princess Bride, 1987

Robin Wright was the definition of a princess bride with her empire waist wedding gown.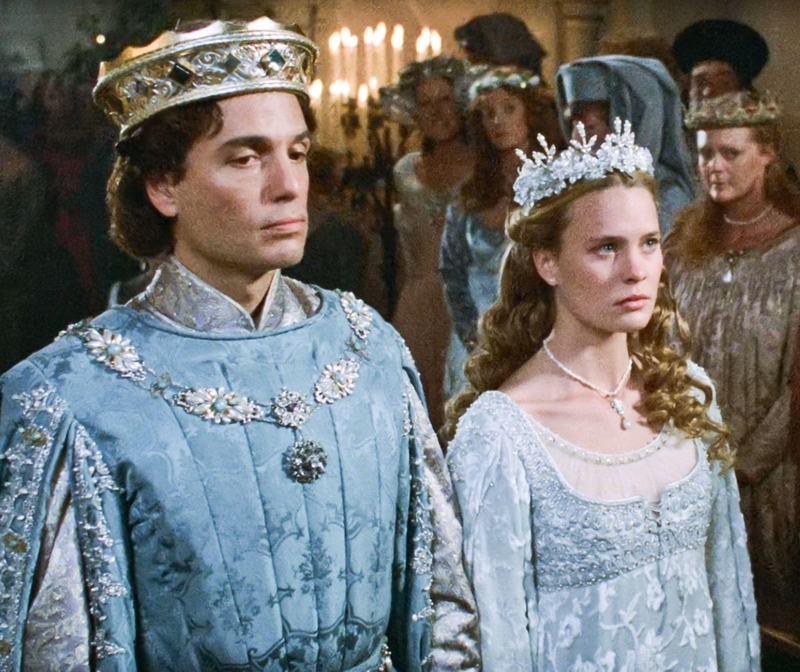 For the 1987 film, the gown also featured ornate beading and embroidered details, perfect for royalty.
Steel Magnolias, 1989

For her marriage to Jackson in Steel Magnolias, Shelby's wedding dress was totally breathtaking. The off-the-shoulder ball gown had a subtle, sweetheart neckline and was completed with delicate details (silk buttons and a floral embellishment) on the back.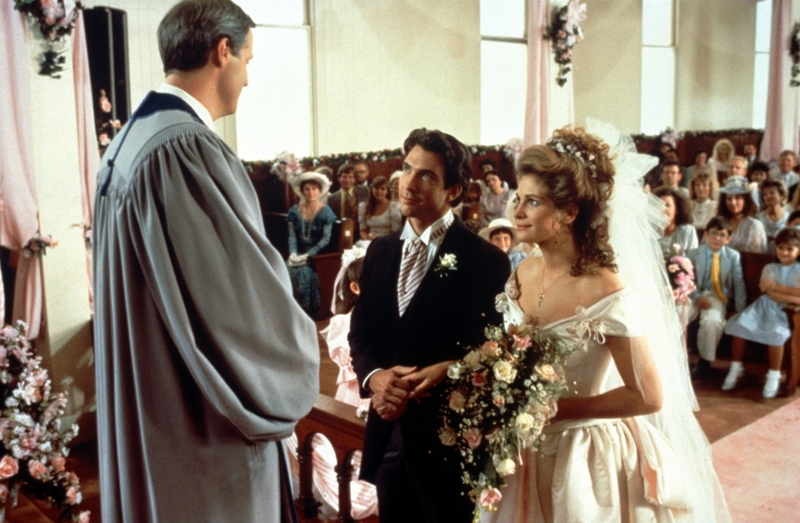 The eye-catching ensemble perfectly complemented Shelby's voluminous, romantic hairstyle for her big day.
Coming to America, 1988

The highly unconventional pink dress worn by Lisa McDowell (Shari Headley) was eye-catching in more ways than one.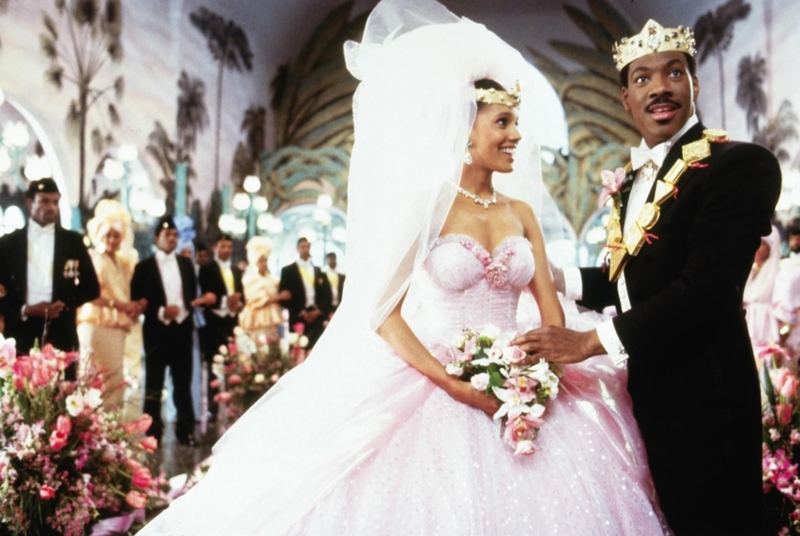 The light pink strapless tulle ball gown was completed with a gold crown for her marriage to Prince Akeem.
Father of the Bride, 1991

The film may have centered around George Banks adjusting to his little girl growing up and getting married, but when Annie walked down the aisle, all eyes were on her and that dress.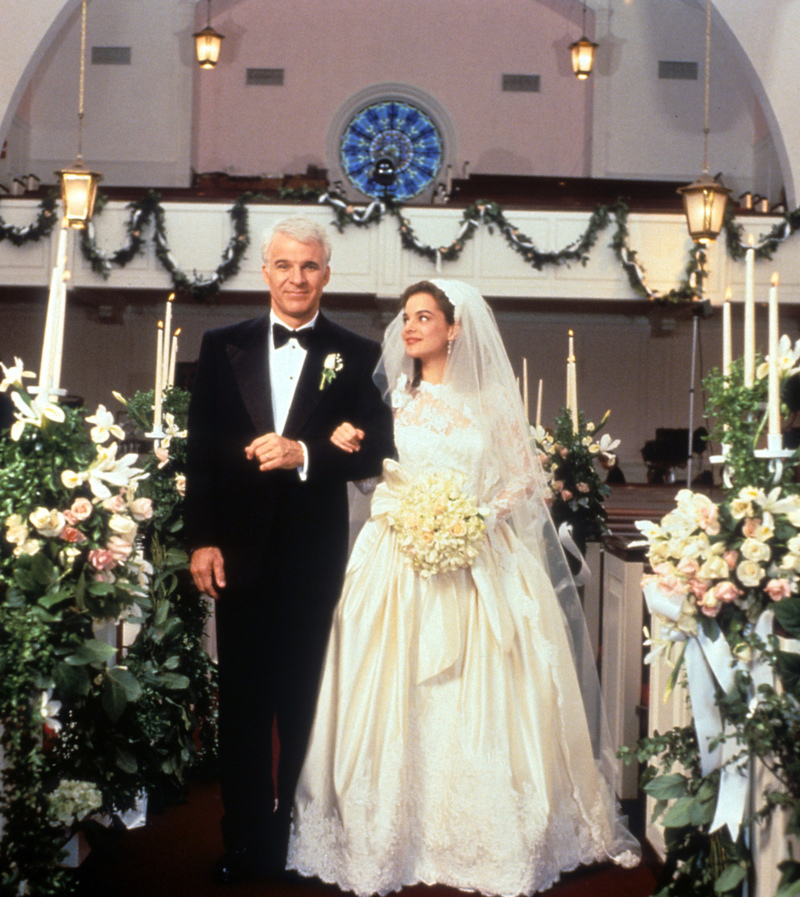 The silky lace gown was typical '90s style with a full skirt and lots of luxurious details.
Four Weddings and a Funeral, 1994

In one of the four weddings that took place in the film "Four Weddings and a Funeral," Carrie's (Andie MacDowell) look stole the show.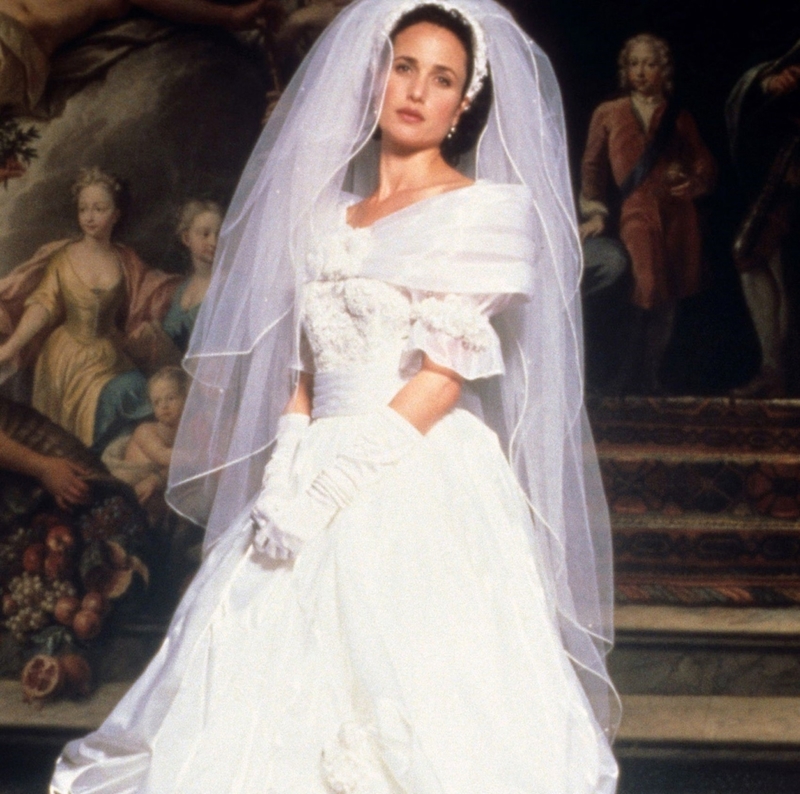 The dress was an off-the-shoulder, A-line design with a draped skirt. It was all-at-once striking, elegant yet bold.
Romeo + Juliet, 1996

For her marriage to Romeo (a.k.a. Leonardo DiCaprio), Juliet's (Claire Danes) simple silk gown was still very lovely.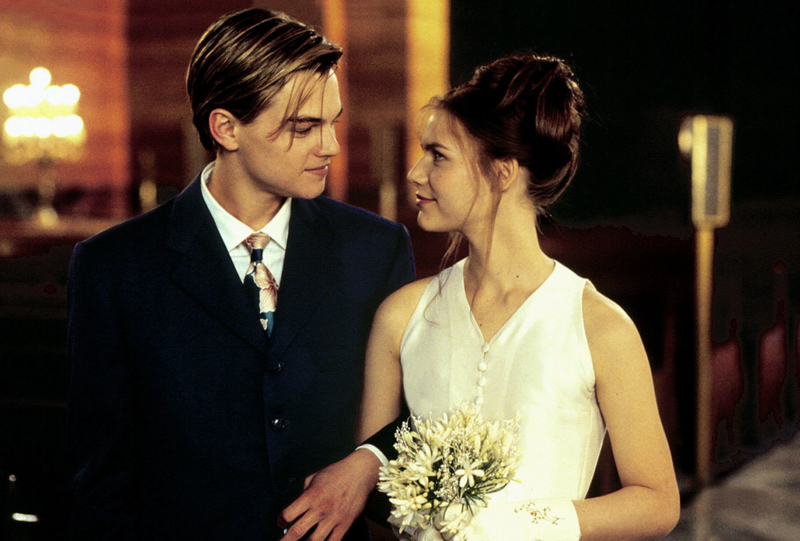 The sleeveless, minimalist dress had charming silk buttons down the front, which added a youthful and feminine touch.
Emma, 1996

Fans rejoiced when Emma Woodhouse finally wed Mr. Knightley in the movie "Emma."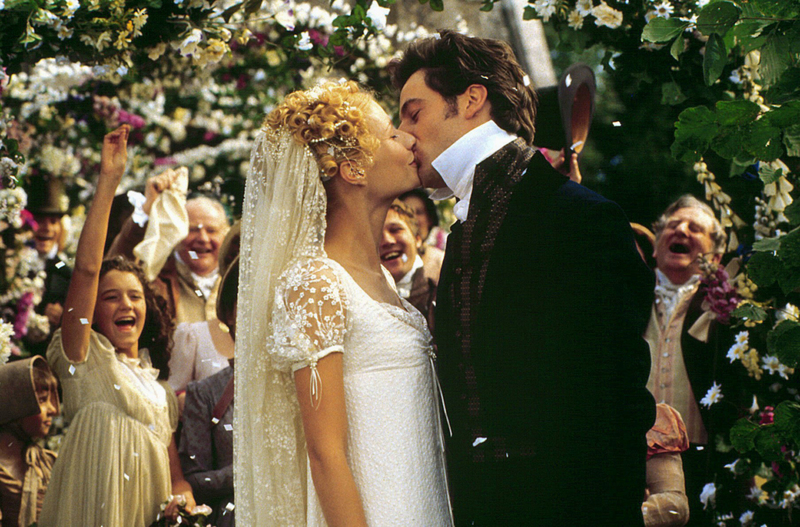 Her dress, of course, reflected the bridal fashion of the time with its cap-sleeves and empire-waist. The delicate lace on the sheer sleeves was especially beautiful!
My Best Friend's Wedding, 1997

Kimberly Wallace (played by Cameron Diaz) sported a very avant-garde bridal look in "My Best Friend's Wedding."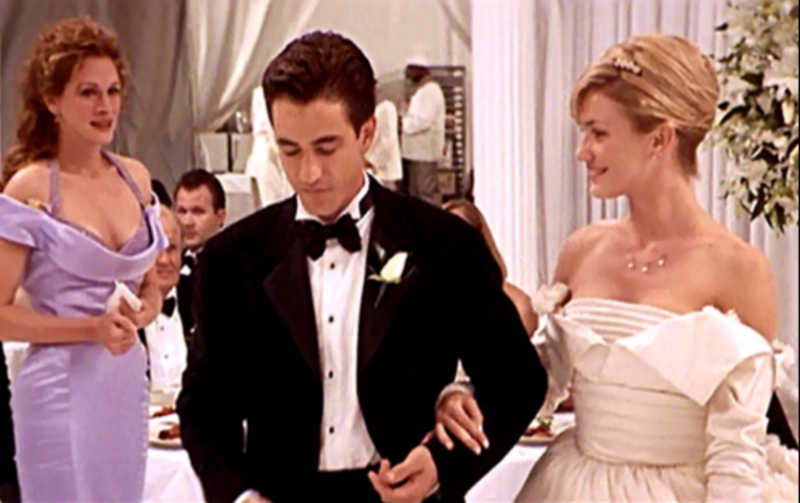 Her high-fashion, off-the-shoulder long-sleeve gown only needed minimal accessories as it was a statement all its own.
Runaway Bride, 1999

It wasn't her final wedding dress (or wedding), but Maggie Carpenter's (Julia Roberts) gown was truly a timeless look.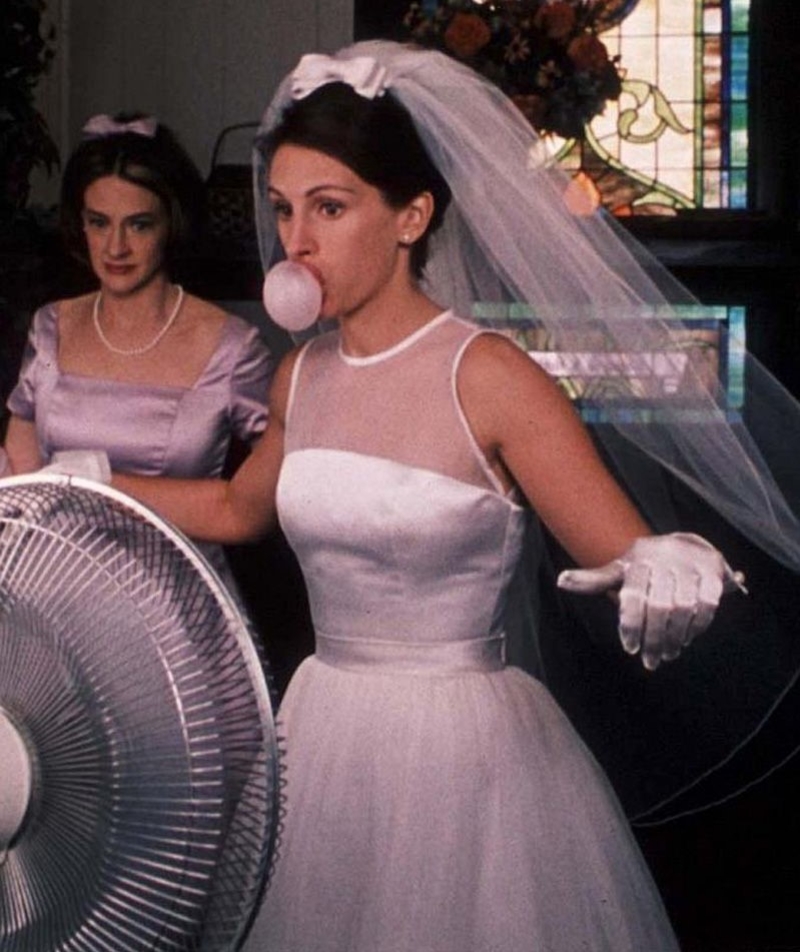 With its full skirt and illusion-neckline, it became the gown that all fans would remember in the iconic scene when she rode off into the sunset on a FedEx truck.
The Best Man, 1999

Illusion necklines were apparently very popular in the 90s as we see them featured in many movies, including this one.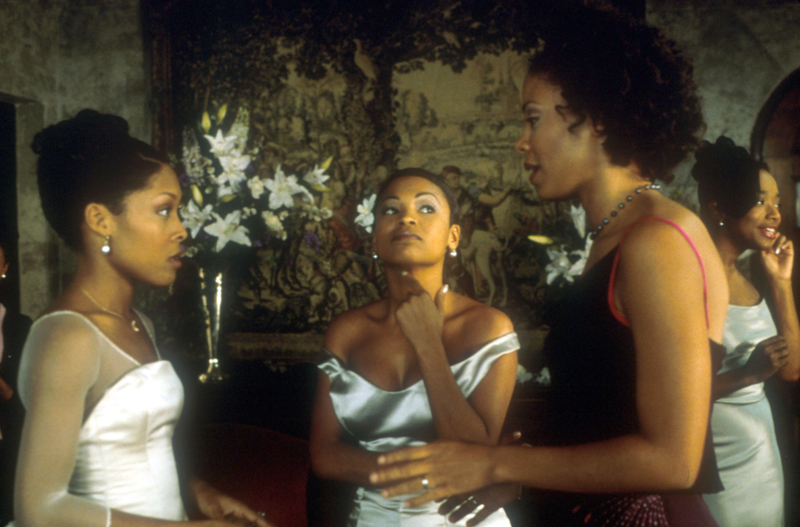 For Mia Morgan's wedding in "The Best Man," (Monica Calhoun) donned a long-sleeve satin gown with an illusion neckline and a fitted bodice that created a hybrid modern and classic look.
The Wedding Planner, 2001

As a wedding planner, Mary Fiore (Jennifer Lopez) had seen her share of wedding ceremonies and dresses.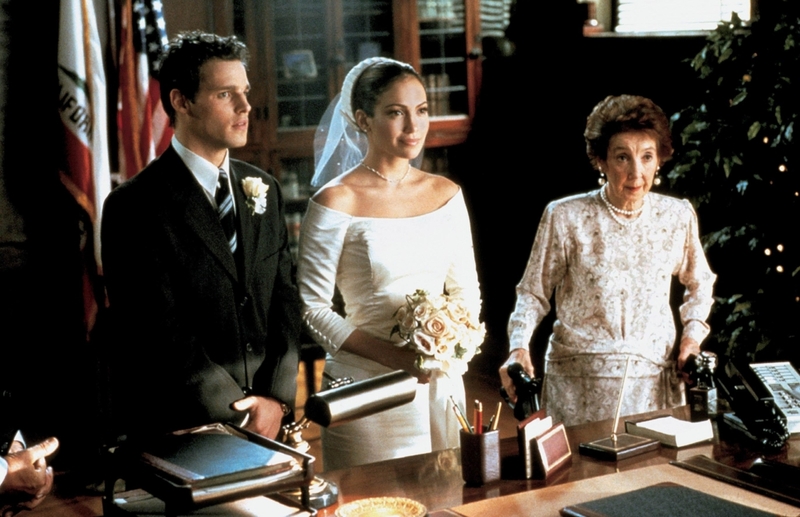 She chose a boat-neck taffeta mini dress for her courthouse nuptials to Massimo in "The Wedding Planner." The veiled pillbox cap added a vintage touch that perfectly suited the classy bride.
Sweet Home Alabama, 2002

At the wedding of Melanie Smooter and Andrew Hennings, Melanie (Reese Witherspoon) came down the aisle in an understated cap-sleeve gown with a small veil.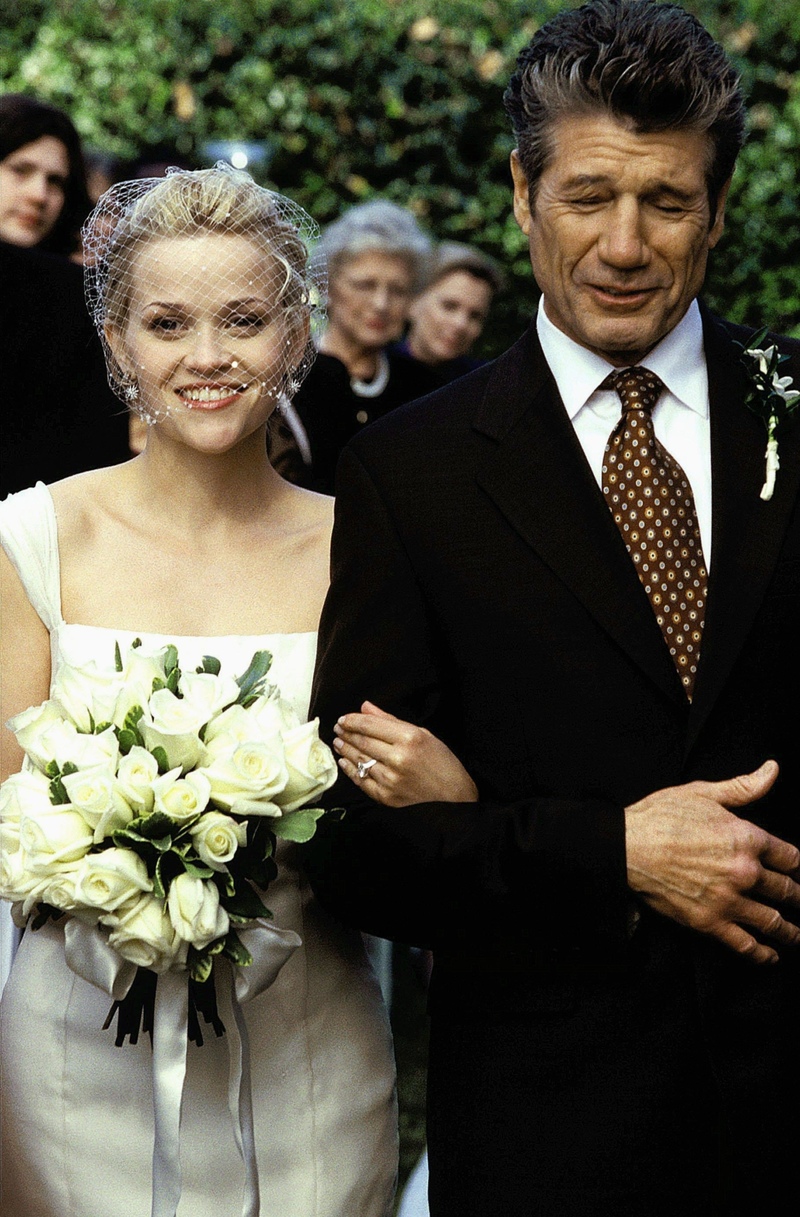 The simple ensemble still culminated in a knockout, Southern Belle look, which was perfect for the knockout punch that happened later in the ceremony.
My Big Fat Greek Wedding, 2002

Toula Portokalos just wanted to marry Ian Miller in a simple ceremony, but then her traditional Greek family got involved.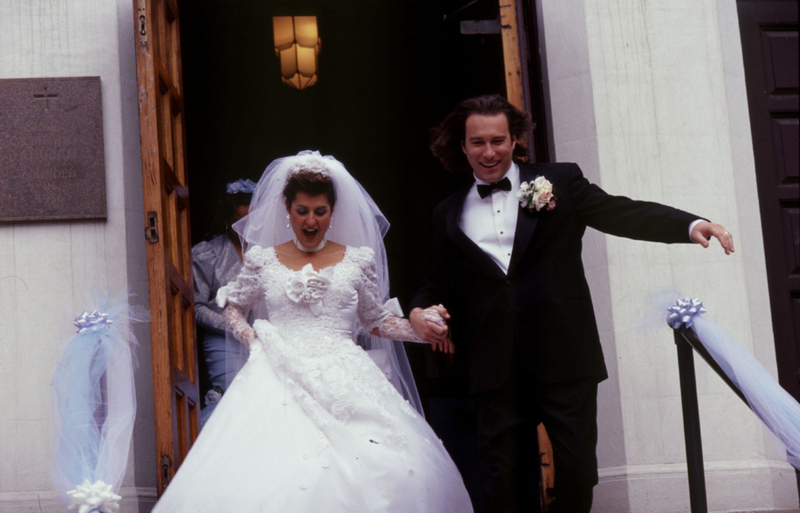 Toula's dress was one for the books with the over-the-top frills complete with a small bouquet of flowers on the neckline! It was the perfect over-the-top wedding dress for a big fat Greek wedding.
Love Actually, 2003

"Love Actually" is a movie that makes couples discover how complicated relationships can be, but Juliet's (Keira Knightley) avant-garde wedding dress proved how beautiful a happy ending can be.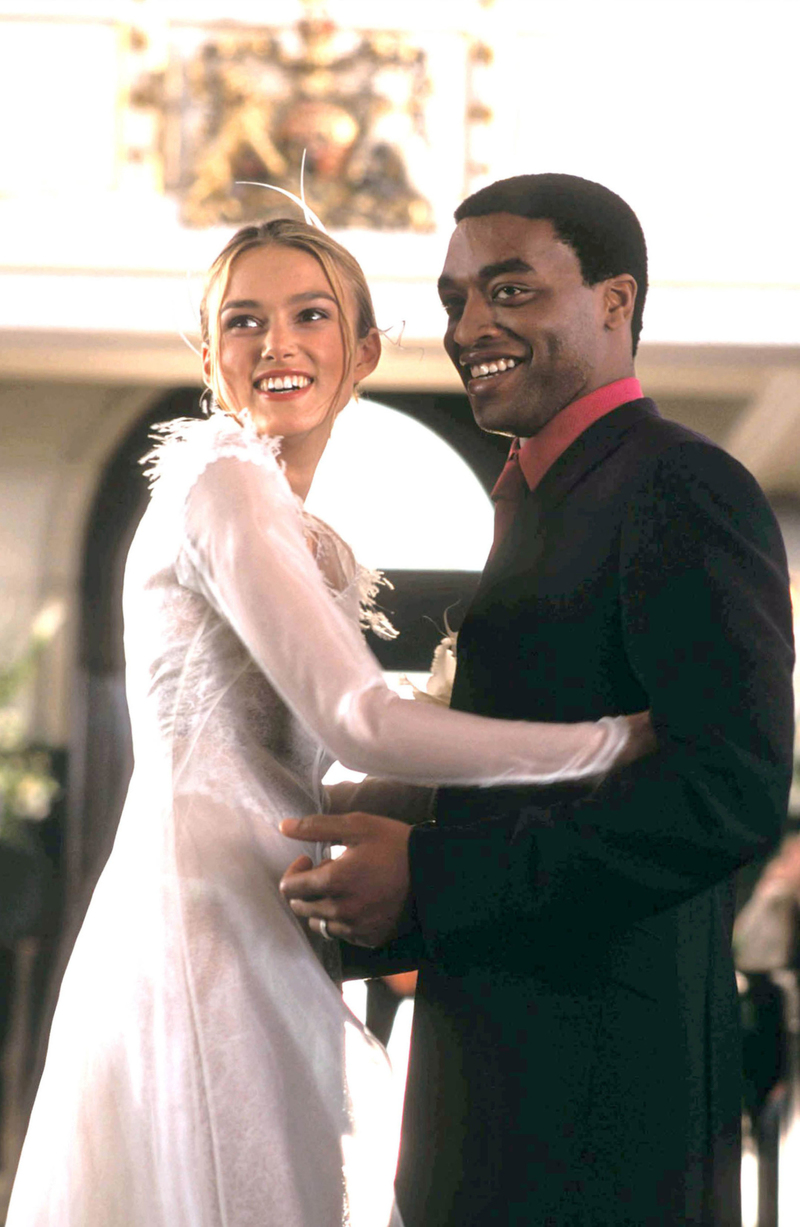 Her dress was quite the show-stopper with its sheer, feathered overcoat. Her dress was simple and modern with a small feather fascinator that completed Juliet's unique bridal look.
The Notebook, 2004

Allie Hamilton's dress for her almost-wedding to Lon Hammond was a strikingly beautiful lace number.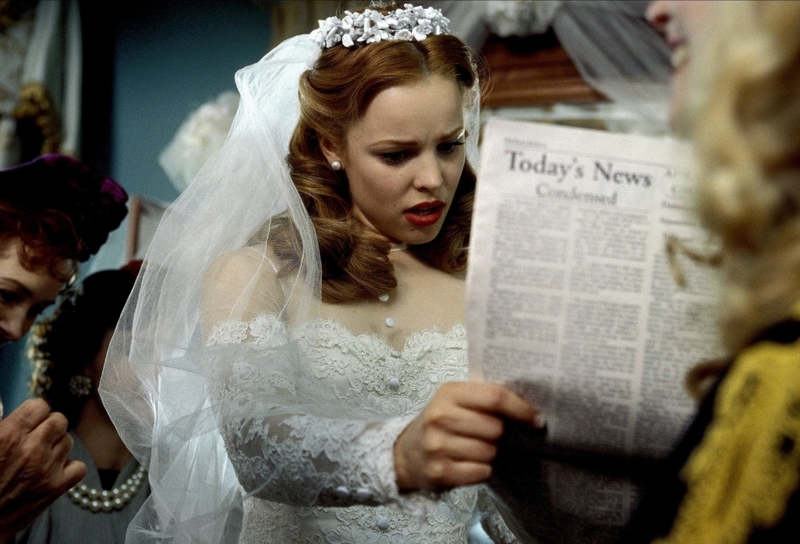 Indicative of the 1940s, the dress featured front buttons, an illusion neckline, and lots of lace. It also featured long, elegant sleeves and a long veil with an ornate headpiece.
The Princess Diaries 2: Royal Engagement, 2004

The dress worn by Princess of Genovia, Amelia Mignonette Thermopolis Renaldi (or simply Princess Mia), certainly had the same essence as that of other royal brides.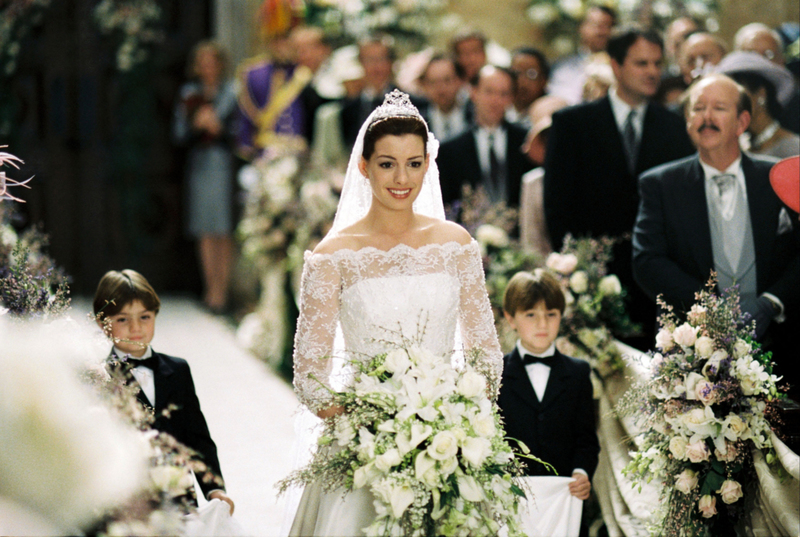 The abundance of lace, long sleeves, A-line silhouette, and off-the-shoulder design were all details typically found in gowns worn by real-life royalty like Grace Kelly and Princess Diana.
Monster-in-Law, 2005

Charlotte Cantilini (Jennifer Lopez) may have often gone head-to-head with her monster-in-law Viola Fields (Jane Fonda), but she still managed to do it in amplified elegance on her wedding day.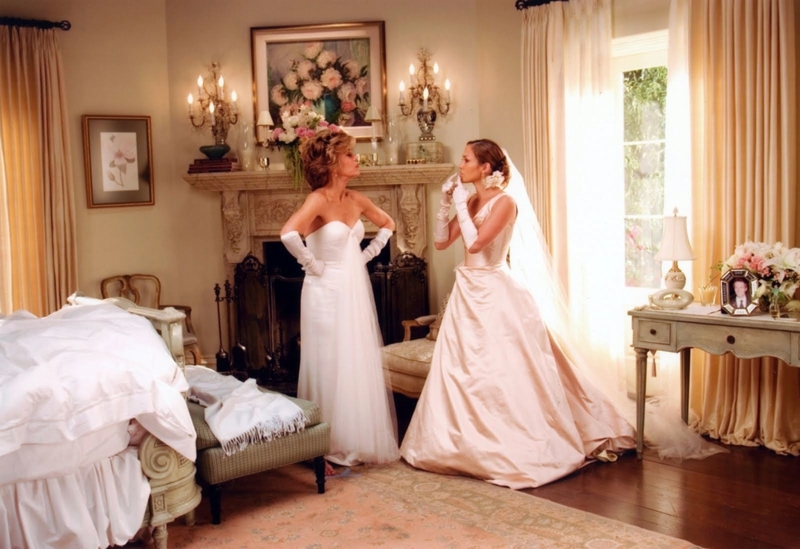 Though Viola tried to steal the show in a wedding dress of her own, she could not match Charlotte's glamorous silk taffeta gown complete with matching gloves.
The Wedding Date, 2005

In "The Wedding Date," bride Amy chose a sleeveless, v-neck satin gown with a ruffled chiffon train for her countryside wedding.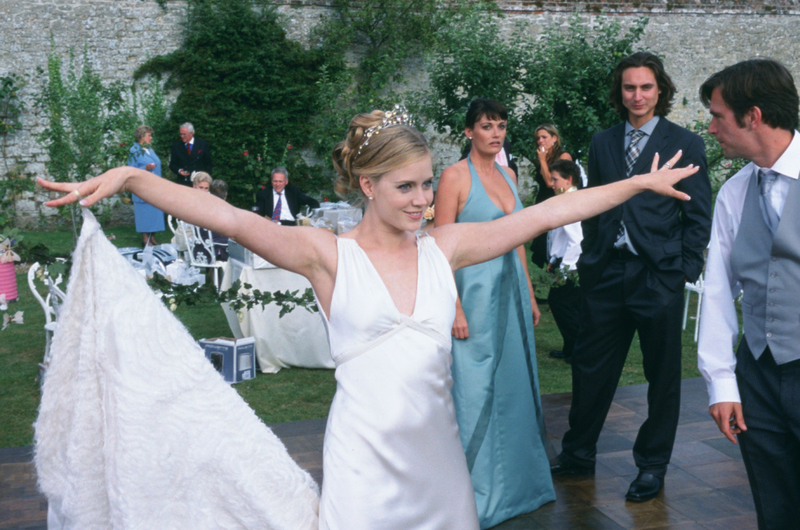 The dual spaghetti straps created an unexpected ethereal look that was completed with a delicate tiara.
Sex and the City, 2008

With its superior, designer structuring and layers of satin, this strapless satin ball gown was perfect for the grand wedding of Carrie Bradshaw and John James Preston.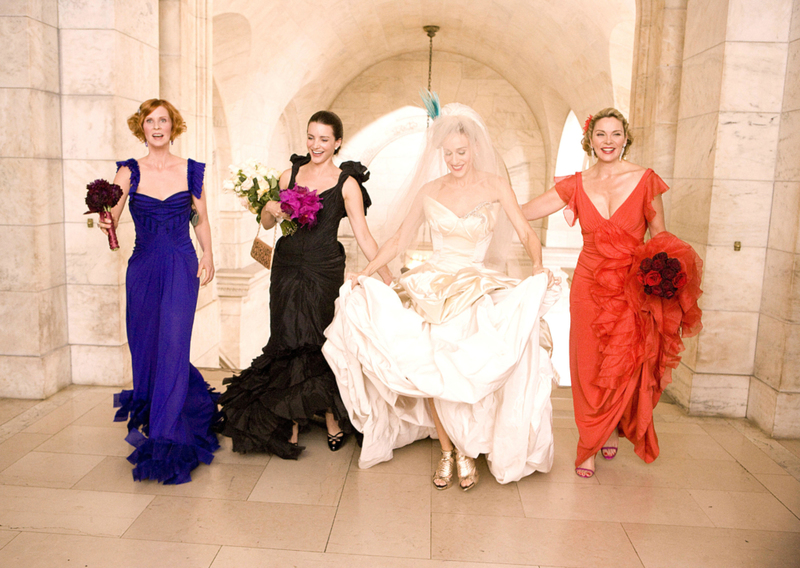 Though the elaborate Vivienne Westwood design that Sarah Jessica Parker wore for the movie never made it down the aisle, it was displayed in all its glory outside the New York Public Library.
27 Dresses, 2008

Jane Nichols (Katherine Heigl) had seen her share of both bridesmaids and wedding dresses. When it came time for her own ceremony, she selected a simple silhouette for her beach wedding.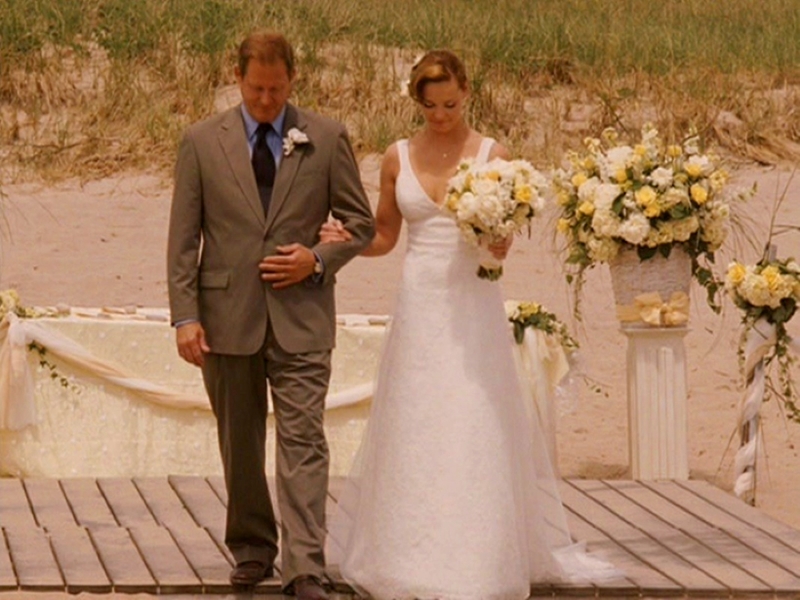 The sleeveless A-line gown was truly the centerpiece of the ceremony as Jane finally got to head to the altar herself.
Mamma Mia!, 2008

The empire-waist, tulle and blue details, beaded wedding gown that Sophie (Amanda Seyfried) wore was just right for her Grecian-style wedding.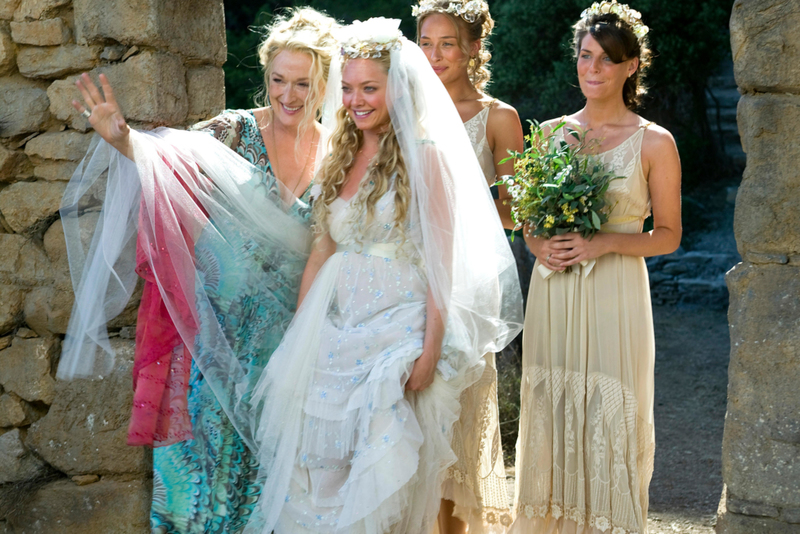 The bohemian style dress had small, blue flowers that enhanced the romantic, feminine look.
Marley & Me, 2008

You may not expect to see a sleeveless dress at a winter wedding, but that's just what Jenny (Jennifer Aniston) wore in "Marley & Me."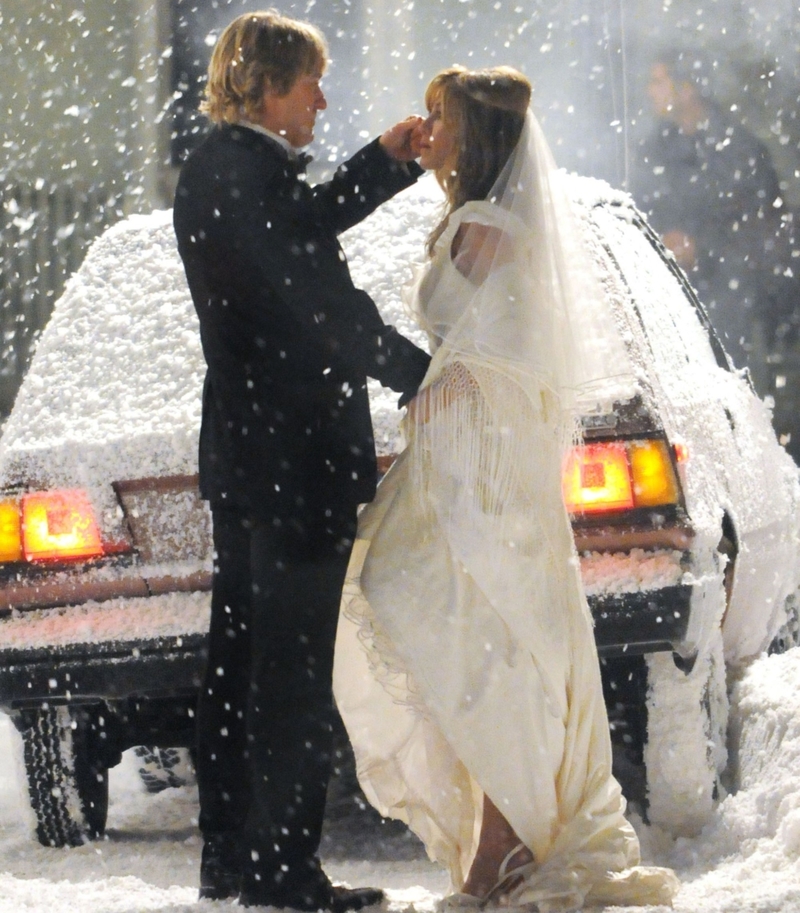 The beautiful dress featured a ruffled neckline that added visual interest to the understated sheath. It also looked particularly lovely with the falling snow.
The Time Traveler's Wife, 2009

As a time traveler's wife, Clare (Rachel McAdams) had to spend her wedding night alone. But she was still able to enjoy wearing a gorgeous dress!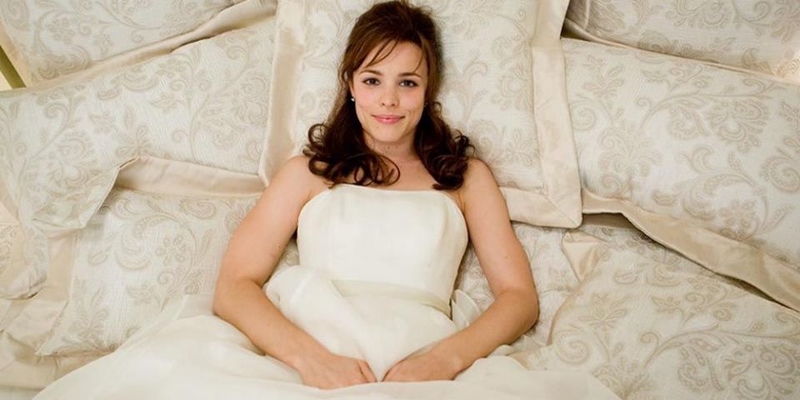 The strapless, belted ball gown was a truly timeless (sorry) look that would complement any wedding style or theme.
Bride Wars, 2009

High-maintenance bride, Liv (Kate Hudson), had a very fashion-forward dress.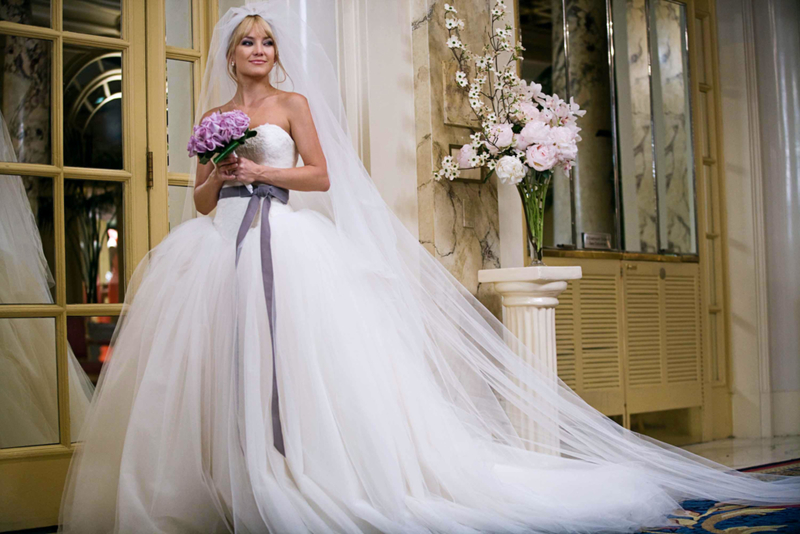 For her marriage at The Plaza in New York City, she chose a strapless, drop-waist tulle ball gown with a lace bodice. The look was accented with a purple velvet sash and a bright bouquet of flowers.
Melancholia, 2011

The film itself may not have been full of marital bliss, but Justine's strapless chiffon wedding dress was perfect for her special day.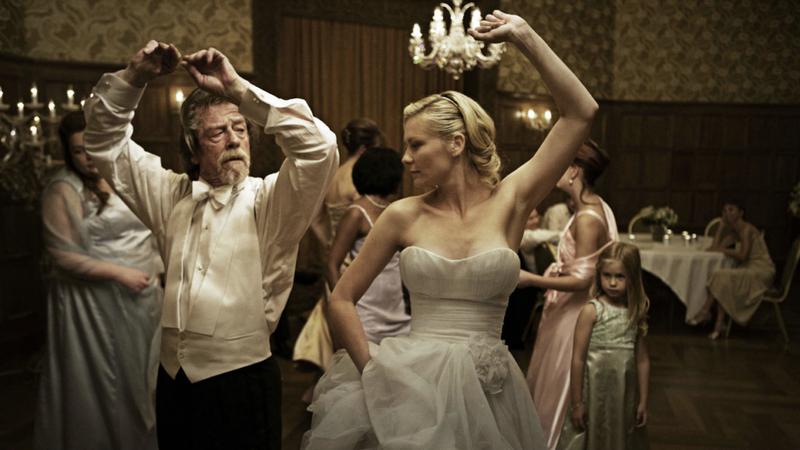 The chiffon flower accent at the hip added a subtle bohemian flair to this otherwise traditional, strapless gown.
The Twilight Saga: Breaking Dawn, 2011

Bella and Edward were married in the forest in a gorgeous outdoor ceremony.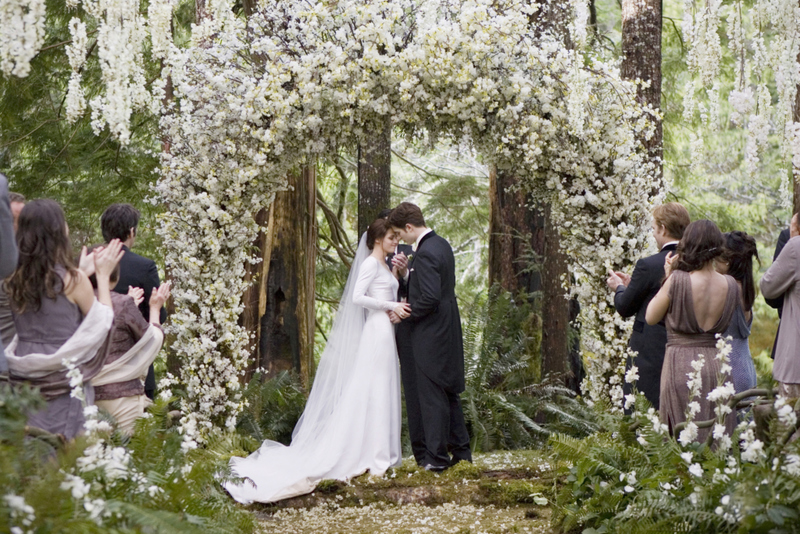 Her dress was reminiscent of old-world elegance with its seamed bodice, long sleeves, and elaborate lace back.
Jumping the Broom, 2011

For Sabrina and Jason's  "I do" at their waterfront ceremony, actress Paula Patton wore a strapless, A-line dress.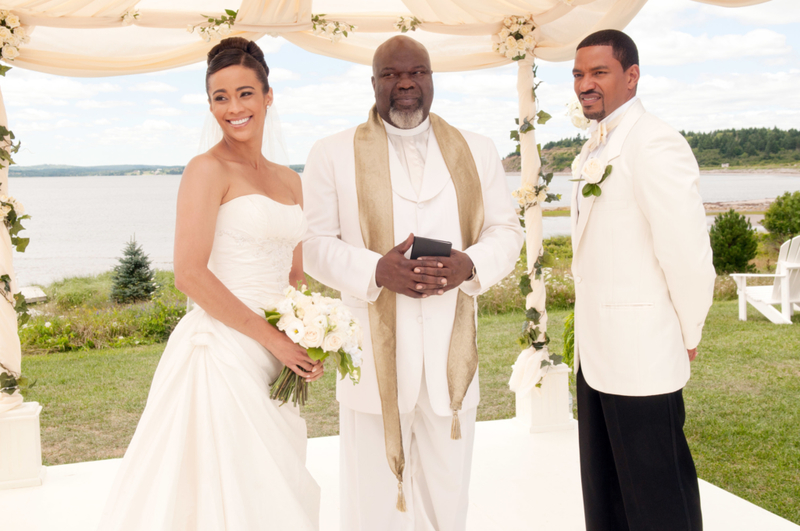 The classic gown was beautifully accented with a jeweled centerpiece on the bodice.
Great Expectations, 2012

Miss Havisham (Helena Bonham Carter) wore what looked to be a very heavy dress for her big day.
The dress had a multi-textured look with all of its ruffled material and teardrop sleeves.
The Hunger Games: Catching Fire, 2013

Katniss Everdeen (Jennifer Lawrence) wore a futuristic-looking wedding dress for the Quarter Quell's opening ceremony. She donned the dress per President Snow's request, which had a mermaid silhouette that flared out at the bottom.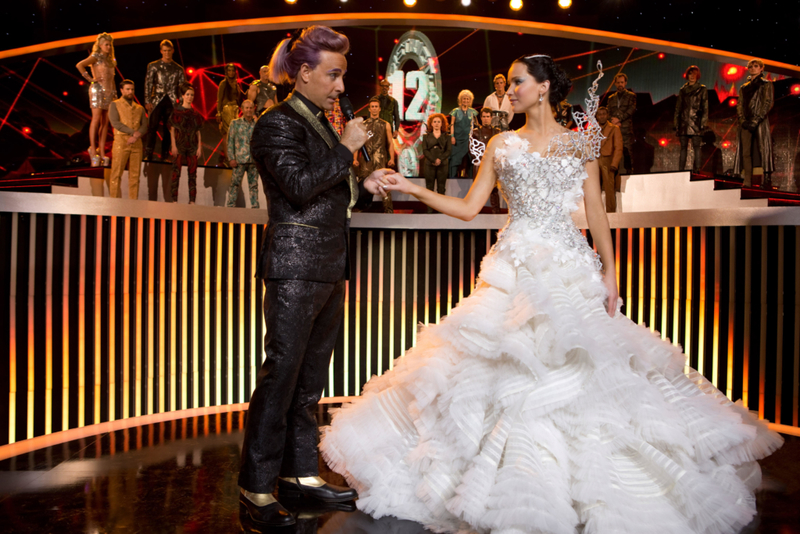 The gown also featured a glittering, silver casing that wrapped around the bodice, which was very Capitol chic.
The Great Gatsby, 2013

Daisy Buchanan's (Carey Mulligan) 1920s gown in "The Great Gatsby" was full of glamorous details.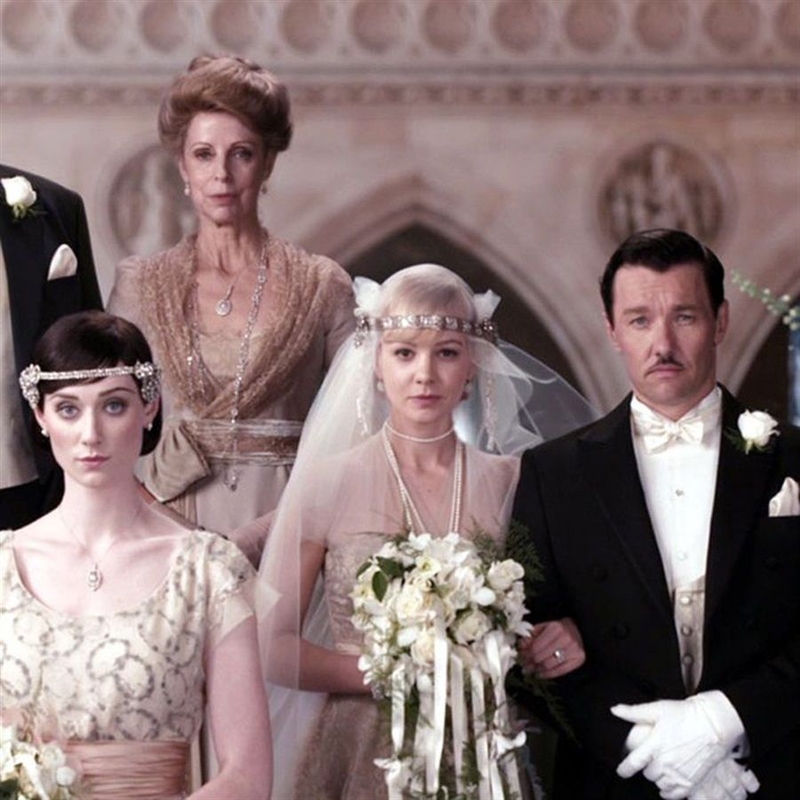 With its A-line skirt, chiffon cap sleeves, and a brocade bodice, it was beautiful enough even for a modern bride.
The Age of Adaline, 2015

Adaline Bowman (Blake Lively) got married in a wedding dress that was the epitome of vintage elegance.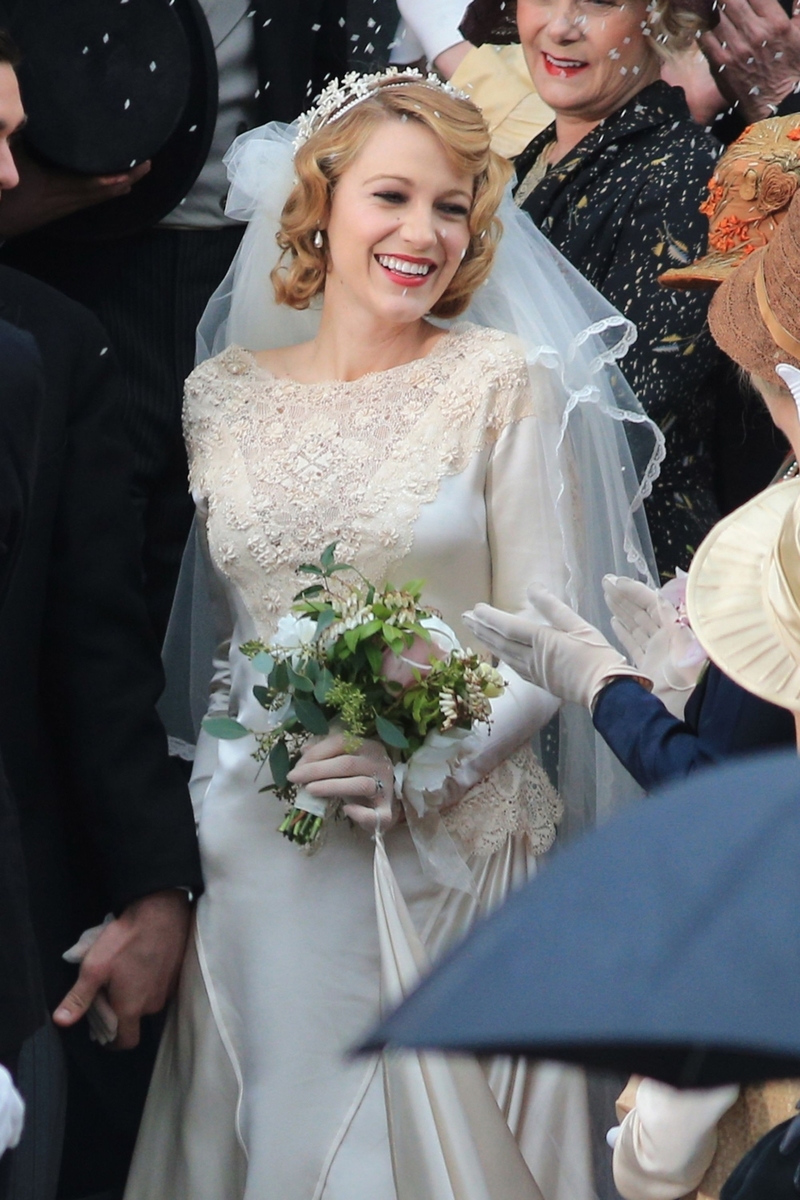 With the lace features on the front and the satin sleeves and skirt, it was a gown that was as timeless as Adaline herself.
The Vow, 2012

Actress Rachel McAdams has worn quite a few wedding dresses throughout her career. For her role as Paige in "The Vow," she wore a fun and frilly pink dress. It was short and playful, perfect for their wedding!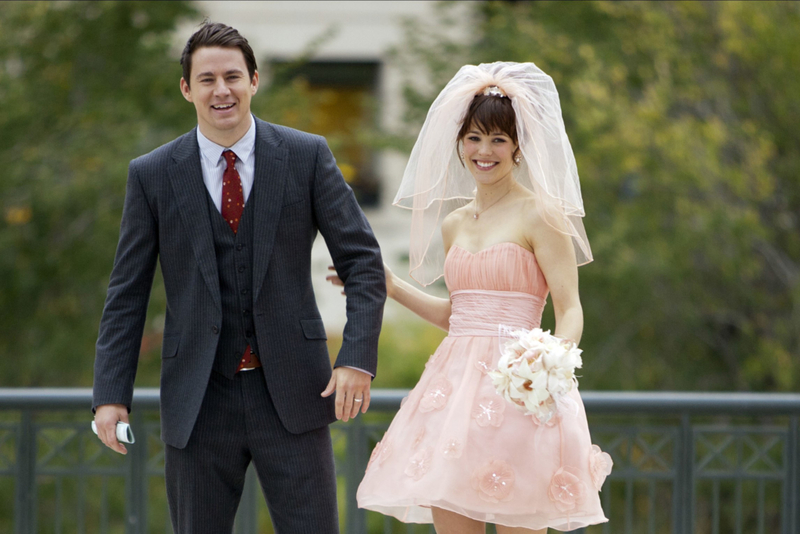 The rosy dress had a banded sash at the waist as well as sequined flowers embellished on the skirt-perfect for an unconventional bride.
The Proposal, 2009

The wedding dress gifted to Maggie (Sandra Bullock) by Grandma Annie (Betty White) certainly needed some tailoring when she first tried it on; who could forget that scene?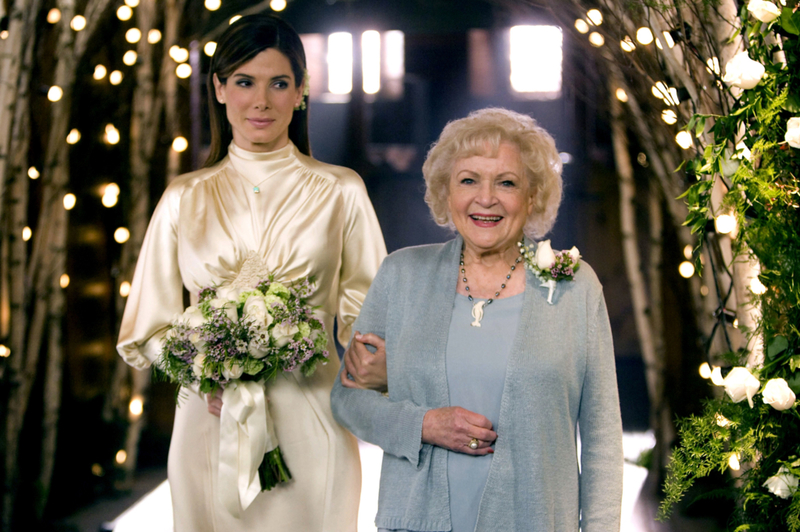 When it was finally finished, and Maggie walked down the aisle, the vintage silk gown was a champagne-colored dream! The drapey sleeves and gathered bodice helped to add some shape to the revamped dress.
Enchanted, 2007

Andalusia's dress in Disney's Enchanted was really the stuff fairytales are made of! The puffy sleeves and voluminous hoop skirt were just what you would imagine a princess might wear.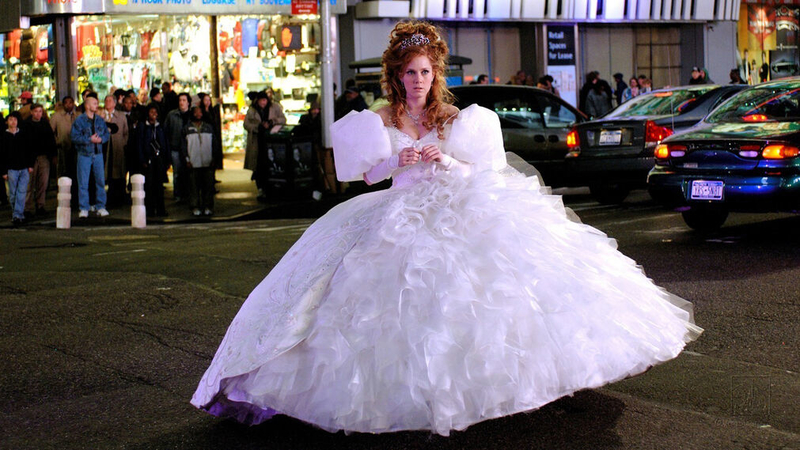 Unfortunately for Andalasia, she wouldn't get to take that dress down the aisle, but she still got her prince in the end, and isn't that way better in some aspects?
The Theory of Everything, 2014

Jane's (Felicity Jones) wedding dress really allowed her abundant natural beauty to shine as it was simple and streamlined.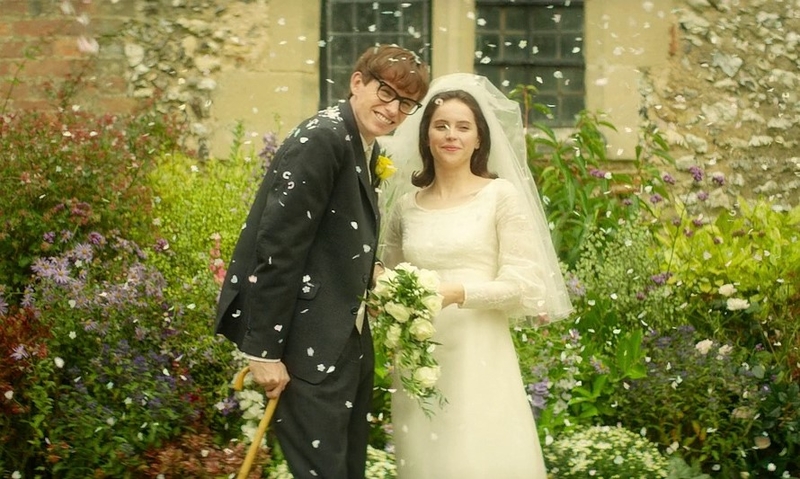 The modest yet pretty dress had a flowing skirt and a lace-filled empire waist that was very fitting for her countryside wedding to Stephen.
The Wolf of Wall Street, 2013

Naomi Lapaglia (Margot Robbie) wore a classic 80s bridal style for her marriage to con man Jordan Belfort. The bodice was covered in sequins and had tons of tulle throughout the hoop skirt.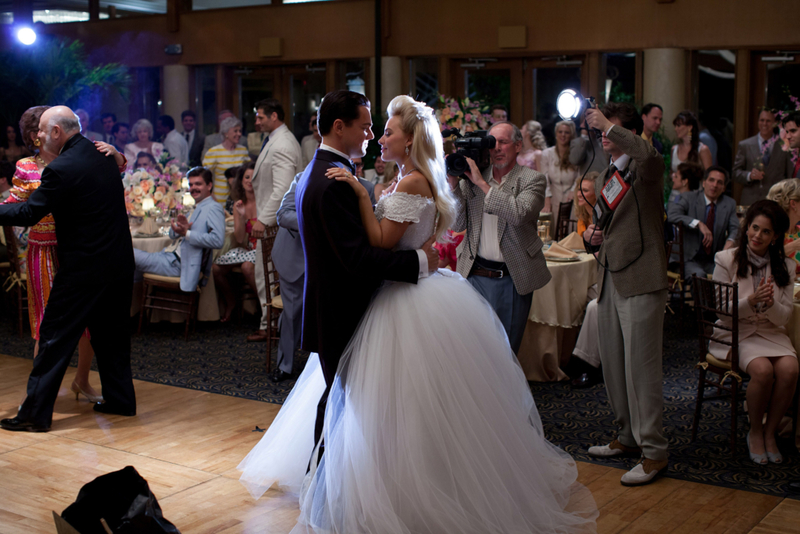 To some, the dress may seem overstated, but at the time this movie was set in, it was quite the fashion.
About Time, 2013

Rachel McAdams is back in another wedding dress, but this is her most unique one yet! As Mary in "About Time," she wore a bold, candy apple red dress for her nuptials to Tim.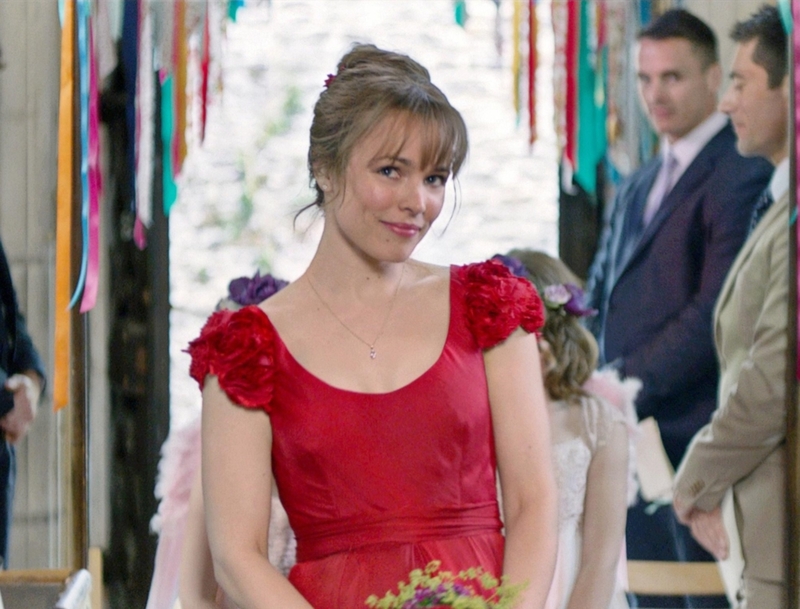 Though highly unconventional (and some may say controversial), the deep, red dress was very beautiful with the rosette detail on the cap sleeves and scoop neckline.
The Godfather, 1972

In the often forgotten first wedding of Michael Corleone, his bride Apollonia wore a traditional style gown.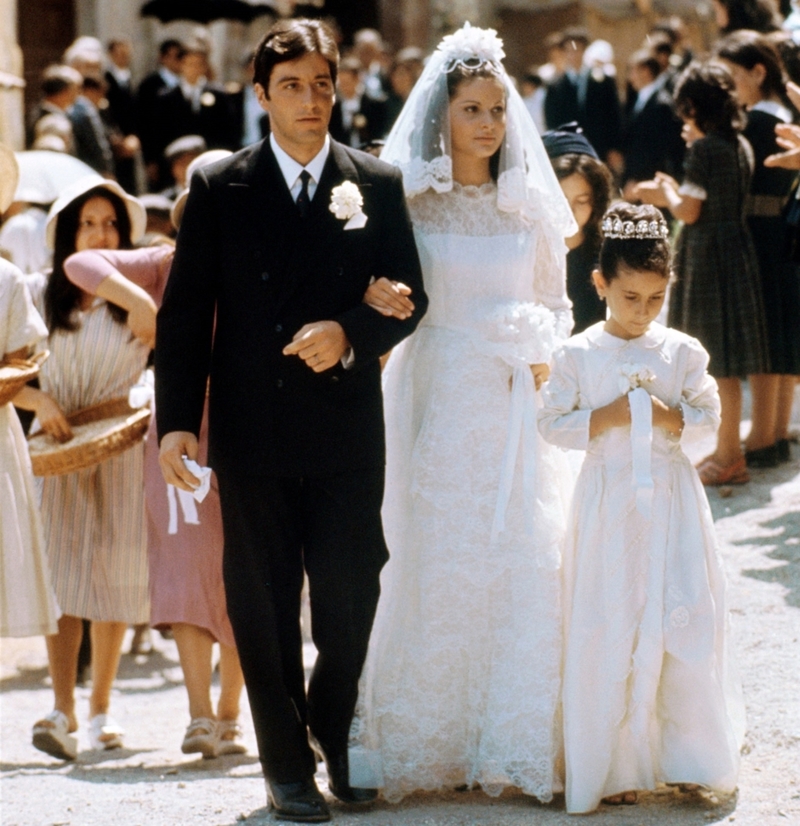 The dress had long sleeves, a high collar, and lace from top to bottom. To complement the look, she also wore a matching veil and floral headpiece.
Gone with the Wind, 1939

In her marriage to Charles Hamilton, firecracker Scarlett O'Hara wore a luxurious, silky ensemble.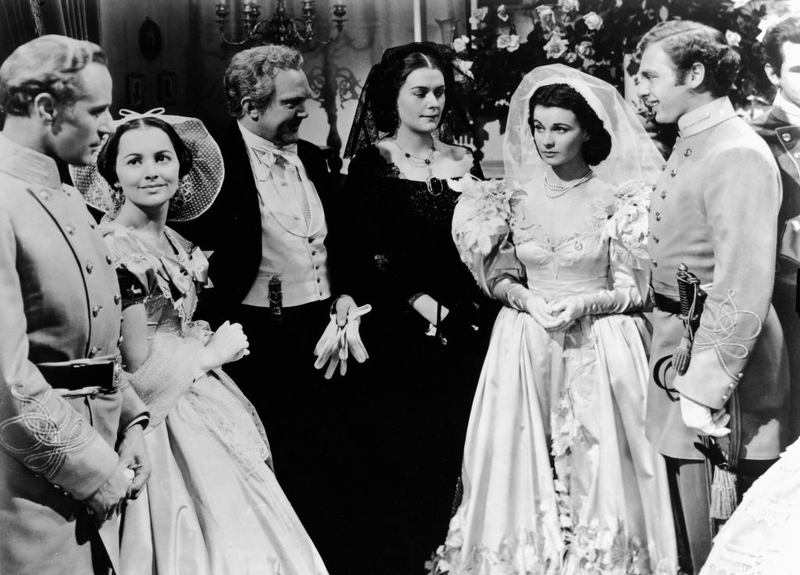 Her long-sleeved gown had enormous, puffy sleeves, elaborate floral appliques, and silk gloves to match.
Crazy Rich Asians, 2018

It's only the very best for Singapore's elite. Araminta wore an exquisite wedding dress that was smattered with gold crystals across the bodice and had layers of silk and tulle staggered throughout the skirt.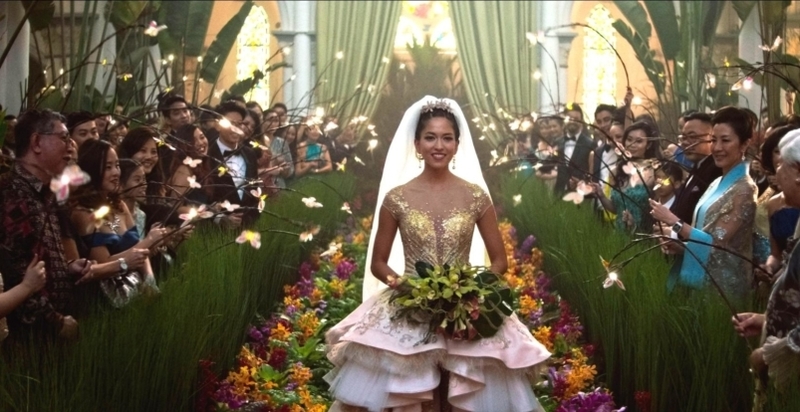 The wedding scene was incredibly colorful, and the dress reportedly took inspiration from swan lake in its design.