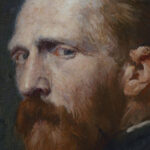 A Look At Vincent Van Gogh's Love Affair
echo get_the_meta(); ?>
As much as the work of the Dutch painter Vincent van Gogh (1853-1890) continues to inspire new generations of art lovers, his tragic life story has increasingly become common knowledge, and his name has become synonymous with the modern idea of the tortured artist. In his short life, van Gogh created a body of work that would eventually rise to posthumous acclaim and that would see him labeled a genius in the years following his death at the age of 37. But sadly, while he was alive, van Gogh received little in the way of commercial success or critical acclaim. According to Biography, the painter — whose career lasted 10 years — only sold one of the 900 paintings he created in his lifetime and struggled with perpetual poverty and mental health issues, which often made him dependent on his brother, Theo, for financial and emotional support.
Van Gogh's love life was also tempestuous, with the artist's romantic experiences often culminating in bitter disappointment. His relationship with his cousin, Kee Vos-Stricker, is representative of his how his passionate and impulsive nature often got the better of him. After Vos-Stricker refused to marry him, the artist attempted to burn his hand with a candle to prove his devotion and be allowed to see her, but he was escorted from Vos-Stricker's family home, according to Van Gogh Route.
Van Gogh had relationships — usually unhappy ones — with a number of women, but one affair stands out among all others. Sien Hoornik was the only woman he ever lived with and inspired some of Van Gogh's most affecting art.
Van Gogh's relationship with Sien Hoornik
Sometime in early 1882, while living in The Hague, Vincent van Gogh met Sien Hoornik, a sex worker whom he wished to become his model. Hoornik was pregnant at the time she met van Gogh. The two became intimate following van Gogh's doomed attempt to court Kee Von-Stricker, with van Gogh inviting Hoornik and her young daughter to live with him. With Hoornik as a model, van Gogh produced some of his finest drawings, most notably "Sorrow." However, as noted by VincentVanGogh.com, his relationship with Hoornik became a point of contention between van Gogh and his family. 
"I am reconciled to her past and she is reconciled to my past. If my family were to cast me out because I had seduced a woman, I would feel like a scoundrel if I had really done such a thing, but if I should be thwarted because I remain loyal to a woman to whom I've promised loyalty, I should despise my family," van Gogh explained in a letter to Theo. "Not everyone is suited to being a painter's wife – she's willing, she learns as each day goes by … I would like to marry her without further ado."
As word of his living arrangements spread — and moral outrage with it — van Gogh found himself estranged from his supporters and family, losing both their patronage and financial backing, per Artnet News. Struggling once more to support himself, van Gogh's loyalty to Hoornik eventually waned. The artist left The Hague for the picturesque province of Drenthe and never saw his former muse again.