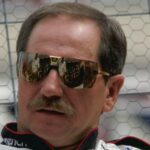 Athletes Who Died In Front Of Their Fans
echo get_the_meta(); ?>
Sports are physically taxing, and only those whose bodies are properly conditioned can find success on a professional level. After all, it's exercise, against and alongside other elite athletes for hours at a time, for months on end (and that doesn't even include training camp). The exertion of sports gets a player's adrenaline pumping and their heart rate up as they go for the gold while also avoiding contact with balls, walls, and other individuals. Almost always, a sporting event goes in the books as both an entertaining event and boastful display of human possibility.
But alas, the body is fallible and frail, even for world class athletes. They can easily get injured, or in the middle of all that intensive activity, they can even succumb to health problems they didn't even know they had. Of the many thousands who have played professional or international sports, a handful have died in the line of duty and in the pursuit of victory. These are the poor souls who passed away while doing what they loved.
Owen Hart
As part of a duo with his brother, Bret "The Hitman" Hart, Canadian wrestler Owen Hart was among the most popular WWE stars of the '90s, a flashy showman who loved to incorporate characters and costumes into his act. Owen Hart was set to appear as an obnoxious superhero for his appearance at "Over the Edge," a May 1999 pay-per-view event held at Kemper Arena in Kansas City, reports CNN. The plan called for Owen, a.k.a. the Blue Blazer, to be slowly lowered into the ring from the rafters with the use of a wire system. 
But that's not what happened. The rigging malfunctioned, and Owen plunged some 80 feet into the ring, according to Sportscasting. WWE announcer Jim Ross told the silenced crowd that the fall was not a scripted moment or a stunt. TV viewers didn't see the fall, as the broadcast had cut to a Owen Hart highlight reel before his grand entrance. Barely 34 years old, Owen succumbed to the injuries he sustained in the fall and was pronounced dead at a nearby hospital that night.
Chuck Hughes
As a receiver at Texas Western (now the University of Texas at El Paso), Chuck Hughes was amazing. In his second season in 1965, he caught 13 touchdowns and racked up more than 1,600 yards. Hughes' pro career was nondescript, with three seasons as a backup for the Philadelphia Eagles and a couple more in that capacity for the Detroit Lions.
In the fall of 1971, Hughes suffered a heart attack right after a preseason game, collapsing in the locker room, reports Yahoo Sports. Doctors couldn't figure out the source of his stomach and chest pains, and Hughes summarily ignored them, eager to get back to the gridiron. On October 24, 1971, the Lions faced the Bears in Detroit, with Hughes replacing regular Lions receiver Larry Walton as the Bears led 28 to 23 with just a few minutes left to play. Hughes caught a pass, endured a hard hit by Chicago defenders, then got up for a few more plays. After running down the field for a pass that went to another receiver, Hughes headed back to the huddle … then fell to the turf. Bears linebacker Dick Butkus noticed first and called for help from the sidelines. Doctors couldn't revive him, and neither could anything be done at a hospital. Hughes, 28, died from a what was likely a heart attack triggered by a severely injured spleen.
Sam Okwaraji
Sam Okwaraji left his native Nigeria for Europe to study for his doctorate, but he wound up playing professional soccer, reports the Nigerian Tribune. After suiting up for various European teams in the '80s, Okwaraji returned home to join the Nigerian national team (the Green Eagles) in 1988, and a year later found himself playing in a World Cup qualifier against Angola.
Okwaraji would never take the pitch in the 1990 World Cup, however. Deep into the second half of the qualifier, a referee ejected an Angolan player. While his teammates circled around the official in protest, a few feet away, Okwaraji collapsed to the ground. His teammates rushed over to him, but there was nothing anybody could do — he was already dead. According to an autopsy, the 25-year-old player had died suddenly of an enlarged heart, made all the worse due to high blood pressure. Nigeria won the game but were eliminated from World Cup contention not long after.
Dale Earnhardt Sr.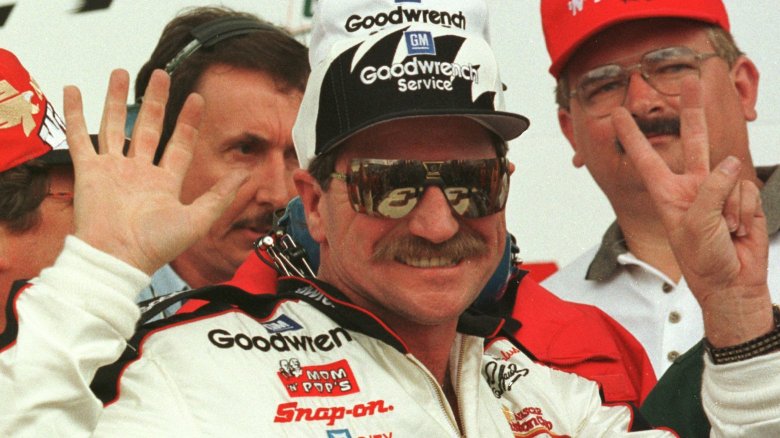 Getty Images
On paper, high-level auto racing seems extremely dangerous. The sport consists almost entirely of heavy chunks of metal with people sealed inside of them careening around a track at 200 miles per hour. There are numerous safety protocols in place, however, which makes deaths thankfully rare. One major casualty of NASCAR: the 2001 death of Dale Earnhardt, Sr. He's like the Babe Ruth or Joe Montana of his sport — so popular and successful that even people who don't follow NASCAR know the name … and the tragedy.
Just three years after finally winning his first Daytona 500 in 1998 (via ESPN), Earnhardt raced in the February 2001 edition of the event, one of the premiere and most-watched NASCAR races. Toward the end of the race, Earnhardt misjudged a turn and slammed his car into a concrete wall at about 180 miles per hour, according to the Orlando Sentinel, killing the legendary "3" immediately. Initially, a NASCAR review held that a malfunctioning seat belt caused Earnhardt to hit his head on the steering wheel, reports Motorsport.com. But when Duke University biomedical engineering professor Dr. Barry Myers reviewed the autopsy and other info, he attested that when Earnhardt hit the wall, his head whipped forward with such intensity that it detached muscles, killing him instantly. In the wake of Earnhardt's death, NASCAR adopted numerous new safety measures, particularly a neck-securing device that prevents such a deadly kind of whiplash.
Vladimir Smirnov
By the early 1980s, Ukraine-born Vladimir Smirnov had become one of the best to ever compete in fencing, the gentlemanly sport of precision sword-fighting. He had few contemporary rivals, winning three medals (a bronze, silver, and gold) in three separate fencing events at the 1980 Summer Olympics (via the Olympics). He was on a roll, winning at the World Championships in 1981, and returning to that event the next year to defend his title, reports The New York Times. In an early round, Smirnov squared off against Matthias Behr of West Germany, a gold medal winner at the 1976 Summer Olympics.
Now, despite being a sport that's about athletes running at each other while they whip thin metal swords at each other's faces and bodies, it's actually extremely safe. Fencers wear almost as much safety equipment as hockey goalies, including vests, chest protectors, special gloves, and metallic-mesh face masks. Any serious fencing injury is a fluke … and that's what happened in the 1982 match between Behr and Smirnov. As Reuters details, Behr went for a routine lunge at Smirnov, and his sword broke. That's actually a common occurrence in fencing. What isn't common is how Behr's broken stump of a blade somehow went through Smirnov's face mask … and then through his eye socket and into his brain. About a week later, Smirnov died of his injuries. 
Fran Crippen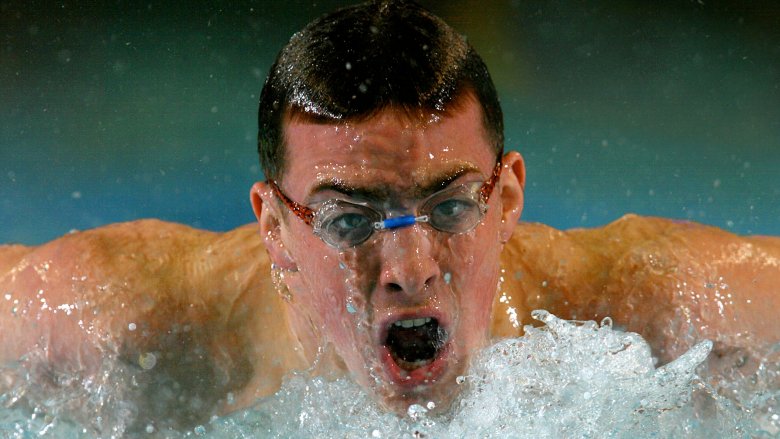 Getty Images
Fran Crippen was a terrific swimmer, an 11-time All-American and the ACC's swimmer of the year while attending the University of Virginia, reports Virginia Sports. In pool swimming events, he scored a bronze medal at the 2001 Goodwill Games and two silvers at the 2003 Pan American Games. He then moved from pool swimming to open water swimming, which is just that — traversing large, naturally occurring bodies of water. He found instant success, winning a silver medal in the 10 kilometer open water event at the 2006 Pan Pacific Championships. A year later, he landed a gold in the 10 kilometer open swim at the Pan American Games, the first of many top finishes in major long-distance water races.
Crippen was a major contender to place in the 2010 10K series presented by FINA (the international swimming body), which finished up in the United Arab Emirates, notes the Los Angeles Times. When Crippen didn't cross the finish line, other swimmers got worried (some had found the water to be uncomfortably hot) and searched for him. A dive team then came in and discovered the swimmer, drowned below the course. According to a FINA report, Crippen, 26, died from a heart abnormality, brought about by "uncontrolled exercise-induced asthma in unfavorable race environmental conditions."
Wouter Waylandt
The Giro d'Italia, or the Tour of Italy, is among Europe's many multi-stage, multi-day bicycle races that send elite riders on a tour across beautiful countryside. It's essentially Italy's version of the famous Tour de France. Belgian racer Wouter Weyland of the Luxembourg team Leopard Trek had won stages at the similar Tour of Spain in 2008 and at the Giro d'Italia in 2010 before competing in that race's 2011 edition. 
The Guardian details that during the third stage, Weyland wound down the steep, twisty roads of the descent from the Passo del Bocco. About 20 miles from the finish, he lost control and crashed. Some witnesses say he hit a wall; at any rate, he landed hard on his face and bled profusely upon impact. Emergency workers eschewed an ambulance, such was the urgency of treating Weyland's injuries, and tended to the fallen rider where he lay on the road. Weyland was discovered unconscious with a fracture at the base of his skull, and his heart had stopped. Adrenaline and atropine injections, along with other actions, were unsuccessful. Weyland, a five-year veteran of the racing circuit with a baby on the way, died at age 26.
Duk Koo Kim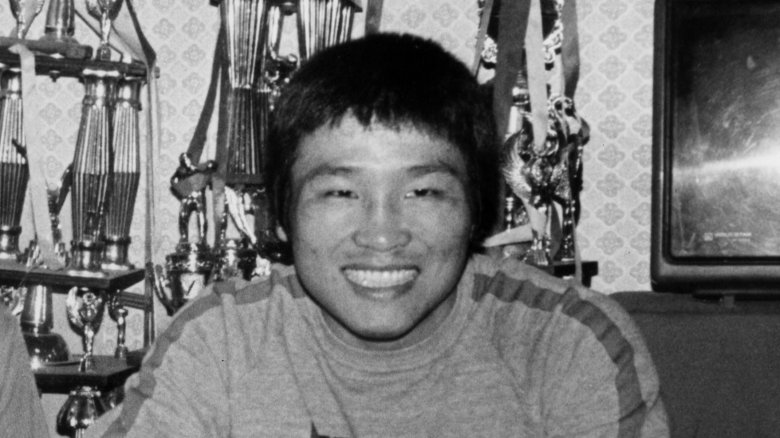 Getty Images
Ray "Boom Boom" Mancini had one of those great boxer biographies — a scrappy guy who rose through the ranks, picking up the promise of never-fulfilled family dreams. His father, Lenny "Boom Boom" Mancini, could have been a contender if not for a World War II injury, notes NPR. The younger "Boom Boom" did what dad couldn't do, and in 1980 became the lightweight champion of the world. In November 1982, Ray Mancini defended his title for just the second time against rising South Korean boxer Duk Koo Kim. 
The fight was a huge deal, with CBS nationally broadcasting it live from Caesars Palace in Las Vegas. Mancini was the easy favorite, but the fight wasn't a cakewalk for either boxer, seeming evenly matched up as the bout stretched into the 14th round. That's when Ray Mancini pummeled Kim with a devastating left hook, sending him backward into the ropes. Kim went down for good, and officials declared Ray Mancini the winner. But then Kim didn't get up at all. Four days later, he died in a hospital. 
Ray Mancini, obviously rattled by accidentally killing another boxer, only competed a few more times. Boxing organizations also soon limited title bouts to a maximum of 12 rounds in an attempt to decrease the potential number of blows to a boxer's head, per The Washington Post.
Ayrton Senna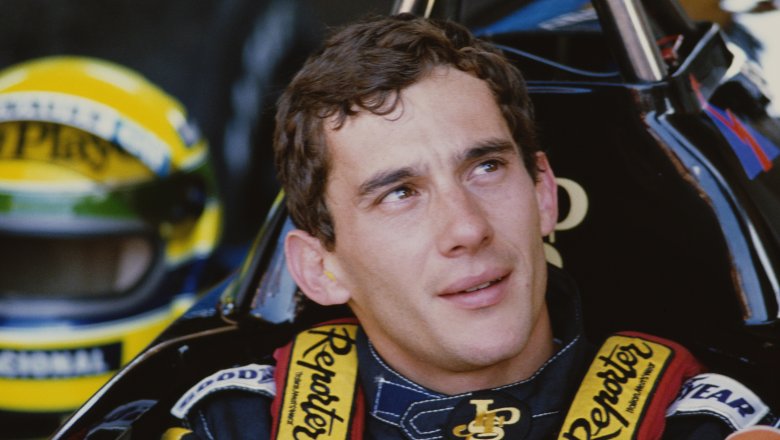 Getty Images
Outside of the United States, the dominant type of motorsport is Formula One, with its lucrative grand prix races held on specially built tracks and on public roads. Ayrton Senna was one of the best Formula One drivers ever — just 10 years in the sport, he won a whopping 41 contests, including the Monaco Grand Prix six times, reports Fox Sports. Senna's home nation of Brazil held him up as a hero and a national treasure.
As VICE details, on May 1, 1994, Senna competed in a race on the Imola circuit in Italy, driving his Williams-Renault. Suddenly, when dealing with a left-turn corner at a necessarily high speed, his car suddenly jerked to the right. That led Senna to instantly hit a wall, nearly head-on. Cause of the accident: trouble with the steering column, after Senna had asked his team to modify it before the race. Not long after, Senna died as a result of the crash, as debris had pierced his helmet and caused several skull fractures, reports VICE. The tragedy was mourned by the people of Brazil — Senna's funeral was broadcast on live TV there, and the government declared a three-day period of mourning for the 34-year-old athlete.
Hank Gathers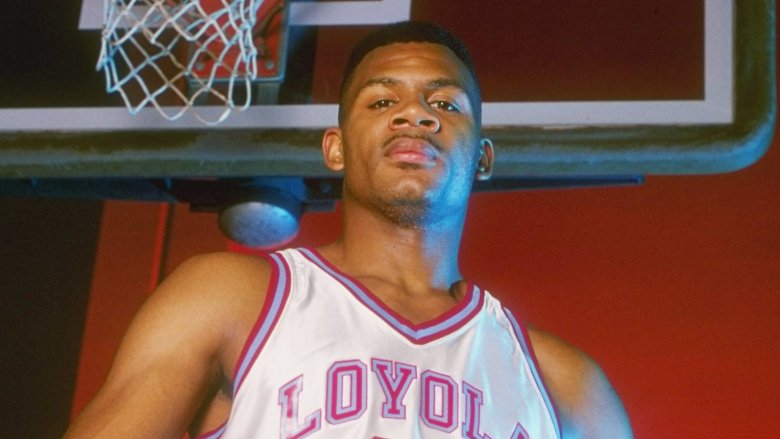 Getty Images
After an uneventful freshman year at USC, basketball phenom Hank Gathers transferred to the smaller Loyola Marymount University, where he became a school legend. In his junior year, he averaged 32.7 points per game (PPG) and 13.7 rebounds per game (RBG) (via Sports Reference). Gathers' senior year was pretty spectacular, too, with an average of 29 and 10.8 PPG and RPG, respectively. All told, UPI reports he was the 11th-leading scorer in college ball history, and likely had a stellar NBA career in front of him.
He also quietly suffered from heart problems and was prescribed medication for an irregular heartbeat. That didn't stop him from playing in the 1990 West Coast Conference tournament. After a slam dunk that put LMU up 25 to 13, Gathers collapsed to the floor and couldn't right himself. Then, he stopped breathing. A few hours later, the 23-year-old Gathers was pronounced dead. According to an autopsy, he died of "idiopathic cardiomyopathy with residual interstitial myocarditis" — a diseased, inflamed, and scarred muscle in his heart.
Scott Kalitta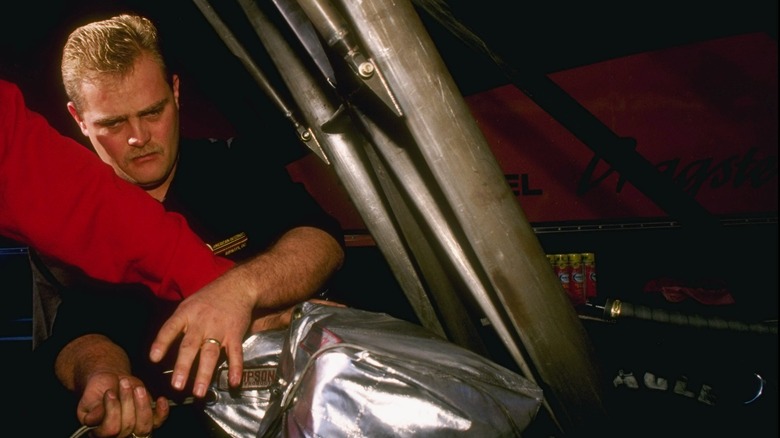 Jamie Squire/Getty Images
Drag racing is much more than "Fast and Furious" movies. It's a professionally sanctioned sport where gearheads and highly trained racers operate very expensive and powerful machines to go a very short distance (a quarter mile) in a very short period of time. Nitrogen-powered vehicles and the people who love them compete on the Funny Car circuit, in which the Kalitta family was royalty. Back in the '50s and '60s, Connie Kalitta's "Bounty Hunter"-branded cars dominated the sport, and his son, Scott, took up the business, too, as detailed by ESPN. The younger Kalitta made a name for himself, winning two straight Top Fuel titles in 1994 and 1995. 
This was a guy who knew on every level how a hot rod worked, and yet he still lost his life to an unthinkable, "freak" accident. During the Lucas Oil NHRA SuperNational racing event in Old Bridge Township, New Jersey, in June 2008, Scott Kalitta's car experienced what a police report called "a catastrophic mechanical failure" that led to an explosion of fuel. That all terrifyingly shot Scott Kalitta and his vehicle rocketing down the track to the finish line — slightly over 300 mph in under a second. Scott Kalitta, 46, perished in the scary, fiery chaos.
Ray Chapman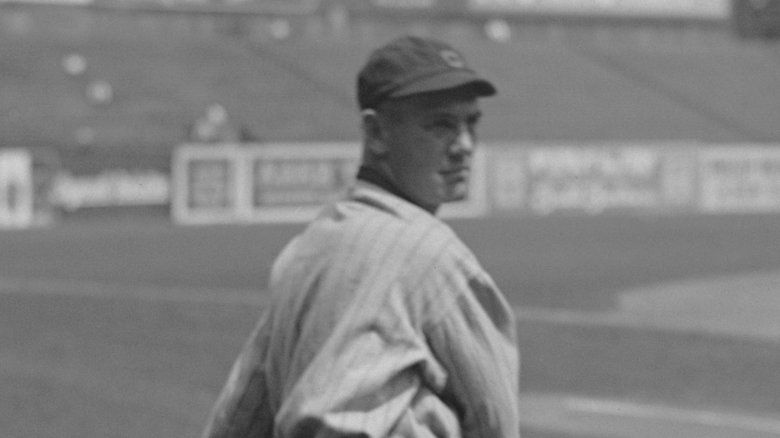 Shutterstock
During an August 1920 game against the New York Yankees, Cleveland Indians shortstop Ray Chapman came to the plate. As Yankees pitcher Carl Mays remembered it (as reported in the New York Times), Chapman crouched down low over the plate, and Mays threw one high and fast. He heard the ball make contact, and he fielded it when it bounced his way, throwing it to first base for the out. Except that the ball didn't nick Chapman's bat — it had hit Chapman in the head. The batter lay motionless on the ground, and an umpire called for a doctor in the house.
Chapman was transported to a New York hospital, still unconscious after the blow to the head. Surgeons discovered a 3.5-inch fracture in Chapman's skull, and removed a small chunk of bone to access the brain, which had tragically been lacerated and shaken so much that blood clots had developed. There was nothing they could do — Chapman died a few hours after surgery.
The pitch Yankees hurler Carl Mays used on Chapman: a spitball. Applying some kind of viscous substance — such as human saliva — can make a ball fly erratically and become tough to hit. Chapman apparently took so many split seconds trying to navigate that odd throw that it wound up hitting him in the head. Chapman is the last Major League Baseball player to die as a result of an in-game injury, and that's thanks in part to the league banning the spitball and introducing batting helmets.