Betty White's Relationship With The Golden Girls Cast Explained
echo get_the_meta(); ?>
Betty White, Bea Arthur, Rue McClanahan, and Estelle Getty made millions of people laugh during the 1980s on "The Golden Girls." Those episodes still live on with streaming capabilities and both young and old alike can laugh at the antics of Rose Nylund, Dorothy Zbornak, Blanche Devereaux, and Sophia Petrillo as many times as they like. 
One of the reasons that the show did so well was that there was undeniable chemistry between the four of them. They played off each other perfectly, and it's hard to imagine anyone else in those roles. Their comedic timing was incredible and their portrayal of the hilarious scripts often left viewers gasping for air as they laughed. 
That was on camera, though. These were professional actors who were capable of showing whatever emotions were required. White seemed to get along so well with them on the show. But what was her relationship like with her fellow cast members when they were not on the set of "The Golden Girls"? 
Betty White helped welcome TV newcomer Estelle Getty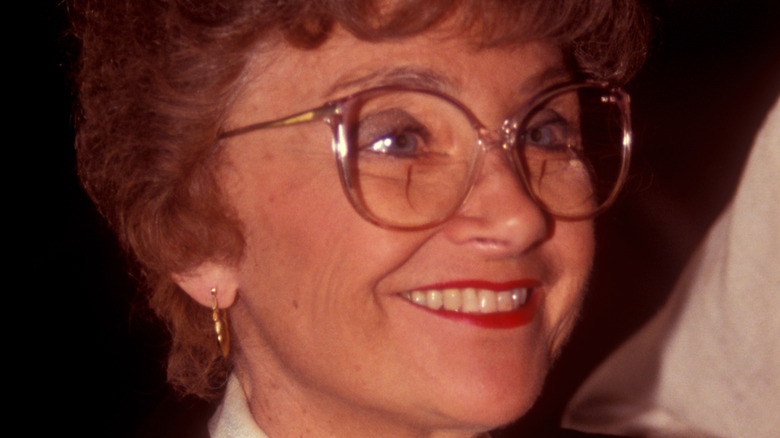 Bart Sherkow/Shutterstock
Estelle Getty, who wowed audiences with her portrayal of Sophia Petrillo, Dorothy Zbornak's mother, had never been on television before. Her background was Broadway, according to TV Guide, but she settled into the role. Betty White, a veteran actress, was more than happy to bring Getty into the fold. The two of them got along well and White would work with Getty, who got such bad stage fright during the taping of the show that she had to have Sophia's lines on cue cards to keep her from forgetting, per Glamour. White also loved to hear Getty tell stories about being in the theater (via OK! Magazine). Television audiences never knew what went on behind the scenes, since the production was so polished. 
Ironically, Getty was the youngest of the four actresses (via Parade). She had to sit in a make-up chair to have herself become Sophia, the matriarch. White was the oldest, though Rose Nylund, her character, was the most child-like.
Betty White and Rue McClanahan had worked together before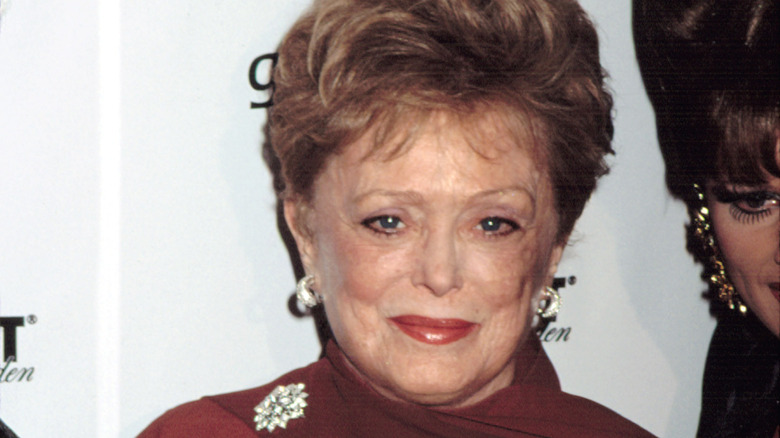 Everett Collection/Shutterstock
As far as characters go, Blanche Devereaux (Rue McClanahan) and Rose Nylund were polar opposites. Blanche was a temptress who always had to have her social calendar filled with men, while Rose was a sweet woman who still mourned her late husband. But McClanahan and Betty White got along extremely well. Part of that was due to the fact that they were very familiar with each other, having both been on the series "Mama's Family," according to MeTV, and they had formed a friendship though their time on that. It made "The Golden Girls" much easier for them. 
Ironically, the producers of the show initially saw White in the Blanche role and McClanahan in the Rose role (via Biography). White had just played Sue Ann Nivens on "The Mary Tyler Moore Show" and did not want to get stereotyped into that type of character. They traded roles — quite successfully.
Bea Arthur was not sure what to make of Betty White's attitude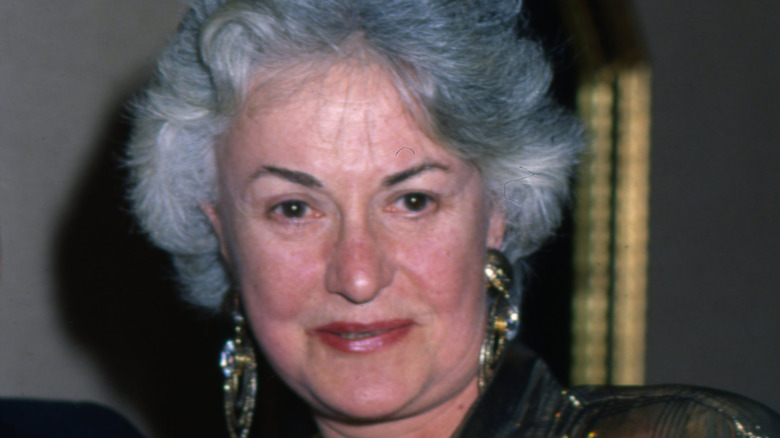 Donaldson Collection/Getty Images
When it comes to casting, one would be hard-pressed to find a better fit than Bea Arthur for the divorced Dorothy Zbornak. She had a razor-sharp tongue and didn't hesitate to use it. She also reserved most of her scorn and put-downs for nearly anything that Rose Nylund said. There might not have been as much acting there as people might have thought. Arthur was not altogether friendly with White off the set, according to OK! Magazine. 
Even White said that Arthur didn't completely trust her always-optimistic outlook, thinking that she was not authentic. But other cast members said that the gruff-voiced actress actually liked her more than she let on; she was just not good at showing that side of herself. White and Arthur did bond over their losing their mothers during the first season of the show (via OK! Magazine). 
The four actresses all moved on from The Golden Girls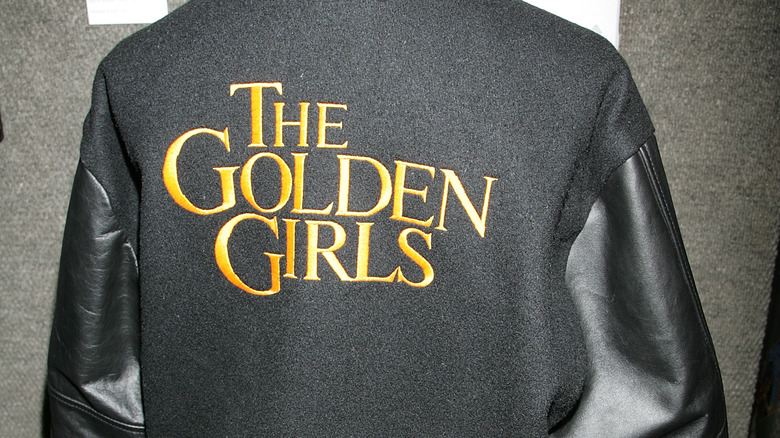 David Livingston/Getty Images
"The Golden Girls" had a good run from 1985 to 1992. There was a brief attempt at a sequel, "The Golden Palace," but it fizzled out pretty quickly. The original series was a phenomenal success during that time, garnering 41 major awards like the Primetime Emmys and The Directors Guild, among others (per IMDb). It still lives on in syndication, with various networks like Hallmark airing it. Hulu has it on their Hulu Plus channel.
When the show ended, the quartet went on to have more roles to varying degrees of success. Estelle Getty appeared on the spin-off series "Empty Nest" as Sophia, until 1995. She died in 2008 from Lewy-Body Dementia, per The New York Times. Bea Arthur continued acting up until a year before her death in 2006 from cancer. Rue McClanahan had varying guest roles and even wrote a book before her death from a stroke in 2010. Betty White had a resurgence in the late 2000s, playing the curmudgeonly Elka Ostrovsky on "Hot in Cleveland." 
Betty White outlived her other cast members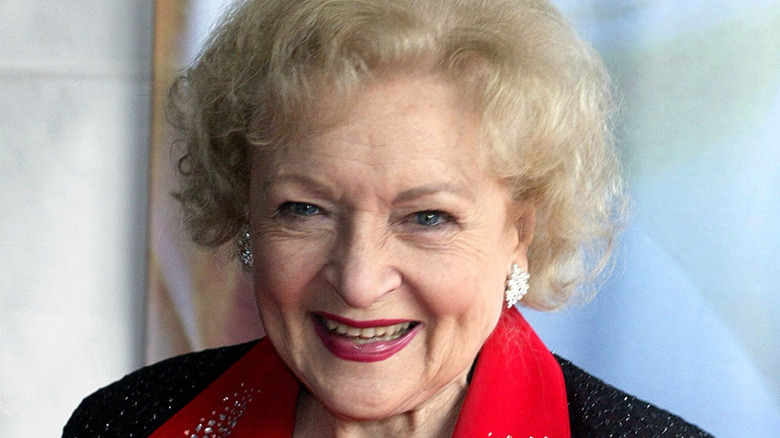 Everett Collection/Shutterstock
There was an especially poignant moment during an episode of "The Golden Girls" where the four of them were discussing the fact that they were getting older — and their mortality. It was Rose Nylund who asked the question, "What happens when there's only one of us left?" (posted on YouTube). It was only fitting that White was the one who got to say that. Getty, Arthur, and McClanahan have all passed on, living on only on television shows and interviews. White, though, is still active on social media, as she hopes to hit the century mark on January 17, 2022 (per Biography). 
White's kind personality, which helped her navigate the ins and outs of the monster egos of Hollywood for many decades, surely played a part in her longevity. If they were still around, Getty, Arthur, and McClanahan would applaud her today.