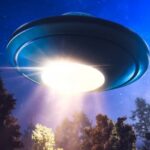 Most Bizarre Alien Abduction Stories Of All Time
echo get_the_meta(); ?>
It's impossible to check out what's new on Netflix without seeing a movie or TV show dealing with aliens — or at least co-starring your friendly neighborhood extraterrestrials. While we're been looking to the skies for a long time, it's only fairly recently that we've had the now-familiar narrative of kidnapping, probing, and releasing.
Actually, it's only since September 1961.
That's when the New Hampshire couple Betty and Barney Hill decided to go for a nice, relaxing drive to get away from the daily grind. When they got back home, though, their clothes were dirty and torn, and they seemed to have lost about two hours of time. With the help of a local psychiatrist, they recovered memories of being followed by a mysterious craft, then falling asleep and being taken on board. They were probed, long needles were inserted into their arms, legs, spine, heads, and Betty's stomach, then hair and skin samples were taken. That, says History, became so widely retold that it became the blueprint for other alien abduction stories.
But not all. Of all the alien abduction stories people have told, there are some that are just … a little more creative. These people didn't have any run-of-the-mill experiences, and just what they did have is a little more difficult to describe. Let's give it a go.
Kirsan Ilyumzhinov says aliens invented chess
Antônio Vilas-Boas and his alien love child