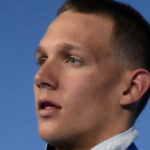 Caeleb Dressel: The Untold Truth Of The Olympic Gold Medalist
echo get_the_meta(); ?>
Olympic swimmer Caeleb Dressel is currently at the Tokyo Olympics and just added two more gold medals to his previous two, bringing his gold medal collection to a total of four now, per Team USA. Not only that, Dessel recently set a record at the games in his first individual swimming race, shattering the previous fast time, per Olympics. The 6'2″ Olympian now holds a record for one of the fastest times in the men's 100 meter freestyle (via Swimming World Magazine).
Dressel made his Olympics debut at the 2016 Rio games. His first-ever appearance was marked by winning his first gold medals when he competed in the group swimming events: 4×100 freestyle and the 4×100 medley. That year he also participated in the 100 meter freestyle but came up short, placing sixth. But now he has his redemption story. On July 29, Dressel earned his first solo Olympic gold medal, reports Associated Press. He accomplished this feat by beat Australia's defending champion with the time of 47.02 seconds.
Caeleb Dressel's early life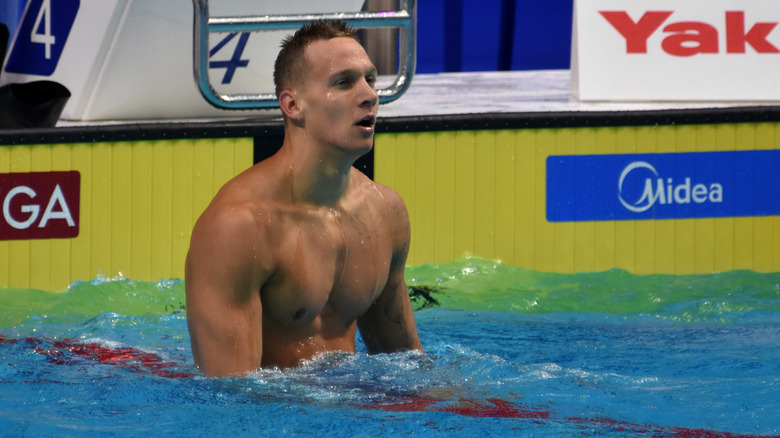 Shutterstock
Dressel was born in Green Cove Springs, Florida on August 16, 1996, to Michael and Christina Dressel. He has two older siblings — his brother, Tyler, and sister Kaitlyn, and a younger sister, Sherridon. His father swam in college, as did his sister at Florida State University, per USA Swimming.
But he first started testing the waters, so to speak, when he was just five years old. Many of his hobbies he had while growing up were water-related, such as being in the pool, boating, and wakeboarding. When he wasn't in the water, he played sports on land, like soccer, football, and track, according to his website. He attended his hometown's Clay High School and competitively swam for his school as a teen, per Florida Times-Union. This is where he began to shine as a swimmer. In high school, he became the first swimmer under the age of 16 to start off a 200-yard free relay in under 20 seconds, per Swim Swam. A young Dressel broke many swimming records, including breaking his own high school record his senior year, according to Swim Swam. By the time he was done with high school, he had an outstanding record that made him a desirable candidate for colleges around the country.
Dressel is a record-breaking swimmer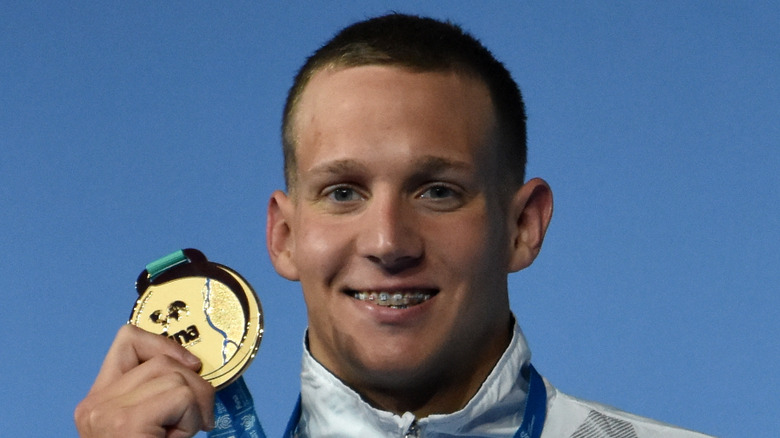 Shutterstock
Upon graduating he decided to go to University of Florida, where he continued to excel in his swimming career. His time on the University of Florida's swimming team was highlighted with more stellar records. Dressel is a 10-time NCAA champion, picking up championship titles in the 50 and 100 meter freestyles, 100 butterfly, and 200 meter freestyle relay, every year from 2015 to 2018, according to his alma mater.
In the latter year, Dressel became the first person to swim the 50 meter freestyle in under 18 seconds. And he completed that feat twice on the same day, by clocking 17.81 seconds on his first try, and following it up by breaking his own record on the second try — clocking in at 17.63 seconds (via NBC). To date, he has more NCAA swimming titles than any other University of Florida alumnus. He currently holds a world record in the 100 meter butterfly and 50 meter freestyle, says his website.
Dressel's unique tattoos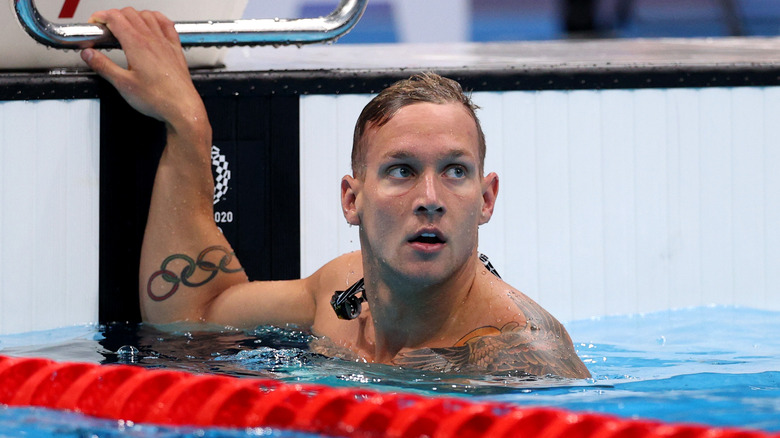 Maddie Meyer/Getty Images
Of course, it would be hard to not notice that Dressel has several tattoos, especially his  full sleeve. Unlike other sports where an Olympian might be covered in some sort of uniform from head to toe, as a male swimmer Dressel is usually seen bare chested on the big screen, and his ink is quite obvious.
One of his more noticeable tattoos is that of the Olympic rings, a recent tattoo he likely got after his first Olympic appearance. The symbol is etched on his right forearm. But most of his tats are on his left arm (as seen in a video by Mad Rabbit Tattoo, posted on YouTube). There you can find the American flag, an eagle, a bear, an orange, and an alligator. He says the gator represents his upbringing in his home state and his college (whose team is called gators).
He told Mad Rabbit Ink this month that he was keen on getting tattoos because he's often seen in his swimming trunks, and one way to showcase more of his personality is through some body art.
He is a newlywed, and she's a swimmer, too
Kevork Djansezian/Getty Images
Dressel's wife, Meghan Haila (pictured above), was his high school sweetheart. Both aspiring swimmers, the two met during swimming training at the Bolles School Sharks in Jacksonville, Florida. Dressel proposed to Megan in 2019, and the couple got married this year on February 13, according to his Instagram profile.
Just as Dressel did as a teenager, Haila also had an impressive swimming record in high school, winning two state championships and becoming a four-time finalist (via Seminoles).
Though the pair met and dated during their high school years, they did not go to the same college. In fact, his wife went to the same school as his older sister, Kaitlyn, and attended Florida State University. And there she too, had an impressive collegiate swimming career. But she didn't continue on with swimming as did Dressel. Instead, she chose a career in marriage and family therapy and graduated last year, per her Instagram.
Dressel is the top American swimmer to watch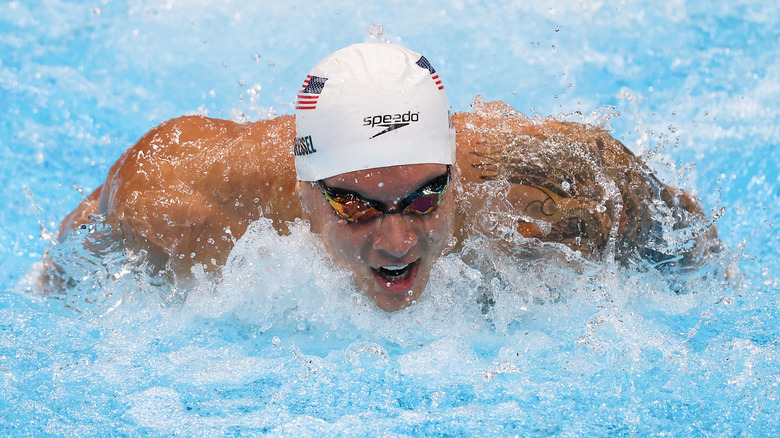 Tom Pennington/Getty Images
Like Ryan Lochte and Michael Phelps before him, Dressel is now the swimmer to watch at the Tokyo Olympics. With Phelps retired and Lochte failing to qualify for the Olympics, Dressel has taken on the reins for American men's swimming. And he remains on his current track, anticipating more gold medals.
Despite the consistent comparisons, many are not sure if he can ever beat Phelps' gold medals record in swimming (via Olympics). But it's quite possible that Dressel still has a lot more Olympic Games left in him. At just 24 years old, the U.S. swimming team captain has time to prove himself. And after shattering Australian Kyle Chalmers' record (The Guardian), no one can predict what other achievements this outstanding American swimmer will crack next. He told reporters that he has come to rely not just on his skills and training, but his personal discipline to stay focused. "It is a lot different. I guess I thought it would be, I just didn't want to admit to it. It's a lot tougher. You have to rely on yourself, there's no one to bail you out from a bad split," he said (via CBS).