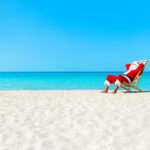 Christmas Is A Summer Holiday In Australia. Here's How It's Celebrated
echo get_the_meta(); ?>
For many, Christmas evokes a certain feeling. It's a time for cuddling with someone with a hot chocolate to stave off the cold. Everything about Christmas just screams cozy. But for those who live in the Southern Hemisphere, that couldn't be further from the truth. You see, in Australia, New Zealand, and other countries in the Southern Hemisphere, Christmas comes during the summer months, making their celebrations a bit different than how many spend it. Instead of snow and sweaters, it involves sand and swimsuits.
According to How Stuff Works, Australians don't ignore traditions that originated in colder climes. They still have the Christmas trees and the carols. Students put on nativity plays, people decorate their homes, and of course, give gifts. The most popular Christmas event is Carols by Candlelight, where people gather to listen to festive songs in parks and outdoor venues. After all, why not take advantage of warm weather? Carols by Candlelight began in 1938, said Culture Trip, by a radio announcer named Norman Banks. Each city has its version of the event, but the largest one is held in Melbourne at the Sidney Myer Music Bowl every Christmas Eve. Celebrities perform during the concert, and it even features a visit from Santa Claus himself.
Those who live in South Australia look forward to the Adelaide Christmas Pageant, which began in 1933. Culture Trip said it attracts more than 400,000 spectators and is second to the Macy's Thanksgiving Day Parade in size.
Christmas at the beach is an excellent idea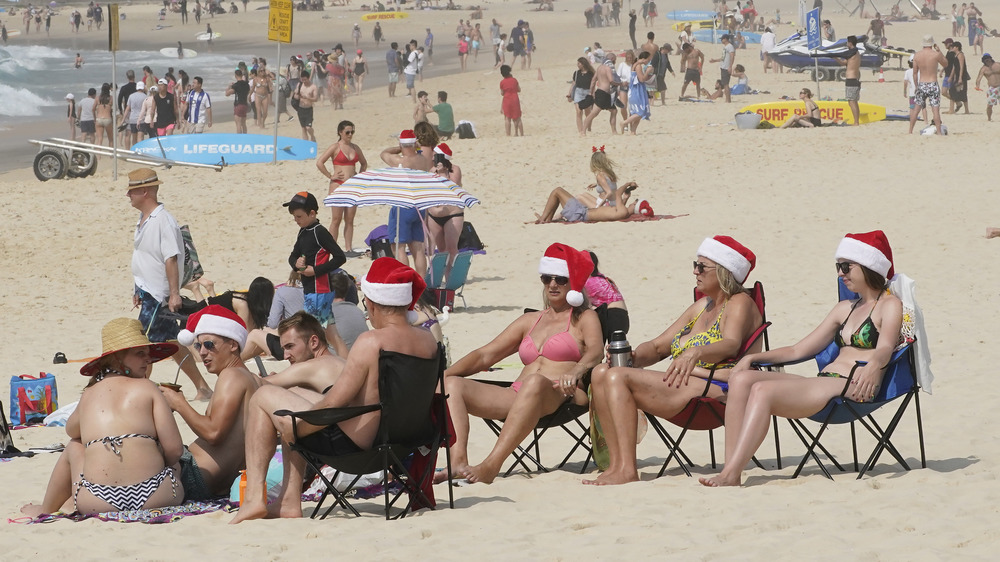 Mark Evans/Getty Images
Some Australian traditions were brought there by Irish and English immigrants back when the country was a penal colony. How Stuff Works explained many households light a candle in the front of the house to help light the way for Joseph, Mary, and Jesus. Families across the country then gather for a meal, often including the traditional English roast ham or turkey, another influence from the olden days.
This being Australia, no one will pass up the chance to go to the beach. People flock to the beach in their Santa hats. It's the perfect place to build a Santa Snowman and go surfing. And after a day at the beach, most Australians join their families for a Christmas lunch. Some people enjoy a barbecue for Christmas since it's an excellent outdoor summer activity. Australian Christmas barbecue, though, features a lot more seafood than we're used to. Medium noted Australians spend 10 times more on prawns during the Christmas season than at any other time, consuming more than 45,000 tons of shellfish.
The festive fun continues until December 26th. Australia celebrates Boxing Day, where people often leave gifts for their postman, grocer, newspaper carriers, and other service workers. Boxing Day is also one of the country's largest retail days, equivalent to Black Friday in the United States. Sports fans can also look forward to the annual cricket test match.
Celebrating Christmas when it's plenty warm seems weird to many, but Australia has made the best of it. The beach sounds like a wonderful place to exchange gifts.