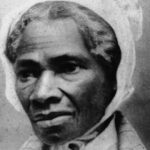 Details You Should Know About Sojourner Truth
echo get_the_meta(); ?>
Sojourner Truth was a famous abolitionist during the 19th century, renowned for the famous "Ain't I a Woman?" speech (via Library of Congress). She was born into slavery in New York sometime in 1797 as Isabella Baumfree. The horrors of slavery sadly separated her from her family at a very early age and she endured horrific abuse. She would have three different enslavers by the time she was 18 years old, says History. Despite being constantly sold and purchased by different white families, Truth's road to freedom was just ahead, and her incredible and historic story is one of bravery.
In 1817, a New York State law, called the Anti-Slavery Law, stated that the enslaved who were born before July 4, 1799 were to be free effective July 4 in a decade's time. The man who had Truth enslaved at the time the law was passed was named John Dumont, and he ensured to Truth that come 1827, she would be free. But she was lied to, according to Hudson Valley Magazine. As the date approached, Dumont switched gears and decided that he was not going to free her. In a brave stance before the year came, Truth decided to flee the Dumont plantation with her baby daughter Sophia, who was one of five children she had by then. What happened next would be the beginning of one of the great abolitionists in American history.
Sojourner Truth's historic court case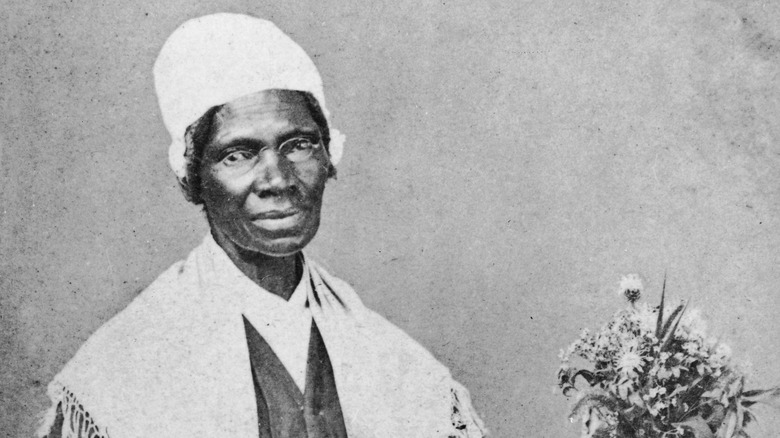 Hulton Archive/Getty Images
When Truth freed herself and her daughter she ended up meeting a Quaker couple named Isaac and Maria Van Wagenen. They took her in, but Dumont ended up discovering her whereabouts and threatened her to return to his enslavement. She refused, and to ward him off, the Van Wagenens paid him to buy her services until the 1827 date came into effect.
While there she learned that Dumont illegally sold her son Peter, who was a toddler, into slavery in Alabama (Sojourner Truth Academy). And this led her to eventually taking her fight to court to get him back.
Although racial dynamics that subjugated Black people were the norm during this period, Truth had the courage to take her issue to the judicial system and filed a lawsuit against Dumont for her son's return. The Anti-Slavery Law strengthened her case, and in 1828 the court actually found Dumont in the wrong. By winning the case against him, she became the first Black woman to win a lawsuit against a white man. The court also ruled that the man who purchased and enslaved Peter was ordered to pay $500 and return him to his mother (per Collaborative Organization for Virtual Education). She later took on the name of the Van Wagenens.
She spoke Dutch before she spoke English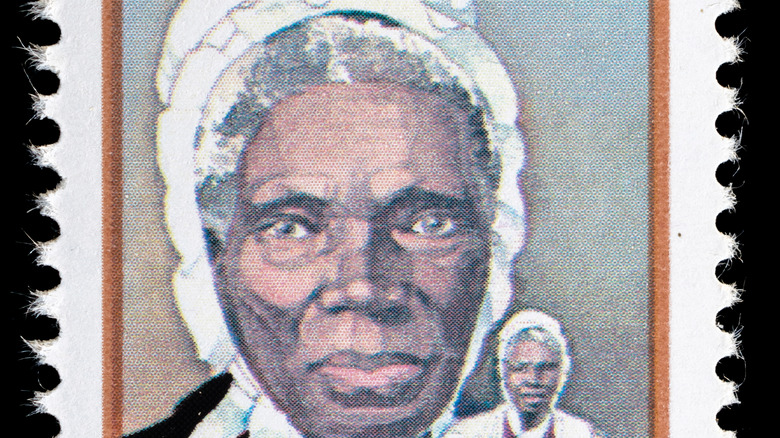 Shutterstock
Despite her most famous speech being in English, along with the many miles she traveled to deliver her other speeches, the first language Truth spoke was Dutch. And she actually had the accent, too. Born into slavery in New York — a state that was first settled by the Dutch, meant that it was a commonly spoken language then. Her parents were owned by Johannes Hardenbergh, a Dutch-speaking slave owner. He and all of the people he enslaved spoke the language. As a result, this was a language Sojourner Truth knew and communicated in up until she was sold to an English-speaking enslaver called John Neely. This sale actually led to the start of physical abuse she experienced. Because she didn't speak English and couldn't understand Neely's orders, she was brutally beaten often (via the Town of Esopus website).
Her Dutch accent was one of her notable characteristics (via Library of Congress). In fact, her accent was clear when she gave her famous speech. The Dutch she spoke was a dialect called low Dutch, a language no longer spoken but typical of Dutch settlers living in the Northeast U.S. during that era, per Academia.
Her famous speech was probably misinterpreted and is still debated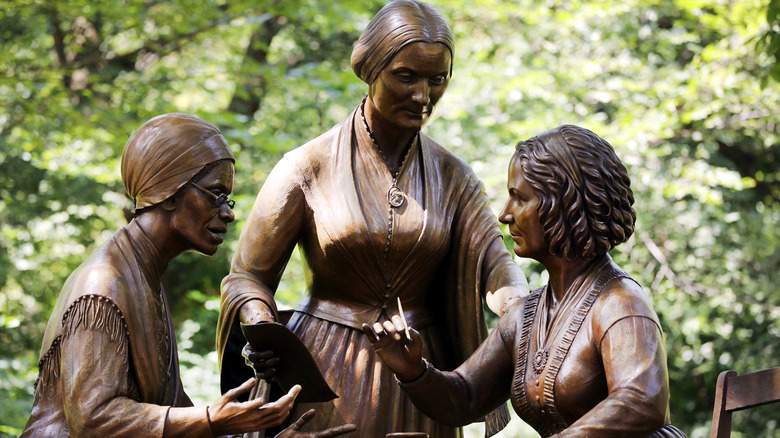 Spencer Platt/Getty Images
After reuniting with her son, she moved him and her daughter to New York City, where she would spend close to 20 years. There she found religion and began preaching, eventually changing her name from Isabella Van Wagenen to Sojourner Truth (PBS). After moving to Massachusetts, Truth joined the Northampton Association of Education and Industry, where she encountered staunch abolitionists. With this group she rallied for and supported the anti-slavery movement and became an activist by traveling to give speeches. In 1851, she delivered her famous speech about women's rights known today as "Ain't I a Woman?" at the Women's Rights Convention in Akron, Ohio (Ohio History Central), joining the likes of suffragists such as Elizabeth Cady Stanton and Susan B. Anthony. In that speech she discussed not only her position in America as a woman, but specifically her rights as a Black woman (Biography).
But the words that she actually spoke are debated. It was not a speech that Truth had written prior to speaking, and she had a very distinct accent. Despite the speech being transcribed the day she gave it, it is unclear how accurate it is, because technology back then wasn't as advanced and it's said that the transcriber, Marius Robinson, might have dropped some words, per The Sojourner Truth Project. The full transcript was published that year, says Battle Creek Enquirer. 
She disagreed with former allies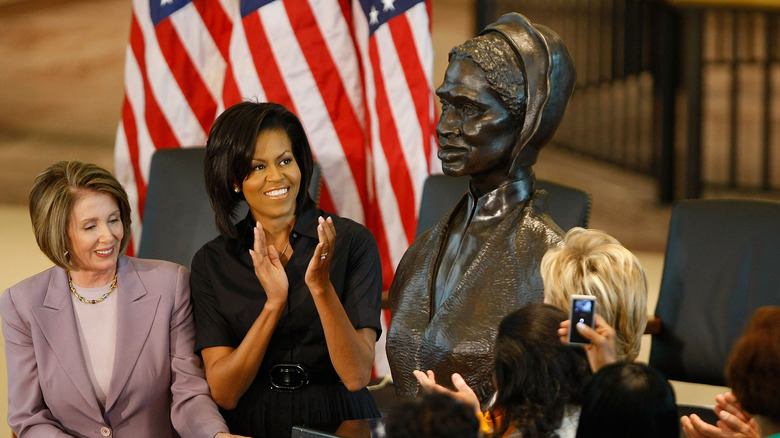 Chip Somodevilla/Getty Images
But more than a decade after the speech, a new version transcribed by Frances Dana Gage appeared and this interpretation is the most widely-known. Over the years, some experts determined that Gage's version was lightened to satisfy white readers, leaving Robinson's transcript to potentially be the very closest to what she spoke that day. In an attempt to revisit how Truth might have sounded and articulated her speech, the Project worked to recreate how she might have sounded with the help of Dutch-speaking Black women. However, they contend that the true and authentic accent cannot be accurately recreated due to the fact that the dialect Truth spoke is now lost.
The criticism Gage's version received decades later by experts mostly critiqued her exaggeration of Truth's English and accent, which described Truth as someone with a Southern accent, and unable to speak English, per Battle Creak Enquirer; a perception she did not apparently appreciate. Truth herself would also somewhat break away from abolitionists and suffragists she once supported (PBS), due to the racism from white women in the movement (Wesleyan University), and purported sexism from Frederick Douglass' Black voting rights movement. She did continue to support the women's rights and voting movement, and attempted to vote in the 1872 Presidential election in Battle Creek, Michigan (Crusade to Vote). She died on November 26, 1883 and was believed to be between 86 (Hudson Valley Magazine) and 103 years old (The New York Times). Her legacy is celebrated today in dozens of statues, including one in the Capitol.