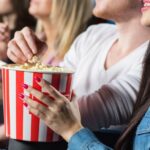 News Stories That Seem More Like Movie Plots
echo get_the_meta(); ?>
They say things never happen in real life like they do in the movies, and that's good — things shouldn't. If everyday existence was anything like Hollywood films, life would be a never-ending series of zany mishaps, unrealistic meet-cutes, stylized gunfights, and seriously so many explosions. It might sound cool, but think about it. If that was just your world from the day you were born, the umpteenth time your office building is prevented from exploding by Iron Man would just be mundane. 
The thing is, "they" are only partially right. Real life plays out like the movies all the time, but it's less dramatic courtroom speeches and impossible Jackie Chan action sequences and more weird, implausible subplots that make you wonder whether the screenwriter is a mad genius or an abuser of inhalants (or both). These news items prove that for some people, life really can be like a movie in all the most ridiculous ways.
Man trapped in cooler takes only action possible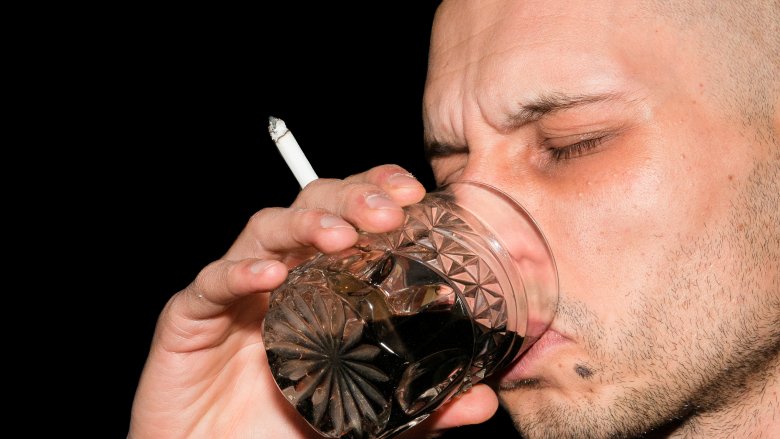 Shutterstock
Thirty-eight-year-old Wisconsin resident Jeremy Van Ert found himself in a predicament late one night, according to the Wisconsin Rapids Daily Tribune. He'd had a hankering for some alcoholic beverages and wandered into the beer cooler at the local Kwik Trip to check out their fine selection. However, his perusal had taken a bit too long, and the door to the cooler — as it does every night at midnight — had automatically locked. As he felt the creeping cold closing in around him, he figured there was only one thing to do, and no, he was not figuring on knocking on the door.
You see, this particular Kwik Trip was open 24 hours, and all Van Ert had to do was politely signal the clerk. Instead, he went for Option B: hunkering down in the freezing cold and slamming Four Loko until he couldn't feel it anymore, as reported by Wausau's CBS 7. The door unlocked around six the next morning, and employees were understandably confused when Van Ert staggered out of the cooler and took off in his truck without paying for any of the booze he had consumed or any of the 30-packs he'd smashed all over the floor apparently out of sheer boredom. Police quickly caught up with him, and charged him with a slew of crimes involving theft, drinking, and theft by way of drinking.
Wedding guests forget invitations, clothes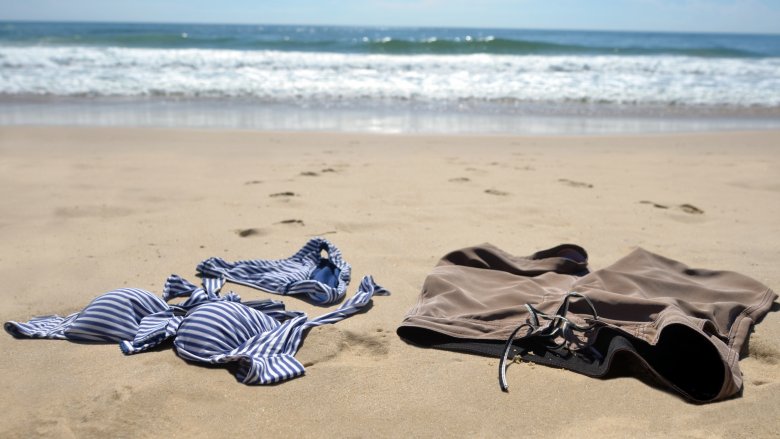 Shutterstock
It was like the sun-drenched scene at the end of every romantic comedy: a young couple having their wedding reception on the beach, surrounded by friends and family on a lovely New England fall afternoon. That's the romantic part. And now — as reported by Boston's WCVB 5 — for the comedy: a guest approaches the father of the bride to let him know there are a couple of naked people swimming in the ocean where everybody can see, and "people are laughing and taking pictures!" Maybe the guest has a monocle, and it pops out on that last word.
It might not have happened exactly like that, but a ballroom full of guests at the Blue Ocean Music Hall in Salisbury did indeed get an eyeful when 28-year-old Zachary Tomko and his 20-year-old girlfriend Holly O'Neal decided to go for a dip in the buff, in broad daylight, in full view of the beachfront resort. Police were called when the wedding guests who weren't laughing or taking pictures became offended. According to the Newbury Port News, the pair helpfully explained to the cops that they had just wanted to go for a swim but didn't want to get their clothes wet, and that they had no idea there was a resort with a huge party going on right in front of them. The cops had a hard time with this explanation for some reason, and they said so with disorderly conduct charges.
Escaped convicts stay sharp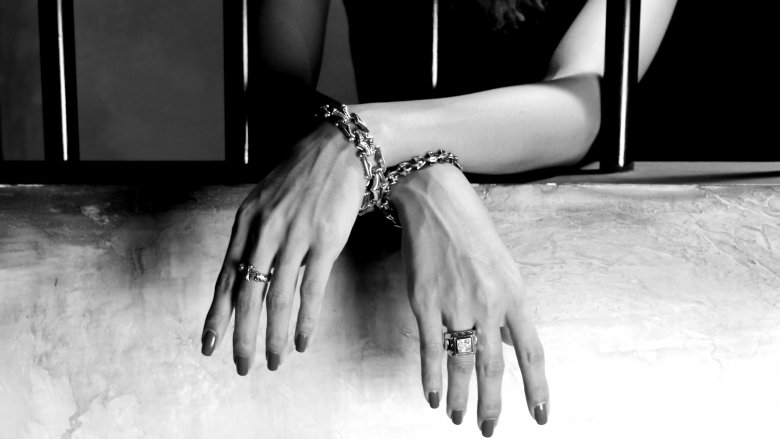 Shutterstock
It was a chilly fall night in Edmonton, Alberta, when inmates Kelsie Laine Marie Mast and Samantha Faye Toope (whose names really could have been workshopped for a bit longer by the screenwriters of life) hopped the fence at the Edmonton Institution for Women and took off into the dark. The following evening, the pair arrived at a local business, appearing to be normal customers. "They didn't seem like they were hiding from anyone or anything," business owner Rebecca Liaw would later tell CBC News. But as Liaw politely answered their questions in the back, husband and co-owner Jonathan encountered five cops in the front, who had seen the pair coming in and were ready to make the most ironic arrest of their lives.
As reported by Canada's Global News, the Liaws are the owners of Sidequest Adventures — an escape room business where people pay to get thrown into a locked room they then must figure out how to get out of. Rebecca says the cons asked all the standard questions about their rates and what kind of different rooms they had, questions that were answered for them by the police who promptly burst in and hauled the duo off in handcuffs. The police then chose the Super Deluxe Pro-Level Escape Room back at the Institution for Women, which the adventurers would get to play for free for the remainder of their sentences and then some.
One thing leads to another on first date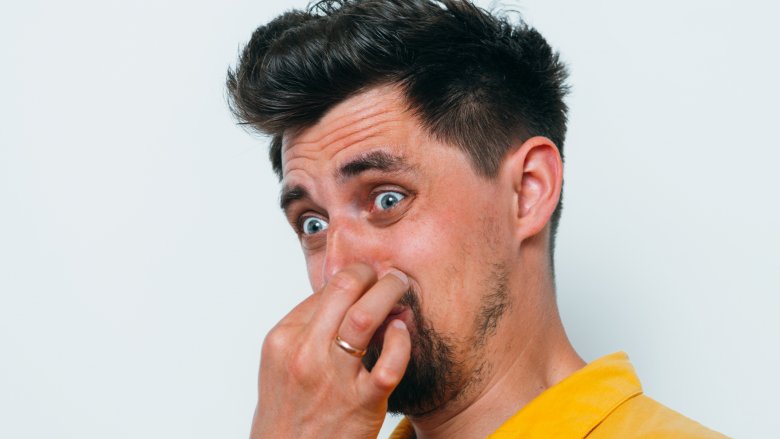 Shutterstock
If your first date involves a stray poop, a broken window and a squad of firefighters, then either your life is being written by the Farrelly Brothers or you're Liam Smith, a student who recounted his hilarious tale of woe on his GoFundMe page, which Gizmodo came upon in September 2017. Smith had taken a (mercifully unnamed) young woman back to his place, and she retired to the bathroom to powder her nose — which means, of course, she was taking a crap. But the toilet plugged up, and rather than leave the offending log floating there, the woman decided to retrieve it from the toilet, wrap it in tissue, and throw it out the window. The problem was, outside the window was a narrow gap in the wall, about a foot and a half wide. On the other side of the gap was another window that couldn't be opened.
At this point she confessed to Smith, who gallantly agreed to help his date — an amateur gymnast — pluck the poop from no-man's-land. He lowered her head-first into the gap, and yes, of course she got stuck. After 15 minutes of trying and failing to extract her, firefighters were called, the window was broken, and Smith's date was rescued. According to The Telegraph, the GoFundMe page is to cover the cost of the window repair, with any extra going to "a charity building and maintaining flushing toilets in the developing world … [and] the firefighter's charity. The guys who came to the house were brilliant."
Armed robbers commit perfect crime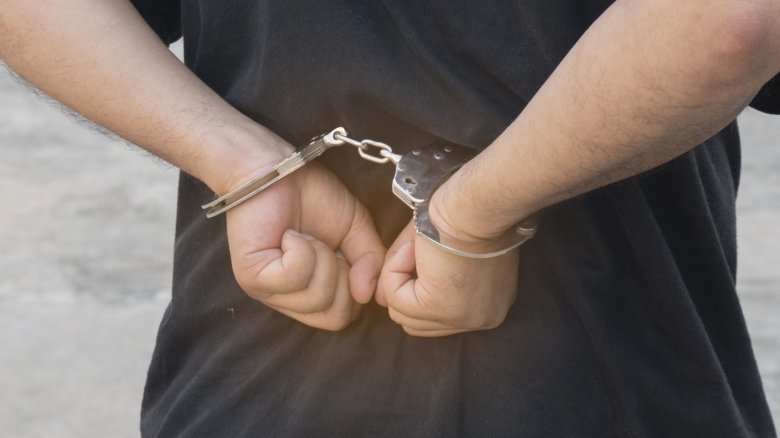 Shutterstock
In August 2017, the Baltimore Sun reported on a hard-boiled crime story from an unincorporated area near the city. At around 5:30 on a late summer evening, two gun-toting crooks burst into Monaghan's pub and demanded cash, cleaning out the register and quickly making their escape. Since Baltimore and its surrounding areas are all The Wire all the time, there's nothing too unusual here — except for the fact that out of literally hundreds of bars in the area they could have chosen to rob, Joseph McInnis and Tyree McCoy went with one that happened to be hosting a retirement party for a police officer. With dozens of off-duty cops in attendance. Right across the street from the police station.
The retirement party was briefly interrupted when an employee stuck his head into the room to calmly let the attendees know that an armed robbery had just taken place. Having wandered out of their hard-boiled crime thriller and straight into a slapstick comedy, McInnis and McCoy made it about 10 feet before they were met by more cops than most people have ever seen at once. "It's kind of odd you would even attempt it," Monaghan's owner Jack Milani deadpanned to Baltimore's WBAL 11 — but at least the criminal masterminds didn't have to go very far to get booked. 
So high, he thought he was Aquaman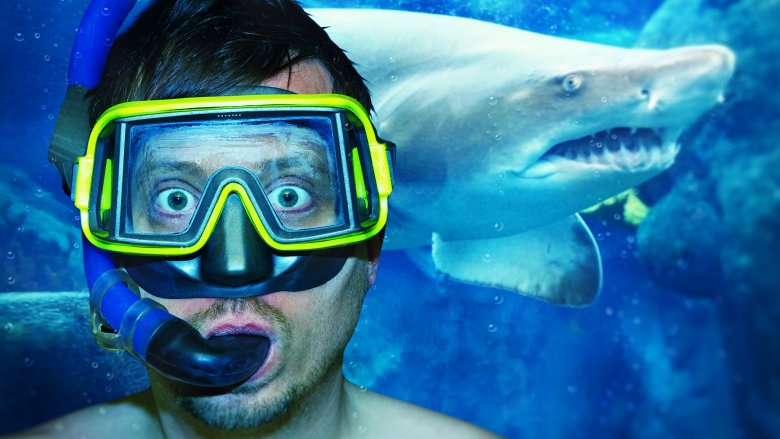 Shutterstock
Twenty-year-old Zachary Kingsbury began his day as the protagonist of a stoner comedy by getting pulled over with a car full of drugs on a beachfront road in Surf City, North Carolina. The officer spotted the stash, which was just kind of sitting there, and ordered Kingsbury out of the car. That's when, as the officer explained to the Charlotte Observer, the young man "fled the scene on foot, onto the beach, proceeding into the ocean."
Now, it's fair to wonder just how far one can expect to get with such an escape strategy. In the case of Kingsbury, the answer is "surprisingly far." Police quickly dispatched a drone with a 60-minute flight time to monitor his progress — and the drone ran out of juice long before Kingsbury did. Video shot by the drone and posted online by Charlotte's WBTV shows Kingsbury thousands of feet offshore, just plowing along like Aquaman, either not noticing or not caring about the 5 foot shark that was tagging along for a portion of his swim. After losing visual contact, a rescue operation was launched by the police department and Coast Guard, but they shouldn't have bothered. The extremely winded idiot turned up three hours later at a completely different beach and was taken into custody with no further incident. 
Drummer refuses to take hint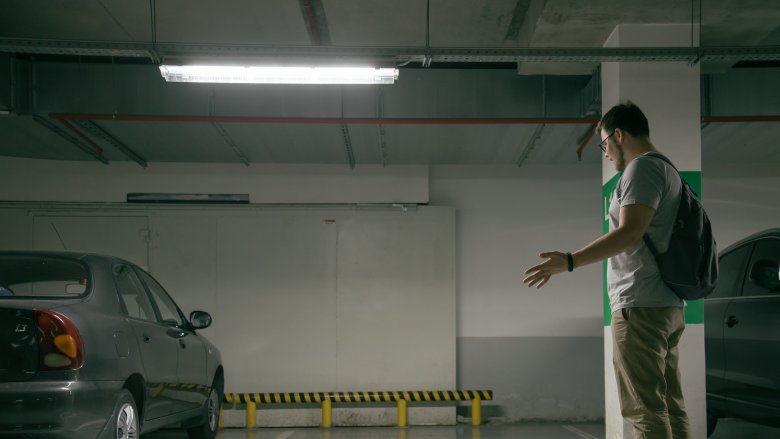 Shutterstock
Belle and Sebastian are a folk-rock outfit with as many as a dozen members in their touring configuration, which is more than most bands. That's as good an excuse as any for what happened to drummer Richard Colburn on the band's 2017 tour: after a stop at a North Dakota Wal-Mart, the tour bus left without him. Of course, cell phones exist, so he made a quick call and they turned the bus around, right? Yeah, not exactly. 
Speaking with Minnesota radio station 89.3 The Current, lead singer Stuart Murdoch explained, "The trouble is everybody went to bed. … Richard didn't have his phone with him." So Colburn waited around for four hours. Then, with only a credit card and in his pajamas (sans ID), he checked into a hotel to get some shut-eye, unsure if he'd make it to the next day's gig in St. Paul. A friend of the band was able to give him a ride to the Bismarck airport the next morning, where he was somehow (again: pajamas, but no ID) able to get on a plane, get to St. Paul, and hopefully change out of his PJs in time for the show. According to the AV Club, the band has implemented a simple procedure to make sure it never happens again — a sign for the driver's seat that screams SOMEONE IS OFF THE BUS in huge block letters, which was just cheaper than having everyone microchipped.
Robocop is sick of it all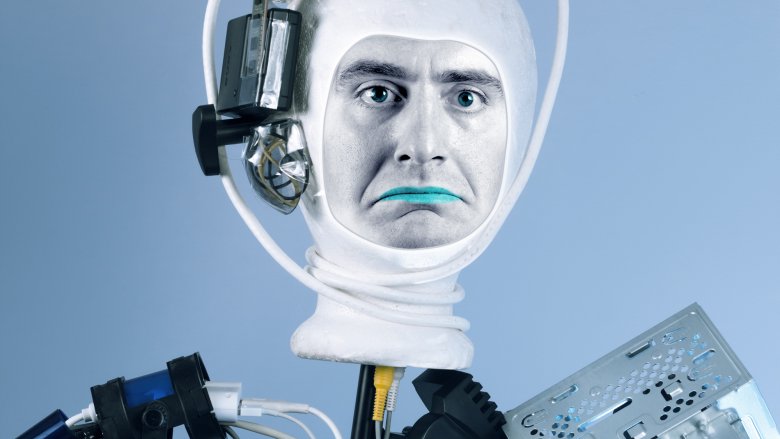 Shutterstock
The Knightscope K5 is one of a new generation of ultra-high tech security robots, which is a sentence you could reasonably expect to lead off a pitch to a senior VP at Warner Brothers. But the K5 is real, and as CNET reported in July 2017, one was deployed to patrol the grounds at the Washington Harbor Complex, an event which was marked with a dramatic Facebook post from the landlord proclaiming, "We have a new sheriff in town." Anybody who has seen Robocop recognizes this as a setup for some kind of brutal, ED-209-style mishap involving the K5, but it didn't quite pan out that way. According to the Washington Post, after a few days of pondering its existence and the meaninglessness of life, the bot fell down a set of stairs and into a fountain, where it died.
Employees at the complex had the requisite field day on social media, with one man tweeting, "Our D.C. office building got a security robot. It drowned itself. We were promised flying cars, instead we got suicidal robots." A company spokesman stated that bugs were still being worked out of the program, which was still in its pilot stage. (Clearly.) For its part, Knightscope promised that a new K5 would be delivered straight away and free of charge. Hopefully this time the "existential despair" chip was removed or some waterproofing was added.
The marauding crow of Vancouver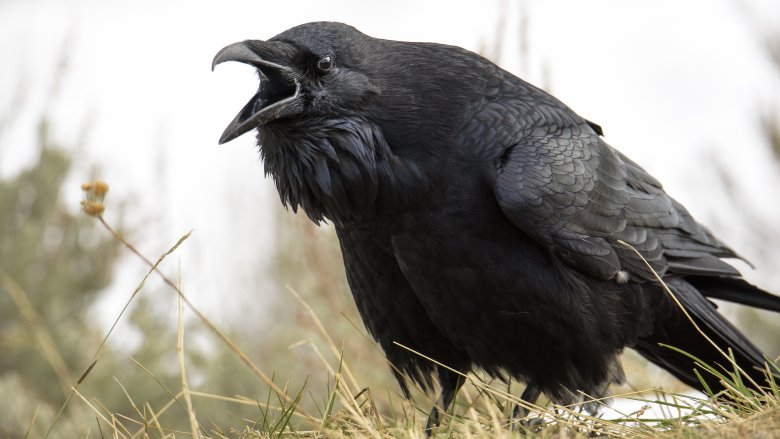 Shutterstock
East Vancouver, British Columbia, is a town stalked by an unyielding menace. A black, winged creature that appears to terrorize citizens in broad daylight, striking fear into the hearts of all (but especially postal carriers) with its stupid, annoying squawks. His exploits are regularly reported on by CBC News; he is Canuck the crow, and he simply does not care.
Residents in one area had their mail service suspended for over a month after the feathered beast kept attacking and injuring their mail carrier, a human being roughly 200 times the size of a crow. Previously, CBC had reported that the same bird (it has a distinctive marking on one leg) had appeared at a crime scene where a knife-wielding man had been shot by police; it made a beeline straight for the knife, snatched it up, and flew off with it. Canuck dropped the knife when a cop gave chase, probably preventing another tragedy. (Who knows what the bird would have done with the knife?)
According to Vancouver's CTV News, it was not long afterward that Canuck showed up at a nearby McDonald's where he is known to hang out, intimidating and harassing patrons and helping himself to food right off people's tables. Customers were able to corral the bird and toss him out, but there's no doubt that Canuck's reign of terror is escalating — it's probably just a matter of time before he comes back with a gun.
Important man falls for 6th grade prank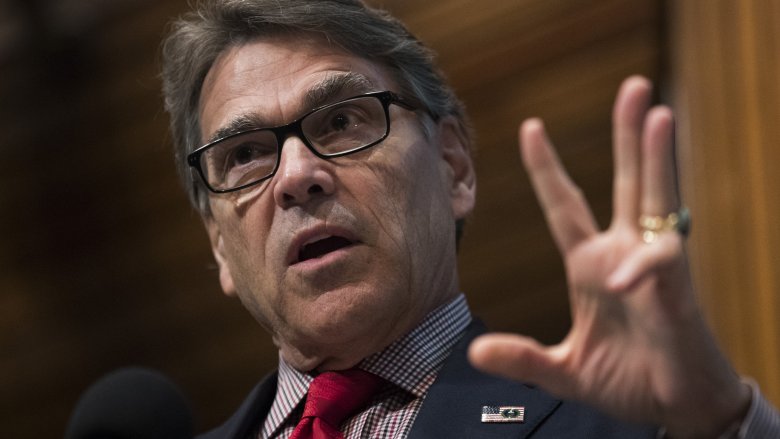 Getty Images
Former Texas governor and current U.S. Energy Secretary Rick Perry had to overcome a debilitating birth defect to make his rise through the ranks of American politics: he was born with his foot in his mouth. No politician since Dan Quayle has had such a formidable reputation for having the English language just fail him at all the wrong times, but according to The Guardian, he entered the realm of true comedic bumbling not by talking, but by listening — on the phone, to a man he thought was Ukrainian Prime Minister Volodymyr Groysman, a man whom he had just met weeks earlier. (Spoiler alert: it wasn't.)
Perry got straight-up pranked by Vladimir "Vovan" Kuznetsov and Alexei "Lexus" Stolyarov" — the "Russian Jerky Boys," who claim a long list of victims including the president of Turkey, Senator John McCain, and Elton John. The Washington Post reported that "Groysman" — speaking through an interpreter — dragged Perry through a 22-minute conversation about all kinds of touchy political subjects before wrapping up with a new Russian scientific advance: a biofuel made from a mixture of home-brewed moonshine and pig crap. (Perry — again, the secretary of the U.S. Department of Energy — was super-interested.) Pretty embarrassing, but in Perry's defense, these guys are good. According to an earlier Guardian piece, they had Elton John convinced that he was speaking to Vladimir Putin, who wanted him to come play at a gay pride rally in Moscow, and got John to agree.