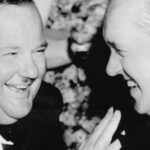 The 7 Best And 7 Worst Laurel And Hardy Movies
echo get_the_meta(); ?>
In 1976, the cult writer Kurt Vonnegut published his eighth novel, "Slapstick, or Lonesome No More!" It reads: "Dedicated to the memory of Arthur Stanley Jefferson and Norvell Hardy, two angels of my time." Though the names are unfamiliar, the accompanying caricatures — in their famous bowler hats and expressing their unmistakable smiles — give away who they are: Vonnegut's angels are Stan Laurel and Oliver Hardy, remembered today as the greatest comedy partnership Hollywood has ever known.
It is telling of Vonnegut's pessimism that he also feels the need to tell us all the way back in 1976 that Laurel and Hardy are figures from "long ago," artifacts he assumed would soon be forgotten in the ruthless future he envisioned. Yet today, twice as many years away from the heyday of Laurel and Hardy as Vonnegut was when he wrote his book, "the Boys" are still remembered fondly. As the hit 2018 biopic "Stan & Ollie" attests, the appeal of the famous duo is as great as ever, as new audiences continue to rediscover their timeless comedies.
But even the greats can have an off day. Here is a rundown of the finest Laurel and Hardy flicks that you need to see … and those that you can guiltlessly miss.
Hit: Way Out West (1937)
Miss: The Big Noise (1943)